Stats & Info:

Andruw Jones
September, 3, 2012
9/03/12
6:50
PM ET
By
ESPN Stats & Information
| ESPN.com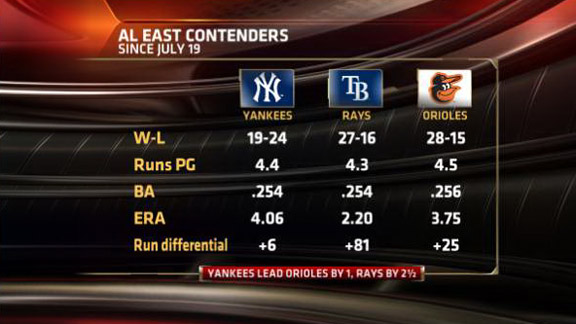 As the graphic atop this article shows, the AL East race has tightened up dramatically, with the
New York Yankees
lead being trimmed to one game over the Orioles and 2 ½ games over the Rays after Monday afternoon's contests.
Let's take a closer look at a key for each team over the past few weeks.
Rays rolling
Rays starter
James Shields
gave Tampa Bay another solid performance, allowing three runs in eight innings in their win over the Yankees.
Shields is in the midst of a nine-start run, the results of which can be seen in the chart on the right.
Shields had gotten away from throwing his fastball often early in the season, but has upped the rate by which he's thrown it over his last nine starts by nearly 50 percent.
Shields has also gotten better defensive support recently, something that the Rays had trouble providing earlier this season.
In his last seven starts, opponents have hit 63 ground balls against him. The Rays have gotten at least one out on 56 of them (89 percent), well above the major-league average rate of 75 percent.
Orioles surging
After a hiccup in Saturday's loss to the Yankees, the Orioles bullpen, which has been immensely valuable, got back on track the last two days.
Baltimore's relievers have allowed one run in 8 2/3 innings in wins over the Yankees and
Toronto Blue Jays
.
That dropped the Orioles bullpen ERA to 3.02 this season.
Jim Johnson
and
Pedro Strop
have been especially good at protecting leads, as they did with a scoreless inning apiece on Monday.
The other key to the second half for the Orioles has been
Nick Markakis
, who continued a stellar second half with an RBI double in Monday's win.
There has been a lot of attention on how much better the Rays offense has been since
Evan Longoria
returned, but check out the improvement of the Orioles' hitters since Markakis returned from injury at the All-Star Break.
He's led that with a .343 batting average and .902 OPS, which rank seventh-best and 14th-best among AL hitters since the All-Star Break.
Yankees struggling
The Yankees are 19-24 since July 19. They've lost nine of their their last 13 games, matching their worst 13-game stretch of the season.
Who has been slumping on offense since July 19?
Curtis Granderson
, who struck out to end Monday's game, has seen his OPS drop 200 points (it was .868, but is .668 since), Raul Ibanez's OPS has slipped 101 points, and Andruw Jones' has plummeted from .851 to .428.
Robinson Cano
, who suffered an injury late in Monday's game, also has gone through a couple of slumps. His most recent is a 4-for-25 drought.
The Yankees did not homer on Monday, making them 4-20 when not homering this season. Those four wins are the fewest for any team in the majors in homerless games.
The other issue for the Yankees is that since August 1, their only reliable relievers have been
David Robertson
and
Rafael Soriano
. The two of them have a 2.31 ERA and 0.92 WHIP in that span. The other Yankees relievers have a 5.18 ERA and 1.66 WHIP.
Robertson is not as near-perfect as he was last season. His Batting Average on Balls in Play has jumped from .291 to .315, as a few extra hits have snuck through, including Thursday's game-winner.
What's left
The graphic on the right shows the remaining schedules for each of the three teams. The Rays have the toughest schedule remaining, but have the best balance of home and road games.
The Elias Sports Bureau notes that the Yankees have never blown a division/league lead of more than 6 games. The largest blown lead was six games in 1933.
Justin Havens, Katie Sharp, and Mark Simon contributed research to this article
September, 2, 2012
9/02/12
5:02
PM ET
By
ESPN Stats & Information
| ESPN.com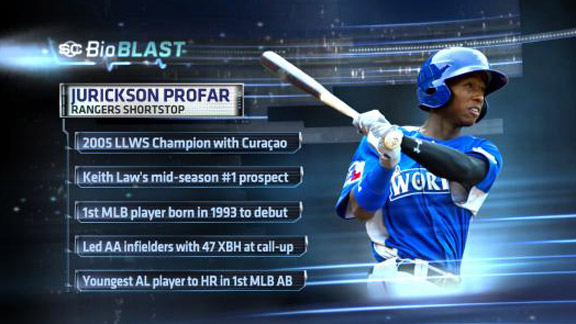 From Little League World Series champion to top prospect and now a budding Major League star.
Jurickson Profar
is the second-youngest player and third teenager in Major League Baseball history to hit a home run in his first career at-bat. Only 18-year-old Whitey Lockman was younger when he homered in his first at-bat in 1945, according to the Elias Sports Bureau.
At 19 years, 195 days old, Profar is the first teenager and youngest player in American League history to accomplish this feat.
But there's more:
• Profar is the youngest Rangers player ever to hit a homer, breaking
Ivan Rodriguez
's mark on Aug. 30, 1991 (Rodriguez was 19 years, 276 days old). He's the third player in Rangers franchise history to homer in his first career at-bat (the first since Brant Alyea in 1965) and the first since the franchise moved to Texas.
• Profar is the youngest player to hit a home run in any game since his current Rangers teammate
Adrian Beltre
(19 years, 171 days) did so on Sept. 25, 1998 for the
Los Angeles Dodgers
.
• Profar is the third player this year to homer in his first major-league at-bat.
Eddy Rodriguez
of the
San Diego Padres
did so on August 2, a week after
Starling Marte
homered for the
Pittsburgh Pirates
(July 26).
• Profar is the first Texas Ranger to homer in his first at-bat, but he's the third player in franchise history to do so (Brant Alyea, on September 12, 1965, and John Kennedy, on September 5, 1962, both as Washington Senators).
• The last Ranger to homer in his first career game was
Ruben Mateo
on June 12, 1999.
• Profar is the youngest player to hit a home run and a double in a game since
Andruw Jones
(19 years, 126 days) on Aug. 27, 1996 for the
Atlanta Braves
. Profar and Jones were both born in Willemstad, Curaçao.
• He's the youngest AL player to do so since Ken Griffey Jr. (19 years, 181 days) on May 21, 1989 for the
Seattle Mariners
.
• Profar is the second teenager in the Live Ball Era (since 1920) with a homer and a double in his first career game. Only Lockman was younger in 1945.
• Profar, Ted Kazanski (19 years, 151 days old in 1953) and Johnny Callison (19 years, 181 days old in 1958) are the only teenagers with at least two extra-base hits in their MLB debut since 1900, according to Elias.
• Profar, currently the youngest active MLB player, debuted at 19 years, 195 days old, the exact same age
Bryce Harper
debuted at earlier this season on April 28.
• In Profar's first at-bat, he had already seen two pitches down-and-in before he crushed a 2-1 90 MPH fastball down-and-in 391 feet for a homer. In his second at-bat, he doubled on a 1-1 88 MPH curveball up in the zone, nearly in the same spot he saw a fastball on the previous pitch. (see pitch location chart below)
July, 8, 2011
7/08/11
5:44
PM ET
The teams with the most wins in the majors start a three-game series tonight in Philadelphia as the Phillies (55 wins) and Braves (53) square off.
The red-hot Braves, who have won four straight and nine of their last 10, send
Brandon Beachy
to the mound, while the Phils (winners of seven of their last 10) counter with
Roy Halladay
. Halladay is 6-0 with a 2.69 ERA in his last nine starts and the Phillies have won each of them.
Halladay is 11-3 on the season, the seventh straight campaign that he has won at least 10 games by the break. Only three times since 1975 has a Phillies starter had 12+ wins before the break (
Curt Schilling
in 1999 and Steve Carlton in 1977 & 1980).
Beachy is winless in four starts against the Phillies, going 0-3 with a 5.00 ERA including his major league debut last Sept. 20 in Philly. The last time he faced them (May 13) he had to leave after two innings with a strained oblique. However, since returning from the DL, Beachy is 2-0 with a 2.65 ERA in three starts.
The Braves have won the last two series against the Phillies, taking two of three in each.
In other games Friday:
Josh Beckett
and the Red Sox host the Orioles. From the Elias Sports Bureau: Beckett has permitted fewer hits than innings pitched in each of his last 11 starts, the longest single-season streak of that sort by a Red Sox pitcher since
Pedro Martinez
had an 11-game streak in the 2000 season. The last Red Sox pitcher with a longer streak of that kind was Carl Mays: 12 straight starts allowing fewer hits than innings, in 1918.
Also from Elias: Minnesota's
Joe Mauer
has a hit in each of his last six at-bats against White Sox starter
Gavin Floyd
. The longest current streak of consecutive hits by one active major-leaguer against another is eight, by
Andruw Jones
against
Jason Marquis
.
April, 7, 2011
4/07/11
12:07
AM ET

Lincecum
Tim Lincecum
lasted only seven innings in the
San Francisco Giants
victory over the
San Diego Padres
, but he made all seven count.
Lincecum struck out 13 batters and walked none, the fifth time in his career he recorded double-digit strikeouts without walking a single batter.
Since 2007, his first year in the league, only
Cliff Lee
and
Zack Greinke
have as many such games (each with five as well).
In fact, this was Lincecum's 27th career double-digit strikeout performance. Elias tell us going back to 1900, only one Giants pitcher has recorded more such games, and that was Hall-of-Famer Christy Mathewson who did it 28 times.
Lincecum dominated the Padres hitters by confusing them with his changeup. He threw 17 changeups, 12 of which were out of the strike zone. The Padres swung at six of the 12 changes out of the zone, missing on all of them, including five that resulted in strikeouts.
He also finished off batters well when getting two strikes on them. Lincecum got 15 of the 24 hitters he faced to a two-strike count, retiring all 15, including 13 by strikeout.
Since the 2009 season, Lincecum leads all starters with a .116 opponent average and a 53.1 strikeout percentage with two strikes.
Elsewhere around the diamond:
•
Miguel Cabrera
hit his third home run of the season for the
Detroit Tigers
in their win over the
Baltimore Orioles
. It was Cabrera's 250th career home run, reaching the milestone 12 days before his 28th birthday.
According to Elias, he is the fourth-youngest active player to reach the milestone, behind only
Albert Pujols
,
Alex Rodriguez
and
Andruw Jones
.


• The loss by the Orioles leaves the
Texas Rangers
and the
Cincinnati Reds
as the only two teams still undefeated in the major leagues.
Last season, the last remaining undefeated team was the San Francisco Giants, and we all know how that ended.
However you have to go all the way back to 1992 - when the Blue Jays started 6-0 en route to winning the World Series - for the last time MLB's last remaining undefeated team won the Fall Classic.
• On the other end of the spectrum, the
Boston Red Sox
,
Tampa Bay Rays
and
Houston Astros
are the 86th, 87th and 88th teams in the modern era of baseball (since 1900) to start a season 0-5.
Only two of those previous 85 teams managed to make the postseason: The 1974
Pittsburgh Pirates
and the 1995 Cincinnati Reds. In fact, those two squads actually started 0-6 before getting their first win.
Using that piece of history at this point, 0-5 Boston, Tampa Bay and Houston have a 2.4 percent chance to make the postseason at this point.
• Elias tells us that with the Rays and Red Sox losing on Wednesday, this is this the first time the AL East had two teams start a season 0-5.
August, 18, 2010
8/18/10
11:57
PM ET
By
Stats & Info
| ESPN.com
The good news is the
Texas Rangers
have a comfortable lead in the American League West (eight games over the Athletics and Angels). However, after getting swept by the
Tampa Bay Rays
, Texas clearly has some work to do with the postseason on the horizon.
• Against the division-leading Twins, Yankees and Rays (New York and Tampa Bay are tied atop the AL East), the Rangers are a combined 3-11.

• The Rays were the fifth team to sweep the Rangers this season, and the fourth from the AL East. (The
Boston Red Sox
are the only team in that division that hasn't swept Texas.)
• How much do the Rangers miss second baseman
Ian Kinsler
? They were 59-41 before he went on the disabled list with a groin injury. In the 19 games the Rangers have played without Kinsler, they're just 8-11.
• Except for the month of June when they went 21-6, the Rangers have been a .500 club (46-46), including 6-9 in August.
NOTABLES FROM WEDNESDAY:
• The
New York Yankees
are 7-1 this season when
Brett Gardner
is the lead-off hitter, outscoring their opponents 42-19. Gardner is 12-for-31 (.387 BA) with eight runs scored and three walks in those games. He's also started six of those eight games by getting on base in the 1st inning (
Jeremy Bonderman
hit Gardner with a pitch in the first inning on Wednesday). The Yankees have scored in the first inning in five of those eight games, totaling 11 runs.
• Holding onto a 3-2 lead against the
St. Louis Cardinals
, the
Milwaukee Brewers
'
Trevor Hoffman
was brought in with the bases loaded and two outs in the bottom of the ninth. Hoffman proceeded to strike out
Brendan Ryan
on three pitches. According to Baseball-Reference.com, batters are now 0-8 against Hoffman in situations where he's pitching in a game with a 1-run lead and the bases loaded in the 9th inning or later.
• Despite blowing a three-run lead in the top of the ninth inning, the A's came back in the bottom of the inning to win 5-4. Oakland is now 51-0 this season when leading after eight innings. Only the Yankees have more wins without a loss (64-0) when leading after eight.

• The
Detroit Tigers
'
Miguel Cabrera
has now hit at least 30 home runs in six of his first eight seasons. The only players who have had more 30-HR seasons in their first eight years in the bigs:
Albert Pujols
(8), Eddie Mathews (7) and Ralph Kiner (7).
• The Red Sox's
Jonathan Papelbon
became the first pitcher (since saves became an official stat in 1969) to record at least 30 saves in each of his first five full seasons. Papelbon also struck out the side in the ninth, just the third time in his career he's had a three-out save and struck out all three batters he faced.
• The
Minnesota Twins
'
Francisco Liriano
had pitched 78⅓ innings at Target Field this season without allowing a home run before the
Chicago White Sox
's
Andruw Jones
hit a three-run shot in the second inning. And while Liriano gave up his first HR at home,
Joe Mauer
went deep at Target Field for the first time this season (49 games).
• The
Philadelphia Phillies
'
Jimmy Rollins
was the first player since
Nomar Garciaparra
in 1997 to have a triple, home run and two stolen bases in a game. Also in that game,
Jayson Werth
had been hitless in his last 35 at-bats with two outs and runners in scoring position before his seventh-inning double scored
Raul Ibanez
from third.
• The
Atlanta Braves
are tied for the major league lead with 10 walk-off wins, and rookie
Jason Heyward
has accounted for three of them following his RBI single in the ninth inning against the
Washington Nationals
.
May, 1, 2010
5/01/10
6:55
PM ET
By
John McTigue, ESPN Stats & Info
| ESPN.com
With two HR in a 7-6
Chicago White Sox
victory over the
New York Yankees
on Saturday,
Andruw Jones
appears to be inching back into the limelight. Jones has already hit 8 HR this season and he's got a 1.170 OPS. This comes after hitting just 20 HR combined over the past two seasons with a .664 OPS. So how has Jones turned it around?
A pessimist would just say that he was lucky to face
Javier Vazquez
at Yankee Stadium. Jones now has 7 HR in his career vs Vazquez, the most vs any pitcher in his career, and he now has hit four HR and reached base in six of his last seven plate appearances vs him dating back to 2005.
But Jones is hitting better against all pitches. And according to Inside Edge data it's Jones' performance against non-fastballs that's proving to be the biggest improvement to his game.
In 2008 and 2009, Jones hit just 5 of his 20 HRs and a combined .133 (26-196) against curveballs, sliders and change-ups. This season, Jones has already hit 4 HR off of non-fastballs and he's batting a combined .278 (5-18) against said pitches.
Jones is also doing better in situational hitting. He's taking advantage of pitchers when ahead in the count and he's doing a better job of surviving when behind in the count. Wednesday's game was the second time in his career that Jones hit 2 HR and stole a base in the same game. The first time was way back on April 23 against the
Seattle Mariners
. Jones is still striking out quite a bit (0.61 BB/K ratio, 3.22 AB/K), but given the results when he does put the ball in play, he and the White Sox probably don't mind too much right now.
April, 27, 2010
4/27/10
2:12
PM ET
By
Jeremy Lundblad, ESPN Stats & Info
| ESPN.com
Today's Trivia
:
Derek Lowe
and
Kevin Millwood
are both scheduled to start on Tuesday, but that's not the only thing they have in common. Both pitchers have thrown a no-hitter on April 27 before; Lowe in 2002 and Millwood the following year. In fact, there have been six no-hitters on April 27, tied with September 20 for the most on a particular date.
On the subject of no-hitters: Who are the three active pitchers with multiple one-hit shutouts to their credit, but no no-hitters?
Quick Hits
: With some data to work with after three weeks of action, some interesting lefty-righty split trends have emerged:
* In 2008,
Andruw Jones
hit .178 against lefties. Last season, it trickled up to .218. So far in 2010, Jones is hitting .400 against southpaws and already has four home runs, most in the majors and equaling last season's total.
* A career .308 hitter against lefties,
Xavier Nady
was brought in to provide some punch to a Cubs offense that hit only 25 home runs against lefties all last season, which was seven fewer than any other team. So far, Nady is 3-for-20 (.150) against lefties.
* Meanwhile,
Marlon Byrd
is 17-for-28 (.607) with a league-leading seven doubles against lefties.
*
Matt LaPorta
is 0-for-18 against southpaws, and hitting .294 against righties.
* In 2008,
Garrett Atkins
had a 1.014 OPS against lefties. This season, he's 0-17 against lefties and hitting .310 against right-handed pitchers.
* After a 5-for-25 start,
Ryan Howard
is now hitting .206 against lefties since the start of 2009.
*
Chone Figgins
is a mere 3-for-39 against righties, a year after he hit .323 against them. Yet, only four players have more walks against righties.
* The Padres are hitting an MLB-worst .185 against lefties, and have only managed six extra-base hits.
* The Royals are hitting an MLB-best .333 against lefties, yet have done so with only seven extra-base hits.
* The Dodgers and Mariners have only managed one home run against a lefty. The Dodgers, who have 19 homers off of righties, have gone 87 at-bats without taking a southpaw deep.
* The Blue Jays' 26 home runs against righties are the most in baseball, but they only have a pair against lefties.
Today's Leaderboard
:
Colby Rasmus
has the league's highest OPS against righties (1.480), but is 0-for-11 with seven strikeouts against lefties.
Key Matchups
:
Jamie Moyer
is just 1-3 all-time when pitching in San Francisco. That one win came on July 16, 1987 –- almost 23 years ago – in Moyer's first full season in the big leagues. Pitching for the Cubs, Moyer had a pair of Hall of Famers behind him in Andre Dawson and Ryne Sandberg. Bruce Bochy, Moyer's opposing manager tonight, was still an active player. But the most startling note comes from Baseball Tonight researcher Mark Simon:
Pablo Sandoval
was just 11 months old on that date. This will be the first time Sandoval and Moyer face one another.
If Derek Lowe wants to celebrate the eighth anniversary of his no-hitter in style, he'll have to do something about
Matt Holliday
first. Holliday has a .563 career average against Lowe. According to the Elias Sports Bureau, that's the highest average in any batter-pitcher matchup among active National League players (minimum 30 AB). However, that includes a .650 batting average when playing in Colorado. Away from Coors, Holliday is a mere .417 hitter against Lowe.
Trivia Answer
:
Tim Hudson
,
Kerry Wood
and
Chris Carpenter
all have pitched two one-hit shutouts, but never a no-hitter. (
Pedro Martinez
and
Jason Schmidt
would also qualify if on a roster). Interestingly, Carpenter gets the start tonight against Derek Lowe.
April, 24, 2010
4/24/10
2:57
AM ET
By
ESPN Stats & Info
| ESPN.com
Birthdays are awesome, especially when you get great gifts.
Andruw Jones
turned 33 years old Friday and decided to celebrate by blasting 2 HR, including the walkoff. We break down how Jones got it done.
Hitter of the Night:
Andruw Jones: 2-4, 2 HR, 2 RBI, BB
According to the Elias Sports Bureau, Andruw Jones became just the third player in Major League history to hit 2 HR on his birthday with one being a walkoff. He joins
Alex Rodriguez
in 2002 and Jim Beauchamp in 1972.
Jones has taken a different approach at the plate so far in 2010 compared to his disastrous 2009 campaign, and it has resulted in some improved numbers for the White Sox outfielder. Jones is seeing more pitches and making pitchers work harder in 2010, and as a result is getting on base and driving pitches at a better clip then he was last year. Jones is seeing 4.7 pitches per PA this season (4.0 last season).
Why Giants starter Tim Lincecum won:
- Against his changeup, hitters went 0-9 with 5 K, missed 53 percent of swings, and chased 60 percent out of the strike zone. His changeup has been nearly unhittable the last three starts - opponents are just 1-25 against the pitch, chasing it 54.8 percent of the time and missing it 51.0 percent of the time.
Lincecum entered Friday's game with the Cardinals having held them scoreless in their last 19 innings.
Yadier Molina
's RBI single in the 6th inning ended the streak at 24 innings, which is tied for the longest streak against a single team in Lincecum's career. The 2-time defending NL Cy Young is now tied for the NL lead with 4 wins, 6th in ERA at 1.00 (min. 15 IP) and the leader in K with 32.