Stats & Info:

Angel Pagan
May, 25, 2013
5/25/13
10:34
PM ET
By
ESPN Stats & Information
| ESPN.com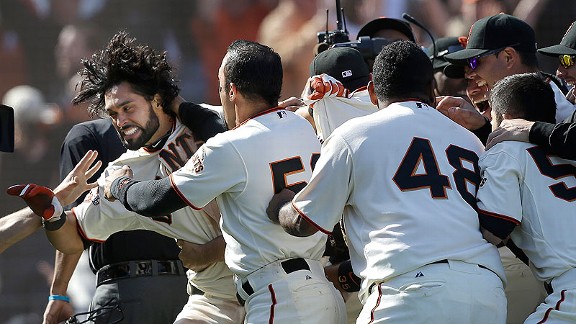 AP Photo/Jeff ChiuAngel Pagan had a good end to his day on Saturday.
Friend of Stats & Information Tim Kurkjian always likes to tell us that the best thing about watching baseball is that every day you have the potential to see something new.
On Saturday, you may have seen something you'd never seen before with
Angel Pagan
's walk-off inside-the-park home run against the
Colorado Rockies
.
The Elias Sports Bureau notes that if you were a Giants fan, you hadn't seen a walk-off inside-the-park home run since Bill Terry hit one in 1931.
But if you were a baseball fan, you might have seen one of these before.
Here's a look at the other walk-off inside-the-park homers in the majors in the last 20 seasons, with the help of media reports and newspaper stories from those games.
Rey Sanchez, 2004 Tampa Bay Devil Rays
The last walk-off inside-the-park homer also came against the Colorado Rockies on June 11, 2004. Sanchez hit a soft liner to shallow right on which
Jeromy Burnitz
tried and failed to make a shoestring catch. When Choo Freeman's throw into the infield was offline, Sanchez didn't just score … he scored standing up.
The homer was Sanchez' first in more than two years. He would only hit one more in his major-league career, which ended the following season.
Ken Griffey Jr 2001 Cincinnati Reds
The Cincinnati Reds entered their Aug 20 meeting with the Cardinals with an 11-game winning streak, their best since 1982. It looked like they would extend the streak to a dozen games, but they blew leads in the ninth and 10th innings.
Griffey Jr. then ended things with a walk-off homer in the 11th, capping a game that Hall-of-Fame honored writer Hal McCoy wrote was ugly enough that "Baseball Tonight was planning a miniseries on the foul-ups in this one" due to a series of botched plays and weird calls.
The final botch came on Griffey's hit, which was a drive to the fence in left center field that
Jim Edmonds
couldn't catch. When the ball hit Edmonds' foot and rolled away, Griffey was able to race all the way around the bases.
Bobby Abreu, 2000 Philadelphia Phillies
On August 27, 2000, Abreu accounted for both of the Phillies runs in a 2-1 win over the
San Francisco Giants
. The first run came via the traditional sort of home run, one that tied the game in the sixth inning against San Francisco Giants starter
Mark Gardner
.
The second came in a less traditional form, on a fly ball to center that was almost caught by Giants centerfielder
Calvin Murray
, but then rolled away.
Abreu would circle the bases and score on a close play with the help of Baseball Tonight's
Doug Glanville
.
"I directed him which way to slide—If I remember right, he did his classic pop-up slide to make it look pretty" Glanville said with a laugh prior to Saturday's Baseball Tonight. "We were saying tonight 'I don't know if I've seen that before.' But I have."
Marquis Grissom, 1994 Montreal Expos
This victory on August 1 was a memorable win for the best Expos team, the one that never got a chance to prove itself in postseason play. Grissom's walk-off inside-the-park homer came in Olympic Stadium. This one was on a ball that centerfielder Gerald Young tried to catch, then bobbled after the fact. The attempt to throw Grissom out was hampered by a hesitation before throwing from second baseman Geronimo Pena
"Everybody wants to get on ESPN at night, but this isn't the way I wanted it," Young told reporters that night.
This would be part of a 20-3 stretch for the Expos. Their season would end a little less than two weeks later when the players went on strike and owners eventually canceled the World Series.
October, 16, 2012
10/16/12
1:54
AM ET
By
ESPN Stats & Information
| ESPN.com


After scoring six runs in their first three home games this postseason, the
San Francisco Giants
found their offense at AT&T Park.
Second basemen
Marco Scutaro
and
Ryan Theriot
, who had five hits and one RBI combined in this postseason entering Monday, combined for three hits and four RBI in the Giants' 7-1 win over the
St. Louis Cardinals
.
The Giants got the game off to a good start as
Angel Pagan
hit his second lead-off home run in the last six days.
He's the second player with two lead-off home runs in a single postseason joining
Jimmy Rollins
who did it in 2008. Rollins and
Derek Jeter
each have the most postseason home runs leading off the first inning with three.
Not only did the Giants' bats come to life, but they also had a starting pitcher get through the sixth inning for the first time this postseason.
Ryan Vogelsong
allowed one run in seven innings to pick up his first career postseason win.
Vogelsong matched a season high by recording nine outs with his offspeed pitches. He did not allow a hit against an offspeed pitch.
This postseason the Giants have been working hard Monday through Friday and then taking weekends off.
They improve to 4-0 on games played on weekdays, scoring nearly four more runs per game than they have on the weekends.
Chris Carpenter
was responsible for six of the eight runs in the game as he allowed five and drove in the Cardinals only run.
According to the Elias Sports Bureau, Carpenter is just the seventh pitcher in MLB history to drive in his team's only run in a postseason game.
The last to do so was Darryl Kile of the Astros against the Braves in 1997.
It's Carpenter's first postseason loss since 2009.
He was 5-0 in his previous seven starts.
The series now shifts to St. Louis for the next three games beginning Wednesday.
Matt Cain
will face
Kyle Lohse
in Game 3.
Cain won his last start and is 1-1 in the postseason while Lohse is 1-0 with a 2.13 ERA in two starts.
October, 10, 2012
10/10/12
9:15
PM ET
It's been quite some time since
Tim Lincecum
pitched the way that he did on Wednesday.
Lincecum and the
San Francisco Giants
forced Game 5 with a rout of the
Cincinnati Reds
.
Banished to the bullpen due to his struggles throughout 2012, Lincecum played the biggest role in this game with 4 1/3 innings of stellar relief. With their former ace in vintage form, the Giants bats woke up with a record-setting performance.
Let's go inside the numbers on their Game 4 win.
How Lincecum Won
Lincecum came out of the bullpen with some of best stuff of the season.
Lincecum's changeup was his most valuable pitch and he seemed to sense that. He virtually abandoned his curve and slider and threw the changeup 23 times in 55 pitches. That 42 percent usage rate was a season high.
Lincecum got six outs with his changeup, the biggest of which was his strikeout of
Ryan Ludwick
to protect a 3-2 lead with two on and two out in the fourth inning.
He struck out two other hitters with the changeup later in the game:
Jay Bruce
and
Todd Frazier
.
The three strikeouts with the changeup were his most in any game since he had four against the Mets on July 31. In his last three starts, spanning 16 1/3 innings, he totaled three strikeouts with the changeup.
Linecum is the first pitcher to win a postseason game in relief in which he got at least 13 outs while allowing two hits or fewer since
Pedro Martinez
threw six hitless innings for the 1999
Boston Red Sox
in Game 5 of the ALDS against the Indians.
The last NL pitcher with such a game was another Giant: lefty reliever Joe Price, 25 years ago Thursday in the NLCS against the
St. Louis Cardinals
.
A Giant barrage
The Giants had a franchise postseason record eight extra-base hits in Game 4. That was more extra-base hits than they had in any game in 2012.
At the forefront of that was centerfielder
Angel Pagan
, the first Giants centerfielder with two hits, a home run, and two RBI in a postseason game since Willie Mays in the 1971 NLCS. He was also the first player in Giants history to lead off a postseason game with a home run.
Pagan has nine home runs this season (combining the regular season and postseason). Three have come against the Reds.
Gregor Blanco
also snapped a 140 at-bat homerless drought with his second-inning homer.
Blanco had only one home run on the 132 pitches he saw this season that our pitch classification system labeled as "middle-in" but homered on this one against Reds starter
Mike Leake
to put the Giants ahead.
Pablo Sandoval
had a home run, double, single and sacrifice fly, all on pitches out of the strike zone.
Since his first full season in 2009, Sandoval has been among the best bad-ball hitters in baseball, ranking first in hits and second in home runs and batting average on pitches out of the zone.
What's next?
The Giants and Reds will play a winner-take-all Game 5 on Thursday for the right to go to the NLCS.
The Reds will be playing their first winner-take-all postseason game since Game 7 of the 1975 World Series when they beat the Boston Red Sox 4-3 on a 9th-inning hit by Joe Morgan.
The Reds are 3-2 all-time in winner-take-all postseason games, with wins in 1940, 1972, and 1975.
The Giants will be playing their first since Game 7 of the 2002 World Series, a 4-1 loss to the Angels. The Giants were managed by current Reds manager Dusty Baker that season.
The Giants are 1-5 all-time in winner-take-all postseason games. Their lone win was in Game 5 of the 2002 NLDS against the
Atlanta Braves
.
August, 26, 2012
8/26/12
2:28
PM ET
By
ESPN Stats & Information
| ESPN.com
Jason O. Watson/Getty ImagesThe Giants offense hasn't missed a beat since Melky Cabrera was suspended on August 15.
A week-and-a-half into
Melky Cabrera
's 50-game suspension, the
San Francisco Giants
have proven that they're more than capable of producing runs even with their top hitter out of the lineup.
When the Giants face the
Atlanta Braves
tonight at 8 ET on Sunday Night Baseball on ESPN, they'll bring an offense that ranks third in the National League in runs per game and fourth in batting average in the 10 games since Cabrera was suspended.
Much of the credit for the Giants improved production at the plate (they are scoring more runs per game and have a higher batting average since Cabrera's suspension than before it) belongs to leadoff hitter
Angel Pagan
, who leads the NL with a .409 average since August 15, the day Cabrera was suspended.
Pagan, hitting .280 before Cabrera's suspension, has feasted on changeups in his last 10 games, going 6-10 with three doubles. His six hits against changeups lead the majors in that span.
Joaquin Arias
and
Gregor Blanco
also deserve recognition for their performance at the plate with Cabrera out. Since August 15, Arias is 10-22 and has raised his average by 18 points (.262 to .280). Blanco has been similarly impressive, hitting .346 (9-26) since August 15 after batting .232 before the suspension.
Their hot bats have allowed the Giants to win 7 of 10 games since Cabrera's suspension and actually increase their lead atop the NL West. San Francisco, tied for first in the division with the
Los Angeles Dodgers
when Cabrera's suspension was announced, entered Sunday two games clear of all division rivals.
Things are even looking up for Melky Cabrera, who pulled ahead of
Andrew McCutchen
in the MLB batting race after McCutchen went 0-4 Saturday. Cabrera, who is suspended for the rest of the regular season, has 501 plate appearances in 2012, one shy of the amount necessary to qualify for the batting title.
However, MLB rules could still allow him to win the batting crown.
For batting title purposes, Cabrera will finish the season with a .3457 average, which is what his average would be if the necessary number of plate appearances were added to his total to get to the qualifying number (502).
Should no other hitter finish with an average higher than .3457, Cabrera would win his first batting crown.
April, 26, 2011
4/26/11
3:17
PM ET
Today's Trivia:
It was 50 years ago today that Roger Maris hit the first of his 61 home runs in 1961. (He went homerless in his first 10 games of the season.) Maris would win his second straight American League MVP that year. Who is the only player to win back-to-back American League MVP awards since?
On Monday, we looked at American League hitters who were slumping. Here's a look at the numbers behind some of the notable slumps in the National League:

Gonzalez
• The Rockies
Carlos Gonzalez
is just 3-for-34 on at-bats ending in a fastball. At .088, that's the lowest of any regular in the majors this season. Last season, he hit .379 with 14 home runs on at-bats ending in a fastball.
• The
Los Angeles Dodgers
James Loney
(.170 BA) is swinging at 53.5 percent of pitches, way up from 42.2 percent last season. It's most noticeable on the first pitch where he's swinging at 39.4 percent compared to 21.9 percent in 2010.
• It's the soft stuff getting to the
Pittsburgh Pirates
Pedro Alvarez
(.216). He's 2-for-17 on at-bats ending in a change-up and 2-for-14 on sliders.
• Marlins' shortstop
Hanley Ramirez
(.194) actually is 5-for-14 with three doubles against left-handed pitching, but righties have been a different story. A career .313 hitter against right-handers, Ramirez is hitting .151 against them this season. Of his swings against right-handed pitching, 27.1 percent have been swings and misses, up from 19.9 percent last season.
•
Dan Uggla
has a .174 batting average on balls in play (BABIP), which puts him ahead of only
Angel Pagan
among 99 National League qualifiers. (The league average is .297.) However, that's not just a matter of luck. Only 10.8 percent of Uggla's hits have been line drives, down from 22.5 percent in 2010.
• When you look at the National League players who hit the highest percentage of ground balls, speedsters
Jose Tabata
and
Michael Bourn
not surprisingly top the list. But sixth on that list is
Raul Ibanez
(.179) who is hitting 60.0 percent grounders, up from 44.6 percent in 2010.
• Given that he hit .196 in 2010, it's hard to call
Carlos Pena
's .169 batting average a slump. However, the fact that he has only one extra-base hit (a double) would qualify as a power slump. All 28 of his home runs in 2010 came on pitches middle-away. This season, he's hitting just .125 on those pitches.
Trivia Answer:
Frank Thomas
(1993-94) is the only player to win back-to-back American League MVP awards since Maris.
July, 15, 2010
7/15/10
9:11
AM ET
By
Doug Kern, ESPN Stats & Info
| ESPN.com
Yesterday, we unveiled some of our midseason 2010 Next-Level Awards. Here are the rest of the honors:

The "Let's Go Home" award

For exemplary performance in the 7th inning and later.

Despite Baltimore's lowly place in the standings, Nick Markakis has been trying his best to keep them in the game. Among players with 100 plate appearances from the 7th inning onward, he has the best batting average (.384), and is among the league leaders in doubles (10).

Unfortunately, by the 7th inning, the Orioles are already trailing 58% of the time, and they're a ridiculous 1-51 when behind entering the 9th. That one win was the extra-inning, rain-delayed affair in Texas last Friday. Markakis can only do so much.

Runners-up: Joey Votto (.380), Angel Pagan (.379), Jose Guillen (.353).


And now (drum roll) on to the pitching side. For pitching awards, we used a minimum of 200 batters faced (as opposed to a certain number of innings), giving us 164 eligible recipients.


The "Tie 'Em Up" award

Some of the silliest-looking swings are when hitters chase balls way in on their hands. It's hard to get around quickly on an inside pitch, so even if you do hit it, it's generally not for power.

The best at tying 'em up? The Braves' Tim Hudson, who surrenders just a .116 batting average on pitches that are on the inner third or too far inside.

Hudson is doubly qualified for this award; his overall opponents' average is .219. That 103-point difference between the two is also the best among our qualifying pitchers.

Runners-up: Francisco Rodriguez (.143), David Price (.155), Mat Latos (.158)


The "Finish Him" award

If the best pitch in baseball is strike one, then strike three must be right behind it. For some reason, though, some pitchers can't get over that two-strike hump. Sometimes they get cute and try to trick a hitter into swinging at bad pitches. Sometimes they know a hitter is sitting on a pitch in the zone and will try to nibble.

The pitcher who gives up the least once he gets to two strikes is the Mariners' Felix Hernandez. You'd better get to King Felix early, because opponents only hit .117 off of him in two-strike counts. (And that's ALL two-strike counts; when it's 0-2 it drops to .089.) Before two strikes, though, his average against is a whopping .331.

A close second is Giants ace Tim Lincecum, at .121. With all those strikeouts, you'd expect he'd be good at closing the door. But his average allowed with zero and one strikes -- .367 -- is even worse than Felix's. In fact, the 246-point difference in Lincecum's averages is third-highest in the majors.

Other runners-up: Trevor Cahill (.131), Mat Latos (.132), Ervin Santana (.138).

And the worst? The Nationals' John Lannan, who allows a .293 average and has surrendered 11 of his 26 extra-base hits after he's got two strikes.


The "Souvenir Hunter" award

Tiger fans are going to show up to watch Justin Verlander pitch anyway. But bring your glove. Verlander is currently inducing the highest number of foul balls off the bats of opposing hitters (414). He barely lost this category (by three) to Cliff Lee last season. Obviously not all of those reach the seats. But it's an indication of how much trouble batters have catching up to Verlander's fastball which averages in the 96-mph range.

Runners-up: Phil Hughes (407), Johan Santana (402), Matt Cain (392).


The "Making Him Work" award

In this blog and others, we reference the "patience index" -- the average number of pitches that a batter sees during a plate appearance. We can do that for pitchers also. Because, again, it's not always innings that matter.

Jered Weaver of the Angels gets the nod for having the most pitches thrown per batter this season. He's faced 490 hitters and launched 2,088 balls toward them. That's 4.26 each. Only 33 of those batters bothered to put Weaver's first pitch in play, and a third of them got hits.

Runners-up: Rich Harden (4.25), Tyler Clippard (4.20), Bruce Chen (4.18).

Honorable mention: Appropriately, we'll close with the guy who's occasionally labeled the "greatest closer ever", Mariano Rivera. He actually comes in higher than Weaver, at 4.42 pitches for every batter faced. Alas, he doesn't face enough batters to make our minimum.
May, 20, 2010
5/20/10
4:37
AM ET
By
ESPN Stats & Info
| ESPN.com
Hit Tracker
- Mets outfielder
Angel Pagan
's 4th-inning inside-the-park home run against the
Washington Nationals
traveled 396 feet and hit the center-field wall. Despite being a solid shot, only Coors Field's friendly confines (and atmosphere) would have yielded an out-of-the-park home run.
- The longest home run of the night came off the bat of Arizona's
Adam LaRoche
, whose second shot of the game traveled 435 feet to center field. Surprisingly, the blast wouldn't have been a home run in every MLB park. The cavernous center field of Minute Maid Park in Houston would have gobbled it up.
Why Tigers Starter
Justin Verlander
Won:
- Controlled the count. Verlander only went to a 2-0 count once in Wednesday's game against Oakland. It was to
Daric Barton
in the bottom of the seventh inning who then flied out to center on a 2-2 pitch.
- Finished off Athletics hitters efficiently. Verlander retired 15 of 19 A's hitters with two strikes (78.9%), including five strikeouts.
- Used his fastball early and often. Verlander threw 25 first pitch fastballs to the 30 batters he faced, and 21 of them were strikes. Oakland hitters only swung at one first pitch fastball all night, a third-inning pitch
Adam Rosales
flied out on.
Why Red Sox Starter
Clay Buchholz
Won:
- Deadly with two strikes. Buchholz held the Twins to 1-13 (.077) in two-strike counts, and seven of the Twins 14 plate appearances that reached two strikes ended in a strikeout (50.0 K pct). Buchholz especially controlled Minnesota hitters with the slider in two-strike counts, holding Twins hitters to 0-5 and four strikeouts on the pitch.
- Started innings strong and maintained efficiency. Buchholz retired seven of the nine leadoff men he faced, and ended 15 of 28 (53.6%) plate appearances against him in three pitches or less (MLB avg - 47%). Buchholz also went to a three-ball count only four times all game, holding the Twins to 0-3 and one walk.
- Grounded the Twins. Buchholz recorded 11 of his outs on groundouts, tied for his second-highest total this season. Buchholz also recorded seven outs on groundballs from the fifth to the seventh inning, with only a
Justin Morneau
single preventing them from being consecutive. The batter after Morneau (
Michael Cuddyer
) grounded into a 6-4-3 double play.
Why Marlins Starter
Anibal Sanchez
Won:
- Retired the first batter of the inning in all seven innings pitched.
- Hitters were 1-10 against the slider (opp BA against slider is now .098).
- 76 percent of sliders went for strikes (MLB average: 63 percent).
Looking Ahead
-
Clayton Kershaw
has held the Padres to a .186 batting average since the start of the 2009 season, but has been especially good against San Diego lefties, who are just 1-17 against him. Lefties do not have a single well-hit ball against Kershaw (0-for-17). Also, he's allowed just six hits in 39 at-bats when he is ahead in the count.
-
Alfonso Soriano
is scheduled to face
Joe Blanton
on Thursday, a pitcher he's had success against in his career (5-14, 2 extra-base hits). Soriano has been hot in May, batting .357 with four home runs while Blanton has struggled in three starts since coming off the DL (1-2, 5.49 ERA). Opponents have jumped on Blanton's first pitch (6-14, 2 HRs), a count Soriano has feasted on this season (6-11, HR, 2 doubles).
April, 23, 2010
4/23/10
1:36
PM ET
By
Jeremy Lundblad, ESPN Stats & Info
| ESPN.com
Today's Trivia
: Justin Smoak, a South Carolina native, is expected to make his MLB debut on Friday. Who has the most career home runs for a player born in South Carolina?
Quick Hits
:
Reggie Willits
appeared in his 300th game on Thursday, and a career-long trend continued. He went 0-for-3, and still does not have a home run in his career. The active position player with the next most career games without a homer is
Jose Morales
with 55. In fact, Willits has more career plate appearances without a home run (819) than any pitcher.
Ryan Dempster
is next at 518. So with that in mind, and the help of STATS, here are some notable "most withouts" among active players:
*
Angel Pagan
has the most plate appearances (881) without being hit by a pitch.
*
Chase Utley
has 83 stolen bases, but has never even tried to steal third.
*
Alex Rios
has the most stolen bases (120) for a player that has never been picked off.
*
Ryan Garko
has been on base more times (602) than any other player without a stolen base.
*
John McDonald
has nearly twice as many plate appearances (1,889) as the next player who has never been intentionally walked.
*
Ramon Castro
has the most plate appearances (1,400) without a triple.
*
Edinson Volquez
has the most plate appearances (77) without a walk.
Tommy Manzella
(45) has the most for a position player.
*
Ryan Perry
has the most appearances (60) and innings (69 2/3) without a win.
*
Cla Meredith
has the most relief appearances (270) without a save.
*
Scott Olsen
and
Claudio Vargas
have the most starts (114) without a complete game.
*
Andrew Bailey
has pitched the most innings (88 1/3) without hitting a batter.
*
Jon Garland
has pitched the most innings (1,851 1/3) without a balk.
*
Carlos Silva
has the most innings (1,147 2/3) without a pickoff. Interestingly,
Matt Cain
and
Tim Lincecum
are next.
*
George Sherrill
has the most innings (256) without allowing a triple.
*
Brad Ziegler
has the most innings (142) without a wild pitch.
Today's Leaderboard
: In the spirit of today's theme, CC Sabathia's 292 starts are the most for an active pitcher without a relief appearance. He's followed by Ben Sheets (225) and Jake Peavy (219).
Carlos Zambrano
has 21 relief appearances to his name, but none since 2002. His streak of 241 straight appearances as a starter is likely to be broken this weekend. The Elias Sports Bureau notes that Zambrano's streak is the fifth longest among active pitchers. Livan Hernandez's last 415 appearances have been as a starter.
Key Matchups
: The top five hitters that the Royals used yesterday are 41-94 lifetime against
Carl Pavano
. That's a .436 batting average. It's no wonder that Pavano is just 4-5 with a 7.84 ERA in his career against Kansas City.
Adrian Beltre
is just 1-for-18 in his career against
Jeremy Guthrie
. That .056 batting average is his worst against any pitcher he has at least 20 plate appearances against.
Whenever
Albert Pujols
meets Tim Lincecum, it warrants mentioning. Pujols is 3-for-8 in his career against Lincecum, but has just one hit in their last seven meetings at the plate.
Trivia Answer
: Jim Rice's 382 home runs are the most for a player born in South Carolina. He's followed by
Reggie Sanders
(305). The active leader?
Orlando Hudson
with 78.
April, 18, 2010
4/18/10
12:47
AM ET
By
ESPN Stats & Info
| ESPN.com
Ubaldo Jimenez
threw the Rockies' first no-hitter in franchise history Saturday night against the Braves. However, that game may not have been the most noteworthy of the day.
The Mets outlasted the Cardinals, 2-1, in 20 innings at Busch Stadium. Here are some of the notable nuggets:
This was the second time in history that a 20-inning game and a no-hitter occurred on the same day. On April 27, 2003, Philadelphia's Kevin Millwood no-hit the Giants, while St. Louis and Florida played a 20-inning game.
The game lasted 6 hours and 53 minutes. When Jaime Garcia threw the first pitch at 4:14 p.m. EDT, the first of four NBA playoff games (Bulls-Cavs) was at halftime. Since then, 10 quarters of NBA basketball were played (2nd half, plus entire Bucks-Hawks and Heat-Celtics games) before the game finally ended.
The game was scoreless for the first 18 innings. It was the first MLB game to go that long without a run since the Expos and Dodgers went 21 scoreless frames on Aug. 23, 1989. Los Angeles won, 1-0, in 22 innings on a Rick Dempsey home run.
The Cardinals used TWO position players as pitchers. Infielder Felipe Lopez threw a scoreless 18th inning and Joe Mather pitched the last two innings. The Elias Sports Bureau tells us that it's the first time a team used two position players as pitchers in a game since July 20, 1990, when Dave Martinez and Junior Noboa pitched for Montreal.
Mather gave up two runs (both on sacrifice flies) and took the loss, becoming the first non-pitcher to get a decision since San Diego's Josh Wilson picked up a loss last season in an 18-inning game with Florida on June 7.
Cardinals pitcher Kyle Lohse entered the game as a defensive replacement in left field in the 18th inning. He recorded two putouts.
Angel Pagan went 3-for-6 in the game. The rest of the Mets were 6-for-55 (.109).
The teams combined to go 1-for-25 with runners in scoring position. The Cardinals were 1-for-18 and the Mets 0-for-7.
Jeff Francoeur knocked in one of the Mets runs but his average dropped 76 points (.457 to .381) after an 0-for-7 effort.
Of the 20 innings pitched by the Mets, 19 of them were scoreless. The only pitcher to give up a run was Francisco Rodriguez – and he got the win!
The teams combined to use 46 players. The Mets used every player except Friday's starter Oliver Perez. Even Sunday starter John Maine made a pinch-running appearance. Mike Pelfrey picked up his first career save.
The Mets went 1-for-30 against fastballs. They entered the day 21st in the majors hitting .269 against fastballs, and are now down to 26th, hitting just .238 against heaters! Just as shockingly, they hit .357 against sliders and changeups (3-9 and 2-5, respectively). They entered the game hitting just .250 against those two pitches.
April, 11, 2010
4/11/10
1:34
AM ET
By
Scott Regan, ESPN Stats & Info
| ESPN.com
With all due respect to
Willy Taveras
(4 RBI) and
Willie Harris
(game-saving catch), the true star for the
Washington Nationals
in their 4-3 win over the
New York Mets
at Citi Field on Saturday was
Tyler Clippard
.
Clippard's final stat line: 3 IP, H, 0 ER, 7 K (all swinging)

Not only did Clippard match his career high in total strikeouts in a game (7/25/09 vs SD), but it was the most swinging strikeouts he has produced in his career. Judging from his career success against the Mets hitters who struck out, we shouldn't be surprised.

Of the 40 pitches that Clippard threw Saturday, 29 of them were strikes (73 percent). This was considerably better than his career rate of 59 percent. In addition to the pitches that were swung on and missed, Clippard's ability to get the Mets hitters to chase pitches outside of the zone was a key to his success.
March, 29, 2010
3/29/10
9:00
AM ET
By
Mark Simon, ESPN Stats & Info
| ESPN.com
Those who got excited by Daniel Murphy's performance at the end of the season for the 2008 Mets had great expectations for 2009. Those have since been replaced by the anticipation for the next well-hyped Mets prospect, Ike Davis, whose Citi Field ETA has been moved up after a great spring.

But Murphy could still be One2Watch4 in 2010. Here's why:

Let's presume that the real Daniel Murphy is something between the machine-like hitter that fans saw for 49 games in 2008, and the oft-impatient, left field struggler-turned defensively adventuresome first baseman of 2009. The numbers (.382 BABIP) would tell you he might have been lucky in 2008. The eye test would seem to indicate he's got the ability to rope line drives and take advantage of the big outfield in Citi Field.

The latter is something Murphy did once the pressure was off at the end of the season, and it probably helped that by that point Murphy's comfort level at first base had improved. Under less-stressful circumstances, Murphy's swing returned to 2008 form.

Once Murphy found his swing, he became a doubles-hitting machine. After netting 19 doubles in his first 349 at-bats, he had 19 in his last 159, a pace that if carried over for 500 at-bats, would net 60 doubles.

That total has been unreached since 1936 (Hall of Famers Charlie Gehringer and Joe Medwick). The Mets record for doubles? A mere 44 by Bernard Gilkey in 1996. That would seem to be very much in Murphy's range if he can produce at a reasonable level. Citi Field's park factor rating scores high for triples (20 percent more at home than on the road), but not doubles (five percent fewer), but for Murphy that's okay. Triples for some are likely doubles for someone with Murphy's average speed.

The other thing to watch: Murphy's plate patience. His pitches per plate appearance dropped about 10 percent from his rookie year to his sophomore campaign. Pitchers exploited Murphy's inability to lay off low offspeed pitches (his "chase percentage" of 39 percent was six percent worse than the MLB average).

Murphy went from walking in almost 12 percent of his plate appearances in that small sampling in 2008 to doing so in just seven percent in 2009. Over the course of the season, that's about 25 potential times on base (and scoring chances) that Murphy and the Mets lost out on.

Lastly, keep an eye on Murphy's defense, since he talked of working with Keith Hernandez this spring. Baseball Info Solutions charted Murphy with among the best +/- ratings in baseball, which seemed odd. Range isn't always easy to evaluate though, so it's certainly possible that Murphy gets to balls well. Another year of data might help make a better evaluation, though new Mets third base/infield coach Chip Hale sounds like he thinks the numbers are legit.

"Just looking at film of him this offseason, I could see how talented he was, and his feet were as good as any middle infielder," Hale said while being interviewed on a Mets spring training telecast on Saturday." When you have a guy with feet like that, you can work with him. He's been unbelievable. To me, he's been as good as you can get at first base. I think people in New York are going to be pleasantly surprised at how well he plays."

Believe this: He's got room for improvement. Digging deeper, we found that Murphy had 32 defensive "misplays" by their scoring system (BIS charts every play of every game, using a system devised in tandem with Bill James). Only Adam Dunn collected more among first basemen. That won't be tolerated for much longer with a bat like Davis's waiting for a turn.