Stats & Info:

Anthony Bennett
July, 11, 2014
7/11/14
11:04
PM ET
By
ESPN Stats & Information
| ESPN.com
AP Photo/Mark DuncanLeBron has now changed teams twice after scoring 27 PPG.
You may think that
LeBron James
was the first player to leave Cleveland, win two championships in Miami and then return to the shores of Lake Erie, but he's not.
Long before James there was Hall of Fame NFL receiver Paul Warfield who spent six seasons (1964-69) with the Browns before being traded to Miami where he won two Super Bowls in five years (1970-74) with the Dolphins, including as part of the 1972 Perfect 17-0 season. After spending a year in the World Football League Warfield returned to Cleveland for his two final NFL seasons (1976-77).
The major difference is that LeBron, like only Gail Goodrich before him among (current or extremely likely) Hall of Famers, is returning prior to his 30th birthday with many prime playing days ahead.
Point of Departure
Scorers of his magnitude do not often change teams yet this is the second time LeBron James sought a change of scenery following a season in which he averaged at least 27 PPG.
Over the past 30 years only three others – Tracy McGrady who went from the Magic to the Rockets in 2004, Adrian Dantley who went from the Jazz to the Pistons in 1986, and Kiki Vandeweghe who landed in Portland after averaging over 29 PPG for the Nuggets—changed teams after dropping in 27 or more per contest.
Odds and Ends
Once LeBron James announced that he'll return to the Cavaliers next season, oddsmakers in Las Vegas were sent scrambling. According to the Las Vegas Superbook - Hotel & Casino, Cleveland is now a 4-1 favorite to win the 2014-15 Pro Basketball Championship. Cleveland's odds opened at 60-1 while Miami opened as a 2-1 favorite and are now 40-1.
Top of the Charts
With all due respect to Mark Price,
Brad Daugherty
and even Foots Walker, there's no disputing the greatest player in Cavaliers history. LeBron James leads the franchise in most major categories. Those that he doesn't will be sure to fall in swift succession over the next four years.
Who's No. 1? Take Your Pick.
Should the Cavs stand pat right now they would have the first roster with four top-overall draft picks since the 1986-87 through 1988-89 Showtime Lakers featured
Kareem Abdul-Jabbar
(1969), Mychal Thompson (1978), Magic Johnson (1979) and
James Worthy
(1982). James (2003) joins
Kyrie Irving
(2011),
Anthony Bennett
(2013) and
Andrew Wiggins
(2014).
King When It Counts
The 2014-15 Cavaliers are getting one of the greatest postseason performers ever. James' career PER of 27.7 in the postseason is second only to Michael Jordan's 28.6 (with a minimum of 50 playoff game appearances). The average NBA postseason PER is 15.
James had a string of six straight seasons leading the league in player efficiency rating (PER) snapped in 2013-14 when he finished second to
Kevin Durant
. Only Hall of Famers Kareem Abdul-Jabbar,
Wilt Chamberlain
and
Michael Jordan
have led the league in PER more often than James.
June, 27, 2014
6/27/14
11:29
AM ET
By
ESPN Stats & Information
| ESPN.com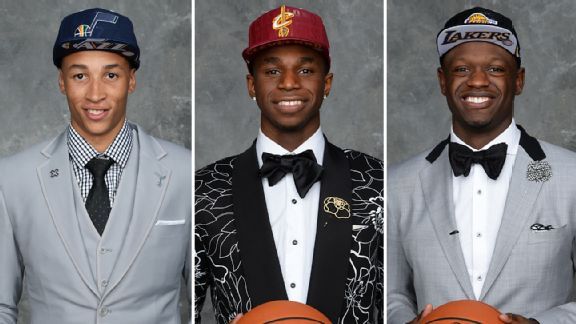 Getty ImagesAndrew Wiggins (center), Dante Exum (left) and Julius Randle all found NBA homes Thursday night.
After
Andrew Wiggins
joined
Anthony Bennett
in Cleveland (both the only Canadian-born players to be drafted first overall), the 2014 NBA Draft was only getting started.
Here's a look at some of the top stats and storylines from one of the most anticipated NBA Drafts in league history.
Parker, Embiid fill out Top 3
With Wiggins off the board, the
Milwaukee Bucks
selected Jabari Parker second overall. Parker was part of an elite group of freshmen to dominate both inside and out in college during the last 15 seasons.
The
Philadelphia 76ers
chose
Joel Embiid
with the third pick, giving Kansas as many top-three picks in this draft as it had in the rest of the common draft era combined (
Danny Manning
and
Raef LaFrentz
).
When healthy, Embiid, along with last year's lottery pick
Nerlens Noel
, should help a Sixers team that ranked 28th in the NBA in rebounding percentage last season. In his freshman season, Embiid led all Big-7 players with a 20.5 rebounding percentage.
Randle continues Kentucky tradition
From one storied program to another, former Kentucky standout Julius Randle was selected by the
Los Angeles Lakers
with the seventh pick in the first round.
After the Lakers finished last in the NBA in both offensive and defensive rebounding percentages, Randle will be expected to duplicate his double-double dominance from Day One.
Only Michael Beasley recorded more double-doubles in a freshman season than Julius Randle did last year.
Vonleh, McDermott stand out for Midwest
Noah Vonleh
went to the
Charlotte Hornets
with the ninth selection. Vonleh led the Big Ten in field goal percentage (50 percent) on catch-and-shoot plays, ahead of Michigan's
Nik Stauskas
(minimum 25 plays).
This was the first time Indiana had top-10 picks in consecutive drafts since 1976-77.
Doug McDermott
, who became the first Creighton player selected in the first round since
Benoit Benjamin
in 1985, continued the lottery legacy of Wooden Award winners.
Since 2005, every Wooden Award winner has been a lottery pick. The last winner to not go in the lottery was
Jameer Nelson
, who was drafted 20th overall in 2004.
UCLA trio pulls a first since 1979
The UCLA Bruins had three players selected in the first round of the NBA Draft for the first time since 1979.
Freshman point guard
Zach LaVine
was drafted by the
Minnesota Timberwolves
with the 13th pick. The
Memphis Grizzlies
turned some eyes by selecting Bruins shooting guard
Jordan Adams
with the 22nd selection. And sophomore point guard
Kyle Anderson
sealed the deal when he went to the
San Antonio Spurs
with the final pick of the first round.
Anderson is one of three players in the last 30 seasons to average at least 14 points, eight rebounds and six assists in a season , joining Memphis State's Anfernee Hardaway (1992-93) and Ohio State's
Evan Turner
(2009-10).
June, 27, 2014
6/27/14
12:24
AM ET
By
ESPN Stats & Information
| ESPN.com
Brad Penner/USA TODAY SportsAndrew Wiggins and Jabari Parker went at the top of this year's draft.
The 2014 NBA Draft is in the books. Here are the stats you need to know about the top seven picks.
No. 1 Cleveland Cavaliers – Andrew Wiggins
Wiggins became the 2nd Canadian-born player to be drafted No. 1 overall, joining
Anthony Bennett
last season. There are now three Canadian-born top-5 picks in the common draft era, and all are on the Cavaliers (Wiggins, Bennett,
Tristan Thompson
).
Wiggins also joins
Danny Manning
, who was drafted by the
Los Angeles Clippers
in 1988, as the only players in Kansas history picked first overall.
No. 2 Milwaukee Bucks – Jabari Parker
Parker became the sixth Duke player drafted in the top five since 1999.
He should be an immediate help for the Bucks in the post. Milwaukee averaged 5.9 post-up points per game, 27th in the league. Parker averaged 3.6 post-up points per game on 55.4% shooting.
No. 3 Philadelphia 76ers – Joel Embiid
Embiid gives the 76ers a good two-way post player. On offense he shot 55 percent on post-ups this season, best in the Big 12 (minimum 50 plays).
In the last 15 games he played with Kansas, Embiid held opponents to 29% shooting in the post.
No. 4 Orlando Magic - Aaron Gordon
Gordon is the fourth Arizona player drafted in the top five in the common draft era, joining Mike Bibby,
Sean Elliott
and
Derrick Williams
.
The Magic also pick up the youngest player in this draft class. Gordon does not turn 19 until September.
No. 5 Utah Jazz – Dante Exum
Exum joins
Kyrie Irving
and
Andrew Bogut
as the only Australian-born players picked in the top five in the common draft era.
The only other international point guard drafted in the top 10 was
Ricky Rubio
.
No. 6 Boston Celtics – Marcus Smart
Smart is the highest drafted Oklahoma State player since Bryant Reeves in 1995.
The last time the Celtics took a point guard this high in a draft was in 1997 when they drafted
Chauncey Billups
third overall.
No. 7 Los Angeles Lakers – Julius Randle
Last season the Lakers ranked last in both defensive and offensive rebounding percentage. Enter Randle, who led the nation with 24 double-doubles last season.
How prolific was Randle? The only freshman in Division I history to ever record more double-doubles in a season was
Michael Beasley
, who had 28 for Kansas State in 2007-08.
November, 6, 2013
11/06/13
10:57
AM ET
By
Steven Martinez & Micah Adams
| ESPN Stats & Info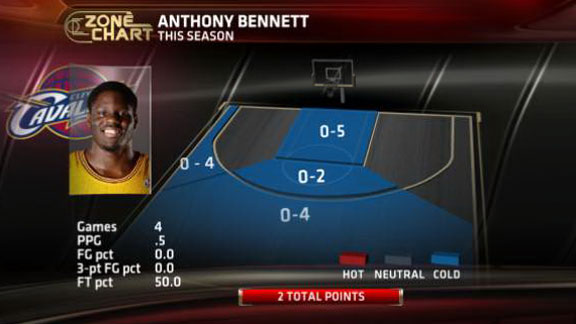 ESPN Stats & InformationAnthony Bennett has yet to make a field goal in his NBA career
The top overall pick in the 2013 NBA draft has started his career on the wrong foot.
Anthony Bennett
has scored just two points (two free throws) over the first four games of his career despite seeing 50 minutes of playing time.
According to the Elias Sports Bureau, that's the fewest points by a No. 1 overall pick through four games in the common draft era (since 1966).
Bennett has taken shots from various areas of the floor, but of his 15 misses, eight have come from the 3-point line.
The only other UNLV player to be drafted first overall was Larry Johnson by the Charlotte Hornets in 1991 (now the
New Orleans Pelicans
). In Johnson's first season in 1991-92 (in which he won Rookie of the Year), he recorded at least one field goal every game. Johnson played 707 games in his career and was held scoreless in only three.
And when comparing Bennett to the Cavaliers' other recent first overall picks,
LeBron James
and
Kyrie Irving
, he doesn't stack up well, either. James has never had a 0-for-15 stretch in his career, and he's in his 11th NBA season.
Irving has just one 0-for-15 stretch in his career. It was from Feb. 13-20, 2013, when he missed exactly 15 straight field goal attempts.
The Elias Sports Bureau tells us the last player to start his career by missing each of his first 15 field goal attempts was Rolando Ferreira of the
Portland Trail Blazers
. Ferreira missed his first 17 to start the 1988-89 season.