Stats & Info:

Antonio Brown
November, 29, 2013
11/29/13
11:15
AM ET
By
Marty Callinan, ESPN Stats & Info
| ESPN.com
These under the radar stars have played as well as anyone at their respective positions this season. Let's take a closer look at how these emerging stars have found success.
Wide receiver: Antonio Brown, Pittsburgh Steelers
The Steelers' fourth-year wide receiver entered Week 13 with the NFL lead in receptions while trailing only
Calvin Johnson
in receiving yards. Brown's 51 receiving first downs accounted for 35 percent of the Steelers' team total in that category, the fourth-highest percentage in the NFL.
Brown
Brown added five receptions and 59 yards to his impressive 2013 season totals on Thanksgiving. That makes 12 straight games with at least five receptions and fifty receiving yards for Brown. The last player with a streak that long in a single season was Laveranues Coles in 2002 (13 games).
Tight end: Julius Thomas, Denver Broncos
Julius Thomas has 10 receiving touchdowns in 10 games, tying Shannon Sharpe's franchise record for receiving touchdowns in a season by a tight end. The all-time record for touchdowns by a tight end was set in 2011 by
Rob Gronkowski
with 17. Two are tied for second with 13.
Thomas
Thomas' impact on the Broncos' offense is not limited to his work down near the goal line.
Peyton Manning
is having an historic season but isn't the same without his star tight end on the field.
Manning has a Total QBR of just 32 in the 90 action plays that Thomas hasn't been on the field this season.
For the sake of comparison, Manning has a Total QBR of 93 in 71 action plays without his favorite slot receiver,
Wes Welker
.
Defense: Star Lotulelei, Carolina Panthers
The Panthers have drafted defense with their last two first round picks and the strategy appears to have paid off. After allowing more than 2,000 yards and 18 touchdowns on the ground in 2011, the Panthers are on pace to allow around 1,300 yards and four rushing touchdowns in 2013.
Lotulelei
Rookie defensive tackle Star Lotulelei has played a huge role in that turnaround. The Panthers are allowing 3.4 yards per rush and 1.6 yards before contact with Lotulelei on the field. Carolina's defense has allowed 4.6 yards per rush and 3.0 yards before contact per rush with Lotulelei off the field.
December, 19, 2011
12/19/11
1:26
PM ET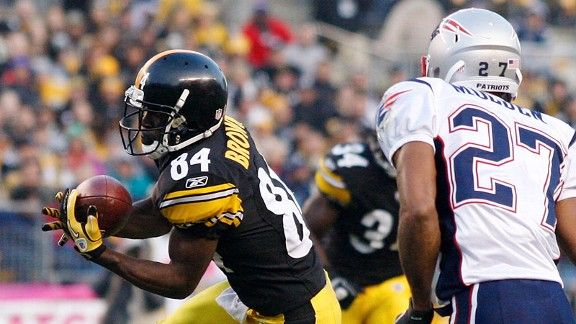 Jared Wickerham/Getty ImagesAntonio Brown has been a top performer for the Steelers on intermediate and long-range throws.
It's a rare kind of Monday Night Football matchup taking place this evening between two of the best teams in the NFL, a game in which each team's defense figures to play a significant role.
Here are a few of the statistical keys to watch in this contest:
Expect a Low-Scoring Game
Don't expect a lot of points in this game. The
San Francisco 49ers
and
Pittsburgh Steelers
are first and second in the league in scoring defense.
They are also in the top five in fewest yards allowed, but have quite a disparity in forced turnovers.
The 49ers are second in the league with 31 forced turnovers. The Steelers are 29th in the league with just 14.
The Steelers have allowed a total of 19 points in their last three games. Over that span, their opponents possessions have resulted in 16 punts, eight turnovers, four field goals, a blocked field goal, a turnover on downs, and one touchdown.
Playing to Their Strengths
The Steelers have been clamping down on passes toward the sidelines in recent weeks. The Steelers have recorded at least one interception on throws outside the painted field numbers in each of their last three games after recording none prior.
The 49ers haven't allowed a rushing touchdown this season. Every other team has allowed at least five. San Francisco is only allowing 70.5 rush yards per game, significantly better than other team in the NFL.
The 49ers' rush defense has yielded the fewest rush yards after contact this season. San Francisco is the only team to allow less than one yard after contact per rush outside the tackles.
Player to Watch: Antonio Brown
Brown, a sixth-round pick in the 2010 draft, has emerged as a serious threat in the Steelers offense. In Week 14, he had a career-high 151 yards against the
Cleveland Browns
.
Brown entered the week ranked second in the NFL with 25 receptions on throws of at least 15 air yards this season, 13 more than teammate
Mike Wallace
. Despite the extra receptions, Brown has yet to score on such a throw. Wallace has five of the Steelers' six touchdowns on throws of this distance.
Home-Field Advantage
Quarterback Alex Smith is glad to be playing at home tonight. This season, he's got 11 touchdowns in seven home games and only four touchdowns in six road games. His 26 sacks on the road are twice as many as he has at home.
Elias Sports Bureau's Stats of the Day
This week's Monday Night Football game is only the fourth ever between teams with 10 wins and a winning percentage of at least .750. All four of them have been in San Francisco and the 49ers have won the previous three, beating the Broncos most recently in 1997.
Mike Tomlin is 6–0 as a head coach on Monday Night Football. With a win tonight, he would equal the longest Monday Night start-of-career winning streak.
Don Shula, Tom Flores and Steve Mariucci won their first seven games as a head coach on Monday Night (Bill Cowher won his first six).
Pittsburgh's last loss on Monday Night came in 2006, a 9–0 loss in Jacksonville, in Bill Cowher's last appearance on Monday Night Football.
For more on this game, check out our Chalkboard Stats feature from last week.
December, 9, 2011
12/09/11
3:46
AM ET
The
Pittsburgh Steelers
continued their domination over the
Cleveland Browns
as they improve to 15-1 over the past 16 meetings against their divisional foe.
AP Photo/Gene J. PuskarBen Roethlisberger left Thursday's game in the second quarter with an ankle injury, but came back in the second half

After being knocked out of the game in the second quarter with a high-ankle sprain,
Ben Roethlisberger
made a courageous effort returning in the third quarter and ultimately improving to 13-1 as a starter versus the Browns.
Elias tells us that matches the third-best regular-season record for any starting quarterback versus one team since 1960 (minimum: 10 starts).
John Elway
was 10–0 against the
New England Patriots
, Roger Staubach was 16–1 versus the
New York Giants
and
Steve Young
was 13–1 against the
St. Louis Rams
.
Roethlisberger finished with 280 pass yards, but the bulk of that came on a 79-yard touchdown pass to
Antonio Brown
. For the game, Roethlisberger was surgical with the deep ball going 13-15 (86.7 percent) on passes 15 yards or longer.
Brown's reception capped a special day for the second-year receiver who finished with a career-high 151 receiving yards on just five receptions. Over Brown's last seven games he's averaging 94.7 receiving yards per game and has three games of 100 or more yards receiving.
Of course we can't talk about the Steelers without mentioning defense.
The Steelers have held their last three opponents under 10 points for the first time since 2006 and have only given up 19 points total during that stretch. In those three games, their opponents 33 possessions have resulted in 16 punts, eight turnovers, four field goals, one blocked field goal, one touchdown and three ends of half.
Since their sluggish 2-2 start the Steelers refocused on the turnover battle and on Thursday, used extra pressure to create takeaways. The additional pressure (five ore more pass rushers) forced
Colt McCoy
into an intentional grounding and an interception while the Browns were driving down four points late in the game. Overall, McCoy was 7-14 for 52 yards and two interceptions against added pressure.
The Steelers improve to 10-3 with a huge matchup against the 10-2
San Francisco 49ers
in Week 15 on the horizon. All eyes will be on Roethlisberger's ankle not just for that game, but for their playoff run as well. After all Big Ben is 10-3 in the postseason, which is the third-best in NFL history among quarterbacks with at lest 10 starts.
January, 20, 2011
1/20/11
9:00
AM ET
One year after the
New Orleans Saints
became the second team in league history to win the Super Bowl with a regular-season scoring defense ranked as low as 20th, championship-caliber defense is back in a big way.
The four teams still vying for the Lombardi Trophy all finished the regular season ranked in the top six in scoring defense. Since the merger, the only other season in which the league's four semifinalists all ranked in the top six in scoring defense is 1972, when the
Miami Dolphins
allowed a league-best 12.2 points per game en route to a perfect season and the franchise's first Super Bowl title.
It's not unusual to see one of the league's top defenses advance this far into the postseason. Regardless of which team wins Super Bowl XLV, it will mark the 34th time a Super Bowl champion finished the regular season as one of the league's six best scoring defenses. A top-six scoring offense has lifted the Lombardi only 29 times. (That number will not change since none of the four remaining teams ranked better than 10th in scoring during the regular season).
Steelers expose Ravens on both sides of ball but can't stop Suggs
The
Pittsburgh Steelers
defense deserves the lion's share of the credit for the team's 31-24 win in the Divisional Playoffs after holding the
Baltimore Ravens
to a franchise-playoff low 126 yards. Prior to Saturday, the Ravens last failed to reach the 130-yard mark in a game in Week 9 of the 2007 season when they were held to 104 yards in a 38-7 loss to … you guessed it … the Steelers. Baltimore's paltry yardage total is tied for the sixth-lowest by a team in the playoffs in the Super Bowl era.
While it's tough to criticize the performance of a defense that allowed just 263 yards, forced a pair of turnovers and scored a touchdown, Baltimore's normally stout unit showed signs of weakness against the Steelers, particularly on third down. The Ravens allowed the Steelers to convert four times on third down with 10 or more yards to go, including a 58-yard pass from
Ben Roethlisberger
to
Antonio Brown
on 3rd-and-19 that set up the game-winning score. It likely won't be any comfort to Ravens fans that teams converted 15 times in 230 opportunities on 3rd-and-19 or longer during the regular season, a conversion rate of just 6.5 percent.

Suggs
One Ravens defender who deserves nothing but praise for his play in the divisional round is
Terrell Suggs
, who tied a franchise playoff record with three sacks. That brings Suggs' career sack total against the Steelers to 15.5 (including playoffs). That's more than any other player since sacks became official in 1982.
Williams' game-changer paces Pack
Of all the plays the
Green Bay Packers
made in their blowout win over the
Atlanta Falcons
(and there were plenty), the one that really turned the game in the their favor was
Tramon Williams
' 70-yard interception return for a touchdown on the final play of the second quarter that gave the Packers a 28-14 lead. According to
www.advancednflstats.com
, Williams' pick-six boosted the Pack's win probability from 70 percent to 90 percent.
Williams has three interceptions in two playoff games this season. With as many as two games remaining, he's already one of 12 players in the Super Bowl era with three picks and a pick-six in a single postseason.
January, 19, 2011
1/19/11
9:00
AM ET
By
Trevor Ebaugh
and
John Parolin
| ESPN.com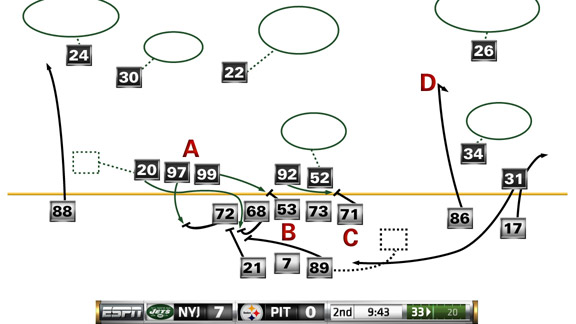 This week's edition of Chalkboard Stats examines a key third-down play from the Week 15 clash between the New York Jets and Pittsburgh Steelers.

Ben Roethlisberger connected with Hines Ward to convert a crucial 3rd-and-17, a similar down-and-distance as the 58-yard strike to Antonio Brown that set up the game-winning touchdown against the Baltimore Ravens in the AFC Divisional Round.

Using the diagram above, let's take a closer look at the play and the accompanying statistical analysis.
A) Jets' "Amoeba" defense helps to disguise pressure
New York showed heavy pressure from Roethlisberger's left, with only defensive lineman
Shaun Ellis
(No. 92) lined up in a three-point stance. Pittsburgh's offensive line anticipated pressure from
Kyle Wilson
(No. 20),
Calvin Pace
(No. 97) and
Jason Taylor
(No. 99), as all three lined up outside Steelers left tackle
Jonathan Scott
(No. 72). Mike linebacker
David Harris
(No. 52) also showed pressure to Ellis' left, drawing attention from right guard
Ramon Foster
(No. 73) and right tackle
Flozell Adams
(No. 71).

Roethlisberger
At the snap, Roethlisberger received the anticipated pressure from his left, with Scott, left guard
Chris Kemoeatu
(No. 68) and Pro Bowl center
Maurkice Pouncey
(No. 53) fending off Pace, Wilson and Taylor, respectively. Harris dropped back into zone coverage, while Ellis put an outside swim move on Foster to engage Adams. With both Foster and Adams occupied, cornerback
Antonio Cromartie
(No. 31) came in unblocked and had a clear path toward Roethlisberger.
For the second year in a row, the Jets sent defensive back pressure on more dropbacks than any NFL team, allowing a passer rating of 87.1, despite conceding 7.9 yards per pass attempt (28th in NFL). This is one of many disguises they use when sending secondary pass rushers.
B) Big Ben's pump fake deflects the blitz
Roethlisberger had the league's highest passer rating this season (105.0) in the face of a defensive back blitz among quarterbacks with at least 70 attempts. Only
Aaron Rodgers
(9.3) averaged more yards per attempt against secondary pass pressure than Roethlisberger (9.1).
This play was one example of how Roethlisberger can beat a blitzing defensive back by himself. When Cromartie rushed at the snap, Roethlisberger pump-faked, drawing a jump from Cromartie and extending the play. While Roethlisberger's pocket presence and sheer size are assets for the Steelers quarterback in fending off secondary pressure, the pump-fake has become his signature move. Roethlisberger used the pump fake five times on the Steelers' final drive of Super Bowl XLIII, completing three passes for 59 yards and the game-winning touchdown to
Santonio Holmes
.
C) Roethlisberger buys time inside the pocket
Once Cromartie bit on the fake, it bought Roethlisberger some more time through his mobility inside the pocket. "Big Ben" stepped to his right while keeping his vision directed downfield.
Roethlisberger had the second-highest yards per attempt (8.5) this season passing inside the pocket (min. 100 attempts), posting a 102.8 passer rating and throwing 19 touchdowns. On this play, Roethlisberger spotted Ward (No. 86) approaching the first down marker, and identified a throwing lane over Harris at the seam between the deep zones of defensive backs
Brodney Pool
(No. 22) and
Dwight Lowery
(No. 26). Roethlisberger controlled his momentum, set his feet and found Ward.
D) Ward finds the sticks and makes the play

Ward
Ward ran an 18-yard curl route and settled into a soft spot in the Jets' zone at the first-down marker. However, while Roethlisberger shifted right in the pocket, Ward took a couple extra steps toward the sideline and away from Pool. In doing this, Ward gave himself enough space to make the catch and get the first down before Pool could get there and disrupt the play.
Roethlisberger passed for nine first downs on third down and 11 or more yards-to-go this season, tied for the second-most in the NFL. While teammate
Emmanuel Sanders
was tied for third in the league with four first-down receptions on third-and-11 or more, it's the veteran Ward who was trusted to make the play here, and he delivered.