November, 16, 2012
11/16/12
4:02
PM ET
By
Mackenzie Kraemer, ESPN Stats & Info
| ESPN.com
The
Mississippi State Bulldogs
were among the early feel-good stories of the 2012 season. Projected to finish sixth in the SEC West, they responded by starting 7-0 for the first time this millennium. But since then, they have dropped three straight, all by at least 20 points. When taking a closer look at the schedule, it's no surprise what has gone wrong in Starkville.
Mississippi State started 3-0 in the SEC, but its three opponents are a combined 0-20 in conference. The three losses have come to teams that are a combined 15-5 in conference and all are ranked in the BCS top 10. Even in the non-conference schedule, the only FBS team it played with a record above .500 was Middle Tennessee.
As a result, there is a stark contrast statistically in the first seven games and the last three games, particularly in turnover margin. Through its first seven games, Mississippi State led all FBS teams in turnover margin (+16) and had outscored opponents 69-3 off turnovers. In the last three games, Mississippi State has had six turnovers, two more than it had in its first seven games combined, and has been outscored 33-6 off turnovers.
A home game against the
Arkansas Razorbacks
may be just what Mississippi State needs. Arkansas is last in the SEC with a -13 turnover margin and has turned the ball over at least twice in all but one game.
Another area affected by the Bulldogs' stretch of tougher competition has been their running game. Heading into the Alabama game, RB
LaDarius Perkins
led the SEC in rushing (103.4 YPG). Since then, Perkins has rushed for just 80 yards in two games and missed the LSU game with a quad injury.
Mississippi State has rushed for just 64.0 yards per game in the last three games. It won't get any easier against Arkansas, which has held its last four opponents to 2.54 yards per carry.
Mississippi State's best chance to win may be its record-breaking pass offense. The Bulldogs are sixth in the SEC in passing (238.0 YPG), but need just 257 pass yards to break the school single-season record and have already set the school record for passing touchdowns in a season (20). Against Arkansas they'll face the seventh-worst pass defense in FBS. The Razorbacks allow 291.1 yards per game.
February, 29, 2012
2/29/12
3:40
AM ET
A scan of the college basketball box scores each night guarantees all kinds of statistical oddities and standout performances. Here are some we found from Tuesday.

Wisconsin 52, Minnesota 45
The two teams combined to make 23 baskets, matching the fewest in a game this season (SMU and UAB combined for 23 on Feb. 15). Wisconsin made 12 field goals in the win, one shy of the fewest made field goals in a win this season (Niagara made 11 in a win on Feb. 24). The Golden Gophers and Badgers shot a combined 27.1 percent from the field, the lowest in a game involving a major-conference team and the fifth-lowest overall.
Wyoming 71, TCU 59
The Cowboys committed just one turnover in the victory, the fewest by any team this season. The previous team to commit no more than one turnover in a game was Bucknell on Jan. 13, 2010, against American.

Ole Miss 77, Arkansas 75
Ole Miss'
Murphy Holloway
had 16 rebounds and teammate
Reginald Buckner
had 15 in the Rebels' win. They are the third pair of teammates with at least 15 rebounds each in the same game, joining
Deniz Kilicli
and
Kevin Jones
of West Virginia and
Brad Waldow
and
Rob Jones
of St. Mary's.
November, 24, 2011
11/24/11
3:11
PM ET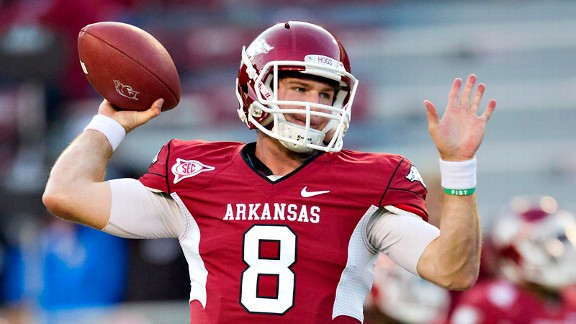 Wesley Hitt/Getty ImagesTyler Wilson's ability against the blitz will be tested on Friday against No. 1 LSU.
There are a number of interesting dynamics that come into play when looking at the matchup between the No. 3
Arkansas Razorbacks
and No. 1
LSU Tigers
.
Two that could be huge for the Razorbacks in attempting to beat the No. 1 team in the country and clinch the SEC West (needing an Alabama loss too) are how many big plays Arkansas is able to hit against LSU's defense, and how successful Arkansas is at handling LSU's blitz.
Here's a closer look at those two factors via our video review data.
The Big Play
Arkansas has 48 completions that gained 20 yards or more this season, 15 more than any other SEC team.
The Razorbacks have had at least three such plays in every game this season, except for their lone loss to Alabama.
It was big plays that aided the Razorbacks in last season's win against LSU.
Arkansas scored touchdowns on passes that gained 85, 80 and 39 yards and all were on throws that traveled 20 yards or more in the air.
It was the only game in the last eight seasons that LSU allowed three or more touchdown passes that all gained at least 25 yards and it was the only game during that time period that it allowed at least three touchdowns on throws of 20 yards or longer.
This season, LSU has held opponents to a completion percentage of 12.2 on throws of 20 yards or longer this season.
The Tigers have more interceptions (7) than their opponents have receptions (5) on those passes and only Mississippi State has completed more than two such passes in a game. Tigers opponents are 5-for-41 with 18 straight incompletions on such throws.
The Blitz
Arkansas quarterback
Tyler Wilson
is completing 65.2 percent of his passes when opponents send five-or-more pass rushers on a play this season.
Wilson has only thrown two interceptions in 115 attempts against the blitz this season, none in his last 50 attempts.
He's been even better the last two weeks, completing 4-of-5 against the Tennessee blitz, and 17-of-18 (the only incompletion was on a dropped pass) against Mississippi State.
In those two games, he's thrown for a combined 198 yards with five touchdowns and no interceptions.
The key in watching LSU's blitz will be on third down. LSU is the only team in FBS that has not allowed a touchdown pass on third down this season.
LSU sends five or more pass rushers on nearly 40 percent of its opponents' dropbacks on third down this season and it has been much more successful when bringing the pressure, allowing opponents to complete only 43 percent of their passes.
As noted in the chart on the right, opponents have converted third downs at a rate of one of every four when LSU blitzes, one of every three when LSU doesn't.
Stats of the Day
Arkansas has consecutive 10-win seasons for the first time since 1988-89 under Ken Hatfield. The Razorbacks can tie the school record for wins in a season, 11, set in 1964 and 1977.
LSU is looking for its first 12-0 start in school history. The Tigers are currently 11-0 for the first time since the 1958 national championship team finished the season 11-0.
November, 20, 2011
11/20/11
9:20
PM ET
After a weekend that altered the college football world, the latest BCS standings make it clear which conference currently reigns supreme.

The top three teams in the BCS standings are all in the SEC West–-
LSU
,
Alabama
, and
Arkansas
.
This is the first time in the history of the BCS that the top three spots are occupied by three teams from the same conference.
In fact only one other conference has ever even had three of the top five teams in the BCS standings: the Big 12 in 2001, 2007, and 2008
This came after Oklahoma State, Oregon, and Oklahoma all lost this weekend. It marked just the second time in the history of the BCS standings (which date back to the 1998 season), that three of the top 5 teams in the BCS all lost on the same weekend.
The only other occurrence came back in 2001, as noted in the chart on the right. That was the first Saturday following the initial release of the BCS standings that season.
There are no Big East teams in the BCS Standings for the second straight week. This also happened last season for the Big East when it went five straight weeks without a BCS-ranked team.
Only one other conference, the Pac-12 (formerly the Pac-10), has had as many weeks without a ranked team. It hasn't happened for them since 1999.
LSU is No. 1 in BCS for the sixth straight week, the longest such streak in school history
LSU and Alabama are currently on track for a rematch in the BCS National Championship Game. Since 1998 when the BCS first started there has not been a regular season rematch played out in the National Championship Game.
Arkansas reached its highest position in the BCS Standings. It is the seventh straight BCS standings where it has been been in the top 10, also the longest streak in school history.
At the back end of the standings,
Notre Dame
is 22nd, marking the first time since 2006 that the Fighting Irish are in the BCS Standings.
August, 4, 2011
8/04/11
8:06
PM ET

The 2011 USA Today Preseason Coaches' Poll was released late Thursday morning with the
Oklahoma Sooners
taking the top overall spot. This is the first time Oklahoma is the preseason No. 1 in the poll since 2003, a season in which they reached the BCS National Championship game before falling to LSU. The team finished third in the coaches' poll that season.
However, the Sooners do not have recent history on their side - the last team to open up the season No. 1 in the coaches' poll and finish the season No. 1 was USC in 2004.
One challenge the Sooners will have to overcome in order to stay No. 1 will be performance on the road. Specifically, the performance of quarterback
Landry Jones
.
Jones was much more effective at home during the 2010 season - he had a 37-6 touchdown-to-interception ratio at home compared to 27-to-20 on the road. The team's first road test will be on September 17 at Florida State, with other notable road/neutral games including Texas on October 8, Baylor on November 19 and Oklahoma State on December 3.
Beyond The Top Spot
The Fighting Irish of Notre Dame made the largest jump of all teams inside the top 20, going from unranked and 36th in receiving votes to No. 18 in the preseason poll. Three other teams jumped 10 or more spots based on their final ranking from the previous season, including Texas A&M and Florida State, both of whom jumped into the top 10.
On the other hand, three of the final top five teams from the final coaches poll last season dropped by more than 10 spots. Auburn fell 18 spots down to 19th, the largest drop for any team. That's thanks in part to returning only three starters on each side of the ball. It is the lowest debut for a defending national champion since USA Today began administering the coaches' poll in 1991. Meanwhile Ohio State found itself 16th in the preseason poll and TCU sits 15th after finishing No. 2 last season.
Alabama, which picked up 13 first-place votes, comes in at No. 2 and will once again be relying heavily on the running game to stay there. The team lost starting running back and former Heisman Trophy-winner Mark Ingram to the NFL and will now turn to
Trent Richardson
to pick up where he left off.
Thankfully, Richardson proved himself to be effective last season - perhaps more effective than even Ingram himself. Richardson was superior to Ingram in his yards per rush figures from virtually every angle; rushing inside the tackles (Richardson' 5.0 to Ingram's 4.7), rushing outside the tackles (7.8 to 6.5) and even yards after contact (2.7 to 2.4).
After completing fewer than half of his passes that were thrown in the air 10 yards or more in 2009, LSU quarterback
Jordan Jefferson
's deep passes regressed even further in 2010.
Jefferson is going to have to improve his deep touch if the Tigers are going to overcome of the nation's toughest schedules.
That schedule features an opener against Oregon, trips to Alabama, West Virginia, Mississippi State and home dates against Florida, Arkansas and Auburn. In other words, it will be a challenge for the Tigers to remain in the top five all season long.
At the other end of the spectrum, the Big East failed to place a team in the preseason Top 25 for the second time in three seasons.
However, a lot can change between now and January - just ask defending champion Auburn as it was ranked No. 23 in the 2010 Preseason Coaches Poll.
September, 30, 2010
9/30/10
12:38
PM ET

1.
This weekend's Florida-Alabama game features two of the longest conference winning streaks in SEC history. Alabama has won 17 straight, while Florida's streak is at 16. The winner of this game still has work ahead of them to catch the all-time mark, held by Alabama from 1976-80 (27 straight). (NOTE: The SEC Championship Game doesn't count as a conference game for official records purposes).
2.
This is the eighth time since 1940 that a No. 1 team has faced a top-10 opponent in consecutive weeks (Alabama beat No. 10 Arkansas last week). On the previous seven occasions, only one No. 1 team lost the second game: Texas in 2008 (beat No. 7 Oklahoma St, lost at No. 6 Texas Tech).
3.
This is the first time since the Pac-10 Conference's inception in 1959 (formerly called AAWU) that the conference has had four 4-0 teams ranked this high in the AP Poll at this point in the season. Oregon, Stanford, Arizona and USC are all 4-0 and are all in the top 18.


4.
Texas and Oklahoma resume hostilities in the Red River Rivalry this Saturday (3:30 ET, ABC). Not only does the winner earn bragging rights in the Big 12 South, but recent history proves it almost always goes on to have the better season. Consider this: the winner of this game has gone on to have a better record (or the same record once) in 10 of the last 11 meetings. And in six of the last 11 meetings, the winner has gone on to win the Big 12 Championship Game.
5.
The round-robin competition for the Commander-In-Chief's Trophy begins this Saturday when Navy takes on Air Force. The Midshipmen have won 15 straight games against service academy teams dating back to their win over Army in 2002 (last loss was Oct. 5, 2002 at Air Force). Navy's current dominance is unprecedented since the Commander-In-Chief's Trophy's inception in 1972.
September, 24, 2010
9/24/10
10:00
AM ET
No. 10 Arkansas has four wins all-time against top-rated football teams, and it will get a crack at its fifth at 3:30 ET on Saturday afternoon when it hosts Alabama. Here's a look at some of the statistically significant storylines that will come into play for the weekend's marquee matchup, with the help of the folks who do our weekly video review work.
In 2009, Alabama's offense scored a touchdown on just 47.5 percent of its red zone trips, ranking the offense 108th in the nation. Quarterback Greg McElroy encountered struggles of his own in the red zone last season, mustering only a 35.0 percent completion rate, sixth-worst in the FBS. So far in 2010, it appears McElroy has turned the page on last season's struggles, and is poised to be a better red zone passer.
BRINGING BACK THE PISTOL
Trent Richardson
and
Mark Ingram
are running wild out of the pistol formation this season. (In the pistol offense, the quarterback is not under center, but also closer to the center than a traditional shotgun snap. The running back then lines up behind the quarterback).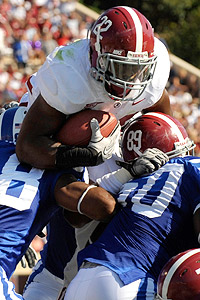 Sara D. Davis/AP
Mark Ingram and Trent Richardson have found multiple ways to be effective so far in 2010.

Ingram and Richardson have averaged 11.8 yards per rush, with seven rushes of 15 yards or more, in the 28 times they've run via the pistol. They've averaged just under five yards per carry in the 20 runs from other formations.
ALABAMA'S BACKS ARE PHYSICAL
Arkansas' ability to wrap up and tackle will be a major factor in its ability to stop the Alabama running game. Both Ingram and Richardson have gained almost half of their yards this season after contact with a defender. Of their 422 total rushing yards, 195 (46 percent) came after contact.
RAZORBACKS RELY ON PLAY-ACTION
It will be important for Arkansas to establish a running attack early in the game so that
Ryan Mallett
can use a run fake to set up his downfield passes. He's 7-for-10 throwing the ball 15 yards or longer on play-action, but just 5-for-15 throwing it that long without play action.
Mallett led all FBS quarterbacks with 32 completions of 30 or more yards in 2009. He's off to the races again this season with nine such completions already.
TIDE MAKING BIG GAINS
Alabama's offense is off to a roaring start in 2010. Alabama has more big plays this season than any other offense and has them more frequently than any other team.
Alabama has 24 plays of 20 or more yards and has gained at least 20 yards on 12.6 percent of its offensive plays, both best in the nation. McElroy's pass attempts have gained at least 20 yards 21.7 percent of the time, which leads the FBS.
September, 18, 2010
9/18/10
4:12
PM ET


Autumn is officially still three days away, but the
Georgia Bulldogs'
SEC Championship dreams may already be gone.
No. 12 Arkansas 31, Georgia 24
Ryan Mallett
confirmed his place in the 2010 Heisman discussions with 380 pass yards and 3 TD, including a 40-yard game-winner as Arkansas knocked off Georgia. Mallett tossed a 57-yard TD to
Chris Gragg
in the 1st quarter and a 22-yarder to Ronnie Wingo in the 3rd to give Arkansas a 2-TD lead.
The Bulldogs rallied with two 4th-quarter touchdowns to tie the game before Mallett's strike with 15 seconds left improved the Razorbacks to 3-0.
Joe Adams
caught six balls for 130 yards for the Razorbacks. On the day, Mallett had four completions of 30 yards or more, moving his total to 41 over the last two seasons.
•This is Georgia's first 0-2 start in SEC play since 1993.
•In SEC East history (since 1992), only four teams have advanced to the SEC title game with two conference losses. And done of them started 0-2.
•Ryan Mallett's 40-yard game-winning TD pass should come as no surprise. Since 2009, no QB in the FBS has more 30-yard completions than Mallett.
September, 10, 2010
9/10/10
7:24
PM ET
The note, stat or trend you need to know about each top-25 team in action on Saturday.

18 Penn State at 1 Alabama, 7 ET on ESPN:
In the last 15 years, the No. 1 team in the AP poll is 26-0 at home against ranked opponents, with an average victory margin of nearly 22 points per game. Penn State has not allowed a touchdown in its three previous trips to Tuscaloosa. The Nittany Lions won 9-0 in 1990, 23-3 in 1986 and lost 6-0 in 1984.
12 Miami (FL) at 2 Ohio State, 3:40 ET on ESPN:
Miami hasn't won away from home against an AP top two team since Nov. 16, 1991 when the second-ranked Canes knocked off top-ranked Florida State in Tallahassee. Since then, Miami has lost seven straight such games, including bowls. Ohio State is 26-2 at home under Jim Tressel against non-conference opponents. The only losses were against third-ranked USC last season (18-15) and second-ranked Texas in 2005 (25-22).
Tennessee Tech at 4 TCU, 7 ET:
Seven of TCU's last eight victories have been by at least 27 points. The lone exception was a 30-21 win over Oregon State last Saturday in the 2010 season opener.

Wyoming at 5 Texas, 7 ET:
The Longhorns have won 15 straight home games, tied for the fifth-longest active streak in the nation, and are 3-0 all-time against Wyoming, including a 41-10 win last year in Laramie.
Idaho at 6 Nebraska, 12:30 ET:
Nebraska is 21-1 all-time against current WAC teams and has allowed 20 or fewer points in nine straight games dating back to last season, the longest streak in the nation.
7 Oregon at Tennessee, 7 ET on ESPN2:
Both Oregon and Tennessee shut out their opponents in Week 1 (Oregon 72-0 vs New Mexico, Tennessee 50-0 vs Tennessee-Martin). Nine teams posted shutouts in Week 1 – these two are the only ones who are playing each other in Week 2. Tennessee's opening week shutout was its first since 1993 against Louisiana Tech. Oregon's was its first since 1988 against Long Beach State.
South Florida at 8 Florida, 12:21 ET on ESPN3:
Florida meets South Florida for the first time. The Gators are 9-0 under Urban Meyer against teams from the state of Florida. However, Meyer is not perfect against the state of Florida. While Bowling Green's coach in 2002, his squad lost to South Florida 29-7.
Iowa State at 9 Iowa, 3:30 ET on ABC/ESPN2:
The Cyclones have been a thorn in Kirk Ferentz's side since he joined the Hawkeyes, though he's been better against them recently. Ferentz started 0-4 against Iowa State but is 5-2 since then. The worst of those losses came in 2002, when Iowa was prevented from an undefeated regular season by one game – a home loss to Iowa State.
17 Florida State at 10 Oklahoma, 3:30 ET on ABC/ESPN2:
Oklahoma has won 31 straight home games, the longest active streak in the nation. Florida State head coach Jimbo Fisher is facing his first ranked opponent. On September 25, 1976, Bobby Bowden coached his first game against a ranked opponent as FSU coach. It was against the fourth-ranked Sooners. Florida State lost 24-9 in what was Bowden's third career game as FSU head coach.
San Jose State at 11 Wisconsin, Noon ET on ESPN:
Wisconsin has won 14 straight home openers, dating back to 1996. They have also won 25 consecutive regular-season games against non-conference opponents. Their last loss came at home to UNLV on Sept. 13, 2003.
James Madison at 13 Virginia Tech, 1:30 on ESPN3.com:
Virginia Tech has won 32 straight non-conference home games and has won all six of its meetings with JMU, outscoring the Dukes 245-44.
UL Monroe vs 14 Arkansas, 7 ET on ESPN3.com:
Arkansas leads the all-time series 8-0, outscoring ULM 327-121 in the process. The Razorbacks are also 26-0 all-time against current members of the Sun Belt Conference.
15 Georgia Tech at Kansas, Noon ET:
This is the second meeting all-time between the two schools, with the first coming on January 1, 1948 in the Orange Bowl (a 20-14 Georgia Tech victory).

Virginia at 16 USC, 10:30 ET:
USC is on a 17-game non-conference winning streak dating back to its loss in the 2006 Rose Bowl against Texas and has won 11 straight home openers.
19 LSU at Vanderbilt, 7 ET on ESPNU:
LSU has won six straight and 10 of the last 11 meetings with Vanderbilt (the Commodores have not defeated LSU since 1990).
UNLV at 20 Utah, 4 ET:
Utah has won 18 straight home games, the third-longest active streak among FBS teams. The school record of 26 was set from 1928-34.
22 Georgia at 24 South Carolina, Noon ET on ESPN2:
Steve Spurrier went 11-1 against Georgia when he was the Florida head coach but is just 1-4 against the Bulldogs with South Carolina. He never faced Georgia while he was coaching Duke. Georgia had seven different players score a touchdown in Week 1 – most for the team since 1994, when seven players scored in a 70-6 win against Northeast Louisiana.