Stats & Info:

Asdrubal Cabrera
August, 12, 2013
8/12/13
3:21
PM ET
By
Doug Kern, ESPN Stats & Info
| ESPN.com
The
Blue Jays'
Brett Lawrie
went single-double-triple in Monday's 3-1 win over
Seattle
, becoming the first Toronto hitter this season to even have a triple and a double in one game. Had he also homered, Lawrie would have recorded the Jays' first cycle since
Jeff Frye
on August 17, 2001.
In Tuesday's game, the
Astros
didn't need to steal any bases (although they did have two). The
Red Sox
-- specifically catcher
Ryan Lavarnway
-- were giving away bases.
Handling knuckleballer
Steven Wright's
first career start, Lavarnway was charged with four passed balls in the first inning alone, tying the major league record for one inning. It's happened twice before in the modern era, and also with knuckleballers: On August 22, 1987, the
Rangers'
Geno Petralli committed four while catching Charlie Hough; and on September 10, 1954, the
Giants'
Ray Katt did it while trying to catch Hoyt Wilhelm.
AP Photo/ElsaMatt Harvey threw his 1st career shutout on Wednesday against the Rockies.

Matt Harvey
, on the other hand, threw his first career shutout (and first complete game) on Wednesday, holding the
Rockies
to four singles as the Mets won 5-0. He also went through a start without walking a single batter, the eighth time this season he's done that. Only
Bartolo Colon
and
Hisashi Iwakuma
(with 10 each) have more walk-less starts this season, of any length.
Harvey also threw nine scoreless innings with zero walks against the
White Sox
on May 7, but got neither a decision nor a complete game because the Mets didn't score either and the game went to extras.
Clayton Kershaw
and
Chris Archer
are the only other pitchers with multiple such games this season.
He's the first
Mets
pitcher to have multiple starts of 8+ scoreless, walk-less innings since
Jason Isringhausen
in 1995; and the first with a pair of NINE-inning games since Craig Swan in 1979.
Thursday's limited slate brought us a matchup between
Detroit
and
Cleveland
at Progressive Field. Although the outcome wasn't in much doubt when the Tigers took an 8-0 lead after 3½ innings, the notable part of the boxscore was that both cleanup hitters (
Prince Fielder
and
Asdrubal Cabrera
) had two doubles and two runs driven in.
Strangely, it's only the second game in the past 20 years where BOTH cleanup hitters have had at least two doubles and two RBI. The other occurred when Fielder "teamed up" with the Rangers'
Adrian Beltre
to do it on May 19.
On Friday the Tigers had their 12-game winning streak (which matched their longest since 1934) on the line against the
Yankees
and
Mariano Rivera
. The Tigers, however, countered with
Miguel Cabrera
, who launched his 34th home run of the year - but first in the ninth inning or later - to tie the game.
It was only the second homer Rivera allowed to the Tigers in a save situation.
Bobby Higginson
hit the other way back on July 6, 1999.
In Sunday's finale between the Tigers and Yankees, the visitors from Motown trailed by two runs after eight innings. Enter Rivera. Enter Cabrera.
Same result as Friday as Cabrera hit his 36th home run of the season. By doing so, he became the first player ever to homer off Rivera in consecutive at-bats, and one of just five players to have multiple homers against Rivera.
Later that inning,
Victor Martinez
hit a solo homer to tie the game, handing Rivera his third consecutive blown save. Something he had never done in his career to that point.
Rivera was still officially the pitcher of record when
Brett Gardner
hit his first career walk-off home run in the bottom of the inning. This was the 18th time Rivera has won a game after blowing a save, and the first since August 13, 2007.
May, 1, 2012
5/01/12
10:45
AM ET
Stephen Dunn/Getty ImagesMatt Kemp is the fifth player in history to hit at least 12 home runs before May 1.
ESPN's Home Run Tracker analyzes video of each home run hit this season and as far back as 2006. Each month, the tracker will detail the best and worst home runs, as well as some other interesting statistics pertaining to the long ball. Below are the notable home runs for the month of April.
Power Surge:
(Player with highest combined HR distance)
2011 Winner:
Jose Bautista
March/April Winner:
Matt Kemp
Kemp is off to a torrid start, with 12 home runs that have traveled a true distance of 4,802 feet. That's a longer true distances than the Padres, who have hit 11 home runs, and the Cubs, who have hit the fewest HR (9) entering May. Kemp's 12 home runs are two shy of the record set by Albert Pujols in 2006 and Alex Rodriguez in 2007 for the most home runs by April 30.
No Doubter
(Longest true distance)
2011 Winner:
Prince Fielder
(486 feet)
March/April Winner:
Travis Hafner
(481 feet)
On April 15, Cleveland's DH hit a home run of the Royals
Luis Mendoza
, the longest HR of his career. Hafner's previous long was 454 feet in 2006. The 481-foot shot is the longest HR by an Indian since the beginning of our database (2006).
Wall-Scraper
(Shortest true distance)
2011 Winner:
Asdrubal Cabrera
(320 feet)
March/April Winner:
B.J. Upton
(323 feet)
On April 24, Upton hit a home run off
Ervin Santana
that hit off the left-field foul pole.
Chris Iannetta
hit a 324-foot HR off
Phil Hughes
, the only other player this season to hit a home run less than 345 feet.
Moonshot:
(Highest Apex - maximum vertical height a ball reaches)
2011 Winner:
Mark Reynolds
(161 feet)
March/April Winner:
Todd Helton
(162 feet)
On April 14, Helton hit a walk-off home run off
J.J. Putz
. The ball hung in the air for 6.92 seconds, the highest apex HR since
Alex Rodriguez
reached 169 feet on Sept 11, 2009.
Liner:
(Lowest Apex)
2011 Winner:
Carlos Peguero
(39 feet, twice)
March/April Winners:
Curtis Granderson
/
Luke Scott
(49 feet)
Ervin Santana, who gave up the shortest HR of the month, also gave up the lowest apex. On April 13, Santana served up a 349-foot solo shot to Granderson that had an apex of 49 feet. Scott matched Granderson with a 387-foot laser off
Mark Lowe
, which also never got higher than 49 feet off the ground.
Mother Nature:
(Most climate-impacted HR)
2011 Winner:
Luke Scott
March/April Winner:
Miguel Cabrera
Even the best need help from time to time. On April 26, Cabrera hit a 382-foot home run off
Hector Noesi
, but a 15 mph wind gust helped the ball carry an extra 62 feet. Without the wind, it would have been a routine fly out.
Server:
(Pitcher who allowed the greatest cumulative distance)
2011 Winner:
Bronson Arroyo
March/April Winner:
Ervin Santana
In addition to giving up the shortest and the lowest apex home runs, Santana's 10 home runs allowed traveled a total distance of 3,844 feet.
Launching Pad:
(Greatest cumulative distance in one stadium)
2011 Winner:
Rangers Ballpark in Arlington
March/April Winner:
Rogers Centre
Thirty-eight HR have been hit in Rogers Centre thus far, with a total distance of 15,072 feet. Chase Field in Arizona finished second, totaling 12,803 feet. Conversely, only six HR were hit at AT&T Park in April.
February, 4, 2012
2/04/12
8:09
PM ET
By
Justin Havens, Stats & Info
| ESPN.com
While the Hot Stove season is largely dominated by free agency and trade talks, an overlooked aspect of every MLB offseason is the arbitration process. If a player is eligible, the team and the player submit figures for the upcoming season's salary. If the two sides cannot agree on a compromise, they advance to a process that is resolved by an arbiter, who picks one of the two figures submitted.
The 2011-12 arbitration season has brought with it two statistical and historical storylines - the potential end of the Cleveland Indians' streak of avoiding arbitration and the unbeaten run of the
Tampa Bay Rays
.
Indians & Arbitration: Like Oil & Water

While it looked like it might be snapped any number of times, the Indians have not gone to arbitration with a player since 1991. Thanks to Maury Brown's
Business of Baseball
website, we can tell you that is the longest such streak in the Major Leagues. The last time the Indians went to arbitration was 1991, when the team did so with
Greg Swindell
and Jerry Browne.
Why is this relevant? The Indians currently have one arbitration-eligible player unsigned – SS
Asdrubal Cabrera
. The Indians and Cabrera are continuing discussions on a long-term contract, but without a resolution on that front, the team and player will likely head to arbitration. Cabrera's camp has requested a 2012 salary of $5.2 million, while the Indians have countered with an offer of $3.75 million.
For additional context, the landscape of Major League Baseball was noticeably different in 1991 than it is in 2012. The Indians played their home games in Cleveland Stadium and resided in the AL East. The team's Opening Day payroll was $18,270,000, roughly one-third of what it projects to be in 2012.
The last time the Indians went to arbitration, the highest Opening Day payroll in baseball was held by the
Oakland Athletics
- $33,632,500. The Athletics have a projected Opening Day payroll for 2012 of $38,765,500.
The last time the Indians went to arbitration, the Opening Day payroll of the
New York Yankees
was $27,815,835. That represents just 13.7 percent of the $202,689,028 payroll the team had for 2011.
Rays: Great on the Field, Better off it

While the Rays track record on the field has been impressive enough under the Andrew Friedman regime, no team can match the success of Friedman and the rest of the front office at the arbitration table.
The team's arbitration win over starting pitcher
Jeff Niemann
earlier this week improved the Rays franchise to 6-0 all-time in arbitration, the best win percentage in MLB.
The Rays have as many arbitration wins in six all-time cases (6) as the
Detroit Tigers
have in 20 all-time cases (6-14). In all, the Rays have defeated Niemann (2012),
B.J. Upton
(2010),
Dioner Navarro
(2009),
Josh Paul
(2006, 2007) and
Esteban Yan
(2002).
August, 2, 2011
8/02/11
2:14
AM ET

Cabrera
The
Cleveland Indians
'
Asdrubal Cabrera
entered this season with 18 home runs in 387 career games.
Following his two-HR game on Monday against the
Boston Red Sox
, Cabrera now has 19 this season.
His second home run came in the eighth inning off
Daniel Bard
, who had not allowed a run in his last 25 appearances (26.1 innings). The last time Bard gave up a run was May 23 -- an RBI double by Cabrera that gave Cleveland a 3-2 lead and eventual win.
That second home run traveled a distance of just 320 feet, making it the shortest homer hit in 2011. The previous shortest home run was 323 by
Sam Fuld
of the
Tampa Bay Rays
back on April 11.
Cabrera also became the first Indians shortstop in 60 years to hit two home runs in one game at Fenway Park. According to the Elias Sports Bureau, that had last been done in July 1951 by Ray Boone, whose grandson, Aaron, was part of ESPN's broadcasting crew for Monday night's game.
And while Indians'
Josh Tomlin
didn't pitch great (10 hits, five earned runs), he did go six innings. Tomlin now has pitched at least five innings in each of his first 34 starts. According to the Elias Sports Bureau, the only pitchers who debuted in 1900 or later with longer such streaks than Tomlin are Oscar Jones (51 straight starts from 1903-04) and George Winter (37, 1901-02).
AROUND THE REST OF MLB
Adam Dunn
of the
Chicago White Sox
went 0-for-4 with three strikeouts against
CC Sabathia
, and now is hitting .039 this season against left-handed pitchers. Dunn has 18 games with at least three strikeouts this season twice as many more as
Austin Jackson
and
Ryan Raburn
of the
Detroit Tigers
have for second most.
Joey Votto's double in the third inning on Monday night gave him an extra-base hit in each of his last 11 games at Minute Maid Park. The Elias Sports Bureau tells that in modern major-league history (that is, since 1900), only two other visiting players produced an extra-base hit in at least 11 consecutive games at a particular park: Jimmie Foxx in 12 straight games at Sportsman's Park, over 1939 and 1940, and
Jeff Bagwell
at Candlestick (3Com) Park, from 1993 to 1995.
Derrek Lee
hit two home runs in his Pirates debut on Monday night, but that was the extent of Pittsburgh's scoring in a 5-3 loss to the Cubs. According to the Elias Sports Bureau, Lee is only the second player in Pirates' history to belt two home runs in his first game with the team. The other was
Shawon Dunston
in September 1997, after he was traded, coincidentally, by the Cubs.
July, 13, 2011
7/13/11
10:00
AM ET
By
Andrew Davis
| ESPN.com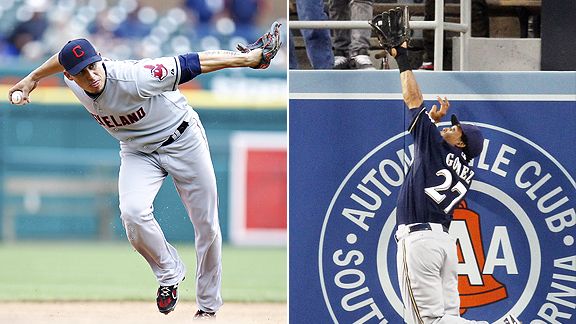 Getty Images/Gregory ShamusAsdrubal Cabrera and Carlos Gomez show off the skills that made them Defensive All-Stars.
With the All-Star break almost over, and as we await the resumption of baseball on Thursday, let's take a break from the typical chatter of second-half storylines, and shift our focus to the players on the field and the defensive All-Stars of the first half.
Baseball Info Solutions is a company specializing in determining the best (and worst) defensive players in more than 100 different metrics, from barehanded plays to home run robberies.
Using their data, here's our take on the players in the first half that have been good enough to be called a Defensive All-Star. (Note: ranks are for the player at his position, unless otherwise noted)
Pitcher: Anibal Sanchez, Marlins
Most Barehanded Plays For Outs (5)
Sanchez is averaging more than a strikeout per inning, but he gets on this list because of his defense while on the mound.
Catcher: Yadier Molina, Cardinals
Most Catcher Blocks (401)
Yadier is known for a strong arm, having thrown out over 40 percent of baserunners during his career. This season he also leads everyone in catcher blocks, defined as plays when runners are on base or if the pitch was the third strike.
First Base: Carlos Pena, Cubs
Most Difficult Throws Handled (32)
Pena can likely thank
Starlin Castro
for this award, as the shortstop already has 18 errors this season. Handling difficult throws applies to throws in the dirt or throws wide of the bag.
Second Base: Brandon Phillips, Reds
Most Double Plays Turned Despite An Aggressive Slide (6)
Brandon Phillips has wowed many fans with his defensive Web gems, he's also one of the best at turning double plays.
Third Base: Aramis Ramirez, Cubs
Most Barehanded Plays For Outs (10)
Ramirez has not only been one of the Cubs best offensive players, hitting .298 with 15 home runs and a team leading 51 RBI, but he's also been a star on the diamond, converting 10 barehanded plays into outs.
Shortstop: Asdrubal Cabrera, Indians
Most Web Gems (11) and Web Gems Points in MLB (41)
Asdrubal Cabrera has been a familiar face on Baseball Tonight, as a four-time Web Gem champ. Between two behind the back flips, a bare-hander on a short hop, and a diving stop and throw in a defensive shift, Cabrera has done it all defensively this season.
Left Field: Sam Fuld, Rays
Most Web Gems Either 1st or 2nd in MLB (9)
Despite being second in both Web Gems and Web Gem points, Fuld has more Web Gems rated as first- or second-best than any other player.
Center Field: Carlos Gomez, Brewers
Tied for Most Home Run Robberies in MLB (2)
Taking away a home run might be the most exciting play in baseball, and Gomez has done it twice, once with the bases empty and once with
Carlos Beltran
on first base, saving three potential runs.

Right Field: Nick Swisher, Yankees
Most Times Holding Players to a Single Among OF (6)
Swisher has recently begun to heat up at the plate, with seven homers and a .986 OPS since June 1, but his strong arm in the outfield has been an asset for the Yankees all season.
For more defensive stars, check out Baseball Tonight's Web Gems Mid-Year Special (11:30 ET, ESPN2).
July, 3, 2011
7/03/11
11:20
PM ET
An A-to-W look at some notable 2011 American League All-Stars. You can view the entire AL All-Star roster here:
Alex Avila, Tigers:
First Tigers catcher elected to start the All-Star Game since
Ivan Rodriguez
in 2007. He ended Joe Mauer's three-year run of election wins.
Jose Bautista, Blue Jays:
Will be first Blue Jay elected to start an All-Star Game since
Carlos Delgado
in 2003.
Asdrubal Cabrera, Indians:
First Indians shortstop selected to the All-Star Game since
Omar Vizquel
in 2002.
Robinson Cano, Yankees:
Elected to start for second straight season. He's the first Yankees second baseman elected to start in consecutive seasons since
Alfonso Soriano
(2002-03).
Aaron Crow, Royals:
Second All-Star born in Topeka, Kansas. The other was Ross Grimsley of the 1978 Expos. It's the sixth year in a row that a Royals pitcher has made the All-Star team.

Gonzalez
Adrian Gonzalez, Red Sox:
Fourth time a Red Sox first baseman has been elected to start at first base in the past six years, joining
David Ortiz
(2006, 2007) and
Kevin Youkilis
(2008). He is the first Red Sox player to be elected a starter in his first season with the club since
Mark Loretta
at second base in 2006. It's the seventh straight season that the Red Sox have had at least four All-Stars.
Gio Gonzalez, Athletics:
First Athletics left-handed pitcher to make the All-Star team since
Barry Zito
in 2006. ESPN's
Mark Mulder
was the last before that, in 2004.
Curtis Granderson, Yankees:
First Yankees outfielder elected to start since
Hideki Matsui
in 2003.
Felix Hernandez, Mariners:
Mariners have two All-Star pitchers (Hernandez and
Brandon League
) for the first time since 2003 (
Jamie Moyer
,
Shigetoshi Hasegawa
).
Derek Jeter, Yankees:
Elected to start at shortstop for sixth straight season, seventh time in past eight seasons.
Chris Perez, Indians:
First Indians "closer" to be selected to All-Star Game since
Bob Wickman
in 2005. Indians have two selections for first time since 2008 (
Grady Sizemore
,
Cliff Lee
).

Price
David Price, Rays:
He and
James Shields
mark the first time the Rays have had two starting pitchers selected to the All-Star team.
David Price
is the fourth Rays player to make more than one All-Star Team:
Carl Crawford
(4),
Evan Longoria
(3),
Scott Kazmir
(2), Price (2).
Mariano Rivera, Yankees:
Selected to 12th All-Star team, moving him into a tie for second-most All-Star selections with Tom Seaver.
Alex Rodriguez, Yankees:
Ends run of back-to-back election wins at third base by Evan Longoria. Elected for first time since 2008; 12th election ties Ivan Rodriguez for most elections by an active player.
Jered Weaver, Angels:
First Angels starting pitcher selected to back-to-back All-Star teams since
Chuck Finley
(1995-96).
Matt Wieters, Orioles:
First Orioles catcher selected to All-Star team since Mickey Tettleton in 1989.
April, 16, 2011
4/16/11
11:46
PM ET
Take a quick look at the AL Central standings and you're likely to do a double-take -- go ahead check one more time.
No it's not a mistake -- through 14 games of the season the
Kansas City Royals
and
Cleveland Indians
are currently tied atop the division.
According to 10,000 simulations done by Accuscore entering this season, the Royals entered 2011 with a 0.7 percent chance to reach the postseason.
The Indians fell slightly below them with just a 0.6 percent chance, tied with the Pirates for the lowest in Major League Baseball.
While it may not last, here's why each of these franchises are headed in the right direction:

Kansas City Royals
• With -- by many accounts -- the best farm system in baseball, there was plenty of excitement about the Royals…for 2012
However they are 10-4, off to their second-best start in franchise history, after defeating
Seattle Mariners
ace
Felix Hernandez
.
They're being led by
Alex Gordon
and
Billy Butler
, two graduates of the Royals farm system.
Gordon, a 27-year old former first-round pick, entered the season as a career .244 hitter. He is enjoying an early breakout of sorts batting .373 in 13 games played.
Butler, hitting .373 as well, has hit over .300 in each of his last two seasons.
The Royals as a team having been tearing the cover off the ball, leading the American League in hits and runs scored.

Cleveland Indians
• Everyone knows all about the Indians recent sell-offs including
CC Sabathia
,
Cliff Lee
and
Victor Martinez
.
The league is now just finding out about the players they got in return, in addition to other notable players they acquired along the way.
Justin Masterson
, acquired in the Victor Martinez deal, is 3-0 and has pitched into the seventh inning in all three of his starts. He has only given up three runs in 20 ⅓ innings, striking out 12 and walking only four batters.
Asdrubal Cabrera
, acquired in a deal for
Eduardo Perez
, had four home runs this season within the team's first 10 games. According to Elias, he was the first Cleveland shortstop with at least four homers over the season's first 10 games since 1960, when Woodie Held had five.
Shin-Soo Choo
, acquired in a deal for
Ben Broussard
, homered on Saturday to help up his batting average to .224 on the season. Despite the slow start to 2011, Choo has hit for a .300 average in each of his three seasons with the Tribe.
Essentially the entire Indians roster, in terms of key contributors, was acquired via trade and can be seen in the chart below.
The maneuvering has positioned the Indians for a surprising present and a potentially bright future.
-- Contributions made to this piece by Justin Havens
April, 11, 2011
4/11/11
2:55
PM ET
Today's Trivia:
Monday is the 50th anniversary of the first game in
Los Angeles Angels
history. Can you name the two players with the most games played for the Angels who never made an appearance for another franchise?
After beating the
New York Yankees
Sunday on ESPN, the
Boston Red Sox
will try and win two in a row for the first time this season when they host the
Tampa Bay Rays
at 7 ET on ESPN.

Hellickson
Jeremy Hellickson
will face
Daisuke Matsuzaka
in tonight's game. Hitters leading off an inning are just 6-for-41 (.146) with a walk against Hellickson, including 0-for-6 in his first start of the season. Compare that to Matsuzaka, who allows leadoff hitters to reach base 36 percent of the time.
Offensively, the Rays are struggling and have received very little production from the position once manned by Carlos Pena. Since the start of last season, Rays first basemen are hitting just .186. They hit .194 in 2009, but at least they drew 109 walks. This year, in nine games, their first basemen have drawn none.
With three straight three-hit games,
Dustin Pedroia
is one player who's swinging a hot bat for Boston. Only four Red Sox in the last 50 years have had at least three hits in four straight games: 2005
Edgar Renteria
; 1992 Jody Reed; 1984 Wade Boggs; and 1974 Carlton Fisk.
Elsewhere around MLB:
• The
Florida Marlins
'
Chris Coghlan
didn't record his first extra-base hit until his 104th at-bat of 2010. Despite hitting just .200 this season, he's tied for the National League lead with five doubles.
•
Prince Fielder
is 10-for-16 (.625) in two-strike counts, and 4-for-19 (.211) in all other situations. Last season, Fielder hit .182 in two-strike counts.
• A big reason behind
Jorge Posada
's .138 batting average? He has a .059 batting average on balls in play (BABIP). Last season the league average was .300.
•
Jonny Gomes
leads the majors with 12 walks, almost one-third his season total from 2010 (39). He picked up his 12th walk last season on May 28.
• Cleveland's
Asdrubal Cabrera
already has four game-winning RBI, two fewer than in 2010.
• The Rockies'
Troy Tulowitzki
is 0-for-10 with runners in scoring position, and 6-for-18 in all other situations.
• Opponents are a combined 0-22 against
Matt Cain
and
Tim Lincecum
with runners in scoring position.
Trivia Answer:
Tim Salmon
(1,672) and Gary DiSarcina (1,086) have played the most games for the Angels without appearing for another franchise.
-- Mark Simon contributed to this report
August, 3, 2010
8/03/10
1:46
PM ET
By
Gregg Found
| ESPN.com
Today's Trivia
: After pitching 1,198 innings in the American League (all with the Indians and Yankees),
Jake Westbrook
made his National League debut on Monday for the
St. Louis Cardinals
.
Can you name the active AL pitcher who has thrown the most career innings but never pitched for the NL? What about the active NL pitcher who has thrown the most innings but never pitched for the AL? We'll give you the top 3 in each league at the bottom of this document.
Quick Hits on non-contenders who have owned contenders this season, on the heels of the
Houston Astros
improving to 5-2 in St. Louis this season (they're 15-28 on the road against all other teams).
• The jury is still out on whether the
Detroit Tigers
are a contender, but they're 3-1 against the Yankees this season. All other AL Central teams are 6-15 against the
New York Yankees
.
• The
Tampa Bay Rays
only have a losing record against one AL team this season (the
Texas Rangers
), but they have losing records against four different NL teams, including the
Arizona Diamondbacks
(1-2) and
Florida Marlins
(2-4).
• The
Cleveland Indians
can claim dominance over the
Chicago White Sox
this season, going 8-4 against Ozzie Guillen's club. Cleveland is 12-14 against the rest of the division.
• The Rangers need to stay away from AL East bottom-feeders. Texas is 3-9 against the
Toronto Blue Jays
and
Baltimore Orioles
this season.
• If the
Philadelphia Phillies
could beat the
Chicago Cubs
and
Pittsburgh Pirates
, they'd be a lot closer to the
Atlanta Braves
in the standings. Philly is 4-8 against the Cubs and Pirates this season, but 6-0 against the other two NL Central non-contenders (
Milwaukee Brewers
and Astros).
Today's Leaderboard:
Today is Sid Bream's 50th birthday, so let's celebrate the player who memorably scored from 2nd base with 2 outs in the bottom of the 9th in Game 7 of the 1992 NLCS to send the Braves to the World Series. Who, in Bream's footsteps (pun not intended), has scored from 2nd base on a single most often this season?
It would be Martin Prado, who recently was placed on the disabled list.
And, since you're wondering, which MLBers have a 100 percent success rate? It's a tie among two guys who are 6-for-6:
Asdrubal Cabrera
and
Kyle Blanks
.
Key Matchups
:
• Here's the daily A-Rod vs Opposing Starter update: Rodriguez is 4-13 (.308 BA) in his career against Blue Jays starter
Ricky Romero
. But he has never homered off Romero and has only one extra-base hit (a double). And Romero really has Rodriguez's number this season – A-Rod is 0-5 with 2 strikeouts and a double play in his last 5 AB's against Romero.
•
Bud Norris
has gained a reputation as a Cardinals-killer in his career (4-1 with a 1.60 ERA vs STL, 5-9 with a 6.35 ERA vs all other teams) despite getting knocked around by the Cardinals in his most recent start against them. But Norris still owns plenty of Cardinals individually.
Felipe Lopez
is 0-8,
Matt Holliday
is 4-16,
Colby Rasmus
is 2-13 and
Skip Schumaker
is 2-14. What about the Great Pujols? Not great either, just 3-14 and no home runs.
• In a battle of the newly-acquired players for NL West teams, give a strong edge to
Ted Lilly
when he pitches against
Ryan Ludwick
tonight. Ludwick is batting just .192 (5-28) with twice as many strikeouts (10) as hits (5) in his career against Lilly.
•
Pat Burrell
hasn't been an everyday player this season, but he should find himself starting tonight against the Rockies'
Aaron Cook
. Pat the Bat is batting .591 (13-22) and slugging .773 against Cook. Of all the pitchers Burrell has faced at least 20 times, Cook is the pitcher Burrell has hit the best.
Trivia Answer
: Your top AL guys who have never pitched for the NL:
Mark Buehrle
(2,193.1 IP),
John Lackey
(1,641.2) and
Kelvim Escobar
(1,507).
As for the other way around, it's the recently-traded
Roy Oswalt
(1,938.1 IP),
Randy Wolf
(1,823.1) and
Ryan Dempster
(1,769.2).
April, 27, 2010
4/27/10
12:13
AM ET
By
Kenton Wong, ESPN Stats & Info
| ESPN.com
April, 11, 2010
4/11/10
11:15
AM ET
By
John Parolin
and
Derek Czenczelewski, ESPN Stats & Info
| ESPN.com
Starting today we are going to start unveiling our top 25 players in the majors under the age of 25.
The criteria to make the list
:
- Must be under 25 years old on Opening Day 2010.
- Must have MLB experience.
- MLB results matter more than projected future stats or "talent" level. (If we were doing a list based on potential,
Jason Heyward
, Carlos Santana,
Buster Posey
and
Austin Jackson
etc. would be on this list).
- Our 25-man "team" must carry ordinary MLB requirements (two catchers, all positions and DH covered plus a bench and 12 pitchers).
We'll unveil the bottom 5 today and work our way up the next 4 days.
25. Jarrod Saltalamacchia, TEX, 24
2009: .233 BA, .290 OBP, 9 HR in 84 games.
-In danger of earning the dreaded lifetime prospect distinction, "Salty" should start behind the plate for the Rangers this season. His tools can't be ignored, and legitimate power-hitting catchers are not easy to find. But legitimate power-hitting catchers do not have a .180 WHAvg, .371 SLG% nor an OPS of .661, and his 33% chase percentage and 31% K% do not help his case either. But every team needs two catchers, and this one is no different. A strong season from Saltalamacchia could do well to justify his spot on this list; otherwise, he's a mere placeholder for the likes of Carlos Santana or Buster Posey in 2011.
24. Elvis Andrus, TEX, 21
2009: .267 BA, .329 OBP, .702 OPS, 33 SB
-Of the top 14 stolen base leaders in the American League last year, only
Ian Kinsler
(.327) and
B.J. Upton
(.313) had worse OBP numbers then Andrus. In a Texas system that should produce some top notch offensive talent in the next couple years (ESPN's Keith Law ranked the Rangers' organization as the number one farm system in baseball), Andrus can improve his runs scored and stolen base totals significantly if he can make better contact in the zone (.662 OPS on pitches in strike zone last year) and work some walks with a little more frequency (7.4% BB% in 2009). With
Julio Borbon
at the top of the order, there won't be too much pressure on Andrus to produce offensively, particularly given his ability with the leather.
23. Asdrubal Cabrera, CLE,
2009: .308 BA, 68 RBI, 81 runs, 17 SB, .799 OPS
- Cleveland's switch-hitting shortstop took some solid steps forward in 2009, but was still vulnerable against breaking pitches from both sides of the plate. Cabrera hit .125 on 198 curves and sliders on the inside part of the plate last season. Pitchers needed to work the inner third effectively, because Cabrera hit .333 on the outer third. However, even with the 49-point average jump from 2008, Cabrera's OBP only saw a 15-point spike, and his walks percentage (7.6%) is still well behind the league average of 8.9%. However, he can get away with it at times because he's so hard to finish off. Cabrera only strikes out in 31% of 2 strike at-bats, missing 17% of swings with 2 strikes, and won't help pitchers early, chasing only 15% of pitches in non-2 strike counts. Those numbers will almost certainly help him improve on his walks percentage in 2010, showing why he's a very viable option to lead off the Cleveland order.
22. Daniel Bard, BOS, 24
2009: 3.65 ERA, 63 strikeouts in 49.1 IP
- While Bard's ERA might not impress you for a reliever, the 3:1 K/BB ratio certainly will. Daniel's 100MPH fastball coupled with a crafty slider allowed him to effectively work out of jams, keeping 76% of inherited runners from scoring. 52 percent of Bard's innings were completed in 1-2-3 fashion, and 22 percent of his outs recorded came via a 4-pitch or fewer strikeout.
21. Neftali Feliz, TEX, 21
2009: 1.74 ERA, 39 strikeouts and 8 walks in 31.0 IP
- Feliz had a tremendous, but brief stint in the majors this past season. In 20 appearances, Feliz held opposing batters to a .124 batting average. Feliz turned 2-strike at-bats into outs 89 percent of the time (league avg. = 72 percent). With a WHIP of .677 and a K/BB ratio of nearly 5:1, Feliz represents the Rangers as their closer of the future, and perhaps present.
Check back tomorrow for players 16-20.
March, 9, 2010
3/09/10
10:30
AM ET
By
Bryan Smith, FanGraphs
| ESPN.com
While losing 97 games last season, the
Cleveland Indians
were the worst team in baseball at the two facets of run prevention. No other team ranked in the bottom five of Major League Baseball in both Fielding Independent Pitching
(28th of 30)
and
Ultimate Zone Rating
(26th), signaling problems with their pitchers and fielders alike. That's bad, but is it fixable?
A lot of last year's pitching problems can be blamed on trial and error, as the Indians tried an AL-leading 29 different pitchers on the mound. The hurlers projected to make up this season's rotation, led by stalwart
Jake Westbrook
, provide a telling comment on the organizational philosophy for better run prevention in 2010: groundballs.
An average Major League Baseball team turns a groundball into an out about 67% of the time; it's the most pitcher-friendly ball in play. The Indians rotation, not coincidentally, is built around pitchers that throw sinkers and induce grounders. Westbrook's return from injury paves the way for this strategy, but he's joined in practice by
Fausto Carmona
,
Justin Masterson
and
Aaron Laffey
. Together, the four have a career GB/FB rate of 2.46 versus the approximate league average of 1.7.
To collect all the wormburners this staff is sure to produce, the Tribe have put together an infield of shortstops. Along with incumbent shortstop
Asdrubal Cabrera
, third baseman
Jhonny Peralta
and second baseman
Luis Valbuena
both have experience at that position. Like the Mariners, an organization that has built an outfield with two centerfield-caliber defenders (
Ichiro Suzuki
and
Franklin Gutierrez
), the Indians are hoping an infield featuring three players with experience at shortstop will be far more efficient at turning grounders into outs. The key to Cleveland's success is whether these are the correct three infielders. All three ranked below average in Ultimate Zone Rating a year ago, combining to cost the Indians 15.6 runs with their glove.
However, most statheads will tell you that you need at least three years of fielding data to reach an accurate conclusion, and none of these three infielders have played more than 127 games at their current spot. Therefore, we can't say they are below-average fielders based on UZR just yet. But if you put any faith in the
fan projections
featured at FanGraphs, there isn't much reason for optimism: The trio is projected by our readers to cost the club -3.6 runs collectively. The jury's still out on this threesome, and the groundball-inducing staff will be praying that all of them can live up to their shortstop pedigree. If not, it's going to be another long year at Jacobs Field.
Bryan Smith is an author of FanGraphs