August, 11, 2012
8/11/12
10:17
PM ET
By
Mark Malzewski
| ESPN.com
Kevin C. Cox/Getty Images
Ben Sheets has used his curveball in his successful return to the big leagues this season.
The
Atlanta Braves
finish up a three-game series in Queens against the
New York Mets
on "Sunday Night Baseball" (ESPN, 8 ET), with Atlanta's
Ben Sheets
and New York's
Jonathon Niese
squaring off.
Sheets has been quite a story in his return to the majors this season. After not pitching since July 2010, and undergoing surgery to repair his whole elbow, he returned on July 15, when he held these Mets to two hits, striking out five and walking just one in six shutout innings.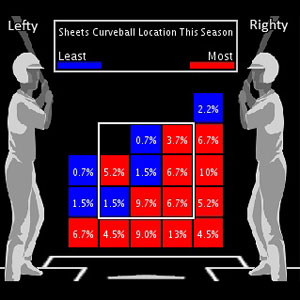 Sheets has kept his curveball out of the middle of the strike zone this season.
The Braves are 4-1 in his five starts this season, all quality starts. He's done it with his familiar curveball.
Opponents are hitting just .159 against his hook this season, with 14 of 44 at-bats ending in a strikeout. Ten of the strikeouts have come on pitches outside the strike zone.
As you can see in the heat map on the right, he's keeping it out of the middle of the strike zone. Opposing hitters chase more than 40 percent of his curveballs out of the zone (MLB average is 28 percent) and miss almost a third of their swings against the pitch (MLB average is 30 percent).
When Sheets gets ahead of hitters 0-2, more often than not he's going with the curveball. He throws it almost 70 percent of the time and hitters are just 1-for-11 against it in 0-2 counts (hitters are 1-for-3 against his fastball in the same situation).
Overall, he's allowed just two extra-base hits, struck out 14 and walked none with the curveball this season.
Before signing with the Braves, Sheets last pitched in the big leagues in 2010 with the
Oakland Athletics
. That year he relied mainly on his fastball, but this year he's using his cutter more. That's helped with his control; he's cut his walk rate nearly in half.
STATS TO WATCH
•
Chipper Jones
has hit 49 career home runs against the Mets, tied with Mike Schmidt for the second-most against them. Willie Stargell hit 60 against New York in his career.
• The Braves have won seven straight games over the Mets, their longest win streak against New York since winning eight straight during the 2009 season.
July, 15, 2012
7/15/12
9:21
PM ET
Dale Zanine/US PresswireBen Sheets allowed no runs in six innings on Sunday to pick up his first win in more than two years.
His last win came more than two years ago, but
Ben Sheets
showed Sunday he can still be dominant. Three days before his 34th birthday, Sheets tossed six scoreless innings, allowing just two hits in the Atlanta Braves' 6-1 win over the New York Mets and
Johan Santana
. It was his first win since July 10, 2010 when he was with the Oakland A's. In Sheets' last win, he also went six innings and allowed two hits and no runs in a game against the Los Angeles Angels.
Sheets missed the entire 2009 and 2011 seasons since turning 30 in 2008. He was the third pitcher in the past 15 years to start a game in the majors at age 30 or older after twice missing a full season, according to the Elias Sports Bureau. The others were
Scott Erickson
, after missing the 2001 and 2003 seasons, and
Bret Saberhagen
, who missed the 1996 and 2000 seasons.
Mets hitters went 1-for-9 with three strikeouts against Sheets' fastball, and 1-for-9 with two strikeouts against his curve. Sheets used both as out pitches; of 21 two-strike pitches, 11 were curves and 10 were fastballs. Counting strikeouts, Sheets got eight outs with each pitch.
Sheets wasn't the only pitcher to go at least six innings and not allow a run on Sunday. 2012 All-Stars
Stephen Strasburg,
Justin Verlander
and
Matt Harrison
also dominated.
• Strasburg also went six innings, allowed no runs and struck out seven in a 4-0 win over the Miami Marlins. It was the third straight start in which Strasburg went exactly six innings and allowed no runs against Miami. In fact, Strasburg has blanked the Marlins in four of his six career starts while going six innings in each. Strasburg has thrown 105 innings this season and the Nationals have maintained he will be capped at 160 innings pitched.

Verlander
• Meanwhile, Justin Verlander had a far better outing than he did in the All-Star Game, as he improved to 7-0 in his career against the Baltimore Orioles. Verlander won his 10th game by allowing just three hits in eight innings and striking out eight.
Four pitchers have started and allowed 5-plus runs in the All-Star Game, and three of them went on to allow no runs in their next start, including Verlander.
Tom Glavine
in 1992 and Jim Palmer in 1977 are the others.
• Matt Harrison recorded his second shutout of the season in a 4-0 win over the Mariners. Harrison had two career shutouts entering this season.
Four different pitchers have thrown complete-game shutouts and allowed five hit or fewer against the Seattle Mariners at Safeco Field this season, including Harrison. According to the Elias Sports Bureau, the 1998 Montreal Expos were the last team to have that happen to them at home four times through July 15.

Weaver
• Although
Jered Weaver
struggled Sunday allowing 10 hits, five earned runs and three home runs to the New York Yankees, he still managed to win and improve to 11-1 this season. Weaver was the first pitcher since
Bronson Arroyo
in 2009 and the first Los Angeles Angels pitcher since Geoff Zahn in 1981 to post those numbers and still win.
Alex Rodriguez
took Weaver deep for his sixth home run (including the playoffs) off the Angels righty, most of any player.
In all, seven starting pitchers who played in the All-Star Game started on Sunday, and all ended up winning.
September, 11, 2010
9/11/10
4:08
PM ET
Saturday Notables from the Elias Sports Bureau:

The
Detroit Tigers
'
Max Scherzer
has a 1.72 ERA over his last eight starts dating back to July 31. Over that span, only two pitchers have a lower ERA (minimum: 50 IP): the
Seattle Mariners
'
Felix Hernandez
(1.07) and the
Houston Astros
'
Wandy Rodriguez
(1.63). Scherzer, Hernandez and Rodriguez are all scheduled to start Saturday as well.
Felix Hernandez has started 16 games this season in which he has pitched at least six innings and allowed three or fewer earned runs and failed to get a win. Over the last 15 seasons, only one other pitcher has had that many such starts: the
San Francisco Giants
'
Matt Cain
(16 in 2007). The last American League pitcher with at least 16 such starts: Bert Blyleven for the Twins in 1972 (16).
The
Baltimore Orioles
'
Jeremy Guthrie
goes for his 10th win of the season tonight against the Tigers. Winning 10 or more games in three consecutive seasons doesn't seem like a big accomplishment, but doing it for a team that ends the season at least 25 games below .500 is. Over the last 30 seasons, only two pitchers won at least 10 games in three consecutive seasons for a team that was at least 25 games below the .500 mark:
Scott Kazmir
with Tampa Bay (2005-07) and
Ben Sheets
with the Milwaukee Brewers (2001-04). (The Orioles are currently 33 games under .500.)
The Giants can take sole possession of first place with a win over the
San Diego Padres
. Over the last 10 seasons, the Giants have been in first place this late in the season only once and that was in 2003 when they won the National League West.
With a win Saturday night over the
Pittsburgh Pirates
, the
Cincinnati Reds
will end their streak of nine straight seasons with a losing record. Cincinnati has had only two other stretches in which they had at least nine straight losing seasons: 1929 to 1937 and 1945 to 1955.
July, 10, 2010
7/10/10
4:05
AM ET
By
ESPN Stats & Info
| ESPN.com
WHY THEY WON
How Nationals starter
Stephen Strasburg
was Able to beat Cain (and the Giants):
- Threw 31 curveballs (most in any start). Had the most swing and misses (7) and most chases (8) with the curveball in any start as well.
- Hitters swung at 6 of his 13 changeups: 5 were missed and 1 was fouled off.
- Held
Freddy Sanchez
to 0-2: Has not allowed a hit to a second basemen in 7 starts (0-12).
- With RISP: Giants were 0-for-4 with 2 strikeouts.
- Held Giants to 0-for-7 on pitches inside (1st time allowing 0 hits inside).
How Cardinals starter
Adam Wainwright
shut down the lowly Astros:
- The number 3: Astros hitters were 0-for-3 in 3-ball counts. Opponents are now 0-for-8 against Wainwright in 3-ball counts in his last 3 starts.
- Consequently, the Astros were 1-for-8 while AHEAD in the count against Wainwright.
- Batters were 3-for-17 (.176 BA) against his fastball (.262 entering Friday).
HITTER OF THE NIGHT
Adam Dunn
, WAS: 3-4, 2 HR, 3 RBI, 3 R
Dunn has all contending teams salivating at the thought of inserting him in the middle of their lineup. Since the beginning of July, Dunn has improved upon his already gaudy power numbers.
LOOKING AHEAD TO SATURDAY
ATHLETICS
Ben Sheets' fastball has not been effective. When throwing the fastball this year he makes batters miss only 11% of the time and has walked more (29) than he's struck out (26).
CUBS
Tom Gorzelanny
: Left-handed batters hitting .310 (18-58) and slugging .517 (5 XBH) as a starting pitcher. Left-handed batters hitting and slugging .083 (1-12, 0 XBH) as a relief pitcher.
DODGERS
John Ely
: Opponents hitting .333 (30-90) and slugging .544 (4 HR) against fastball over last 7 starts (5.17 ERA); Opponents hit .267 (27-101) and slugged .317 (0 HR) against fastball in first 6 starts (3.00 ERA).
RANGERS
Josh Hamilton
during 29-game hit streak in Arlington:
- vs fastballs: .540, OPS 1.686
- vs high pitches: .474, OPS 1.629
- With runners on base: .455, only 4 K's in 59 PA
- 27 of 51 hits to the right side; 10 of 13 homers have been to right or right-center
WHITE SOX
The 4th inning is the only inning in his career that
Brian Bannister
has allowed an opponent's batting average above .300 (.312), and the inning has also historically produced the worst ERA (6.62) for any inning over Bannister's career.
YANKEES
Nick Swisher
: Batting .406 (13-32) on 1st pitches of AB this season after hitting only .265 (13-49) on 1st pitches in 2009.
Javier Vazquez
: opponents batting only .221 (25-113) early in the count this season after hitting .305 (91-298) early in the count in 2009
July, 7, 2010
7/07/10
11:13
AM ET
By
Eric Seidman, Baseball Prospectus
| ESPN.com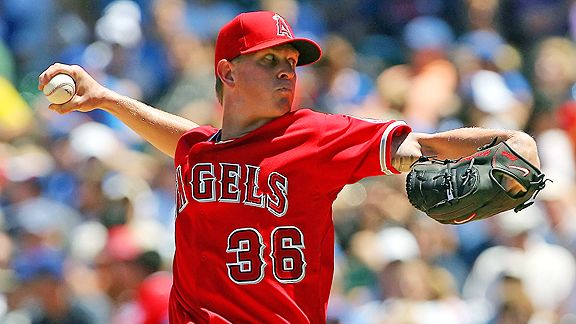 When
Jered Weaver
made his major league debut on May 27, 2006, the Angels were 20-28, in last place, and a full five games behind the division-leading Rangers. After the mega prospect blanked the Orioles over seven strong innings to the tune of a 75
game score
, Angels fans were hopeful their rotation had been vastly improved by his addition. Weaver would finish the season with a 2.56 ERA in 123 frames, with an impressive 3.18 K/BB ratio and 1.03 WHIP. He walked few, proved stingy with hits allowed and recorded his fair share of strikeouts. Though his rookie numbers were impressive, many would agree that Weaver's lack of progress since then has been disheartening.
But after stalwart ace
John Lackey
left for greener pastures this past offseason, Weaver became the de facto No. 1 in the rotation, and boy has he lived up to that billing. Though he was somehow left off the AL roster for an All-Star Game that takes place in his own home park, Weaver has been magnificent in his 17 starts this season, compiling a 2.82 ERA and 4.77 K/BB ratio in 108.2 innings. Most impressive of all, however, has been his remarkable surge in the K/9 department. After averaging 7.3 punchouts per nine from 2006-09 with little deviation in each season, Weaver currently leads the league with both a 10.3 rate and a raw tally of 124 strikeouts.
What is incredibly interesting is that Weaver's strikeout rate has not just increased a smidgen, like say from 7.3 to 8.2 or even to 8.8; it has soared all the way to 10.3, an improvement of three strikeouts per nine innings, a delta that just screams rarity. Have other pitchers experienced strikeout rate jumps as substantial as what we are seeing from Weaver this season? The table below shows the top such spikes for pitchers with 100 or more innings for three straight seasons, comparing their three-year average to the fourth year in the span:
But
how
is he improving his rate this much? Perhaps the help of our friend PITCHf/x will help us solve this conundrum. For starters, the table below breaks down Weaver's pitch distribution for the key ingredients of his repertoire over the last four seasons:
Now, I would normally write off information like this on account of the fact that PITCHf/x did not segregate two-seam and four-seam fastballs up until 2009, a process still being refined this season. However, the data above and below was provided by Harry Pavlidis, who has his own classification method that can be applied all the way back to the inception of the data; without the reclassification of several fastballs, Weaver would appear to have thrown no two-seamers prior to last season. Additionally, we have
clinical evidence suggesting
that Weaver did not begin throwing the two-seamer until the 2008 postseason. He worked on the pitch leading into the 2009 season and continually attempted to refine the pitch during this past spring training. The increase in usage is very much legitimate, and likely a key component of his improved rate.
The increased usage has also manifested itself in his pitch distribution with two strikes on the opposing hitters, which has helped not only to increase his rate of whiffing hitters, but also in keeping the ball on the ground, a characteristic never associated with Weaver in the past. The table below shows his pitch breakdowns on two-strike counts over the past four years:
As expected, his reliance on the two-seamer in two-strike counts has grown significantly, but he hasn't just pared back the four-seam heaters to make up the difference in these situations. Instead, he is throwing fewer changeups, which makes sense from the standpoint that a solid two-seam fastball provides enough of a change of pace to the hitter with its movement components compounded with decreased velocity to keep them off-guard.
In a larger sense, what is Weaver doing? Well, he is throwing a new pitch -- one he has consistently fine-tuned to the point that it is now a very effective weapon -- much more frequently than in the past. While a new pitch for some pitchers may result in an increase to their rate of grounders, Weaver's toy is giving batters ample trouble making any contact. Baseball Prospectus' Russell A. Carleton once found in another piece that pitchers held a seven-point advantage in the OBP department over hitters they had never faced before, which gradually lessened the more frequently the two faced one another.
Weaver has essentially become a
new
pitcher to many of his familiar foes due to the increased usage of a new and effective pitch. Not many pitchers have historically experienced such a large spike in their strikeout rate, but, aging effects aside, the group showed an average strikeout rate greater after the spike than in the years leading up to it, even if the rate in the year of the spike was not achieved again. If Weaver can continue to rely on his two-seamer -- and this is assuming it remains effective -- then we should not automatically expect a substantial regression in his rate in the coming years. He might not ever strike out almost 11 batters per nine innings, but Weaver is still a new pitcher.
Eric Seidman is an author of Baseball Prospectus.
June, 22, 2010
6/22/10
1:40
PM ET
By
Jeremy Lundblad, ESPN Stats & Info
| ESPN.com
Quick Hits
:
Jamie Moyer
gets the start against the Indians on Tuesday with history looming. The southpaw has allowed 504 home runs in his career, one shy of Robin Roberts' record. Using Baseball-Reference.com's Home Run Log, let's take a look at the 504 that got away:
The player that has faced Moyer the most times without a home run happens to be a likely future Hall of Famer. Roberto Alomar was homerless in 49 plate appearances.
Moyer has 478 career at-bats without hitting a home run himself. Only three active players have a longer career drought: Reggie Willits (863 PA), Ryan Dempster (548), and Ben Sheets (496).
Moyer has allowed 87 home runs in the first inning alone. Christy Mathewson allowed 89 over the course of a 17-year career.


Moyer is 149-67 in his career when not allowing a home run, and 116-134 when he does.
Moyer has allowed seven grand slams, which is not even the most among active players. Brad Penny, Kevin Millwood and Cliff Lee have all been victimized eight times. Lee has allowed 368 fewer home runs than Moyer, yet more grand slams.
Manny Ramirez has the most home runs against Moyer with 10, followed by Carlos Delgado's eight.
The only player to homer in his lone plate appearance against Moyer? Kurt Abbott in 1993.
In part because of his extended time in the AL, Moyer has never allowed a home run to a pitcher. By contrast, Phil Niekro allowed 12.
The lone walk-off home run against Moyer belongs to Alfonso Soriano in the bottom of the 18th inning on June 24, 2004. Soriano also has one of the 18 home runs off of Moyer to lead off a game.
Today's Trivia
: Which current manager hit the first home run that Jamie Moyer gave up?
Today's Leaderboard
: The Indians, whom Moyer faces on Tuesday, have only managed nine home runs against lefties this season, tied for fourth fewest in the majors. The Dodgers are last with only seven, while the Red Sox and Yankees share the league lead with 28. The Indians' nine have come in 739 at-bats. The rate of one HR per 82.1 AB vs lefties in second worst in the majors. Meanwhile, the Red Sox have one per 23.5 AB.
Key Matchups
: So who is the most likely culprit to go deep against Moyer on Tuesday? A pair of Indians have a history of success against Moyer.
Jhonny Peralta
is the only current Indian with a home run against Moyer, and has a lifetime .500 average in 10 at-bats against him, while
Austin Kearns
is 7-for-16 (.438) against Moyer. If it's anyone other than Peralta that takes Moyer deep, it would mark the 322nd different batter to homer off of him.
Kevin Kouzmanoff
is swinging one the hottest bats in the majors at the moment, and Tuesday he gets to face the pitcher he does the most damage against. In June, Kouzmanoff is hitting .418 (4th in the AL) with five HR (t-4th in AL). In 16 career at-bats against
Bronson Arroyo
, he's hit .688 with a pair of long balls. That batting average is by far his best against any pitcher he's faced at least 10 times.
Trivia Answer
: Juan Samuel, current interim manager of the Orioles, hit the first homer off of Jamie Moyer almost exactly 24 years ago today (June 23, 1986). He wasn't the only current manager to appear in that game. Terry Francona came on as a defensive replacement for Moyer's Cubs.
April, 16, 2010
4/16/10
2:44
AM ET
By
ESPN Stats & Info
| ESPN.com
Plenty of number 42s in action Thursday as we celebrate Jackie Robinson Day. Meanwhile, a couple of injury-plagued pitchers flash back to their former selves. We tell you how they did it in this edition of The Closer.
Why Twins starter Francisco Liriano won:
- Seven of eight strikeouts were on sliders, and five of those seven were swinging.
- Held Red Sox to .083 (1-for-12) against non-fastballs overall.
- Nibbled at the corners; only three pitches were right over the heart of the plate both horizontally and vertically. Of his 96 total offerings, 79 were on either the inside edge or the outside edge, and 41 were out of the strike zone.
- Went to a 2-0 count only twice, and battled back nicely. Boston hitters were 1-for-9 when Liriano was even or BEHIND in the count.
- Sox took 81 percent of first pitches, 10 points higher than Liriano's opponents in 2009. Recorded 63 percent first-pitch strikes, not overwhelming, but better than his 55 percent rate last season.
Why Athletics starter Ben Sheets won:
- Threw first-pitch strikes to 19 of 26 batters (73.1 percent), highest among all starters on Thursday and much higher than the 57 percent from his first two starts.
- Of the seven batters who got first-pitch balls, Sheets came back with a second-pitch strike to all seven. He had no 2-0 counts at any time in the game.
- Threw 45 percent of his pitches out of the strike zone, but did not give up a hit on any of those balls. In fact, Sheets has not allowed a hit all season on a pitch out of the zone (opponents hit .322 on pitches IN the zone).
- Allowed four doubles, but the Orioles could not piece hits together; they were 0-for-7 against Sheets with runners in scoring position.
Why Marlins starter Josh Johnson won:
- Kept the ball down; 38 percent of pitches were in the lower third or below the zone on Thursday, compared with 31 percent in his first two starts. Reds hitters swung at 47 percent of such offerings.
- Cincinnati went 0-for-8 on pitches out of the strike zone, with seven of those being strikeouts.
- Used slider as his out pitch, throwing it 40 percent of the time when he was ahead in counts (27.6 percent in first two starts). Four of the six swinging strikeouts he recorded came against it.
- Increased use of slider meant hitters could not just sit on fastballs. Cincinnati managed only two hits against Johnson's heat, and an OPS of .481, while missing on 38 percent of their swings. That's well down from the 10 hits, and .954 OPS, that Johnson allowed in his other two starts.
Now pitching... Number 42...
-
Mariano Rivera
came in with two outs in the 9th and two runners on base to record the game's final out.
- This is the fifth straight Jackie Robinson Day on which Rivera (the only active player to regularly wear jersey number 42) has pitched, and the third straight on which he's recorded a save.
April, 5, 2010
4/05/10
12:12
PM ET
By
Jeremy Lundblad, ESPN Stats & Info
| ESPN.com
Today's Trivia: As Bobby Cox readies himself for his final Opening Day, let's look back on his first. In Cox's first game as manager (April 7, 1978), a pair of future Hall of Famers dueled on the mound, as the Braves started Phil Niekro against the Dodgers' Don Sutton. But perhaps more interesting than that? Which two current managers played in that game? (Hint: both are now over 60!)
* Over the last 50 years, there have been four instances of a pitcher getting the start on Opening Day after missing all of the previous season, according to the Elias Sports Bureau. On Monday, three pitchers will do just that.
Jake Westbrook
,
Ben Sheets
and
Shaun Marcum
are all starting the opener for their respective teams after missing all of the last year. The last pitcher to do that was
Carl Pavano
for the Yankees in 2007. Prior to that:
Scott Erickson
('02 Orioles), Alex Fernandez ('99 Marlins), Diego Segui ('77 Mariners). And because you don't get to type this name enough – the last pitcher to do it prior to 1960 was Vinegar Bend Mizell for the 1956 Cardinals after serving in Korea.
* With the NCAA title game tonight, you're probably wondering what baseball history has to say about tonight's outcome. When was the last time a Butler faced a Duke in the MLB? On July 26, 1970, Indians catcher Duke Sims went 0-2 against Bill Butler of the Royals. Score one for Butler there. However, if home run hitting is any indicator, this one could be all Duke. There have been 19 players with the last name Butler in MLB history. Led by Billy and Brett, those Butlers hit a combined 118 home runs. Duke Snider alone had 407 homers. What about the actual schools, you ask? Well, Butler has only produced four MLB players to Duke's 31. But the last time we saw a Duke-Butler meeting at the plate? On April 6, 1998, Butler's Doug Jones (then on the Brewers) got Duke's
Ryan Jackson
(Marlins) to fly out to center.
* President Obama will throw out the first pitch this afternoon in Washington, continuing a now 100-year tradition started by William Howard Taft. This will be the 63rd time that a sitting President has thrown out the first pitch on Opening Day, with only Jimmy Carter never doing so since Taft. An interesting trend has emerged though. Including Obama, three of our last four Presidents have been real lefties – that is, with their throwing arm. Only the A's, Blue Jays, Mets and Phillies feature three lefties in their Opening Day rotation. Interestingly, our last five presidents only had 24 fewer wins last season than Toronto's current rotation.
*
Roy Halladay
and
Roy Oswalt
will be starting their 8th straight openers, the longest active streak followed by
Carlos Zambrano
at six.
Chipper Jones
will be making his 14th straight Opening Day start for the Braves, the longest active streak with one team. Next on that list are
Todd Helton
(13) and
Paul Konerko
(12). No
Derek Jeter
? He missed the first four games on 2001. Otherwise, he'd be one spot ahead of Jones.
* Today's Leaderboard: If you are going to get
Xavier Nady
in the lineup, you might as well make it on Opening Day. The Cubs outfielder is a career .481 hitter in the first game of the season, highest among active players with 15 at-bats. Nady also has five home runs on Opening Day. Only Ken Griffey Jr. (8) and
Adam Dunn
(6) have more among active players.
Matchup(s) of the Day:
Mark DeRosa
is 13-27 lifetime against Roy Oswalt. That .481 batting average is the highest for any hitter that has faced Oswalt at least 20 times.
Matt Holliday
is just 1-16 in his career against
Aaron Harang
. That .063 average is his lowest against any pitcher he's faced 15 times.
Trivia Answer: Blue Jays manager Cito Gaston (who is now 66) appeared as a pinch hitter for the Braves and made the final out the game. Dusty Baker (who is now 60) started in LF for the Dodgers.
March, 15, 2010
3/15/10
9:32
PM ET
By
ESPN Stats & Info
| ESPN.com
The
Oakland Athletics
signed four-time all star
Ben Sheets
in the offseason to a one-year deal worth $10 million to be the ace of their young rotation. Sheets didn't throw a pitch last season after undergoing elbow surgery, so all eyes are on the righthander this spring to see how he bounces back. The early results are not encouraging:
On Monday Sheets failed to get out of the first inning against the
Cincinnati Reds
. His final line: 0.0 IP, 8 hits, 10 runs, 9 ER, BB and HR. That bumped his spring totals to 4.1 IP, 17 hits, 18 runs, 15 ER and an ERA of 31.15.
For some perspective,
Baseball Reference
shows that Sheets has allowed at least 10 runs and 9 earned runs in a regular season game only twice in his major league career, and he pitched 5.1 and 6.0 innings in those two outings. In addition, Sheets has NEVER appeared in a regular season game where he did not record an out.
And according to the Elias Sports Bureau, NO pitcher in the modern era (since 1900) has ever allowed 10 runs without getting an out in an MLB regular season game. The modern-era record is 8, done five times, most recently by
Paul Wilson
in 2005.
John Fisher and Mark Simon contributed.