Stats & Info:

Billy Hamilton
September, 8, 2013
9/08/13
10:52
PM ET
With apologies to Casey Kasem, Ryan Seacrest, Rick Dees, and all of the notable Top-40 DJs, let's count down a brief selection of our favorite numbers from the week.
34:
Runs scored by the Red Sox between Thursday and Saturday. It was their first time scoring nine or more in three straight games against the Yankees
in
New York. According to the Elias Sports Bureau, they also became the first visiting team to score 12 or more in two straight against the Yankees since 1907. The Yankees, meanwhile, scored at least eight in each game yet lost them all, joining the 1999 Rockies as the only teams in MLB history to do that at home.
26:
Hits by the Tigers against the Royals on Friday, their most since May 27, 2004. Twenty of those were singles, the Tigers' most since 1946.
James Shields
allowed 14 hits and is the first starter in the live-ball era to give up that many in an outing of under four innings. No reliever had even done it since Dan Dugan of the White Sox in 1929.
19:
Hits by the Royals on Thursday, including a walk-off homer for a 7-6 victory over the Mariners. It was the first time the Royals had at least 19 hits and scored seven runs or less since July 29, 1995, when they had 22 hits but stranded 17 runners in a 5-4 win over Detroit.
16:
Innings played by the Cardinals and Reds on Wednesday, most in the 11 seasons of Great American Ball Park.
Matt Adams
was the hero with two go-ahead homers-- one in the 14th and another in the 16th. He was the first player ever to homer twice after the 13th inning of a game, and he also hit the latest one for the Cardinals since Doug Clarey (also in the 16th) in San Francisco in April 1976.
Long-Distance Dedication:
The Braves'
Evan Gattis
hit the season's longest home run on Sunday in Philadelphia. The ball descended into the "Ashburn Alley" concourse and hit an unsuspecting fan. According to ESPN Home Run Tracker, it would have gone 486 feet had it continued back to field level. It stole the top spot from
Hunter Pence
's 476-footer at Coors Field on August 27.
9:
Consecutive hits by the Cardinals to start the seventh inning against the Pirates on Friday. First team to record nine hits before making an out, in any inning, since the Red Sox had a 12-run frame against the Indians on May 7, 2009.
7:
Red Sox players who homered in Wednesday's 20-4 win over the Tigers, the first team with seven home-run hitters since 2007. The Red Sox hadn't done it in the live-ball era.
David Ortiz
had two for a team total of eight, marking just the second time a team has hit eight homers in Fenway Park.
Boston also did it against Toronto on July 4, 1977. The 20 runs were a season high in the majors and the first time the Sox had reached 20 since a 25-8 win over the Marlins in 2003.
4:
Stolen bases by
Billy Hamilton
in his first four major-league games. Scored the only run in the Reds' 1-0 victory on Wednesday, the first player to do that in his debut since Don Lock went 1-for-4 with a solo homer for the Washington Senators on July 17, 1962. Elias tells us that Hamilton is the first player in history with a steal in each of his first four MLB games.
3:
Home runs by
Pablo Sandoval
on Wednesday. Giants' first three-homer game out of the fifth spot in the lineup or lower since outfielder Dusty Rhodes did it batting sixth on August 26, 1953.
2:
Games that ended with a 12-8 final score on Friday, the first day with two such scores since May 23, 1882.
[Drumroll...]
1:
Hits allowed by
Yusmeiro Petit
on Friday; Arizona's
Eric Chavez
, the 27th batter of the game, singled just out of Hunter Pence's reach. The last Giants pitcher to lose a perfect game on the 27th batter was George "Hooks" Wiltse, who hit the Phillies' George McQuillan with a pitch, but did finish with a 10-inning no-hitter... on July 4, 1908
September, 8, 2013
9/08/13
2:40
PM ET
AP Photo/Jeff RobersonClayton Kershaw has many different ways to get hitters out.
The Cincinnati Reds and Los Angeles Dodgers meet with the Reds trying for a series sweep on "Sunday Night Baseball" at 8 p.m. ET (ESPN). Here's a look at five statistical storylines our broadcast crew will surely be talking about.
1.
Despite a three-game losing streak, the Dodgers are 36-11 since the All-Star break. If they can maintain that pace, it would be the fourth-best second-half winning percentage by a team since the All-Star Game began in 1933. After a 30-42 start, the Dodgers are 53-16 in their past 69 games. Their starting pitchers entered Sunday with a 3.09 ERA, best in the majors. The Reds rank second with a 3.37 ERA.
2.
Clayton Kershaw
enters Sunday night with a 1.89 ERA, which would be the lowest by an NL lefty since Sandy Koufax's 1.73 in 1966.
Kershaw could be only the fifth pitcher to lead his league in ERA in three straight seasons (the first since
Greg Maddux
from 1993 to 1995) and only the third to lead the majors in three straight seasons (joining Maddux and Hall of Famer Lefty Grove, 1929 to 1931).
Kershaw is the only pitcher in the majors with at least 60 strikeouts on three different pitch types (69 slider, 68 curveball, 63 fastball).
Kershaw is coming off his worst start of the season. In his first start of September, he allowed more earned runs (five) than he did in five starts in August combined (four).
3.
Reds starter
Homer Bailey
is 5-0 with a 2.42 ERA in his past seven starts. Bailey enters this start with back-to-back outings of seven innings pitched and no earned runs allowed. The last Reds pitcher with three straight such outings was Jim Maloney in 1968.
4.
The Kershaw-
Joey Votto
matchup should be a good one. Lefties are hitting an NL-low .159 against Kershaw this season. Votto is 5-for-20 against Kershaw with 11 strikeouts, his most against any pitcher. He's also one of four left-handed hitters to hit a pair of homers against Kershsaw. (The others are
Adam Dunn
,
Carlos Gonzalez
and
Brad Hawpe
.)
5.
Each team has a rookie doing something notable from a historical perspective.
Yasiel Puig
is currently hitting .347. Over the past 80 years, the only players 22 or younger to finish a season with a batting average higher than that (minimum 300 plate appearances) are Ted Williams,
Alex Rodriguez
and Stan Musial.
Meanwhile, the Reds now have a unique offensive weapon in
Billy Hamilton
, who stole 75 bases in the minor leagues this season. The Elias Sports Bureau reports that Hamilton, who has not yet come to the plate in a major league game, is the first player in the modern era (since 1900) to record a stolen base in each of his first four major league games.
September, 4, 2013
9/04/13
12:21
AM ET
By
ESPN Stats & Information
| ESPN.com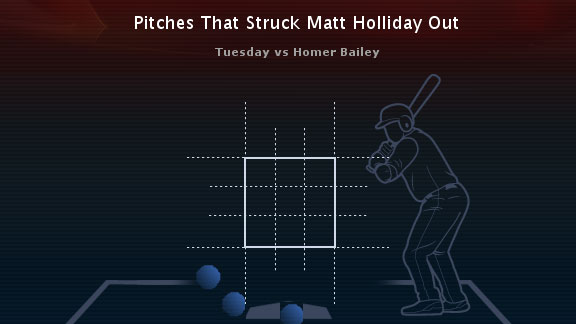 There were three pivotal matchups in the
Cincinnati Reds
1-0 win over the
St. Louis Cardinals
on Tuesday night.
Let's run through them from a statistical perspective and show how important they were to that victory.
Matt Holliday vs. Homer Bailey
Matt Holliday entered this season 11-for-25 in his career against Reds starter Homer Bailey, but Bailey has figured out how to get him out repeatedly in 2013.
Holliday is 1-for-10 against Bailey this season. He was 0-for-3 against him on Tuesday, striking out three times on pitches off the plate.
The big change in Bailey's approach against Holliday has been in where he's located his fastball. From 2009 to 2012, he threw 37 of 54 fastballs to Holliday to the inner half of the strike zone or off the inside corner. Holliday got seven hits and made only four outs against those pitches.
This season, when Bailey's thrown Holliday a fastball, there's been less predictability to it—half have been outer-half, half have been inner-half. Holliday has made five outs against it, without getting a hit. And he's flailed repeatedly against Bailey's offspeed stuff.
The strikeout pitches you see atop this article were the kind Bailey had working all night. He got 12 swings and misses on pitches out of the strike zone, tied for his second-most in any start this season.
Holliday would also strike out in the ninth inning against
Aroldis Chapman
, giving him four strikeouts in four plate appearances for the game. It marked only the second time in Holliday's career that he struck out in every plate appearance, batting at least four times. The other came against the Diamondbacks (
Micah Owings
and
Juan Cruz
) in 2008.
Billy Hamilton vs. Yadier Molina
With rosters now expanded to 40, the Reds dispatched their new weapon, speedster Billy Hamilton, as a pinch-runner with the score tied in the seventh inning.
Hamilton was up for the challenge in trying to get his first major-league steal. He's had 230 in the minors over the last two seasons.
Opponents had only stolen successfully against Molina 58.8 percent of the time this season entering the day, tied for the lowest rate for a catcher in the majors (matching that of
A.J. Ellis
of the
Los Angeles Dodgers
).
Molina had only allowed 20 steals in 932 innings this season. The seven other catchers who entered the day with 900 or more innings caught have averaged allowing 55 steals between them.
Hamilton was able to win that matchup and put himself in scoring position for
Todd Frazier
, who would drive him home with a double against
Seth Maness
.
Anyone vs Aroldis Chapman
We mentioned that Chapman struck out Matt Holliday. What we didn't mention was that he did so with a 103 mph fastball.
Chapman seems to be pitching as if he's on a mission to break the record for the world's fastest fastball.
Through his first 56 appearances this season, about one of every four Chapman heaters was clocked at 100-plus.
But in his last three games, he's thrown more than half of them at triple digits—34 of 60 to be exact.
Good luck to anyone trying to get a hit against one of those fastballs. Opponents are 3-for-57 this season when an at-bat against Chapman ends with a pitch thrown 100 mph or faster.