October, 12, 2013
10/12/13
4:41
PM ET
By
ESPN Stats & Information
| ESPN.com
With increased pressure on Texas coach Mack Brown to restore winning ways in Austin, the Longhorns came through with a pivotal win over rival Oklahoma in the Red River Rivalry.
The Sooners had won the previous two matchups by a combined score of 118-38, including 70-12 in the first half of those games.
With Texas quarterback
David Ash
missing his second consecutive game due to lingering effects from a concussion, senior
Case McCoy
filled in for his ninth career start. McCoy came through with the fifth multi-touchdown game of his career.
It was the first time Texas won in the past four matchups between these teams. The last time Texas won (2009), Case's older brother Colt McCoy was the Longhorns' starting quarterback during his senior year.
What were the biggest differences between Saturday's game and the Red River Rivalry the previous two seasons? Rushing and turnovers.
The Longhorns had 255 rushing yards, their most in a Big 12 game since Nov. 5, 2011, against Texas Tech (439). It's the third-most rushing yards by Texas in a game against Oklahoma. The Longhorns had 310 in 1970 and 278 in 1968, both wins.
Johnathan Gray
and
Malcolm Brown
both ran for more than 100 yards, the first time Texas has ever had multiple 100-yard rushers in the same game against Oklahoma.
Oklahoma quarterback
Blake Bell
entered the game with zero interceptions on the season, but he threw two picks against Texas, one of which was returned for a touchdown in the first quarter.
In the previous two matchups between these teams, Texas committed six more turnovers than Oklahoma and had a total of 110 rushing yards. In this game, the Longhorns were even in turnover margin.
Texas had an interception return for a touchdown (
Chris Whaley
) and a punt return for a touchdown (
Daje Johnson
) in Saturday's win. The Longhorns hadn't done that in a single game since 2009 against Colorado, when Jordan Shipley returned a punt for a score and Earl Thomas had a pick-six.
Texas's 16-point victory is its third-largest margin of victory as an unranked team against a top-15 team in school history. Its only larger margins of victory against top-15 teams while unranked were in 1949 against Baylor (20-0) and in 1957 against Arkansas (17-0).
September, 17, 2013
9/17/13
11:03
AM ET
By
Sharon Katz, ESPN Stats & Info
| ESPN.com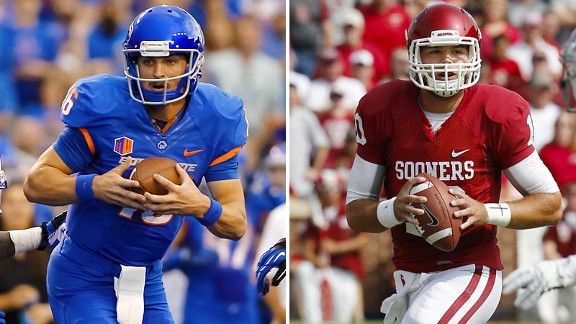 AP PhotoJoe Southwick and Blake Bell were among the best performers of the past week.
Week 3 of the 2013 college football season will largely be remembered for
Alabama's
49-42 victory against
Texas A&M
in what became a matchup of two high-powered offenses.
Texas A&M gained 628 total yards and 31 first downs against Alabama, but Johnny Manziel's two interceptions – each of which dropped Texas A&M's chances of winning by 12 percentage points – proved too costly for the Aggies to overcome.
For a complete analytical breakdown of Alabama's victory against Texas A&M, see Analytics Specialist Alok Pattani's description
here
.
As significant as Alabama's win was for the national title race, there were 61 other games involving FBS teams this week. Of those games, which individual and team performances were most impressive?
Best Individual Performances
Taylor Heinicke (99.5 Total QBR)
of
Old Dominion
posted the highest Total QBR of Week 3 after throwing for 406 yards and accounting for five total touchdowns against
Howard
.
Heinicke helped Old Dominion set a new school record in points (76) in only its third game as a transitioning member of the FBS.
Joe Southwick (98.8 Total QBR)
had a career-high Total QBR in
Boise State's
42-20 win against
Air Force
on Friday. It was the highest Total QBR by a Boise State quarterback in the last 10 seasons, and 1.2 points higher than any game recorded by former Boise State quarterback Kellen Moore.
Marcus Mariota (97.5 Total QBR)
recorded his third straight game with a Total QBR of 97 or above in
Oregon's
victory against
Tennessee
. In the last 10 seasons, Mariota is the first player (minimum 20 action plays per game) to open the season with three straight games with a Total QBR of 97 or above.
Blake Bell (96.7 Total QBR)
threw for 413 yards and four touchdowns in Oklahoma's 51-20 win against
Tulsa
. Bell's 96.7 Total QBR was the highest by an
Oklahoma
quarterback since Sam Bradford posted a 99.0 against
Baylor
on Oct. 4, 2008. Bell proved to be more than a goal-line "Belldozer" by adding the fourth-most expected points on passing plays of any FBS quarterback in Week 3.
Blake Bortles (94.8 Total QBR)
threw for 288 yards and three touchdowns in
UCF's
34-31 upset win at
Penn State
. Bortles converted 5-of-6 passes on third down, including two touchdowns, and completed a career-high six passes of 20 yards or longer against the Nittany Lions.
Best Team Performances
Offense –- Florida State:
After trailing 7-3 to
Nevada
early in the second quarter, Florida State scored 59 straight points to end the game, including 45 points on eight second-half drives. The Seminoles' offense added 31 expected points in the second half, the most by any team in the last 10 seasons.
Defense –- Texas Tech:
The Red Raiders are normally known for their offense, but on Thursday, their defense held
TCU
to 10 points and contributed about 16 net points toward their 10-point margin of victory.
Texas Tech stopped TCU on 15 of its 18 third- or fourth-down chances and forced a punt or turnover on all six of the Horned Frogs' first-half drives.
Special Teams – Vanderbilt:
The Commodores lost 35-25 to
South Carolina
on Saturday, but it could have been a lot worse if not for their special teams unit. Vanderbilt's special teams added about 15 expected points, the most of any team in a game this season.
Overall, Vanderbilt started its drives 20 yards closer to the end zone than South Carolina did largely because of two fourth-quarter fumbles forced by its special teams unit.
Deeper look at final play of Arizona State-Wisconsin
In potentially the strangest play of the season,
Wisconsin
quarterback
Joel Stave
attempted to center the ball on the
Arizona State
15-yard line with about 15 seconds remaining to set up a game-winning field goal attempt. The Arizona State players covered the ball, claiming that Stave was not down and therefore had fumbled.
Although officials ruled Stave down, the ball was not set in time for Wisconsin to spike the ball, stop the clock and attempt a field goal. Just how much did that play cost the Badgers?
In the last 10 seasons, the FBS average conversion percentage on 32- or 33-yard field goal attempts is 76 percent. Accounting for the slim chance of a kickoff return touchdown or turnover, Wisconsin had a 72 percent chance of winning the game prior to Stave's two-yard loss.
Therefore, as time ran out, Wisconsin's chance of winning fell from 72 percent to 0 percent, the second largest swing for any play this season behind only the 75-yard rush touchdown by Ole Miss against Vanderbilt to take the lead in the fourth quarter (75 percent swing).
Wisconsin must regroup before taking on Purdue (Saturday, 3:30 p.m. ET on ABC), No. 4 Ohio State and No. 18 Northwestern in the next three weeks.
For a complete explanation of ESPN's new CFB storytelling metrics, click
here
.
October, 13, 2012
10/13/12
5:32
PM ET
By
ESPN Stats & Info
| ESPN.com
For only the third time in the history of the Red River Rivalry, the
Oklahoma Sooners
put up at least 60 points on the
Texas Longhorns
.


And all three times have come since Bob Stoops took over at Oklahoma in 1999.
Stoops' first win in this series came in 2000, 63-14. In 2003, OU won 65-13, and on Saturday the Sooners won 63-15.
Combined with last year's 38-point loss (55-17), this marks the first time Texas has lost to Oklahoma by at least 38 points in back-to-back seasons.
It's the third straight year Oklahoma has beaten Texas, all three with
Landry Jones
as the Sooners' starting quarterback. Jones is just the third starting QB in school history to beat Texas three times joining Steve Davis (1973-75) and Jimmy Davis (1954-56).
Jones also picked up his 33rd win, passing Steve Davis for most wins in school history by a starting QB.
Oklahoma's other QB,
Blake Bell
, had four rushing touchdowns -- the second time in his career he's rushed for four scores in a game. Bell is the first player to rush for four touchdowns against Texas since Oklahoma's Quentin Griffin set the school record with six in 2000.
With Oklahoma up 13-2,
Damien Williams
broke off a 95-yard touchdown run, the third longest in school history and the longest -- by either school -- in the history of the rivalry.
Oklahoma outscored Texas 23-0 in the second quarter. In the last two meetings, OU has outscored Texas 51-7 in the second quarter, and 70-12 in the first half.
Texas has now lost nine straight games against AP top-25 teams. The 677 yards the Longhorns allowed are the third most they have yielded in a game since 1950.
The Longhorns were outgained by 388 yards (677-289), their biggest disparity in a game since 1950.