Stats & Info:

Blake Bortles
May, 9, 2014
May 9
1:13
AM ET
By
ESPN Stats & Information
| ESPN.com
The first round of the 2014 draft was highlighted by the three quarterbacks selected Thursday night:
Blake Bortles
,
Johnny Manziel
and
Teddy Bridgewater
.
The teams that made those selections – the
Jacksonville Jaguars
,
Cleveland Browns
and
Minnesota Vikings
– had all drafted a quarterback in the first round in one of the three previous drafts. Only three teams had ever drafted two quarterbacks in the first round in a four-year span in the common draft era previously.
But how will those quarterbacks fit into their new landscapes?
Jaguars – Blake Bortles
Bortles is the third quarterback taken in the first round in Jaguars history (Blaine Gabbert and Byron Leftwich). Since drafting Gabbert in 2011, the Jaguars have posted the lowest Total QBR in the NFL (24.7).
One of Bortles' strengths in college was his deep ball. Bortles completed 52.9 percent of his passes thrown at least 25 yards downfield last season. That's the highest of any first-round pick from the past three seasons.
The Jaguars lacked a downfield element last season. As a team, the Jags attempted a league-low 26 passes at least 25 yards downfield and completed five (19.2 percent). Only the Panthers had a worse completion percentage on those throws last season (17.9 percent).
Browns – Johnny Manziel
Johnny Manziel was drafted 22nd overall after the Browns traded into the spot. In 2012, the Browns drafted Brandon Weeden 22nd overall after a trade, and in 2007 the Browns drafted Brady Quinn 22nd overall following a trade.
Since the Browns returned to the NFL in 1999, the team has used a league-high 20 starting quarterbacks. Manziel will likely be the 21st.
Manziel will bring a different element to the Browns' quarterback position. In two years in college, Manziel rushed for 2,169 yards (1,400 via scrambles). Browns quarterbacks have combined to rush for 1,796 yards since 2001.
Although Manziel's legs helped make the highlight reels in his two seasons at Texas A&M, his ability to throw from the pocket should not be overlooked.
Manziel completed 73.5 percent of his passes from inside of the pocket last season, highest among any AQ quarterback. Browns quarterbacks completed an NFL-worst 56.9 percent of their passes from the pocket last season.
Manziel will also be paired with a top receiver in Josh Gordon, something he benefited from last season with
Mike Evans
. Evans led AQ-receivers with 13.4 yards per target last season. Gordon was second in the NFL with 10.7 yards per target last season.
Teddy Bridgewater – Vikings
With Christian Ponder and Matt Cassel already on the roster, the Vikings were probably the least in need of a quarterback of the three teams. However, since 2009 Ponder ranks 25th in Total QBR (45.3) and Cassel ranks 30th (40.3).
Bridgewater was one of the most accurate quarterbacks in college football last season. His 71.0 completion percentage was best of any of the BCS-AQ quarterbacks despite the highest average distance of passes.
How Bridgewater might fare in the elements is a point to consider, however. The Vikings play their home games outdoors the next two seasons at the University of Minnesota. Bridgewater has never started a game in freezing temperatures.
Whether he wears a glove may not matter either. Bridgewater's hands measured 9.25 inches. There have been 39 quarterbacks since 2008 who have had a hand size of 9.25 inches or smaller at the NFL combine. Of those players, only 18 percent have started half of an NFL season (eight games) and none has made the Pro Bowl.
April, 22, 2014
Apr 22
10:49
AM ET
By
Mackenzie Kraemer
| ESPN.com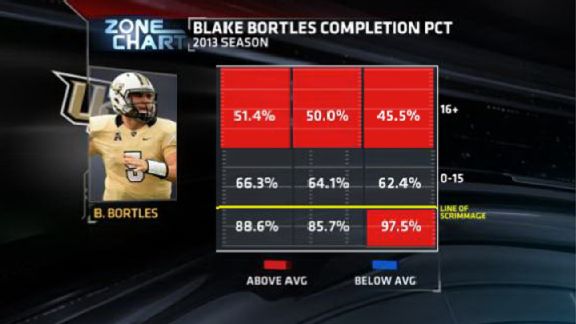 After leading UCF to a 12-1 record and an impressive Tostitos Fiesta Bowl victory over Baylor, Blake Bortles has become one of the hottest names in the 2014 NFL draft.
Scouts Inc. lists him as the top quarterback prospect available, but is Bortles worthy of the hype? ESPN "Monday Night Football" analyst Jon Gruden will meet with Bortles in Gruden's "QB Camp" show (airing Tuesday at 9:30 p.m. ET on ESPN) to try to find out. In the meantime, here's a look at some of what makes Bortles such an interesting prospect to evaluate.
Physical Attributes
At 6-foot-5, 232 pounds, Bortles has prototypical size for the position. Since 2006, the average first-round quarterback has measured 6-4, 232 pounds. His top-end size has helped him remain durable throughout his career (never missing a start).
For a large quarterback, he has shown mobility throughout his career. At the Fiesta Bowl, he ran for a career-high 93 yards on eight rushes.
That combination of size and mobility also makes him a difficult matchup in the red zone. Bortles rushed for 13 red zone touchdowns the past two seasons.
Greatest Strength -- Handling Pressure
Bortles' physical attributes help him handle the opposing pass rush effectively. He has the frame to absorb hits and the athleticism to scramble away from pressure. But perhaps most importantly, he maintains his composure to make accurate passes under pressure.
No BCS automatic qualifying quarterback threw for more yards when being hurried or knocked down last season, and he ranked near the top in completion percentage and yards per attempt.
He is especially good when able to keep his feet planted under pressure, completing 57.9 percent of those attempts, a 16 percent increase over when his feet are moving.
Another area he excels at when under pressure is keeping his eyes downfield. He was 13 of 22 (59.1 percent) on passes traveling at least 15 yards downfield when under pressure, the most completions by any AQ quarterback.
Needs Improvement -- Consistency

Although Bortles often looks the part of a franchise quarterback, he isn't always consistent. On short passes (within 5 yards of the line of scrimmage), he completed just 62.2 percent of his attempts. The only quarterback in the Scouts Inc. top 10 with a lower percentage was Logan Thomas of Virginia Tech.
From game to game, Bortles was also more inconsistent than most other draft hopefuls. On the bright side, he posted four games with a QBR of 94 or higher last season, tied for most among quarterbacks with at least 100 pass attempts.
However, he also had two games with a QBR below 30, which came against teams that went a combined 5-19 last season (Memphis and South Florida).
By comparison, fellow highly rated quarterbacks Johnny Manziel, Teddy Bridgewater, Derek Carr, Zach Mettenberger, Aaron Murray and AJ McCarron did not have any games with a QBR below 30.
Bortles also didn't play the highest-caliber schedule in college, with just five games against teams that ranked in the top 30 in opponents' QBR the past two seasons, including only one in conference play (Louisville).
On Tuesday night, watch Gruden break down the tape with Bortles, examining these areas and more.
March, 19, 2014
Mar 19
11:03
AM ET
By
ESPN Stats & Information
| ESPN.com
AP Photo/John RaouxBlake Bortles looks to help his draft stock during his pro day.
NFL scouts will turn their attention to
Blake Bortles
as Central Florida holds its pro day today. Bortles rates among the top quarterbacks in this year's NFL Draft.
What does he do best?
Bortles led UCF on six second-half comebacks in 2013, tied for the most in the FBS. When trailing in the second half, Bortles had a 89.6 Total QBR, which ranked second in the FBS behind
Teddy Bridgewater
(92.3) and just ahead of
Johnny Manziel
(88.8)
Overall, Bortles was more effective after halftime than in the first half of games, posting an 82.4 Total QBR in the second half, a 74.0 in the first half last season.
Bortles also had a nice touch on his deep throws. He completed 50 percent of his throws that traveled 20 or more yards downfield, tied with Oregon's
Marcus Mariota
for the second-highest percentage among quarterbacks from automatic-qualifying conferences last season. Only
Tajh Boyd
of Clemson fared better (54.7 percent).
Bortles joined Daunte Culpepper as the only two UCF quarterbacks to have two seasons of at least 3,000 yards passing. Bortles' numbers in his final year at UCF are comparable to those of Culpepper's, with 25 touchdowns and nine interceptions, compared to 28 and 7 for Culpepper.
While Bortles' numbers fall short of Bridgewater and Manziel's, his Knights finished 10th in the final AP Poll, ahead of both Louisville (15th) and Texas A&M (18th).
January, 7, 2014
Jan 7
6:43
PM ET
By
Mike Wilson
| ESPN Stats & Info
Three lead changes in the final five minutes of Monday's BCS Championship game punctuated the 2013-2014 college football bowl season. But even before Florida State rallied to defeat Auburn, there were other noteworthy accomplishments.
Using ESPN's new college football metrics (see explanations
here
), ESPN Stats & Information takes a look back at the best performances and most noteworthy plays from the bowls.
Biggest Plays in Terms of Win Probability Added
Four of the 10 biggest plays of the bowl season, measured by the swing in win probability, came in the BCS Championship. But the play with the biggest change in win probability came in the first bowl game of the season.
Best opponent-adjusted QBR
Brett Hundley, UCLA, 97.7
Hundley ran for UCLA's first two touchdowns and passed for two more in the Bruins' 42-12 victory over Virginia Tech in
the Hyundai Sun Bowl
. The Bruins' sophomore QB scored on an 86-yard touchdown – the second-longest touchdown run by a quarterback this season – to stake UCLA to a 14-7 lead. His 97.7 QBR was his second-best opponent-adjusted mark of the season, behind his 98.4 in UCLA's regular-season finale against L.A. rival USC.
Dak Prescott, Mississippi State, 97.6
Prescott passed for three touchdowns and scored two himself to power the Bulldogs past Rice 44-7 in
the AutoZone Liberty Bowl
. Prescott's first scoring pass pulled Mississippi State into a 7-7 tie late in the first quarter, and he closed the first half with his third scoring pass, giving the Bulldogs a 27-7 halftime lead. Prescott's adjusted QBR was a season high.
Blake Bortles, UCF, 97.2
Bortles passed for three touchdowns – each when it was a one-point or tie score – in orchestrating the Knights' 52-42 victory over Baylor in
the Tostitos Fiesta Bowl
. Bortles' raw QBR (92.4) was the second-highest this season against Baylor (a top-10 team in defensive efficiency according to
ESPN's team ratings
).
Davis Webb, Texas Tech, 96.6
Webb propelled the Red Raiders to a big lead with four touchdown passes in the first 20 minutes of what ended up a 37-23 victory over Arizona State in
the National University Holiday Bowl
. His raw QBR (91.3) was the second-highest this season against Arizona State, which played FBS's toughest schedule, according to ESPN's
strength of schedule rankings
.
Cody Kessler, USC, 96.5
Kessler passed for four touchdowns, all in the first half, in the Trojans' 45-20 win over Fresno State in
the Royal Purple Las Vegas Bowl
. His adjusted QBR in the bowl game, his third game in 2013 with a QBR greater than 90, was a season high.
Top Team Performances
Offense
Texas A&M added 28.2 expected points to its net scoring margin on offense in its 52-48 victory over Duke in
the Chick-fil-A Bowl
. The Aggies accumulated 30 first downs, averaged 8.0 yards a play and scored touchdowns on their final six possessions.
Defense
Vanderbilt added 26.6 expected points to its net scoring margin in its 41-24 win over Houston in
the BBVA Compass Bowl
. In the first half, the Commodores forced eight punts, caused a fumble, gave up one first down and didn't allow a possession of more than four plays.
Special teams
Miami added 12.2 expected points to its net scoring margin in its 36-9 loss to Louisville in
the Russell Athletic Bowl
. The Hurricanes put two punts inside the Cardinals' 20-yard line, averaged 24.8 yards on kick returns (50 percent more than Louisville) and on average began drives almost seven yards closer to the goal line than the Cardinals. The special teams excellence wasn't nearly enough to overcome an offense that contributed -18.6 expected points, however.
December, 31, 2013
12/31/13
10:19
PM ET
By
ESPN Stats & Information
| ESPN.com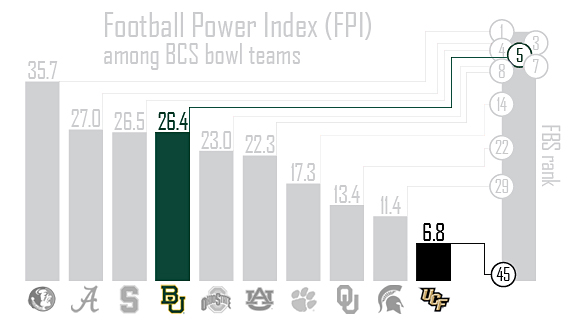 ESPN.com's Football Power Index (which rates the relative strength of teams) ranks Baylor
well ahead of UCF. Full FPI analysis can be found
here
One of the neat things about the
Baylor
-
UCF
matchup in tonight's Fiesta Bowl (8:30 pm ET) is that it pits two teams who wouldn't have been thought to be in this game when the season began.
What other stats are of note for this contest? Here's a look:
1--
Baylor's 11 wins and 639 points are its most ever. Its eight conference wins were its most since 1980.
Baylor looked like it was on its way to setting FBS records for scoring and offense, averaging 61 points per game in its first nine games, but slowed down the last few games of the season and averaged only 29 per game in its last three.
With a win, it will be the first time since 1923 that Baylor finished a season with fewer than two losses (5-1-2 that year).
2--
UCF has won eight straight games, but struggled down the stretch to get there. The Knights managed just 296 total yards in a three-point win over lowly
South Florida
, then squeaked by 5-7 SMU by scoring just 17 points. Both wins required second half comebacks.
That said, UCF is a three-point loss to
South Carolina
away from being 12-0 this season, and the Knights led 10-0 in that game back on Sept. 28.
UCF has never beaten a team from the current Big 12 Conference, going 0-5.
The program is looking for its first 12-win season in school history.
3—-
The Bears score and score quickly. Baylor has scored 57 touchdowns on drives that lasted 2 minute or less, the most by any team in the past 10 seasons and nine more than any other FBS team in 2013.
Baylor's offense has received most of the attention, but its defense also ranks fifth in ESPN's Defensive Efficiency Ratings after ranking 74th last season. The Bears' increase in the ratings is the largest for any team this season.
Quarterback
Bryce Petty
finished seventh in the Heisman voting, throwing for nearly 4,000 yards and throwing only two interceptions in 356 attempts. He currently ranks sixth in the nation in Total QBR.
4--
UCF has had six second-half comebacks this season, tied for the most in the FBS with
Northern Illinois
.
In three of UCF's comeback wins, the Knights had a 10 percent or lower chance of winning.
Only
San Diego State
had more such wins (4) this season.
Quarterback
Blake Bortles
had the second-highest QBR when trailing in the second half or overtime this season, bettered only by Louisville's
Teddy Bridgewater
.
5-—
Stats of the Day: This marks the first time since the 2007 Orange Bowl (2006 season) that both opponents are making their first ever appearance in a BCS bowl (Louisville beat Wake Forest that year).
This matchup also features two teams that weren't ranked in the Preseason AP Poll. Only two other teams advanced to BCS bowl games this season without being ranked in the preseason poll – Michigan State and Auburn.
November, 19, 2013
11/19/13
11:31
AM ET
By
Sharon Katz, ESPN Stats & Info
| ESPN.com
Clint Chelf/USA TODAY SportsClint Chelf rated the best of any quarterback last week.
Week 12 featured some of the craziest endings of the year.
Auburn
completed a 73-yard touchdown with 25 seconds remaining to defeat
Georgia
,
UCF
scored 10 points in the final 2:04 to beat
Temple
, and
Michigan
slid its way to a game-tying field goal and eventual win against Northwestern.
With the help of ESPN's new college football metrics (see explanations
here
), ESPN Stats & Information takes a look back at the best performances of Week 12 and ahead to next week's matchup between
Baylor
and
Oklahoma State
.
Best Individual Performances
Clint Chelf
had a season-high 97.3 opponent-adjusted QBR in Oklahoma State's 38-13 win at
Texas
, with his rushing proving critical. Chelf ran for a career-high 95 yards and six first downs against the Longhorns.
Jameis Winston
had a 95.0 opponent-adjusted QBR in
Florida State's
59-3 win against
Syracuse
. It was his seventh game with an opponent-adjusted QBR of 90 or higher, most in the FBS this season. Winston completed his first 10 passes of the game and threw for 277 yards and two touchdowns in the first half.
Blake Bortles
posted a 89.0 Total QBR against Temple, but when adjusted for the strength of
Temple's
defense that number falls to 70.7. Bortles led UCF on a game-tying and game-winning drive in the final two minutes of the game. In the fourth quarter, he threw for 202 yards and two touchdowns and had a 96.6 Total QBR.
Best Team Performances
Offense
–
Wisconsin
added 33 expected points to its net scoring margin on offense in its win against
Indiana
despite having a below average (negative EPA) passing offense. The Badgers ran for 554 yards and six touchdowns, the most rush yards by an FBS team in a game since last season, when Wisconsin had 564 rushing yards, also against Indiana.
Defense
–
Boise State
added 25.7 expected points on defense in its 48-7 win against
Wyoming
. Entering the game, Wyoming averaged 33.6 points and 492 yards per game but was held to seven points and 210 yards against the Broncos. They had four turnovers and three failed fourth-down attempts in the game.
Special Teams
–
Michigan State
added 9.3 expected points on special teams in its 41-28 win at Nebraska. Michigan State's average drive started on its own 43 yard line, which was 21 yards closer to the goal line than
Nebraska's
average starting field position. Michigan State punter
Mike Sadler
had three punts downed inside of the 10 yard line, and Michigan State forced a fumble in the second quarter on another punt.
Looking ahead to Week 13
Baylor
heads to Stillwater (8 ET, ABC) in a matchup of top-10 opponents looking to grab a hold of the Big 12.
The biggest question heading into this game is whether
Oklahoma State
can slow Baylor's offense. The Bears are averaging 61.2 points and 684.8 yards per game; they are on pace to break the FBS records for points (56.0) and yards (624.9) per game that were set by Army in 1944 and Houston in 1989, respectively.
In terms of offensive efficiency, Baylor is on pace to have the highest offensive efficiency in the past 10 seasons.
Oklahoma State ranks 10th in defensive efficiency and has been one of the top teams at creating turnovers. The Cowboys have forced 26 turnovers, tied for seventh most in the FBS, and have at forced at least one turnover in all 10 of their games.
Oklahoma State's opponents have a 27.2 Total QBR this season, seventh lowest in the FBS. Yet, Oklahoma State has not faced an opponent who ranks in the top 20 in QBR.
Bryce Petty
ranks second in the FBS with a 89.9 Total QBR and has a Big-12 high 84.7 QBR in conference play.
October, 29, 2013
10/29/13
9:35
AM ET
By
Sharon Katz
| ESPN.com
AP Photo/Paul VernonsBraxton Miller was at his best against Penn State.
Week 9 featured blowouts and surprises; the top four teams in the BCS Standings won by a combined 144 points, yet No. 7
Miami
needed a fourth-quarter comeback against
Wake Forest
to remain undefeated.
South Carolina
had a comeback of its own against No. 5
Missouri
; the Gamecocks' win probability fell to 2.8 percent before they scored 17 straight points to send the game to overtime.
With the help of ESPN's new college football metrics (see explanations
here
), ESPN Stats & Information takes a look back at the best individual and team performances of Week 9.
Best Individual Performances
AJ McCarron
had a Week 9-high 97.4 opponent-adjusted QBR in
Alabama's
45-10 win against
Tennessee
. McCarron completed 9-of-12 passes for 131 yards and two touchdowns in the first quarter. The Tide led 21-0 and had a 91 percent chance of winning after the first 15 minutes of play.
Blake Bortles
posted a 97.0 opponent-adjusted QBR in
UCF's
62-17 win against
Connecticut
. Bortles had career highs in completion percentage (83.3 percent), touchdowns responsible for (five) and raw QBR (98.3) in that game.
Braxton Miller
had a 95.7 opponent-adjusted QBR in
Ohio State's
63-14 win against
Penn State.
Miller threw for a career-high 252 yards and accounted for five touchdowns. This season, Miller leads the Big Ten in completion percentage (70.6 percent), third-down conversion percentage (45.7 percent) and opponent-adjusted QBR (80.4).
Jameis Winston
had a 94.8 opponent-adjusted QBR in
Florida State's
49-17 win against
North Carolina State
. He now has an opponent-adjusted QBR of 90 or higher in each of his past four games, the longest active streak in the FBS.
Explaining Garrett Gilbert's QBR

SMU's
Garrett Gilbert
had 635 yards of total offense against
Temple
, the seventh-most by any player in FBS history. However, Gilbert's opponent-adjusted QBR was ONLY a 84.9. Why?
First, Gilbert faced a Temple defense that was allowing a 68.3 Total QBR entering the game, third worst among BCS automatic qualifying conference defenses. As a result, Gilbert's QBR fell almost 10 points when adjusted for the defense that he faced. Further, Gilbert started slow, holding a 58 Total QBR midway through the second quarter when the Mustangs were trailing 28-7. In the second half, he had a 99.2 Total QBR as he led SMU to a 59-49 victory.
Best Team Performances

Offense--
Ohio State gained 686 yards and scored nine offensive touchdowns against
Penn State
. The Buckeyes added 42.8 expected points on offense, their most against an FBS opponent in the last 10 seasons. In terms of offensive EPA, Ohio State has two of the top four offensive outputs of the season.
Defense--
USC
held
Utah
to three points and forced four turnovers in its 19-3 win. The Trojans contributed 31.1 expected points on defense and -13.5 expected points on offense and special teams combined. That means that if USC had an average defense (EPA = 0), and everything else remained the same, the Trojans would have lost by about two touchdowns.
Special Teams--
Louisiana Tech
kicker
Kyle Fischer
made all five of his field goal attempts in Louisiana Tech's 23-7 win at
Florida International
. Fischer's five field goals were tied for the most by a player this season. Louisiana Tech punter
Logan McPherson
also had two punts that pinned Florida International inside of its own 15 yard line, including a punt downed at the Florida International 1 in the first quarter.
Looking ahead to Florida State vs Miami (FL)
No. 3 Florida State hosts No. 7 Miami (FL) (8 pm ET, ABC) in a top-10 matchup with plenty of history. It is the 13th time in series history that the two will meet with both in the Top 10, but the first such meeting since 2004.
This season, Florida State ranks second in offensive EPA per game and Miami ranks 12th in defensive EPA per game. However, the teams have been trending in opposite directions in their past four games.
Florida State's average margin of victory in its past four games is 36.5 points, including two wins over ranked opponents by a combined 100 points. In those games, Winston has a 94.8 opponent-adjusted QBR, which leads the FBS during that time.
On the other hand, Miami has needed fourth-quarter comebacks against
North Carolina
and Wake Forest to remain undefeated. In each of those games, the Hurricanes' win probability fell below 25 percent in the second half.
Further, Miami has had at least four turnovers in three of its past four games and has allowed 39 points off turnovers during that time.
September, 17, 2013
9/17/13
11:03
AM ET
By
Sharon Katz, ESPN Stats & Info
| ESPN.com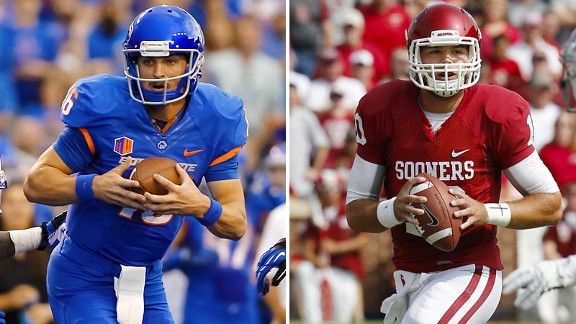 AP PhotoJoe Southwick and Blake Bell were among the best performers of the past week.
Week 3 of the 2013 college football season will largely be remembered for
Alabama's
49-42 victory against
Texas A&M
in what became a matchup of two high-powered offenses.
Texas A&M gained 628 total yards and 31 first downs against Alabama, but Johnny Manziel's two interceptions – each of which dropped Texas A&M's chances of winning by 12 percentage points – proved too costly for the Aggies to overcome.
For a complete analytical breakdown of Alabama's victory against Texas A&M, see Analytics Specialist Alok Pattani's description
here
.
As significant as Alabama's win was for the national title race, there were 61 other games involving FBS teams this week. Of those games, which individual and team performances were most impressive?
Best Individual Performances
Taylor Heinicke (99.5 Total QBR)
of
Old Dominion
posted the highest Total QBR of Week 3 after throwing for 406 yards and accounting for five total touchdowns against
Howard
.
Heinicke helped Old Dominion set a new school record in points (76) in only its third game as a transitioning member of the FBS.
Joe Southwick (98.8 Total QBR)
had a career-high Total QBR in
Boise State's
42-20 win against
Air Force
on Friday. It was the highest Total QBR by a Boise State quarterback in the last 10 seasons, and 1.2 points higher than any game recorded by former Boise State quarterback Kellen Moore.
Marcus Mariota (97.5 Total QBR)
recorded his third straight game with a Total QBR of 97 or above in
Oregon's
victory against
Tennessee
. In the last 10 seasons, Mariota is the first player (minimum 20 action plays per game) to open the season with three straight games with a Total QBR of 97 or above.
Blake Bell (96.7 Total QBR)
threw for 413 yards and four touchdowns in Oklahoma's 51-20 win against
Tulsa
. Bell's 96.7 Total QBR was the highest by an
Oklahoma
quarterback since Sam Bradford posted a 99.0 against
Baylor
on Oct. 4, 2008. Bell proved to be more than a goal-line "Belldozer" by adding the fourth-most expected points on passing plays of any FBS quarterback in Week 3.
Blake Bortles (94.8 Total QBR)
threw for 288 yards and three touchdowns in
UCF's
34-31 upset win at
Penn State
. Bortles converted 5-of-6 passes on third down, including two touchdowns, and completed a career-high six passes of 20 yards or longer against the Nittany Lions.
Best Team Performances
Offense –- Florida State:
After trailing 7-3 to
Nevada
early in the second quarter, Florida State scored 59 straight points to end the game, including 45 points on eight second-half drives. The Seminoles' offense added 31 expected points in the second half, the most by any team in the last 10 seasons.
Defense –- Texas Tech:
The Red Raiders are normally known for their offense, but on Thursday, their defense held
TCU
to 10 points and contributed about 16 net points toward their 10-point margin of victory.
Texas Tech stopped TCU on 15 of its 18 third- or fourth-down chances and forced a punt or turnover on all six of the Horned Frogs' first-half drives.
Special Teams – Vanderbilt:
The Commodores lost 35-25 to
South Carolina
on Saturday, but it could have been a lot worse if not for their special teams unit. Vanderbilt's special teams added about 15 expected points, the most of any team in a game this season.
Overall, Vanderbilt started its drives 20 yards closer to the end zone than South Carolina did largely because of two fourth-quarter fumbles forced by its special teams unit.
Deeper look at final play of Arizona State-Wisconsin
In potentially the strangest play of the season,
Wisconsin
quarterback
Joel Stave
attempted to center the ball on the
Arizona State
15-yard line with about 15 seconds remaining to set up a game-winning field goal attempt. The Arizona State players covered the ball, claiming that Stave was not down and therefore had fumbled.
Although officials ruled Stave down, the ball was not set in time for Wisconsin to spike the ball, stop the clock and attempt a field goal. Just how much did that play cost the Badgers?
In the last 10 seasons, the FBS average conversion percentage on 32- or 33-yard field goal attempts is 76 percent. Accounting for the slim chance of a kickoff return touchdown or turnover, Wisconsin had a 72 percent chance of winning the game prior to Stave's two-yard loss.
Therefore, as time ran out, Wisconsin's chance of winning fell from 72 percent to 0 percent, the second largest swing for any play this season behind only the 75-yard rush touchdown by Ole Miss against Vanderbilt to take the lead in the fourth quarter (75 percent swing).
Wisconsin must regroup before taking on Purdue (Saturday, 3:30 p.m. ET on ABC), No. 4 Ohio State and No. 18 Northwestern in the next three weeks.
For a complete explanation of ESPN's new CFB storytelling metrics, click
here
.