March, 24, 2012
3/24/12
12:20
AM ET
By
ESPN Stats & Information
| ESPN.com
Tyler Zeller's
historic game was barely enough to help the
North Carolina Tar Heels
reach the Elite Eight.
This win over the
Ohio Bobcats
kept an impressive streak alive. The Tar Heels have now won each of their last 11 Sweet 16 games and are 5-0 all-time in Sweet 16 games against double-digit seeds.
How the Tar Heels won
Zeller finished with 20 points and 22 rebounds. He's the fifth player to have a 20-point, 20-rebound game with at least four blocked shots in the Men's Basketball Championship since 1975, as noted in the chart on the right.
Zeller's eight offensive rebounds were one more than Ohio had for the entire game.
Reggie Bullock
supported the effort with a rare statistical combination.
He's the fourth player in tournament history to have at least 10 rebounds, five assists, and five 3-pointers, joining Mitch Richmond (1987 Kansas State), Hersey Hawkins (1988 Bradley), and Ray Allen (1996 Connecticut).
Stilman White
, starting in place of injured guard
Kendall Marshall
, was the only Tar Heels player who didn't turn the ball over. He's the first North Carolina player to play at least 32 turnover-free minutes, and finish with at least six assists in the Round of 16 or later since Kenny Smith in 1985.
How Ohio hung in
North Carolina won despite committing 24 turnovers, its most in a game since 1989, when it had 26 against Loyola Marymount. Ohio's defense entered forcing an average of 17 turnovers per game, best among those teams left in the Sweet 16.
The Tar Heels also survived an inefficient game from
Harrison Barnes,
who took a season-high nine 3-pointers and finished with a career NCAA tournament-low 12 points.
Barnes was 16-for-31 in the paint in the first two games of the tournament, but just 0-for-1 in this contest.
Oh, so close
This was the seventh time that a team seeded 13th or lower played in the Round of 16. None has won, but Ohio was the first of those teams to take the game to overtime.
Ohio's
D.J. Cooper
, just missed the game-winner in regulation for Ohio. He went 3-for-20 from the field, tied for the second-worst shooting percentage by a player since college basketball went to a shot clock in 1986.
The only one to fare worse in a game with at least 20 shot attempts was Loyola Marymount's Bo Kimble in 1988 -- a 3-for-21 effort that also happened to come in a loss against North Carolina.
Ohio finished the season 1-5 when Cooper took at least 17 shots (Ohio was 28-3 in all other games).
Looking ahead
What's next for North Carolina?
The last time a No. 1 seed played an overtime game in the Sweet 16 was 2006, when
Villanova
and
Connecticut
did it.
Both of them won those Sweet 16 games and lost in the Elite Eight.
March, 17, 2012
3/17/12
6:38
PM ET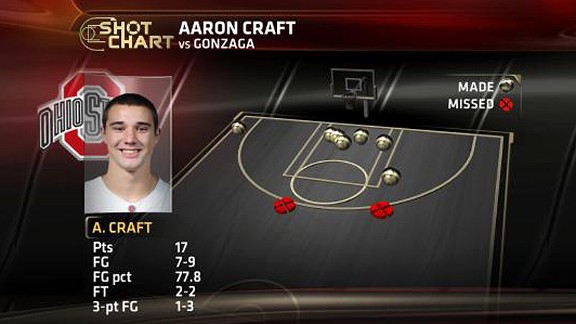 Aaron Craft was 7-for-9 from the field, 5-for-5 in the paint on Saturday.
Guard play was the story of the early-afternoon games in the Men's Basketball Championship on Saturday. Here's a closer look at the wins by the
Syracuse Orange
and
Ohio State Buckeyes
, each of whom advanced to the Round of 16.
(1) Syracuse 75, (8) Kansas State 59
Syracuse's win was the 47th in the Men's Basketball Championship for head coach Jim Boeheim. That's tied for the fifth-most all-time with John Wooden (who did all of his coaching before the tournament expanded to six rounds). Boeheim is two wins behind Jim Calhoun for fourth-most, 32 behind all-time leader Mike Krzyzewski.
The Syracuse bench dominated, going 10-for-15 from the field (including 3-for-4 on 3-pointers) and 10-for-11 from the free throw line. The Orange bench outscored
Kansas State's
reserves, 33-0.
In particular, Syracuse was at its best with
Dion Waiters
on the floor. The Orange outscored Kansas State 47-30 in the 24 minutes in which he played, and tallied all 12 of their transition points with him in the game.
Scoop Jardine
was also a catalyst. He scored 14 of his 16 points in the second half, and also had eight assists for the game, his most since February 8th.
During Jardine's career, Syracuse is 17-1 when he has at least eight assists.
Syracuse held Kansas State to just 18 percent shooting (6-of-33) outside the paint. That's the lowest percentage by a Syracuse opponent on those types of shots in the last three Men's Basketball Championships.
The Orange shot 67 percent in the second half, including 5-for-5 from 3-point range.
Kansas State was able to hang in with Syracuse for much of the game because of its offensive rebounding.
Jordan Henriquez
had 11 of the team's 25 offensive rebounds, one shy of the tournament record set by Bo Kimble in 1990.
Looking ahead, the Orange have lost their last three games in the Round of 16 since winning the national championship in 2003.
(2) Ohio State 73, (7) Gonzaga 66
The Buckeyes are headed to the Round of 16 for the third straight season, the longest such streak since the Sweet 16 began in 1975.
Ohio State's
Aaron Craft
finished with his first career double-double, recording 17 points and 10 assists. His seven baskets tied a career high. Craft was 5-for-5 in the paint and finished with a team-best 10 of the Buckeyes' 24 paint points.
In two seasons, Craft never had more than nine assists in a regular-season game, but he's now had at least 10 assists in the Round of 32 twice. Last year against George Mason in the Men's Basketball Championship Round of 32, Craft had 15 assists.
Ohio State made nine 3-pointers, with Craft assisting on seven of them.
The Buckeyes accounted for 27 of their 73 points (37 percent) on 3-pointers, their highest percentage of points from 3-pointers in a game this season. Entering Saturday, they ranked last in the Big Ten in percentage of points from 3-pointers (20 percent).
Rebounding was also a key. Gonzaga dominated the offensive glass in the first half, with nine offensive rebounds and 13 second-chance points. The Buckeyes clamped down in the second half, limiting the Bulldogs to four offensive rebounds and two second-chance points.
Ohio State entered Saturday allowing opponents to grab only 25 percent of their missed shots, the best percentage in the Big Ten.