Stats & Info:

Boston College Eagles
February, 19, 2014
Feb 19
11:57
PM ET
By
ESPN Stats & Info
| ESPN.com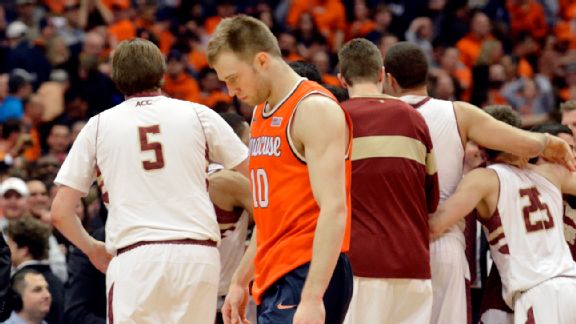 AP Photo/Kevin RivoliTrevor Cooney (10) and Syracuse fell from the ranks of the unbeaten against an unlikely foe.
When the night started, ESPN's BPI gave
Boston College
just a 1.2% chance of going into Syracuse and knocking off the top-ranked
Orange
.
When it was all over, the Eagles had earned their 3rd-ever win over a No. 1 team and made plenty of other men's hoops history in the process.
Unlikely upset artists
How big was the upset? According to BPI, last season's biggest upset of a ranked team came when
TCU
topped No. 5
Kansas
(4.5% chance) on Feb. 6.
Boston College's win probability (1.2%) was much smaller than that, and the Eagles' .240 winning percentage entering the game is the worst ever by a team to defeat the AP No. 1 in February or later.
In fact, the Eagles had lost 19 games entering their matchup with Syracuse -- the most ever by a team who defeated the AP No. 1 team. The previous record was 18 by UCLA, who at 9-18 defeated No. 1 Arizona on March 13, 2003.
As for Syracuse, the Orange become only the third No. 1 team with a record of 25-0 or better to suffer their first loss of the season at home to an unranked opponent. Massachusetts in 1996 (vs George Washington) and UCLA in 1969 (vs USC) were the others.
How did it happen? Syracuse shot a season-worst 32.3% from the field, and crunch-time hero
Tyler Ennis
didn't help either.
Ennis was 1 for 5 from the field when the score was within a possession with five minutes or less left in the 2nd half and overtime. He had previously been 8 for 10 from the field in those situations.
Unlikely road warriors
The location of this game alone makes it an historic win for Boston College.
Villanova (in 1990) was the only previous team to defeat a No. 1-ranked Syracuse team on its home floor, and the Eagles entered Wednesday's game with just one true road win this season (Jan. 11 at
Virginia Tech
).
Throw in the fact that Boston College was just 6-19 entering the game, and the Eagles become the 3rd team with a losing record to knock off the AP No. 1 on the road, and the first in nearly 60 years.
They join Georgia Tech in 1955 (defeated No. 1 Kentucky and DePaul in 1950 (defeated No. 1 St. John's).
Then again, maybe we should have seen this coming. With BC's win, each of the last six unranked teams to win a road game against the No. 1-ranked team hailed from the ACC.
What comes next?
If there's good news for the Orange, it's this: the last time Boston College defeated a No. 1 team, the victim was North Carolina (on the Tar Heels' home court) in 2009. Four months later, UNC won the national championship.
December, 19, 2013
12/19/13
10:25
AM ET
By
Alok Pattani
| ESPN.com
With bowl season upon us, we can project the winners of the 35 Football Bowl Subdivision bowl games using the
Football Power Index
.
FPI is a predictive measure of team strength that uses the elements of team offensive, defensive and special-teams performance (adjusted for opponent) that correlate most with future results.
We can use each team's FPI and the site of the game (all bowl games are treated as neutral) to calculate the expected point differential in a matchup and the percentage chance of each team winning.
In prior years, FPI has done reasonably well in projecting bowl winners (taking the team with the higher chance as the "winner"), getting about 65 percent of games right since 2004.
There have been some lean years in the past, but FPI has been quite good in the three most recent bowl seasons, accurately projecting 70 percent of winners in those games.
FPI takes into account only a team's on-field performance to date in the given season. It doesn't explicitly take into account players who are out with injuries or for other reasons, coaching movement before the bowls or differing levels of motivation that are sometimes thought to exist in bowl games.
In the 2013 regular season, starting with games on Sept. 26, FPI accurately projected 74 percent of winners.
FPI believes there to be a very clear favorite (80 percent or more to win) in four of the five BCS matchups, with
Ohio State
and
Clemson
as the most evenly matched BCS opponents.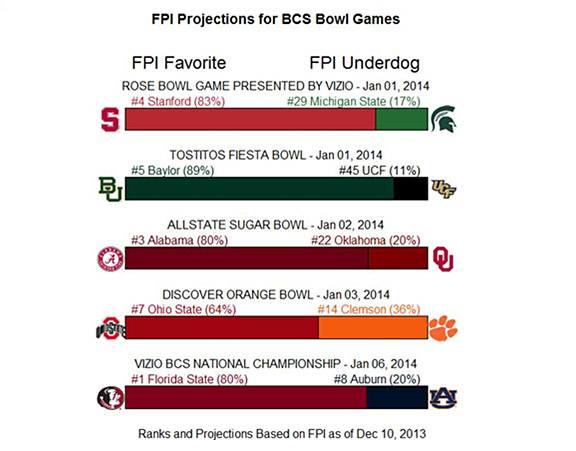 The projections for all 35 bowl games this season are below. A couple of things that stand out:
The two most-lopsided matchups, according to FPI, involve a Pac-12 team facing a Big 12 opponent from Texas. FPI has
Oregon
as 91 percent likely to defeat
Texas
in the Valero Alamo Bowl and Arizona State as 91 percent likely to beat
Texas Tech
in the National University Holiday Bowl.
The most-even matchup, according to FPI, is
Kansas State
versus
Michigan
in the Buffalo Wild Wings Bowl, with the teams separated by a little more than a point in FPI (the Wildcats are 53 percent favorites). The closest "high-profile" bowl game is the AT&T Cotton Bowl between
Oklahoma State
and
Missouri
, with the Cowboys 54 percent likely to win, according to FPI.
The Vizio BCS National Championship is the only bowl game with both teams ranked in the top 10 in FPI. Three other games involve two FPI top-20 teams:
Wisconsin
-
South Carolina
in the Capital One Bowl;
Oklahoma State
-
Missouri
in the Cotton Bowl and
Ohio State
-
Clemson
in the Discover Orange Bowl.
December, 13, 2013
12/13/13
10:31
AM ET
By
ESPN Stats & Information
| ESPN.com
Melina Vastola/USA TODAY SportsFlorida State fans have made their pick, but Jameis Winston is just one of six Heisman finalists.
Six Heisman Trophy finalists will head to New York for Saturday's ceremony, the most that have received invites to the ceremony since 1994, when there were also six. The last time there were more was in 1988, with eight.
Although the favorite entering the ceremony is
Florida State
QB
Jameis Winston
, all six have made a solid case for why they are the best player in the country this season.
QB Jordan Lynch, Northern Illinois

Although Northern Illinois' bid to be a BCS buster was ended in the MAC championship game, Lynch's dual-threat ability kept the Huskies in it all season. He had 321 rushing yards against Western Michigan, the most by a quarterback in FBS history, breaking his own record of 316 set earlier in the year against Central Michigan.
Lynch ended the season with 1,881 rushing yards, also an FBS record for a quarterback.
QB Johnny Manziel, Texas A&M
Manziel's bid to join Archie Griffin as the only other multiple Heisman winner saw a transformation of his game. While his 2012 season was built more on his legs, his 2013 campaign saw him develop as a passer.
Manziel added a yard to his yards per attempt (from 8.5 in 2012 to 9.5 in 2013). His touchdown percentage also increased from 6.0 percent in 2012 to 8.4 percent this year. Also in 2013, 63 percent of his completions this season have gone for a first down or a touchdown, compared to 57.6 percent last year.
RB Tre Mason, Auburn
Even after a 1,000-yard rushing season last year, Mason wasn't on the short list of Heisman contenders until he finished the season with five straight 100-yard rushing games, including 304 against Missouri in the SEC championship game, the fifth-highest total all-time in an SEC game.
Mason's 2,137 all-purpose yards this season broke the Auburn school record, previously held by Bo Jackson. Mason's 22 rushing TDs this season also set a school record.
QB AJ McCarron, Alabama
This is McCarron's third season as Alabama's starting quarterback, and he's improved every season. His opponent-adjusted QBR was 76.7 in 2011, 81.5 in 2012 and 83.5 this season.
He was even better against SEC competition. In conference games, McCarron had an 86.4 opponent-adjusted QBR, tied for the best in the conference. Fellow Heisman candidate Manziel was third (85.5).
RB Andre Williams, Boston College

This season, Williams became just the 16th player in FBS history to run for at least 2,000 yards in a season, and the first since Donald Brown did so for Connecticut in 2008.
Williams also showed big-play ability. He had 26 runs of at least 20 yards, the most by an FBS player since Kevin Smith had 26 in 2007. His 11 touchdowns on such runs are the most for any player in the last 10 seasons.
QB Jameis Winston, Florida State
Winston is the clubhouse leader for the Heisman, and as the FBS leader in opponent-adjusted QBR (90.9), he has good reason to be. The leader in opponent-adjusted QBR in three of the last six seasons went on to win the Heisman, including Manziel last year.
Winston has also showed a clutch presence on the field throughout the year. On third downs, Winston has a 98.9 Total QBR, leading all FBS quarterbacks. Over the last 10 seasons, the highest third-down Total QBR in a completed season was also 98.9, by Andrew Luck in 2010.
November, 26, 2013
11/26/13
11:20
AM ET
By
Jungkyu Lee
| ESPN.com
Greg M. Cooper/USA TODAY SportsAndre Williams has been a dominant running back this season.
Boston College
is in midst of a resurgent season. It is one of four FBS teams that have already won five more games than last season and is bowl-eligible for the first time since the 2010 season.
After last season, the Eagles had nowhere to go but up. They finished 2012 with a 2-10 record, their worst winning percentage since losing a school-record 11 games in 1978.
To right the ship, Boston College hired Steve Addazio as their new head coach. Addazio has implemented a power-running scheme that heavily features senior running back
Andre Williams
.
With 263 yards Saturday against
Maryland
, Williams became the 16th player in FBS history to run for at least 2,000 yards in a season and the first since
Connecticut's
Donald Brown in 2008.
With two games to go -- against
Syracuse
and a bowl game -- Williams has already set Boston College's single-season rushing record, eclipsing Mike Cloud's 1,726 yard season in 1998.
What makes him so good
Williams has gained 958 of his FBS-leading 2,079 yards after contact, 254 more such yards than any other running backs from a BCS automatic-qualifying (AQ) conference. Only 35 FBS players have more total rushing yards than Williams has after contact. Williams has broken 28 tackles this season, seven more than any other AQ running backs.
Williams has accomplished this despite opposing defenses focusing on stopping him. Boston College's opponents have put an average of 7.9 players in the box on Williams' carries, the most among any AQ running back with at least 75 rushes.
Williams has 41 more rushes against eight or more defenders in the box than any other AQ running back. In such situations, he has gained 7.0 yards per rush and scored 15 of his 16 touchdowns, the most such touchdowns by any AQ running back.
Accolades abound
Williams's 263 rushing yards last week against Maryland was his lowest output in his last three games. Three weeks ago, he set the school-record for rushing yards in a game with 295 against
New Mexico State
and then broke it a week later with an ACC-record 339 against
North Carolina State
.
He is the only player in the last 10 seasons to have three straight games with at least 250 rushing yards. In fact, there have only been five other occurrences in which a player has had three straight 200-yard games during the last 10 seasons.
Williams has accounted for 51 percent of BC's total yards this season, the highest rate for any FBS running back in the last 10 seasons. It is also almost 20 percentage points higher than any other FBS running backs this season.
Finally, consider this: Williams has more rushing yards than 78 FBS programs have as a team.
Looking ahead
If Williams gains his average in the next two games, 188.5 rushing yards per game, he would total 2,450 rush yards for the season. That would rank third in FBS history behind
Barry Sanders
of
Oklahoma State
in 1988 and
Kevin Smith
of
UCF
in 2007.
Williams jumped from 11th to second in the latest
ESPN Heisman Watch
. He will look to be the sixth 2,000-yard rusher to win the Heisman trophy and first since
Ricky Williams
won it in 1998.
November, 29, 2012
11/29/12
12:22
PM ET
By
Jeremy Lundblad, ESPN Stats & Info
| ESPN.com
Player of the Night – Mason Plumlee

Plumlee scored 21 points and tied a career-high with 17 rebounds as the
Duke Blue Devils
came back to defeat the
Ohio State Buckeyes
, 73-68. It's his second 20-17 game of the season. Over the last 15 years, the only other major conference players with multiple 20-17 efforts before the end of November were Michael Beasley and Blake Griffin.
Over the past four seasons, the only other player with a 20-17 game against a top-five opponent was Michael Kidd-Gilchrist last season against Louisville. The last Duke player with a 20-17 game against a ranked opponent was Shelden Williams in 2004.
Scorer of the Night – Derrick Marks

Marks poured in a career-high 35 points, including 28 in the second half, as the
Boise State Broncos
upset the
Creighton Bluejays
, 83-70. During one stretch, he scored 18 straight points for the Broncos.
Creighton had won 42 straight home games in November, a streak that dated back to 1989. This was Boise State's first road win over a ranked non-conference foe in school history.
Distributor of the Night – Larry Drew II

The
UCLA Bruins
needed some good news after a pair of transfers and an upset loss to Cal Poly. Drew helped deliver with 13 assists in an 82-56 win against the
Cal State Northridge Matadors
.
It's the most assists in a game by a Bruin since Darren Collison had 15 in 2007. Drew fell three assists shy of Earl Watson's school record set in 2000.
Stat Sheet Stuffer – Jamelle Hagins

The
Delaware Fightin Blue Hens
fell short of the
Lafayette Leopards
, 63-60, but Hagins finished with an eye-popping 18 points, 23 rebounds and five blocks. Over the past 15 seasons, only four other players have reached all three of those totals in a game: Cincinnati's Kenyon Martin (1999), New Mexico State's Chris Jackson (2003), Louisiana Tech's Paul Millsap (2006) and Rider's Jason Thompson (2008).
Freshman of the Night – Olivier Hanlan

Wednesday's best performance by a freshman was probably Rasheed Sulaimon's 17 points for Duke. But Hanlan had a more interesting game.
Hanlan went 15-19 from the line on his way to 22 points, as the
Boston College Eagles
beat the
Penn State Nittany Lions
, 73-61. That's the most free throws for an ACC freshman in at least the past 15 years. The second-youngest power conference team, BC's top six scorers are freshmen or sophomores.
October, 9, 2012
10/09/12
1:52
PM ET
By
Sharon Katz, ESPN Stats & Info
| ESPN.com


After taking a 16-0 lead into halftime, the
Florida State Seminoles
allowed 17 unanswered points in the second half and lost to the
North Carolina State Wolfpack
on Saturday.
The win was the first for NC State against a Top-5 opponent since 1998. That victory was also against Florida State, which was ranked No. 2 at the time.
In fact, the Seminoles have lost five of their last six games in Raleigh when they were ranked and North Carolina State was unranked. Their lone win came in 2004.
NC State picks apart Seminoles' pass defense
Florida State's pass defense, which allowed 128.4 pass yards per game to rank fourth in FBS entering the game, struggled after halftime.
NC State's 218 pass yards in the second half were the most allowed by Florida State in the last two seasons.
Additionally, the Wolfpack's 12 passing first downs matched the most Florida State has allowed after halftime since the start of 2004.
North Carolina State had the same number of passing first downs on fourth down in the second half as it had
total
first downs through the air before halftime.
Prior to Saturday, teams averaged fewer than 50 second-half passing yards per game against the Seminoles' defense. And after allowing just seven receptions of 10-or-more yards over its first five second halves, the Seminoles allowed 11 against North Carolina State.
Manuel struggles against pressure
With its pass defense eroding, Florida State's offense struggled on the other side of the ball as
EJ Manuel
couldn't handle NC State's pressure in the second half.
NC State sent five or more pass rushers at a similar rate in the second half as it did in the first half, but Manuel failed to complete a pass against the added pressure after halftime.
All four of Manuel's sacks occurred when the Wolfpack sent a blitz, most notably his fourth-quarter sack on third-and-two with around 10 minutes to go.
Coming into the game, Manuel had been able to handle pressure. He completed 73 percent of his passes with two touchdowns and no interceptions against five or more pass rushers in the Seminoles' first five games.
Eagles could take flight
The Seminoles face the
Boston College Eagles
next week. Boston College is 1-4 this season but ranks second in the ACC with 310.8 passing yards per game.
However, in their last two meetings against Florida State, the Eagles passed for a combined 208 yards. That is less than
Mike Glennon
passed for in the second half last week.