May, 2, 2014
May 2
9:24
AM ET
By
ESPN Stats & Information
| ESPN.com
AP Photo/Isaac BrekkenFloyd Mayweather (left) will face Marcos Maidana on Saturday.
Floyd Mayweather will be defending his WBC welterweight title for the second time on Saturday when he faces Marcos Maidana at MGM Grand in Las Vegas.
Here are the top stats to know about Saturday's fight:
A man of many weights
Mayweather is regarded as the best pound-for-pound fighter in the world. The 2007 and 2013 Fighter of the Year has won world titles in five different weight classes, one of five fighters to do so. He boasts a record of 45-0 with 26 knockouts. Twenty-two of those victories have come in world title fights.
Don't count out Maidana
Maidana (35-3, 31 KO) won the WBA Welterweight Title in December 2013 when he upset Adrien Broner, a protégé of Mayweather, by unanimous decision. Known for his aggressive power punches, Maidana has knocked out 31 opponents in 35 victories. In his last three tracked fights, Maidana has thrown an average of 60 percent power punches.
Numbers never lie
Mayweather's claim as the world's best fighter is backed by numbers, and not just his in-ring record. According to Compubox, Mayweather owns the sport's best plus/minus rating (+24). Plus/minus rating is determined by subtracting opponent's connect percentage from a listed fighter's overall connect percentage. In his victory over Canelo Álvarez, Mayweather's plus/minus was +24 (46 percent to 22 percent).
Money gets money
Mayweather holds an 11-0 record at MGM Grand and in the venue's history of hosting boxing events, "Money" has the top two largest gates and four of the top 10. Mayweather also holds claim to being the highest paid athlete in the world in 2013 at over $73 million, according to ESPN the Magazine's Money Issue.
November, 24, 2013
11/24/13
2:52
AM ET
By
Andrew R. Davis
and
Toby Petitpas
| ESPN.com
Chris Farina/Top RankSuperstar Manny Pacquiao (R) wins a 12-round unanimous decision over Brandon "Bam Bam" Rios at The Venetian Macao Resort in Macau,China.
Manny Pacquiao defeated Brandon Rios by unanimous decision (120-108, 119-110, 118-110) in Macau, China Saturday night in his first fight since being knocked out by Juan Manuel Marquez last December. From the opening bell, Pacquiao used his power and quickness to outland Rios. Over the first six rounds of the fight, Pacquiao landed 117 power punches, four more than Rios would land the entire fight, according to CompuBox.
Pacquiao was effective throwing punches to the head, landing 241 of 281 punches, according to CompuBox, to Rios' face. According to ESPN Stats & Information video tracking, 146 of those punches landed on the right side of Rios' head, as seen in the graphic below.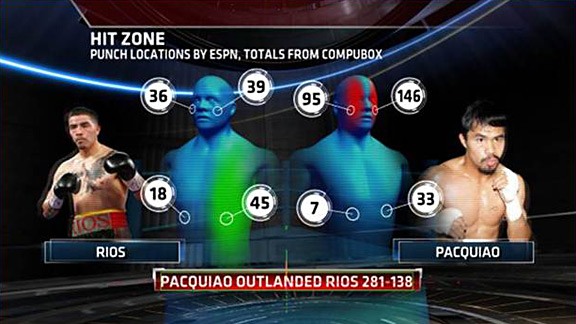 ESPN Stats & InformationPacquiao vs Rios Saturday
Going into the fight, Pacquiao averaged a 47 percent connect percentage with his power punches and that number was right on target Saturday night, with "Pacman" landing 48 percent on Rios (223 of 468) according to CompuBox. While Pacquiao was able to work his power punches on Rios with combinations, "Bam Bam" could not get his power punches working nor could he land combinations. Pacquiao outlanded Rios with power punches in every round but the 8th, where the California native held a 14-9 advantage.
Rios was neutralized by Pacquiao throughout the fight, leading to the lopsided score. Rios is most known for his high-punch output that was seen in his last two fights with Mike Alvarado. Against Alvarado CompuBox calculated that Rios landed 161 punches (144 power) over seven rounds to win by knockout. In the rematch this past March, Rios landed 241 punches (182 power) over 12 rounds in a unanimous decision loss. Yet, against Pacquiao he was unable to get off punches. Rios landed 29 percent of his punches (avg. 34 percent over his past six fights) Saturday, and offered far less in terms of punch output. He threw 42 punches per round, far below his 74 punch output per round over his past six fights, according to CompuBox. In terms of power punches, Rios only threw 22 per round, landing double digits in just five of 12 rounds. According to CompuBox, Rios came into Saturday's fight averaging 54 power punches per round.
Pacquiao had no problem getting off shots. According to CompuBox, "Pacman" threw an average of 69 punches per round over his last nine fights and landed 24. Saturday night against Rios, Pacquiao was at 66 punches per round, landing 23. Pacquiao' s control of the ring and his precision inflicted damage to the head of Rios as seen in the graphic above, helping the Filipino champion gain points on the scorecard en route to the unanimous decision. Although "Pacman" didn't get a knockout for the seventh consecutive fight, he showed the power and speed that made him one of the pound-by-pound fighters of the 21st century.
September, 13, 2012
9/13/12
8:36
PM ET
Top Rank/Chris FarinaJulio Cesar Chavez Jr. is looking for another reason to celebrate on Saturday.
On Saturday, Julio Cesar Chavez Jr. looks to start his own era in boxing. For this to happen, he must wrestle the recognized middleweight championship of the world from Sergio Martinez.
How tough will this be?
Martinez has been the dominant 160-pounder on the planet for the last two years. During his five-fight win streak, Martinez' opponents had a combined record of 163-5.
Martinez stopped four of those opponents, including a second-round knockout of Paul Williams.
The fighter known as "Maravilla" is ranked in the top four, according to both ESPN and THE RING Magazine, among the world's best pound-for-pound boxers.
Martinez is likely on the downswing of his career. You could argue Martinez has never suffered a legitimate defeat.
Many felt he was on the wrong side of a majority decision against Paul Williams in December 2009.
His other loss came at the hands of Antonio Margarito in February 2000 (the same Margarito who was suspended for using illegal hand wraps).
An advantage Chavez may have in his corner is his youth. He is 11 years younger than the champion.
Chavez Jr. has faced tougher opposition as of late. In his last outing, Chavez Jr. stopped Andy Lee (who entered with a 28-1 record) in 7 rounds. Prior to that, he defeated a game Marco Antonio Rubio, who was coming off a 10-fight win streak.
Chavez Jr. comes from a boxing-rich bloodline. During his career, his father, Julio Cesar Chavez Sr., won world titles in three different weight classes (the first Mexican ever to do that).
He went unbeaten in his first 90 fights (89-0-1), before dropping a decision to Frankie Randall in 1994.
Chavez Sr.'s 31 wins in title fights is still a boxing record. He retired in 2005 with a record of 107-6-2. In 2011, he was inducted into the International Boxing Hall of Fame.
Inside the Numbers
During the fighters' last four matches, Chavez Jr. has been able to land a greater percentage of punches compared to Martinez. The chart on the right shows the difference.
Chavez also has less wear-and-tear on his body.
He has only five fewer fights on his resume than Martinez (48 to 53), but it's the total number of rounds fought which provides a possible edge. Martinez has fought 139 additional rounds than Chavez Jr. has in his career.
Information from CompuBox was used in this post.
May, 2, 2012
5/02/12
10:23
AM ET
By
Andrew Davis
| ESPN.com
Getty ImagesSaul Alvarez, 21, has the strength to hang with the more experienced Shane Mosley, but he'll have to avoid the veteran's power punches.
The co-main event for Saturday's night Mayweather-Cotto fight features Saul "Canelo" Alvarez, the rising 21-year-old superstar from Mexico against 40-year-old Shane Mosley. The fight is for Alvarez's WBC Junior Middleweight title, the same title Mosley won in 2003.
However, this Shane Mosley isn't the 2003 version, despite going 12 rounds against the top-two ranked fighters in the world, Floyd Mayweather Jr. and Manny Pacquiao. In both fights, he was picked apart by faster fighters and landed 20 percent of his punches to 36 percent for his opponents.
In the Pacquiao fight, Mosley's highest output of landed punches in a round was nine. Against Mayweather, Mosley's second-round output was 18, when he had Mayweather in trouble. He landed six per round for the remainder of the fight.
In his bout against Alvarez, Mosley won't be the younger, faster or more powerful fighter, but he has the experience to outbox the phenom. Mosley fought Sergio Mora to a questionable draw in September 2010, a fight many feel Mosley won easily (ESPN.com scored it 117-111 Mosley). In that fight, 63 percent of Mosley's punches thrown were power punches, with 37 percent landing (124 of 331).
The key from the Mora fight that could help Mosley against "Canelo" is his aggressiveness. In 9 of the 12 rounds, Mosley threw more punches. It's possible -- but highly unlikely -- that Mosley's power can knock out Alvarez, but being the aggressor and outboxing the young Mexican fighter could get Mosley's hand raised.
The task will be a difficult one against Alvarez. At just 21, Alvarez has 40 pro fights but has never fought on a stage of this magnitude. In addition to being the co-main event of a Mayweather card, the fight is on the Mexican holiday Cinco de Mayo.
His advantage over Mosley in this fight will be his power. In his last fight against Kermit Cintron, Alvarez landed 44 percent of his power punches, including 42 of 62 in the final two rounds. Over his last three fights, Alvarez threw 62 percent power punches and 38 percent jabs. What remains to be seen is if Alvarez, who has 29 career knockouts, can knock out Mosley, who has never been stopped in 54 pro fights.
In Alvarez's last three fights, he has easily avoided power punches as well. Cintron, Alfonso Gomez and Ryan Rhodes landed 95 power punches combined over 23 rounds (four per round). Alvarez landed 322 over the three fights (14 per round).
Alvarez doesn't have the speed of Mayweather or Pacquiao at 154 pounds, but at 40 years old, Mosley's speed has significantly decreased. For Alvarez to get his biggest win to date, he'll need to avoid whatever power Mosley has left and inflict some of his own to get career victory number 40.
The winner of this clash could meet the winner of Mayweather-Cotto in 2013. Of course, there's always Manny Pacquiao.
Information from CompuBox was used in this post.
May, 2, 2012
5/02/12
9:33
AM ET
By
Andrew Davis
| ESPN.com
Getty ImagesFloyd Mayweather Jr. (left) and Miguel Cotto square off for Cotto's WBA Junior Middleweight title on Saturday in Las Vegas.
Floyd Mayweather Jr. will step into the ring on Saturday for the first time since September 2011, and the last time before he begins an 87-day jail sentence for misdemeanor battery.
His opponent, Miguel Cotto, is on a three-fight win streak, and holds the WBA Junior Middleweight title. The fight is a matchup between two of ESPN.com's Top 10 Pound-for-Pound fighters in the world (Mayweather 1st, Cotto 10th) and is for Cotto's 154-pound title.
Mayweather will go up in weight from 147 pounds to 154 for the second time in his career. The first was five years ago, when he defeated Oscar De La Hoya by split decision. In that fight, Mayweather established the jab to set up his power punches. Mayweather landed 69 jabs against De La Hoya, and in his last three fights has landed an average of 10 per round (282 over 28 rounds).
If Mayweather can't get the jab going, Cotto should expect to see plenty of power punches. In his last fight against Victor Ortiz, Mayweather landed 14 percent of his jabs (12 of 83), but connected on 49 percent of his power punches (61 of 125). Combined with his two prior fights, Mayweather landed 51 percent of power punches compared to 21 percent for his opponents.
It comes down to simple science for Mayweather to get to 43-0: hit Cotto and don't get hit -- and there's no one more elusive than Mayweather.
But don't expect this to be a runaway victory for Mayweather, especially with Cotto's track record. Cotto will most likely throw more punches than Mayweather in this fight. In his last fight against Antonio Margarito, Cotto averaged 55 punches per round. In his last loss to Manny Pacquiao, he averaged almost 50.
There is no secret that Cotto's go-to punch is the left hook. If he can find the mark accurately and consistently against Mayweather, this fight will be interesting. Against Margarito, Cotto landed 148 power punches of 210 total punches landed (70 percent). Against Yuri Foreman, Cotto landed 37 of 76 power punches in the final three rounds after Foreman's knee gave out, including the final left hook.
In Mayweather's previous fight, Ortiz bullied him into the corner with power shots, forcing Mayweather to retreat. If the bigger Cotto can do the same thing, he can finish the undefeated Mayweather with the left hook.
Saturday night may mark the biggest boxing event of the year, and it will see either Mayweather win his last fight before starting his jail sentence or Cotto provide his Puerto Rican faithful a stunning victory on Mayweather's turf.
Information from CompuBox was used in this post.