Stats & Info:

Brad Bergesen
September, 18, 2010
9/18/10
12:05
AM ET
The clock. It controls so much of our everyday lives -- what time to wake up, what time to be at work or school, what time we can
leave
work or school.
In sports, baseball is one of the few that's not beholden to the clock. There's no 60- or 48- or 40-minute limit. There aren't timeouts to stop the clock. We could care less about tenths of a second. When you start a game, there's no telling when it will end. To some, it's the beauty of the game; to others, it's the biggest frustration.


In these days of commercials and warmup pitches and elaborate player routines (both at the plate and on the mound), even a two-hour game is the exception. Although most games come in under three hours, you can't bank on that. Rule changes to speed games up have largely been ignored. Seriously, have you
ever
seen a pitcher charged with an automatic ball for violating the "12-second rule" with nobody on base? Go ahead, we'll wait.

Here at Stats & Information, we've tracked the game times of every Major League Baseball contest this season. We can recommend some pitchers and teams to see, regardless of which side of the "clock argument" you fall on. For example, it's not a myth that the Chicago White Sox's Mark Buehrle pitches quickly. Or that the Boston Red Sox's Daisuke Matsuzaka takes forever. Or that you will get a marathon out of nearly any New York Yankees game.

While the official game times
do
adjust for rain delays, power outages and the occasional tornado outside Citi Field, there are obviously a few other factors at play. The speed of the pitcher's opponent isn't taken into account. A starter might get roughed up and turn things over to a slow- (or fast-) moving bullpen, but when you think of fast workers and slow workers, the list is pretty accurate.

Random fact: The total number of minutes consumed by all the games this season (through Thursday) is 383,639. That's more than 266 days. If you watched every game back-to-back, starting on Opening Night (April 4), you'd already have enough baseball to last you until Dec. 27. With no breaks.


Anyhow, this got us to thinking, which teams give you the most baseball for your money? If you want to watch as much baseball as possible in terms of time, which team's season tickets should you buy? Similarly, which teams are "cheating you" by playing really short games all the time?

Adjusting for extra innings, we can get the average length of a nine-inning home game for each team this season. We didn't adjust for home victories where the bottom of the ninth doesn't get played. (We figure you'd sacrifice those extra seven minutes in exchange for seeing the home team win.)

The Cleveland Indians have been involved in both the shortest and longest nine-inning games this season. The Detroit Tigers' Armando Galarraga's near-perfect game against the Indians on June 2 was the fastest nine-inning game played this season -- one hour, 44 minutes. As for the longest? The Indians and Yankees combined to score 24 runs on May 27, a game the Yankees won 13-11. That game lasted four hours and 22 minutes. There have been just four games this season played in less than two hours, compared with six games that have lasted longer than four hours.
September, 17, 2010
9/17/10
2:39
PM ET

Today's Trivia:
The
Seattle Mariners
'
Ichiro Suzuki
is in the midst of his 10th straight season leading the American League in singles. Only two other AL players have had at least four consecutive seasons leading the league in singles. Can you name them?
Quick Hits:
Are the
New York Yankees
a sure thing for the playoffs? Coolstandings.com gives them a 97.3 percent chance of making the postseason. A half game out of first place in the American League East and with a six-game lead in the Wild Card, that seems about right with 16 games left. Six of those games are against the
Boston Red Sox
, and the Yankees have lost eight of 10 heading into their three-game series with one of the hottest teams in baseball –- the
Baltimore Orioles
. Yes, the 58-88 Orioles, who host the Yankees for three games then travel to Boston for three. Let's take a quick look at what the Orioles have done since manager Buck Showalter took over.
• 26-15 since Aug. 3, which is when Showalter took over. Only the
Minnesota Twins
(29-11) and
Philadelphia Phillies
(29-13) boast better records over that span. If the season started on that date, the Orioles would have a 3½-game lead over the Red Sox and
Tampa Bay Rays
, while the Yankees would trail by four games.

• Showalter's first game followed Baltimore's 73rd loss. According to the Elias Sports Bureau, the 1997 Phillies hold the MLB record for most wins in history following a team's 73rd loss. In Terry Francona's first season as manager, the 1997 Phillies went 34-21 to finish the season after starting 36-73. With 16 games to go, the Orioles need to go 9-7 to top that win total.
• Another gem from the Elias Sports Bureau: By winning his first four games, Showalter became the first manager in MLB history to do that after taking over at team that was at least 30 games under .500.
• While Showalter certainly deserves huge accolades, another major factor was the return of
Brian Roberts
, who had played only 11 games prior to Aug. 3. He's hitting .303 in 38 games since his return.
• Since Showalter took over, two of the top seven in the AL in ERA are Orioles starters:
Brad Bergesen
is 4-1 with a 2.37 ERA, while
Jeremy Guthrie
is 6-2 with a 2.64 ERA.
• In fact, prior to Showalter, Orioles' starters were 17-55 with a 5.61 ERA. Since Aug. 3, they are 19-11 with a 2.92 ERA. So in just 41 games, their starters have eclipsed their combined win total from the first 105 games.
Friday's Leaderboard:
At .880, the
Colorado Rockies
easily have the highest OPS at home this season (the Yankees are next at .835). However, on the road, Colorado's .657 OPS in the fourth worst in the majors, and its .228 batting average ranks dead last. The Rockies, who are 2.5 games back in both the NL West and Wild Card, begin a six-game road trip on Friday.
• Friday against the
Texas Rangers
, the Mariners'
Felix Hernandez
has a chance for a statement start on his quest for the American League Cy Young. However, like the rest of the AL West, King Felix has struggled against Texas this season. In four starts, he is 0-3 with a 6.38 ERA. Take a look at how much better his credentials look without those starts: 11-8, 1.92 ERA. So who has been the problem? No one has more hits off him this season than
Elvis Andrus
, who is 7-for-13 (.538) with five RBI.
• Is the Yankees'
A.J. Burnett
pitching for a spot in the postseason rotation? If so, take his performance Friday against the Orioles with a grain of salt. Burnett has a 2.48 ERA in 29 innings this season against Baltimore. Against everyone else, his ERA stands at 5.68. Non-Orioles are hitting .295 against him. The Oriole most confounded by Burnett is
Matt Wieters
, who is 0-for-9 this season, and 0-for-14 in his career.
Trivia Answer:
From 1979-1982, Willie Wilson led the American League in singles, becoming the second AL player to do it for four straight seasons. The other was Nellie Fox, who did it for seven straight seasons from 1954-1960. No Ty Cobb? He never had more than two straight seasons.
August, 11, 2010
8/11/10
2:14
PM ET
By
ESPN Stats & Info
| ESPN.com
Recapping Wednesday's early games:
Cardinals 6, Reds 1
The Cardinals get their first three-game sweep in Cincinnati since 2005.
Colby Rasmus
hit his first career grand slam (he had been 2-13 in his career with the bases loaded). St. Louis hit two slams in the series and has hit this season at Great American Ballpark.
Adam Wainwright
wins his 17th game, allowing only four base runners (two reached on errors) while improving to 9-0 in day games. Cincinnati has lost three straight for the first time since the All-Star Break and is swept at home for the first time this season.
From the Elias Sports Bureau: Rasmus turned 24 on Wednesday, becoming the sixth player in the last five seasons to hit a grand slam on his birthday.


• The Reds were 0-9 against Wainwright's curveball with four strikeouts, and 0-5 against his slider. In Wainwright's 17 wins this season, opponents are hitting .133 (19-143) with 59 strikeouts (3.5/game) against his curve and .143 (10-70) with 16 K (0.94/game) against his slider.

• Wainwright retired all 13 hitters in at-bats ending when he was ahead in the count -- the fourth start this season he hasn't allowed a hit when ahead in the count.

Braves 8, Astros 2
Atlanta scored six runs in the top of the 10th inning, the most runs scored in an extra inning this season. In the 10th, Brian McCann hit the Braves major-league leading third pinch-hit grand slam this season (Brooks Conrad has the other two). The last team to hit three pinch-hit grand slams in a season was the 1982 Orioles (Benny Ayala, Dan Ford, Terry Crowley).

Looking ahead to tonight's games:
• Cliff Lee starts tonight for the Rangers against the Yankees. Lee -- who was 2-0 against the Yankees in last year's World Series -- has pitched at least 8 innings in all six of his starts with Texas, although he has not received much in the way of run support. The Rangers are just 3-3 in Lee's six starts and have scored three runs or fewer in five of his six outings.

• Brad Bergesen is on the mound tonight for the O's. Although he's winless in his last 12 starts (hasn't won since May 12), Bergesen has pitched well in his last two outings. The righty has thrown 14 innings (7 in each start), allowed 10 hits, 3 earned runs and walked just two batters.

• Clay Buchholz goes for a team-leading 13th win tonight in Toronto. After a rough outing in his first start off the DL on July 21, Buchholz is 2-0, 2.02 ERA in his last three starts. What's more, he's gone at least 7 innings in each of those starts. The Red Sox will face Shaun Marcum, who leads the team in wins (10) and ERA (3.44). He's fared well in his career against Boston (5-2, 2.91 ERA).

• The Dodgers Chad Billingsley has not allowed a home run in more than two months. Since allowing 3 HR to the Diamondbacks on May 31, Billingsley has gone 68.1 innings since allowing a HR -- the second longest active streak in MLB behind the Twins Francisco Liriano (89.2 IP since allowing a HR).

• Phillie fans will get their first look at Roy Oswalt. (Both of his starts in a Phillies uniform came on the road.) They can only hope he has as much success at Citizens Bank Park with the Phillies as he did with the Astros. In four career starts at Citizens Bank, Oswalt is 4-0 with a 2.60 ERA and has allowed just one home run in 27.2 innings.

• The Cubs Tom Gorzelanny is 3-0 in his career against the Giants, and 2-0 with a 0.64 ERA (14 IP, ER) in two starts at AT&T Park.
July, 2, 2010
7/02/10
6:04
AM ET
By
ESPN Stats & Info
| ESPN.com
Why Yankees starter
CC Sabathia
beat the Mariners:
- Despite allowing a season-high 9 offspeed pitches to be put in play, hitters went just 2-11 (2 K) and are now 6-64 against them over his last 6 starts (8-15 in previous 2 starts).
- Narrowing the above note to just change ups, hitters were 0-6 and are now 1-25 over his last 6 starts (4-5 in previous 2 starts).
- Finished off 11 of 12 hitters that reached 2 strikes (92 percent; MLB avg is 72) despite striking out just 4 batters (33 percent; Sabathia's avg was 45 entering today)
Why Angels starter
Jered Weaver
beat the Rangers:
- Threw 24 curveballs (21.2 pct of his pitches), 2nd-most in a start this season.
- This kept hitters off his heater: 1-for-15 (.067) vs fastball (.218 before Thursday).
- Also helped other pitches: 41.7 chase pct vs sliders/change ups (2nd best this season), hitters just 1-for-6 vs those 2 pitches.
Why A's starter
Trevor Cahill
beat the Orioles:
- Hitters were 0-8 against offspeed pitches; 0-15 over last 2 starts.
- Hitters were 4-16 against fastballs (.211 BA for the season is 2nd among AL starters).
- Kept over half of his pitches down in the zone, inducing hitters to go 1-12 (3-32 over last 3 starts).
- Hitters were 0-10 when they reached 2 strikes, 0-23 over last 2 starts.
BOUNCING BACK
Despite the Mets losing for the 9th time in his last 12 starts,
Johan Santana
bounced back from a tough stretch with his 1st quality start since June 2. The key for Santana was his ability to finish the job when the count got to 2 strikes. Recently, opposing hitters had been able to fight him off and eventually get hits:
LOOKING AHEAD TO FRIDAY
BOSTON RED SOX
Opposing Orioles starter
Brad Bergesen
has struggled this season with his fastball, his primary pitch, allowing a .356 batting average against. The Red Sox are especially strong against the fastball, hitting .304 and slugging .531.
LOS ANGELES DODGERS
Against the Diamondbacks
Edwin Jackson
, teams are batting .200 (23-115) with 49 strikeouts when seeing his slider. The Dodgers are hitting .214 against sliders this season, with just 10 of their 58 home runs and 160 of their 550 strikeouts against the pitch.
NEW YORK YANKEES
The Yankees lost to
Brett Cecil
and the Blue Jays on June 4th when they chased 50.7 pct of Cecil's pitches out of the strike zone (most in a Cecil start this season). That game was a rarity - the Yanks' highest chase pct in a game this season - as they currently rank 28th in the majors in chase pct (20.4).
In his June 4th loss to Toronto,
A.J. Burnett
allowed a season-high 3 HR (since matched). Burnett threw 41 curveballs (most in a start this season), but all 3 Blue Jay HR came against fastballs.
May, 30, 2010
5/30/10
1:07
PM ET
By
Albert Larcada & Katie Sharp
| ESPN.com
Avid TMI readers may recall that during spring training, we took our first foray into trying to retool the quality start metric (if you don't recall,
click this link
).
With the Rangers and Twins dueling on Sunday Night Baseball at 8 eastern this evening, and lots of talk over the last two seasons about Nolan Ryan's efforts to fix the Rangers starting pitching staff, we thought it would be an appropriate time to take a look at some results, of which Ryan would figure to be most proud.
The results of our initial study (done via regression analysis) told us that the two elements of a pitching line that best predicted whether a team won or lost were the starters innings pitched and the number of earned runs allowed.
Using the data from the regression, we were able to figure out the team's chance of winning for any possible innings/earned runs combination by a starting pitcher. And finally, we defined our "Superior Start" statistic as any outing where the starter gave his team at least a 75 percent chance of winning the game.
Now that we've passed the quarter pole in the baseball season, let's take a look at some leaderboards.
Ubaldo Jimenez and Roy Halladay top our list for pitchers with the most "Superior Starts" with seven such outings. Jimenez has completely baffled hitters this season. His league and park adjusted ERA+ this season is 515, over 150 points better than second-place
Jaime Garcia
. According to our friends at AccuScore, Jimenez actually has a 26 percent chance of winning 25+ games, a feat which has not been accomplished since Bob Welch in 1990. Halladay, fresh off of his perfect game, has kept the all-of-a-sudden offensively challenged Phillies afloat in his first season in Philadelphia.
And with a hat tip to Tom Tango, we now bring you our "Inferior Start" metric. These are the pitchers who have the most starts this season with an innings/earned runs combination that gives the team less than a 25 percent chance of winning that game.
As you can see, Charlie Morton tops (or bottoms?) this list of inferiority. All six of Morton's Inferior Starts have actually had a team win probability less than 19 percent, well below our 25 percent threshold.
Interestingly, our Inferior Starts leader Charlie Morton has a 1-9 record, which is the inverse of our Superior Starts leader Ubaldo Jimenez, who is 9-1.
As for tonight's starters,
Scott Baker
enters with a pair of Superior Starts for the Twins, one fewer than team leader
Francisco Liriano
, and one more than his opposing moundsman, Rangers starter,
Derek Holland
. Baker also has a pair of Inferior Starts, though none have come in the month of May.
We will be updating this leader board periodically throughout the season. Hopefully this sheds a little more light on who is a quality starter, and who is a superior one. We think we can come up with something for which both the math and Nolan Ryan agree.
Alok Pattani and Mark Simon also contributed to this project.
May, 25, 2010
5/25/10
9:00
AM ET
By
Ben Jedlovec, Baseball Info Solutions
| ESPN.com
You've probably seen stories on other websites citing Livan Hernandez as one of the luckiest pitchers in baseball in 2010, and Cole Hamels one of the unluckiest.

A look at their BABIP (Batting Average on Balls in Play) would tell you that they've probably been helped (Hernandez), and hurt (Hamels) by their defense this season. But looking solely at BABIP doesn't tell us that for sure.

But now our group has found a way to offer more concrete proof of how much a pitcher is being helped/hurt by his defense.

Here's how:

In our book, The Fielding Bible – Volume II we spent a lot of time trying to separate defense from the legendary "pitching and defense" that wins ball games. We took individual defensive performances and broke them down to provide accurate defensive assessments.

What I soon realized was that by isolating defensive performance we also managed to come up with the roots of a system to evaluate pitchers independent of their defensive environment.

Sometimes the defense makes a nice play and helps out the pitcher. Other times, it falls between two miscommunicating fielders for a hit.

Often, the fielder is standing in just the right spot at the right time. None of this is under the pitcher's control, but he gets credit for it regardless of the outcome.

If life were fair, these anomalies would even out over the course of a season.

Based on the characteristics of each ball in play (location, trajectory, etc.), I calculated the approximate chance that the average defense converted the ball in play to an out.

I added up this probability for every ball in play over each game and over the full 2010 season to arrive at an expected number of hits allowed given the distribution of balls in play.

Without boring you with the details and adjustments I made (for now), I'll present a list of the "luckiest" and "unluckiest" pitchers this season (please note that our BABIP calculation may differ from others due to differing treatment of bunts)

The 3 Luckiest
1- Livan Hernandez
Hits Allowed: 40
Expected Hits: 55

Conclusion: Hernandez has allowed 15 fewer hits than expected. Had he allowed 15 more hits, his BABIP would have risen from .183 to .267

2- Doug Fister

Hits Allowed: 40
Expected Hits: 52

Conclusion: Had Fister yielded 12 more hits, his BABIP would jump from .225 to .294

3- David Price
Hits Allowed: 45
Expected Hits: 55

Conclusion: Had Price allowed 10 more hits, his BABIP would rise from .241 to .300.

Hernandez, he of the 19 strikeouts against 18 walks in 55 innings pitched, rates as the most fortunate pitcher in baseball. Based on the locations and trajectories of Livan's balls in play, we'd expect 15 extra hits to have fallen in. But instead, those plays became outs.

One rule of thumb is to expect every pitcher's Batting Average on Balls In Play (BABIP) should move toward the league average (around .300) as the season progresses.

In each of the three cases, we find their Expected BABIP to be closer to the league average than their current BABIP.

The 3 Unuckiest

1- Brad Bergesen
Hits Allowed: 60
Expected Hits: 48

Conclusion: The Orioles have played poor defense behind Bergesen. An average defense would have turned 12 more outs on the balls he allowed into play, cutting his BABIP from .327 to .251.

2- Doug Davis
Hits allowed: 48
Expected Hits: 39

Conclusion: Had the Diamondbacks performance behind Davis matched that of an average defense, his BABIP would drop from .400 to a more reasonable .320.

3- Cole Hamels

Hits Allowed: 60
Expected Hits: 51

Conclusion: Hamels is bound to catch a break at some point. His BABIP of .316 would be 55 points lower if the normally-good Phillies defense had performed well for him.

In theory, utilizing hit locations and trajectories will lead us to better pitching evaluations. The next step is to refine the technique and evaluate its predictive power on historical data, and hopefully we'll get the chance to follow that up with further study in the future.
May, 17, 2010
5/17/10
12:32
PM ET
By
Ryan McCrystal, ESPN Stats
and
Info
| ESPN.com
Quick Hits: Here's a look at the good, the bad and the ugly statistics from leadoff hitters this season.

* Elvis Andrus leads all leadoff hitters with a .417 OBP. That's nearly a 100-point increase from his .329 OBP in 2009.

* Adam Jones and Everth Cabrera are tied for the lowest OBP by a leadoff hitter at .224.

* Nate McLouth has been the most patient leadoff hitter, seeing 4.6 pitches per plate appearance.

* Carlos Gonzalez has been the least patient, seeing only 3.1 pitchers per plate appearance.

* Juan Pierre has been the toughest leadoff hitter to strikeout, just once every 15.2 at-bats.

* Drew Stubbs has been the easiest, striking out once every 2.9 at-bats.

Today's Trivia: Today is the 12-year anniversary of David Wells' perfect game. It was the first perfect game since Kenny Rogers' in 1994. Which member of the Yankees starting lineup that day was also in the Angels' lineup when Rogers threw his perfect game against them?

Today's Leaderboard: A few Orioles pitchers seem to have developed an unlikely skill: working their way out of a 2-0 hole. Brad Bergesen, Jeremy Guthrie and Kevin Millwood each rank among the league leaders in lowest opponent batting average allowed after a 2-0 count. Perhaps it's because they've had so much practice. Millwood and Guthrie are tied with Tim Lincecum for the most 2-0 counts this season with 32.

Key Matchups: The Rays current roster is collectively batting .138 (8-58) in their careers against Fausto Carmona. The worst of the group are Jason Bartlett (0-15) and Hank Blalock (0-11). Carl Crawford (2-6) is the only member of the Rays with more than one hit against Carmona.

David Wright, who is batting just .176 over his last five games, could break out of his mini-slump tonight. Wright is a career .438 hitter (7-16) against Derek Lowe.

Trivia Answer: Chad Curtis was on the wrong end of Rogers' perfect game in '94, and then started for the Yankees in Wells' perfect game in '98. If you guessed Chili Davis, you weren't far off. Davis was in the lineup for the Angels and for David Cone's perfect game in 1999.
March, 3, 2010
3/03/10
12:15
PM ET
By
Greg Dohmann, ESPN Stats & Info
| ESPN.com
Continuing our ongoing series, featuring an intriguing player to watch in 2010 from every team in the majors.
Orioles starter
Brad Bergesen
was in the midst of a primetime-caliber rookie season before taking a
Billy Butler
line drive to the shin in late July. So how is it that his sophomore campaign was nearly derailed by basic commercial work?
The 24-year-old righty suffered a strained right shoulder capsule in December while filming a team commercial, the oddest Orioles injury since
Marty Cordova
went overboard in the tanning bed in May 2002.
But Bergesen returned to the mound Saturday, throwing his first bullpen session in seven months – and receiving glowing reviews from coaches and teammates. The fourth-round pick from 2004 could be the strength of a rotation that bemoaned an AL-worst 5.37 ERA last season but added veteran
Kevin Millwood
in the offseason. That makes him One2Watch4 in 2010.
So just how special was Bergesen's curtailed rookie campaign? Via
Baseball-Reference.com
. his 3.43 ERA was the lowest by an Orioles starter in his first big-league season since
Mike Mussina
in 1991 (min. 10 starts).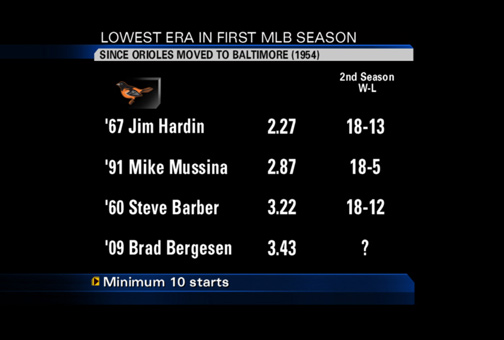 Since the Orioles came to Baltimore in 1954, his mark ranks fourth among first-year starters. If the other three gentlemen on the list are any indicator, we should expect big things from Bergesen in Year 2. Namely, 18 wins. No Orioles pitcher has won 18 games since Mussina in 1999. Lofty expectations for a commercial actor, but a trend never lies.
Bergesen was an anomaly on the Orioles staff last year, and not just because he pitched well. While most of the starting rotation was serving up one-way tickets to Eutaw Street - allowing a league-high 109 home runs at home - Bergesen managed to keep it in the yard. Orioles pitchers allowed 1.32 home runs per nine innings at home in 2009; Bergesen's mark was 0.73.
After allowing three long balls to the Rangers in late April, Bergesen allowed just three homers over his final nine home starts. The result: Bergesen was 7-1 at home with a 2.68 ERA, the lowest by an O's starter (min. 10 starts) since Mussina's 2.65 mark in 1992, the park's inaugural season.
What's most befuddling is how a young righty like Bergesen figured out Camden Yards so quickly. Just look at two of his contemporaries,
David Hernandez
and
Chris Tillman
, righties who also made their debuts in 2009.
Hernandez allowed 2.83 home runs per nine innings last season; Tillman, 2.83. Bergesen's 0.73 mark was the lowest by a starter in his first season at Camden Yards since Kevin Brown's lone season in the Charm City in 1995. The only other guy with a lower mark than Bergesen was Mussina in the park's first year.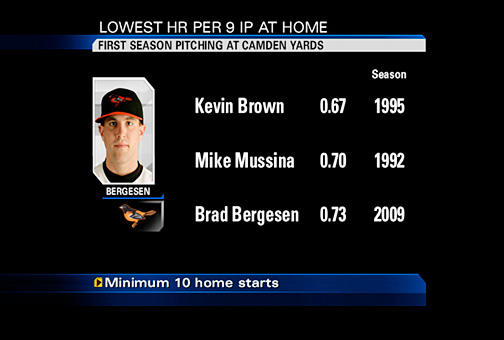 Optimism is the lifeblood of spring baseball, but the feeling seems to be genuine around the Orioles for the first time in years. Experts have lauded Baltimore's young stable of arms, but it could be Brad Bergesen who emerges as the face of the staff. That is, if he sticks with pitcher over pitchman.