Stats & Info:

Braxton Miller
December, 5, 2013
12/05/13
9:28
AM ET
AP Photo/Jeff HaynesCarlos Hyde (left), Braxton Miller and the Ohio State ground game faces its toughest test this season.
Ohio State
and
Michigan State
finished 8-0 in conference play this season. The Buckeyes are fueled by their potent rushing attack, while the Spartans have made their mark by stopping the run. Something has to give on Saturday when these two teams square off in Indianapolis for the Big Ten Championship.
A matchup of strengths
Ohio State is second among FBS teams in rushing yards per game (321.3), and leads the nation in yards per rush (7.1) and rushes of 10 yards or more (130). The Buckeyes lead all AQ schools with 1,502 rushing yards after contact.
They had four rushing touchdowns last week against Michigan, which is one fewer than Michigan State has allowed all season.
Michigan State has allowed the fewest rushing yards per game (64.4), yards per rush (2.2) and 10-yard rushes (19) in the FBS this season, and has held all but one opponent under 100 yards on the ground this season.
Miller coming on strong
Braxton Miller
got off to a slow start running this season, but in his past three games, he's got 481 rushing yards, which is fifth among FBS players since the start of Week 12.
The key for Miller's improvement in the running game has been increased efficiency on zone-read plays. In his first seven games he attempted 24 zone reads, gaining 87 yards with no touchdowns. In the past three games, Miller has 21 such rushes for 276 yards and three touchdowns.
What does Michigan State do well?
Michigan State is on pace to allow the fewest rushing yards per game since TCU gave up 47.1 in 2008. One reason for their success is the Spartans do not let opponents turn the corner.
They allowed an AQ-best 2.9 yards per designed run outside the tackles and haven't allowed one of those runs to go for more than 16 yards.
The Spartans have also done an excellent job limiting opposing quarterbacks on the ground. They've allowed -19 rushing yards on 92 carries by opposing quarterbacks this season, the fewest in the FBS.
Michigan State is the only FBS team that hasn't allowed a run longer than 12 yards to a quarterback and is one of four teams that haven't allowed a quarterback to score a rushing touchdown.
Looking toward Saturday
Michigan State has allowed two opponents to rush for at least 200 yards in the past two seasons. Both games were last season and the Spartans gave up the majority of those yards to quarterbacks -- Braxton Miller (136) and
Taylor Martinez
(205).
Martinez didn't play in Michigan State's win against Nebraska this season, but Miller will play on Saturday, in what will be the biggest test thus far for both Ohio State's offense and Michigan State's defense.
November, 27, 2013
11/27/13
11:15
AM ET
By
Sharon Katz
| ESPN.com
AP Photo/Jeff HaynesBraxton Miller has been a bigger threat in the run game the past few weeks.
Braxton Miller
entered the 2013 season as a Heisman favorite because of his ability to make plays with his arm and his legs. Last season, he was one of five FBS players with at least 1,000 rushing yards and 2,000 passing yards, and his 105.9 rushing yards per game were the fourth-most by an FBS quarterback.
When Miller injured his knee against San Diego State in Week 2 this season, Ohio State was forced to adjust by calling fewer designed rushes, which kept Miller in the pocket.
Miller has attempted 86 percent of his passes in the pocket this season, an increase of 19 percentage points from last season. He has also attempted 9.2 designed rushes per game this season, four fewer than last season.
However, in the past two weeks, against porous rush defenses in Illinois and Indiana, Urban Meyer has opened up the playbook and allowed Miller to run wild. As a result, the Buckeyes have rushed for 752 yards and nine touchdowns in their past two games.
Miller rushed for 328 of those 752 yards, just 82 fewer than he had in his previous seven games combined.
He's added 15.8 clutch-weighted expected points on running plays in those two games, which means he was moving the chains and improving Ohio State's chance of scoring.
The key to his success has been the return of the zone read. Last season, Miller rushed for 448 yards and averaged 9.3 yards per attempt on zone-read rushes.
Taylor Martinez
is the only quarterback who gained more yards on the zone read than Miller last season.
In his first seven games this season, Miller attempted just 25 zone-read rushes and gained 87 yards on those runs. In the past two games, Miller has 15 zone-read rushes and has gained 216 yards (14.4 yards per attempt).
As a result of his improved rushing, Miller has been among the nation's best quarterbacks in the past month.
Since Week 9, Miller has the highest Total QBR (92.6) in the nation. He is averaging 299.5 yards of total offense per game and has been responsible for 16 touchdowns during that time.
Navy's
Keenan Reynolds
(134.2), Northern Illinois'
Jordan Lynch
(125.5) and Auburn's
Nick Marshall
(108.8) are the only quarterbacks who have averaged more rushing yards per game than Miller (100.8) in those five weeks.
On Saturday, Miller will be tested against a Michigan defense that held him to 57 yards on 20 rush attempts last season, his second-fewest rushing yards in a game in which he had at least 15 carries. In that game, Miller was hit at or behind the line of scrimmage nine times, including four sacks, and gained just 9 yards on the zone read.
If Miller can carry his momentum from the past few weeks into the Michigan game, he may lead Ohio State to its 24th consecutive victory and find himself back in contention for the Heisman Trophy.
October, 29, 2013
10/29/13
9:35
AM ET
By
Sharon Katz
| ESPN.com
AP Photo/Paul VernonsBraxton Miller was at his best against Penn State.
Week 9 featured blowouts and surprises; the top four teams in the BCS Standings won by a combined 144 points, yet No. 7
Miami
needed a fourth-quarter comeback against
Wake Forest
to remain undefeated.
South Carolina
had a comeback of its own against No. 5
Missouri
; the Gamecocks' win probability fell to 2.8 percent before they scored 17 straight points to send the game to overtime.
With the help of ESPN's new college football metrics (see explanations
here
), ESPN Stats & Information takes a look back at the best individual and team performances of Week 9.
Best Individual Performances
AJ McCarron
had a Week 9-high 97.4 opponent-adjusted QBR in
Alabama's
45-10 win against
Tennessee
. McCarron completed 9-of-12 passes for 131 yards and two touchdowns in the first quarter. The Tide led 21-0 and had a 91 percent chance of winning after the first 15 minutes of play.
Blake Bortles
posted a 97.0 opponent-adjusted QBR in
UCF's
62-17 win against
Connecticut
. Bortles had career highs in completion percentage (83.3 percent), touchdowns responsible for (five) and raw QBR (98.3) in that game.
Braxton Miller
had a 95.7 opponent-adjusted QBR in
Ohio State's
63-14 win against
Penn State.
Miller threw for a career-high 252 yards and accounted for five touchdowns. This season, Miller leads the Big Ten in completion percentage (70.6 percent), third-down conversion percentage (45.7 percent) and opponent-adjusted QBR (80.4).
Jameis Winston
had a 94.8 opponent-adjusted QBR in
Florida State's
49-17 win against
North Carolina State
. He now has an opponent-adjusted QBR of 90 or higher in each of his past four games, the longest active streak in the FBS.
Explaining Garrett Gilbert's QBR

SMU's
Garrett Gilbert
had 635 yards of total offense against
Temple
, the seventh-most by any player in FBS history. However, Gilbert's opponent-adjusted QBR was ONLY a 84.9. Why?
First, Gilbert faced a Temple defense that was allowing a 68.3 Total QBR entering the game, third worst among BCS automatic qualifying conference defenses. As a result, Gilbert's QBR fell almost 10 points when adjusted for the defense that he faced. Further, Gilbert started slow, holding a 58 Total QBR midway through the second quarter when the Mustangs were trailing 28-7. In the second half, he had a 99.2 Total QBR as he led SMU to a 59-49 victory.
Best Team Performances

Offense--
Ohio State gained 686 yards and scored nine offensive touchdowns against
Penn State
. The Buckeyes added 42.8 expected points on offense, their most against an FBS opponent in the last 10 seasons. In terms of offensive EPA, Ohio State has two of the top four offensive outputs of the season.
Defense--
USC
held
Utah
to three points and forced four turnovers in its 19-3 win. The Trojans contributed 31.1 expected points on defense and -13.5 expected points on offense and special teams combined. That means that if USC had an average defense (EPA = 0), and everything else remained the same, the Trojans would have lost by about two touchdowns.
Special Teams--
Louisiana Tech
kicker
Kyle Fischer
made all five of his field goal attempts in Louisiana Tech's 23-7 win at
Florida International
. Fischer's five field goals were tied for the most by a player this season. Louisiana Tech punter
Logan McPherson
also had two punts that pinned Florida International inside of its own 15 yard line, including a punt downed at the Florida International 1 in the first quarter.
Looking ahead to Florida State vs Miami (FL)
No. 3 Florida State hosts No. 7 Miami (FL) (8 pm ET, ABC) in a top-10 matchup with plenty of history. It is the 13th time in series history that the two will meet with both in the Top 10, but the first such meeting since 2004.
This season, Florida State ranks second in offensive EPA per game and Miami ranks 12th in defensive EPA per game. However, the teams have been trending in opposite directions in their past four games.
Florida State's average margin of victory in its past four games is 36.5 points, including two wins over ranked opponents by a combined 100 points. In those games, Winston has a 94.8 opponent-adjusted QBR, which leads the FBS during that time.
On the other hand, Miami has needed fourth-quarter comebacks against
North Carolina
and Wake Forest to remain undefeated. In each of those games, the Hurricanes' win probability fell below 25 percent in the second half.
Further, Miami has had at least four turnovers in three of its past four games and has allowed 39 points off turnovers during that time.
September, 29, 2013
9/29/13
3:23
AM ET
By
Sharon Katz
| ESPN.com
Below are some storylines from Week 5 of the college football season using ESPN's new set of analytical storytelling metrics for college football. For more background on these metrics, read Dean Oliver's
primer on all of them
and his
explanation of college Total QBR
. For complete college Total QBR information, go
here
.
Georgia outduels LSU in back-and-forth game
No. 9 Georgia's three-point win over No. 6 LSU featured five ties and four lead changes, including three lead changes in the final 8:09 of the game.
There were plenty of plays that had a significant impact on either team's probability of winning the game. In fact, there were 10 plays that changed each team's chance of winning by at least 10 percentage points in either direction.
The biggest play of the game was Aaron Murray's 25-yard pass to
Justin Scott-Wesley
in the fourth quarter to take the lead for good. That pass increased Georgia's win probability from 48.8 percent to 75.3 percent, or by 26.5 percentage points.
Aaron Murray plays big against top opponent
Aaron Murray
(82.6 Total QBR) threw for 298 yards and four touchdowns in Georgia's win. This season, Murray and the Bulldogs have won two of three games against Top-15 opponents, and Murray has posted a 80.7 Total QBR in those games.
In his first three seasons at Georgia, Murray won one of eight games against Top-15 foes and posted a QBR below 20 in four of those games.
The biggest differences have been turnovers and sacks. In those first eight games, Murray had 12 turnovers, including 10 interceptions, and took 26 sacks.
In the three games against Top-15 opponents in 2013, Murray has three turnovers and has taken three sacks, and he was not sacked on Saturday against LSU.
Welcome back Braxton Miller
Braxton Miller
threw for 198 yards and matched a career-high with four passing touchdowns against Wisconsin.
After posting a 68.9 Total QBR against the Badgers, Miller has raised his Total QBR from 67.7 in 2012 to 73.2 in 2013.
The biggest difference has been his accuracy. This season, Miller has completed 64.9 percent of his passes and has been off target (overthrown, underthrow or wide) on just seven pass attempts. Last season, Miller completed 58.3 percent of his passes and was off target on 17 percent of his throws.
Alabama defense back on track
It appears that Texas A&M's 628 yards and 42 points against Alabama was more of an aberration than a sign of what is to come for Alabama's defense. Alabama's other three opponents have combined for 696 yards and 16 points in three games, including 205 yards and zero points for Ole Miss on Saturday at Alabama.
The Tide have a +20.9 defensive EPA against those three opponents, meaning its defense has contributed almost 21 points toward its margin of victory by controlling field position and forcing turnovers.
To put that into perspective, Alabama's +20.9 defensive EPA in those three games would rank second in the FBS behind only Baylor (+29 def EPA) this season.
August, 29, 2013
8/29/13
1:53
PM ET
By
ESPN Stats & Information
| ESPN.com
As we celebrate the commencement of the 2013 college football season, here are the stats to know about the top 10 teams in action this week (No. 4 Stanford is off).
1. Alabama
(vs. Virginia Tech, 5:30 p.m. ET, Saturday)
Senior
AJ McCarron
completed 65 percent of his passes thrown 20 or more yards downfield, with 12 touchdowns and no interceptions on those throws last season. He completed 39 percent of such passes, with six touchdowns, as a sophomore.
McCarron posted an above-average opponent-adjusted Total QBR in all 14 games last season (average is 50.0). He was one of three FBS quarterbacks to play in at least 10 games without having at least one below-average game. The other two were Texas A&M's
Johnny Manziel
and Louisiana Tech's Colby Cameron.
2. Ohio State
(vs. Buffalo, noon ET, Saturday)
Junior
Braxton Miller
led all quarterbacks from BCS-AQ schools with 1,214 yards on designed running plays last season. He averaged 14 designed runs per game, an increase of more than seven per game from his freshman season.
Miller finished with 10 rushes that gained at least 30 yards, tied for fifth-most in FBS. Five of those 10 rushes went for touchdowns.
3. Oregon
(vs. Nicholls State, 4 p.m. ET, Saturday)
Oregon averaged more points in the first half (30.5) than 67 FBS teams averaged per game last season. The Ducks' average halftime lead was 21.5 points, but they generally milked their lead, averaging nearly five more seconds of possession per play in the second half compared to the first.
5. Georgia
(at No. 8 Clemson, 8 p.m. ET, Saturday)
Georgia had 24 offensive touchdowns that were 25 yards or longer last season, tied with Baylor for the most in FBS. The Bulldogs and Alabama are the only FBS teams that had at least 15 such passing touchdowns and five such rushing touchdowns.
6. South Carolina
(vs. North Carolina, 6 p.m. ET, Thursday)
Jadeveon Clowney
had 23.5 tackles for loss last season, tied for the second-most in FBS. Clowney finished the season with 28 total pressures (hurries and knockdowns), tied for the second-most by an SEC player.
7. Texas A&M
(vs. Rice, 1 p.m. ET, Saturday)
Johnny Manziel had the highest opponent-adjusted Total QBR (91) in FBS last season. In nine years of historical Total QBR data, only Andrew Luck in 2010 (95), Russell Wilson in 2011 (94), Sam Bradford in 2008 (92), Pat White in 2006 (91) and Kellen Moore in 2010 (91) had a higher or equal single-season opponent-adjusted QBR.
8. Clemson
(vs. No. 5 Georgia, 8 p.m. ET, Saturday)
Tajh Boyd
completed an FBS-high 48 passes that gained 25 or more yards. Overall, 11 percent of his pass attempts gained at least 25 yards, the highest percentage in the nation (minimum 150 attempts).
9. Louisville
(vs. Ohio, 3:30 p.m. ET, Sunday)
Teddy Bridgewater
converted a first down on 51 percent of his third-down passes last season, second-best in FBS behind Manziel (52 percent).
10. Florida
(vs. Toledo, 12:21 p.m. ET, Saturday)
Florida allowed just 13 plays of 25 yards or longer last season, seven fewer than any other FBS team. The Gators did not allow one rush of at least 25 yards until the fourth quarter of the Sugar Bowl.
June, 25, 2013
6/25/13
1:15
PM ET
By
Toby Petitpas
| ESPN.com
Jamie Sabau/Getty ImagesBraxton Miller (left) and his read-option success helped lead Ohio State to a 12-0 season in 2012.
The 2013 college football season has the potential to showcase one of the greatest quarterback classes ever. Eight of the top 10 teams in last year's final AP Poll return their starting quarterbacks, and every conference except the Big 12 returns either their first- or second-team quarterbacks from last season.
In preparation for the 2013 season, ESPN Stats & Info will take a deeper look at the top QBs entering the fall. Tuesday, we look at the reigning Big Ten Offensive Player of the Year,
Braxton Miller
.
A Look Back at 2012
Braxton Miller had a breakout sophomore season. He was one of five FBS players to gain at least 1,000 rush yards and 2,000 pass yards and his 105.9 rush yards per game were the fourth-most by both a Big Ten player
and
by an FBS quarterback.
Miller didn't subscribe to the Woody Hayes mantra of "three yards and a cloud of dust." Instead, Miller finished with 10 rushes that gained at least 30 yards, tied for fifth-most in the nation. Five of those 10 rushes went for touchdowns.
Miller started all 12 games for the nation's only undefeated FBS team last season and made an impact each time out. He scored a touchdown (rush or pass) in 11 of Ohio State's 12 games and ran for a score of at least 30 yards in five games. The five games with a 30-yard rush TD were tied for the third-most among all FBS players, and second among quarterbacks (
Johnny Manziel
– 6).
One reason for Miller's success was the way he was utilized by Urban Meyer. Miller averaged 13.8 designed runs per game, an increase of over seven per game from his freshman season. As a result, Miller led all BCS AQ-quarterbacks with 1,214 yards on designed-running plays last season.
It was more than just the quantity of plays called for Miller--it was also the design of them. Meyer used Miller on read option or zone-read plays on 35.2 percent of his carries.
Miller excelled on this play, averaging over eight yards per carry and scoring six touchdowns, including three longer than 50 yards. He finished the season with 676 yards on zone-read plays, 630 more than he had as a freshman.
What's Ahead for 2013?
The question for Miller is can he continue to improve as a pocket passer. He made great strides last season, completing 59 percent of his passes from inside the pocket in Big Ten games. That is up nearly 13 percentage points from 2011.
He completed a career-high 83.3 percent of such passes against Michigan in the final game of last season. It was the third straight game that he completed at least 60 percent from inside the pocket, the longest such streak of his career.
Despite his improvement in the pocket, Miller struggled on third down in 2012. He had the lowest completion percentage on third down of any Big Ten quarterback with at least 60 attempts (48.7 percent). His 24 passing first downs on third down were the third-fewest for an FBS quarterback with at least 75 attempts.
If Miller can continue to develop in the pocket and become more efficient on third down, Ohio State could be looking at its record eighth Heisman Trophy winner.
May, 20, 2013
5/20/13
9:26
AM ET
By
Mackenzie Kraemer, ESPN Stats & Info
| ESPN.com
The 2013 college football season could showcase one of the best college quarterback classes ever. Here are five reasons why:
1. BEST TEAMS IN 2012 RETURN THEIR QUARTERBACKS
Each of the top six teams in last season's final AP poll returns its leading passer. The last time that happened was entering the 1982 season. That 1982 group led to the famed 1983 NFL draft class that boasted six quarterbacks chosen in the first round -- including Hall of Famers John Elway, Jim Kelly and Dan Marino.
2. BEST PASSERS ARE RETURNING
Each of the top five and 10 of the top 11 quarterbacks in terms of passing efficiency return to school. In all, seven players with a passing efficiency of at least 160 last season are coming back, more than in the previous three seasons combined.
3. DIVERSE ARRAY OF NFL TALENT
This class is expected to produce a number of NFL starting quarterbacks. Four of Todd McShay's top 15 prospects in the 2014 draft are quarterbacks (Louisville's
Teddy Bridgewater
, Clemson's
Tajh Boyd
, Texas A&M's
Johnny Manziel
and Alabama's
AJ McCarron
).
Yet, showing how deep this class is, Brock Huard ranks Georgia's
Aaron Murray
, Oregon's
Marcus Mariota
and Ohio State's
Braxton Miller
ahead of either McCarron or Manziel on his quarterback draft board.
4. LITTLE QB TURNOVER IN SEC
The SEC is in prime shape to win its eighth straight national title with 11 of 14 starting quarterbacks from last season returning to school. Among the 11 are the starters of the top three teams in each division including Manziel, Murray and McCarron.
Last season, Manziel set the SEC record for total offense with 5,116 yards. Murray is on pace to set conference records for most career passing yards and total offense, and McCarron is the two-time BCS national champion.
5. AWARD WINNERS BACK ON CAMPUS
The SEC isn't the only conference returning elite quarterbacks. The Big Ten, Mountain West and MAC each return their first- and second-team quarterbacks from last season. So would Conference USA and the WAC if realignment hadn't altered those conferences. The Big 12 is the only conference that
doesn't
return either its first- or second-team quarterback.
Among the returnees, Boyd could challenge the ACC record for total offense in a career, Troy's
Corey Robinson
is on pace to shatter the Sun Belt's career record for total offense, and
Jordan Lynch
returns after leading Northern Illinois to its first ever BCS bowl game last season.
April, 16, 2013
4/16/13
11:17
AM ET
By
Brett Perrotta & Sharon Katz
| ESPN.com
Greg Bartram/US PresswireQuarterback Braxton Miller looks to improve on an impressive 2012 season.
With the college basketball season in the books, College Football Live embarks on its Spring Bus Tour, visiting eight schools. Today we take a trip to check out Ohio State.
Ohio State's one-year postseason ban is complete, one that prevented them from fully celebrating a perfect 12-0 season. Among the highlights was a dramatic comeback over
Purdue
, an overtime win over
Wisconsin
, and a 26-21 triumph over
Michigan
, the eighth time they beat the Wolverines in the last nine seasons.
Urban Meyer's team returns most of its starting offense, but only one starter from its defensive front seven for his second season as coach.
That will be important, as the Buckeyes allowed 116.1 rushing yards per game, the 14th-lowest total among FBS teams.
In Meyer's second season at Utah, his team went 12-0 and won the Fiesta Bowl. In his second year at Florida, the Gators went 13-1 and won the national title.
One other thing that will be interesting to watch will be whether
Braxton Miller
can put up Heisman-worthy numbers to match
Johnny Manziel
.
Last season, Miller accounted for 3,310 yards of offense and 28 touchdowns, great numbers, but those paled compared to Manziel's 5,115 yards and 47 scores.
Miller will be working with a year of familiarity with the read option under his belt. He rushed for 676 yards on 80 rushes out of read option, with six touchdowns, including three of 50 yards or longer.
He was one of three BCS-AQ quarterbacks with at least six 100-yard games on the ground last season. The others were Heisman Trophy winner Johnny Manziel and Denard Robinson, who was primarily used as a running back late in the season.
In all, Miller averaged 101.2 yards per game on designed runs, with 12 touchdowns and 14 rushes of 20 yards or longer.
The Buckeyes also return Carlos Hyde, who ran for 970 yards and 16 touchdowns as a junior. He has 23 career touchdowns and with another 16-touchdown season would move into the top-4 in school history for career touchdowns.
October, 18, 2012
10/18/12
3:41
PM ET
By
ESPN Stats & Information
| ESPN.com
The
Alabama Crimson Tide
have a chance to do something this week that's never happened in their tradition-rich program. The Crimson Tide have scored at least 33 points in all six games this season, but they have never reached the 33-point mark in seven consecutive games.

Last season was the only other time Alabama had a streak of six such games, which was broken with the 9-6 loss to LSU. More good news for Alabama? This season is the sixth time that Alabama has scored at least 33 points in at least five consecutive games in a single season (1920, 1945, 1973, 2009, 2011). Of those previous five seasons, the Tide's combined record is 57-3 with three national championships (1973, 2009, 2011).
As for the other SEC team in the state of Alabama, the
Auburn Tigers
are 1-5 (0-4 in the SEC) just two seasons after claiming the national championship.

The Tigers are the fourth team in the AP Poll era (since 1936) to start a season 1-5 or worse within two years of winning the national title -- and no team has done it since Michigan State in 1954 (won title in 1952). The others are Ohio State in 1943 (won title in 1942) and TCU in 1939 (won title in 1938). All three of those teams started 1-5 in those seasons. The last team to finish a season with a losing record within two years of winning the national championship? Georgia Tech went 5-6 in 1992.
One more from the SEC.
Texas A&M Aggies
quarterback
Johnny Manziel
leads the SEC with 676 yards rushing this season, and has gained 70.3 percent of those yards on scrambles. That's 90 more yards scrambling than
Denard Robinson
,
Braxton Miller
and
Collin Klein
have combined.

Manziel is averaging 10.3 yards per scramble, including an FBS-best nine scrambles that gained at least 20 yards. On third down and at least five yards to go, Manziel leads FBS with 12 rushing first downs, including at least one in every game. He now faces an LSU defense that allows 2.6 yards per rush, the sixth lowest in FBS this season.
In the previous 14 years of the BCS, only twice have teams ranked first and second in the initial standings advanced to the national championship game. It happened in 2005 (USC-Texas), and 2011 (LSU-Alabama), and in both instances the No. 2 team won the title. But there's also hope for those who don't start off with a high ranking in the initial standings. Two teams have been 10th or worse in the initial standings and advanced to the title game, and both won. In 2003, LSU was 12th in the initial standings, while Florida was 10th in 2008.
Finally, no FBS team has more all-time wins than the
Michigan Wolverines
, who go for the program's 900th win on Saturday against the
Michigan State Spartans
.

It's interesting to note that despite holding the record for wins, Michigan has never finished in the top three in wins in any decade. In fact, of the 13 full decades that Michigan has played football, it finished outside the top 20 in wins six times. The best the Maize and Blue have ever done in wins in a decade is fourth (1940s and 1970s).
September, 14, 2012
9/14/12
4:01
PM ET
By
ESPN Stats & Information
| ESPN.com
Each week, ESPN Stats & Information will answer statistical-related college football questions posed via Twitter (use the hashtag #AskESPNStats). Feel free to send your questions along.
Who is the winningest college football program over the last 15 years? -– asked by @diggitydogg
Going back to 1997,
Boise State
has the most wins in college football with a record of 156-35. Next up are
Virginia Tech
and
Oklahoma
at 150 wins each.
What is Northwestern's academic rank among college football programs? -- asked by @kschwoCHI

In the latest APR rankings that were released in June, Northwestern ranked No. 1 among all FBS teams with a score of 995.
Michigan's Denard Robinson had more total yards (426) than Michigan did as a team (422). Has that ever happened before? -- asked by @WesKinetic
Yes. In fact, Robinson wasn't even the only player to do it last week.
Temple's
Chris Coyer
also did it against
Maryland
. Since 2004, it's now happened 25 times.
What is the record for season rushing yards by an NCAA QB? Braxton Miller is on pace for a ton! -- asked by @colinb7654

At 170 rushing yards per game, Miller is on pace for the record. But there's a lot of football left, and
Ohio State's
schedule only gets more difficult. Denard Robinson holds the record for most rushing yards in a season by a quarterback. He had 1,702 rushing yards in 2010.
How often have two teams from the same conference finished 1-2 in the final rankings? -- asked by @dannypkeeper
In the AP poll it has happened three times: 2011 (Alabama, LSU), 2007 (LSU, Georgia), 1971 (Nebraska, Oklahoma).
September, 11, 2012
9/11/12
4:28
PM ET
By
Sharon Katz
and
Toby Petitpas, ESPN Stats & Information
| ESPN.com
In order to win a Heisman Trophy, candidates must find a way to separate themselves from the competition. One amazing performance can vault a player into the national spotlight, and one bad game can end a player's Heisman aspirations.
In Week 2, there were several outstanding performances by potential Heisman Trophy candidates, led once again by USC's senior quarterback.
Matt Barkley
had 187 yards passing and threw a school-record six touchdowns in USC's 42-29 victory over Syracuse.

Barkley became the first FBS quarterback in the last 12 seasons to throw at least six touchdown passes with less than 200 yards passing in a game. Barkley has 20 touchdown passes in his last four games, six more than any other player in FBS during that span. He kept his passes short in a stormy MetLife Stadium, averaging a career-low 3.7 air yards per attempt. USC's receivers turned these short passes into big gains with 137 yards coming after the catch -- the 10th straight game that the Trojans gained 100 yards after the catch.
With his play the first two weeks of this season, UCLA running back
Johnathan Franklin
has vaulted himself into the Heisman discussion.

Franklin had 217 rushing yards on 26 attempts in the Bruins' 36-30 upset of Nebraska. It was his second consecutive 200-yard rushing game and third of his career. Franklin's 215.5 rushing yards per game leads FBS this season. In fact, he's averaging more than 90 teams. Franklin leads FBS with six runs that gained 20 yards or more, and is one of two players with two touchdown runs of at least 60 yards.
Ohio State's
Braxton Miller
accounted for a career-high four touchdowns (three rushing, one passing) and 296 yards in Ohio State's 31-16 win against UCF. Miller gained 141 yards on the ground, his second-straight 100-yard game and seventh of his career. Only Terrelle Pryor has more 100-yard games rushing than Miller among Ohio State quarterbacks. Miller gained a career-high 106 rushing yards inside the tackles, including two touchdowns. After averaging 4.6 yards per rush between the tackles last season, Miller is averaging 7.2 yards in 2012.
After being kept in check by Alabama,
Denard Robinson
was back to making plays with his arm and his legs.

In Michigan's 31-25 win over Air Force, he completed 14-of-25 passes for 208 yards and two touchdowns. On the ground, he had 20 carries for 218 yards and two more touchdowns. It was his third career game with at least 200 rushing yards and at least 200 passing yards, the most among all FBS players since 2000. Robinson gained 211 of his 218 rushing yards on 19 designed-running plays. During Michigan's Week 1 loss to Alabama, the Wolverines called only six designed-running plays for Robinson, who gained 25 yards.
January, 1, 2012
1/01/12
3:57
PM ET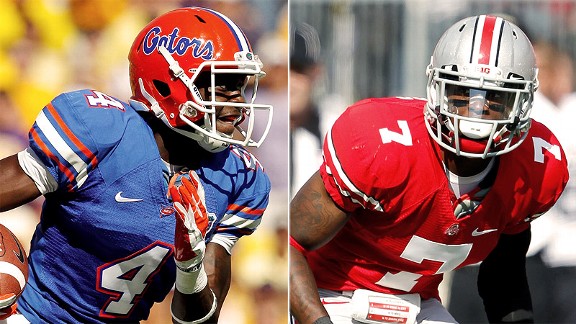 US Presswire/Getty Images
Florida and Ohio State meet in the TaxSlayer.com Gator Bowl on Monday afternoon. Both schools are trying to avoid snapping long streaks with their seventh loss of the season.
The
Florida Gators
and
Ohio State Buckeyes
wrap up disappointing seasons when they meet in the TaxSlayer.com Gator Bowl on Monday (ESPN2, 1 ET).
Don't Take Offense
The big reason for each team's rough season has been bad offense. Florida is 102nd in FBS in total offense and was held to zero or one offensive touchdowns in six of its 12 games this season.
Ohio State is 107th in the country in total offense, and the Buckeyes' 3,837 yards gained this season were the second-fewest by any bowl-eligible team.
Stay Off-Center
There's something to watch when each team has the ball that involves the center.
Florida running back
Jeff Demps
has gained nearly 83 percent of his rushing yards outside the tackles. He has 15 runs of 10 yards or more and only two of them have come up the middle.
For the Buckeyes, quarterback
Braxton Miller
has completed just 40 percent of his passes this season when he takes a snap from under center.
The good news for Ohio State is that when Miller does complete a pass from this formation, it tends to gain big yardage. Seven of his 17 completions after taking a snap under center have gone for at least 20 yards, with three resulting in touchdowns.
Miller has also had much better success as a passer when he gets away from the middle of the field. He hasn't thrown an interception in 25 attempts from outside the pocket, and nearly doubles his yards-per-attempt average in those limited opportunities.
Numbers to Know
Florida has a turnover margin of minus-11, which is eight-worst in the FBS. The Gators have recovered just four fumbles this season -- only two teams have fewer fumble recoveries.
In terms of wins and losses, these are the worst Ohio State and Florida teams in a while. The Buckeyes have six losses for the first time since 1999, while it's the first time for the Gators since 1987.
Florida has finished with a winning record every season since 1988. Officially, that's the longest active streak in the nation due to
Florida State
's vacated wins in the 2006 and 2007 seasons.
The loser of this game will finish with seven losses. Florida hasn't lost that many games since finishing 0-10-1 in 1979. Ohio State's last seven-loss season was way back in 1897, easily the longest active streak in the nation. Florida State is second on that list -- its last seven-loss season came in 1975.
November, 28, 2011
11/28/11
9:48
AM ET

Five years ago Urban Meyer was celebrating his first National Championship, a victory for his
Florida Gators
against the
Ohio State Buckeyes
. As of Monday morning it is being reported that Meyer will not only return to the sport, but do so with the team he beat for that title.
This will be the fourth stop in Urban Meyer's coaching career. He had a 104-23 record over 10 seasons with Bowling Green, Utah and Florida. From 2001-10, he had five 10-win seasons, two BCS titles with Florida and a 7-1 record in bowl games.
Meyer brings credibility back to a program that failed to win the Big Ten for the first time since the 2004 season. The two appear to be a perfect match as no school has appeared in more BCS Bowl games than Ohio State, which has done so nine times. And no coach has a better record in BCS Bowl games than Urban Meyer, who is 4-0 all-time.
His .819 win percentage is the 10th-highest all-time among coaches with a minimum of 10 years of experience and leads all active coaches fitting that minimum.
Still Ohio State has a lot of work to do after it finished 3-5 in Big Ten play, the first time since 1999 that they were under .500 in conference play. In Meyer's 10 years as head coach, his teams have never finished below .500 in conference.
So what can Ohio State realistically expect in its first season under Urban Meyer?
In his first season his teams have improved by at least two games at each of his previous three stops. Even more impressive, Meyer's teams have never won fewer than eight games in his first season -- or any season he has coached for that matter.
The Ohio State offense struggled this season, ranking in the bottom half of the conference in scoring offense and total offense. The Buckeyes had the fifth-worst passing offense in the FBS, averaging just 124 yards per game through the air.
However Ohio State does return talented freshman
Braxton Miller
who threw 11 touchdowns compared to just four interceptions, while also rushing for more than 100 yards in three of his final four games.
Meyer has engineered an offensive turnaround everywhere he's been, however it usually takes a year for his system to thrive. In his first year at a new school Meyer's teams have ranked right around 60th in total offense. However in the second year at the school, Meyer's teams have averaged out to be about 10th among FBS teams in total offense.
In fact it is likely 2013 and not 2012 in which the Buckeyes will be back in BCS prominence. Urban Meyer went undefeated in his second season at Utah and won his first National Championship in his second season at Florida.
And for good measure, Ohio State's last National Championship came in Jim Tressel's second season at the helm, while the Buckeyes' first National Championship in 1942 came in Paul Brown's second season as well.