Stats & Info:

Brett Myers
January, 6, 2013
1/06/13
10:45
AM ET
By
ESPN Stats & Information
| ESPN.com
Rob Carr/Getty ImagesLance Berkman mashes right-handed pitching. The Rangers rememeber that well.
Each week, ESPN Stats & Information looks at notable MLB offseason moves. This week's review focuses on Lance Berkman and Brett Myers.
Rangers reportedly agree to terms with Lance Berkman
Texas Rangers
team president Nolan Ryan said his team was looking for a DH and Berkman would seem to fit the role well. He reportedly agreed to terms with the team on a one-year deal on Saturday.
A limited sampling shows that Berkman did handle the role well when asked to do so in the past.
Berkman was a .323 hitter with a .909 OPS and six home runs in 39 games (130 at-bats) as a designated hitter in interleague play for the
Houston Astros
and
St. Louis Cardinals
, and a stint in the AL with the
New York Yankees
.
He was also 8-for-21 with a home run in six starts in that spot in the postseason, including the middle three games of the 2011 World Series
against
the Rangers.
Three other nuggets of note on Berkman:
1--
ESPN Insider contributor Jason Martinez projects
that the Rangers will usually hit Berkman fifth behind
Adrian Beltre
.
In 2011, his last healthy season, Berkman had his best year in the No. 5 spot, hitting .320 with a 1.013 OPS and 18 home runs in 81 games. He hit .276 with an .888 OPS and 13 home runs in 64 games in other spots in the order.
2--
Berkman has historically shredded right-handed pitching. His 1.007 OPS against righties ranks third-best among active players, trailing only
Jim Thome
and
Todd Helton
. Berkman had a .998 OPS against righties in 2011.
3--
One thing that separates Berkman from his peers is his strike-zone judgment.
Over the past four seasons, he's chased only 21 percent of pitches out of the strike zone (about one of every five), which ranks in the top five percent of major leaguers.
If a pitch is in the strike zone, Berkman will hack. Only 24 percent of the pitches Berkman took were called strikes, the 10th-best rate in baseball in that same span (minimum 1,000 plate appearances).
--Mark Simon
Indians sign Brett Myers, plan to move him back to rotation
Brett Myers signed with the
Cleveland Indians
this past week, where he'll be slotted into the rotation after spending last year in the bullpen for the
Chicago White Sox
and Houston Astros.
Myers may not be an ace but he does give the Indians something they lacked last year: consistent innings. In his most recent season as a starter in 2011, Myers averaged 6.5 innings per start, tied for 11th in the NL. In 2010, he was even more durable, with the fifth-highest innings-per-start average (6.8).
The Indians got just 913 ⅔ innings from their rotation last year, ranking 27th in the majors. The only Indians pitcher last year to average at least six innings per start was
Justin Masterson
(6.1).
In 2010, Myers pitched at least six innings in each of his first 32 starts. The last Indians pitcher with a streak like that was Gaylord Perry, who had 33 straight starts of six-innings-or-more spanning the 1972-73 seasons.
Myers logged a 4.46 ERA in 2011 and a major issue was the 30 home runs he allowed. He gave up a homer every eight flyballs, matching his homer-to-flyball rate over the past four seasons, and a potentially troubling trend for him.
However, it's worth noting that Myers will be moving from hitter-friendly parks (Minute Maid and U.S. Cellular) to a pitcher-friendly park (Progressive Field) that ranked 20th in home run park factor in 2012. The 140 home runs hit in Progressive Field last season were third-fewest in any AL park.
-- Katie Sharp
March, 28, 2011
3/28/11
9:15
AM ET
Chicago Cubs

From August 14 until the end of the season,
Carlos Zambrano
went 8-0 with a 1.24 ERA and allowed just one home run. According to the Elias Sports Bureau, the only pitcher (minimum 50 innings) who had a lower ERA than Zambrano over that span was the American League Cy Young winner,
Felix Hernandez
(1.07 ERA).
Carlos Pena
was one of four players last season (along with
Mark Reynolds
,
Jim Thome
and
Russell Branyan
) with at least 25 home runs despite having fewer than 100 hits.
Cincinnati Reds

There are only three pitchers who have thrown at least 200 innings in each of the last six seasons:
Mark Buehrle
,
Dan Haren
and the Reds'
Bronson Arroyo
. He's made 169 starts since coming to the Reds in 2006, tied with Haren for the most starts over the last five seasons.
In 2010,
Joey Votto
became just the fourth player in franchise history to hit .300 with 30 home runs and 100 RBI and the first since George Foster in 1977.
Houston Astros

Three pitchers tied for the major-league lead in starts of at least six innings pitched; Cy Young winners
Roy Halladay
and Felix Hernandez and Houston's
Brett Myers
each made 32 such starts.
The Astros actually had a better record after the trades involving
Roy Oswalt
and
Lance Berkman
(34-27) than when both were on the roster (42-59).
Milwaukee Brewers

Much has been made about their offseason additions of starting pitchers
Zack Greinke
and
Shaun Marcum
. But with Greinke came
Yuniesky Betancourt
, whose -21 Defensive Runs Saved ranked last among shortstops in 2010. Betancourt's an addition to an infield that already wasn't the best defensively:
Rickie Weeks
was -11 (tied for worst among second basemen) and
Prince Fielder
was -13 (third worst among first basemen).
One reason the Brewers offense -- which ranked in the top four of the National League in batting average, OBP, slugging percentage, runs and home runs – could improve is that
Ryan Braun
posted career lows in OPS, slugging percentage, home runs and stolen bases.
Pittsburgh Pirates

They have finished with a losing record every year since 1993. The 18 consecutive losing seasons is the longest streak
ever
among the four major sports.
Andrew McCutchen
is widely considered to be one of the best young centerfielders in the game. However, he cannot escape the fact he was one of the worst "leading men" in baseball last year. Among position players who led their teams in Wins Above Replacement (WAR), McCutchen's mark (3.3) was the fourth-lowest in the league.
St. Louis Cardinals

Not only was the combined 14.2 WAR of
Albert Pujols
and
Matt Holliday
the best in baseball last season, but they were the only duo with a combined WAR above 12.5.
Pujols finished second in the 2010 National League MVP voting, the eighth time in his career that he's finished in the top three. The only player who has had more top-three finishes in MVP voting (since BBWAA voting began in 1931) is
Barry Bonds
with nine.
-- Justin Havens contributed to this report
March, 17, 2011
3/17/11
11:13
AM ET

The
Houston Astros
had one of the worst offenses in baseball last season, scoring just 3.8 runs per game en route to a fourth place finish in the NL Central. So just imagine how bad they would have been without a pitching staff that ranked sixth in the National League in ERA and opponent batting average after the All-Star Break.
The Astros' lack of offense is expected to leave them out of contention this year, but their pitching staff should at least keep them in games.
Houston lost 27 games last season where its starting pitcher went six or more innings and allowed two or fewer earned runs, the most of any team in baseball.
Some notes on the Astros' rotation entering the 2011 season:
Brett Myers
: Myers was incredibly durable last season going at least six full innings in all but his final start, when he fell one out shy of hitting that mark. The 32 straight starts of six or more innings pitched to begin a season were the most since
Curt Schilling
did so in all 35 of his starts in 2002. Myers' 223 2/3 innings pitched were a career high, and fifth-most in the National League. He had a 15-start stretch from July 4 to mid-September where he went 8-1 with a 1.89 ERA and 4.3-to-1 strikeout to walk ratio.
Wandy Rodriguez
: Last year Rodriguez regressed some from the ascent he made the previous 3 seasons. Wandy had improved by at least half-a-run in ERA for three straight years: from 5.64 in 2006, to 4.58 in 2007, to 3.54 in 2008, to a career-best 3.02 in 2009. Wear-and-tear on his left arm may be a concern for Houston this season. Rodriguez has pitched at least 195 innings each of the past two seasons, and has missed time this spring with arm trouble. According to Inside Edge, Rodriguez threw 1,165 curveballs last season, by far the most in all of baseball.
Bud Norris
: One of the most remarkable statistics in Norris' young career is how well he's done against the
St. Louis Cardinals
. Norris is 5-1 with a 2.27 ERA in his career against the Redbirds, and 10-12 with a 5.41 ERA against everybody else. Norris' inconsistency isn't because of lack of stuff: he was sixth in the NL in strikeouts per 9 innings (9.25) among pitchers with at least 100 IP last season.
J.A. Happ
: In eight of Happ's 13 starts after being acquired in the
Roy Oswalt
deal, he went at least six innings while allowing two earned runs or fewer. Happ had an exceptional six-start stretch from late August into September: a 1.91 ERA, .218 opponent batting average, and K/BB ratio of nearly 3-to-1. One unique thing Happ did exceptionally well last season was battle after runners got on base – only 17.0 percent of runners to reach base scored against Happ, 7.0 percent better than the league average.
September, 14, 2010
9/14/10
2:39
PM ET

Today's Trivia:
The
St. Louis Cardinals
'
Adam Wainwright
(18-10, 2.38 ERA), who pitches tonight, and the
Philadelphia Phillies
'
Roy Halladay
(18-10, 2.44 ERA) have a good chance at 20 wins and an ERA below 2.50. Can you name the last National League pitcher with both of those qualifications who did not win the Cy Young?
On Monday, we took a peek at the American League Cy Young contenders. Today it's the National League's turn.
• There are currently four NL pitchers with an ERA below 2.50. The last time that happened was 1998. In three of the previous four seasons, there wasn't one.
• It would not be unrealistic for Halladay to reach all of the following milestones: 20 wins, 250 innings, 200 strikeouts and an ERA below 2.50. Since 1975, only seven pitchers have done that. All won the Cy Young.
• Though wins and losses are certainly not great indicators of a pitcher's effectiveness, the fact remains that they are key components in the minds of many voters. So too are losses. Consider that of the last 32 Cy Young winners in both leagues, only
Pat Hentgen
in 1996 had 10 or more losses.

• Wainwright and Halladay both have 18 wins and an ERA under 2.50. Both also have double-digit losses. So how does 18-6 with a 2.30 ERA sound? Well, that's what
Josh Johnson
could be if the
Florida Marlins
bullpen hadn't blown seven of his wins this season. According to the
Elias Sports Bureau
, that's the most in the majors.
• Both Wainwright and Halladay should probably have 20 wins already. Each has only two no-decisions, but all four of them should have been wins. Wainwright has a 0.62 ERA in his two no-decisions, while Halladay's is 1.17. Amazingly,
Johan Santana
has a 2.10 ERA in nine no-decisions.
• At 18-6, the
Colorado Rockies
'
Ubaldo Jimenez
leads the NL in winning percentage (.750), though he is just 3-5 since the All-Star break. However, the last four pitchers with at least 18 wins and six or fewer losses have won the Cy Young. The last to miss out was
Mark Prior
is 2003, a year in which closer
Eric Gagne
won the award.
• Will the stretch run eliminate the Cardinals' candidates? Over the last month,
Chris Carpenter
has a 3.96 ERA, while Wainwright checks in at 4.50. Similarly, Jimenez is just 1-3 with a 3.51 ERA despite Colorado's surge. Meanwhile, Halladay is 4-2 with a 2.89 ERA.
• In 2008,
Tim Lincecum
had the lowest opponent OPS in the majors. He did so again last year. Both seasons brought home the Cy Young. So who is it in 2010? Mat Latos' .561 opponent OPS ties Lincecum's 2009 number for the lowest by a qualifying starter since
Roger Clemens
(.544) in 2005. Clemens finished third that year with Chris Carpenter winning.
• Carpenter leads the NL with 24 quality starts, but five pitchers are just one behind. However, if you make the qualifications seven innings and two earned runs of fewer, a clearer picture emerges. Halladay has 18 such starts, while no other pitcher has 16.
Key Matchups:
The
Colorado Rockies
'
Carlos Gonzalez
has nine career hits against the
San Diego Padres
'
Jon Garland
, three more than he has against any other pitcher. In fact, six of those nine hits are doubles. That means he has as many doubles off of Garland as he has hits off any other pitcher. He doesn't have more than two doubles off any other pitcher. In his last eight at-bats against Garland, "CarGo" has four doubles and a single.
Facing a must-win series against the
Minnesota Twins
, the
Chicago White Sox
send
John Danks
to the mound. Though he leads the team with 13 wins, the White Sox are just 2-6 in his last eight starts. The lefty will have to contend with
Michael Cuddyer
on Tuesday. He's hit .467 against Danks with five home runs in 45 at-bats. That's two more home runs than he has against any other pitcher. However, all five came last season, as Danks has kept him in the park in all 15 at-bats this season.
Trivia Answer:
The last five NL pitchers with at least 20 wins and an ERA below 2.50 have won the Cy Young. The last to come up short was
David Cone
in 1988, despite a 20-3 record and 2.22 ERA. Of course, the man he lost out to, Orel Hershiser, also had those marks with a 23-8 record and 2.26 ERA.
August, 23, 2010
8/23/10
11:14
PM ET
By
ESPN Stats & Info
| ESPN.com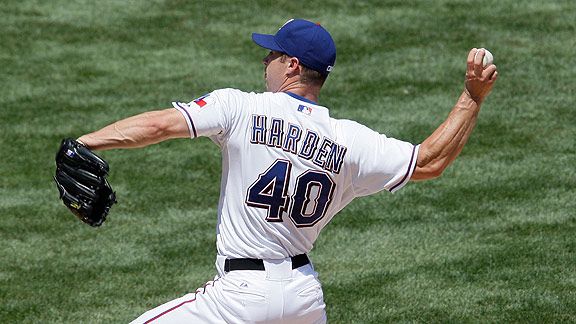 AP/Tony Gutierrez
Rich Harden, in his first start back from the DL, was unhittable in Monday's win over the Twins.
The
Minnesota Twins
'
Joe Mauer
broke up the
Texas Rangers
' no-hit bid with a one-out single in the ninth inning off
Neftali Feliz
. This was the 10th no-hit bid taken into the 9th inning this season.

Five pitchers completed the deal (
Ubaldo Jimenez
,
Dallas Braden
,
Roy Halladay
,
Edwin Jackson
,
Matt Garza
) while four did not:
Armando Galarraga
,
Ted Lilly
,
Travis Wood
and
Brandon Morrow
. The Rangers, who used three relievers after Rich Harden was taken out after 6⅓ innings, were trying to become the first team since the 2003
Houston Astros
(at Yankee Stadium) to throw a combined no-hitter.
This was the fifth time in team history that the Rangers had a no-hit bid broken up in the ninth inning, and the first time since Sept. 3, 2002 at Baltimore.
Joaquin Benoit
, the third pitcher in that game, lost the no-hitter with no outs in the 9th on a triple by Jerry Hairston.
Monday's Notables:

Pujols
• The
St. Louis Cardinals
'
Albert Pujols
is now one shy of becoming the 47th player with 400 career home runs. He has 43 against the Pirates, tied for the second most he's hit against one opponent. Pujols has 46 HR against the Cubs and also has 43 against the Reds. With the obvious exception of St. Louis, Pujols has played at least one game against every team in his career. The one team he has had the most plate appearances against without a home run is the
Oakland Athletics
(40 PA in nine games).
• The
Pittsburgh Pirates
'
Ross Ohlendorf
left with an arm injury after the Cardinals'
Skip Schumaker
walked and
Jon Jay
singled to start the game. Both runners scored on Pujols 399th home run, and Ohlendorf wound up being the losing pitcher, falling to 1-11. Since 1920, Ohlendorf is just the second Pirates starter to lose a game despite facing two batters or fewer. In Game 2 of a doubleheader against the Boston Braves on Aug. 27, 1950, Mel Queen walked Roy Hartfield and Sam Jethroe then left the game. Both players scored and Queen ended up taking the loss.
• The
Houston Astros
'
Brett Myers
(7 IP at
Philadelphia Phillies
) has now pitched at least six innings in all 26 starts this season. That ties Larry Dierker's franchise record for consecutive starts with six-plus innings pitched. Myers is also the first player to start a season by pitching at least six innings in each of his first 26 starts since
Curt Schilling
in 2002. (Schilling went at least six innings in all 35 starts he made that season.)

Bautista
•
Jose Bautista
joined Jesse Barfield (1986) as the second
Toronto Blue Jay
to be the first player in baseball to reach 40 home runs in a season. Bautista has 25 HR at home this season, five shy of the franchise record held by
Carlos Delgado
in 2000. Bautista also has six multi-HR games this season, tied with Delgado (1998, 1999) and
Vernon Wells
(2006) for the second most in a season in team history. George Bell holds the record with nine in 1987.
• Monday's loss was the first by the
New York Yankees
this season when
Alex Rodriguez
was not in the lineup (12-1).
July, 21, 2010
7/21/10
3:30
PM ET
By
Mark Malzewski, ESPN Stats & Info
| ESPN.com
Today's Trivia
: Cubs manager Lou Piniella announced Tuesday that he will retire at the end of the season. Piniella made his managerial debut on April 8, 1986 when his Yankees hosted Kansas City. Who was the opposing starting pitcher?
Quick Hits
: A quick look at some newsworthy hits from around baseball:
There were four games on Tuesday in which a team won after trailing by at least four runs. It's the first time four teams came from behind to win in that fashion on the same day since April 19, 2006:
TUESDAY'S MLB COMEBACKS
Red Sox at Athletics: Oakland trailed Boston 4-0 after two innings, but shut down the Red Sox the rest of the way. The A's won the game with 2 outs in the 10th inning for their fifth walk-off win of the season.
Giants at Dodgers: Down the coast in LA, the Dodgers jumped all over
Tim Lincecum
and led 5-1 after five innings before the Giants came back, capped by a bizarre 3-run 9th inning for a 7-5 win.
Rays at Orioles: In Baltimore, the Orioles trailed 8-4 AND overcame ninth-inning and extra-inning deficits in their 11-10 win over the Rays. Baltimore's the only team that's won a game this season when trailing in both the ninth inning and in extra innings.
Astros at Cubs: At Wrigley, it looked as if it was going to be another long night for the Cubs. Houston led 6-0 and 7-1 before
Aramis Ramirez
exploded for three home runs in the Cubs' 14-7 win.
There were seven ejections (player/manager/coach) on Tuesday, the most in a single day this season: NYY
Joe Girardi
, PIT John Russell, LAD Bob Schaefer, LAD
Clayton Kershaw
, LAD Joe Torre, OAK
Coco Crisp
, BOS John Farrell
Aramis Ramirez hit three home runs and drove in seven in the Cubs' 14-7 win over Houston. It was the fourth three-HR game of his career, the most by a third baseman in the live ball era (1920). He's the first Cub to hit three HR in a game since
Alfonso Soriano
on Sept. 6, 2008, and the first Cub with three HR and at least RBI in a game since
Sammy Sosa
(3 HR, 9 RBI) on Aug. 10, 2002. Aramis Ramirez, who had six HR and 23 RBI through the month of June (53 games), has nine HR and 24 RBI in 15 games this month.
From the Baltimore Sun: In Tuesday's second inning against Tampa Bay's
Matt Garza
, the Orioles hit three consecutive homers for the first time since doing it against the California Angels on Sept. 5, 1995 — the same day
Cal Ripken
Jr. tied Lou Gehrig's record of consecutive games played at 2,130. In that game, it was Jeff Manto,
Mark Smith
and
Brady Anderson
who went deep consecutively. On Tuesday, it was
Luke Scott
,
Ty Wigginton
and
Adam Jones
who homered to give the Orioles a 3-0 lead.
FROM ELIAS:
Chris Carpenter
got the win and
Andrew Carpenter
the loss in the Cardinals' 7-1 win over the Phillies. The last game in which the winning and losing pitchers each had the same surname was when
Jeff Weaver
bested his brother Jered on June 20 of last season.
From Chicago Tribune: White Sox reliever
J.J. Putz
, returning to his first major league city, set a franchise record by making his 25th consecutive scoreless outing.
From the Miami Herald: A victory by
Ricky Nolasco
on Wednesday would give him 50 as a Marlin and move him into second on the team's all-time list behind
Dontrelle Willis
, who recorded 68. But Nolasco has done his best pitching on the road, not at home. Nolasco has gone 30-18 with a 4.23 ERA on the road but only 19-19 with a 4.78 ERA at Sun Life Stadium, and all four of his career complete games have been on the road.
From the Philadelphia Daily News: The Phillies have scored 3 or fewer runs in 45 of their 93 games this season, 48.4 percent.
Today's Leaderboard
: The
Baltimore Orioles
(four) and
Tampa Bay Rays
(three) combined to hit seven solo HR in the O's 11-10 extra-inning win Tuesday night. Tampa Bay and Baltimore are now fifth and tied for sixth, respectively, in the AL in team solo HR. With his 2 solo HR, Baltimore's Luke Scott moved into a tie for 4th in the AL in most solo HR this season.
Key Matchup
: The Cubs'
Derrek Lee
is hitting .469 (15-for-32, 3 HR) in his career against Houston's
Brett Myers
. His average against Myers is the second-highest of his career against any of the 33 pitchers he's had at least 30 plate appearances against. Only his .486 average (17-for-35) against
Jason Marquis
is better. Lee is 0-for-3 against Myers this season.
Trivia Answer
: Current San Diego manager Bud Black. Black, who spent 15 years in the majors with five teams, went seven innings, allowing six hits and four earned runs as he took the loss. As a side note, Black's former pitching coach in San Francisco, Dave Righetti, earned the save in New York's 4-2 win.
June, 1, 2010
6/01/10
12:45
PM ET
By
Ryan McCrystal, ESPN Stats
and
Info
| ESPN.com
Quick Hits:
According to Inside Edge, Ubaldo Jimenez threw 13 split-fingered fastballs on Monday. Hitters swung at seven of them and failed to put any of them in play. On the season, opponents are batting just .185 against Jimenez's splitter. Here's a look at others who've had success with the slitter this season.
Dan Haren, who's scheduled to start on Tuesday, has struggled this season but his splitter remains effective. Opponents are batting just .206 against the pitch.
Opponents are batting just .184 against Mike Pelfrey's splitter. Pelfrey is also scheduled to take the hill on Tuesday.
Carlos Zambrano's splitter has been one of the only pitches working for him this season. He's allowed just one hit in 17 at-bats which have ended with a splitter – a .059 BA.
J.J. Putz has thrown 55 two-strike splitters, 15 of which have resulted in strikeouts. That's a 27.2 putaway rate – the highest in the majors with the splitter (min. 50 pitches).
Today's Trivia:
Today is the 69th birthday of Dean Chance, the Angels first Cy Young winner in 1964. Since Chance won the award, only two other Angels have finished in the top two of the Cy Young voting. Can you name them?
Today's Leaderboard:
Who are the best pitchers at shutting the door on an inning? It should come as no surprise that two of the top three are guys who have gone a perfect 9-for-9 in a game this season. Dallas Braden leads the majors with a .171 opponents OBP with two outs. The only surprising name on this list may be Brett Myers, who has quietly put together a 3-3 record with a 3.22 ERA this year.
Key Matchups:
After a 19-game homerless drought Manny Ramirez has gone deep in two of his last four games. He figures to stay hot tonight against Dan Haren. In his career against Haren, Ramirez is batting .548 with three homers and a 1.609 OPS
Chipper Jones has owned Cole Hamels through his career, perhaps more so than any other hitter. Jones is 9-22 with two home runs against Hamels. His 1.364 OPS is the highest Hamels has allowed to any batter he's faced at least 20 times.
Trivia Answer:
Bartolo Colon won the award in 2005 and Nolan Ryan finished second behind Jim Palmer in 1973.
May, 17, 2010
5/17/10
1:17
AM ET
By
Vince Masi, ESPN Stats & Info
| ESPN.com
Sunday proves once again why baseball is such a great game. You'll see things you either have never seen or haven't seen in some time. Here are just a few of the many rarities that occurred across MLB on Sunday:
Mariano Rivera
He allowed a grand slam in a home game for the first time since 1995 against the Athletics (Geronimo Berroa). His streak of 51 straight saves at home comes to an end and he also walked a runner with the bases loaded for the first time since 2005.
Marlins Sweep Mets
It was just the second time in team history in which the Marlins swept a four-game series from their division rivals and the first time since 2004 in New York.
Jake Westbrook Throws a Complete Game?
He allowed one run in a complete game for the first time since August 9, 2006. He's won consecutive starts for the first time since 2007.
Cardinals out, Reds in
The Reds defeated the Cardinals Sunday to move into first place. That's somewhere Cincinnati hasn't been this late into a season since the 2006 season.
Be Proud of Prado
Martin Prado
had four hits, two of which were homers in the Braves' 13-1 thumping of the Diamondbacks. He became the first Braves leadoff hitter to have two homers and four hits in a single game since Felipe Alou on April 26, 1966, against the Giants.
Cliff Lee
He threw a complete game with 10 strikeouts in a hard-luck loss to the Rays. He's the first Mariners pitcher with 10 strikeouts in a complete-game loss since
Freddy Garcia
on August 7, 1999. But while it was rare in recent years, that was something
Randy Johnson
did eight times with the Mariners.
Wade LeBlanc
Another ho-hum strong start from a Padres pitcher. LeBlanc unfortunately took the loss when he allowed 1 ER in 7 IP against the Dodgers. But he did extend his streak of starts with 2 ER or fewer to 6 straight from the start of the season. That's the longest streak by a Padres pitcher to begin a year since
Jake Peavy
had a team-record 10 straight to start the 2004 season.
You Complete Me
Five pitchers threw complete games on Sunday (Lee, Westbrook,
Joel Pineiro
,
Brett Myers
and
Bronson Arroyo
). Sounds rare right? Actually it happened on July 10, 2009, when
Jeff Niemann
,
Dan Haren
,
Zach Duke
, Arroyo and
Jonathan Sanchez
did so. Sanchez threw a no-hitter that day.
April, 14, 2010
4/14/10
2:09
PM ET
By
Jeremy Lundblad, ESPN Stats & Info
| ESPN.com
Today's Trivia
: Happy Birthday to the 1995
Atlanta Braves
. Well, three of them at least.
Greg Maddux
,
David Justice
and
Steve Avery
were all born on April 14. Maddux posted an NL-best 1.63 ERA in 1995. Can you name the two other pitchers on that team that won an ERA title at some point in their career?
Quick Hits
: April has not been kind to leadoff hitters thus far, a trend spotted by Baseball Tonight researcher Mark Simon. With the obligatory acknowledgement that we are only 10 days into the season, let's take a look at the hole at the top spot in the order.
* Apparently, leadoff is the new seventh. Leadoff batters are hitting .249 with an OBP of .316. Meanwhile, the seventh spot is a collective .250 with an OBP of .316
* The No. 1 hitter in the
Texas Rangers
lineup is 1-28 with no walks.
Cincinnati Reds
pitcher Mike Leake had more hits than that in his MLB debut. The No. 1 hitter for the Braves is 2-29.
Arizona Diamondbacks
pitcher
Edwin Jackson
had two hits in an inning.
* The primary culprits have been
Julio Borbon
(1-25),
Melky Cabrera
(2-26), and a pair of Padres:
Everth Cabrera
(1-15) and Tony Gwynn, Jr. (1-11).
* In all, ten teams are hitting under .200 from the top spot in the order.
* Thirteen No. 1 hitters have an on-base percentage below .200 (minimum 15 PA)
* Though
Carlos Gonzalez
has the highest leadoff average (.393),
Jimmy Rollins
has arguably been the most productive leadoff hitter thus far. He's hitting .391 with a .516 on-base percentage. The catch? Rollins appears on his way to the disabled list.
Shane Victorino
, his likely replacement atop the lineup, is a career .227 hitter from the top spot.
Key Matchups
:
Bobby Abreu
has nine career home runs against
Javier Vazquez
, which is five more than he has against any other pitcher. However, that's just the tip of the iceberg. The Elias Sports Bureau unearthed a fascinating element to their head-to-head history. Abreu has three multi-homer games against Vazquez, making him the first to do that against one pitcher since Willie McCovey against Bob Buhl.
Looking to guide the Astros to their first win,
Brett Myers
is 4-2 in his career against the Cardinals. However, the current Cardinals lineup might indicate a different story. Six Cardinals regulars have faced Myers before, and they've combined to hit .392 with nine home runs in just 79 at-bats. For once
Albert Pujols
is bringing down the rest of the group. He is a .310 hitter against Myers with "only" two homers in 29 at-bats.
Today's Leaderboard
: Five players that have made at least 20 plate appearances have yet to strikeout this season. The most surprising would have to be Ivan Rodriguez, who fanned 92 times last season. With one strikeout in 34 PA,
Chase Utley
just missed the list. He had 110 strikeouts last season.
Trivia Answer
: If you guessed
Tom Glavine
and
John Smoltz
... sorry, they never led the league in ERA. Alejandro Pena (1984) and
Jason Schmidt
(2003) would be the correct answers.