Stats & Info:

Brian Dozier
July, 14, 2014
Jul 14
11:42
AM ET
By
ESPN Stats & Information
| ESPN.com
Robert Deutsch/USA TODAY SportsYoenis Céspedes looks to be the 1st back-to-back-winner since Ken Griffey Jr. in 1998 and 1999.
The 2014 Gillette Home Run Derby gets going at 8 p.m. ET from Target Field in Minnesota (ESPN and WatchESPN).
The competition features some new rules this season.
Five players from each league bat in the opening round, with seven outs instead of 10. The player who hits the most home runs from each league gets a bye to the third round. The two players with the next-most home runs go head-to-head in the second round. The head-to-head winners will face their league's top seed in the third round, with the winners from each league going against each other in the final round.
Here's a look at the numbers for each of the 10 participants.
Jose Bautista, Toronto Blue Jays
Bautista will captain the American League team. The last four Home Run Derby champs have been from the American League. The last NL winner was
Prince Fielder
in 2009. Bautista was the runner up to Fielder in 2012 when Fielder was a member of the
Detroit Tigers
.
Bautista is a huge fan of Target Field. He has a .966 slugging percentage and 11 home runs in 59 at-bats there.
A player's home run park percentage is the percentage of stadiums at which a home run would have gone over the fence under calm conditions (70 degrees Fahrenheit, no wind). Of the 31 players to hit at least 15 home runs in the first half, Bautista has the highest home run park percentage, 94.7 percent (meaning on average, his home runs would have been out of 30 of the 32 parks).
Yoenis Céspedes, Oakland Athletics
Céspedes, the defending champion, is looking to become the first back-to-back winner since
Ken Griffey Jr
. won in 1998 and 1999.
Céspedes hit a total of 32 home runs in last year's Home Run Derby, which was eight more than any other contestant.
Target Field has a shorter power-alley in left center field than last year's host park, Citi Field (377 feet versus 385 feet), though it does have a slightly longer distance to the foul pole (339 feet versus 335 feet). Twenty-six of Cespedes' 32 home runs in last year's Home Run Derby were hit to the left of center field.
Cespedes has not shown the power he showed in 2013. Last season, he averaged 403 feet per home run. This season, he's averaging 383.5 feet per homer.
Josh Donaldson, Oakland Athletics
Donaldson has 20 home runs this season, with 15 coming on the inner half of the plate, or off the inside corner.
Donaldson would be expected to pull the ball on Monday night, but he has very good opposite-field power. His seven home runs to the opposite field are one shy of
Nelson Cruz
for the major-league lead.
Brian Dozier, Minnesota Twins
Dozier will be trying to join Ryne Sandberg as the only players to win the Home Run Derby in their home ballpark. Sandberg did so in the early days of the event, in 1990.
Dozier's home runs have a distinct characteristic. He likes to hit them on pitches up at his shoulders and above. His six home runs on pitches above the top of the strike zone are twice as many as anyone else in the majors.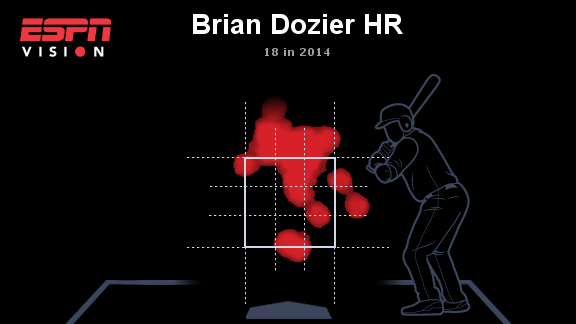 Adam Jones, Baltimore Orioles
In contrast to Dozier, Jones likes the ball low. Eleven of his 16 home runs (69 percent)have come against pitches in the lower-third of the strike zone or below. The only player in the majors with more such home runs is
Mike Trout
with 16.
Jones is trying to become the first Orioles player to win the Home Run Derby since
Miguel Tejada
in 2004.
Troy Tulowitzki, Colorado Rockies
Tulowitzki finished tied for the NL lead with 21 home runs in the first half, with 14 of them coming at Coors Field.
He's trying to become the first Rockies player to win the Home Run Derby.
Todd Frazier, Cincinnati Reds
Frazier has already matched his career high for home runs in a season with his 19 at the All-Star Break. Though he'll likely take aim for left field at Target Field, he might poke a few out to the deepest parts of the park. Frazier has seven home runs to straightaway center field this season. Only
Carlos Gomez
(eight) has more.
Justin Morneau, Colorado Rockies
Morneau is the only left-handed hitter in this year's Home Run Derby.
Seven of the past nine and 14 of the past 18 Home Run Derby winners have been left-handed hitters. The only right-handed hitter to win in the last six Derby's is last year's winner, Yoenis Céspedes of the Oakland Athletics.
Morneau is very familiar with Target Field from his time with the Minnesota Twins. His 20 home runs there are second-most by a left-handed hitter, trailing Jim Thome's 24.
Yasiel Puig, Los Angeles Dodgers
Puig hit 12 home runs in the first half, but he hit them pretty far, averaging 417.3 feet per home run (fourth-best in the majors).
Puig's shortest home run of the first half was 390 feet, making him one of two players to hit 10 home runs and have all of them calculated at 390 feet or more (
Jay Bruce
is the other).
Giancarlo Stanton, Miami Marlins
Stanton averaged 423.8 feet per home run in the first half, the best of anyone in baseball with at least 10 home runs.
He also led in average speed off bat (109.5 miles per hour), 425-foot home runs (nine) and 450-foot home runs (five).
Stanton's 484-foot home run on April 4 is the second-longest home run of the year (Mike Trout, 489 feet on June 27 is the longest).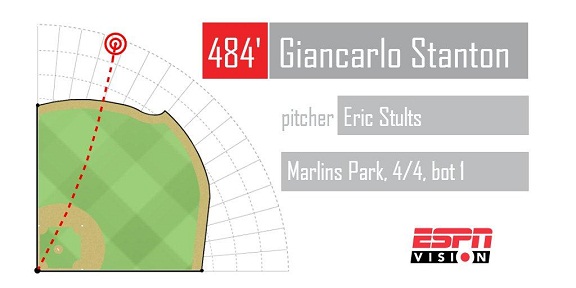 July, 4, 2014
Jul 4
9:49
AM ET
By
ESPN Stats & Information
| ESPN.com
Andrew Fielding/USA TODAY SportsDerek Jeter has 24 career hits on July 4, most among active players.
The
New York Yankees
and
Minnesota Twins
play the second game of their four-game series this afternoon (3 ET, ESPN2/WatchESPN). We take a look at some of the things the broadcast crew will talk about.
The Shift Report
New York has shifted 503 times so far this season, trailing only the
Houston Astros
, who have shifted 764 times.
Last season, the Yankees shifted a total of 475 times. In fact, since 2010, the Yankees have increased their use of the shift.
As for Minnesota, it has used the shift 202 times this season. While that's near the middle of the pack (16th overall), it's already more shifts than they had in the last four seasons combined (189).
Pitching Matchup
The Twins are the second team that
Chase Whitley
will face for the second time this season.
When he faced the
Toronto Blue Jays
for a second time (June 23), he allowed 8 runs in 3⅓ innings.
Whitley has thrown five or fewer innings in seven of his nine starts this season.
That has helped tax the bullpen - only two teams –
Tampa Bay
(4,883) and
Miami
(4,800) - have had more pitches thrown by relievers this season than the Yankees (4,706).
For Minnesota,
Kyle Gibson
will take the mound at Target Field, a place he has enjoyed pitching. This season, Gibson is 4-1 with a 1.54 ERA at home, compared to 3-5 with a 5.54 ERA on the road.
Among qualified starters this season, Gibson's home ERA is the second-lowest in the majors, trailing only
Julio Teheran
(1.22).
Gibson has been able to get opposing hitters to chase nearly a third of the pitches he throws outside the strike zone.
That's fourth best among qualified starters in the American League.
Misc.
•
Derek Jeter
is 24-for-69 (.348) in his career on July 4. That's the most Independence Day hits by any active player.
•
Brian Dozier
has 15 home runs and 15 stolen bases in the Twins first 84 games, putting him just off pace for a 30-30 season. He's the only player in the majors to reach 15-15 so far this season. No Twins player has ever recorded a 30-30 season.