Stats & Info:

Brian Duensing
August, 26, 2010
8/26/10
12:05
AM ET
Let's take a look at some of the notes from around baseball Wednesday night:
•
Felix Hernandez
pulled his record to .500 (10-10) by allowing two runs (one earned) in 7 1/3 IP in the
Seattle Mariners
4-2 win at the
Boston Red Sox
. King Felix's seventh strikeout of the night (in the sixth inning against
David Ortiz
) was the 1,000th of his MLB career. At 24 years and 139 days old, Hernandez is the fourth-youngest pitcher in MLB history to reach 1,000 career strikeouts. Hernandez is now 3-0 with a 1.53 ERA in his career at Fenway Park.
•
Trevor Cahill
allowed 1 unearned run in seven innings pitched against the
Cleveland Indians
to pick up his 14th win of the season. His performance is the 17th straight quality start by
Oakland Athletics
starters. According to the Elias Sports Bureau, that is the longest streak by an MLB team since the Braves had a 21-start streak in 1997. It is the longest by an AL team since the Yankees had an 18-start streak back in 1981.
• In the
Texas Rangers
win over the
Minnesota Twins
,
Josh Hamilton
reached 30 HR for the second time in his career. He's the seventh player to have multiple 30-HR seasons for the Rangers. Twins starter
Brian Duensing
had gone 110 AB without allowing a HR to a left-handed batter before Hamilton's blast.
•
Vladimir Guerrero
hit his 430th career home run and is now one HR shy of tying
Cal Ripken
, Jr. for 39th all-time.
•
C.J. Wilson
improved to 10-2 at home. He's the first Rangers starter with 10 home wins since 2004 (
Kenny Rogers
and
Ryan Drese
).
Joe Mauer
was hitless in three at-bats vs Wilson. He's now 1-17 in his career against Wilson. His .059 batting average vs Wilson is his worst vs any pitcher he has faced at least 10 times.
•
Hiroki Kuroda
tossed seven innings and picks up a win as the
Los Angeles Dodgers
defeated the
Milwaukee Brewers
. However, the story we're following is Kuroda's batting (or lack thereof). Kuroda went 0-3 and is now hitless in 43 at-bats this season. The last player with MORE than 40 AB without a hit (in an entire season) was Randy Tate in 1975.
• The
Houston Astros
defeated the
Philadelphia Phillies
again and have now taken the opening three games of their four-game set at Citizens Bank Park. It's the Phillies' first three-game home losing streak since April. The Astros have won four straight on the road for the first time since April of 2009.
August, 25, 2010
8/25/10
4:30
PM ET
By
Gregg Found & Matt Willis
| ESPN.com
Today's Trivia:
Today is Rollie Fingers' birthday, which means they're probably celebrating in both Oakland and Milwaukee. After all, both the A's and Brewers have retired Fingers No. 34 jersey. Fingers is one of just nine players in history to have his jersey retired by more than one team.
So your question is – which two other players have a jersey No. 34 retired in MLB? Hint: one of the two, like Fingers, is part of the nine-member club that has had a jersey retired by multiple teams.
Quick Hits:
Move to the edge of your seat tonight when
Hiroki Kuroda
comes to the plate. Kuroda has managed to go 0-40 at bat this season and is on the verge of history. Only eight previous players since 1901 have had an 0-fer season with at least 40 at-bats. Can we get Kuroda out of his "slump" by delving deeper into his numbers?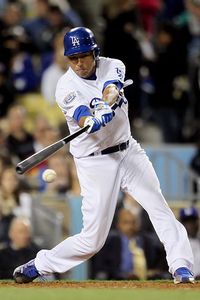 Jeff Gross/Getty Images
Hiroki Kuroda's hitting woes this season are reaching historic proportions
• Of his 40 at-bats, 18 have ended in strikeouts. Those K's have come at inopportune times, too – his only two plate appearances with the bases loaded? They ended in strikeouts. His 14 at-bats with the game tied? Six ended in strikeouts.
• Two pitchers in particular have especially feasted off Kuroda's meekness.
Aaron Harang
has faced him five times and
Edwin Jackson
has faced him four times. Kuroda, obviously, has gone o-fer against both.
• If you believe in OPS+ (which is OPS adjusted for league and ballpark), you probably don't believe in Kuroda. His OPS+ checks in at -85, almost as impressive as it is awful. Among anyone who has batted more than 20 times this season, that's the worst. But have no fear Kuroda – the wunderkind is close behind. Stephen Strasburg's OPS+ is a not-much-better -73.
• But it's not ALL bad for Kuroda – twice, he's drawn a walk! That gives him a whopping .048 on-base percentage. In fact, on one of those occasions, he even scored a run. It came against
Bud Norris
and the Astros, when
Manny Ramirez
drove Kuroda in. It's the only time Kuroda has touched home plate this season.
• Maybe place discipline is what's killing Kuroda. Only eight times this season has he reached a three-ball count. Only seven times has he seen a 2-0 count.
• So how many chances does he have left? Well, figure he'll make about seven more starts this season, including tonight. He's averaging 2.08 PA per start. So bank on Kuroda getting about 14 or 15 trips to the plate the rest of the year. Talk about drama. Only two players have gone 0-50 or worse in a season: Bill Wight in 1950 and Bob Buhl in 1962.
Today's Leaderboard:
It's always fascinating when a batter gets the green light (or sometimes gives himself the green light) to break one of the unwritten rules of baseball and swing on a 3-0 count. But so far this season, batters have swung on a 3-0 count 6.1 percent of the time. In fact,
Adam Dunn
and
Jose Bautista
each have two home runs this season on 3-0 counts. So maybe the rule isn't that ironclad.
With a nod to a batter's decision as the count move along, let's look at the times where batters are MOST likely to take the bat off their shoulder, and in which count they're most likely to get a hit.
Key Matchups:
• Lock
J.D. Drew
up for treason – he shows no respect for the King. King Felix that is, who has faced Drew 23 times and allowed Drew to dishonor him for a .400 BA and 1.028 OPS. Among the 47 batters who
Felix Hernandez
has faced as often as Drew, Drew's OPS ranks third. In their most recent showdown, July of last year, Drew homered off Hernandez.
• If the Rangers are thinking ahead, they'll take as many pitches as they can from
Brian Duensing
to scout his stuff. Duensing is a potential playoff opponent, and only four Rangers batters have ever hit against him.
Elvis Andrus
,
Josh Hamilton
,
David Murphy
and
Michael Young
are a combined 3-16 (.188 BA) against him.
•
Carlos Lee
hasn't seen a ton of
Roy Halladay
, but when he has, he's hit him. Lee has three homers off of Halladay is just 23 at-bats. Among all the other batters who have faced Halladay, only
Luke Scott
and
Justin Morneau
have as many homers in as few at-bats. Lee has a career .639 slugging percentage against Halladay, but that might be on its way down – in their previous meeting this season, Lee went 0-4 with two strikeouts against Halladay.
• Speaking of Halladay, he has a chance to win the pitching triple crown this season (ERA, Wins, Strikeouts).

Although it's slightly more commonly done than the batting triple crown (30 pitching triple crowns vs 13 hitting triple crowns since 1900), it's still a remarkable accomplishment. Entering Wednesday, Halladay led the NL in ERA and strikeouts, and was only one behind
Adam Wainwright
and
Ubaldo Jimenez
in wins.
Jake Peavy
last won the pitching triple crown in 2007 and it has been won three times in the last eight seasons, but in the National League, it's only been won four times since Sandy Koufax won three in a four-year span (1963, 65, 66).
If the remarkable happens and we get a pitching and hitting triple crown in the same season, then we start talking some real baseball history. A pitching and hitting triple crown hasn't been won in the same season since 1966, when Frank Robinson and Sandy Koufax won them. Both of those players now have plaques in Cooperstown.
If Pujols/Votto and Halladay win their respective triple crowns in the National League, they'd be the first National Leaguers to win their respective triple crowns in the same season since 1894. It's happened twice before in the American League -- in 1901 (Nap Lajoie and Cy Young), and 1934 (Lou Gehrig and Lefty Gomez)
Trivia Answer:
Kirby Puckett has his No. 34 retired by the Twins, and Nolan Ryan has his No. 34 retired by BOTH the Rangers and Astros. Ryan also has his No. 30 jersey retired by the Angels.
Just for fun – Puckett went 1-4 against Fingers in his career, managing a single in his first-ever at-bat against Fingers.
August, 25, 2010
8/25/10
3:15
PM ET
By
Katie Sharp & Mark Simon
| ESPN.com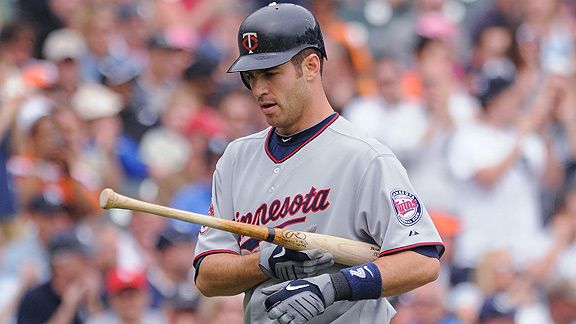 Mark Cunningham/Getty Images
Joe Mauer has had his share of frustrating at-bats against left-handed pitchers in 2010, including C.J. Wilson, whom he faces tonight.
The Rangers and Twins face off in the Texas heat tonight on Wednesday Night Baseball, and the fact it's two first-place teams should be reason enough to watch, right?
But if it's not, we've got five other reasons to make sure your television is tuned to ESPN2 at eight o'clock eastern time.
1. Hello, Joe Mauer. Meet C.J. Wilson, your personal kryptonite
Mauer has been tearing the cover off the ball since the All-Star break, leading all American League hitters in batting average, on-base percentage and OPS. But hidden in those numbers is a .208/.296/.271 line in 54 plate appearances vs lefties. Mauer's struggles vs southpaws aren't just a second-half trend either, as he hit .261 against them before the break.
He'll be really challenged to improve on that mark tonight with C.J. Wilson on the mound for the Rangers. Wilson has been a left-handed batters' nightmare this season, holding them a ridiculous .103 batting average and .308 OPS. He hasn't allowed a homer to any of the 129 lefty batters he has faced and only three times has a lefty managed an extra-base hit against Wilson this season.
But its not just Wilson's season-long dominance against lefties that could make Mauer look human tonight. Mauer has just one hit - a single more than two years ago - in 14 career at-bats versus Wilson. That's his worst performance against any pitcher he has faced more than 10 times.
2. Root, root, root for Michael Young
Young is arguably the face of the Rangers franchise, having played his entire career for the team, and ranking in the Rangers all-time top 10 in nearly every offensive category. But he has really bad timing…
The Rangers last made the postseason in 1999, while Young made his debut for the team in a two-game cup of coffee at the end of the 2000 season. Young has played the second-most games without a postseason appearance among active players, behind the Cardinals'
Randy Winn
.
So even if you no allegiances to the Rangers or Twins, at least you can root for the Rangers to hold on to their lead in the AL West so that Young can finally play a meaningful game in October.
3. There is a new M&M boy in Minnesota
Justin Morneau
carried the Twins in the first three months of the season, hitting .345 and launching 18 home runs before going on the disabled list July 8. But the team hasn't missed a beat without him, going 27-15, while leapfrogging the White Sox and Tigers to take a 3½-game lead in the division.
Michael Cuddyer
has taken over the duties at first base, and while he hasn't exactly matched Morneau's hot bat, he's still hitting over .300 there. And that is nearly 40 points better than he did as the team's everyday right-fielder prior to Morneau's concussion.
Cuddyer actually pulled off a similar performance last September when Morneau was shut down for the final three weeks of the season with a back injury. Cuddyer had 29 RBI in 32 games in September and October to end the season, leading the Twins in Win Probability Added in that time period. And in the final two weeks, when every game was critical to Minnesota's postseason hopes, he had the fourth-best WPA in the American League.
4. Elvis is in the building
Elvis Andrus
' name has been written at the top of the lineup card nearly every game since mid-April and he has thrived there, ranking third in the AL in on-base percentage among leadoff batters. But, as you can see in the accompanying chart, he has actually hit better when NOT setting the table for others, while he has really struggled when coming to the plate with the bases clean.
Based on these stats alone, a good debate could be had over whether Ron Washington should move Elvis down in the order, to take advantage of his ability to step up his game with runners in scoring position.
5. Love for the Glove
Don't be shocked if you see at least one Web Gem tonight, because both teams have shown a propensity for strong defensive play in 2010.
Rightfielder
Nelson Cruz
and centerfielder
Julio Borbon
lead the way for a Rangers outfield that leads the American League in the Baseball Info Solutions-generated metric Runs Saved, which measures all aspects of a players defensive contribution.
The Twins middle infield combination ranks third in the American League in Runs Saved, buoyed by perennial Gold Glove candidate
Orlando Hudson
. The Twins second baseman ranks atop the American League at his position in Plus/Minus, turning significantly more balls hit his way into outs than the average second baseman.
It's a shame that
Nick Punto
, who strained his left hamstring last week, won't be playing. Punto, nicknamed "The Human Web Gem" by Baseball Tonight's Karl Ravech, ranks among the leaders in Plus-Minus at both shortstop and third base.
Brian Duensing
is thankful for this defensive help. His .252 batting average on balls in play ranks third-best in the majors, and his 2.49 ERA is the best of any Twins pitcher through his first 15 career starts since the Twins moved to Minnesota in 1961.
August, 20, 2010
8/20/10
2:04
PM ET
By
Gregg Found, ESPN Stats & Info
| ESPN.com
Today's Trivia
: A
Pittsburgh Pirates
loss tonight would be loss No. 82 for the team, assuring them of an 18th straight losing season – an historic record across the four major sports. Flash back to 1992, the last time the Pirates had a winning year. Here's your three-part trivia question:
Which manager (still managing today) led them to a 96-66 record that year?
Which pitcher (still pitching today) went 8-1 with a 2.15 ERA for them that year?
Which batter (now MANAGING today) managed just a .196 BA for them before being released in May?
Quick Hits
: More on the Pirates and their amazing string of futility:
In the 17 seasons of the Pirates' drought, the
New York Yankees
have NEVER had a losing season. In fact, in a tremendous coincidence, the last time the Yankees had a losing season was the last time the Pirates had a winning season – 1992.
The
Atlanta Braves
have finished with only two losing seasons during that span, both of them happening in the last five years (2006 and 2008).
One big change for the Pirates between the winning season of 1992 and the losing season of 1993? No
Barry Bonds
. A free agent, Bonds left for the
San Francisco Giants
and the Pirates haven't topped .500 since.
But if you're going to call it "The Bonds Curse" you might need to call it "The Drabek Curse" too. Doug Drabek finished fifth in Cy Young voting for that 1992 Pirates team, then bolted in free agency to the
Houston Astros
. Unlike Bonds, Drabek was never the same. He never reached the 15 wins or 2.77 ERA he had with the 1992 Pirates.
How about a milestone to cap it off: during the streak of futility, the Pirates have lost 1,599 games – tonight would be loss No. 1,600.
Johan Santana
has a .663 career win percentage, best of any active pitcher. For Santana to rack up as many losses as the Pirates have in their losing span, he'd have to pitch and get a decision in every single game for more than 29 straight regular seasons (4,744 games).
Finally, during the Pirates' losing span, Pittsburgh fans have been used to counting down the days until the NFL and NHL seasons start. In those 17 years, the Steelers have 13 winning seasons and two Super Bowl wins. The Penguins also have 13 winning seasons and a Stanley Cup.
Today's Leaderboard
: We're dedicating today's leaderboard to the unofficial MLB leaders in bouncing back from a team slump this season. The award thus far goes to the
Cincinnati Reds
, who shook off getting swept at home by the
St. Louis Cardinals
by simply running off two sweeps of their own. That continues a trend all year for the Reds. They've only been swept four times, but each time, they've bounced back to either sweep or win their next series.
Since 2000, the longest team win streak after getting swept (min. three-game sweep) belongs to the
Boston Red Sox
, who reeled off 12 straight in June 2006 on the heels of getting swept in Minneapolis.
Key Matchups
: Of all the pitchers in MLB whom
Jimmy Rollins
is familiar with, would you guess that
Jason Marquis
is his biggest nemesis? There are 23 pitchers that Rollins has faced at least 35 times, including such aces as
Greg Maddux
,
Tom Glavine
and
Pedro Martinez
. But it's Marquis whom Rollins has the lowest BA (.139) and slugging percentage (.167) against.
Brian Duensing
has to be psyched to throw against the Angels tonight – he's faced nine of them in his career and they've had little-to-no success. Those batters, from
Bobby Abreu
to
Reggie Willits
, are a combined 4-22 (.182 BA) with three strikeouts against Duensing. None of them have an extra-base hit off him.
Every Cardinal who bats against Giants starter
Madison Bumgarner
will be making his first career plate appearance against Bumgarner. So let's take a look at what might be in the scouting report: he's even better out of the stretch. Bumgarner has buckled down and pitched better when runners are on base this season – a .319 opponents BA with the bases empty and just a .208 with runners on.
Trivia Answer
: Current
Detroit Tigers
manager Jim Leyland was at the helm of that 1992 Pirates team.
Current Red Sox pitcher
Tim Wakefield
had that blistering record and ERA, finishing third in Rookie of the Year voting.
And current
Arizona Diamondbacks
manager (and former MVP) Kirk Gibson had a cup of coffee with the Pirates that season. He was released and then temporarily retired before signing with the Tigers for the next season to begin the twilight of his playing career.