Stats & Info:

BYU Cougars
September, 9, 2014
Sep 9
12:17
PM ET
By
Jungkyu Lee, ESPN Stats & Info
| ESPN.com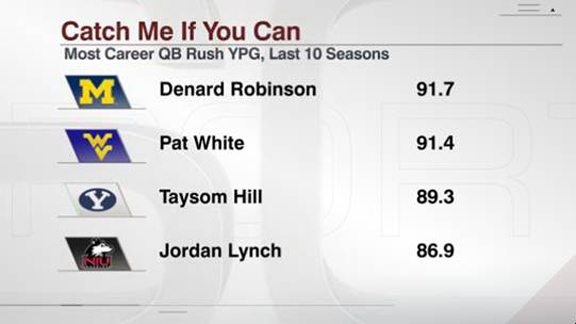 Quarterback Taysom Hill has helped BYU average 38.0 points in its first two games.
After BYU's demolition of Texas in
Week 2
- the Longhorns' worst home loss since 1997 - the Cougars jumped from 24th to 15th in
ESPN's Football Power Index
.
The
Cougars
now have the best chance to enter the bowl season undefeated,
according to FPI
, thanks to their 75th-ranked remaining schedule.
BYU's toughest remaining game, according to FPI, is at
Boise State
on Oct. 24, in which the Cougars have a 72 percent chance to beat the Broncos.
With quarterback
Taysom Hill
at the helm combined with a manageable remaining schedule, the Cougars might just be a sleeper for the playoff.
Hill might be the player who most resembles the idea of a "dual-threat quarterback" in college football.
He began as a situational player when he returned from his LDS mission to Sydney, Australia, in 2012. But since he took over as starter in 2013, he has been a pleasant surprise for the
Cougars
.
Making plays in the ground game
Hill is best-known for making big plays with his feet. His career average of 89.3 rush yards per game ranks third among FBS quarterbacks in the last 10 seasons.
Last season, Hill finished with six 100-yard rushing games, tied for second-most by an FBS quarterback, and rushed for the third-most yards (1,344) in a season in BYU history. He is already BYU's all-time leading rusher among quarterbacks.
Since the start of last season, Hill has the most rushes of at least 10 yards (69) among FBS players, 42 on designed runs. Almost half of Hill's designed runs have been zone-read plays, on which he averages almost nine yards per rush.
Like former BYU great
Steve Young
, Hill has improvisation skills, as he trailed only
Johnny Manziel
in scramble yards per game (41.5) last season.
Hill's passing has improved
Hill's passing game should not be overlooked. He completed 58.3 percent of his passes from inside the pocket last season; in two games (against
Connecticut
and
Texas
) this season, he has completed 78.8 percent of such passes.
Hill's increased accuracy can be attributed to shorter passes. This season, Hill's passes have traveled an average of 6.7 yards downfield, 3.5 yards per attempt shorter than last season. He has thrown six passes that traveled more than 15 yards downfield this season. He averaged 7.2 such passes per game in 2012.
Hill has posted a Total QBR of more than 80 in both of BYU's games this season, one of seven qualified FBS quarterbacks to do so. This group includes
Jameis Winston
,
Marcus Mariota
,
Everett Golson
and
Trevor Knight
. Hill had only three games with a Total QBR of at least 80 in 2012.
February, 14, 2014
Feb 14
11:58
AM ET
By
ESPN Stats & Information
| ESPN.com
Mark Zerof/USA TODAY Sports
BPI gives Julius Randle and the Wildcats a 60 percent chance to beat Florida on Saturday night.
ESPN's
Basketball Power Index
rates teams using a system that takes into account factors such as the pace of a game, margin of victory, game site and absence of key players.
In addition, BPI can be used to make projections of each team's chance of winning a specific matchup. The team with the higher chance to win according to BPI has won about 73 percent of the time this season. For example, on Saturday, Feb. 8, BPI correctly projected three teams in the Top 15 of The Associated Press poll (
Michigan
,
Texas
and
Cincinnati
) to lose to lower-ranked or unranked opponents.
Here is a preview of five of Saturday's matchups, examined using information produced by BPI:
Florida at Kentucky (9 PM, ESPN)
BPI Projection:
Kentucky 60 percent likely to win
These teams are closer in BPI –
Florida
No. 3,
Kentucky
No. 6 – than in The Associated Press poll (3 and 14, respectively), and the BPI projection reflects that.
The location of this game is significant. The Gators would be more likely to win according to BPI if these teams were playing on a neutral site (55 percent likely) or at Florida (69 percent), as they will on March 8.
The matchup quality for this game (a 0-to-100 gauge of the quality of a contest, based on the teams' BPI) is 89.3; no game in the remainder of the regular season has a greater quality number.
Pittsburgh at North Carolina (1 PM, CBS)
BPI Projection:
Pittsburgh 56 percent likely to win
Despite Wednesday's
dramatic loss to Syracuse
,
Pittsburgh
remains among the nation's most powerful teams. All five of the Panthers' losses have been to teams in the BPI Top 30, with three of those coming against BPI No. 2
Syracuse
and BPI No. 8
Duke
; four of those losses were by a combined 10 points. Two of Pittsburgh's wins (over
Clemson
and
Stanford
) rank among the Top 20 this season based on BPI Game Score.
The quality of their performance across all of their games makes the Panthers the team BPI projects to win this game against BPI No. 33
North Carolina
.
Kansas State at Baylor (7 PM, ESPNU)
BPI Projection:
Baylor 56 percent likely to win
With
Kansas State
(BPI No. 40) coming off its overtime victory over BPI No. 4
Kansas
, it might be surprising to see the Wildcats as underdogs to a team that isn't likely to make the NCAA Tournament as things stand now, but that is the impact of home-court advantage. According to BPI, Kansas State would be 73 percent likely to beat the
Bears
(who are No. 57 in BPI) if this game were in Manhattan, Kan., instead of Waco, Texas.
LSU at Arkansas (5 PM, ESPNU)
BPI Projection:
Arkansas 73 percent likely to win
If BPI ranking determined selection to the NCAA Tournament,
Arkansas
(BPI No. 44) would be the 33rd of 36 at-large selections, as it stands now. That would appear to leave the Razorbacks with little margin for error.
In the teams' first meeting this season, on Feb. 1,
LSU
(now 63rd in BPI) beat visiting Arkansas 88-74. The Razorbacks registered a 40.6 BPI game score that day, their second worst of the season.
Brigham Young at Saint Mary's (8 PM, ESPN2)
BPI Projection:
Saint Mary's 64 percent likely to win
Much like Arkansas, BPI No. 51
Brigham Young
and No. 53
Saint Mary's
appear to be in the gray area of possible tournament selection heading into this matchup. As it stands now, if BPI ranking determined the NCAA field, BYU would be the third-most powerful team and the Gaels the fourth-most powerful to miss out on one of the 36th at-large spots.
December, 19, 2013
12/19/13
10:25
AM ET
By
Alok Pattani
| ESPN.com
With bowl season upon us, we can project the winners of the 35 Football Bowl Subdivision bowl games using the
Football Power Index
.
FPI is a predictive measure of team strength that uses the elements of team offensive, defensive and special-teams performance (adjusted for opponent) that correlate most with future results.
We can use each team's FPI and the site of the game (all bowl games are treated as neutral) to calculate the expected point differential in a matchup and the percentage chance of each team winning.
In prior years, FPI has done reasonably well in projecting bowl winners (taking the team with the higher chance as the "winner"), getting about 65 percent of games right since 2004.
There have been some lean years in the past, but FPI has been quite good in the three most recent bowl seasons, accurately projecting 70 percent of winners in those games.
FPI takes into account only a team's on-field performance to date in the given season. It doesn't explicitly take into account players who are out with injuries or for other reasons, coaching movement before the bowls or differing levels of motivation that are sometimes thought to exist in bowl games.
In the 2013 regular season, starting with games on Sept. 26, FPI accurately projected 74 percent of winners.
FPI believes there to be a very clear favorite (80 percent or more to win) in four of the five BCS matchups, with
Ohio State
and
Clemson
as the most evenly matched BCS opponents.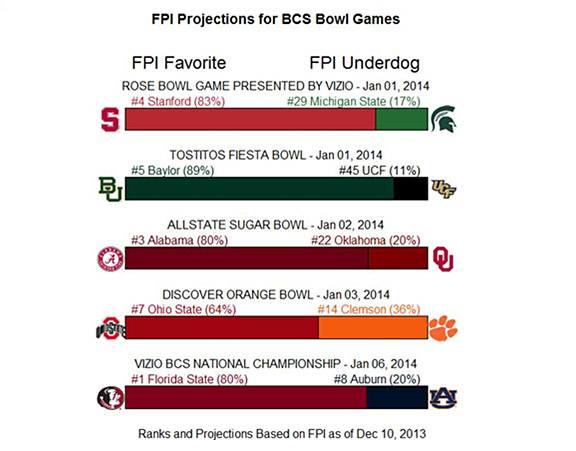 The projections for all 35 bowl games this season are below. A couple of things that stand out:
The two most-lopsided matchups, according to FPI, involve a Pac-12 team facing a Big 12 opponent from Texas. FPI has
Oregon
as 91 percent likely to defeat
Texas
in the Valero Alamo Bowl and Arizona State as 91 percent likely to beat
Texas Tech
in the National University Holiday Bowl.
The most-even matchup, according to FPI, is
Kansas State
versus
Michigan
in the Buffalo Wild Wings Bowl, with the teams separated by a little more than a point in FPI (the Wildcats are 53 percent favorites). The closest "high-profile" bowl game is the AT&T Cotton Bowl between
Oklahoma State
and
Missouri
, with the Cowboys 54 percent likely to win, according to FPI.
The Vizio BCS National Championship is the only bowl game with both teams ranked in the top 10 in FPI. Three other games involve two FPI top-20 teams:
Wisconsin
-
South Carolina
in the Capital One Bowl;
Oklahoma State
-
Missouri
in the Cotton Bowl and
Ohio State
-
Clemson
in the Discover Orange Bowl.
December, 20, 2012
12/20/12
9:12
AM ET
By
ESPN Stats & Information
| ESPN.com
The
BYU Cougars
and
San Diego State Aztecs
meet Thursday (8 p.m. ET on ESPN) in the San Diego County Credit Union Poinsettia Bowl.
These schools share a rich history from when they were conference mates: in the WAC from 1978 to 1998 and in the MWC from 1999 to 2010.
Despite the familiarity, it's been a mostly one-sided affair.
BYU is 14-2 against San Diego State since the 1993 season and has won the past five meetings. This will be the first time these schools meet in a bowl game.
BYU coach Bronco Mendenhall said his starting quarterback will likely not be announced until right before kickoff. The decision is between
Riley Nelson
, who missed the last game with a rib injury, and
James Lark
.
Lark was impressive filling in during the regular-season finale against New Mexico State, going 34-for-50 for 384 yards and six touchdowns with no interceptions.
Only one other BYU QB since 2000 had thrown for six touchdowns in a game: Max Hall in 2008 (seven TDs versus UCLA).
While his starting quarterback remains unknown, this much is clear: Mendenhall has been sparkling when it comes to bowls at BYU.
His teams have made a bowl game in all eight seasons of his head-coaching tenure, and he is 5-2 in games played.
That includes wins against BCS-AQ schools Oregon, UCLA and Oregon State. The Cougars have won three straight bowl games over the previous three seasons.
And watch out for BYU's defense.
The Cougars have allowed fewer than 15 points per game this season and rank third in total defense.
In fact, there are only two FBS schools ranked among the top five defensively in scoring, rushing and total defense: Alabama and BYU.
All of the above would seem to stack the deck in favor of the Cougars -– if not for the fact the Aztecs enter as one of the hottest teams in the nation.
The Aztecs have won seven straight, tied for the third-longest active win streak in FBS.
San Diego State is looking for just its third bowl win in school history. The Aztecs are 2-5 all-time in bowl games with wins in the Pasadena Bowl (1969 season against Boston University) and Poinsettia Bowl (2010 season against Navy).
September, 28, 2012
9/28/12
11:23
AM ET
By
ESPN Stats & Information
| ESPN.com
Each week, ESPN Stats & Information will answer statistical-related college football questions posed via Twitter (use the hashtag #AskESPNStats). Feel free to send your questions along.
What team has the largest differential between its offensive team rank and defensive team rank? – asked by @SteveGGerken
Marshall
is ranked 7th offensively (gaining 561 YPG) and 117th defensively (allowing 509 YPG). The 110 rank difference is the largest in FBS. The 2nd largest differential is
Maryland
(ranks 116th offensively and 8th defensively in terms of YPG).
What defense has the most red zone stops? – asked by @Ksstl227

BYU
has allowed opponents to score on just 37.5 percent of their trips into the red zone, lowest percentage in FBS. In terms of touchdowns,
South Carolina
has allowed opponents to score a touchdown on 1-of-8 red zone drives (12.5 percent), the lowest percentage in FBS.
What quarterback has the largest increase in completion percentage this year? – asked by @MartyBad
Among quarterbacks that attempted at least 50 passes in 2011,
Texas'
David Ash
has the largest increase in completion percentage from 56.9 percent in 2011 to 76.4 in 2012.
What CFB team has the longest current streak of scoring 40 or more points? – asked by @McNamaraUO

Perhaps it is no coincidence that this question comes from
Oregon's
assistant athletic director, because the Ducks are indeed tied for the longest active streak of 40-point games. Both Oregon and
Baylor
are riding seven-game streaks. The longest streak in the BCS era is 12 straight by Texas over 2005 and 2006.
Who was the last college QB to win national championship in his last year, then become the #1 overall draft pick in the spring? – asked by @OneManWarrior12
Just two years ago, Cam Newton pulled off that double. Before him, you have to go back to Notre Dame's Angelo Bertelli in 1944. Also of note, 2005 No. 1 pick Alex Smith led
Utah
to an undefeated record in his final season.
What is the longest a CFB team has ever gone without being shut out? – asked by @William_2512
BYU holds this honor, going an amazing 361 straight games without being shut out. The streak began in 1975 and lasted 28 years before coming to an end when Utah blanked the Cougars 3-0 in the Holy War.
But
Michigan
is creeping up on the streak. The Wolverines have the longest active streak at 342 games. It's a streak that began in 1984.
March, 14, 2012
3/14/12
1:16
AM ET
Two all-time Men's Basketball Championship records were set Tuesday, setting the bar high for an exciting tournament that continues Wednesday.

BYU trailed Iona by 25 points in the first half, but moved into the Round of 64 with the largest comeback in Men's Basketball Championship history.

Western Kentucky, the only team in the field with a losing record this season, trailed Mississippi Valley State by 16 points with under 5:00 remaining. The Hilltoppers moved on to the Round of 64 with the largest final-5:00 comeback in Men's Basketball Championship history.
(14) BYU 78, (14) Iona 72
BYU
has won a tournament game for the third straight season, the first time in school history with such a streak, after holding
Iona
to just 17 points over the final 24:34 of the game.
Iona scored 55 points and shot 69 percent from the field and 71 percent on 3-pointers in the first 15:26 of the game and went into halftime with a 55-40 lead.
In the final 24:34 of the game, the Gaels scored 17 points, shot 20 percent from the field and went just 1-for-18 from 3-point range -- and 15 of their 18 turnovers came during that span.
The Gaels went scoreless for a 9:13 stretch while BYU went on a 17-0 run.
Noah Hartsock
scored a game-high 23 points on 10-of-14 shooting and
Brandon Davies
notched his eighth double-double of the season with 18 points and 15 rebounds.
Scott Machado
had 15 points and 10 assists in the loss, his 11th double-double of the season.
(16) Western Kentucky 59, (16) Mississippi Valley State 58
Western Kentucky
trailed by 16 points (53-37) with 4:51 remaining but came back to beat
Mississippi Valley State
. The Hilltoppers ended the game on a 22-5 run, making their 16-point deficit the largest ever overcome in the final five minutes of an NCAA Tournament game.
The comeback began with a 15-0 run to cut the lead to one. The previous largest comeback was set by Illinois, which came back from 15 points down in its 90-89 OT win over Arizona in the 2005 Elite 8.
Western Kentucky is just the sixth team with a losing record to win a game in the Men's Basketball Championship. There have been 26 teams with sub-.500 records to make the NCAA Tournament and five of the past six have won their first game.
Western Kentucky has won seven straight games after starting the season 9-18, and will put that winning streak on the line Thursday against top overall seed Kentucky.
Western Kentucky had 28 turnovers, the most by a team in a tournament game since 1996, when Tulsa turned it over 28 times in a Round of 64 OT loss to Louisville. No team had turned it over 28 times in a tournament win since 1988, when Kansas had 30 turnovers in a Round of 64 win over Xavier.
The Jayhawks went on to win the national championship that season.
Mississippi Valley State is now 0-5 all-time in NCAA Tournament games.
February, 17, 2012
2/17/12
12:17
PM ET

First Half of the Night – Jeffery Taylor
Taylor had 23 of his game-high 28 points in the first half, as Vanderbilt defeated Ole Miss 102-76. He hit his first seven shots and was 8-for-10 in the first half. Taylor finished two points shy of his career-high. With a 25-point halftime lead, his scoring wasn't needed in the second half.

Second Half of the Night – Seth Curry
Duke trailed by 20 points with 11-and-a-half minutes remaining, but the Blue Devils outscored NC State 37-12 the rest of the way. Curry himself outscored the Wolfpack 16-12 in that stretch, and he had 20 of his 26 points in the second half, setting a career high at Duke (he scored 35 as a freshman at Liberty).

Stat Sheet Stuffer – Draymond Green
Michigan State made relatively easy work of Wisconsin with a 69-55 win, as Green went for 20 points, 10 rebounds and five assists. It's his fourth 20-10-5 game this season. Lehigh's
C.J. McCollum
(two) is the only other player with more than one such game. Over the previous 15 seasons, the only major conference players with four or more such games in a season are Evan Turner (six), Carmelo Anthony (four) and Tim Duncan (five).

Freshman of the Night – Matt Carlino
Carlino scored a career-high 30 points, including the game-winning layup with 18 seconds to go, as BYU edged San Francisco 85-84. The freshman exploded out of the gates with 20 points in the first eight minutes. He's the first BYU player to score 30 since Jimmer Fredette, but even Jimmer never scored 20 as a freshman.

Ugly Stat Line of the Night – Virginia Tech
Perhaps credit should instead go to Florida State for erasing a nine-point deficit with less than 90 seconds remaining. But look at the ineptitude of Virginia Tech's finish to the game. In the final eight minutes, Virginia Tech went 1-for-8 from the field and 3-for-10 from the line. That allowed Michael Snaer's 3-pointer with four seconds left to give the Seminoles a 48-47 win.
February, 5, 2012
2/05/12
4:02
AM ET
By
ESPN Stats & Info
| ESPN.com
A scan of the college basketball box scores each night guarantees all kinds of statistical oddities and standout performances. Here are some we found from Saturday:
Note of the Day
Six teams had three or fewer turnovers Saturday. Entering the day, only eight teams had had a game with three or fewer giveaways.
George Mason 54, Old Dominion 50
George Mason won despite shooting 27.7 percent from the field and committing 21 turnovers. The only other team to win a game this season despite shooting less than 30 percent and committing at least 20 turnovers was Kentucky on Dec. 31 against Louisville.

North Carolina 83, Maryland 74
North Carolina's Kendall Marshall had 16 assists Saturday, matching the highest single-game total by any player this season. He had nine more assists than the entire Maryland team. That nine-assist margin is the highest this year by one player over the opposing team.
Indiana 78, Purdue 61
Purdue lost despite turning the ball over only three times. It's the second time the Boilermakers have lost a game with three or fewer turnovers; all other Division I teams have combined to do it only four times on the year.
Valparaiso 63, Wright State 54
The Crusaders won despite registering just one offensive rebound. Only six teams this year have had a game with no more than one offensive rebound, and Valpo has done it twice. Those six teams are a combined 6-0 in those games.
Morehead State 56, Eastern Illinois 55
Morehead State attempted only 30 field goals in the win, the lowest number of field-goal attempts by a team this season. The next-lowest total was achieved Saturday as well, as Valparaiso attempted only 32 shots in its win over Wright State.
Oakland 74, Western Illinois 70 (2 OT)
Oakland's Lucas Laval-Perry did not score a point in 41 minutes of action, matching the longest scoreless appearance by any player this season.

Cal State Fullerton 99, UC Santa Barbara 86
Cal State Fullerton hit 17 of 26 3-pointers (65.4 percent), the highest percentage by any team in a game this season, minimum 25 attempts.
Drexel 65, Towson 57
Drexel's Frantz Massenat made all 15 of his free-throw attempts Saturday, one shy of the most free-throw attempts without a miss by any player this season. Massenat has now made his last 33 free-throw attempts.
BYU 79, Portland 60
BYU attempted 53 free throws Saturday at Portland, five more than any other road team in a game this season.
Davidson 88, Chattanooga 61
Davidson attempted 40 threes in the win, only the second time since January 1st that a team has attempted that many threes. The other instance in 2012 happened Thursday in Chattanooga's prior game, in which Western Carolina attempted 41 threes.
January, 3, 2012
1/03/12
1:04
PM ET
Utah's futile Pac-12 debut


Colorado
defeated
Utah
73-33 in the first Pac-12 game for both schools. It marked the fewest points allowed by Colorado since beating Kansas 42-30 in January 1949. Utah hasn't had this low of a scoring total since 1980, and the Utes' 22.8 field goal percentage was the fourth lowest in school history. The 40-point loss stands as the fourth worst in school history. Utah's 11 first-half points are the fewest ever allowed by Colorado.
Oglesby hasn't missed since November

Torian Oglesby
made history on Sunday in
Bowling Green's
overtime loss to UTSA
. He came off the bech to hit all 10 of his field goals, setting a school record for attempts without a miss. Even more impressive than that? Oglesby hasn't missed a shot since November. After finishing December 16-for-16 from the field, Oglesby has now hit a Division I record 26 straight shots. That broke the record set by Ray Voekel of American University, who hit 25 shots in a row in 1978.
Robinson impersonates Wilt

Thomas Robinson
had career highs with 30 points and 21 rebounds in
Kansas'
84-58 win over North Dakota
on Saturday. It was the first 30-point, 20-rebound game in the Big 12 since Blake Griffin did so. It had been 50 years since a Jayhawk had done it. The last 30-20 game in Kansas history came on February 13, 1961 against Missouri when Wayne Hightower scored 36 points to go with 21 rebounds. The only other Jayhawk to record a 30-20 game? Wilt Chamberlain, who did it seven times.
Gabriel makes Auburn history

In the 106 years and 2,322 games of
Auburn
basketball history, no one had recorded a triple double. Until Monday.
Kenny Gabriel
recorded the first triple-double in Auburn history as the
Tigers beat Bethune-Cookman 67-41
. Gabriel matched career-highs with 24 points and 13 rebounds, while setting a new career-high with 10 blocks. He's the first SEC player with a points-rebounds-blocks triple-double since Jarvis Varnado in January 2010.
BYU's 1st 20-20 game in over 35 years

Brandon Davies
pulled down a career-high 22 rebounds to go with 21 points, as
BYU
defeated San Diego 88-52
for its first West Coast Conference win. The 22 rebounds are the most for a Cougar since Steve Trumbo's 23 in January 1982. It's the first 20-20 game by a BYU player since the 1974-75 season.
December, 17, 2010
12/17/10
11:51
AM ET
BYU and UTEP kick off bowl season in the New Mexico Bowl on Saturday (ESPN, 2 ET) and they enter the game as polar opposites. The Cougars rallied down the stretch, finishing 6-6 after starting 2-5 to become bowl eligible for the sixth straight season. Their only loss in those last five games came at Utah after blowing a 13-0 fourth-quarter lead.

Unlike BYU, the Miners are struggling coming into this bowl game. After starting 5-1, UTEP lost 5 of its last 6 games to finish 6-6. UTEP is playing in its first bowl game since losing to Toledo 45-13 in the 2005 GMAC Bowl. The Miners have lost four straight bowl games, with their last win coming against Ole Miss in the 1967 Sun Bowl.
Mike Price
is the second UTEP coach to take the Miners to three bowl games, joining Mike Brumbelow, who did so in the 1950s. On the other sidelines, Bronco Mendenhall is the first BYU coach to lead his team to a bowl game in each of his first six seasons.
These two schools have a history as former WAC adversaries, with the Cougars leading the series 28-7-1. The last time these teams played was in 1998, a 31-14 BYU win in El Paso, the year before the Cougars moved to the Mountain West. This is the first time these teams have met at a neutral site.

Despite their loss to Utah, the Cougars are outscoring their opponents 185-61 over their last five games. And the man who's led that offense will make a historic start if he opens the game under center. BYU quarterback
Jake Heaps
will become the first freshman to start a bowl game at that position in school history.
November, 23, 2010
11/23/10
12:50
PM ET
By
Gregg Found & Brad Edwards
| ESPN.com

When Boise State takes the field on Friday at Nevada, they'll do so having not trailed in more than 36 straight quarters of game action.
The fourth quarter of the Broncos' season opener against Virginia Tech was the last time that Boise was behind on the scoreboard -- at the 1:10 mark, Boise State trailed 30-26. At the 1:09 mark,
Austin Pettis
went into the end zone for a 32-30 lead. The Broncos tacked on the extra point and haven't faced a deficit since.
That's 541 straight minutes without trailing. If you had enough Boise football in that time, you could watch the entire Godfather trilogy instead -- all three movies have a total 537 minute combined running time.
The next-longest active streak without trailing belongs to BYU. The Cougars have gone four straight games (240 minutes) since losing to TCU on Oct. 16.
If Nevada takes a lead on Boise State this Friday, they could stun the Broncos by putting them in an unfamiliar position. In fact if Nevada can score first, it'll be the first time Boise State wasn't the first-scoring team all year.
In all but two of Boise State's games, they've had at least a two-touchdown lead before their opponent even tallied a point. And in more than half the games, the game was already at least a 37-point contest before the opponent's goose egg came off the board (if it did at all).