Stats & Info:

Carlos Gomez
June, 23, 2014
Jun 23
4:39
PM ET
By
ESPN Stats & Information
| ESPN.com
Tonight's matchup (8 ET on ESPN2 and WatchESPN) features a pair of first-place teams that rank tied for second (Nationals) and fourth (Brewers) in run differential in the National League this season.
LHP Gio Gonzalez at RHP Matt Garza

Garza
Gonzalez
Gonzalez has struggled this season, posting a 4.62 ERA thus far. His ERA has jumped in consecutive seasons after his 2.89 ERA mark in 2012, when he finished third in Cy Young voting. He's looking to earn his first win since April 18.
His biggest issues have come versus lefties; they're hitting .316 with a .913 OPS against him this year after he held them to a .217/.613 line over the previous two seasons.
On the other hand, Garza is on a roll, having thrown five straight quality starts, tied for the third-longest streak of his career. With one more quality start, he'll match his total from all of last season (11).
Garza's dominance has waned in recent years -- both his strikeout rate and percentage of opponent swings whiffed on have declined for three consecutive seasons. In 2011, his strikeout rate ranked 12th among qualifiers; this season it's down to 69th.
Ian Desmond's Power
Desmond leads the Nationals with 14 HRs this season -- only
Troy Tulowitzki
(18) has hit more among shortstops. Desmond's 59 HRs since 2012 are four more than any other shortstop.
He also has five more RBIs than any shortstop in that span, but his production has come at a cost: His 347 strikeouts (23 percent of plate appearances) are by far the most of any player at his position.
Carlos Gomez Continues to Improve
In terms of Wins Above Replacement, no player in the National League has been more valuable than Carlos Gomez since the start of last season. Gomez has produced a 12.0 WAR in that time, half a win more than
Andrew McCutchen
.
Gomez has become increasingly aggressive on the first pitch, and to great effect. He's gone from hitting .234 with a .383 slugging percentage on the first pitch (while swinging 39 percent of the time) back in 2009, to hitting .441 and slugging .763 with on a 55 percent swing rate on those pitches this year.
Ryan Braun Decline
Braun
Through his first 58 games this season, Braun is batting just .278 with a .815 OPS, both on pace to be career lows.
He simply isn't punishing pitches in the strike zone with anywhere near the authority he did in 2011 and 2012. He is slugging .595 on pitches in the zone over the last two seasons with a 5.3 home run percentage. He slugged .722 on pitches in the strike zone with a 8.4 percent home run rate in 2011 and 2012.
Shifting Perspectives
The Brewers have shifted their defense on 342 balls in play this season, fifth most in the majors. They are on pace to shift 720 balls in play, 182 more times than they did last season.
The Nationals are on the opposite side of the shifting spectrum. They have shifted on only 84 balls in play this season, the second-lowest total in baseball.
October, 29, 2013
10/29/13
9:03
PM ET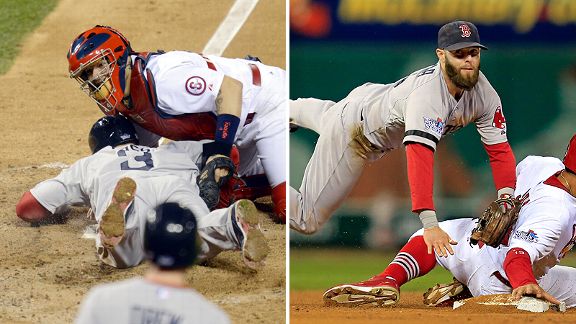 USA TODAY Sports/Getty ImagesYadier Molina and Dustin Pedroia have Gold Gloves to go along with a World Series appearance.
The Gold Glove Awards were announced on Tuesday, with this year's field featuring a nearly even mix of first-time honorees and repeat winners.
For the first time, a statistical component factored into the voting -- the SABR Defensive Index accounted for 25 percent of the vote. The remaining votes came from major league managers and coaches.
Royals, Orioles take home the most Gold
The Royals and Orioles each won three Gold Glove Awards. First-time winners
Salvador Perez
and
Eric Hosmer
joined Royals left fielder
Alex Gordon
, who won his third straight.
Manny Machado, who led the majors in Web Gems at third base, joined repeat winners J.J. Hardy at shortstop and Adam Jones at center field for the Orioles.
With a statistical component comprising part of this year's vote, Jones wasn't necessarily expected to win this year. He was the only Gold Glove winner with a negative defensive runs saved total for the season, but he passed the eye test, garnering enough votes to beat out
Lorenzo Cain
of the Royals and
Jacoby Ellsbury
of the Red Sox.
Another one for Molina
Yadier Molina
became the fourth catcher to win six straight Gold Gloves, joining
Ivan Rodriguez
(13), Johnny Bench (10), Bob Boone (7) and Jim Sundberg (6).
Molina's current streak is the best for an NL catcher since Bench won 10 in a row from 1968 to 1977.
Molina's teammate, pitcher
Adam Wainwright
, won his second Gold Glove. They are the second pitcher-catcher combo to win the Gold Glove together more than once. The other is
Kenny Rogers
and Rodriguez, who won as teammates in 2000 and 2006.
Victorino, Phillips win again
Red Sox right fielder Shane Victorino and Reds second baseman
Brandon Phillips
each won their fourth Gold Gloves.
Victorino, who had won three previous times with the Phillies as a center fielder, joined second baseman Dustin Pedroia as Red Sox winners. Victorino finished with a major league-best 23 defensive runs saved in right field, the highest total in any season in his career.
Phillips has won the award four times in six seasons. His four wins are one shy of Hall of Famer Joe Morgan for the most by a Reds second baseman.
New winners becoming a tradition
The corner infield spots in the National League were won by a pair of first-timers: Diamondbacks first baseman Paul Goldschmidt and Rockies third baseman Nolan Arenado.
Goldschmidt is the NL's fifth different winner in the last five years at first base. Arenado is the sixth different winner in six years at the hot corner.
It's been a long time
Some notable droughts were broken with Tuesday's awards. Among them:
Perez became the first Royals catcher to win a Gold Glove since Bob Boone in 1989.
Hosmer became the first Royals first baseman to win a Gold Glove. Hosmer beat out a field that in past years would have been led by
Mark Teixeira
,
Albert Pujols
and
Adrian Gonzalez
. With Teixeira and Pujols injured and Gonzalez now in the National League, the field was wide open at that position.
Machado became the first Orioles third baseman to win a Gold Glove since Brooks Robinson in 1975.
Andrelton Simmons became the first Braves shortstop to win a Gold Glove and the first Braves infielder to win one since Terry Pendleton in 1992.
Carlos Gomez became the first Brewer to win a Gold Glove since Robin Yount in 1982 and the first Brewers outfielder to win one since Sixto Lezcano in 1979. Gomez led the majors with five home run robberies. No other player had more than two.
September, 22, 2013
9/22/13
3:16
PM ET
The final Sunday Night Baseball telecast of the 2013 season pits the St. Louis Cardinals against the Milwaukee Brewers with the NL Central race still very much up for grabs (8 PM ET, ESPN). Here are five stats our broadcast crew will be talking about today.
1--
The Cardinals clinched at least a Wild Card berth with a Nationals loss earlier this afternoon.
Mike Matheny
becomes the fifth manager in Cardinals history to lead the team to the postseason in back-to-back seasons. He's the second to do so in his first two full seasons as the club's manager, joining Gabby Street (1930-31).
2--
Joe Kelly
will look to stay hot for the Cardinals. Since the start of July he's gone 9-1 over 13 starts with a 2.18 ERA. He's been one of 12 Cardinals pitchers in his age 25 season or younger (age as of June 30) to pitch for them this season, most of any team in MLB.
Kelly averages 94.8 mph with his fastball, eighth-fastest among starters this season. His mound opponent,
Wily Peralta
, is right behind him at 94.7 mph.
3--
Matt Carpenter
could be the fifth Cardinal in the modern era (since 1900) to lead the league in hits, doubles and runs in the same season. The last to do so was
Albert Pujols
in 2003.
Carpenter has fallen behind with an 0-2 count 126 times this season. In those plate appearances, he's batted .339 with a .357 on-base percentage and .545 slugging percentage, by far the best in baseball. The major-league average slashline after falling down 0-2 is .167/.196/.248.
4--
Carpenter's teammate,
Matt Holliday
, his hitting .343 since returning from the disabled list on July 27. Holliday's 70 hits and 44 RBI are the most in the majors in that span.
5--
Brewers centerfielder
Carlos Gomez
is having a fantastic season. He has a career high 21 home runs and is four steals shy of becoming the 30th different player (and first with the Brewers) to have a 20-homer/40-steal season He ranks second in the NL in Wins Above Replacement (7.8) this season.
Gomez leads all major-league centerfielders in Defensive Runs Saved with 37 this season. No other centerfielder has more than 25.
September, 15, 2013
9/15/13
6:56
PM ET
Milwaukee Brewers
centerfielder
Carlos Gomez
is hitting only .192 with 18 strikeouts in 52 at-bats against the
Cincinnati Reds
this season.
But he's having as significant an impact as any star hitter on the Reds division title and postseason hopes.
Gomez made his second robbery of a potential game-winning homer by a Reds hitter this season in Sunday's win,
snaring one
from
Jay Bruce
in a game the Brewers would win in the bottom of the ninth inning. He also
had one
against
Joey Votto
earlier this season.
Baseball Info Solutions has been charting home-run robberies for the past 10 seasons.
Gomez now has five of them this season, the most of any player in the time they've been charting. His other three have come against
Carlos Gonzalez
,
John Mayberry Jr
. and
Marlon Byrd
.
Gomez entered Sunday's game with 31 Defensive Runs Saved. That's the most by a centerfielder in the major leagues this season and his homer-rob should push him ahead of Franklin Gutierrez's 2009 season (32 Defensive Runs Saved) for the most Runs Saved by a centerfielder in the 11 seasons for which BIS has been tracking that stat.
May, 7, 2013
5/07/13
11:59
AM ET
By
John Fisher, ESPN Stats & Info
| ESPN.com
Brewers center fielder
Carlos Gomez
leads all position players, and is tied with pitcher Clay Buchholz, in Wins Above Replacement (WAR) this season.
The defensive component of this is no surprise. Gomez has rated among the game's top center fielders in the past, and he currently leads the position in Defensive Runs Saved.
But the offensive component of this is unusual. Gomez ranks among the major-league leaders in batting average, on-base percentage and slugging percentage.
Where has this early-season production come from?
Gomez has good numbers in a couple of areas.
Success vs Inside Pitches
This season, Gomez already has 13 hits against pitches on the inner-third of the plate or just off the inside corner. Compare that to last season when he had 30 hits (in 121 at-bats) on pitches on the inner third.
Just two seasons ago, Gomez totaled 13 hits and made 50 outs against pitches to that area. In 2013, he's made only 12 outs.
On Breaking Balls
When Gomez puts the bat on the ball against breaking pitches, he's making harder contact -- and has had better results.
Based on video review, Gomez has 12 "hard-hit balls" in 35 at-bats in which he's made contact against breaking pitches. (From 2010-12, Gomez had only seven "hard-hit balls" against breaking pitches in which he made contact.)
This season, Gomez has 16 hits -- including three home runs -- against curveballs and sliders, and is hitting .381 when a plate appearance ends with one of those pitches.
Of those 16 hits, seven have come with two strikes. He has more two-strike hits than he does missed swings (6). Last season, Gomez had 17 hits against breaking balls … and 44 missed swings.
Hitting to Right Field
Gomez's careful approach against breaking balls has come with something else: an ability to take the ball the other way.
This season, Gomez already has 14 opposite-field hits and is hitting .467 when he hits the ball the other way. In 2012, he had only 18 such hits and hit .269 when going the other way.
Mark Simon also contributed research to this post.
July, 13, 2011
7/13/11
10:00
AM ET
By
Andrew Davis
| ESPN.com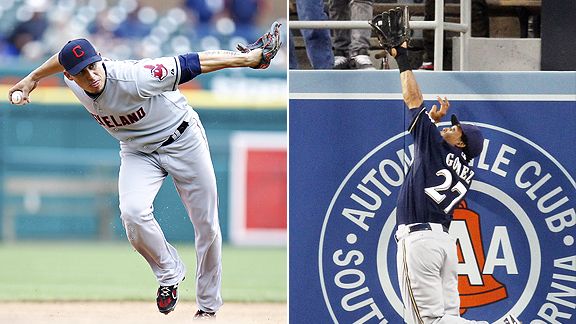 Getty Images/Gregory ShamusAsdrubal Cabrera and Carlos Gomez show off the skills that made them Defensive All-Stars.
With the All-Star break almost over, and as we await the resumption of baseball on Thursday, let's take a break from the typical chatter of second-half storylines, and shift our focus to the players on the field and the defensive All-Stars of the first half.
Baseball Info Solutions is a company specializing in determining the best (and worst) defensive players in more than 100 different metrics, from barehanded plays to home run robberies.
Using their data, here's our take on the players in the first half that have been good enough to be called a Defensive All-Star. (Note: ranks are for the player at his position, unless otherwise noted)
Pitcher: Anibal Sanchez, Marlins
Most Barehanded Plays For Outs (5)
Sanchez is averaging more than a strikeout per inning, but he gets on this list because of his defense while on the mound.
Catcher: Yadier Molina, Cardinals
Most Catcher Blocks (401)
Yadier is known for a strong arm, having thrown out over 40 percent of baserunners during his career. This season he also leads everyone in catcher blocks, defined as plays when runners are on base or if the pitch was the third strike.
First Base: Carlos Pena, Cubs
Most Difficult Throws Handled (32)
Pena can likely thank
Starlin Castro
for this award, as the shortstop already has 18 errors this season. Handling difficult throws applies to throws in the dirt or throws wide of the bag.
Second Base: Brandon Phillips, Reds
Most Double Plays Turned Despite An Aggressive Slide (6)
Brandon Phillips has wowed many fans with his defensive Web gems, he's also one of the best at turning double plays.
Third Base: Aramis Ramirez, Cubs
Most Barehanded Plays For Outs (10)
Ramirez has not only been one of the Cubs best offensive players, hitting .298 with 15 home runs and a team leading 51 RBI, but he's also been a star on the diamond, converting 10 barehanded plays into outs.
Shortstop: Asdrubal Cabrera, Indians
Most Web Gems (11) and Web Gems Points in MLB (41)
Asdrubal Cabrera has been a familiar face on Baseball Tonight, as a four-time Web Gem champ. Between two behind the back flips, a bare-hander on a short hop, and a diving stop and throw in a defensive shift, Cabrera has done it all defensively this season.
Left Field: Sam Fuld, Rays
Most Web Gems Either 1st or 2nd in MLB (9)
Despite being second in both Web Gems and Web Gem points, Fuld has more Web Gems rated as first- or second-best than any other player.
Center Field: Carlos Gomez, Brewers
Tied for Most Home Run Robberies in MLB (2)
Taking away a home run might be the most exciting play in baseball, and Gomez has done it twice, once with the bases empty and once with
Carlos Beltran
on first base, saving three potential runs.

Right Field: Nick Swisher, Yankees
Most Times Holding Players to a Single Among OF (6)
Swisher has recently begun to heat up at the plate, with seven homers and a .986 OPS since June 1, but his strong arm in the outfield has been an asset for the Yankees all season.
For more defensive stars, check out Baseball Tonight's Web Gems Mid-Year Special (11:30 ET, ESPN2).
May, 10, 2011
5/10/11
2:06
PM ET
By
David Bearman & Kenton Wong
| ESPN.com
Today's trivia:
Roy Halladay
pitches against
Josh Johnson
and the
Florida Marlins
tonight. Halladay threw a perfect game against the Marlins last year with Johnson on the mound. Only one pitcher has thrown multiple no-hitters against the same losing pitcher. Can you name the matchup?
Jeter on the rise?
Following a 2010 season when
Derek Jeter
had slash lines of .270/.340/.370 -- the lowest in his career for a full season -- critics argued that he was declining rapidly, both in the field and at the plate.
Entering play on Saturday, Jeter had been even worse: .250/.312/.268.

Jeter
What was most alarming was the lack of power.
Among 239 players with at least 75 plate appearances entering the weekend, Jeter ranked 223rd in slugging percentage at .268. That gave him an Isolated Power (ISO) of .018. (ISO measures how good a player is at hitting for extra bases. Last season the league average was .145.) Jeter's lowest ISO for a season is .100, which came last season.
Jeter also recently said that a couple of four-hit games would help get him back on track.
For the most part he was right.
Following a weekend during which Jeter went 6-for-11 with three extra-base hits (including his first two home runs of the season), his batting average jumped 26 points and his slugging percentage rose 82 points.
In terms of slugging percentage, Jeter had the second-best weekend among players with at least five at-bats, slugging 1.182. Only
Carlos Gomez
, who doubled twice and tripled in five at-bats for a 1.400 slugging percentage, topped Jeter.
The Yankees captain can build on his weekend by facing three
Kansas City Royals
pitchers that he's fared well against in his career. Jeter is a combined 21-for-55 (.382) with six extra-base hits against Kansas City's projected starters
Kyle Davies
,
Bruce Chen
and
Sean O'Sullivan
.
Bucs above .500
The
Pittsburgh Pirates
(18-17) have a winning record at the deepest point in a season since May 29, 2004, when they were 23-22. How do the Pirates -- who have finished with a losing record in each of the past 18 seasons -- have more wins than losses?

• 2.81 bullpen ERA -- 2004 was the last time the Pirates' bullpen finished with an ERA under four (3.59).
• 11 saves -- only the Rockies, Yankees and Giants have more. The last time the Pirates led the league in saves was 1991.
• 3.54 team ERA -- Pittsburgh has not had a team ERA under four since 1998. The Pirates' ERA has been above 4.50 each of the past five seasons.
• 11 road wins -- only the Angels have more (12). The last time the Pirates finished with a winning road record? 1992 (43-38), which was the last time they made the postseason.
Trivia answer:
In 1973, Kansas City Royals pitcher Steve Busby no-hit the
Detroit Tigers
with Clyde Wright as the opposing pitcher. Busby's second no-hitter came in 1974 against the Brewers, with Wright the opposing starting pitcher.
March, 31, 2011
3/31/11
8:43
PM ET
By
ESPN Stats & Info
| ESPN.com

Back-to-back home runs by
Rickie Weeks
and
Carlos Gomez
in the top of the first inning were only the start of the action at the Great American Ball Park on Opening Day. Even after Weeks and Gomez made the
Milwaukee Brewers
the first team to start a season with consecutive home runs since the 1969
Cincinnati Reds
, there was still plenty of history to be made Thursday.
Trailing 6-3 entering the bottom of the ninth, Ramon Hernandez's third career walk-off home run capped the Reds four-run rally and gave Cincinnati its third straight win over the Brewers. The Elias Sports Bureau says Hernandez is the first catcher with a walk-off homer in his team's first game of the season since Gary Carter's solo home run in the bottom of the 10th inning gave the
New York Mets
a 6-5 win over the
St. Louis Cardinals
on April 9, 1985.
Late rallies are nothing new to the Reds, who finished third in the majors with 45 come-from-behind wins in 2010. But even the biggest Reds fan couldn't have been confident entering the bottom of the ninth facing a three-run deficit. Historical data shows that teams trailing by three runs entering the bottom of the ninth inning win only 5.4% of the time. Don't tell that to the Reds, who are now 1-0 for the first time since 2007.
Elsewhere in the majors Thursday:
•
Albert Pujols
' 2011 season got off to the worst start possible as he went 0-5 and grounded into a career-high three double plays against the
San Diego Padres
. Pujols is the first player in MLB history to ground into three double plays on Opening Day, according to the Elias Sports Bureau. He's also the first player to go 0-5 with three or more GIDP in any game since
Miguel Tejada
on September 10, 2009.
• The
New York Yankees
won their 11th straight Opening Day game when playing at home, a streak that dates back to 1986. That ties an MLB record also held by the New York Mets, who won 11 straight Opening Day games at home from 1971-89.
•
Jason Heyward
became the second player ever to homer on Opening Day in each of his first two seasons as the
Atlanta Braves
blanked the
Washington Nationals
2-0. The Elias Sports Bureau tells us Heyward joined Kaz Matsui, who did it in 2004 and 2005.
March, 18, 2010
3/18/10
3:00
PM ET
By
Ryan McCrystal, ESPN Stats & Info
| ESPN.com
After a disappointing two-year tenure with the Twins,
Carlos Gomez
was shipped to Milwaukee this offseason in the
J.J. Hardy
trade. The Twins lost patience with the lynchpin of the
Johan Santana
deal, in part, because of his lack of patience.
During his time with the Twins, Gomez had a tendency to be overaggressive at the plate. He swung at the first pitch 42.4 percent of the time, the 4
th
highest percentage in the American League.
Swinging at the first pitch isn't
always
a bad idea. But it isn't a strategy that suits Gomez's skill set. The types of players who swing at the first pitch are often power hitters. On an 0-0 count its often a good bet that you'll see a fastball, and power hitters can use this to their advantage. A player such as Gomez, who isn't relied upon to drive in runs, is more valuable and will often find more success when he's working the count.
Carlos Gomez swung at the first pitch the fifth-most often of anyone in baseball. To give his aggressive tendencies some context, take a look at the AL leaders in 1
st
-pitch swing percentage over the past two seasons and each player's slugging percentage.
Delmon Young: 47.2 (.413 slug pct)
Vladimir Guerrero 47.2 (.496 slug pct)
Josh Hamilton 46.4 (.494 slug pct)
Carlos Gomez 42.4 (.352 slug pct)
Magglio Ordonez 39.0 (.464 slug pct)
Gomez's .352 slugging percentage is more than 50 points lower than anyone else in the top five.
But enough with the criticisms of Gomez, let's focus on the positives and why he's "One2Watch4."
While Gomez's patience at the plate was disappointing during his time in Minnesota, he did show improvement. From 2008 to 2009 his 1
st
pitch swing percentage dropped by nearly seven percentage points. His percent of pitches taken also increased from 45 to nearly 49 percent. Both numbers could still improve further, but it's a start.
Perhaps Brewers' hitting coach Dale Sveum will be able to put the finishing touches on Gomez's approach at the plate. Under Sveum's guidance in 2009 the Brewers were one of the league's most patient teams. They took 56.9 percent of pitches, the 5
th
highest total in the league and the highest among non-playoff teams (the four teams above them: the Red Sox, Yankees, Dodgers, and Phillies).
There's no denying that Gomez has work to do to live up to his original expectations. His raw numbers in 2009 were less than impressive. But if Sveum and the Brewers coaching staff can continue to develop his approach to the plate, there's reason to believe Gomez could turn things around in Milwaukee.