April, 1, 2011
4/01/11
11:19
AM ET
Today's Trivia:
For the first time since 2002,
Roy Oswalt
will not be the Opening Day starter for the
Houston Astros
. Who was the Opening Day starter for the Astros in 2002?
Quick Hits:
A quick look at more Opening Day longevity.
* With
Vladimir Guerrero
gone, the
Texas Rangers
will have a different Opening Day designated hitter for the 12th straight season. The last to go back-to-back was
Rafael Palmeiro
in 1999-2000.

Crawford
* The most storied position in franchise history, the
Boston Red Sox
may have finally found their man in left.
Carl Crawford
will be the fourth different Opening Day starter in as many years. That hasn't happened in Boston since 1973-76 when the team was transitioning from Carl Yastrzemski to Jim Rice.
* The
Chicago White Sox
appear set to start the same outfield trio that began the 2010 season. In the past 35 years, the White Sox have had the same Opening Day outfield in back-to-back seasons just once. That was in 2003-04 with
Carlos Lee
,
Aaron Rowand
and
Magglio Ordonez
.
* Here's a glimmer of hope for
New York Mets
fans: the Mets have won five straight games on Opening Day, the longest active Opening Day win streak. Of course, Friday starter
Mike Pelfrey
may not evoke memories of
Johan Santana
or
Tom Glavine
, the starting pitchers in those five Mets wins.
* Conversely, no team has a worse recent Opening Day history than the
Oakland Athletics
. The A's have lost six straight times on Opening Day, the longest current streak in baseball. Oakland's most recent win was 2004, which was the last Opening Day start that
Tim Hudson
made in an A's uniform.
* Apart from first base, the entire
Minnesota Twins
infield falls into this category. In its Opening Day lineup, Minnesota will have its fifth second baseman in five years and eighth shortstop in eight years. It also will be the ninth straight year that the starting third baseman is different from the year before.
*
Evan Longoria
will be the only player in the
Tampa Bay Rays
lineup who started each of the last two opening days.
*
Yunel Escobar
will be the
Toronto Blue Jays
sixth different Opening Day shortstop in six years.
Russ Adams
was the last to start back-to-back openers in 2005-06.
* Similarly,
Josh Willingham
will be the A's 12th Opening Day leftfielder in 12 years.
Ben Grieve
was the last to go back-to-back.
*
Carlos Beltran
is expected to be the 13th different person to man right field on Opening Day for the Mets in the past 15 years. Only
Ryan Church
and
Jeromy Burnitz
managed two such starts in that span, which included the likes of
Eric Valent
and Butch Huskey.

* The
Colorado Rockies
have only had two Opening Day first basemen:
Todd Helton
and
Andres Galarraga
.
Jose Lopez
will be the 14th to start at second in the opener. The last to do so in back-to-back seasons was
Mike Lansing
(1998-2000).
*
Kevin Correia
will be the 15th different Opener Day starter for the
Pittsburgh Pirates
in 19 years. That's the period since Doug Drabek left via free agency.
Trivia Answer:
Wade Miller
was the last Astros pitcher not named Roy Oswalt to start on Opening Day.
August, 30, 2010
8/30/10
2:34
PM ET
By
Gregg Found, ESPN Stats & Info
| ESPN.com
Today's Trivia
:
Trevor Hoffman
has his first opportunity to nab save No. 600 tonight, so let's take a look back at his career with a two-part trivia question.
You might not have realized that Hoffman's first career save came not with the
San Diego Padres
but with the
Florida Marlins
. Hoffman played on that inaugural Marlin team in 1993 but was traded in the middle of the season to the Padres. Who was the big name on the other end of the deal that was traded for Hoffman?
In Hoffman's career, only two closers have won Cy Young awards –
Eric Gagne
and Dennis Eckersley. But Hoffman TWICE finished as the runner-up in Cy voting. Who did he lose to? Bonus points if you know the year.
Quick Hits
: If Sunday was Manny Ramirez's last game and last plate appearance with the
Los Angeles Dodgers
, then he went out with an … extended thumb. Manny's ejection, after arguing about a strike call that PitchFX had located 3.8 inches off the outside corner, was certainly a memorable and odd way to finish a stint with a team. Let's take a look at some of Manny's other openers and closers with the team's he has played for in his 18-year career:
• His MLB debut, in 1993 with the
Cleveland Indians
, didn't come until September as a call-up. In his first-ever game, Manny was the DH and went 0-for-4, though he didn't strike out. It was the first of 268 times that Manny has gone 0-4 or worse in his career, though only 68 of them didn't include a strikeout.
• He went out with a bang, or more appropriately, a bomb with the Indians, homering in his last game. In fact, Manny finished his Cleveland career by homering in each of his last three games. Manny has had 20 streaks of three-plus games with a home run in his career.
• There's more: Manny also had two-plus hits in each of those last three games with the Indians. He's only had seven streaks of three-plus games with two hits and a homer in his career, and his streak to finish his Indians career was one of them.
• In his first game with the
Boston Red Sox
, Manny went 1-3 and only lasted seven innings before being lifted for a pinch runner,
Darren Lewis
. Not a smart decision by Jimy Williams, then the Red Sox manager. The Sox ended up losing, 2-1 in extra innings, and Manny would have had two more at-bats in the game. Instead, Lewis took those at-bats and went 0-2.
• Manny's last game with Boston was a lesson in bad breakups. Ramirez went 0-3, then gave this quote: "The Red Sox don't deserve a player like me," he said in an interview with ESPNdeportes.com. "During my years here I've seen how they have mistreated other great players when they didn't want them to try to turn the fans against them."
• His first game as a Dodger had better numbers: 2-4 at the plate, the only Dodger in the lineup that day who got multiple hits against Diamondbacks starter
Randy Johnson
. But in the bottom of the ninth with the Dodgers down a run, Manny had a chance to have an extra-special debut and send Dodgers fans into a frenzy. Instead, he grounded into a double play with a runner on base, sealing the Dodgers' loss.
Today's Leaderboard
: You'll never guess where Manny's new team is playing this week. They're headed to Cleveland and then Boston – two locations pretty familiar to Ramirez. Thank the baseball scheduling gods for their sense of timing.
There are only two stadiums where Manny has not had a plate appearance - Target Field and the new Yankee Stadium. The White Sox don't travel to either park the rest of the year, so Manny won't be able to cross those off his list yet.
Key Matchups
:
Trevor Cahill
enters tonight's matchup with the
New York Yankees
on an absolute tear. He has a 1.00 ERA over his last seven starts, throwing a quality start every time. Cahill has faced the Yankees only once in his two-year career, and it came earlier this season. That start was one of the worst of the year for Cahill, allowing six ER in six innings. But it was
Alex Rodriguez
who did most of the damage, hitting two home runs. That won't be the case this time around - A-Rod is on the DL, and the rest of the Yanks haven't had much success against Cahill. All other Yankees are 3-22 (.136 BA).
• Something to keep an eye on when
Pat Misch
tries to limit the
Atlanta Braves
in tonight's ESPN game: in his career Misch allows a .256 batting average when the bases are empty but that jumps to .322 when there are runners on. Pretty odd numbers for a former reliever that should be used to pitching out of the stretch. Those numbers are even more disparate this season: .222 opponents' BA when the bases are empty, .379 with runners on.
• Among all active batters whom
Jake Westbrook
has faced more than 30 times,
Carlos Lee
is hitting them the hardest. Lee has a career .406 BA and .594 slugging percentage against Westbrook, whom he'll face tonight in Houston. Lee and Westbrook spent most of their duels in AL Central play when Lee was on the White Sox and Westbrook an Indian.
Trivia Answer
: On the other end of the deal was
Gary Sheffield
, who went to the Marlins in June. Just for fun, Sheffield batted just .150 (3-20) with seven strikeouts in his career against Hoffman.
Hoffman was runner-up for the Cy in 1998 to
Tom Glavine
. Hoffman's Padres beat Glavine's Braves that year in the NLCS. In 2006, Hoffman finished second to
Brandon Webb
.
August, 25, 2010
8/25/10
4:30
PM ET
By
Gregg Found & Matt Willis
| ESPN.com
Today's Trivia:
Today is Rollie Fingers' birthday, which means they're probably celebrating in both Oakland and Milwaukee. After all, both the A's and Brewers have retired Fingers No. 34 jersey. Fingers is one of just nine players in history to have his jersey retired by more than one team.
So your question is – which two other players have a jersey No. 34 retired in MLB? Hint: one of the two, like Fingers, is part of the nine-member club that has had a jersey retired by multiple teams.
Quick Hits:
Move to the edge of your seat tonight when
Hiroki Kuroda
comes to the plate. Kuroda has managed to go 0-40 at bat this season and is on the verge of history. Only eight previous players since 1901 have had an 0-fer season with at least 40 at-bats. Can we get Kuroda out of his "slump" by delving deeper into his numbers?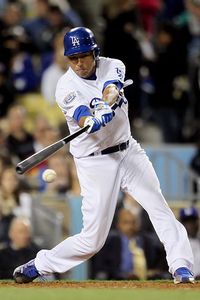 Jeff Gross/Getty Images
Hiroki Kuroda's hitting woes this season are reaching historic proportions
• Of his 40 at-bats, 18 have ended in strikeouts. Those K's have come at inopportune times, too – his only two plate appearances with the bases loaded? They ended in strikeouts. His 14 at-bats with the game tied? Six ended in strikeouts.
• Two pitchers in particular have especially feasted off Kuroda's meekness.
Aaron Harang
has faced him five times and
Edwin Jackson
has faced him four times. Kuroda, obviously, has gone o-fer against both.
• If you believe in OPS+ (which is OPS adjusted for league and ballpark), you probably don't believe in Kuroda. His OPS+ checks in at -85, almost as impressive as it is awful. Among anyone who has batted more than 20 times this season, that's the worst. But have no fear Kuroda – the wunderkind is close behind. Stephen Strasburg's OPS+ is a not-much-better -73.
• But it's not ALL bad for Kuroda – twice, he's drawn a walk! That gives him a whopping .048 on-base percentage. In fact, on one of those occasions, he even scored a run. It came against
Bud Norris
and the Astros, when
Manny Ramirez
drove Kuroda in. It's the only time Kuroda has touched home plate this season.
• Maybe place discipline is what's killing Kuroda. Only eight times this season has he reached a three-ball count. Only seven times has he seen a 2-0 count.
• So how many chances does he have left? Well, figure he'll make about seven more starts this season, including tonight. He's averaging 2.08 PA per start. So bank on Kuroda getting about 14 or 15 trips to the plate the rest of the year. Talk about drama. Only two players have gone 0-50 or worse in a season: Bill Wight in 1950 and Bob Buhl in 1962.
Today's Leaderboard:
It's always fascinating when a batter gets the green light (or sometimes gives himself the green light) to break one of the unwritten rules of baseball and swing on a 3-0 count. But so far this season, batters have swung on a 3-0 count 6.1 percent of the time. In fact,
Adam Dunn
and
Jose Bautista
each have two home runs this season on 3-0 counts. So maybe the rule isn't that ironclad.
With a nod to a batter's decision as the count move along, let's look at the times where batters are MOST likely to take the bat off their shoulder, and in which count they're most likely to get a hit.
Key Matchups:
• Lock
J.D. Drew
up for treason – he shows no respect for the King. King Felix that is, who has faced Drew 23 times and allowed Drew to dishonor him for a .400 BA and 1.028 OPS. Among the 47 batters who
Felix Hernandez
has faced as often as Drew, Drew's OPS ranks third. In their most recent showdown, July of last year, Drew homered off Hernandez.
• If the Rangers are thinking ahead, they'll take as many pitches as they can from
Brian Duensing
to scout his stuff. Duensing is a potential playoff opponent, and only four Rangers batters have ever hit against him.
Elvis Andrus
,
Josh Hamilton
,
David Murphy
and
Michael Young
are a combined 3-16 (.188 BA) against him.
•
Carlos Lee
hasn't seen a ton of
Roy Halladay
, but when he has, he's hit him. Lee has three homers off of Halladay is just 23 at-bats. Among all the other batters who have faced Halladay, only
Luke Scott
and
Justin Morneau
have as many homers in as few at-bats. Lee has a career .639 slugging percentage against Halladay, but that might be on its way down – in their previous meeting this season, Lee went 0-4 with two strikeouts against Halladay.
• Speaking of Halladay, he has a chance to win the pitching triple crown this season (ERA, Wins, Strikeouts).

Although it's slightly more commonly done than the batting triple crown (30 pitching triple crowns vs 13 hitting triple crowns since 1900), it's still a remarkable accomplishment. Entering Wednesday, Halladay led the NL in ERA and strikeouts, and was only one behind
Adam Wainwright
and
Ubaldo Jimenez
in wins.
Jake Peavy
last won the pitching triple crown in 2007 and it has been won three times in the last eight seasons, but in the National League, it's only been won four times since Sandy Koufax won three in a four-year span (1963, 65, 66).
If the remarkable happens and we get a pitching and hitting triple crown in the same season, then we start talking some real baseball history. A pitching and hitting triple crown hasn't been won in the same season since 1966, when Frank Robinson and Sandy Koufax won them. Both of those players now have plaques in Cooperstown.
If Pujols/Votto and Halladay win their respective triple crowns in the National League, they'd be the first National Leaguers to win their respective triple crowns in the same season since 1894. It's happened twice before in the American League -- in 1901 (Nap Lajoie and Cy Young), and 1934 (Lou Gehrig and Lefty Gomez)
Trivia Answer:
Kirby Puckett has his No. 34 retired by the Twins, and Nolan Ryan has his No. 34 retired by BOTH the Rangers and Astros. Ryan also has his No. 30 jersey retired by the Angels.
Just for fun – Puckett went 1-4 against Fingers in his career, managing a single in his first-ever at-bat against Fingers.
August, 4, 2010
8/04/10
1:13
PM ET
By
Gregg Found, ESPN Stats & Info
| ESPN.com
Today's Trivia
:
Jonathan Sanchez
struck out seven consecutive
Colorado Rockies
on Tuesday, something that only
Francisco Liriano
and
Stephen Strasburg
have done this season. What's the MLB record for most consecutive strikeouts in a game and who holds it? (Hint: a
San Diego Padres
lineup featuring Cito Gaston batting third was the opponent in that game)
Bonus: It's Roger Clemens' birthday today – what is Clemens' personal record for consecutive strikeouts in a game and against which team?
Quick Hits
: On the other No. 600 home runs now that
Alex Rodriguez
has launched his...
Like Rodriguez, Ken Griffey Jr.'s 600th came in the first inning. But Griffey went 0-3 with a strikeout in the rest of his at-bats in that game.
Sammy Sosa's 600th not only came against his former team (the Cubs), it was the first of back-to-back home runs.
Frank Catalanotto
followed Sosa with a blast off
Jason Marquis
. But neither Sosa, Catalanotto nor Marquis are still with their teams from that game.
Barry Bonds' milestone bomb also came against his former team, the Pirates. It was served up by
Kip Wells
, whom Bonds batted .500 against (5-10) with 2 HR in his career.
Hank Aaron chose a Hall-of-Fame pitcher, Gaylord Perry, to hit his 600th against. Guess who batted third and fourth for Perry's teammates on the Giants that day? Willie Mays and Willie McCovey. McCovey homered in that game too, the 353rd of his career.
Speaking of Mays, it was good that he hit his home run when he did. Mays didn't homer for the rest of the season (granted there were only six games left), and batted .167 the rest of the way.
Babe Ruth's 600th home run came against the St. Louis Browns at Sportsmans Park, and at a good time for the Yankees. That game was the second of a seven-game win streak, in the midst of a (not a typo) 20-game road trip for the Yanks.
Today's Leaderboard
:
Mike Lowell
was welcomed back to the
Boston Red Sox
lineup on Tuesday with a standing ovation from the Fenway Park crowd and then promptly hit a first-pitch home run. It's the first first-pitch HR of the season for Lowell, who only swings at the first pitch 21 percent of the time (in limited action) this season.
So let's take a look at the guys who usually go up hacking on the first offering. You can probably guess No. 1 on this list.
Guerrero's seven HR on the first pitch lead MLB, but he's tied with several other sluggers –
Vernon Wells
,
Geovany Soto
,
Colby Rasmus
and MLB home run leader
Jose Bautista
.
Key Matchups
:
Edwin Jackson
starts tonight against his former team (one of several former teams), and he'll be happy to see
Johnny Damon
in the Tigers lineup. Damon is batting .154 (4-26) in his career against Jackson and slugging just .192. Damon's only career extra-base hit against Jackson actually came this season in interleague play when Jackson was a Diamondback.
Aaron Rowand
has 33 career PA against
Ubaldo Jimenez
– only two players have more – but familiarity hasn't bred success. Rowand is batting .200 against Jimenez with more strikeouts (nine) than hits (six). Jimenez figures to attack Rowand rather than
Pablo Sandoval
, who is batting .400 (10-25) and slugging .680 in his career against Jimenez.
Carlos Lee
is batting .189 in his career against
Chris Carpenter
, including 11 strikeouts. Lee is Carpenter's 2nd-most popular strikeout victim; only
Jason Bay
(13 K) has more whiffs against Carpenter.
Trivia Answer
: Tom Seaver is the record holder, striking out 10 straight in April 1970. Seaver struck out the final 10 Padres batters of the game. Clemens' personal record is eight straight, done in his record 20-K game against the
Seattle Mariners
in April of 1986. Clemens victimized Phil Bradley four times in that game.
August, 2, 2010
8/02/10
10:42
AM ET
By
Gregg Found, ESPN Stats & Info
| ESPN.com
Today's Trivia
:
Alex Rodriguez
struck out as a pinch-hitter in Sunday's game against the
Tampa Bay Rays
, leaving him stuck on 599 home runs for another game. The strikeout dropped A-Rod to 0-10 as a pinch-hitter in his career. Only two active major leaguers have worse career numbers as a pinch hitter. Who are they?
(Hint: one was an All-Star last season for a team that currently leads its division. The other has a career BA of .224 and is a former teammate of Rodriguez's with the Yankees.)
Quick Hits
on the number 59 in baseball after golfer Stuart Appelby carded a 59 to win the Greenbrier Classic (thanks to researcher Paul Carr for several items)...
Only one team has exactly
59
games left this season: the
San Diego Padres
, who are 61-42 through 103 games. Every other team has fewer games left, some as few as 55.
Your MLB leader in games pitched this season is the oft-used
Pedro Feliciano
, who has appeared in
59
.
Hall-of-Famer Satchel Paige pitched his final major-league game at age
59
. He started for the Kansas City Athletics on September 25, 1965 and allowed just one hit in three shutout innings.
The active MLB player who has hit the most doubles in a season is
Todd Helton
, who hit
59
in 2000. Helton finished eight shy of the record 67 doubles by Earl Webb in 1931.
Only one player has ever hit exactly
59
home runs in a season. That was Babe Ruth, who broke his own single-season record in 1921 when he hit 59 homers, a record that stood for six years until Ruth broke it again.
No current MLB pitcher has exactly
59
career wins. One player has 58, but he might not get his 59th for a while.
Oliver Perez
is that player, and he's 0-4 this season and hasn't won since August of last season.
Today's Leaderboard
: After an intentional walk to the batter in front of him,
Jason Kubel
blew open a scoreless game in the sixth with a bases-loaded double against the
Seattle Mariners
on Sunday. Kubel had to feel comfortable at the plate in that situation – he's among the league leaders in bases-loaded plate appearances this season.
Would you believe that two Minneosta Twins are on this list and neither are typical No. 4 batter
Justin Morneau
or No. 5 batter
Michael Cuddyer
?
Key Matchups
: Here's the daily A-Rod vs Opposing Starter update: Rodriguez is 4-15 (.267 BA) in his career against
Brandon Morrow
. He does have one career HR against Morrow, however, it came at a stadium that isn't in use anymore. Rodriguez hit it in 2007 at old Yankee Stadium.
The first name Bobby Cox should write when he makes his lineup tonight against
Johan Santana
is
Matt Diaz
. Diaz is 14-26 (.538 BA) with a HR in his career against Santana. That's the highest BA by any active player who has come to the plate at least 20 times against Santana (and there are 101 such players).
It's probably for two reasons – the young
Houston Astros
roster and the fact that he has pitched his whole career in the AL until tonight – but
Jake Westbrook
has only faced one current Astro before. And he might want to stay away from that one tonight when he debuts for the Cardinals.
Carlos Lee
is batting .400 (12-30) and slugging .600 against Westbrook in his career. (Note: Westbrook has faced
Geoff Blum
before, but Blum is on the DL for the Astros)
Trivia Answer
:
Wil Nieves
(A-Rod's former teammate) is 0-16 in his career and
Texas Rangers
2009 All-Star
Nelson Cruz
is 0-14.
June, 30, 2010
6/30/10
1:53
PM ET
By
Jeremy Lundblad, ESPN Stats & Info
| ESPN.com
Quick Hits
: Not all statistical categories are created equal, but they all have a leader. Let's take a look at some of the more obscure – and in some cases meaningless – league leaders.
On Tuesday, David Murphy reached base by catcher's interference for the third time this season, which leads the majors. The last player with more than 3 in a season? Edwin Encarnacion who had four in 2007.
Derek Jeter leads the majors with 181 ground balls, 22 more than the next player, according to STATS LLC. Having led the majors with 316 in 2009, Jeter is on pace for 385 grounders this season.
Carlos Lee is tops with 114 fly balls, though Rod Barajas has 108 in 89 fewer at-bats than Lee.
Vladimir Guerrero has swung at the first pitch 152 times, which is 14 more than Vernon Wells. Over the last 35 years, the most first pitch swings in a season belongs to Nomar Garciaparra (381 in 2003).
Rafael Betancourt and Carlos Villanueva have both had three batters reach on a strikeout. Yet, it hasn't happened to Tim Wakefield this season. He is the active leader in that category with 46 in his career.
Zack Greinke has had the most batters reach on an error (8), but not the most unearned runs. That would be Felipe Paulino with 11.
Ross Ohlendorf leads the majors with four pickoff errors, which is more than every other team except the Tigers.
The Dodgers have had seven hitters reach on a strikeout, a huge number when you consider that 26 of 30 teams have three or fewer.
Dave Bush leads the majors with seven sacrifice flies against with seven. But how about the Diamondbacks' Carlos Rosa? He's given up five sac flies in just 13.1 innings of work.
Derek Lowe is on pace to issue 18 intentional walks, which would be the most since Roger McDowell's 20 in 1991.
Justin Verlander has had the most pitches fouled off with 370.
Today's Trivia
:
Denard Span
tied the modern record with three triples in a game on Tuesday, the first player to do that since
Rafael Furcal
in 2002. Who holds the record for most at-bats in a season without a triple?
Today's Leaderboard
:
Dustin Pedroia
leads the majors having fouled off 294 pitches, according to Inside Edge. That accounts for 46.7 percent of the swings he's taken.
Ichiro Suzuki
(271) is the only other player with more than 260 fouls this season.
Key Matchups
:
Paul Konerko
is the batter that Zack Greinke has faced most in his career. He's held the White Sox slugger to a .137 batting average in 51 at-bats. According to the Elias Sports Bureau, that's the second lowest batting average in a matchup between two current AL players (min. 40 at-bats). Nick Swisher's .111 in 45 AB against
John Lackey
is the only one worse.
Of the 27 times that
Adrian Gonzalez
and
Jeff Francis
have done battle, the Padres slugger has struck out 11 times, or 40.7 percent of the time. That's his highest K rate against any pitcher he's faced at least 20 times. Overall, Gonzalez has hit .154 with a .454 OPS against Francis. The two haven't faced off since 2008, but Francis has struck out Gonzalez in five of the last six at-bats and retired him nine times in a row.
Trivia Answer
:
Aaron Hill
was without a triple in 682 at-bats last season, which set a record according the Elias Sports Bureau. In fact, he is in the midst of a streak of 1,394 consecutive at-bats without a triple. It's rather ironic for a player whose first career hit was a triple.
April, 20, 2010
4/20/10
1:34
PM ET
By
Jeremy Lundblad, ESPN Stats & Info
| ESPN.com
Today's Trivia
: Who is the youngest position player to win the NL Rookie of the Year?
Quick Hits
: Over their last five games, the Red Sox are 0-for-30 with runners in scoring position, which has certainly contributed to the fact that they haven't held a lead in their last 48 innings. Over that same stretch, the Nationals are hitting .408 with RISP, and have won four of their last five. Here are some quick hits on RISP:
*
Jason Heyward
is 8-for-11 (.727) with runners in scoring position, and just 5-for-32 (.156) otherwise. He leads the majors in batting average and OPS with RISP.
*
Tim Lincecum
is actually 2-for-2 with RISP and has already matched last season's RBI total (3).
* Scott Podsednik's 10 hits with RISP lead the majors, but all 10 are singles, so he only has six RBI in those situations.
* Among those still hitless with RISP?
Kevin Kouzmanoff
(0-15),
Adam Dunn
(0-12),
Carlos Lee
(0-10).
* Gary Matthews Jr. has 15 plate appearances with RISP. He does have one hit, but is still without an RBI in those situations.
*
Jose Bautista
is just 2-10 with RISP, but has walked eight times, which gives him a .526 on-base percentage.
*
Matt Capps
has held opponents hitless (0-11) with RISP, but has walked five.
* The Cardinals have held opponents to an MLB-best .172 BA with RISP, while the Cubs are in the basement at .340.
* As a group, the Red Sox outfield is 3-for-31 with RISP.
* Over their first eight games, the Astros hit .157 with runners in scoring position. Since then, they are hitting .444 with RISP, and have won three of four.
* The Rays are hitting an MLB-best .324 with RISP, but just .221 with the bases empty.
* With two outs and runners in scoring position, the Orioles are 5-53 (.094).
Today's Leaderboard
: The Rays' .324 batting average with RISP is far and away the best in the majors. The Yankees are tied for fifth at .286. But the rest of the AL East has not fared so well, as the Blue Jays, Red Sox and Orioles are all hitting under .200 and rank in the bottom five.
Key Matchups
: When you look at the active players who have had the most success against
Tim Wakefield
, one common trait sticks out: Free swingers. Among active players with at least 15 plate appearances against the knuckleballer, the top three in OPS are
Aaron Rowand
,
Vladimir Guerrero
and
Jose Lopez
. Guerrero faces Wakefield Tuesday looking to improve on a lifetime .429 average with five home runs. There was a point five years ago when Wakefield wouldn't even bother. In 2005, he intentionally walked Guerrero four times in seven plate appearances. In total, Wakefield has intentionally walked Guerrero five times, three more than any other batter he has faced.
For
Jason Bay
, one of the perks to returning the National League is the chance to face
Carlos Zambrano
with regularity. As a rookie in 2003, Bay had his breakout game against the Cubs righty with two home runs to go with eight RBI. Bay hasn't let up since. He has five career home runs against Zambrano, tied for his most against any pitcher. No hitter has more RBI against Zambrano than Bay's 16.
Trivia Answer
: Willie Mays turned 20 during his rookie campaign, and is the youngest position player to win the award in the NL. Jason Heyward turns 21 in August.
April, 12, 2010
4/12/10
1:41
PM ET
By
Jeremy Lundblad, ESPN Stats & Info
| ESPN.com
Today's Trivia
: With Target Field opening, name the only three remaining teams whose ballpark also is the home for a professional football team (question courtesy of Jeff Bennett)?
Quick Hits
: Some fun with early pitching oddities and irregularities.
*
Tim Lincecum
has retired the first batter in all 14 innings he has pitched this season, including six by way of strikeouts.
*
CC Sabathia
has held the leadoff hitter to a .100 batting average, but he has walked an MLB-high four leadoff hitters.
* Opponents have a BABIP (batting average on balls in play) of .000 against
Fausto Carmona
, yet a batting average of .059. Confused? The lone hit was a home run, and thus was not in-play.
* Consider this the tale of two closers: Opposing hitters have taken 19 swings against
Franklin Morales
, but have yet to swing and miss. They've swung at 15
Carlos Marmol
pitches and missed 10 times.
* Eight of the nine batters that Darren O'Day has faced have swung at the first pitch. The ninth was a called strike. That means O'Day has a 100.0 first-pitch strike percentage and has yet to see a 1-0 count.
* Not one of the 20 batters that
Rick Porcello
faced last week swung at the first pitch (12 of which were balls).
*
Charlie Haeger
had two batters reach on a strikeout on Sunday. That would have been tied for the second most in the majors all of last season!
Felix Hernandez
had four hitters reach on a strikeout in 2009, while no one else had more than two.
*
Jake Westbrook
already has four wild pitches and four hit batsmen. Last season, Fausto Carmona was the only Indians pitcher with four of each over the entire season.
Today's Leaderboard
: As the
Minnesota Twins
usher in a new era at Target Field, there are some who might be sad to see the Metrodome go. Among them?
Kevin Slowey
, who was 17-4 in the Twins' old home. That was the fourth best win percentage of anyone with ten decisions. Slowey will pitch the second ever game at Target Field on Wednesday, while
Carl Pavano
gets the ball today. Jack Morris and Juan Berenguer were both 23-5 at the Metrodome, tied for the best record there. Berenguer is particularly interesting given that he was just 44-57 everywhere else.
Key Matchups
: Both starting pitchers in today's Astros-Cardinals game have traditionally fared well against the biggest bat in the opposing lineup.
Albert Pujols
is just 5-31 in his career against
Wandy Rodriguez
, though interestingly he has only struck out once. That .161 average is easily Pujols' worst against any pitcher he has faced at least 25 times. However, after starting out 3-25, Pujols has a pair of doubles in his last six at-bats against Rodriguez.
In the other dugout,
Carlos Lee
probably didn't circle this game to break out of his 3-23 start to the season. Lee has hit just .050 (1-20) in his career against
Adam Wainwright
, his worst average against any pitcher that he's faced at least 15 times. That hit came back in 2007, and Lee is hitless in 15 plate appearances since.
Trivia Answer
: With the opening of Target Field only three MLB teams share their home park with a pro football team - the Blue Jays, Athletics, and Marlins. That continues a downward trend from multi-purpose stadiums. In 1970, 17 of 24 MLB teams shared stadiums including the Yankees, Tigers, and Cubs.
April, 8, 2010
4/08/10
2:34
AM ET
By
ESPN Stats & Info
| ESPN.com
Some of Wednesday's best notes from around the big leagues...
Why Cardinals Starter
Adam Wainwright
Won:
- Stayed ahead of hitters: against 25 batters, threw 18 first-pitch strikes (72 percent) and reached a 2-0 count just twice (8 percent).
- Hitters went 0-7 (3 K) vs curveball (.122 BA against curve in 2009).
Why Rays Starter
Matt Garza
Won:
- Kept himself in the game: 8 innings pitched is longest of season by a starter and Garza's longest in his last 12 starts.
- Good slider control: 79 percent for strikes (11-14) and 57 percent of pitches out of the zone were chased by hitters.
- Lefty power shut down: Orioles left-handed hitters were 1-16 (.063), including
Nick Markakis
and
Luke Scott
(combined 0-7, 4 K).
Hitter of the Night:
Edgar Renteria
, SF: 5-5, BB, 2 RBI.
- 4th career 5-hit game, including 2 hits off curveballs. Through 2 games this season, he has 3 hits against curveballs.
- Renteria was 3-31 (.097) against curveballs last season. He obviously did some work this offseason as he is a perfect 3-3 in 2010 against Uncle Charlie.
April, 7, 2010
4/07/10
11:28
PM ET
By
ESPN Stats & Info
| ESPN.com
Curtis Granderson's solo blast in the 10th inning off Jonathan Papelbon lifted the Yankees to a series win over the Red Sox. Interestingly enough, Granderson is now the only player in MLB to hit two home runs off Papelbon.The Yankees victory was also notable in that it was their 17th consecutive win in a game that was tied at the end of the seventh inning, breaking the modern MLB record held by the 1906 Giants.
Ryan Howard's two-run HR off Jason Marquis in the fifth inning was worthy of 'oohs' and 'ahhs'. Not only did it travel 434 feet, but at its apex, the ball was 172 feet high. That matches the second-highest home run ball since 2006. Carlos Lee—then of Brewers fame—got one to 177 feet high on May 24, 2006 against the Reds. Ian Kinsler hit a blast that reached an apex of 172 feet on May 24, 2009.
Giants shortstop Edgar Renteria had his fourth career five-hit game on Wednesday, including two hits off curveballs. Through two games this season, he's already matched his hit total of three against curves from 2009.
March, 25, 2010
3/25/10
9:30
AM ET
By
Matt Meyers, ESPN The Magazine
| ESPN.com
If you're anything like me, you spend your spare time leafing through the Bill James Handbook. (Cut me some slack, I have to fill the void until Opening Day.) If you're unfamiliar with the book, James devotes an entire chapter to baserunning, and he breaks down which players help and hurt their team's cause the most on the base paths. Needless to say, this is nothing short of eye-opening, and I've tweaked James' research a bit to reveal the five best (and worst) baserunners in baseball.

First, here's some background on how James measures baserunning. For example, if you go first to third on a single, it's plus-1, if you're thrown out, it's minus-1. Same goes for trying to go first to home on a double. If you take as many bases as the batter got, then it's nothing. For basestealing, it's plus-1 for a steal, but minus-2 for getting caught.

For the purposes of this analysis, let's ignore basestealing because we already know who the best thieves are anyway. What's most revealing about James' numbers is we can see who the best guys are once they are already on base. Sure, speed plays a role, but instincts and routes are vital as well. So, if we remove stolen bases from the equation, the best baserunners in 2009 were:

THE BEST
Ryan Braun, +27
Chase Utley, +27
Chone Figgins, +27
Colby Rasmus, +26
Maicer Izturis, +25

Some thoughts:
1) Braun is even better than I thought, and so is Utley. This also does not include Utley's perfect 23-for-23 stolen base season. I think we can safely say he is the smartest baserunner in the game.

2) Figgins and Izturis epitomize the Angels aggressive strategy. As a team, the Angels were +70 on the bases last year (excluding steals), which was the best in baseball. Anaheim went first to third on a single 128 times last year, which was 20 more than any other team.

3) Rasmus was safe going from second to home on a single 12 out of 13 times, and first to home on a double 7 out of 8.

THE WORST
Carlos Lee, -35
Juan Rivera, -35
Yadier Molina, -29
Adrian Gonzalez, -28
Mike Lowell, -27

A few more thoughts:
4) As James notes, both Lee and Rivera were thrown out eight times trying to go first to third on a single. You know what they say, "Fool me once, shame on you. Fool me eight times, then maybe I should stop trying to go first to third on a single."

5) Molina was actually +3 as a basestealer (9-for-12).

6) Yes, Adrian Gonzalez is as slow as he looks.

7) Mike Lowell was on first base on ten occasions when a double was hit. He did not score once.

That's a nice segue into one of the more interesting tidbits in the chapter. Last year, when there was NOT a man on on second, runners on first scored 42.6% of the time on a double. When there was a guy on second, runners from first scored 45.3%. You read that right, there is no such thing as clogging the bases. Unless it's Carlos Lee out there.

Matt Meyers is an associate editor for ESPN The Magazine
March, 5, 2010
3/05/10
8:00
AM ET
By
Joe Pawlikowski, FanGraphs
| ESPN.com
Prince Fielder
is a big dude. In fact, according to
Baseball Reference.com
, he is the only position player in baseball history to weigh over 250 pounds while measuring under six feet tall (he's listed at 5-foot-11, 270). Fielder puts his size to good use, though. Over the past three seasons he has hit 130 home runs, second among all major leaguers. It's no surprise that many
Milwaukee Brewers
fans dread the 2011-2012 offseason, when Fielder will reach the six years of service time required to hit free agency.
Last winter,
Mark Teixeira
signed an eight-year, $180 million contract, and he's not a significantly better hitter than Fielder. But, considering the risks a multi-year deal poses, teams may consider Fielder's weight a deterrent. Only 14 position players in baseball history have weighed more than 260 pounds, and all of them have at least a few inches on Fielder. This leaves us with few players for comparison in terms of body mass.
The two best comparables on the list are
Carlos Lee
and
Dmitri Young
. Lee hasn't faced many weight-related issues, and in fact has remained healthy for most of his career. The only significant time he missed over the past seven years was the result of a
Bronson Arroyo
pitch that broke his pinky finger in 2008. Young provides a more cautionary tale. Baseball America's No. 29 overall prospect in 1997, he started his career strong, hitting 72 home runs and 157 doubles in his first five MLB seasons. He posted inconsistent numbers over the next seven seasons and was out of baseball at 34.
Two other names stand out as comparables.
Mo Vaughn
struggled during his first two years in the league, but broke out at age 25 and became one of the league's premier sluggers. By age 31 his performance was in decline, and he missed all of his age-33 season to injuries, before finding himself out of the game by 35. Prince's father, Cecil Fielder, was also out of baseball by age 35.
Prince will be 27 in the first year of his new deal. Chances are, if he continues to produce, some team will take the risk that he can buck the odds and remain a marquee attraction deep into his 30s.
Joe Pawlikowski is an author of
FanGraphs
.
March, 2, 2010
3/02/10
1:30
PM ET
By
Mark Simon, ESPN Stats & Info
| ESPN.com
The name Carlos used to evoke an image of power and strength. But no more.
Carlos Delgado is hurting. Carlos Beltran is hurting. Carlos Quentin and Carlos Zambrano
were
hurting (Zambrano showed power and strength in attacking a Gatorade cooler). Carlos Pena led the AL in home runs, but is coming off a season with a .227 batting average, and I've read some say he's heading into a decline coming into his free agent season. Carlos Lee produced, with a .300 batting average and 26 home runs (his fewest since 2002), but his teams win total declined by 12 from 2008 to 2009 and finished with just 75 victories. Carlos Guillen played in his fewest games (81) since 2000.
Over the last three seasons, the Carlos's have slugged 502 home runs. Only one first name has slugged more home runs than that, and we'll note which that is at the conclusion of this post.
What we're left to wonder for 2010 is a question which we pose to you.
Can you tell us which Carlos will hit the most home runs in 2010?
The lead candidate for the top spot would seem to be Pena, and his three straight 30+ home run seasons (a Carlos has hit 30+ every year since 1997), but is it not possible that Lee could maintain the consistent level necessary to wrest away the top spot (he's hit 25+ in eight straight seasons)?
Or could Quentin hit home runs at the same rate that netted him 36 in 2008? Beltran would seem to be a longshot, and Zambrano would be good for some yuks, but a fun pick might be a year or so away- top Indians catching prospect Carlos Santana hit 23 in Double-A last season.
Let us know your thoughts in the comments section, or vote in our "
Carlos" poll
.
And by the way, the first name with most home runs over the last three seasons: Ryan, with 617.