Stats & Info:

Carlos Martinez
July, 19, 2014
Jul 19
9:27
PM ET
By
ESPN Stats & Information
| ESPN.com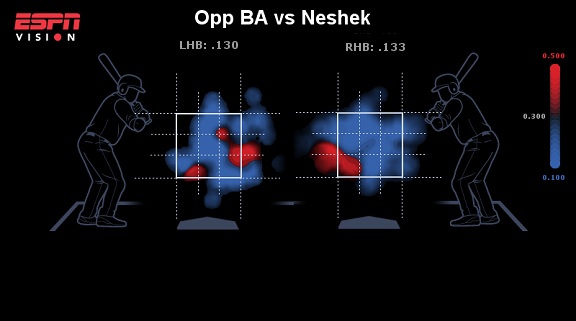 Clayton Kershaw
might not have a scoreless streak going any more, but he figures to be tough to beat when the
Los Angeles Dodgers
visit the
St. Louis Cardinals
on Sunday Night Baseball.
Here are some of the stories our broadcast crew will be focusing on tonight.
The greatness of Kershaw
Since the start of June, Kershaw is 8–0 with 80 strikeouts and an 0.74 ERA in eight starts. The Elias Sports Bureau notes that Kershaw is the only pitcher in major league history to win eight consecutive starts within a single season with at least 80 strikeouts and an ERA under 1.00 over that span.
Kershaw pitched against the Cardinals on June 29 and struck out 13 in seven scoreless innings. He had a particularly wicked slider that night and whiffed eight hitters with it.
That pitch ranks among the best in the sport and nets misses on 54 percent of swings. Opponents have made 90 outs while getting 13 hits and two walks against that pitch this season.
Over the four-start stretch from June 18 to July 4, Kershaw got 38 outs with the pitch and yielded only one hit and one walk with it.
It was a slider on which Kershaw's scoreless streak ended, however, with
Chase Headley
hitting a home run against a rare hanger in his latest start.
Carlos Martinez Stat to Watch
St. Louis Cardinals starter Carlos Martinez has the highest average fastball velocity of any pitcher to throw at least 50 innings this season (96.8 mph). He's a smidge ahead of
Kansas City Royals
starter
Yordano Ventura
(96.7). An optimal maneuver for the Dodgers would be to start
Carl Crawford
somewhere in their outfield. Crawford is 11-for-18 with a double and a home run against pitches of 95 mph or faster this season.
Dee Gordon
has also fared well against those pitches. He's 10-for-31 with eight walks in at-bats ending with pitches that speed. Seven of the 10 hits have come from either hitting the ball up the middle or hitting it to the left side.
Some notable Dodgers have been beaten by the heat a bit this season.
Matt Kemp
(.182),
Yasiel Puig
(.167) and
Adrian Gonzalez
(.154) all have hit sub-.200 against pitches of that speed in 2014.
The Cardinals secret weapon
Pat Neshek
showed that which made him an All-Star in Saturday's win, as he struck out Matt Kemp and
Hanley Ramirez
to preserve a two-run lead with the tying run at the plate in the eighth inning.
Neshek has arguably been tougher to hit than Kershaw this season (take a look at Neshek's heat map below). He's faced 145 batters and held them to a .132/.179/.162 slash line, with only two extra-base hits. Lefties and righties have nearly identical numbers against him, with lefties hitting .130 and righties hitting .133.
Neshek lost the All-Star Game, but that appears to have been a minor blip. Opponents have only one hit in 30 at-bats against him in his past 16 appearances.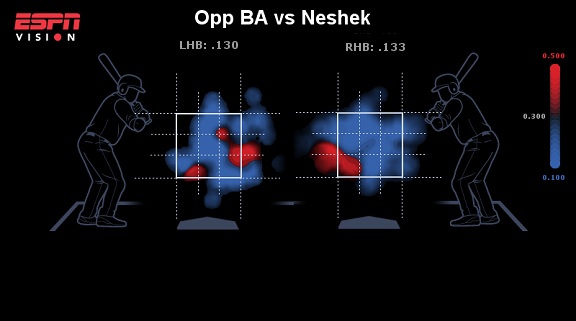 October, 24, 2013
10/24/13
11:47
PM ET
By
ESPN Stats & Information
| ESPN.com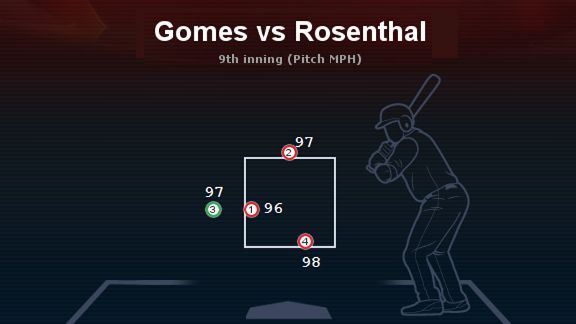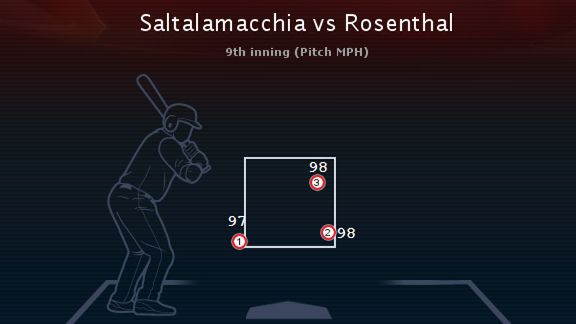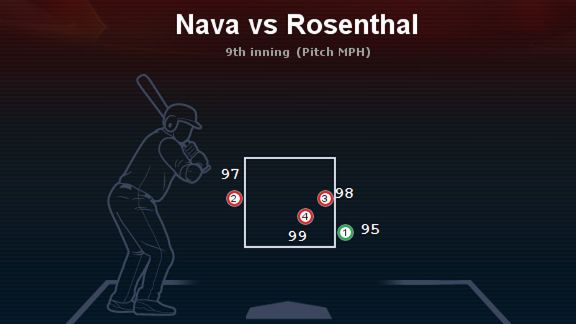 Trevor Rosenthal blew the Red Sox away in the ninth inning.
The World Series is now even at a game apiece after the
St. Louis Cardinals
edged the
Boston Red Sox
4-2 in Game 2.
The Cardinals' young pitching staff combined to hold the Red Sox to four hits (Boston's second-fewest ever in a World Series game) and one of the Game 1 goats redeemed himself with some nifty baserunning.
Streakbusters
The Cardinals snapped the Red Sox's nine-game World Series winning streak, their five-game losing streak to the Red Sox in World Series games, and their run of four straight losses in Game 2 of a World Series. The Red Sox had won their three previous Game 2s.
Wacha great again
Michael Wacha
allowed only two runs in six innings, earning his fourth win this postseason. He's the seventh pitcher to win each of his first four postseason starts, the first since Mike Moore did so for the
Oakland Athletics
in 1989 and 1990.
With his scoreless first four innings, he had allowed one run in his first 25 postseason innings. The Elias Sports Bureau notes that only three other starting pitchers allowed no more than one run in their first 25 postseason innings -- Hall of Famers Christy Mathewson, Babe Ruth and Don Sutton.
Wacha is the first rookie starter to win four games in a single postseason. At age 22, he was the second-youngest Cardinals pitcher to start a World Series game, trailing only fellow 22-year-old Paul "Daffy" Dean (Dizzy Dean's brother) of the 1934 Cardinals.
The only blemish on Wacha's record was
David Ortiz
's opposite-field homer in the sixth inning. It was the first homer that Wacha has allowed with his changeup in his major league career.
The Red Sox did make Wacha work. He walked four hitters in Game 2, as many as he walked in 21 innings in his first three postseason starts combined.
But even with that, opponents are hitting only .122 against Wacha in his four postseason starts. Elias noted that the only pitcher with a lower opponents' batting average through his first four postseason starts was Blue Moon Odom (.120).
Key play: Double steal
The Cardinals took the lead in the top of the seventh inning with the help of a double steal by
Pete Kozma
and
Jon Jay
, which led to Kozma scoring on a sacrifice fly and Jay scoring on
Craig Breslow
's throwing error.
Kozma had only three stolen bases all season. He and Jay had pulled off a double steal in the National League Division Series against the Pirates, though that one had Jay stealing third and Kozma taking second.
Kozma has one career steal of third base in the regular season, but has two in postseason play (he had one last season against the Giants).
Martinez and Rosenthal bring the heat
Cardinals relievers
Carlos Martinez
and
Trevor Rosenthal
combined to strike out six hitters in three scoreless innings to close the game out.
Rosenthal struck out the side in the ninth inning, using 11 pitches thrown that ranged from 95.3 to 98.6 mph.
He's the second pitcher in World Series history to have a save of at least one inning pitched in which he struck out every batter he faced. The other wasn't that long ago:
Sergio Romo
for the Giants in last year's World Series clincher against the Tigers.
The three Cardinals pitchers threw 53 pitches clocked at 94 mph or faster in this game. The Red Sox were 2-for-12 against them with five strikeouts.
Happy Holliday
Matt Holliday
tripled to lead off the fourth inning and scored the first run of the game for the Cardinals.
The last Cardinals player to triple in the World Series was
David Freese
in Game 6 of the 2011 World Series. This was the two-run triple over the glove of
Nelson Cruz
that tied the game with two outs in the ninth inning. The Cardinals would win that series in seven games.
It was the first triple by a visiting player at Fenway Park in a World Series game since Ken Griffey Sr. had one in Game 6 of the 1975 World Series.
Elias Note of the Night
This is the second time that a starting pitcher age 23 or younger earned a win and a relief pitcher age 23 or younger got the save in a World Series game.
It also happened in Game 3 of 1969 World Series by the Mets against the Orioles. Gary Gentry (23 years old) started and got the win and Nolan Ryan (22 years old) got the save in a game best remembered for two great catches by center fielder Tommie Agee.