Stats & Info:

Carlos Ruiz
July, 24, 2012
7/24/12
11:43
PM ET
US PresswireCarlos Ruiz tags out Norichika Aoki to save a run in the Phillies 7-6 win over the Brewers.
The
Philadelphia Phillies
had little to celebrate at Citizens Bank Park this season, with a 19-29 home record that ranked last in the NL entering Tuesday. But they found some magic against the
Milwaukee Brewers
again tonight, scoring six runs in the eighth inning to rally from a season-high five-run deficit in the 7-6 win.
This was the second consecutive game that the Phillies won after trailing by three or more runs in the eighth inning or later. According to the Elias Sports Bureau, they had done that only once before in franchise history, with a pair of walk-off wins over the
Pittsburgh Pirates
at Baker Bowl in August 1899.

Carlos Ruiz
had a three-run, bases-clearing double to tie the score at 6-6. The last Phillies player with a bases-loaded, game-tying double in the eighth inning or later at home was
Ron Gant
in 1999 against the
Atlanta Braves
.
Hunter Pence
followed Ruiz with the game-winning single for his team-leading fifth go-ahead hit in the eighth inning or later this season. The rest of the Phillies have combined for only four such hits in 2012.
Zack Greinke
did his best to keep the Brewers in the game with both his arm and his bat. He tossed seven innings of one-run ball and allowed just three hits, bouncing back after starting the month with a 9.00 ERA in his first four July starts.
Greinke worked the bottom of the strike zone, throwing sixty percent of his pitches in the lower third of the zone or below. The Phillies were hitless in 13 at-bats ending in a pitch to that location, including all five of his strikeouts.
Good news for Brewers fans is that Greinke appears to have put his road woes in the past.
He is 3-1 with a 2.54 ERA in his last eight starts away from Miller Park, a far cry from the 7.03 ERA he posted in his first five road starts this season.
Greinke also chipped in at the plate with his third career home run. It was the first time
Cliff Lee
allowed a homer to an opposing pitcher in his career.
Speaking of Lee, he was lucky to not get a loss in this game. He allowed 12 hits and four homers, matching his career-highs in both stats. Three of the four longballs came on the first pitch, becoming the first pitcher this season to allow three first-pitch homers in the same game.

National Treasure
The
Washington Nationals
improved to 8-3 versus the
New York Mets
this season, as
Gio Gonzalez
(7 IP, 0 ER, 2 H) earned his 13th win. Gonzalez fell behind 14 hitters 1-0 but battled back to retire 11 of them, allowing only one hit.
The Mets' post-break slide continues as they have now dropped 11 of their last 12 games.
R.A. Dickey
(6 IP, 4 ER) lost for the first time in his last 17 starts, also snapping his 11-game win streak. He has a 6.49 ERA in July after posting a 2.15 ERA in the first three months of the season.
Jordany Valdespin
tried to rally the Mets with his MLB-leading fifth pinch-hit homer in the eighth inning. The five pinch-hit homers are a Mets single-season record and two shy of the major-league record shared by
Dave Hansen
(2000 Dodgers) and
Craig Wilson
(2001 Pirates).
June, 3, 2012
6/03/12
11:37
PM ET
By
John Fisher
| ESPN.com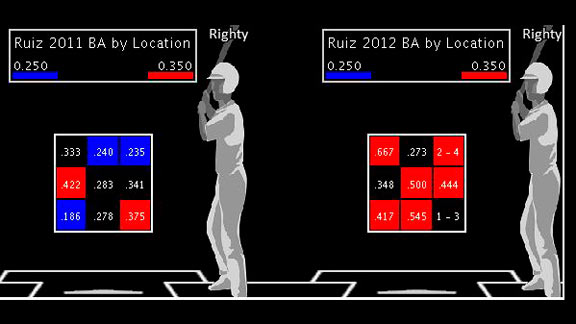 Carlos Ruiz is off to a great start in 2012, pounding everything thrown in the strike zone.
When the
Los Angeles Dodgers
visit the
Philadelphia Phillies
on Monday Night Baseball (ESPN, 7 ET), it'll be a rematch of the 2008 and 2009 NLCS, both of which were Phillies wins.
It will also be a matchup featuring one of the three Cy Young Award winners on these two teams against an up-and-comer with a special skill.
But the most intriguing matchup this week will be the one between the two catchers who are playing like they're headed to the All-Star Game.

Ruiz
Ruiz vs Ellis
Phillies catcher
Carlos Ruiz
has a World Series ring and has caught a postseason no-hitter and a regular-season perfect game, but this season he's become a legitimate MVP candidate with his work
at
the plate.
His counterpart, Dodgers backstop
A.J. Ellis
, has nearly been Ruiz's equal, an on-base machine who stops a team's running game in its tracks.
Ruiz is not just the team MVP and one of baseball's best catchers, he's one of the best players in the majors.
He's in the top five in all of baseball in batting average (.371), on-base percentage (.420) and slugging percentage (.609).
After hitting six home runs and driving in 40 runs last season, he's already got eight homers -- one away from his career high -- and 32 RBI in a little more than a quarter of the at-bats.
Ruiz has taken a more aggressive approach, which has paid dividends, as he's swinging more often and making more contact.
And he's improved an already impressive performance against fastballs, hitting .435, slugging .667 and missing fewer than five percent of his swings against the heater.
Ellis, who has already set a career-high for at-bats in a single season, is the only catcher in the bigs this season with a better on-base percentage than Ruiz. His mark of .430 is fourth-best in the majors.
Ellis, who brings a seven-game hitting streak into the series, is in the top four in hitting and slugging among catchers.
He's proving his worth behind the plate as well, throwing out 42 percent of attempted base-stealers, the second-best mark in the big leagues. Ruiz, at 37 percent, is fifth (minimum 25 SB attempts). And Ruiz is one of only three catchers with more Defensive Runs Saved than Ellis among those with at least 250 innings.

Kershaw
The Starters
Clayton Kershaw
, who goes for the Dodgers, has lost two straight starts for the first time since September 1 and 7, 2010. He has never lost three straight starts in his career.
He's 0-4 with a 5.18 ERA in six career starts against the Phillies, his most starts and losses against any team without a win and his highest ERA against any team he's faced more than once.
Vance Worley
goes for the Phillies, making his first start since coming off the DL. Despite missing four starts, he leads the major leagues in strikeouts looking, with 27.
Through May 11, the date of Worley's last start,
Mike Minor
was second with 20 strikeouts looking, the only other pitcher with more than 17. Since becoming a member of the starting rotation full-time last season (June 18), he leads the majors with 82 strikeouts looking, just ahead of
David Price
(77),
Justin Verlander
(77) and teammate
Cliff Lee
(75).
The Injury Effect
Both of these teams are familiar with the Disabled List. The Dodgers have used the DL 14 times (tied for third in MLB) and the Phillies have used it 12 times (fifth in MLB). Both teams have put 12 different players on the Disabled List, tied for fourth-most in baseball.
May, 20, 2012
5/20/12
5:22
AM ET
Scott Rovak/US PresswireCarlos Beltran is one of the reasons the Cardinals lead the National League Central this season.
(The
Los Angeles Dodgers
host the
St. Louis Cardinals
, Sunday at 8 ET on ESPN)
The post-
Albert Pujols
era is in its first season in St. Louis, and right now the Cardinals do not appear to miss the second-most prolific home run hitter in franchise history.
In fact, the Cardinals are in first place in the National League Central thanks in part to some savvy offseason moves.
Carlos Beltran
and
Rafael Furcal
have been two of the three most effective free agent signings. Beltran's 1.9 Wins Above Replacement (WAR) is tied with
Kelly Johnson
for the highest this season among 2012 free agent signings. Furcal is third with a 1.8 WAR.
In fact, Beltran and Furcal are part of an interesting 2012 trend: rejuvenation of older players once thought to be done.
• Carlos Beltran (35) Leads NL in home runs (hasn't hit 30 HR since 2007)
• Rafael Furcal (34) .351 BA ranks 4th in NL (.231 BA in 2011; didn't play 100 games in either of last 2 seasons)
•
Derek Jeter
(37) .355 BA ranks 3rd in AL (hit .282 in previous 2 seasons)
•
David Ortiz
(35) 3rd in AL in OPS and 4th in BA (hit .257 from 2008-10)
•
Paul Konerko
(36) .367 BA is 2nd in AL (hit .240 in 2008)
Beltran has 13 home runs through 40 games, the most he's ever hit in his team's first 40 games. (Before 2012, the most HR Beltran hit in his team's first 40 games was 11 in 2004.) In addition to leading the National League in home runs, Beltran ranks fifth in OPS (1.036).
He's also two stolen bases from becoming the eighth player in major-league history with 300 HR and 300 stolen bases. With a .861 career OPS, he'd join Willie Mays,
Alex Rodriguez
and
Barry Bonds
as the only 300-300 players with an .850 OPS.
As good as Beltran has been, Furcal has been just as impressive. He's hitting .400 this month, which is the fourth-highest NL average in May behind
David Wright
(.436),
Andrew McCutchen
(.420) and
Carlos Ruiz
(.411) Furcal also is one of the best NL hitters with two strikes. His .293 average with two strikes is third in the National League.
One part of Furcal's success is that he isn't so pull happy. Last season, Furcal pulled 42 percent of all balls that he put in play. In 2012, that percentage is down to 34 percent.
Furcal and Beltran are also two of the most prolific active switch hitters. Beltran ranks third among active players with 1,956 hits and Furcal is sixth with 1,739.
May, 3, 2012
5/03/12
12:41
AM ET
By
ESPN Stats & Information
| ESPN.com


Roy Halladay
allowed eight earned runs and 12 hits in six or fewer innings for just the fourth time in 358 career starts, but the history books were rewritten hours after he left the game.
Since the
Philadelphia Phillies
rallied to force extra innings, Halladay remained 69-0 in his career when staked to a six-run lead. Wednesday was only the second time that he blew a six-run lead. On April 25, 2002, he blew a 6-0 lead for the
Toronto Blue Jays
before earning a no-decision in a loss to the
Texas Rangers
.
The game ended in the bottom of the 11th when
Chipper Jones
hit a two-run walk-off home run to give the
Atlanta Braves
a 15-13 victory. It was the eighth walk-off homer of his career and first since 2006.
Jones joined
Jason Giambi
, who hit a walk-off home run earlier in the afternoon for the
Colorado Rockies
. With that combination, Elias cracked open the record books to discover a pair of firsts and close-but-not-quite scoring fact.
It was the first time in major-league history that two players who had already hit 400 home runs hit walk-off home runs on the same day.
With Chipper turning 40 last week, today was also the first time that a pair of 40-year-olds hit walk-off homers on the same day. The last time that two 40-year-old players hit walk-off home runs in the same
season
was 1986, when Hal McRae and Davey Lopes pulled it off.
With the teams combining for 28 runs, it tied the second-highest scoring game to end with a walk-off home run in major-league history. In 1925, Ty Cobb did the honors as the
Detroit Tigers
beat the
Chicago White Sox
16-15.
It was the first time that both teams in a Phillies-Braves game scored at least 13 runs since the Braves moved to Atlanta … or even Milwaukee. On July 6, 1934, the Boston Braves beat the Phillies 16-13.
Around the Diamond
•
Carlos Ruiz
entered the game with 10 RBI on the season, before driving in a career-high seven runs in the losing effort for the Phillies.
• Ruiz wasn't the only player to drive in a career-high seven runs on Wednesday.
Carlos Beltran
hit two home runs and drove in seven runs – in the first three innings – as the
St. Louis Cardinals
beat the
Pittsburgh Pirates
.
• In that game,
A.J. Burnett
became the first starting pitcher in the Live Ball Era (since 1920) to allow 12 or more earned runs while recording less than nine outs. Before
Vin Mazzaro
did so out of the bullpen for the
Oakland Athletics
last year, no pitcher had fared so badly since 1948.
October, 21, 2010
10/21/10
11:54
PM ET


The
Philadelphia Phillies
stave off elimination with a 4-2 win over the
San Francisco Giants
and send the series back to Philadelphia for Game 6 on Saturday. With the
New York Yankees
also forcing a Game 6, this is the first time since 2004 that both League Championship Series have been extended to at least six games.
There's something about Game 5s and the Phillies…
• This is their seventh straight Game 5 win, extending their own major-league record streak which dates back to 1993.
• They are 5-0 on the road in Game 5s, and their five-game win streak is now the second-longest in postseason history behind the Yankees' eight-game streak from 1953-2001.
• The Phillies have now won Game 5 each of the last three times they have trailed 3-1 in a best-of-seven series.
Here's what else you need to know about Game 5 of the NLCS:
•
Roy Halladay
walked the first batter of the game – the first time he's done that all season – but then settled down for his first career win at AT&T Park. In his two previous outings he had allowed 10 runs in 12 ⅓ innings.
•
Carlos Ruiz
was hit by a pitch in the third inning, the fourth time he's been hit by a pitch this postseason. That ties
Miguel Cairo
(2004) for the most times hit by a pitch in a single postseason.
•
Jayson Werth
threw out
Cody Ross
at third base in the fourth inning for his fourth career assist as a rightfielder. He is now one shy of the major-league record shared by Bake McBride,
Gary Sheffield
,
Nick Swisher
, and Hall-of-Famer Ross Youngs.
• Werth hit a 347-foot home run – his shortest of the season - in the ninth inning to extend the Phillies lead to 4-2. It was his 11th career postseason homer with the Fightins, passing
Chase Utley
for the most in team history. It was also his 13th career homer in the postseason, matching the record for most homers by an NL player all-time.
• The Elias Sports Bureau tell us that the Phillies are the seventh team to defeat a multiple-time Cy Young Award winner to avoid postseason elimination, and the first since the Cardinals beat
Roger Clemens
in 2004.

Lincecum
•
Tim Lincecum
struck out seven batters in the loss and now has 29 strikeouts in three starts. Tha's the second-most by a pitcher in his first three career postseason games, trailing only Bob Gibson with 31.
• Lincecum also became the first Giants starter to lose a postseason game in which he went at least seven innings while allowing two earned runs or fewer since Hall-of-Famer Juan Marichal against the Pirates in Game 3 of the 1971 NLCS.
• And one final gem from our friends at the Elias Sports Bureau: the Phillies are the first team to win a postseason game in which it led by one run at the end of the sixth inning, had its starter go at least six innings, and used four relievers to complete the victory.
Looking ahead to Game 6 on Saturday, the Phillies face an unprecedented task in trying to force a Game 7 and ultimately advance to their third straight World Series.
According to the Elias Sports Bureau, Philadelphia has never won a series in which it trailed three games to one, nor have the Phillies even forced a deciding seventh game after a 3-to-1 deficit. The Giants, on the other hand, are undefeated in best-of-seven series after taking a 3–1 lead. But this would be the first time they would have to win the series in six or seven games.
October, 17, 2010
10/17/10
12:34
AM ET


The
San Francisco Giants
rode
Cody Ross
' hot bat to a win over the
Philadelphia Phillies
in Game 1 of the NLCS at Citizens Bank Park in Philadelphia. Let's take a look at some of the notes, stats and trends that emerged:
• Dating back to the final two games of the 2003 NLDS against the Florida Marlins, the Giants have now played seven straight postseason games decided by one run. That is tied for the longest such streak in MLB history, according to our friends at the Elias Sports Bureau.
• Bad news for Phillies fans: the franchise has
never
come back to win a postseason series after dropping Game 1. Entering this series, the Phillies are 0-6 all-time in series in which they lost the first game. The last time the Phillies lost a Game 1 was the 2007 NLDS against the Colorado Rockies.
• The Giants have now won Game 1 in each of their last seven postseason series. That ties a National League record. Coincidentally, one of the teams they are now tied with is the Phillies. The Phillies had won their last seven Game 1s before Saturday's loss. The other NL team to do this was the
Atlanta Braves
from 1995 to 1997.
• Ross hit a pair of home runs off of Phillies ace
Roy Halladay
as he became the second player in MLB history to hit two home runs in his LCS debut. The other was Gary Gaetti for the 1987
Minnesota Twins
.
• Ross is also just the fourth eight-hole hitter to hit two home runs in a postseason game. The last was
Chad Curtis
in Game 3 of the 1999 World Series.
• Halladay retired the first seven batters he faced before Ross' first home run in the third inning. According to the Elias Sports Bureau, his streak of 34 consecutive opponent at-bats without a hit allowed is the second longest in MLB postseason history. Don Larsen's streak reached 36 over a three-game span from 1956 to 1957.
• Halladay is now 0-2 with a 5.79 ERA in his two starts against the Giants this season (regular season and posteason).
•
Tim Lincecum
surrendered three runs over seven innings pitched to pick up the win. He's now 7-1 with a 1.87 ERA since the beginning of September (regular season and postseason combined).
•
Jayson Werth
hit his 12th career postseason home run. He's hit 10 for the Phillies and also hit a pair for the
Los Angeles Dodgers
back in 2004. His 12 postseason home runs hit for NL teams are one shy of the all-time record currently shared by
Albert Pujols
,
Jim Edmonds
and
Chipper Jones
.
•
Carlos Ruiz
also went deep for the Phillies. He's now hit four career postseason home runs, all batting from the eight-hole. In postseason history, only
Scott Brosius
(five) has hit more home runs batting eighth.
•
Ryan Howard
went 1-4 with three strikeouts. Howard has now whiffed at least three times in seven postseason games. That is the most in MLB postseason history.
October, 13, 2010
10/13/10
7:38
PM ET

Why would
San Francisco Giants
manager Bruce Bochy flip-flop
Matt Cain
and
Jonathan Sanchez
, so that Sanchez pitches Game 2 of the NLCS against the
Philadelphia Phillies
in Philadelphia?
There's a very good reason.
Sanchez beat the Phillies twice during the regular season, holding them to a .114 batting average and two runs in 13 innings. For his career, he's held the Phillies to a .175 batting average. That's best among the 75 active pitchers who have thrown at least 30 innings against the Phillies. Change the qualifier to five starts and Sanchez is second-best of anybody in the last 55 years (trailing only Floyd Youmans). He's even 10 points better than the immortal Sandy Koufax.
The matchups rate favorably for Sanchez against every Phillies hitter, with one exception --
Shane Victorino
is 6-for-15 (.400 BA) against him. Other than that, it's pretty lopsided in Sanchez's favor. Ryan Howard's .214 batting average (3-for-14 with seven strikeouts) looks pretty good compared to
Carlos Ruiz
(.111, 1-for-9),
Jimmy Rollins
(.067, 1-for-16),
Jayson Werth
(0-for-12, six strikeouts),
Ben Francisco
(0-for-8) and
Raul Ibanez
(0-for-6).
Sanchez allowed one run and two hits in 7⅓ innings in Game 3 of the Division Series against the
Atlanta Braves
. He's one of three Giants to have a postseason start of at least seven innings and allowing two hits or fewer, joining teammate Lincecum and Dave Dravecky (1987).
That kind of performance is nothing new. Over the last two seasons, Sanchez has had that sort of performance three times in the regular season, including Aug. 19, when he took a one-hitter into the ninth inning of an eventual 5-2 win over the Phillies.
October, 5, 2010
10/05/10
1:10
PM ET
By
John Fisher
| ESPN.com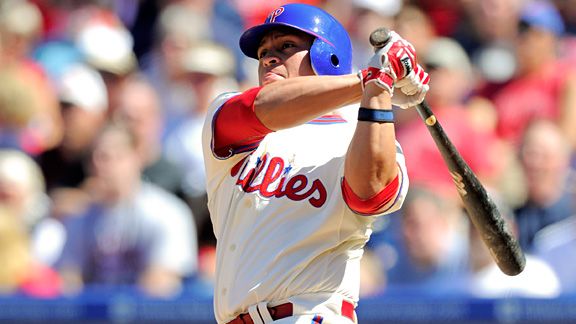 Rich Kane/Icon SMI
Carlos Ruiz has gotten a lot of big hits throughout his Phillies career, especially this season.
A capsule stat-based preview of the Reds-Phillies NLDS matchup
Top things to know
This series will be a matchup of strength vs. strength. The Phillies' starting pitchers led the majors in innings pitched and were fourth in ERA at 3.55. They helped cover for a bullpen that was 18th in ERA (4.02).
The Reds led the National League in hitting (.272) and slugging (.436), and were second in OBP (.338). MVP candidate
Joey Votto
led the league in OBP, slugging and adjusted OPS+ and was second in the NL in offensive WAR, setting career highs in every offensive category.
Deciding factor

Phillies pitchers had the second lowest walk rate in the major leagues (6.8 pct), and the three pitchers the Reds will see most --
Roy Halladay
,
Roy Oswalt
and
Cole Hamels
-- walk hitters with even less frequency. And they come after you right away -- the Phils were third in baseball in first-pitch strike percentage and in the top 10 in percent of pitches thrown in the strike zone.
The Reds hitters, for all their success, are an aggressive bunch -- their swing percentage of 47.0 led the National League and was fourth in the majors. And Cincinnati is second in swing percentage and fourth in chase percentage on the first pitch.
Most interesting matchups
The Phillies will have three lefties in the 3-through-6 spots in their lineup and the Reds have veteran
Arthur Rhodes
and hard-throwing phenom
Aroldis Chapman
to counter. Chapman has never faced Philadelphia, but the middle of the Philly order has had some success against Rhodes:
Chase Utley
is 1-8 with two strikeouts, but
Ryan Howard
and
Raul Ibanez
are 6-19 (.316) combined. Don't forget July 9, when Rhodes allowed a leadoff double to Ibanez and a walk-off HR to Howard in an 11-inning Phils win. And keep in mind that
Jayson Werth
, the righty who will be mixed in with those lefties, has three walks in six career PA against Rhodes.
And Cincinnati has two lefty sluggers in the middle of their lineup that the Phillies will need to neutralize.

Lefty
J.C. Romero
lowered his opponents' BA against left-handed hitters almost 100 points from last season, but Votto is 2-3 against Romero. Plus,
Jay Bruce
tied for fourth in the majors this season (with Howard, among others) with 12 HR against lefties. But the Phils can also trot out
Ryan Madson
-- lefties hit only nine points higher than righties this season against him, and Bruce and Votto are 0-6 in their careers against the setup man. Keep in mind that righty
Drew Stubbs
hit 10 HR against left-handed pitching, just two behind his teammate Bruce.
Statistical secrets
Carlos Ruiz
finished the season hitting .302, becoming just the fourth Phillies catcher since 1901 to finish the season over .300 (min. 400 PA). In the ninth inning or later, he hit a whopping .359 and slugged .692 (5th in MLB, min. 40 PA). Of course Joey Votto is one of the players ahead of him in both categories, hitting .415 and slugging .717. Ruiz's nine extra-base hits after the eighth inning were fifth best in baseball.
Also, the Phillies' three starting pitchers in this series all get groundballs at rates above the MLB average, especially Halladay. To go along with that, according to
Fangraphs
, the Phillies boast the fifth and sixth best players in baseball in Double Play Runs Above Average:
Placido Polanco
and Chase Utley, respectively.
SIG's Picks
Albert Larcada of ESPN Stats & Info did statistical analysis of the last 10 postseasons, looking for the factors that most separate winning and losing teams. He found three -- power hitting, front-end starting pitching and the ability to turn batted balls into outs. Using his findings, he was able to make a projection.
Larcada's system gives the Phillies a 55.7 percent chance to beat the Reds, the fourth-highest percentage of the eight postseason teams.
May, 28, 2010
5/28/10
10:00
AM ET
By
Matthew Carruth, FanGraphs
| ESPN.com
Raise your hand if you know who
Matt Wieters
is. I hope a lot of you out there have your virtual hand up. Now raise your hand if you know who
John Jaso
is.
Ryan Hanigan
?
Carlos Ruiz
? Now, there is probably a lot fewer of you with hands up.
Minor League hype is a fickle beast. For every
Jason Heyward
, there are five Brandon Woods. Many regarded Wieters as the savior of the
Baltimore Orioles
on his way through the minors. His numbers certainly supported that belief, but they have yet to show up where it counts. This isn't writing Matt Wieters off as a future Major League star. He just turned 24 so he has plenty of time to adjust to the bigs and begin posting the numbers people dreamed out of him. While we wait to see if that will occur, some catchers that got nowhere near the hype of Wieters have nonetheless turned in some valuable seasons for their big league clubs.
Ryan Hanigan isn't a sexy prospect but he does one thing particularly well and that's draw walks. His 31 walks in just 293 plate appearances helped him to a .361 OBP with the Reds. Hanigan, whom the Reds signed as an undrafted free agent back in 2002, has had an even bigger success story this year with a .338/.449/.486 triple slash line while splitting time with
Ramon Hernandez
. It is a small sample, but Hanigan's .409 wOBA has made him the seventh most valuable hitting catcher in the majors, despite being a part-time player. Hanigan is almost certainly not going to maintain numbers that lofty, but ZiPS projects him to post a .334 wOBA going forward, which almost exactly matches ZiPS' .336 wOBA projection for Wieters. Maybe someone should start a Ryan Hanigan Facts website.
John Jaso also flew under the hype radar when he failed to show much power in the minors. What he did show though was good plate discipline and low strikeout rates, which helped to maintain a high average and impressive OBP. Getting an extended look in Tampa due to an injury to
Dioner Navarro
, Jaso has made his case for keeping the starting job with a .324/.449/.493 line.Jaso's 8.5 percent strikeout rate is just behind Hanigan's 8.1 percent and, among catchers with at least 50 trips to plate this year, they rank second and third respectively, with only
A.J. Pierzynski
bettering the unheralded pair.
Hype of minor league players is generally well founded. It comes from quality scouting reports and/or fabulous numbers. Hype doesn't always equate to Major League results though, and certainly does not guarantee instant success. Sometimes it takes awhile and sometimes, solid Major League catchers appear out of seemingly nowhere.
Matthew Carruth is a writer for FanGraphs.
April, 12, 2010
4/12/10
3:07
PM ET
By
Kenton Wong, ESPN Stats & Info
| ESPN.com
Week 2 of the baseball season means poll number 2 for the TMI panel. This week we ranked which bearers of the "tools of ignorance" are hardest to ignore.
Catcher is the most demanding position in baseball. Taking hits from balls, bats, players - these human backstops have to also manage the game, keep their pitcher sane and at the same time be competent with a bat in their hands.
Who does it best? If you've watched any baseball the last few years you know it's not really close.
Joe Mauer
hit .365 last season and through Sunday was hitting .381 this season. Oh, and he's the 2-time reigning AL Gold Glover. He received all 8 first-place votes from our panel.
Here's the rest of our top 10:
Others receiving votes:
Miguel Olivo
,
Gerald Laird
,
Miguel Montero
,
Mike Napoli
,
Ryan Hanigan
,
Chris Iannetta
,
Ivan Rodriguez
March, 18, 2010
3/18/10
11:04
AM ET
By
Sky Kalkman, Beyond The Box Score
| ESPN.com
Over the next couple of days, I'll be optimizing MLB's best lineups by "The Book." No, not the collection of traditional baseball heuristics, but an actual, published book that statistically analyzes those traditional assumptions. Up first, the Philadelphia Phillies, with the following projected starters against right-handed pitching (using ZiPS).
While you could make a good argument that neither deserves to bat this high, Shane Victorino deserves the leadoff spot over Jimmy Rollins. Even if the latter returns to pre-2009 form, his lack of on-base skills and larger percentage of value tied to the home run make him ill suited to set the table.
The two best hitters go in the second and fourth spots. The cleanup hitter actually comes to bat with runners on base more often, with more potential to do damage, but because the No. 2 hole comes to the plate more often overall, these two spots are equally important. Chase Utley is the better on-base threat, so he goes in the No. 2 hole, and Ryan Howard's power bats cleanup.
Why skip over the No. 3 hole? Because it comes to the plate with two outs more often than other top-of-the-order spots, limiting its production. The third hitter is about as important as the fifth hitter, and "The Book" says we should favor lower OBP players with high home run rates -- if there are two outs, the risk-reward of an out versus a home run is a good gamble.
All else being equal, Raul Ibanez would go in the No. 3 hole, but Jayson Werth makes a bit more sense for the Phillies because his right-handed bat will split up Utley and Howard. If the opposing team wants to use a
LOOGY
against both those lefties, Charlie Manuel might as well either get a good matchup in between or force the other team to use two extra relievers.
That leaves us with this top five:
1. Victorino
2. Utley
3. Werth
4. Howard
5. Ibanez
In general, the rest of the order should be penciled in from best to worst overall hitter, but the Phillies probably should put Rollins ahead of Placido Polanco in the No. 6 and No. 7 holes. Rollins' power is much more effective at scoring the
slow-footed
Howard and Ibanez. Plus, his extra-base hits and stolen bases are most useful in front of a singles hitter like Polanco, setting up a classic 1-2 combination lower in the order.
Finally, Carlos Ruiz gets plugged in to the No. 9 hole. Yes, that's right, after the pitcher. Ruiz isn't being punished. In fact, the worse he hits (or the better the pitcher hits), the more motivation there is to move him up to No. 8. Because the pitcher is an easy out, he works to both kill rallies and roll the top of the lineup over without anyone on base. Based on research in "The Book," the second drawback is, on average, more harmful. By putting Ruiz in the No. 9 hole, Victorino and Utley are more likely to come to bat with a runner on base -- it's a twist on the "second leadoff hitter" theory.
All of that leaves us with the following optimal lineup for the 2010 Phillies against right-handed starters:
1. Victorino (S)
2. Utley (L)
3. Werth (R)
4. Howard (L)
5. Ibanez (L)
6. Rollins (S)
7. Polanco (R)
8. Pitcher
9. Ruiz (R)
A longer explanation of some of the batting-order principles in "The Book" can be found in this article. Sky Kalkman writes for Beyond The Box Score.