Stats & Info:

Casey McGehee
July, 29, 2014
Jul 29
2:20
PM ET
By
John Fisher
| ESPN Stats & Info
AP Photo/Alex BrandonRyan Howard has struggled to find a consistent role in the Phillies' starting lineup.
Last week
Ryan Howard
sat four games in a six-game stretch, including three in a row. Two of those three straight were against left-handed starting pitchers, but Thursday he sat against
Tim Hudson
, the pitcher he's faced the most in his career. Howard holds a .328 career BA (22-67) with 7 HR and a 1.112 OPS against Hudson.
Howard is having the worst full season of his career including a career-low .380 slugging percentage. He turns 36-years-old in November, he's still owed $60 million after this season and he can block trades to 21 teams.
Could this be the end of the line for the former National League MVP?
Howard Can't Hit Righties
The biggest reason behind Howard's disappointing season is his performance against right-handed pitchers, which has always been better than his performance against lefties.
In 2009, Howard hit .320 and slugged .693 against righties. This season he's hitting .221 and slugging .356 against them.
In 2011, his last full season, he hit 30 HR in 387 AB against righties. In the past 3 seasons combined, he's hit 26 HR in 656 AB against righties.
He Can't Handle Fastballs
The book on Howard used to be a steady diet of offspeed pitches that he would chase, especially if he was behind in the count.
In 2011, Howard saw 41% fastballs, the lowest figure of any qualified hitter in baseball. But after he tore his Achilles in that year's playoffs, pitchers haven't been afraid to throw him heaters or pitches in the strike zone anymore.
From 2009-2011 Howard ranked 11th in MLB in slugging percentage against fastballs and 10th against pitches in the strike zone. From 2012 on he ranks 130th in slugging percentage against fastballs and 110th against pitches in the strike zone.
He's not even punishing the slower fastballs that he used to crush. In 2010, he slugged .851 and only missed 16% of his swings against fastballs from righties that were 91 MPH or slower. This season, he's slugging .405 and missing 22% of his swings against those fastballs.
No Power at a Power Position
Howard is giving the Phillies almost nothing at a power position. The list of first basemen with similar slugging percentages this season have never been in Howard's class as a slugger. He currently ranks 22nd in slugging percentage among 25 players with 100 plate appearances at first base.
He's had plenty of opportunities to produce, tied with
Albert Pujols
and
Casey McGehee
for the MLB lead at 234 plate appearances with runners on base, but his .255 batting average with runners on has him in a tie for 107th in MLB this season.
December, 18, 2011
12/18/11
10:30
AM ET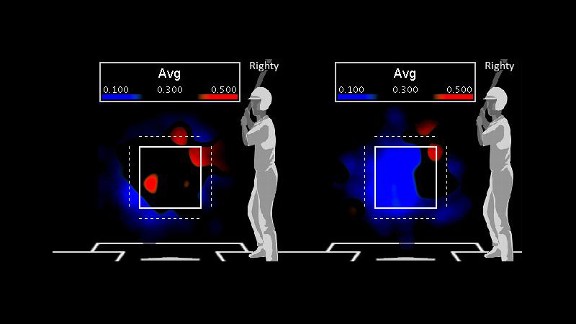 Left: Casey McGehee's hot and cold zones against offspeed pitches (2009-2010)
Right: McGehee's hot and cold zones against offspeed pitches (2011)
Click here to create your own McGehee heat maps
Stats & Information reviews the week in MLB moves each Sunday
Pirates trade for 3B Casey McGehee
The
Pittsburgh Pirates
will try to help McGehee return to the quality of production he achieved in 2009 and 2010 after a disastrous 2011.
McGehee's struggles last season were largely due to issues hitting offspeed pitches (curveballs, sliders, and changeups).
In 2009 and 2010, McGehee hit .285 against offspeed pitches, with 16 home runs.
McGehee had 199 at-bats end in offspeed pitches in 2011. In simplest terms, McGehee went from ranking among the top 10 percent of hitters against offspeed pitches to the bottom 10 percent (the heat maps at the top of this piece show the difference).
If he had matched the level of production he averaged in 2009 and 2010, pro-rated to 199 at-bats, his end-of-season line would have looked completely different.
It would have included 26 more hits and four more home runs, giving him an end-of-season batting average of .271 (instead of .223) with 17 home runs (instead of 13).
That sort of line would be a major statistical offensive improvement for the Pirates at third base in 2012. Over the last five seasons, their third basemen have hit .241 and averaged 13 home runs per season, both fourth-worst in the majors in that span.
-- Mark Simon
Rockies sign Michael Cuddyer
Should the
Colorado Rockies
elect to play Cuddyer regularly in the outfield, they'll have to deal with some of his statistical shortcomings.
There are two components to the metric Defensive Runs Saved. One of them, Plus-Minus rating, deals with the ability to turn batted balls into outs.
Over the last six seasons, Cuddyer's inability to turn batted balls into outs when he played right field, cost the Twins 58 runs, the most for any right fielder.
Much of that was due to difficulties getting to balls in the deepest parts of right field, where by Baseball Info Solutions measure, he rated 94
bases
worse than the average player at the position.
The spacious outfield of Coors Field could make that position particularly challenging for Cuddyer. The Rockies yielded 70 doubles and triples to right field/right-center field last season, the most of any National League team.
Though
Carlos Gonzalez
is considered by many in baseball to be a good defensive outfielder, it should be noted that the Rockies outfield play was a statistical weakness last season.
They were the only team in the National League whose defensive performance at all three outfield positions cost the team runs.
Cuddyer can make up for those deficiencies in one regard. The other component of Runs Saved measures the deterrent value of one's throwing arm. Since 2006, Cuddyer's arm has saved his team 33 runs, third-most of any right fielder in the majors in that span.
-- Mark Simon
Phillies sign Dontrelle Willis
Though Willis has made just three career relief appearances, his platoon splits over more than 200 starts show that he has the potential to be an effective lefty specialist out of the bullpen for the
Philadelphia Phillies
next season.
Willis' career .562 OPS allowed vs lefties ranks third among active pitchers behind only
Mariano Rivera
and
C.J. Wilson
(min. 800 PA).
Despite finishing the season with a 5.00 ERA, Willis had one of his most impressive seasons against lefties in 2011, holding them to a .127 average with a strikeout-to-walk ratio of 20-to-2.
His success against same-sided batters was largely the result of a slider that he was able to consistently locate low-and-away from lefties. The heat map below shows where he located his slider most often to lefties.
Hitters missed on over 50 percent of their swings against his slider, including more than three-quarters of the time when the pitch was thrown out of the strike zone.
Willis fits in this role for the Phillies because the other lefty on their current staff,
Antonio Bastardo
has platoon splits (.623 OPS vs right-handed hitters, .653 vs lefties) that are more evenly balanced than Willis'.
Willis' platoon splits don't make him well-suited for facing righties. His career 227-point difference between his opponents OPS against lefties and righties (.562 vs .789) is the biggest among active pitchers.
-- Katie Sharp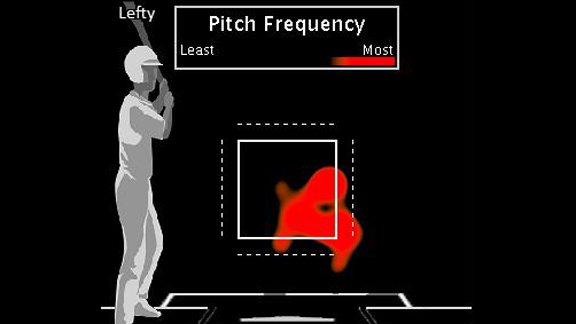 Where Dontrelle Willis located his slider to lefties last season
Click here to create your own Willis heat maps
October, 1, 2010
10/01/10
11:00
AM ET
By
Gregg Found
| ESPN.com

Someday, it might be one year or 12 years from now,
St. Louis Cardinals
fans will look back at this season and try to pinpoint where it all went wrong.
They had the rare trifecta of an MVP contender (
Albert Pujols
), a Cy Young contender (
Adam Wainwright
) and a Rookie of the Year contender (
Jaime Garcia
). The payroll was competitive, there was young and cheap talent blossoming and the headlining offseason move (
Matt Holliday
) had one of the best seasons of his career.
But
David Freese
-- or more appropriately, David Freese's injury -- is one big reason why the Cardinals won't be in the postseason.
Freese didn't play after June 27 because of various foot injuries (mostly ankle-related), and was hobbled for a few weeks before then. All told, Freese will miss 92 games.
The Cardinals were 10 games above .500 in games Freese started (37-27) and four games under .500 when he didn't (entering Thursday, as are all the below numbers).
How much can losing a rookie third baseman really hurt? Take a look at the ramifications:

Freese was having a high-end offensive season at his position.
His OPS of .765 wasn't elite (think
Evan Longoria
) but solid (think
Casey McGehee
). And before the injury started hobbling him, Freese's OPS was .832. That's between a
Chipper Jones
and
Alex Rodriguez
level of production.
Freese's absence forced Yadier Molina to bat one spot higher.
The No. 3 and No. 4 spots in the order, of course, go to Pujols and Holliday. The No. 5 spot went mostly to
Colby Rasmus
, though Freese batted there as well. But it's the No. 6 spot that's crucial. That's where Yadier Molina took the majority of his plate appearances -- especially after Freese went out. With Freese in the lineup, Molina's bat was free to be moved lower in the lineup. While Molina had a typical year by his standards at the plate, downgrading from Freese to Molina is a drop in OPS from .765 to .671. When you have Pujols, Holliday and Rasmus hitting in front of you, that difference can mean a lot of runners left on base.
The other third basemen fielded below Freese's level.
From Fangraphs, Freese provided a 0.1 UZR at third base. Lopez was a -0.4 and Pedro Feliz was a -0.2. Freese was 0.2 runs above replacement, Lopez was -6.6 and Feliz -0.2.
Freese's absence forced lesser offensive players into more plate appearances.
Lopez covering for Freese meant he couldn't take the spot of
Brendan Ryan
at shortstop. Ryan, while a fine defender, was no match for Lopez's production at the plate, even in a down year for Lopez. Ryan was one of the worst batters in MLB (.567 OPS), while Feliz, a midseason acquisition who received plenty of playing time, was even worse (.492 OPS with the Cardinals). Neither of those players figured to see nearly as much playing time with a healthy Freese in the lineup.
Freese's injury raises questions about the future at the position for the Cardinals.
Freese hasn't been injured just once. He now has an injury history that brings his durability into question. And, as a young and cost-controlled player this season, Freese was one of the team's most valuable assets. After the injury, he's now one year older and one year closer to not being cost-controlled. The Cardinals will head into next spring with Freese as the incumbent starter, while trying to develop third base replacements behind him. But if another injury strikes and the replacements aren't ready, they could find themselves in the same predicament.
May, 27, 2010
5/27/10
8:00
AM ET
By
Kenton Wong, ESPN Stats & Info
| ESPN.com
This week in the TMI Power Poll, the topic was the best third basemen in the game today. There was a bit of a youth movement at the hot corner as four members of the top 10 have fewer than four years of service in the big leagues. Meanwhile, a former three-time MVP is not in the top spot.
Evan Longoria
, the face of a young Rays team that has the best record in baseball, took the top spot. He has developed into a complete player. According to Baseball Tonight Researcher Mark Simon, Longoria is 3rd in the MLB with .738 offensive winning percentage. On the defensive side, Longoria's 17.0 UZR tied for the lead among all 3B over last two seasons (with
Ryan Zimmerman
).
Others receiving votes:
Brandon Inge
,
Chipper Jones
,
Jose Bautista
,
Placido Polanco
,
Chase Headley
,
Jorge Cantu
,
Casey Blake
,
Alberto Callaspo
,
Nick Punto
May, 25, 2010
5/25/10
1:52
PM ET
By
Ryan McCrystal, ESPN Stats
and
Info
| ESPN.com
Quick Hits: A number of pitchers take the hill today who have found success this season getting hitters to chase pitches out of the strike zone. Here's a look at a few of those guys...

* Hitters are chasing Scott Baker's fastball out of the zone 26.5 percent of the time, the second highest average in the majors, trailing only Phil Hughes.

* Right behind Baker is Justin Verlander, whose fastball has been chased 25.7 percent of the time.

* Adam Wainwright leads the majors with a 39.6 chase percentage on his curveball.

* Hitters have chased Jon Lester's slider out of the zone 41.3 percent of the time, the eight highest rate in the baseball.

* James Shields leads the majors with a 49.6 chase percentage on his changeup.

* Ricky Romero's changeup has been chased out of the zone 47.9 percent of the time, trailing only Shields.

Today's Trivia: Casey McGehee currently leads the NL with 39 RBI. Last season his teammate Prince Fielder led the NL with 141 RBI. If McGehee keeps up his pace, it will be the first time two different players from the same team led the NL in RBI in consecutive years since 2003 and 2004. Can you name the players?

Today's Leaderboard: It's no surprise that Vladimir Guerrero has chased more pitches out of the strike zone than any hitter this season. He's swung at 41.0 percent of the balls thrown to him outside the zone – 5.1 percent higher than anyone else. But Guerrero isn't necessary the best bad-ball hitter in the game. Here's a look at the leaders in batting average on pitches out of the strike zone.

Key Matchups: Nick Markakis has hit safely in seven straight games and has a .357 average during that span. He may struggle to keep that streak alive tonight against Dallas Braden. Markakis is 1-14 with six strikeouts in his career against Braden.

Arguably no one has given Jon Lester more trouble in his career than Carlos Pena. In his career against Lester, Pena is batting .310 (9-29) with five home runs. No other player has hit more than three homers against Lester.

TRIVIA ANSWER: The Rockies' Preston Wilson led the league with 141 RBI in 2003. The following season Vinny Castilla led the league with 131. Prior to Wilson and Castilla, the last set of NL teammates to lead in RBI in consecutive years were Dante Bichette (1995) and Andres Galarraga (1996).
May, 20, 2010
5/20/10
1:51
PM ET
By
Ryan McCrystal, ESPN Stats
and
Info
| ESPN.com
Quick Hits:
Will Venable
went 3-3 with two doubles and a triple off sliders from
Jeff Weaver
and
Ramon Ortiz
last night. The performance raised Venable's average vs sliders this season to .474 – third highest in the majors. Let's take a look at some other hitters who are crushing sliders this season.
*
Casey McGehee
is batting .481 with two home runs. Only
Ryan Zimmerman
(.520) has a higher batting average vs sliders.
*
Alfonso Soriano
is batting .390 against sliders with a league-leading 11 extra-base hits (nine doubles, two home runs).
*
Marco Scutaro
has been the most patient hitter against sliders this year. He's chased just 4.5 percent of sliders he's seen outside the strike zone.
*
Andre Ethier
is crushing everything this season, but he's been particularly good against sliders. He has a well-hit average of .471, highest in the majors.
*
Ty Wigginton
leads the league with five homers of sliders.
*
Mike Napoli
is batting just .229 this season, but he's hitting .412 with six extra-base hits against sliders.
Today's Trivia:
With 12 saves through the Blue Jays' first 42 games,
Kevin Gregg
is on pace for 46 this season. If he keeps up that pace, he'll become just the second Blue Jays closer to reach 40 saves in a season. Who would he join?
Today's Leaderboard:
Arguably the game's best slider will be on display tonight in Arizona as Tim Lincecum takes the mound. Lincecum has thrown 96 sliders this season, 46 of which were out of the strike zone. Of those 46 out of the zone, hitters chased the pitch a league-high 52.2 percent of the time.
Key Matchups:
Lincecum's slider should be especially effective tonight against the Diamondbacks. As a team the D'Backs are batting .203 vs sliders, but
Mark Reynolds
has struggled more than most. He's swung at 91 sliders this year, but has just three hits. In other words, Reynolds gets a hit just 3.3 percent of the time he swings at a slider.
Ricky Romero
could be in line for another impressive outing tonight against the Mariners. Romero has developed one of the game's most devastating curveballs, against which opponents are batting .103. The Mariners have truly struggled against the curve this season.
Ichiro Suzuki
is batting .429 against curves this season (12-28) but the rest of the team is hitting just .124. The league average against curves is .216.
Trivia Answer:
Duane Ward recorded 45 saves in 1993. The Blue Jays' career saves leader, Tom Henke, never had more than 34 in a season.