Stats & Info:

Chris Capuano
April, 12, 2013
4/12/13
10:58
AM ET
By
ESPN Stats & Information
| ESPN.com
San Diego Padres
slugger
Carlos Quentin
rushed the mound and wrestled
Los Angeles Dodgers
right-hander
Zack Greinke
to the ground after getting hit by a pitch Thursday night. A bench-clearing brawl ensued, but in the melee Greinke suffered a fractured collarbone.


This wasn't the first time Greinke and Quentin have had a run-in.
July 18, 2008:
With two on in the bottom of the first, Greinke hit Quentin to load the bases, and the
Chicago White Sox
went on to score five runs that inning. Quentin then led off the second inning and homered to left field.
April 8, 2009:
In their first meeting the next year, Quentin struck out in the bottom of the first, in an at-bat that included a high-and-tight pitch. Greinke then hit Quentin between the shoulders in the fourth inning. Quentin took a step toward the mound before plate umpire Bill Hohn jumped in front of him. Greinke said afterward, "The first at-bat kind of scared me because you never want to do that to anyone. It happens. You hit guys sometimes."
April 9, 2013:
In the first game of this series, Dodgers reliever
Ronald Belisario
hit Quentin with a high and tight fastball, right in the right wrist. Quentin had to leave that game and missed the next one recovering from the bruise.
Greinke is the fourth pitcher to hit Quentin three or more times, and in total 18 pitchers have hit Quentin at least twice in his career.
In fact, getting hit is nothing new for Quentin who led MLB in hit-by-pitch in both 2011 (23, in 118 games) and 2012 (17, in 86 games).
While losing Quentin's pop at the plate is a big deal for the Padres, the loss of Greinke to the Dodgers' rotation could have a bigger impact. Greinke signed the fourth-largest total value contract by a pitcher this offseason.
Plus he's been durable and effective on the mound.
Greinke is one of six pitchers who threw 170+ innings and struck out 170+ batters each year from 2008 to 2012 (
CC Sabathia
,
Tim Lincecum
,
Cliff Lee
,
Felix Hernandez
,
Matt Cain
). His FIP (Fielding Independent Pitching), which considers a pitcher's three true outcomes of HR, K and BB) is the third-best in MLB since 2009.
So who will replace Greinke? Here are a few options from the Dodgers 40-man roster.
LHP Ted Lilly:
53 starts for Dodgers since 2010. He threw 90 pitches in Triple-A rehab start on Thursday.
LHP Chris Capuano:
33 starts for Dodgers last season. He replaced Greinke on Thursday.
RHP Stephen Fife:
five starts for the Dodgers last season. He started for Triple-A Albuquerque on Wednesday.
June, 28, 2012
6/28/12
1:06
PM ET
By
ESPN Stats & Information
| ESPN.com
AP PhotoThe Dodgers are having one of the worst Junes in history and now may be without Andre Ethier.

Once the darlings of baseball and the hottest team on the West Coast, the
Los Angeles Dodgers
have fallen off a cliff this past month, perhaps reaching their lowest point of the season yesterday.
Not only did they suffer a historic sweep against the
San Francisco Giants
during which they scored zero runs, but
Andre Ethier
left the game with an oblique injury and could join
Matt Kemp
on the disabled list soon.
The Dodgers offense has struggled mightily since Kemp went on the DL for the second time May 31… how low can they go now that Ethier might be on the sidelines indefinitely too?
JUNE GLOOM AND DOOM
For the first time in franchise history, they were shut out in series sweep of three or more games, according to Elias. The Dodgers have been shut out a major-league-high five times in June; they were shut out just once in the first two months of the season. Even worse, the Dodgers have six home runs this month; 11 players in the league have more in June.
The Dodgers went 1-8 on their nine-game road trip, scoring a total of 13 runs. Perhaps the most embarrassing part of the trip for Dodgers fans is that six of those losses came against their California rivals – the
Oakland Athletics
and Giants – as they were outscored 24-2 in the two series.
The Dodgers are hitting just .219 with an OPS of .590 in June, both of which would be their worst marks in the month over the last 90 seasons. They have hit just six home runs in 25 games, a rate of 0.24 homers per game that would be their lowest in June since they averaged 0.14 per game in 1946.
Can the Dodgers offense survive without their two main offensive stars? Consider that if Kemp and Ethier are out of the lineup, that leaves
A.J. Ellis
as the only Dodgers player with more than three home runs. Kemp and Ethier have combined to hit 22 homers this season; the rest of the team has hit just 22.
WHAT'S AHEAD
Tonight the Dodgers return to Chavez Ravine to face the
New York Mets
, who are coming off a 17-1 win at Wrigley Field, in an unprecedented matchup of teams headed in different directions.
According to the Elias Sports Bureau, it will be the first game in major-league history matching a team that scored 15 or more runs in its last game versus an opponent that was shut out in each of its previous three games.
The Dodgers will be challenged to break their scoreless streak against a Mets team that has eight shutouts this season, the second-most in the NL. One thing they can probably count on, however, is a strong start from
Chris Capuano
, who is 5-0 with a 1.57 ERA in seven home outings this season.
May, 31, 2012
5/31/12
6:10
PM ET
By
Mark Simon
and
Katie Sharp, ESPN Stats & Info
| ESPN.com
It was a good month of May, and not just for the superstars like
Albert Pujols
,
Josh Hamilton
and
Paul Konerko
. Here's a look at five under-the-radar players who starred in May.
R.A. Dickey, New York Mets
(4-0, 1.83 ERA, 0.96 WHIP in five May starts)
He has allowed three earned runs or fewer, pitching six innings or more in 21 of his last 22 starts. Dickey showed a great touch with his knuckleball, and seemed to be able to put it wherever he wanted.

Dickey
Dickey's money pitch was the knuckleball on the outer-third of the plate. He got 36 outs with pitches to that spot and allowed only three hits.
Our pitch-trackers charted him hitting 80 mph with a knuckleball 20 times in May. That netted him 14 strikes, nine outs and no base runners allowed.
Chris Capuano, Los Angeles Dodgers
(1.62 ERA in 5 May starts)
After a strong April (3-0, 2.73 ERA), Capuano was even more dominant in May. He threw more than half of his changeups out of the zone in May (84 of 160) and got batters to swing at 51 of those pitches for a chase rate of 61 percent. He got 18 outs, including 12 strikeouts, on changeups he threw out of the zone, allowing just one hit.
Capuano's fastball averaged 87 mph this month, the lowest among pitchers who threw at least 250 fastballs. Still, opponents hit just .180 (9-50) in at-bats ending in his "heater" and he allowed just five line drives among the 44 balls hit into play against him.
He was at his best when he kept the ball down. He threw 46 percent of his pitches this month in the lower third of the strike zone or below, and allowed just three hits in 46 at-bats ending in a pitch thrown there. Twenty-one of his 29 strikeouts also came on pitches in that location.
James McDonald, Pittsburgh Pirates
(3-1, 1.54 ERA, 39 K in 35 IP)
McDonald, who owns a career-best 2.20 ERA this season, has been lights-out in May. His ERA ranks second in the majors and his .509 OPS ranks fourth.

McDonald
McDonald's breaking pitches were very tough to hit this month, something that has held true all season. In his last two starts, he's gotten 18 outs with his breaking pitches and allowed just one hit.
The slower McDonald throws his breaking ball, the more success he's had. He threw 53 of them at 77 miles-per-hour or slower in May, netting 15 outs without any batters getting a hit. He threw that pitch for a strike 68 percent of the time.
Melky Cabrera, San Francisco Giants
(.429 BA, 1.104 OPS, 51 Hits, 15 XBH, 16 multi-hit games)
He has established himself as a fan-favorite in San Francisco in May after netting 51 hits in 29 games.
Cabrera finished the month with a 25 percent line-drive rate, nearly double his 14 percent rate in April. He also had 23 hits on his 51 ground balls. (The average major leaguer gets hits on about 23 percent of his ground balls. Cabrera would match that with outs on his next 49 grounders.)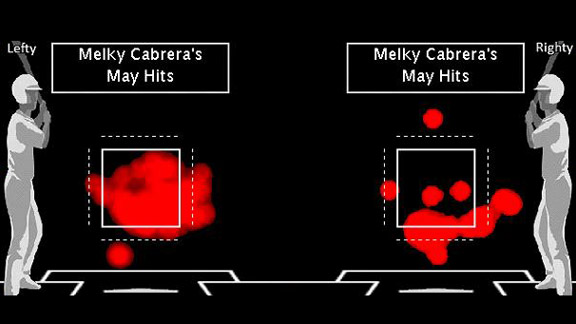 ESPN Stats & Info
Notice the pattern in the heat map above how Cabrera fared from the right side of the plate. Ten of his 16 hits as a right-handed batter came on pitches in the lower-third of the strike zone or below. Cabrera was 28-for-60 when an at-bat ended with a low pitch.
Dayan Viciedo, Chicago White Sox (.351 BA, 8 HR, .995 OPS)
Viciedo is emerging as a star. In his last 16 games (which coincides with the White Sox hot streak), Viciedo is 28-for-63 with twice as many home runs (8) as strikeouts (4).
If a pitcher left an off-speed pitch in the strike zone, Viciedo crushed it. Five of those home runs came on changeups, curveballs or sliders.
November, 8, 2011
11/08/11
1:18
PM ET
By
Katie Sharp
| ESPN.com
Much of the focus on the free agent frenzy this winter will be on the top tier of available players, such as
Prince Fielder
,
Albert Pujols
and
Jose Reyes
. However, there are several under-the-radar free agents that could provide significant value. Let's take a look at a two players who had disappointing seasons on the surface, but who may be better than people think from a statistical perspective.
David DeJesus
One is former
Kansas City Royals
outfielder
David DeJesus
. Last year, DeJesus had his worst offensive season for the
Oakland Athletics
, setting career lows in batting average, on-base percentage and slugging percentage.

DeJesus
However, some of his .240 batting average is likely a result of a .274 batting average on balls in play, well below his career mark of .316 and the lowest in a season for him.
Inside Edge does video tracking of every batted ball and discovered an interesting development for DeJesus; on balls categorized as "soft," he hit .281 in 2010 (26-for-117), but just .136 (18-for-132) in 2011. That difference cost him more than 30 points on his overall batting average.
There were several positives for DeJesus last year, however. He showed good plate discipline, as his walk rate of 8.9 percent was just shy of his career-best, 9.1 percent in 2007.
Despite the low batting average, he still provided his usual power, with an isolated power (which measures extra-bases per at-bat) of .136 that was in line with his career mark of .137. And he was one of the best defensive outfielders, with 13 Defensive Runs Saved that was third among all right-fielders.
Chris Capuano
Chris Capuano
won't be stealing any headlines this winter, but he could be a steal for a team needing a starting pitcher to fill out the rotation. Capuano's 4.55 ERA for the Mets was partly inflated by a .311 batting average on balls in play (career average of .300) that rose to .338 with men on base.
He also allowed a career-high 1.31 homers per nine innings, but that was affected by a career-high home run-to-flyball rate, as one out of every eight flyballs he allowed became a home run.
On a positive note, he struck out a career-best 8.1 batters per nine innings and walked only 2.5 batters per nine innings, the second-best rate of his career.
Looking just at the elements of his pitching that he can control – strikeouts, walks, home runs – and accounting for some bad luck on the flyballs he allowed, we see that Capuano pitched much better than his ERA may indicate.
His xFIP - Expected Fielding Independent Pitching, an ERA estimator that looks at strikeouts and walks, and presumes the pitcher will be league-average on his rate of fly balls per home run - was a career-best 3.66, just a few points higher than Jon Lester's 3.62 last year.
August, 27, 2011
8/27/11
12:39
AM ET
With the
Philadelphia Phillies
losing to the
Florida Marlins
Friday, the door was open for the
Atlanta Braves
to cut the Phils' division lead to five games.

Capuano
But they ran into
Chris Capuano
.
The left-hander for the
New York Mets
baffled the Atlanta attack, tossing a two-hit shutout with a career-high 13 strikeouts. It was Capuano's third career shutout and first since 2006.
Capuano struck out 13 without issuing a walk, becoming the first Mets pitcher since
David Cone
in 1991 to strike out that many without a walk. Capuano is only the sixth pitcher in franchise history to do it.
Using the Bill James Game Score metric (found in every ESPN.com box score), Capuano's 96 score was MLB's best this season.
Capuano was dominant in putting hitters away with two strikes. He worked mostly out of the strike zone do it, inducing Braves hitters to chase. Nine of his 13 strikeouts came on pitches out of the zone. Overall, he took 18 hitters to a two-strike count and retired all 18. Capuano is the first pitcher this season to retire at least 18 hitters without allowing a baserunner when the count reached two strikes.
No major league pitcher had thrown a shutout, in which he struck out at least 13 and allowed two baserunners or fewer since
Erik Bedard
for the 2007 Orioles. No NL pitcher had done it since
Randy Johnson
threw a 13-strikeout perfect game against the Braves and
Jason Schmidt
threw a one-hit, 13-strikeout shutout against the Giants on the same day, May 18, 2004.
The fact that the Braves were stifled by the left-handed Capuano is not shocking. With the loss, the Braves are now 17-22 when a lefty starts, compared to 62-32 vs righties.
Elsewhere around the majors:
•
Texas Rangers
outfielder
Nelson Cruz
recorded 6 RBI in an 11-7 win over the
Los Angeles Angels
to increase their AL West lead to three games. It was Cruz's third game this season with 6+ RBI. The last player to have three games with 6+ RBI in a season was
Gary Sheffield
in 2005.
• With his first-inning home run,
Carlos Gonzalez
now has an RBI in 10 consecutive games. That is the longest streak in the majors this season, and ties the
Colorado Rockies
' team record set by
Vinny Castilla
in 2004.
•
Tampa Bay Rays
starter
James Shields
went the distance for his MLB-leading 10th complete game this season, striking out 12 in the win. Shields joins
CC Sabathia
(2008) as the only pitchers since 2000 to record 10 complete games in a season.
September, 8, 2010
9/08/10
3:09
PM ET
Today's Trivia:
Neither the
Oakland Athletics
nor the
Seattle Mariners
have a player with at least 15 home runs. Kevin Kouzmanoff's 14 leads Oakland, while
Russell Branyan
paces Seattle with 13 (in just 50 games!). If either team ends up without a 15-HR player, it would the first time for an AL team since the 1992 Angels. Who led that team in home runs? (Hint: He has the third-most career HR for a player who homered in his first at-bat.)

Quick Hits:
With their third straight game with at least three home runs, the
Toronto Blue Jays
now have 215 on the season. That's tied for the third most in franchise history and 33 more than any other team. Let's dive into Toronto's torrid pace with help from STATS LLC.
• Toronto has hit at least three homers in each of its last three games. In 138 games this season, the
Houston Astros
have the same number of three-HR games.
• The Blue Jays now have 33 three-HR games, the mostby a team in a season since the 2005
Texas Rangers
. Over the last 90 years, the 1997 Mariners had the most three-HR games with 43.
• Speaking of the Mariners, they've only hit a home run in 62 games this season. The Blue Jays have hit multiple home runs in 63 games this season.
• The Blue Jays have hit an incredible 181 home runs against right-handed pitchers, 54 more than any other team. In fact, only the
Boston Red Sox
(182) have more total HR than the Blue Jays have against righties alone.
• The Blue Jays are hitting just .218 against lefties this season, which would be the lowest season average over the last 35 years. Not surprisingly, only 34 of their homers have come against southpaws (tied for 17th in the majors).
• The Blue Jays are on pace for 150 home runs at home this season. That puts them just off the pace of 2005 Rangers, who hold the record with 153 HR at home.
•
Jose Bautista
has already hit 27 home runs at home this season, the most by an AL player since Mark Teixeira's 30 in Arlington back in 2005. The MLB record would be a task though. That belongs to Hank Greenberg, who hit 39 of his 58 home runs at home in 1938.
• At home, Bautista is averaging a home run every 7.93 at-bats. That would be the best in the American League over the last 50 years. In 1994,
Frank Thomas
averaged one per 8.14 at-bats at home. Over that span, Bautista's rate would be the sixth best in the majors behind two seasons apiece for
Barry Bonds
and
Mark McGwire
, and Hank Aaron's 1971 campaign.
Today's Leaderboard:
Of Adam Lind's 20 home runs, 14 have come in two-strike counts. Compare that to Baustista, who has 8 of his 43 HR coming with two strikes. Lind's total is the most in the AL and trails only
Albert Pujols
, who has 15 more total home runs.
Key Matchups:
Zack Greinke
has not enjoyed facing the
Minnesota Twins
this season, going 0-3 with a 10.29 ERA. In fact, take out his starts against Minnesota and Greinke's ERA would drop from 3.87 to 3.36, as noted in the Kansas City Star.
Joe Mauer
is 4-for-8 against Greinke this season, after entering 2010 just 6-for-27 against him.
After missing two years due to injury,
Chris Capuano
made it back to the big leagues in 2010. However, that means he will have to face Albert Pujols again for the first time since 2007. If Pujols wants to make a run at the Triple Crown, it will require a massive climb in batting average. Tonight is a good place to start. Albert is 15-for-27 against Capuano, a .556 average that is his third highest against anyone he's faced 20 times.
Trivia Answer:
Gary Gaetti led the 1992 Angels with 12 home runs. That's the fewest HR to lead an AL team in a non-strike year since Bobby Bonds paced the 1976 Angels with 10.