June, 1, 2014
Jun 1
10:27
PM ET
Sunday was one of those days that featured the best of what major-league pitchers had to offer. Rather than focus on one of the many well-pitched games, we decided to take a snapshot look at all of them.
Mark Buehrle, Blue Jays
Buehrle became the first pitcher in the majors to reach 10 wins. The Elias Sports Bureau noted that he's the fifth Blue Jays pitcher to be first in the majors to 10 wins. The others are Dave Stieb (1983),
Roger Clemens
(1997),
David Wells
(2000) and
Roy Halladay
.
Buehrle had a good changeup and curveball on Sunday. Royals hitters were 0 for 6 in at-bats ending with each of those pitches.
Yu Darvish, Rangers
Darvish struck out 12 against the Nationals, making him the fourth pitcher this season to have multiple games with at least a dozen strikeouts (
Jon Lester
,
David Price
and
Corey Kluber
are the other three).
Darvish got misses on a season-high 37 percent of swings against him. Right-handed hitters were 2 for 16 against him with eight strikeouts, missing on 14 of 31 swings (45 percent).
Roenis Elias, Mariners
Elias
Elias earned his first career shutout, holding the Tigers to three harmless hits. The Tigers have now been been the victims of three pitcher shutouts in which they recorded three hits or fewer in their last 54 regular-season games. The other two were by
Henderson Alvarez
of the
Miami Marlins
(no-hitter to conclude 2013) and
Andrew Cashner
of the
San Diego Padres
.
Elias won with his curveball, a pitch he threw 28 times that netted him 26 strikes and 13 outs, without yielding a baserunner.
Tim Hudson, Giants
Hudson allowed no runs over seven innings for the second straight start in a win over the
St. Louis Cardinals
.
Hudson's key was escapability. The Cardinals went 0 for 10 with a walk with men on base against Hudson.
Phil Hughes, Twins
Hughes
Hughes allowed two runs in eight innings as the Twins came from behind to beat his former team, the
New York Yankees
.
Hughes has a 1.68 ERA and only one home run allowed in his last seven starts. He averaged 93 mph with his fastball on Sunday, his best average fastball velocity of the season. Hughes also had great success with his cutter, netting 11 outs on the 19 he threw against the Yankees.
Jon Lester, Red Sox
Lester gave the Red Sox their seventh straight win with a 12-strikeout gem against the
Tampa Bay Rays
.
Lester matched his season high for fastball velocity, averaging 92.6 mph with the pitch. Rays hitters were 1 for 13 with six strikeouts and a walk against that pitch on Sunday (the only hit was an infield hit).
Kyle Lohse, Brewers
Lohse pitched a three-hit shutout to beat the Cubs, his eighth career shutout.
This was Lohse's third-straight walk-free start. In fact, Lohse has struck out 39 and walked only three over 56 innings spanning his last eight starts.
Chris Sale, White Sox
Sale pitched a two-hitter and recorded his sixth career complete game in beating the San Diego Padres.
Chris Sale
Since the start of last season, only two pitchers have thrown more complete games than Sale's five (
Adam Wainwright
with seven and Price with six).
Sale had an injury issue earlier this season, but has returned as strong as he ever was. Opponents are 4 for 78 against him in his last four starts.
Sunday, Sale's offspeed stuff was terrific. He threw 54 changeups and sliders, netting him 13 of his 18 swings and misses, and 13 outs, without yielding a baserunner.
Steve Martinez also contributed to this article
July, 17, 2013
7/17/13
12:57
AM ET
By
ESPN Stats & Information
| ESPN.com
Robert Deutsch/USA Today SportsIn Mariano Rivera's final All-Star Game, pitching ruled the day.
Pitching, pitching and more pitching was the dominant statistical storyline in the 2013 MLB All-Star Game.
This year's contest was, like last year's, a shutout, marking the first time in All-Star Game history that consecutive games were shutouts.
The three runs scored were the fewest combined by the two teams in an All-Star Game since 1990, when the AL won 2-0. The teams combined to hit .197 with the NL managing only three hits, tied for the second-fewest in an All-Star Game.
With the win, the AL will hold home-field advantage in this year's World Series.
Let's run through some of the highlights.
Mariano Rivera the MVP
Mariano Rivera won MVP honors, which wasn't so much for this game (in which he pitched a scoreless eighth inning), but was more of a lifetime achievement award to commemorate his great career.
Rivera pitched nine innings in his All-Star career and allowed one unearned run. The only pitcher to pitch more All-Star innings without allowing an earned run was Mel Harder, who pitched for the
Cleveland Indians
in the 1930s and 1940s.
Rivera got a "hold" in this game and not a save. His four All-Star Game saves are the most all-time.
Rivera is the first pitcher who was primarily used by his major league team as a relief pitcher to earn All-Star Game MVP honors. He's the second to pitch in relief in the game and earn MVP, joining Jon Matlack, a starter on the 1975
New York Mets
who shared MVP honors in that year's All-Star Game.
Rivera is the first pitcher to win All-Star Game MVP since
Pedro Martinez
in 1999 and the second Yankees player to win it, joining Derek Jeter in 2000.
Elias notes that he'll join
Cal Ripken
Jr. as the only players to win All-Star Game MVP in their final seasons.
The young guys were very impressive
NL starter
Matt Harvey
, the first New York Mets pitcher to start the All-Star Game since Dwight Gooden in 1988, looked sharp after letting the first two hitters reach base. He was the first Mets pitcher to throw two scoreless innings in an All-Star Game since Gooden in 1984.
Harvey continued a run of dominance by Mets pitchers making their All-Star debuts. The 11 pitchers have combined for 12 2/3 scoreless innings, with 20 strikeouts.
White Sox pitcher
Chris Sale
earned the win. He was the first AL pitcher to throw two perfect innings in an All-Star Game since
Roger Clemens
in 2001. He's the first White Sox pitcher to win an All-Star Game since
Mark Buehrle
in 2005.
Miami Marlins
pitcher
Jose Fernandez
struck out a pair of hitters in the sixth inning to become the third pitcher age 20 or younger with multiple strikeouts in an All-Star Game, joining Gooden (1984) and Hall of Famer Bob Feller.
The combined line for those three -- five innings pitched, one hit allowed, seven strikeouts. The trio has 93 career starts between them.
Teamwork
The AL benefited from a couple of nifty examples of teamwork en route to the win.
Jhonny Peralta
,
Prince Fielder
and
Miguel Cabrera
each had at least one hit in the game. It's the first time that the
Detroit Tigers
have had three different players get a hit in an All-Star Game.
On the pitching side,
Toronto Blue Jays
relievers
Brett Cecil
and
Steve Delabar
combined for the last two outs of the seventh inning by striking out left-handed hitting
Domonic Brown
and right-handed hitting
Buster Posey
.
Cecil has held lefties to a .154 on-base percentage this season, the lowest for anyone in the majors this season.
Delabar has struck out 150 batters in 108 innings over the last two seasons. His rate of 12.5 strikeouts per 9 innings is eighth-best in the majors in that span.
Did You Know?
The NL finished with only four baserunners, the fewest in a game for either team since 1995 and the fewest for the NL in an All-Star Game since 1968.
The AL grounded into an All-Star Game-record four double plays.
Joe Nathan
recorded the save. The only other Rangers pitcher to record a save in an All-Star Game was John Wetteland in 1999. You might remember Wetteland as the pitcher who preceded Rivera as Yankees closer.
July, 5, 2013
7/05/13
12:38
PM ET
By
Jason Starrett, ESPN Stats & Information
| ESPN.com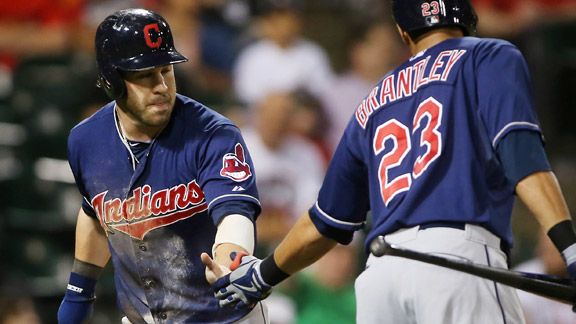 US PresswireJason Kipnis and the Indians have been the AL's best team the last few weeks
The
Cleveland Indians
host the
Detroit Tigers
on Friday in the opener of a four-game series at Progressive Field. Earlier this week, the Indians took over sole possession of first place in the AL Central for the first time since early May. But thanks to three straight Tigers wins and back-to-back losses by the Tribe, Detroit comes in with a 1.5-game lead in the division.
Of course, it's still just a fraction of the 5.5-game lead Tigers held on June 11. How have the Indians been able to go an AL-best 15-7 since that day and close the gap in the Central?
TWO-OUT PRODUCTION
The Indians have scored nearly 41 percent of their runs with two outs this season. Their 169 runs scored with two outs are the most in the American League and second-most league wide (Cardinals - 174). The Tribe leads MLB in two-out slugging percentage (.433) and ranks second in two-out OPS (.767).
SPEED
Offseason additions like
Michael Bourn
and
Drew Stubbs
were meant to improve overall team speed, and it's paid off. The Indians' 64 stolen bases are tied for fourth in MLB and no team has more than their 20 stolen bases since June 11. It's a dramatic improvement for a team that ranked 12th in stolen bases in 2012. Cleveland baserunners have also gone first to third or scored on a single 61 times this season, most in MLB.
CLOSE-GAME CONSISTENCY
The Indians are 18-8 (.750) in one-run games (best in baseball), and are the only team that has yet to lose an extra-inning game (5-0). Meanwhile, the Tigers are just 9-12 in one-run games and have gone 2-9 in extra innings, the most extra-inning losses in baseball.
BIG MASTY
Justin Masterson
has been one of Cleveland's best starters during its run and he gets the ball on Friday. In four starts since June 11, Masterson is 2-1 with a 2.83 ERA and the Indians have won three of those four games. In his last start, Masterson shut out the White Sox with eight strikeouts and just one walk. It was his major-league best third shutout of the season
Masterson, primarily a sinker-baller, has thrown 28 percent sliders this season after doing so just 19 percent of the time in 2012. His .091 opponents' batting average against his slider is the lowest among qualified starting pitchers. He'll be tested on Friday, however, as Detroit has the highest OPS (.783) and the most home runs (21) against sliders this season.
KIPNIS REVIVAL
Kipnis
After hitting .189 through May 1,
Jason Kipnis
has hit .340 since (sixth in MLB over span) including an AL-best .419 during the month of June. His efforts earned him player of the month honors, the first Indian to win the award since
Shin-Soo Choo
in September of 2008. He's riding a career-long 15-game hitting streak and has reached base safely in 35 straight games. It's the longest on-base streak by a member of the Indians since
Victor Martinez
reached in 45 straight during a stretch spanning the 2005 and 2006 seasons.
June, 16, 2013
6/16/13
9:31
PM ET
Last week we brought you everything grand-slam-related. This week we'll stop at third base in our weekly look at interesting and unusual stats.
Theme of the week: Triples, Triples, and More Triples
The Brewers triple-fest
The Brewers hit three triples in Wednesday's victory over the Marlins, two by
Carlos Gomez
and one by
Jonathan Lucroy
. There have been five three-triple games by teams this season, and two are by the Brewers.
That makes the Brewers the first team to have a pair of multi-triple games by June 12 since the 1983 Cardinals.
The three on Wednesday brought an end to a stretch where Milwaukee had at least one triple in six straight games and 11 of their previous 12.
For the season the Brewers have 29 three-baggers. That six-game streak was the longest by any team since the same Brewers went seven straight in August of 2007.
Their team total of 29 triples is 10 more than any other team in the majors (the Rockies have 19), and nearly matches the other four teams in the NL Central combined (31).
Although they probably won't reach the all-time team record of 129 (set by the 1912
Pittsburgh Pirates
), the top two marks by any team since World War II are both held by the Royals, who (oddly) hit 77 triples in 1977 and 79 in 1979. They're halfway to the Brewers' team record of 57 set in 1983.
Gomez and
Jean Segura
have eight each, tied for the major-league lead. Eight entire teams don't have eight triples yet, and no other player has more than six.
Schierholtz in good company
Nate Schierholtz
of the Cubs tripled twice on Thursday, walked twice and scored three runs. The last Cub with two triples and three runs scored? Andre Dawson against the Padres on May 4, 1989.
And the last to have two triples be his only hits of the game and still score three times? That also happened against the Reds ... by Roy Smalley Sr. on April 27, 1949.
Galvis for three
Freddy Galvis
of the Phillies rounded out the week's trifecta of multi-triple games when he hit two in Colorado on Friday. Galvis was the first Phillies player with a multi-triple, four-RBI game since Mickey Morandini in 1993.
And in summary
What is the significance of having a multi-triple game on Wednesday, another on Thursday, and a third on Friday?
Although there was an instance two years ago of three such games on the same day (so we can't technically say "three in three days"), it's the first time it's happened on each of three consecutive days since 1973. Mike Phillips of the Giants, longtime Tiger Mickey Stanley, and Fred Kendall of the Padres (that's Jason's father) lined up multi-triple games on August 20 through 22 respectively.
May, 12, 2013
5/12/13
2:40
PM ET
Los Angeles Angels
of Anaheim and
Chicago White Sox
on ESPN.
1--
This game features a pair of starters who successfully transitioned from the bullpen in recent years.
Chris Sale
and
C.J. Wilson
are two of the three pitchers since 2005 who won 15 games in a season following only relief appearances (the other was
Ryan Dempster
).
Sale and Wilson both rank among the top five among AL lefties in strikeouts since the start of last season. Sale is third with 234. Wilson is fifth with 217.
Sale enters 11-3 with a 2.26 ERA in 17 career starts at home and 8-0 with a 3.13 ERA against AL West foes. He wins on the strength of a slider that has netted 129 strikeouts, third-most in the majors in the past two seasons.
2--
The easiest way to sum up the Angels' woes: Entering Saturday,
Josh Hamilton
had driven in
Albert Pujols
just once all season. Hamilton is 3-for-29 with runners in scoring position this season and 3-for-35 versus lefties.
As much as Hamilton has struggled, he's actually produced more than Albert Pujols did in the Angels' first 36 games last year. He was hitting .197 with 1 home runs, but broke out in Game No. 37 and hit .312 with 29 homers the rest of the way.
The Angels have the lowest BA in the MLB from the 3 and 4 spots in the order combined (.214).
You can take a look at Hamilton's struggles
here
and in the interactive heat map above.
3--
Mike Trout
got off to a bit of a slow start both on offense and defense. But Trout is hitting .356 (16-for-45) with four home runs and seven multi-hit games in his past 11 games.
On the defensive side, Trout has been charged with costing his team two runs in left field and one run in center (-3 defensive runs saved). Trout ranked second among major league center fielders last season with 23 defensive runs saved.
Trout was the premier home-run robber in the majors last season, pilfering four would-be longballs. He's yet to steal one from over the fence in 2013.
4--
The White Sox offense has sputtered this season. It ranks in the AL basement across the board in the slashline stats-- batting average (.227), on-base percentage (.278), and slugging percentage (.370).
The White Sox have three batting-title qualifiers currently hitting below .200. They rank last in the AL in runs per game and strike out at a higher rate than any other team.
Four stats you'll likely hear quite a bit more about on tonight's "Sunday Night Baseball" matchup between the
May, 1, 2013
5/01/13
2:59
PM ET
By
Tobin Petitpas, ESPN Stats & Info
| ESPN.com
Daniel Shirey/Getty ImagesJustin Upton left little doubt to each of the 12 home runs he hit in the first month of the season.
The month of April ended in style when it came to home runs. There were 50 home runs hit on Tuesday, the most in a single day since Sept. 11, 2007 when there was also 50 home runs.
No team had more than the Cleveland Indians, who hit seven against the Philadelphia Phillies, including three off Roy Halladay. The 50 home runs measured a combined 19,992 feet, or just under 3.8 miles.
Here's a look at some of the HR highlights from the first month of the season.
Player of the Month
Justin Upton
hit a league-leading 12 home runs in April, two shy of the MLB record for the most in March/April. None of Upton's home runs were cheap -- each one traveled more than 400 feet. His longest of the month came on Opening Day against
Cole Hamels
. It went
460 feet
, Upton's 12th home run of at least 450 feet in the past four seasons. That's tied with
Giancarlo Stanton
for the most in MLB over that span.
Upton's average home run distance in April was 423.5 feet, that's the highest this season among players with at least six home runs. Upton hit eight home runs in April that went at least 420 feet, four more than any other player and three more than he had all of last season. This is resurgence for Upton, who led baseball in 2011 with 18 home runs that traveled at least 420 feet.
Unlikely HR of the Month
On April 13,
Nick Swisher
hit a 397-foot home run at Progressive Field in Cleveland off
Chris Sale
. The ball cleared the 19-foot left field fence by about 10 feet.
ESPN Stats & InformationNick Swisher's home run on April 13 was helped significantly by a strong tailwind.
The home run
appeared to be a clear no doubter
. However, at the time the wind was blowing 23 MPH out to left, which pushed the ball an extra 69 feet. If there was no wind, the ball would have landed about 14 feet shy of the warning track and would not have been a home run in any major-league park. It was the most wind-aided home run since David Wright's home run was pushed 72 feet by the wind in Citi Field on April 24, 2011.
Since the start of the 2006 season, only eight other home runs have been aided more by the wind than Swisher's.
Longest of the Month
There was a tie between the Cubs
Anthony Rizzo
and the Angels
Mark Trumbo
. On April 18 against
Alexi Ogando
, Rizzo hit a career-long 475-foot home run to right-center field. It was the longest home run
hit at Wrigley Field
since 2008.
On April 29, Trumbo matched Rizzo, hitting a career-long 475-foot shot off
Dan Straily
to left-center field at the O.co Coliseum. It was Trumbo's third home run longer than 470 feet in the last three seasons, the most in baseball. There are only three other players (Giancarlo Stanton,
Prince Fielder
,
Nelson Cruz
) who have hit multiple 470-foot home runs during that time span, and 19 total such home runs. In addition, Trumbo's home run was
the longest hit at Oakland
in the past eight seasons.
September, 1, 2012
9/01/12
11:55
PM ET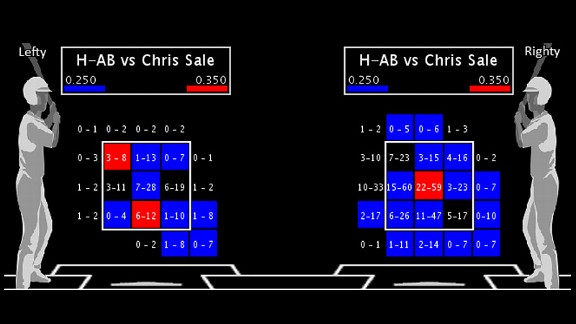 Chris Sale has been tough to hit wherever he's located his pitches in 2012.
The "Sunday Night Baseball" game between the
Detroit Tigers
and
Chicago White Sox
isn't just a battle for American League Central supremacy. It's a matchup of two of the top pitchers in baseball,
Justin Verlander
and
Chris Sale
.
Let's take a closer look inside the skill sets of each of these standouts to prepare you for Sunday night's game.
What Chris Sale does best
Sale has one of the best wipeout sliders in the major leagues. He's struck out 91 hitters with the pitch. Only two AL pitchers have more whiffs with the slider --
CC Sabathia
and
Francisco Liriano
.
That hasn't helped Sale against the Tigers, though. He is 0-2 with a 6.00 ERA versus Detroit this season, compared to 15-3 with a 2.54 ERA against all other teams.
Sale allowed three hits with his slider the last time he faced the Tigers, including a two-run double to
Austin Jackson
and a three-run homer to
Brennan Boesch
.
The Tigers won those games by getting three extra-base hits with runners in scoring position -- two doubles and a home run. In Sale's other 22 starts, he's allowed five extra-base hits with runners in scoring position.
In fact, Sale has the lowest opponents' batting average with runners in scoring position (.175) among AL starters.
What2Watch4 with Sale
Sale has given up a higher rate of hits after the first 50 pitches of the game. Opponents are hitting .195 against him within his first 50 pitches of the game, .255 thereafter.
Sale Stat of the Day
Oh, to be young, tall and a lefty. Only four lefties 6-foot-6 or taller have won 15 or more games in a season at age 23 or younger: CC Sabathia, John Candelaria (twice), ESPN "Baseball Tonight" analyst
Mark Mulder
and Chris Sale.
What Justin Verlander does best
Verlander uses his home ballpark, Comerica Park, to his advantage. He's 38-10 with a 2.34 ERA there since 2009.
He has four pitches with which he can get a hitter out and has at least 50 strikeouts with each since the start of last season.
Verlander's curveball has been the premier complement to his fastball. He leads AL pitchers with 59 strikeouts with that pitch this season.
Unlike Sale, Verlander can get better as the game gets longer. His average fastball speed in the seventh inning or later this season is 95.6 mph, nearly a mile per hour faster than the next-best starter in the majors (
David Price
, 94.7).
It is 2 mph faster than what Verlander averages in the first six innings.
Verlander needs two strikeouts for his fourth 200-strikeout season. That will be the second most in Tigers history, trailing only Mickey Lolich's seven.
What2Watch4 with Verlander
Prior to 2009, Verlander was 2-9 with a 5.90 ERA in 14 starts against the White Sox. Since then, he's 11-1 with a 2.32 ERA in 12 starts against them.
He enters the day tied for the most wins by a pitcher against an opponent since 2009. Price can surpass him if he beats the Blue Jays on Sunday afternoon.
Verlander has great numbers against some of the key White Sox in that span.
Paul Konerko
is 4-for-25 against him.
Adam Dunn
is 3-for-20 with 10 strikeouts and no walks.
Even someone who wasn't on the White Sox for much of this time -- Kevin Youkilis -- struggled. He's 3-for-19 with seven whiffs and no walks against Verlander in the past four seasons, including 1-for-9 in 2012.
Verlander stat of the day
Verlander has thrown at least 100 pitches in 79 straight appearances. The next-best streak since 2000 is 32 games, by
Felix Hernandez
in 2009 and 2010.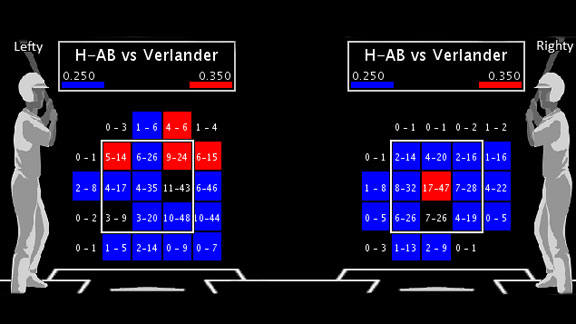 August, 28, 2012
8/28/12
11:45
PM ET
By
ESPN Stats & Information
| ESPN.com

The
Baltimore Orioles
this season have been known for their "magical" record in one-run games –- a .800 winning percentage that would rank as the best all-time. But Tuesday night they posted a rare blowout win, beating the AL Central-leading
Chicago White Sox
6-0 at Camden Yards.
Chris Tillman
was brilliant for the home team, pitching one of the best games of his young career with 7⅓ scoreless innings and just one hit allowed. It was the first time he went at least seven innings and didn't allow a run in his 46 career starts.
Tillman had great command of his fastball and cutter Tuesday night. Those pitches netted him 14 outs, including three of his five strikeouts. He threw a season-high 61 percent of his fastballs and cutters in the strike zone, with 71 percent of them going for strikes.
Prior to this start, Tillman's fastball/cutter combination had been a liability for him. Opponents had hit .345 with seven homers in at-bats ending in those pitches in his first nine outings of the season.
His 1.051 OPS allowed on fastballs and cutters before Tuesday was the third-highest in the majors entering the games of August 28.
He held the White Sox left-handed batters hitless in eight at-bats thanks to an efficient changeup. He threw just seven of those pitches to lefties, but those seven changeups got him three of those eight lefty outs.
Not only did he allow a mere infield single among the 26 batters faced, but Tillman gave up just one line drive or a "well-hit" ball during his outing, as judged by scouting service Inside Edge. He had allowed an average of nearly six hard-hit balls over his previous five starts.
Tillman's gem on Tuesday continues a run of great pitching by the Orioles starters during the team's four-game win streak. They have thrown at least six innings and allowed no more than two runs in each game, posting a 1.75 ERA in this span. Before this four-game stretch, the Orioles starters had compiled an ERA close to five in their first 20 games of August.
Brian Matusz
finished off the shutout, allowing just one hit in two innings. With only two hits allowed in the entire game, this was a rare win for the Orioles. It is the fewest hits the Orioles have allowed to the White Sox in a game played in Baltimore since May 5, 1976, when Jim Palmer beat Rich Gossage and the White Sox, 2-0.
July, 4, 2012
7/04/12
1:27
AM ET
Roy Oswalt
spent the first few months at home before signing with the
Texas Rangers
at the end of May. He won his first two starts, but Tuesday night was a different story.

The
Chicago White Sox
greeted Oswalt with three home runs in the first inning and never looked back, winning the game 19-2. Oswalt allowed 11 runs, nine of them earned -- both career highs -- and tied his career high allowing 13 hits. By all accounts, it was his worst start in his major league career.
The Rangers allowed at least 19 runs for the second time this season. The two-time defending AL champs don't have history on their side -- the last team to allow 19 runs at least twice in the same season and win the World Series was the 1930 Philadelphia Athletics.

Sale
White Sox starter
Chris Sale
, one of the front-runners to start the All-Star game, was staked to a 7-0 lead after two innings. From the third inning on, he threw more than two-thirds of his pitches in the strike zone. In the first two innings, fewer than half of his pitches were in the zone.
Rangers hitters went 2-for-15 in at-bats ending with his fastball. Ten of the 15 balls in play (67 percent) against Sale's fastballs were grounders, well above his season average (below 50 percent).
Elsewhere around the majors:
•
Chipper Jones
went 5-for-5 with four RBIs in the
Atlanta Braves
win over the
Chicago Cubs
, his third career five-hit game and first in almost 10 years. According to the Elias Sports Bureau, he's just the fifth player in the past 25 years with a five-hit game in his forties.
Jones had a five-hit day despite taking only six swings. He's the 11th player this season with a five-hit game but the second to do it on only six swings (no one has done it with five). Jones hit three balls classified as line drives, a season high for him.
• The
Philadelphia Phillies
lost their sixth straight game -- their second six-game losing streak this season -- to fall to 10 games below .500 for the first time since July 22, 2002.

• On the other hand, the
Pittsburgh Pirates
got a walk-off home run from
Drew Sutton
to improve to 44-36. It's the first time they've been eight games over .500 since the last day of the 1992 season. That's the last time the Pirates made the playoffs and the last season in a Pirates uniform for
Barry Bonds
.
•
Aramis Ramirez
hit his sixth career walk-off home run to give the
Milwaukee Brewers
their sixth walk-off win of the season, tied for the most in the major leagues (with the Pirates, among others). It's the third straight walk-off home run for Ramirez that has come in extra innings.
• Finally, there were 183 runs scored across MLB on Tuesday, the highest-scoring day in the majors this season.
June, 23, 2012
6/23/12
12:11
AM ET
By
ESPN Stats & Information
| ESPN.com
Baseball took center stage Friday night with a full slate of games and some terrific pitching performances across the country.
DUELING ACES ON SOUTH SIDE
The best pitchers' duel of the evening came in Chicago, where
Chris Sale
and
Zack Greinke
combined for 17 shutout innings as the
Milwaukee Brewers
beat the
Chicago White Sox
1-0 in 10 innings.
This was just the third extra-inning 1-0 win on the road in Brewers franchise history; the other two came against the Rangers in 1976 and the Angels in 2004.
Sale blanked the Brewers for eight innings with seven strikeouts and now has a ridiculous 0.56 ERA in his last four home starts.
He did a great job finishing off the Brewers, who were 1-for-14 in two-strike at-bats. He also challenged them inside, throwing 49 of his 109 pitches on the inner half of the plate or further in. The Brewers were hitless in 10 at-bats ending in a pitch to that location.

Greinke did Sale one better, allowing just three hits over nine scoreless innings in the win. Greinke kept the ball low, throwing 52 of his 100 pitches down in the zone or below, and White Sox hitters were 1-for-14 in at-bats ending with a pitch in that location.
All 11 of Greinke's sliders were down, as held the White Sox hitless with three strikeouts in four at-bats ending with the pitch. Opponents are 2-for-19 against his slider over his last four starts.
Rickie Weeks
was the hero for Milwaukee with the go-ahead hit in the top of the 10th inning. He has four multi-hit efforts over his last five games and is 10-for-16 (.385) during that stretch. Weeks was hitting .162 in his first 60 games of the season.
HOME SWEET HOME
Watch out Cincinnati, here come the
Pittsburgh Pirates
. The Pirates beat the
Detroit Tigers
4-1 for their fifth win in their last six games, and now are just a game behind the
Cincinnati Reds
in the NL Central.
A.J. Burnett
tossed six scoreless innings as he improved his home ERA to 1.11 this season, the second-best mark among NL pitchers.
Burnett has won his last seven starts overall, becoming the first Pirates pitcher to win at least seven consecutive starts since Dock Ellis won eight in a row in 1974.
Burnett relied on his fastball, throwing it a season-high 75 percent of the time (73 of 98 pitches). Tigers hitters were 1-for-16 with two strikeouts in at-bats ending in a heater, and missed on seven of their 31 swings.

HEATING UP IN TEXAS
The
Texas Rangers
are officially the majors' hottest team as they extended their win streak to seven games in a 4-1 win over the
Colorado Rockies
. The Rangers have also won 10 of their last 11 games and lead all of baseball with a 44-27 record.
Roy Oswalt
was better than good in his first start of the season, throwing 110 pitches and allowing just one run in 6T innings. Oswalt lowered his ERA to 1.89 in 13 career starts versus the Rockies, his best versus any National League team.
June, 15, 2012
6/15/12
4:28
PM ET
AP Photo/Chris O'MearaSale has the lowest ERA among left-handed pitchers this season.
The best left-handed pitcher of 2012 takes the mound at Dodger Stadium on Friday night.
Clayton Kershaw
will also be pitching.
Chris Sale
leads the American League with a 2.05 ERA and .188 Opp BA, and is tied for the league lead with eight wins. This from a pitcher who hadn't started a major-league game before 2012. Sale's on-field transition to the rotation has been seamless (though the
Chicago White Sox
wavered in their decision last month).
In his past five starts, Sale is 5-0 with a 0.98 ERA, and he's yet to allow more than three earned runs in a game this season. He's looking to be the first White Sox southpaw to win six straight starts in a season since
Wilson Alvarez
in 1994.
Sale's done it by leaning heavily on his slider, particularly as an out pitch. With two strikes, he throws 43 percent sliders. Sale's 47 strikeouts on the slider rank fourth in the majors.
Having bested C.J. Wilson last month, Sale now faces Kershaw, the current standard bearer for southpaws. As intriguing as the matchup is, Kershaw probably has another player on his mind.
Adam Dunn
has both the most home runs (three) and most RBI (seven) of any batter against Kershaw, as well as the highest batting average (.636) among those who have faced him at least 10 times.
Nationals and Yankees Collide
The Yankees and Nationals are set to square off this weekend, with both teams entering the series on a six-game winning streak.
According to the Elias Sports Bureau, this is just the third matchup in major-league history between first-place teams that had each won their previous six (or more) games. The others were May 7, 1976 (Dodgers 11 straight vs Phillies six straight) and May 1, 1985 (Blue Jays six straight vs Angels six straight).
Michael Brantley's Streak
Michael Brantley has hit safely in 21 straight games, the longest hit streak of the season, and the longest by an Indians batter since Casey Blake's 26-game streak in 2007. It's also the longest hit streak by an Indians centerfielder since Larry Doby's 21-game streak in 1951.
Brantley also had a 19-game hit streak back in 2010. Only Brantley and
Pablo Sandoval
have had multiple 19-game hit streaks over the past three seasons. As we approach Father's Day, it's worth noting that his father, Mickey, once had a 13-game hit streak.
May, 28, 2012
5/28/12
7:02
PM ET
By
Katie Sharp, ESPN Stats & Info
| ESPN.com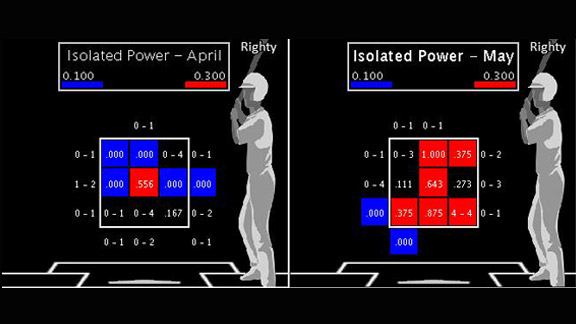 ESPN Stats & InformationAfter recording just five extra-base hits in April, Giancarlo Stanton has nine doubles and 11 home runs in May.
The
Miami Marlins
scored three runs in the sixth inning, sparked by a two-run homer by
Giancarlo Stanton
, to beat the
Washington Nationals
and improve to an MLB-best 19-8 in May.
The Marlins have a chance to break the franchise record for wins in a month. Their 19 wins this month match the club record, previously set in August 1997.
The club's resurgence after finishing 8-14 in April has been keyed by Stanton.
After hitting just one home run and slugging .342 in April, Stanton has hit 11 homers and is slugging .735 in May. He ranks fourth in the majors in slugging percentage this month and is tied with
Josh Hamilton
and
Adam Dunn
for the most May homers.
His biggest improvement has come in hitting to left field with authority. His slugging percentage to his pull side has more than tripled and 9 of his 11 HR this month have gone to left field.
He continues to adapt to playing at Marlins Park. In the club's 13 May home games, he has five home runs and seven multi-hit games. In his first 11 home games this season, he hit a single homer and had just one two-hit game.
Stanton struggled against inside pitches in April, but has returned to his normal productivity against those pitches in May. Opposing pitchers are quickly adapting by throwing the pitch less frequently.
He has an isolated power (extra bases per at-bat) of .333 on pitches located on the inner third of the plate in May, after posting just a .034 mark in April. As shown in the table to the right, Stanton has been able to get the ball into the air with more frequency since the calendar turned.
Windy City Winners
• The
Chicago Cubs
snapped their 12-game losing streak with an 11-7 win against the
San Diego Padres
.
Something had to give in that game. The 12-game losing streak was tied for the longest in the majors this season with the
Kansas City Royals
, but the Padres have only five wins away from home, the lowest total in MLB.
• Aided by the wind blowing out to center at 24 miles per hour, the Cubs hit four home runs in a game for the first time since last August. They have won the last 13 games when they reached that plateau.
• The
Chicago White Sox
also picked up a win Monday behind the arm of
Chris Sale
. He finished with 15 strikeouts, one shy of the franchise record. Jack Harshman struck out 16
Boston Red Sox
hitters on July 25, 1954.
• Sale's opposite number didn't have a bad game --
Matt Moore
struck out 10 batters. According to our friends at the Elias Sports Bureau, they are the first opposing pitchers with at least 15 and 10 strikeouts in the same game since
Pedro Martinez
and
Steve Trachsel
in 2000.
They are the first pair of opposing
lefties
to each reach double figures in strikeouts since 1992, when Randy Johnson and Mark Langston pulled it off.