Stats & Info:

Chris Volstad
May, 24, 2012
5/24/12
12:50
PM ET
Jesse Johnson/US Presswire Dan Haren has lost four straight starts for the second time in his career.

Dan Haren
of the
Los Angeles Angels
will be looking to change his fortunes around when he gets the nod tonight against the
Seattle Mariners
(10:10 ET). He enters having lost four straight starts for the second time in his career, having previously done it in 2005. While Haren does have a 5.79 ERA in that stretch, the Angels have managed a total of two runs in those four games.
The Angels are 1-8 in his nine starts, and only Haren and
Chris Volstad
of the
Chicago Cubs
have seen their team lose eight of their starts this season. In addition, only teammate
Ervin Santana
has received worse support in the AL. The Angels have scored more than three runs just once in Haren's nine starts.
Ike Davis Slumping
The
New York Mets
are four games over .500 despite
Ike Davis
having one of the worst seasons in the majors. Davis has the second-lowest batting average among qualifying players, including a .065 average at home, and based on WAR, Davis is the least valuable player in the majors.
When he is making contact this year, Davis has seen a very high percentage of his balls in play turn to outs. Among all players this season, Davis' .188 batting average on balls in play is the lowest.
Last year, Davis found considerable success against the fastball, batting .343 with an OPS of 1.100. This year, those numbers have dropped to .157 and .448.
Other Key Notes
-
Ichiro Suzuki
was just 2-18 vs
Dan Haren
last season. He's a .227 career batter vs Haren.
-
Hunter Pence
is 7-12 (.583) in his career vs
Jake Westbrook
.
-
Philip Humber
has a 7.86 ERA since his perfect game.
-
Albert Pujols
has 3 HR, 8 RBI in his last nine games.
-
Cincinnati Reds
have a season-high five-game win streak.
April, 9, 2012
4/09/12
12:58
PM ET
AP Photo/Jeffrey Phelps
Shaun Marcum held opponents to a .196 BA and .264 Slug pct against his cutter last season.
The
Milwaukee Brewers
head to the Windy City to open a four-game series against the
Chicago Cubs
tonight (ESPN, 7 ET). The Brewers went 10-6 against the Cubs last season, their first winning season against Chicago since 2005. The Cubs were 45-34 against Milwaukee from 2006-10.
Starting Pitchers
Shaun Marcum
takes the mound for the Brewers in his first start of the season. Marcum is coming off a career year in 2011 – his first in the National League after starting his career with the
Toronto Blue Jays
- as he set career highs with 33 starts and 200⅔ IP, and tied his career high with 13 wins.
The cutter will be Marcum's weapon, a pitch he improved and increased his use of last season. In 2011, he threw his cutter 17.7 percent of the time and has a miss percentage of 26.0, compared to throwing it 15.9 percent of the time with a 22.2 miss percentage in 2010. In addition, Marcum allowed only two HR off his cutter last season, compared to seven home runs in 2010.
Chris Volstad is 1-1 with a sparkling 1.71 ERA in four career starts against the Brewers. He'll be excited to see Milwaukee without Prince Fielder in the lineup. Volstad's opponents' batting average against lefties was fifth-worst in the majors last season.
Volstad's performance against lefties has gotten worse each of his four seasons in the majors. In 2008, he allowed lefties to hit .243 against him, but saw left-handed hitters become more comfortable in each of the subsequent years – hitting .255 in 2009; .292 in 2010; and a career-high .305 against him last season. Only four other pitchers (min. 300 AB) had a higher opponent batting average against left-handed batters last season.
Stat of the Game
Milwaukee entered the season without Prince Fielder for the first time since 2005 (signed a free-agent contract with the
Detroit Tigers
). It's only three games, but they are feeling his loss as their first basemen (
Mat Gamel
and
Travis Ishikawa
) are a combined 2-for-12 with five strikeouts and no extra-base hits. Fielder is hitting .417 with two HR and two strikeouts in three games with the Tigers.
Key Matchup
Chicago second baseman
Darwin Barney
is 3-for-7 with three doubles against Marcum, but the rest of the Cubs are 5-for-53 (.094) with two extra-base hits combined.
David DeJesus
is 0-for-16 with four strikeouts against him.
John Fisher contributed to this post
January, 8, 2012
1/08/12
12:42
PM ET
By
Katie Sharp
and
Mark Simon
| ESPN.com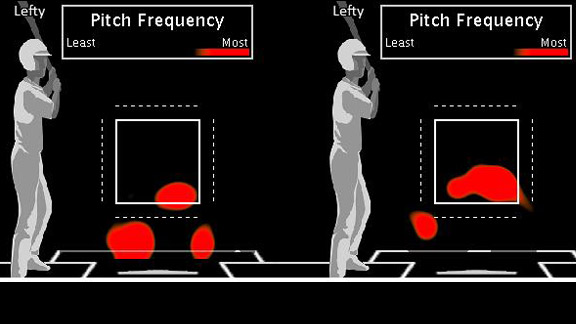 Left: Where Carlos Zambrano threw his splitter/slider (2010)
Right: Where Carlos Zambrano threw his splitter/slider (2011)
Click here to create your own Zambrano heat maps
Carlos Zambrano: Traded to Miami Marlins
Zambrano's batting average on balls in play was nearly identical in 2010 and 2011 (.309 vs .307). So what was the issue that led to his ERA jumping by nearly 1.5 runs?
Zambrano's home run rate soared in 2011. He went from allowing a home run for every 20 fly balls allowed in 2010 to yielding a home run for every nine fly balls allowed in 2011.
His success has historically come when he kept the ball down. Zambrano's percentage of pitches in the lower-third of the strike zone and below dropped from 43 percent in 2010 to 38 percent in 2011.
Zambrano's pitches in the middle and upper part of the strike zone got hit harder. His opponents OPS on such pitches jumped from .673 (in 2010) to .813 (in 2011).
Those numbers coincide with a decline in the effectiveness of Zambrano's slider and splitter. Batters missed on 38 percent of their swings against those pitches in 2010, but that number dropped to 26 percent in 2011.
The best illustration of the difference for Zambrano is in where he threw his slider and splitter most often to lefties, as noted in the heat maps above and in the chart on the right. Zambrano's fine tuning the location of his pitches will be something to watch for in 2012.
-- Mark Simon
Chris Volstad: Traded to Chicago Cubs
Volstad is clearly not an elite pitcher. The only other pitcher to throw at least 150 innings and post an ERA of 4.50 or higher in each of the last three years is
Fausto Carmona
.
But Volstad was likely not as bad last season as his 4.89 ERA might indicate. Though his ERA ranked 98th out of 107 pitchers with at least 150 innings last year, his 3.64 xFIP ranked a more palatable 34th.
One reason for the large differential between the two numbers was a homer-to-flyball ratio of 15 percent that was seventh-highest among MLB starters and nearly double his rate of 8.5 percent from last year.
Most of the damage came against lefties, who hit 19 of the 23 homers he allowed in 2011. Nearly one of every four flyballs he allowed to lefties went over the fence, a rate that was the highest among major-league starters. Last year, only one of every 10 flyballs he gave up to lefties became homers.
The primary culprit was a flatter changeup that averaged almost an inch less break both horizontally and vertically in 2011 compared to 2010, and which led to nearly a 150-point increase in slugging percentage vs his changeup by lefties.
-- Katie Sharp
Coco Crisp: Signed 2-year deal with Oakland Athletics
Crisp's bat last year was below average (91 OPS+), but he was still a valuable part of the Athletics lineup because of his smart baserunning and penchant for making game-saving plays in the outfield.
Crisp tied for the American League lead with 49 steals and ranked sixth in the majors in Baseball Info Solution's Net Gain baserunning stat. Crisp gained 43 bases more than the average player, combining his stolen base successes with his extra-base advancement on things such as hits, wild pitches, and sacrifice flies.
The Athletics capitalized on his speed by showing a willingness to let him run late in close games. Crisp was 10-for-12 in steal attempts that came in the eighth inning or later, with the Athletics either tied or trailing by a run. No other player had more than six steals or seven attempts.
Twice those steals led to the tying run being scored in eventual wins: April 7 against the Blue Jays and May 16 against the Angels.
Crisp has rated as an above-average defensive outfielder in terms of turning batted balls into outs over the last two seasons, but it's his ability to make extraordinary plays at the wall that has set him apart.
Since the start of 2010, only two players have more home run robberies than the three that Crisp has:
Peter Bourjos
and
Franklin Gutierrez
both have four.
-- Katie Sharp and Mark Simon
September, 7, 2010
9/07/10
3:48
PM ET
Today's Trivia:
The
New York Yankees
'
Derek Jeter
has had double-digit home runs in 15 straight seasons, but never eclipsed 30 HR. That's tied for the third longest such streak. Who holds the record for consecutive 10+ HR seasons without hitting 30 or more?
Quick Hits:
On Monday,
Alex Rodriguez
made it 13 straight seasons with 100 RBI. That tied Jimmie Foxx and Lou Gehrig for the longest streak all time. Not to be outdone, Jeter picked up his 150th hit. He's now done that in 15 straight seasons. Only Hank Aaron (17) and Pete Rose (16) had longer streaks.
So who else is looking to extend streaks in 2010?

• Perhaps the most notable consecutive season streak belongs to the
Seattle Mariners
'
Ichiro Suzuki
. He needs 21 hits in the final 24 games to make it 10 straight 200-hit seasons. He already holds the record with nine straight, having passed Willie Keeler last season.
• Alex Rodriguez needs eight home runs to reach 30 for the season. It would be his 13th straight season with at least 30 HR, which would tie Barry Bonds' record. Rodriguez currently is tied with Jimmie Foxx for the second-longest streak.
• The
St. Louis Cardinals
'
Albert Pujols
is well on his way to a 10th consecutive season with a .300 batting average and .950 OPS. Only two players have double-digit streaks with that combination: Lou Gehrig did it in 12 straight seasons, while Ted Williams managed 17 straight.

• With 112 strikeouts, the
Los Angeles Angels
'
Bobby Abreu
has already made it 13 straight seasons with 100 or more. Only Reggie Jackson and
Carlos Delgado
can share that distinction in major-league history.
• With his 14th straight 20-save season, the Yankees'
Mariano Rivera
has already broken Lee Smith's record. With his next save, he will tie Trevor Hoffman's record of eight straight 30-save seasons. Hoffman's streak will be coming to an end this year.
• The
Washington Nationals
'
Livan Hernandez
(9-10) needs two more starts to join Phil Niekro as the only pitchers since 1901 with 13 straight seasons of 30 starts and 10 losses.

• The
Tampa Bay Rays
'
Carlos Pena
needs four home runs to join Gorman Thomas as the second player in history with three straight seasons of 30 HR with a batting average below .250. Pena currently his hitting .205
• The
Philadelphia Phillies
'
Ryan Howard
entered the season hoping to join Babe Ruth as the only players with five straight 45-HR, 135-RBI seasons (Ruth had six). However, at 26 HR and 88 RBI, Howard will have to settle for a tie for the second-longest streak with
Sammy Sosa
.

• Can the
Florida Marlins
'
Dan Uggla
maintain his incredible statistical consistency? To start his career, Uggla has had four straight seasons hitting between 27 and 32 home runs with between 88 and 92 RBI. In MLB history, the only other player to have consecutive seasons in between those totals was Eddie Mathews, who did it for two straight. With 29 HR and 87 RBI, Uggla is essentially already where he normally finishes.
Tuesday's Leaderboard:
In
Yunesky Maya
and
Dillon Gee
, both the Nationals and Mets send out starting pitchers who are making their MLB debuts today. It's the first time opposing starters are making debuts since
Rick Porcello
and
Ricky Romero
last season. For the Nationals, it will be their 14th starting pitcher of the season, three more than any other team. With their 11th starter, the Mets are now tied for second most.

Key Matchups:
Ryan Howard is 9-for-20 with five home runs in his career against the Marlins'
Chris Volstad
. In fact, all five long balls have come in his last 13 at-bats. The only pitcher that he's taken deep more is
Tim Hudson
(six).
As for Hudson, he hasn't allowed an earned run to the
Pittsburgh Pirates
in his last three starts, spanning 22 innings. Take a look at the Pirates' roster and the outlook is not great. Active Pirates position players are 3-for-39 against Hudson, which equates to an .077 batting average.
Trivia Answer:
Al Kaline had 10+ home runs in each of his final 20 seasons, but never hit 30. The next longest streak belongs to
Harold Baines
at 18. Both players had 29 as their career high.
June, 8, 2010
6/08/10
1:52
PM ET
Quick Hits
: With Stephen Strasburg looking to win his MLB debut on Tuesday, he'd join the obscure record books in the following ways. The first two names that come up just happen to represent polar opposite paths that Strasburg's career could take.
The last Expos/Nationals pitcher to start and win his MLB debut against the Pirates was Randy Johnson.
The last pitcher on any team to start and win his debut against the Pirates was Mark Prior.
The last No. 1 overall pick to start and win his MLB debut was Kris Benson.
The last No. 1 overall pick to win his MLB debut was Matt Anderson, who also picked up a blown save.
The last pitcher to start and win his debut on June 8 was Matt Harrison in 2008.
The last San Diego State pitcher to start and win his debut was Aaron Harang in 2002.
The only Expos/Nationals first-round pick to start and win his debut was Gabe White in 1994.
The only pitcher named Stephen (with a ph) to win his MLB debut was Zach Day, whose first name is actually Stephen. Day did it with the Expos in 2002.
Today's Trivia
: Who is the winningest pitcher, who like Strasburg, was born in San Diego?
Today's Leaderboard
: Not only does June 8 mark Strasburg's debut, but it's also the anniversary of the first draft back in 1965 when Rick Monday was the first overall pick. It wouldn't be until 1973 that a pitcher was the first pick. That's when Rangers chose David Clyde, who is actually the only No. 1 overall pick to start and win his debut within his first full year as a professional. Overall, pitchers selected in the top spot do not have a great track record, as Mike Moore's 161 wins are the most of the 14 pitchers selected first.
Key Matchups
: Jason Kendall has seven hits in his last 13 at-bats, but he's about to run into his nemesis. Kendall is 0-for-14 in his career against Kevin Slowey, and has only managed to get the ball out of the infield five times. Hector Carrasco is the only pitcher against whom Kendall has more at-bats (15) without a hit.
Ryan Howard is 8-18 with four home runs in his career against Chris Volstad. All four homers have come in his last nine plate appearances against Volstad. Tim Hudson and Braden Looper are the only pitchers against whom Howard has more home runs.
Trivia Answer
: According to Baseball-Reference.com, Mark Langston's 179 career wins are the most for a San Diego-born pitcher.