October, 8, 2011
10/08/11
3:12
PM ET


The American League Championship Series kicks off tonight with Game 1 in Arlington, Texas. The
Rangers
are looking to defend their AL pennant while the
Tigers
are trying to reach the World Series for the second time in the last 25 seasons.
According to the Elias Sports Bureau, the Rangers would be just the fifth team to win the ALCS in consecutive seasons. The others to do this are the Orioles (1969-1971), Athletics (1972-1974 and 1988-1990), Blue Jays (1992-1993) and Yankees (1998-2001).
It should be no surprise that both these teams will play for the AL title, as they both both dominated play down the stretch in the regular season. Tigers and Rangers ranked 1-2 in the majors in wins during the final month, and also led MLB in nearly every offensive category in September.
Inside the Series
The Tigers won six of the nine meetings between the teams in 2011, including two of three at Rangers Ballpark. Detroit crushed Texas pitching, hitting .317 with 10 homers while averaging five runs per game.
The Tigers outscored the Rangers by just 12 runs over the nine games, however, and four of their six wins were by one run each. That's a telling statistic for the both teams: the Tigers finished the season an AL-best 29-17 in one-run games, while the Rangers went 19-24 in one-run games, ranking ahead of only the Royals in the AL.
On the Mound
Justin Verlander
gets the nod in this opening game for the Tigers, making his seventh career postseason start and looking to build on his previous success against the Rangers.
He is 6-2 with a 2.61 ERA in nine starts versus the Rangers, and owns the best ERA among active pitchers against the team (min. 5 starts). Verlander has been nearly perfect in Arlington, going 3-0 with a 1.29 ERA and 26 strikeouts in 21 innings.
C.J. Wilson
will try to bounce back from one of the worst starts of his career, when he allowed six runs in five innings in Game 1 of the ALDS. Wilson struggled with his fastball command in that game. Twenty-four of his 48 heaters were in the upper third of the zone or above it, and he failed to record a single miss on the 19 swings against his fastball.
X-Factors

Ogando
Alexi Ogando
is not in the Rangers ALCS rotation but could prove to be a secret weapon out of the bullpen for the Rangers. Ogando had a lot of success against the Tigers in the regular season. He was the winning pitcher in each of the Rangers three wins and posted a 1.29 ERA in those three starts.
Delmon Young
suffered an oblique injury in the ALDS and will not be on the Tigers ALCS roster.
Ryan Raburn
is expected to start Game 1 in place of Young, who set a Tigers record with three homers in the Division Series. Raburn should be an adequate replacement at the plate, as he has hit lefties well, with a .807 OPS in 157 regular season plate appearances.
Key Stat
Since 1987, the first season in which it was played in a best-of-seven format, the team that won Game 1 of the ALCS has won 13 of the 23 series, according to Elias. But over the last nine years, the team losing Game 1 has gone on to win six of those series.
October, 20, 2010
10/20/10
8:15
PM ET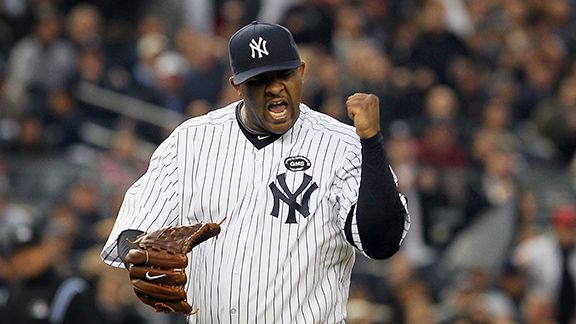 Jim McIsaac/Getty Images
Sabathia battled for six innings, but he helped the Yankees force the series back to Texas.
CC Sabathia
(six innings, 11 hits, two earned runs, no walks, seven strikeouts) is the first pitcher since Bruce Hurst in 1986 to allow at least 11 hits and two runs or fewer in a postseason start.
From the Elias Sports Bureau:
Since joining the team in 2009, Sabathia has now won a team-high 16 starts (including two in the postseason) following a Yankees' loss.
Robinson Cano
's four home runs in this series is one shy of the most HR in a postseason series by a second baseman.
Chase Utley
hit five HR in last year's World Series.
Cano and
Josh Hamilton
each have four HR in this series. The only other postseason series where opposing players each had four HR was the 2004 NLCS: Houston's
Carlos Beltran
and St. Louis'
Albert Pujols
.
During the regular season,
C.J. Wilson
allowed just one home run with no outs in an inning. In Game 5,
Nick Swisher
and Cano both homered off Wilson with no outs in the third inning. The home runs by Swisher and Cano were the first back-to-back home runs in a postseason game by the Yankees in an LCS since Game 3 of the 2000 ALCS at Seattle (
Bernie Williams
,
Tino Martinez
).
Kerry Wood
has picked off two Rangers in this series (
Ian Kinsler
in Game 1,
Elvis Andrus
in Game 5). He's the first pitcher with two pickoffs in a postseason series since
Mark Mulder
did it in the 2001 ALDS against the Yankees.
In three wins, the Rangers are hitting .448 (13-for-29) with runners in scoring position, and just .176 (3-for-17) in two losses.
October, 6, 2010
10/06/10
9:55
AM ET
By
John McTigue
| ESPN.com


There might not be a more dangerous base-stealing duo in the postseason this year than the
Tampa Bay Rays
'
Carl Crawford
and
B.J. Upton
.
Both players stole more than 40 bases this season with a combined success rate of 82.2 percent. In fact, Crawford and Upton have stolen more bases this season than 12 entire teams.
Despite their success, there is a way to slow them down, and Rays fans might not be too happy to hear it:
Pickoff attempts.
It sounds simple, yet opposing pitchers almost seem to forget who's on base. This season, 51.4 percent of Crawford and Upton's steal attempts came without a pickoff attempt. In 2009, 52.3 percent of their attempts came without pickoffs. Even if you go back to the 2008 playoffs where Crawford and Upton combined to go 13-for-13 on stolen base attempts, seven of those came without a pickoff.
The more teams throw over against the Rays, the better. Crawford and Upton were successful more than 91 percent of the time without a pickoff attempts this season, but when teams threw over at least once, they can't even crack 75 percent.
While Upton has an 89.7 success rate with no pickoff attempts and 72.7 percent success rate with at least one attempt, his rates fluctuate up and down by each throw over. Crawford, on the other hand, gets worse with each pickoff throw.
Pickoff attempts aren't the only way to keep Crawford from running wild. There's a strategy the
Texas Rangers
will employ that could anchor Crawford to first base: left-handed pitching.
Since 2009, only 15 of Crawford's 133 steal attempts (11.3 percent) have come against left-handed pitchers with just a 60.0 percent success rate. Of the top 10 base stealers from the past two seasons, none has run less against lefties than Crawford. With
Cliff Lee
going in Game 1 of the ALDS and
C.J. Wilson
scheduled to go in Game 2, the Rangers might not have to worry too much about Crawford. Then again, the Rays left fielder did swipe second off of Lee earlier this season … and that was with a pickoff attempt!
Crawford and Upton like to run, but the pitcher on the mound might be the biggest determining factor in how successful they are this postseason.