November, 1, 2013
11/01/13
4:08
PM ET
By
ESPN Stats & Information
| ESPN.com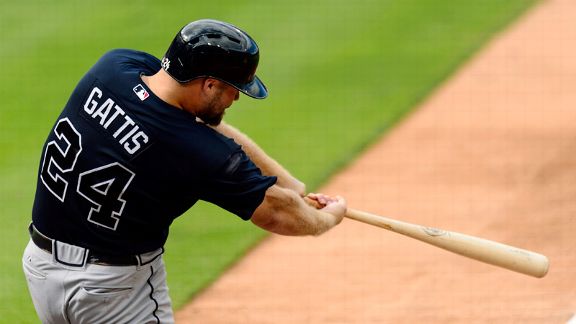 Howard Smith/USA TODAY SportsThis Evan Gattis swing produced the longest home run of the 2013 season.
With the 2013 season complete, we take a look back at the long, the short and the lucky among home-run hitters this season.
Longest HR of the Year: Evan Gattis
On Sept. 8,
Evan Gattis
drove a
Cole Hamels
fastball
486 feet to dead center field at Citizens Bank Park in Philadelphia
for what would finish as the longest home run of 2013.
Gattis' homer is the longest hit by an
Atlanta Braves
player in the past eight seasons and is tied for the ninth-longest in all of baseball over that same stretch.
That was the longest homer this season by 10 feet. The next-longest was
a 476-foot shot
by
Hunter Pence
of the Giants on Aug. 27 against the Rockies
Long Drive Champion: Mike Trout
Mike Trout
led the major leagues in average home run distance this season (minimum 20 homers), averaging nearly 420 feet per homer.
Trout hit the longest home run of the season at two different ballparks --
Kauffman Stadium (463 feet)
and
Tropicana Field (458 feet)
.
Trout hit 13 homers that traveled at least 430 feet, the most such homers in the majors.
Pedro Alvarez
(10) was the only other hitter in double digits.
Shortest Home Run of the Year: Brandon Snyder
On July 29 Red Sox infielder
Brandon Snyder
hit a ball off of Pesky's Pole at Fenway Park that was calculated at only 312 feet, the shortest homer hit in 2013 (inside-the-park home runs not included).
Snyder's homer is tied for the second-shortest out-of-the-park homer hit in the past eight seasons (trailing only a 311-foot shot by
Jeff Keppinger
in 2006). It is a familiar story for Fenway Park as the five shortest home runs in the majors since 2006 have all been hit in Boston.
Luckiest Home Run Hitter of the Year: Coco Crisp
Athletics outfielder
Coco Crisp
finished 2013 with a career-high 22 home runs. Crisp was able to take advantage of short fences down the lines, not hitting a single homer to left center, center or right center field.
Crisp's average home run traveled 368.9 feet, the shortest average distance of any hitter in a single season with at least 20 home runs in the past eight seasons. The next-shortest was
J.J. Hardy
, who averaged 385 feet on his home runs.
Chris Davis Shows Power to All Fields
Chris Davis
led MLB with an Orioles-record 53 home runs this season. He showed power to all fields, with 16 of his 53 home runs going to left or left center field, 14 to center field and 23 to right field. Davis' average homer to center field this season traveled over 422 feet.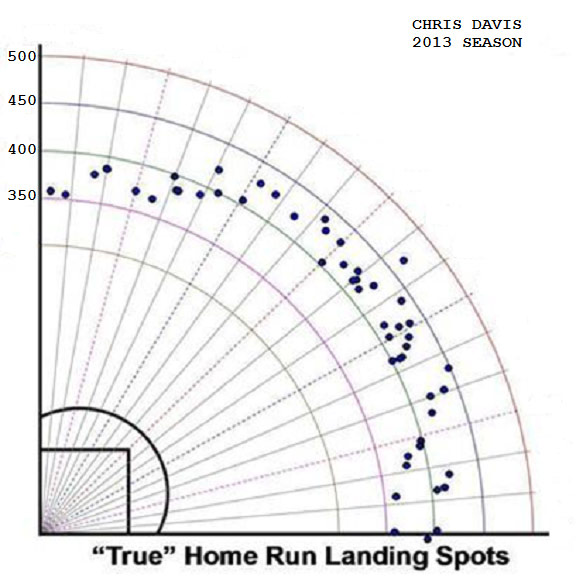 Unlikely Home Run of the Year
Miguel Cabrera
finished second in MLB with 44 home runs. Yet, if it was not for the glove of
Michael Bourn
, he would only have 43.
On May 22, Cabrera hit a
fly ball to the center-field wall at Progressive Field
.
Bourn, a two-time Gold Glove winner, started to backpedal as he approached the fence. He then leaped with the intention of robbing Cabrera of extra-bases. Instead, the ball ricocheted off his glove for a home run.
Had Bourn not made contact, the ball would have traveled only 386 feet and would not have been a home run in any major league park. In fact, it would have been 38 feet shy of the fence in the same location at Comerica Park, Cabrera's home field.
Longest Postseason Home Run of the Year
Mike Napoli's home run off
Anibal Sanchez
in Game 5 of the ALCS was calculated at 460 feet, the longest home run of the 2013 postseason. The 460-foot blast is also tied for the second-longest postseason home run since the beginning of ESPN HR Tracker in 2006, trailing only a 479-foot homer by
Manny Ramirez
in 2007.
Napoli's 460-foot home run was his fourth home run of 2013 (regular and postseason) calculated at 460 feet or more, the most such home runs this year. No other player even had three such home runs.
Only
Matt Holliday
has had more home runs calculated at 460 feet or more in a season (five in 2006).
Speaking of Holliday, he had three of the 10 longest home runs in the 2013 postseason. His longest was a 430-foot home run off
Ryan Dempster
in Game 1 of the World Series.
For more information on home-run distances in 2013, go to http://www.hittrackeronline.com
September, 2, 2013
9/02/13
8:49
PM ET
Who leads the majors in home runs over the last 12 days? It's not currently injured
Detroit Tigers
third baseman
Miguel Cabrera
or
Baltimore Orioles
slugging first baseman
Chris Davis
.
The leaderboard is headed by a player of considerably smaller girth in
Oakland Athletics
centerfielder
Coco Crisp
.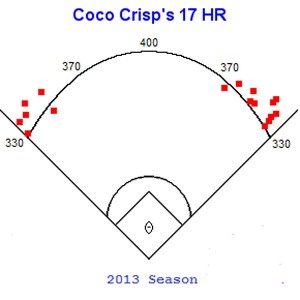 Crisp is in the middle of a hot streak in which he has seven homers and 10 RBI in his last dozen games. He now has a career-high 17 home runs this season.
Monday he wrapped a
Derek Holland
pitch just inside the left field line for a tiebreaking homer in the fifth inning, helping the Athletics regain a share of the AL West lead. The 335-foot homer is the shortest one hit by an Athletics player at home since we started tracking homer distances at the start of the 2006 season.
The path of Monday's home run was not unusual for Crisp. His homer spray chart over the last five seasons features dots mostly along the left and right field lines (40 of his 47 were defined as "far left" and "far right" in our charting with regards to the area of the field), with none hit to straightaway center.
This may be something that Crisp has taken greater aim at in 2013.
In looking at his fly balls and line drives from 2009 to 2012, 43 percent of the balls he hit were located in the areas we defined as "far left" and "far right."
Crisp has hit 213 balls in the air this season, and based on his past performance we'd expect him to have hit 92 balls there. He's hit 105.
A couple of other Crisp nuggets of note:
• As a result of this approach, his average home-run distance this season is 365.4 feet, second-lowest in the majors among those with at least 10 homers. The only player with a shorter average distance is
Ian Kinsler
(363.4).
• Crisp has five home runs against left-handed pitching this season. But prior to his homer against Holland, he was 4-for-his-last-33 against left-handed pitching.
• Crisp contributed 1.3 Wins Above Replacement to the Athletics in August, matching Josh Donadlson and
Jarrod Parker
for the most among Oakland's players.
October, 11, 2012
10/11/12
2:13
AM ET
By
ESPN Stats & Information
| ESPN.com
AP Photo/Ben MargotCoco Crisp recorded his fourth walk-off RBI of 2012.
The
Oakland Athletics
led the majors with 14 walk-off wins during the regular season and those played a significant role in their run to the AL West title.
So why not add another to keep their postseason hopes alive?
There will be a fifth game in this ALDS thanks to a scintillating rally against
Detroit Tigers
closer
Jose Valverde
in the ninth inning.
Here are some of the statistical highlights from that.
Inside the Walk-off Hit
Coco Crisp
had three walk-off RBI in the regular season to tie for the major-league lead with
A.J. Ellis
,
Hanley Ramirez
,
John Jaso
, and
Alex Avila
.
Crisp's walk-off hit was the first by an Athletics player since
Ramon Hernandez
won Game 1 of the 2003 ALDS against the
Boston Red Sox
with a bunt single.
Valverde's issues
Valverde entered the ninth inning of Wednesday's game having allowed a total of one hit on the last 79 pitches he threw.
He allowed four in the span of 14 pitches in Wednesday's loss.
Valverde gave up three hits with his fastball and one with his splitter. His fastball averaged 91.5 miles-per-hour, the second-lowest average velocity he's had this season. All three of the hits came on fastballs thrown 92 miles-per-hour or below.
The lack of velocity is a big deal.
Opponents are hitting .381 against Valverde's fastball when it's thrown 92.4 miles-per-hour or slower.
They're hitting .208 against it when he throws it 92.5 miles-per-hour or faster.
Looking ahead
Justin Verlander
will be the fifth pitcher to start a winner-take-all playoff game the year after winning the Cy Young.
In all four previous instances, that pitcher's team lost the game. The four pitchers were Steve Carlton (1981 Phillies),
David Cone
(1995 Yankees),
Barry Zito
(2003 Athletics), and
Roy Halladay
(2011 Phillies).
Quirk of the Night: We've seen this before. … in the opposite fashion.
There is a scary reverse-resemblance between the 2012 ALDS and the 1972 ALCS between the Tigers and Athletics.
In 1972, the home team (the Athletics) were up two-games-to-none.
In 2012, the home team (the Tigers) went up two-games-to-none.
---
In 1972, the home team (the Tigers) pitched a shutout in Game 3.
In 2012, the home team (the Athletics) pitched a shutout in Game 3.
---
In 1972, the visiting team (the Athletics) was three outs from winning the series in Game 4, ahead 3-1.
In 2012, the visiting team (the Tigers) was three outs from winning the series in Game 4, up 3-1.
---
In 1972, the home team (the Tigers) rallied for three runs in its last at-bat to win.
In 2012, the home team (the Athletics) rallied for three runs in its last at-bat to win.
---
Looking ahead...
In 1972, the road team (the Athletics) won Game 5.
In 2012 ... we'll see.
October, 10, 2012
10/10/12
1:18
AM ET
By
ESPN Stats & Information
| ESPN.com
AP Photo/Marcio Jose SanchezBrett Anderson was dominant for
the Athletics in a must-win game

Brett Anderson
didn't show any jitters in his postseason debut, allowing just two hits in six scoreless innings.
It is just the fourth time that an
Oakland Athletics
pitcher has put up a pitching line at least that good in postseason history and the first since Vida Blue threw a two-hit shutout against the Orioles in Game 3 of the 1974 ALCS.
Anderson Staying Grounded
Anderson got it done by keeping the ball on the ground. Of the 18 outs he recorded, 11 came on the ground and six were strikeouts.
The Tigers were kept off balance by Anderson's breaking ball which ranged in velocity from 75 MPH to 86 MPH. All six of his strikeouts came with his faster breaking ball, all thrown between 83 and 84 MPH. Seventy-four percent of Anderson's breaking pitches were down in the zone or below it, the second-highest percentage of his career.
Crisp Steals Another Homer
The lone fly ball out Anderson got was dramatic as
Coco Crisp
robbed
Prince Fielder
of a would-be home run.
According to Baseball Info Solutions, Fielder has been robbed of a homer three times in 2012, more than any other player.
In addition to Crisp's robbery Tuesday, he has seven regular-season HR robberies since 2004. Only three players have more regular-season HR robberies than him in that span (
Torii Hunter
12,
Jason Bay
9,
Ichiro Suzuki
8).
Shutout Notes
For the Athletics, the shutout was the 11th in their postseason history and the first since Game 2 of the 2001 ALDS against the Yankees.
It is the first time they've allowed four hits or fewer in a postseason shutout since the 1981 ALDS against the Royals.
According to Elias, it was the eighth time a team used four or more pitchers in a nine-inning shutout while allowing no more than four hits in a postseason game. The last time came in Game 1 of the 2008 ALCS when the Red Sox blanked the
Tampa Bay Rays
behind
Daisuke Matsuzaka
,
Hideki Okajima
,
Justin Masterson
and
Jonathan Papelbon
.
October, 6, 2012
10/06/12
11:20
PM ET
By
ESPN Stats & Information
| ESPN.com
Leon Halip/Getty ImagesJustin Verlander struck out 11 batters, the third-most in Tigers postseason history.
Justin Verlander
is the first pitcher with at least 11 strikeouts in seven or fewer innings in an American League playoff game since
Pedro Martinez
in Game 3 of the 1999 ALCS.
But it didn't start well.
Coco Crisp
led off the game with a homer, the fourth leadoff home run in
Oakland Athletics
postseason history and the first since
Ray Durham
in Game 3 of the 2002 ALDS.
Verlander allowing a leadoff homer wasn't a huge surprise. He led the majors this season with four leadoff home runs allowed.
Crisp's homer traveled 347 feet, making it the second-shortest home run of the season at Comerica Park. It's also the shortest homer Verlander has allowed this season.
After that, Verlander cruised, allowing just two more hits. Verlander earned his first career Game 1 victory after losing his previous three.
His 11 strikeouts are tied for the third-most in Tigers postseason history, three shy of Joe Coleman's franchise-record 14 strikeouts in Game 3 of the 1972 ALCS.
In total, Tigers pitchers struck out 14 A's batters, matching the most in a postseason game in Tigers history. They also struck out 14 batters in the game in 1972 that Coleman pitched, and that game also happened to be against the Athletics.
Oakland's 14 strikeouts are tied for the second-most in a postseason game in Athletics franchise history. They had 15 in Game 2 of the 1973 World Series against the
New York Mets
.
How did Verlander shut down the A's lineup?
• Verlander induced 21 swings-and-misses, his most in nine career postseason starts and tied for the fourth-most by any starter in a postseason game in the last four seasons. Eight of his 11 strikeouts were swinging.
• Verlander induced 12 misses on just 24 swings against his fastball, the highest miss percentage with his fastball in the last four seasons.
• After Crisp's leadoff homer, Verlander didn't allow another hit with his fastball. A's hitters were 1-for-12 with eight strikeouts in at-bats ending with a Verlander fastball and are now 5-for-37 (.135) with 18 strikeouts against it this season.
• Verlander's fastball averaged 95.7 mph, his second-fastest in a start this season. It averaged 95.3 mph through five innings and 97.5 mph after that.
• Verlander had four fastball strikeouts through five innings and four in the sixth and seventh alone. Three of his first four fastball strikeouts came after he threw a fastball on the previous pitch and three of his final four fastball strikeouts came after he threw an offspeed pitch on the previous pitch.
July, 22, 2012
7/22/12
9:02
PM ET
By
Nate Jones
and
Kenton Wong
| ESPN.com
Kelley L Cox/US PresswireRookie Yoenis Cespedes (center) has been key for the A's, helping lead them to an MLB-best
14-2 record in July, including a four-game sweep over the New York Yankees.
The
Oakland Athletics
completed a four-game sweep over the
New York Yankees
on Sunday with a
dramatic, walk-off, 5-4 victory
. It was the team's fifth straight victory, all of them coming by a one-run margin, and improved the team to an MLB-best 14-2 in July.
According to the Elias Sports Bureau, Oakland is the first team to win five straight games, all by a margin of one run, since the 1999
Miami Marlins
. The A's will try to finish the season with a better result than those Marlins, who ended up 64-98 and last in the N.L. East.
Many of the A's wins this month have come in dramatic fashion. Coco Crisp's walk-off single was the A's sixth walk-off hit this month.
• July 3:
Brandon Moss
hits game-tying single in bottom of ninth against his former team, the
Boston Red Sox
.
Coco Crisp
ends it with a walk-off sac fly.
• July 6:
Chris Carter
hits a pinch-hit three-run walk-off homer in the 11th for a win over the
Seattle Mariners
.
• July 8:
Josh Reddick's
walk-off double gives the A's a 2-1, 13-inning win over the Mariners.
• July 18:
Brandon Hicks'
first career home run is a walk-off to beat the
Texas Rangers
.
• July 20: Moss again plays hero with a walk-off single to beat the Yankees.
• July 22: Crisp gives Oakland a four-game sweep with a walk-off, 12th-inning victory over the Yankees.
The A's sweeping the Yankees, previously owners of the base record in baseball, is also historically significant.
The last time the A's swept the Yankees in a series of at least four games was in 1972. According to the Elias Sports Bureau, those teams had played 19 series of at least four games without a sweep.
The last time the A's swept a home series of at least four games against the Yankees was in 1913, back when the A's played in Shibe Park in Philadelphia. According to Elias, the A's had hosted 57 straight series of at least four games against the Yankees between sweeps.
Pitching has been key for the Athletics, as they've gone a perfect 8-0 in one-run games in July. But even more central to the hot streak is the return of
Yoenis Cespedes
.
Despite going 0-5 in Sunday's win, Cespedes is batting .500 in nine games since the All-Star Break, with four home runs and nine RBI. This season, Oakland is 39-24 with Cespedes in the lineup, opposed to 12-20 without him.
The A's haven't finished over .500 since their 2006 squad, a team that included
Barry Zito
,
Dan Haren
and
Frank Thomas
. This team is slightly more unknown, with Tommy Millone,
Brandon McCarthy
and
Josh Reddick
leading the way, but could become much more well-known come playoff time.
January, 8, 2012
1/08/12
12:42
PM ET
By
Katie Sharp
and
Mark Simon
| ESPN.com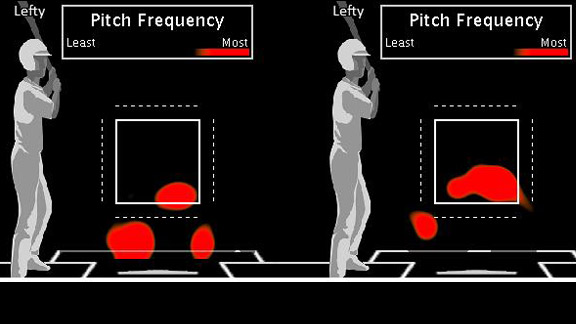 Left: Where Carlos Zambrano threw his splitter/slider (2010)
Right: Where Carlos Zambrano threw his splitter/slider (2011)
Click here to create your own Zambrano heat maps
Carlos Zambrano: Traded to Miami Marlins
Zambrano's batting average on balls in play was nearly identical in 2010 and 2011 (.309 vs .307). So what was the issue that led to his ERA jumping by nearly 1.5 runs?
Zambrano's home run rate soared in 2011. He went from allowing a home run for every 20 fly balls allowed in 2010 to yielding a home run for every nine fly balls allowed in 2011.
His success has historically come when he kept the ball down. Zambrano's percentage of pitches in the lower-third of the strike zone and below dropped from 43 percent in 2010 to 38 percent in 2011.
Zambrano's pitches in the middle and upper part of the strike zone got hit harder. His opponents OPS on such pitches jumped from .673 (in 2010) to .813 (in 2011).
Those numbers coincide with a decline in the effectiveness of Zambrano's slider and splitter. Batters missed on 38 percent of their swings against those pitches in 2010, but that number dropped to 26 percent in 2011.
The best illustration of the difference for Zambrano is in where he threw his slider and splitter most often to lefties, as noted in the heat maps above and in the chart on the right. Zambrano's fine tuning the location of his pitches will be something to watch for in 2012.
-- Mark Simon
Chris Volstad: Traded to Chicago Cubs
Volstad is clearly not an elite pitcher. The only other pitcher to throw at least 150 innings and post an ERA of 4.50 or higher in each of the last three years is
Fausto Carmona
.
But Volstad was likely not as bad last season as his 4.89 ERA might indicate. Though his ERA ranked 98th out of 107 pitchers with at least 150 innings last year, his 3.64 xFIP ranked a more palatable 34th.
One reason for the large differential between the two numbers was a homer-to-flyball ratio of 15 percent that was seventh-highest among MLB starters and nearly double his rate of 8.5 percent from last year.
Most of the damage came against lefties, who hit 19 of the 23 homers he allowed in 2011. Nearly one of every four flyballs he allowed to lefties went over the fence, a rate that was the highest among major-league starters. Last year, only one of every 10 flyballs he gave up to lefties became homers.
The primary culprit was a flatter changeup that averaged almost an inch less break both horizontally and vertically in 2011 compared to 2010, and which led to nearly a 150-point increase in slugging percentage vs his changeup by lefties.
-- Katie Sharp
Coco Crisp: Signed 2-year deal with Oakland Athletics
Crisp's bat last year was below average (91 OPS+), but he was still a valuable part of the Athletics lineup because of his smart baserunning and penchant for making game-saving plays in the outfield.
Crisp tied for the American League lead with 49 steals and ranked sixth in the majors in Baseball Info Solution's Net Gain baserunning stat. Crisp gained 43 bases more than the average player, combining his stolen base successes with his extra-base advancement on things such as hits, wild pitches, and sacrifice flies.
The Athletics capitalized on his speed by showing a willingness to let him run late in close games. Crisp was 10-for-12 in steal attempts that came in the eighth inning or later, with the Athletics either tied or trailing by a run. No other player had more than six steals or seven attempts.
Twice those steals led to the tying run being scored in eventual wins: April 7 against the Blue Jays and May 16 against the Angels.
Crisp has rated as an above-average defensive outfielder in terms of turning batted balls into outs over the last two seasons, but it's his ability to make extraordinary plays at the wall that has set him apart.
Since the start of 2010, only two players have more home run robberies than the three that Crisp has:
Peter Bourjos
and
Franklin Gutierrez
both have four.
-- Katie Sharp and Mark Simon
November, 5, 2011
11/05/11
11:00
AM ET
If you're a team that needs a catcher, second baseman, or centerfielder, you might struggle to find what you're looking for in this year's free agent market. Here's a closer look at what is available among these positions.
Catcher
The first thing to know about the market for backstops is that there are no catchers on this year's free agent market who played in 100 games last season. The only available player who even caught 700 innings was
Rod Barajas
.
The top-rated catcher available statistically is
Ramon Hernandez
, who finished last season with 2.0 Wins Above Replacement. His WAR over the past three seasons is 4.4, the best among free-agent catchers.

Hernandez
For perspective on Hernandez's value, a 2.0 WAR is someone who would barely be considered an everyday player. In fact, his WAR ranked 16th-best among all catchers in 2011.
Aside from his below-average production, another potential reason against signing Hernandez is that he is a Type A free agent. If the
Cincinnati Reds
offer him arbitration, the compensation for another team signing him could be a first-round pick.
Second Base
There are plenty of second baseman in this year's free agent pool, but the market lacks a star player. It does have a large group of players who played a lot of innings, but produced in a limited fashion.
The highest-rated second baseman in Wins Above Replacement are
Kelly Johnson
, who hit .222 with 21 homers for the
Toronto Blue Jays
and
Arizona Diamondbacks
, and
Jamey Carroll
, who had a .359 on-base percentage but no home runs for the
Los Angeles Dodgers
. Both players finished with 2.2 WAR last season.
How thin is the second base market? There are four free agents who played at least 100 games last season and finished with a WAR below 1.0:
Aaron Hill
,
Aaron Miles
,
Adam Kennedy
, and
Orlando Cabrera
.
Center Field
The highest-rated centerfielder by Wins Above Replacement is
Coco Crisp
, who finished with 2.2 WAR in 2011, followed by
Rick Ankiel
at 1.4.
What's interesting about center field is that there are two players who were formerly great centerfielders, who would be highly coveted and could be put in centerfield if a team is willing to take a risk.
Carlos Beltran
showed himself to be an adequate defensive player in right field for the
New York Mets
and
San Francisco Giants
, with two Defensive Runs Saved last season. However, a factor that would work against him moving back to center field is his age, as he turns 35 in April.
Beltran also showed that he is still capable of handling himself at the plate. His .910 OPS was third-best among major-league right fielders last year, and his 39 doubles were surpassed only by Joey Votto among all NL players.
When healthy,
Grady Sizemore
was one of the top centerfielders in the game, averaging 27 homers and 29 stolen bases from 2005-08. However, he's played an average of just 70 games in the last three seasons and has hit .234 over that span.
April, 13, 2011
4/13/11
8:15
AM ET
By
Nick Loucks
| ESPN.com
Where have all the great centerfielders gone?
A cursory look at the basic stats tell us that there are no elite offensive talents currently in the major leagues at that position. No player who spent half his time in center field last season and qualified for the batting title managed to hit .300.
That's the first time that's happened in the live-ball era (1920).
Baseball-Reference.com
tells us that since 1920, there have been 173 players who spent half their time toiling in center field and had an OPS+ of at least 140. Every decade from the 1920s to the 1990s featured at least 17 individual seasons reaching that number. In the 2000s, there were 11 seasons combined and five of them were by
Jim Edmonds
alone. The last centerfielder to accomplish it was
Carlos Beltran
in 2006.
To the right is a chart of the recent annual OPS averages for major-league centerfielders. Notice especially the steady decline in the AL.
We should consider this in context with other positions since offense has depressed overall in that time span. Still, the offensive profile of the centerfielder has changed.
It's very possible that defense has become more of a priority in front offices across the baseball landscape. Taking a glance at the American League West alone and you'll see
Peter Bourjos
in Anaheim (15 Defensive Runs Saved in 2010),
Franklin Gutierrez
in Seattle (14),
Coco Crisp
in Oakland (9) and
Julio Borbon
in Texas (7). These players are light on offense and decidedly heavy on defense.
Looking more broadly with a defensive metric from Baseball Info Solutions, 2010 was a banner year for defense at this glamour position. The combined Defensive Runs Saved by all centerfielders that played at least 700 innings was +109. That's the high-water mark for a position that has become decidedly more defensive-oriented in the last decade.
Is there light at the end of the tunnel? Currently, there are nine teams that have players in their age-25 season or younger manning centerfield. And that's not even counting players like
Jacoby Ellsbury
,
Drew Stubbs
,
Chris Young
and
B.J. Upton
.
Since 2000, the only centerfielder to manage an OPS+ of 160 over the course of an entire season is Edmonds. In the VERY early-goings this season, Baseball-Reference shows us there are four centerfielders doing that now, three of whom are still in their 20s (
Matt Kemp
,
Colby Rasmus
and Upton).
They may not be names like Ty Cobb, Joe DiMaggio, Willie Mays, Duke Snider, Mickey Mantle or even Kirby Puckett but it does offer some hope for future greatness.
--Contributions made by Mark Simon, Jeff Bennett and Justin Havens
July, 21, 2010
7/21/10
5:21
AM ET
By
ESPN Stats & Info
| ESPN.com
There were seven ejections Tuesday, which is the most this season. Here's a recap of players and managers who got to take an early shower:
- The Yankees
Joe Girardi
was ejected by Paul Emmel in the bottom of the 5th for arguing a safe/out call.
- The Pirates John Russell was ejected by D.J. Reyburn in the bottom of the 6th for arguing.
- The Dodgers Bob Schaefer was ejected by Adrian Johnson in the bottom of the 6th for arguing.
- The Dodgers
Clayton Kershaw
and Joe Torre were ejected by Adrian Johnson in the Top of the 7th because Kershaw hit the Giants
Aaron Rowand
after both teams were warned.
- The A's
Coco Crisp
was ejected by Bob Davidson in the Bottom of the 10th for arguing.
- The Red Sox's John Farrell was ejected by Bob Davidson in the bottom of the 10th for arguing a check swing.
According to the Elias Sports Bureau, the last time seven or more players and managers were ejected on the same day was May 15 of last year.
The Joe Torre ejection in the Giants-Dodgers game in part led to the Giants beating the Dodgers 7-5. Bench coach Don Mattingly - thrust into the manager's role after Torre was tossed - was charged with two trips to the mound, despite leaving the dugout only once. With the Dodgers leading 5-4 in 9th, the Giants had the bases loaded with one out. Mattingly went to the mound to discuss strategy. Mattingly left the mound and headed back to the dugout, but then stepped back on the mound when
James Loney
asked him a question. This constituted two trips to the mound, forcing closer
Jonathan Broxton
out of the game. With no time to warm up,
George Sherrill
's gave up a double to the left-center gap by
Andres Torres
, giving the Giants a 6-5 lead.