August, 20, 2013
Aug 20
2:14
PM ET
By
Justin Ray, ESPN Stats & Info
| ESPN.com
John Albright/Icon SMIOf the top 6 passers in the Big 12 last season (in terms of yards), David Ash is the only one returning.
To steal a phrase from the NFL, the Big 12 has been a quarterback-driven conference for the better part of the last decade. Many of those quarterbacks have been in New York for the Heisman ceremony, and some now occupy the pages of the NCAA record books.
From 2006 to 2011, there were 11 qualifying Big 12 sophomore quarterbacks to post a passer efficiency rating of at least 130.0. Ten of those quarterbacks were their team's leader in passing yards in their junior season – the lone exception being
Sam Bradford
, who was injured in 2009 and only played in three games.
For many of those quarterbacks, their junior season was truly their breakout year.
•
Robert Griffin III
threw 15 more touchdown passes and completed 5.4 percent more of his passes than his sophomore season.
•
Colt McCoy
saw his numbers skyrocket. He threw 12 more touchdowns and 10 fewer interceptions.
•
Chase Daniel
threw for 779 more yards, and like Griffin and McCoy, earned a flight to New York for his efforts.
In all, eight of the 10 quarterbacks had a higher completion percentage their junior year. In addition, eight had more pass yards, six had more pass touchdowns and five had a lower interception percentage.
There was just one sophomore to post a passer efficiency rating of at least 130.0 in 2012 –
Texas Longhorns
quarterback
David Ash
. So what does history tell us about what to expect from the Longhorns quarterback in 2013?
Simply based on this Big 12 trend, Ash should see jumps in every statistical category next season – completion percentage (to better than 71 percent), pass yards, yards per attempt and touchdown passes.
Of the top six passers in the Big 12 (in terms of yards), only Ash will be returning this season. Longhorn fans are hoping he can show enough growth to get them back into the Big 12 title race.
April, 12, 2012
4/12/12
11:47
AM ET
By
Dan Riccio, ESPN Stats & Info
| ESPN.com
Stats & Information gets you ready for the NFL Draft at the end of the month with a look at the biggest need for each team. Today, we switch conferences to the AFC North.

Baltimore Ravens
Need
: Secondary
The departure of
Tom Zbikowski
and
Haruki Nakamura
in the offseason makes finding an heir-apparent to aging safety
Ed Reed
a priority.
From 2008-2010, the Ravens ranked third among NFL defenses in lowest Total QBR allowed on passes that traveled at least 10 yards downfield. In 2011, the Ravens finished 23rd in the league.
While the Ravens finished second in the NFL with 72 passes defended last season, only 31 percent of those were on attempts thrown at least 10 yards downfield, 27th among NFL defenses.
Baltimore needs a safety to match up in coverage against the evolving NFL tight end. The Ravens allowed 2.4 yards after contact on passes to a tight end last season, ranking 30th in the NFL.
Kiper's 1st-Round Prediction:
Peter Konz
, C,
Wisconsin
McShay's 1st-Round Prediction:
Harrison Smith
, S,
Notre Dame

Cincinnati Bengals
Needs
: Offensive line, secondary
Drafting a solid guard will complement young quarterback
Andy Dalton
and new running back
BenJarvus Green-Ellis
. The Bengals lost starting guards
Mike McGlynn
and
Nate Livings
to free agency in the offseason. Livings was one of two players on offense to play every snap last year.
The Bengals struggled to get any push from interior linemen in the run game last year, averaging only 2.0 yards before initial contact on runs inside the tackles, second-worst in the NFL.
Kiper's 1st-Round Prediction:
David DeCastro
, G,
Stanford
and
Stephon Gilmore
, CB,
South Carolina
McShay's 1st-Round Prediction: David DeCastro, G, Stanford and Stephon Gilmore, CB, South Carolina

Cleveland Browns
Needs
: Wide receiver, running back, offensive line
With
Robert Griffin III
likely off the board already, the Browns can still bolster their quarterback position by drafting a playmaker at wideout.
Colt McCoy
finished right at the NFL average with 5.0 attempts per off-target throw last year -- better than
Cam Newton
,
Matt Schaub
and
Tom Brady
-- but got very little help from receivers on catchable passes.
The Browns were largely ineffective on the ground last year, finishing 31st in the NFL with 3.7 yards per rush. A replacement for
Peyton Hillis
would help, as would better run blocking up the middle and to the right. The Browns averaged just 3.4 yards when running to the right, worst in the NFL.
Kiper's 1st-Round Prediction:
Trent Richardson
, RB,
Alabama
and
Cordy Glenn
, G,
Georgia
McShay's 1st-Round Prediction:
Justin Blackmon
, WR,
Oklahoma State
and
Mike Adams
, OT,
Ohio State

Pittsburgh Steelers
Needs
: Linebacker, Defensive Line
With the departure of key defensive players including
Chris Hoke
,
William Gay
,
Aaron Smith
and
James Farrior
, it's time for the Steelers to replenish what has been a top defensive unit in football since 2008.
Pittsburgh linebackers tallied 15 tackles for loss in 2011, less than one per game, second-worst among NFL defenses at the linebacker position.
Defensive starters
Casey Hampton
,
Brett Keisel
and
James Harrison
will all be age 34 or older by mid-September.
Kiper's 1st-Round Prediction:
Dont'a Hightower
, LB, Alabama
McShay's 1st-Round Prediction: Dont'a Hightower, LB, Alabama
December, 9, 2011
12/09/11
3:46
AM ET
The
Pittsburgh Steelers
continued their domination over the
Cleveland Browns
as they improve to 15-1 over the past 16 meetings against their divisional foe.
AP Photo/Gene J. PuskarBen Roethlisberger left Thursday's game in the second quarter with an ankle injury, but came back in the second half

After being knocked out of the game in the second quarter with a high-ankle sprain,
Ben Roethlisberger
made a courageous effort returning in the third quarter and ultimately improving to 13-1 as a starter versus the Browns.
Elias tells us that matches the third-best regular-season record for any starting quarterback versus one team since 1960 (minimum: 10 starts).
John Elway
was 10–0 against the
New England Patriots
, Roger Staubach was 16–1 versus the
New York Giants
and
Steve Young
was 13–1 against the
St. Louis Rams
.
Roethlisberger finished with 280 pass yards, but the bulk of that came on a 79-yard touchdown pass to
Antonio Brown
. For the game, Roethlisberger was surgical with the deep ball going 13-15 (86.7 percent) on passes 15 yards or longer.
Brown's reception capped a special day for the second-year receiver who finished with a career-high 151 receiving yards on just five receptions. Over Brown's last seven games he's averaging 94.7 receiving yards per game and has three games of 100 or more yards receiving.
Of course we can't talk about the Steelers without mentioning defense.
The Steelers have held their last three opponents under 10 points for the first time since 2006 and have only given up 19 points total during that stretch. In those three games, their opponents 33 possessions have resulted in 16 punts, eight turnovers, four field goals, one blocked field goal, one touchdown and three ends of half.
Since their sluggish 2-2 start the Steelers refocused on the turnover battle and on Thursday, used extra pressure to create takeaways. The additional pressure (five ore more pass rushers) forced
Colt McCoy
into an intentional grounding and an interception while the Browns were driving down four points late in the game. Overall, McCoy was 7-14 for 52 yards and two interceptions against added pressure.
The Steelers improve to 10-3 with a huge matchup against the 10-2
San Francisco 49ers
in Week 15 on the horizon. All eyes will be on Roethlisberger's ankle not just for that game, but for their playoff run as well. After all Big Ben is 10-3 in the postseason, which is the third-best in NFL history among quarterbacks with at lest 10 starts.
October, 24, 2011
10/24/11
6:06
PM ET
By
John McTigue
| ESPN.com
AP Photo/Bill Feig
Drew Brees leads the highest-scoring offense in the NFL.
The
New Orleans Saints
have scored a league-high 239 points after their 62-7 drubbing of the
Indianapolis Colts
Sunday night.
Drew Brees
led the charge with five touchdowns passes and no interceptions, recording 300-plus passing yards for the fifth straight game.
Big plays have been the highlight of the Saints' passing game over the years, but Brees and the Saints have used the short pass to help open up the downfield passing game.
The Saints have been very effective when they do go deep. Brees is completing a league-best 62.5 percent of his throws 21 yards or more downfield this season. Since the start of the 2008 season, he leads all quarterbacks in completions, completion percentage and touchdowns on such throws.
Despite the success, only 8.0 percent of Brees' attempts this season have been over 20 yards. That's the 25th highest rate among 34 qualified quarterbacks. Only
Colt McCoy
is averaging fewer air yards per attempt than Brees this season.
Darren Sproles
and
Jimmy Graham
have been two keys in the short passing game for the Saints this season. Sproles is tied with
Wes Welker
for the most targets within 10 yards of the line of scrimmage (54) and Graham is fourth with 43.
Brees has targeted running backs on 90 percent of his league-high 30 screen attempts this season. Across the NFL this year, only 57.1 percent of all screen passes have been to running backs.
Sproles has been an upgrade over
Reggie Bush
in the screen game. In 2010, Bush's 36 receiving yards were the fewest on screen passes among running backs with 10 such receptions. Through seven weeks, Sproles has almost doubled Bush's full-season screen yardage total from last year.
Sproles has also made an impact splitting out wide. Entering Week 7, Sproles was targeted 31 times when lining up as a wide receiver, catching 22 passes for 172 yards. No other running back had more than nine targets or receptions when splitting out wide.
Play-action passing is another key to the offense, with Brees attempting the most such passes this season. While most teams – including the Packers,
examined here last week
-- use play action to go over the top, the Saints go even shorter.
The average air yards per pass attempt in the NFL this season is 7.3, which jumps to 8.7 on play-action passes. Brees is averaging 6.8 air yards per play-action attempt this season, slightly below his average of 7.0 air yards on all passes.
Brees' favorite play-action target is his tight end. Graham leads all NFL tight ends in targets (19), receptions (13) and yards (175), and is tied for the lead in touchdowns (3) on play-action passes.
October, 24, 2011
10/24/11
4:37
AM ET
Week 7 saw six quarterbacks make their first start of the season and three of them including the Broncos'
Tim Tebow
were in the bottom four for Total QBR. Tebow's QBR was fourth-lowest among the 25 quarterbacks who had at least 15 action plays on Sunday. Only the Seahawks'
Charlie Whitehurst
, and the Raiders'
Carson Palmer
and
Kyle Boller
had a worse QBR.

Tim Tebow:
• Career-low 18.2 Total QBR
• Major cause: Through three quarters Tebow had a 7.8 QBR. After his sack with 6:48 left in the fourth quarter his QBR fell to a game-low 6.9. The Broncos also had a game-low 1.8% chance to win based on ESPN Stats & Information's win probability model.
From there Tebow was able to lead his team on two late scoring drives to tie the game at 15-15, bringing his QBR up to 25.5. However, keep in mind this only gave his team slightly less than a 50/50 chance to win being the road team entering overtime. With the game truly in the balance in overtime, Tebow's only action play was a sack on a third down from midfield which gave the ball back to the Dolphins. The other five offensive plays the Broncos ran in overtime were all non-Tebow running plays.
So Tebow did well to get his team close to winning - as seen by his nearly 20 point QBR increase in the fourth quarter - but he did almost nothing to get the Broncos from 50/50 to 100%.
• It might seem strange that Tebow had an 18.2 QBR this week while leading his team to a victory where last week he had an 83.3 QBR while leading his team to a similar (yet ultimately unsuccessful) comeback. The obvious reason for this is that Tebow had nothing to do with the 16-point deficit he nearly overcame against San Diego, but had a lot to do with the 15-point deficit he faced against the Dolphins. Through his first 27 action plays Tebow had a 6.9 QBR. On his next 16 action plays his QBR was 96.0.
Drew Brees:
• Season-high 97.2 Total QBR
• Major cause: Brees was dominant right from the beginning. From his third pass attempt onward, Brees' QBR never fell below 97.0. He was 12-12 on throws longer than five yards, the first qualified QB to be perfect on throws of that length this season. He was also 3-3 on throws longer than 10 yards, only the third qualified QB to be perfect on passes of that length this season.
• Brees' performance jumps him up to the #3 position in the season-long QBR leaderboard. Brees is the only qualified QB to have a 60+ QBR in every game he has played this season.
Cam Newton:
• 77.5 Total QBR
• Major cause: Second half. Up three entering the third quarter, Newton went 8-8 for 152 yards in the second half.
For more information about how Total QBR is calculated, go here.
September, 29, 2011
9/29/11
12:47
PM ET
AP Photo/Andy Manis
Wisconsin fans hope to "Jump Around" plenty of times Saturday night when the Badgers host Nebraska in the first Top 10 matchup in Madison since 1962.
This week's Nickel Package:
1.
When the seventh-ranked
Wisconsin Badgers
take on eighth-ranked
Nebraska Cornhuskers
on Saturday it will be the first Top 10 matchup that the Badgers have played in since 2004. That year, 10th-ranked Wisconsin won at fifth-ranked
Purdue Boilermakers
20-17. However, you have to go back to 1962 for the last time the Badgers played in a Top 10 matchup at home. On Nov. 24 of that season, third-ranked Wisconsin beat fifth-ranked
Minnesota Golden Gophers
14-9. That was one of two Top 10 matchups in Madison that season. The first one came two weeks earlier as the eighth-ranked Badgers upset top-ranked
Northwestern Wildcats
37-6.
2.
Over the last three-plus years, the
Florida Gators
'
Jeff Demps
-
Chris Rainey
backfield combination has used its speed to wreak havoc on most SEC defenses, but it has yet to crack the code on this weekend's opponent. In three previous games against the
Alabama Crimson Tide
, this tandem has generated 39.0 yards per game and 4.0 yards per offensive play. In their other 25 games against SEC competition, they've accounted for 106.4 yards per game and 6.6 yards per touch, including 44 plays that gained 15 yards or more. They are still looking for their first gain of 15-plus yards against the Crimson Tide.
AP Photo/Rod Aydelotte
Robert Griffin III has thrown more TDs than incomplate passes this season.

3.
Baylor Bears
quarterback
Robert Griffin III
has thrown more touchdowns (13) than incomplete passes (12) through the first three games of the season. No qualifying quarterback (at least 15 pass attempts per team game played) since 1990 has finished with a similar ratio. The closest was Michigan's Elvis Grbac, who threw 24 touchdowns with 76 incomplete passes while completing two-thirds of his passes in 1991. Since 2004, no other qualifying quarterback even made it to the end of September with more touchdowns than incompletions. Colt McCoy came the closest, with 14 touchdowns and 20 incomplete passes in the first four games for the
Texas Longhorns
in 2008.
4.
The Clemson-Virginia Tech game features two coaches on opposite ends of the spectrum. While Frank Beamer is the oldest coach in his conference, Dabo Swinney is the youngest. When Beamer made his
Virginia Tech Hokies
debut in 1987 (by coincidence – at home, against the
Clemson Tigers
), Swinney was still in high school. The last time Clemson beat Virginia Tech, in 1989, Swinney was a freshman on the Alabama football team. Beamer will coach his 300th game with Virginia Tech on Saturday; using an average of 13 games per season, Swinney would coach his 300th game with Clemson in the 2031 season.

5.
The
Texas A&M Aggies
are less than a year away from joining the SEC, and they play an SEC opponent this weekend in the
Arkansas Razorbacks
. The Aggies haven't beaten an SEC team in 16 years and are 0-6 against the conference since 1995 when they beat the
LSU Tigers
in their season opener. Of course, Texas A&M was an SWC member then. The longest active winless streak by a current AQ-conference team against the SEC is 12 by the
Oregon State Beavers
. The Beavers are 0-11-1 all-time versus SEC teams and have lost four in a row since tying the
Tennessee Volunteers
in 1978. The longest active losing streak is technically by the
Ohio State Buckeyes
, because of the vacated Sugar Bowl win over Arkansas. Take away that win, which the NCAA does, and the Buckeyes have lost eight straight to SEC teams since beating LSU in 1988.
September, 22, 2011
9/22/11
10:04
PM ET
By
Micah Adams
| ESPN.com
Chris McGrath/Getty ImagesIf Michael Vick doesn't return Sunday against the New York Giants, Andy Reid can take solace in the fact that he has one of the top backup quarterbacks in the NFL according to Total QBR: Vince Young.
The
Philadelphia Eagles
are optimistic
Michael Vick
will be able to return Sunday against the
New York Giants
after suffering a concussion against the
Atlanta Falcons
. Vick returned to the practice field Thursday, one day after his replacement against Atlanta,
Mike Kafka
, took all of the first-team snaps in practice. That same day, newly acquired backup
Vince Young
returned to practice after suffering a hamstring injury in the preseason.
Kafka, drafted in the fourth round of the 2010 NFL draft, did not see any regular-season action for the Eagles in 2010. That was one of the reasons Philadelphia signed Young as a backup QB.
While we don't know who will start for Philadelphia on Sunday – signs point to Vick – we can analyze just how lucky the Eagles are to have Young as a backup.
As a refresher, Total QBR is a quarterback rating that takes into account all of a quarterback's contributions (passing, rushing, sacks, fumbles, penalties) to his team's scoring and winning and summarizes them into one number on a 0-100 scale, on which 50 is average.
Young's Total QBR of 64.2 from 2008-10 is only a slight drop-off from Vick's (65.9). In that span, Young ranked 11th among the 75 quarterbacks with at least 100 action plays. Obviously, 100 action plays is a relatively small sample size, but since we are dealing with backup quarterbacks, there has to be some cutoff regarding what can be determined as an appropriate minimum value for assessing backups.
There are 14 teams in the NFL that have a backup with at least 100 action plays over the last three years. Among those teams, the Eagles have the fourth-smallest drop-off in Total QBR from starter to backup in moving from Vick to Young. The three teams with a "more favorable" backup situation feature three young QBs who are either playing very well (
Ryan Fitzpatrick
) or are considered the future of the franchise (
Matthew Stafford
and
Colt McCoy
).
A quick glance at the QBR leaderboard from the previous three seasons shows that Young actually rates higher than 22 other starting quarterbacks. That group includes
Eli Manning
,
Ben Roethlisberger
,
Joe Flacco
,
Josh Freeman
, Matthew Stafford,
Sam Bradford
,
Kevin Kolb
and
Mark Sanchez
.
For exclusive video, stories and blogs about quarterbacks from every level of competition, check out ESPN's "Year of the Quarterback" page.
December, 24, 2010
12/24/10
9:00
AM ET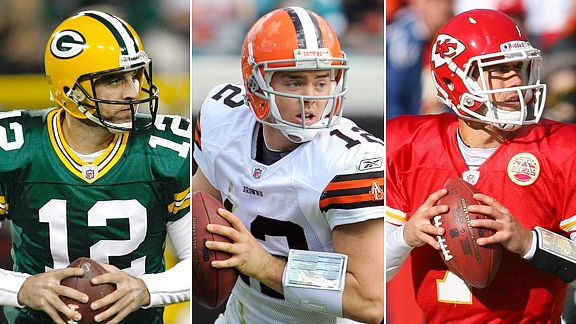 Getty Images
Aaron Rodgers (left), Colt McCoy (center) and Matt Cassel (right) each have strengths that should put their teams into a favorable position on Sunday afternoon.
Our weekly look at quarterbacks who are under the center of attention.
AARON RODGERS
Green Bay Packers
quarterback
Aaron Rodgers
enters Sunday's game with the
New York Giants
tied for the NFL lead in touchdown passes when facing five-or-more pass rushers, with 13 (coincidentally, the other quarterback with 13 is his opponent,
Eli Manning
).
Rodgers, returning from a concussion that caused him to miss Sunday's game against the Patriots, is more effective than Manning when it comes to dealing with the blitz. He's the fourth-most accurate passer against the blitz in the NFL at 64.3 percent. His 109.2 passer rating against five-or-more rushers trails only Tony Romo and
Tom Brady
.
Rodgers will have an opportunity to expand on those totals this week. The Giants rush five-or-more defenders on 37.7 percent of opponent dropbacks, the ninth-most aggressive team in the NFL. They'll pose a tough challenge for Rodgers, as they have held opponents to a 69.6 passer rating when blitzing, fifth-best in the NFL.
COLT MCCOY
Colt McCoy
will play a big role in determining whether the
Baltimore Ravens
or
Pittsburgh Steelers
win the AFC North, since his
Cleveland Browns
will host both squads in the final two weeks of the season.
McCoy's accuracy, particularly considering he's a rookie, has been his most impressive trait. He ranks seventh in the NFL in completion percentage (minimum 150 attempts) at 65.8 percent and 10th best in interception rate at 2.0 percent. After throwing two interceptions in his NFL debut against the Steelers, McCoy has thrown just one in 119 attempts in his last five games.
Where McCoy has excelled within a small sample is at the intermediate-length pass. On throws that went from 11-to-20 yards in the air, McCoy is 27-for-37, with a pair of touchdown passes and no interceptions. His 133.0 passer rating is the best in the NFL.
Last week, McCoy was 5-for-6 for 97 yards with a first-quarter touchdown pass to
Robert Royal
(his passer rating was a perfect 158.3) on throws that long.
Both the Ravens and Steelers have had issues covering that type of throw. The Ravens rate about league-average in both opponents completion percentage and passer rating.
The Ravens issues have been more recent. In the last three weeks, Baltimore's defense has allowed opponents to complete 51.6 percent of intermediate-length passes, but the 16 completions have gone for 302 yards and two touchdowns. That matches the number of touchdowns they allowed on such passes in the first 11 games of the season.
The Steelers rank 31st (next-to-last) and 26th in those stats, but McCoy won't get a chance at them until next week.
-- Mark Simon
MATT CASSEL
If the Chiefs hope to finish strong, it'll be up to
Matt Cassel
make sure that they're not too one-dimensional.
Entering Week 16, the Chiefs rushing attack faced a "loaded box" (meaning a situation in which the defense has more players around the line of scrimmage than the offense has blockers) 82 times, a league-high.
But in Cassel, the Chiefs have one of the best play-action quarterbacks in the league, allowing them to counter that.
Among quarterbacks that have attempted at least 40 play-action passes, Cassel's 126.7 passer rating in those situations is third-best in the league, behind only Tom Brady (141.5) and
Carson Palmer
(134.8).
It becomes increasingly important considering that the Chiefs' next opponent, the
Tennessee Titans
, has loaded the box on 98 of its opponent's attempts this season, second-most in the NFL.
-- Alvin Anol
November, 13, 2010
11/13/10
12:31
PM ET
Every team in the NFL has played at least eight games. Each year since 2000, there has been at least one team (27 overall) that was .500 or worse at the halfway point of the season and made the playoffs. In fact, in each of the past four seasons, at least three teams started 4-4 or worse and rebounded to make the playoffs.
Currently, there are 17 teams that are no better than .500.

Vick
• Not only is
Michael Vick
on the verge of passing
Steve Young
for the second-most rushing yards by a quarterback in NFL history, but his passing numbers have been spectacular. He has the highest passer rating in the NFL on attempts between 11-20 yards. No one else in the NFL has a passer rating above 118. And on deep throws (at least 21 yards), his 120.0 passer rating is currently third behind
Vince Young
and
Ben Roethlisberger
.
•
From the Elias Sports Bureau:
Terrell Owens
has 41 receptions for 618 yards and seven touchdowns in the last five games, all of which have been Bengals losses. Seven other players in NFL history have had at least 40 catches for 600 yards and seven touchdowns in a five-game span, but Owens is the only one who's done it on a team that lost all five games.
•
More from the Elias Sports Bureau:
The
Cleveland Browns
'
Colt McCoy
is the only quarterback whose first three starts all came against former Super Bowl winning quarterbacks. (The Browns lost to Ben Roethlisberger in McCoy's first start, then beat
Drew Brees
and
Tom Brady
in his next two starts).
•
Peyton Hillis
is averaging a league-leading 9.3 yards per rush when running to the right this season; however, only 12 percent of Hillis' rush attempts have been to the right side. Two-thirds of his carries have been up the middle, where he's averaging four yards per rush.
• The
Tennessee Titans
'
Chris Johnson
will play his 40th game on Sunday against the
Miami Dolphins
. Johnson has rushed for 3,955 yards and averaged 5.03 yards per carry. The only players in NFL history to rush for 4,000 yards and average at least five yards a carry in their first 40 games are Jim Brown,
Clinton Portis
and
Adrian Peterson
.
• Even when he's isn't carrying the ball, Johnson has a huge impact on opposing defenses. Vince Young has a perfect passer rating (158.3) on play-action throws of at least 15 yards this season. On throws downfield of at least 15 yards when he does not use play action, Young's passer rating is just 55.4.

Rice
• Last season,
Sidney Rice
was the
Minnesota Vikings
leading receiver on passes thrown outside the field numbers, catching 39-of-59 passes and four of the Vikings 12 touchdowns. In eight games thus far, Minnesota has not had an outside threat, posting just three touchdowns on 92 targets.
• The
Denver Broncos
are the only team that does not have a rushing play of at least 20 yards this season; conversely, the
Pittsburgh Steelers
are the only team that has yet to allow a 20-yard running play. The Steelers opponent this week, the Patriots, have four players who have had at least one 20-yard running play this season.
October, 15, 2010
10/15/10
5:18
PM ET
Our weekly look at quarterbacks who are under the center of attention.
CENTER OF ATTENTION: CHASING MARINO
Three quarterbacks have thrown for 1,600-or-more yards through five games this season:
Philip Rivers
(1,759),
Kyle Orton
(1,733) and
Peyton Manning
(1,609). Each of them now has more yards through their first five games than what
Dan Marino
had through the first five games of his 5,084-yard record-setting 1984 season. Can this trio keep up the pace? Two years ago,
Drew Brees
had 1,673 yards through five games, but he finished just 15 yards shy of Marino's record.
Let's look at other quarterbacks who are under our center of attention for Week 6.
DREW BREES

Brees
The Saints offense isn't off to the explosive start of the 2009 team, averaging less than 20 points per game in 2010, after scoring nearly 40 points per game in their first five games last season. With teams playing deep coverage more often against the Saints, Brees has been forced to throw shorter passes. No player has thrown more passes at or behind the line of scrimmage than Brees's 51 this season. Compare that to last year, when through the first five games Brees threw just 20 passes at or behind the line of scrimmage.
COLT McCOY
The rookie is scheduled to make his first NFL start Sunday when the
Cleveland Browns
face the
Pittsburgh Steelers
. The Browns will be the first team to start three different quarterbacks this season. According to the Elias Sports Bureau,
Colt McCoy
will become the 16th different starting quarterback used by the Browns since their return to the NFL in 1999. That will break the tie with the
Miami Dolphins
for the most in that span. McCoy can't do much worse that the others. Since 2008, Browns quarterbacks rank last in completion percentage, passing touchdowns and passer rating.
TONY ROMO
The
Dallas Cowboys
will try to avoid a 1-4 start when they face the
Minnesota Vikings
on Sunday. Despite having lost three of their first four games, the Cowboys boast the NFC's top-ranked passing offense, averaging 326.3 yards per game and 7.2 yards per attempt, with Romo throwing for 1,346 yards through the first four games. Since 1970, Romo is just the third quarterback to throw for at least 1,300 yards and have one or fewer wins in the first four games of a season. The others were Hall of Famers' Dan Fouts in 1983 and
Joe Montana
in 1982. The Chargers finished the 1983 season 6-10 (though they were 5-5 in Fouts' starts) while the 1982 49ers finished that strike-shortened season 3-6.
October, 13, 2010
10/13/10
1:16
PM ET
Few things could be sweeter for Nebraska than a victory over Texas in its final season as Big 12 foes.
That's because, political issues aside, Texas has dealt Nebraska some of its most crushing defeats since the conference was founded.
It started with the inaugural Big 12 Championship Game in 1996. Nebraska was ranked No. 3 and, in that pre-BCS era, was positioned to play No. 1 Florida State in the Orange Bowl. Unranked Texas, however, had other plans, and a late comeback attempt by the Huskers was foiled by a gutsy fourth-down call by Longhorns coach John Mackovic on his own side of midfield. Texas went on to win, 37-27, and Nebraska's bowl spot against FSU was taken by Florida, which ultimately won the national title by beating the Seminoles.

Nebraska's first shot at revenge came in 1998, when new Texas coach
Mack Brown
took his unranked Longhorns to Lincoln. But the No. 7 Huskers couldn't contain eventual Heisman winner Ricky Williams, who rushed for 150 yards, and freshman Major Applewhite threw a TD pass with less than three minutes remaining to give Texas a 20-16 win, snapping Nebraska's school-record 47-game home winning streak.
A year later, the Cornhuskers made the trip to Austin with a No. 3 ranking and took a 13-3 halftime lead over 18th-ranked Texas. The Horns struck back, however, and ultimately won the game with another late TD pass by Applewhite, 24-20. Nebraska came back several weeks later to thump Texas in the Big 12 Championship Game, but the damage had been done. The Huskers finished third in the final BCS Standings, edged out for the coveted No. 2 spot by undefeated Virginia Tech.
By 2002, Nebraska had built another substantial home winning streak -- this one a national-best 24 games. Naturally, it was time for Texas to come into town and crash the party. Chris Simms had a big day through the air, but Nebraska found itself trailing just 27-24 in the final minute with the ball in the red zone. Before a game-tying field goal could be attempted, Nathan Vasher picked off Nebraska QB Jammal Lord at the goal line to end the game.

And then there was last year. You know the story. Texas was trying to earn a spot in the BCS National Championship Game against Alabama, and Nebraska was trying to get its first signature win in the Bo Pelini era. The defense on both sides was suffocating, as Ndamukong Suh vaulted himself into the Heisman discussion and probably kept Colt McCoy from winning the award in the process. But the ultimate victory went to the Longhorns, who answered a late score by Nebraska with a 46-yard field goal on the final play (after one second had been put back on the clock, following McCoy's sideline incompletion).
Nothing the Huskers do on Saturday would be able to erase those memories, but a win over Texas would probably feel like a nice parting gift to the Big 12.