Stats & Info:

Danica Patrick
February, 18, 2015
Feb 18
9:18
PM ET
Patrick Smith/Getty ImagesDale Earnhardt Jr., won his second Daytona 500 last year, but could miss the field this year.
Thursday's Budweiser Duel qualifying races might seem like just a formality to set the field for the 2015 Daytona 500, but there might a big name or two heading home after the races are over.
First, let's reset where the field is at:
•
Jeff Gordon
and
Jimmie Johnson
have locked down their spots on the front row.
• Four more drivers (
Aric Almirola
,
Ricky Stenhouse
Jr.,
Carl Edwards
,
Jamie McMurray
) posted speeds on Sunday fast enough to clinch spots in the field.
• The top six drivers in last season's owner points (who aren't already in) are locked in as well. That's
Kevin Harvick
,
Ryan Newman
,
Denny Hamlin
,
Joey Logano
,
Brad Keselowski
,
Matt Kenseth
.
•
Tony Stewart
is a lock to get at least the 43rd starting spot thanks to the former champion's provisional spot.
Notice some big names and fan favorites not among those 13?
Dale Earnhardt
Jr.,
Danica Patrick
,
Kurt Busch
and
Kyle Busch
could all have scenarios play out Thursday where they're not in the field for the Daytona 500. Some are far more likely than others.
Let's take a quick look at the two headliners who could be heading home, Earnhardt Jr. and Patrick.
Dale Earnhardt Jr.
Junior's route to miss the 500 field would take a perfect storm of unfortunate events.
First, he needs to finish outside the transfer spots (top 15) of his qualifying race. It's a possibility, seeing as he'll start that race last.
Then, Harvick, Newman, Hamlin, Logano, Keselowski and Kenseth all need to finish outside the transfer spots in their qualifying race. The same goes for four of the seven remaining drivers that put up a faster speed in qualifying. Finally, one of the former series champions not yet locked in would have to also not finish in a transfer spot.
It's an unlikely (but possible) scenario that would knock out the driver who won last year's 500 and finished in the top 2 in four of the past five Daytona 500s.
Danica Patrick
Just two years ago, Danica Patrick was on the pole and then finished in the top 10 in the Daytona 500. In what could be her final season at Stewart-Haas Racing, her scenario for missing the field is more realistic, albeit it would still take a few events to happen.
Obviously, it would start with her finishing outside the transfer spots in her Duel race.
Patrick was 32nd-fastest in last Sunday's qualifying, so four of the drivers in front of her would need to fall back on their speed for Danica to not have one of those spots available.
At least six drivers among the 27 ahead of her in owner points would then also need to have to revert to their points, other than the four drivers who would have to fall back on their speed.
The odds of this happening are not great, but it does throw some extra intrigue into Thursday's races.
May, 24, 2014
5/24/14
6:40
PM ET
By
Trevor Ebaugh, ESPN Stats & Info
| ESPN.com
Here are the projections for Sunday's Sprint Cup race at Charlotte. Our projection system takes into account, among other factors, drivers' past performances at the current track, pre-race on-track activity (practices and qualifying) and probability of finishing the race. All of the data is then adjusted for the track type (in this case, a 1.5-mile Quad-Oval) and time of year.
• Projected winner
Kevin Harvick
has won two of the last three Coca-Cola 600s. Harvick's projection is influenced heavily by his past history in this race as his car appears to be top-five capable, but not quite elite - he qualified sixth and finished sixth in the final practice.
•
Kurt Busch
will attempt to become the fourth driver to start both the Indianapolis 500 and the 600-mile race at Charlotte in the same day.
John Andretti
,
Robby Gordon
and
Tony Stewart
have done it before, but only Tony Stewart in 2001 completed all 1,100 miles. It's important for Busch to make it to Charlotte in time for the start of the race because only the driver who starts a Sprint Cup race receives points for the race.
•
Jimmie Johnson
is still looking for his first win of the season, and on the surface, Charlotte looks like a good site for that to happen. He's tied with
Bobby Allison
and
Darrell Waltrip
for the most career wins there with six. However, Johnson has just one win in the last 16 Charlotte races, after winning five of the previous six.
•
Jeff Gordon
leads the points, but it was his win two weeks ago at Kansas that all but locked in his Chase berth. But don't expect an encore this week, as drivers this season have a 21.6 average finish in the next race following a win, with more DNF's (three) than top-10 finishes (two).
• In the last points race at Kansas,
Danica Patrick
finished a career-best seventh, the best Cup finish by a woman since
Janet Guthrie
finished sixth at Bristol in 1977. However, Patrick has averaged a 32nd-place finish in the races following her previous three best finishes. After her 8th-place finish in the 2013 Daytona 500, her only other career top 10, she was 39th the following week at Phoenix after being in a wreck.
August, 23, 2013
8/23/13
3:49
PM ET
By
Matt Willis, ESPN Stats & Info
| ESPN.com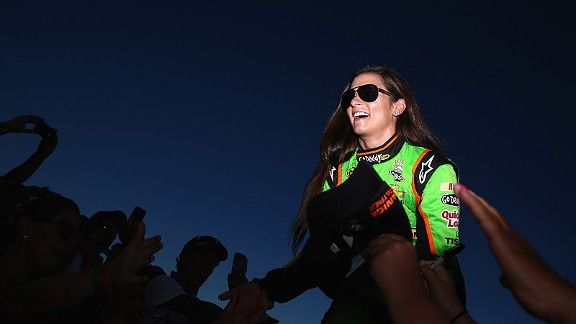 Tom Pennington/Getty Images
Danica Patrick will set a notable record on Saturday night.
Saturday night at Bristol,
Danica Patrick
will again make NASCAR history when she makes her 34th career Sprint Cup Series start, breaking a tie with
Janet Guthrie
for the most career series starts by a woman.
Not that breaking the record comes as much of a surprise. When it was announced that Patrick would become the first woman to run a full Cup Series schedule, August 24th was immediately known to be the date this mark would be met.
The history of women in NASCAR's top division is pretty sparse. Only 16 women have ever started a Cup race, half of those doing so in NASCAR's first seven seasons (1949-55).
Besides Patrick and Guthrie, only one other woman has even reached double digits in starts,
Louise Smith
, who ran 11 races in NASCAR's first four seasons.
In the earliest days of NASCAR, participation by women was common. The second race in series history featured three women in the field.
But since Guthrie's retirement in 1980, there have been a total of four women to start Cup races: Patrick,
Shawna Robinson
,
Patty Moise
and
Robin McCall
, and never more than one in a race. Those four have combined to make 48 starts, meaning there's been a woman in 4.5 percent of Cup Series races since Guthrie's retirement.
Despite her not being the first to come along, Guthrie remains the gold standard for women in NASCAR. She has five top-10 finishes, compared to three for all the other women combined. She narrowly missed a number of other top-10 finishes as well, recording five 11th-place runs in her career.
But there are areas where Patrick, despite her racing struggles, has surpassed Guthrie.
Earlier this year, Patrick became the first woman to win a Cup Series pole when she did so for the Daytona 500. Previously, no woman had started better than ninth.
Patrick also led green-flag laps, something no woman had ever done. In fact, the only other woman to lead at all was Guthrie, when she led five laps under caution at Ontario in 1977. However, Guthrie was passed right after the green flag came back out, and eventually finished 24th, 25 laps behind the leader.
Since the 500, Patrick's results have been muted. She's finished better than 20th just three times in 22 races. She sits 27th in points, right between teammates from underfunded Front Row Motorsports,
David Ragan
and
David Gilliland
. Meanwhile, both of her teammates,
Ryan Newman
and
Tony Stewart
, have both won races this season.
An argument can be made that Patrick is driving in a far-more competitive era in NASCAR.
Guthrie's best finish was a sixth in August 1977 at Bristol. But she finished 13 laps behind race winner
Cale Yarborough
, and was relieved by John Utsman during the race. In fact, in none of Guthrie's 33 career Cup Series starts did she finish on the lead lap.
Guthrie, much like Patrick, had success in the Indianapolis 500, a race and a series that has had much more female involvement, as each of the last seven runnings of the Indy 500 have had multiple female drivers in the field, with seven different women making at least one start.
Patrick's lasting effect on NASCAR may not be her on-track statistical accomplishments, but rather her ability to bring a more diverse field of drivers to the track.
May, 13, 2013
5/13/13
3:27
PM ET
By
Pete Newmann, ESPN Stats & Info
| ESPN.com
Focus on Sport/Getty Images
The first "Battle of the Sexes" set up opportunities for other significant women-versus-men competitions, such as Billie Jean King's defeat of Bobby Riggs in 1973.
On May 13, 1973 (Mother's Day), 55-year-old Bobby Riggs beat Margaret Court 6-2, 6-1 in a contest branded "Battle of the Sexes." The importance of the match could not be overstated as the women's liberation movement was in its infancy.
It helped legitimize women in athletics and set a model that others have followed.
You may have heard about Billie Jean King beating Riggs in "Battle of the Sexes." That was actually the second version, played Sept. 20, 1973, as King won 6-4, 6-3, 6-3. And there have been subsequent "Battle of the Sexes" including one featuring Martina Navratilova and Jimmy Connors in 1992.
Below is a progression of women competing against men since the 1970s.
Notable women competing head-to-head against men
1977 - MOTORSPORTS:
In 1977,
Janet Guthrie
became the first woman to compete in the Indianapolis 500. She was also the first woman to compete in the Daytona 500.
1979 – NBA:
In 1979, the Indiana Pacers signed Ann Meyers to one-year contract. Meyers is the first woman signed by an NBA team. She was cut seven days after signing.
1984 – LITTLE LEAGUE:
Victoria Roche of Brussels, Belgium, became the first girl to play in the Little League World Series.
1993 – HORSE RACING:
Julie Krone became the first female jockey to win a Triple Crown race, winning the Belmont Stakes aboard Colonial Affair.
1993 – HOCKEY:
Manon Rheaume became the first female to play in the NHL. The Canadian-born goaltender played two preseason games for the Lightning.
1997 – BASEBALL:
Ila Borders became the first woman to play in a professional baseball game. She pitched for the St. Paul Saints.
2001 – FOOTBALL:
Jacksonville State's Ashley Martin became the first woman to play and score in a Division I football game. She made three extra points.
2003 - GOLF:
Annika Sorenstam became the first woman to play in a PGA tour event since Babe Didrikson 58 years earlier.
2003 – LACROSSE:
New Jersey Storm goalie Ginny Capicchioni became the first woman to compete in the National Lacrosse League, playing nearly 12 minutes.
2006 - WRESTLING:
Michaela Hutchison won Alaska's 103-pound wresting final to become the first girl in the nation to win a state title against boys.
2009 - FISHING:
Kim Bain became the first woman to compete in the Bassmaster Classic in the event's 38-year history. She finished in 47th place.
Female athletes head-to-head against men this year
Danica Patrick:
In February 2013, Danica Patrick won the pole at the Daytona 500, the first woman to ever clinch a Cup Series pole. She's the first woman ever to lead a lap at Daytona. She finished eighth.
Lauren Silberman:
Just a week later, Lauren Silberman became the first woman in history to try out for the NFL when the kicker participated in the Jets' regional combine, but she attempted just two kicks before stopping due to injury.
Rosie Napravnik:
Rosie Napravnik finished fifth aboard Mylute in May's Kentucky Derby, the highest finish by a female jockey. She held the previous record when she finished ninth in 2011.
Venus and Serena Williams:
Serena and
Venus Williams
said they could beat any men's player ranked 200 or lower. At the Australian Open, they individually played a set each against the 203rd-ranked player, Karsten Braasch. Serena fell 6-1, Venus 6-2.
February, 22, 2013
2/22/13
1:30
PM ET
By
Tom McKean, Stats & Info
| ESPN.com
AP Photo/Terry RennaDanica Patrick became the first woman to win the pole in a Cup Series race.
The Daytona 500 will usher in the start of the Sprint Cup season Sunday, with several storylines taking center stage. Here's a look at a few notable drivers and key stats for them heading into the Cup season:
BRAD KESELOWSKI

Keselowski
Brad Keselowski
looks to defend his Cup championship, but it will not be an easy road. Since 2000, only one first-time Cup champion has gone on to win the Cup the very next season (
Jimmie Johnson
).
Kurt Busch
,
Matt Kenseth
,
Tony Stewart
and
Bobby Labonte
all attempted it in that span, but none finished in the top five of the standings the following season.
Keselowski performed at his best last season at just the right time, posting an average finish of 6.1 in his final 12 starts. That was three positions better than any other driver in that span.
DANICA PATRICK

Patrick
Danica Patrick
will be competing in her first full season in the Cup series, and although there will likely be a learning curve, she's gotten off to a nice start by claiming the Daytona 500 pole. She's the first woman to win a Cup pole and she'll seek to become the first Daytona 500 pole winner to win the event since 2000 (
Dale Jarrett
).
Patrick had a trying 2012 season but did show improvement down the stretch. In her final two starts, she completed 99.8 percent of laps run, compared to just 90.2 percent in her first eight starts. Patrick (10) will likely break the record for the most Cup starts by a woman this season, a mark currently held by
Janet Guthrie
. Guthrie had 33 starts between 1976 and 1980.
JIMMIE JOHNSON

Johnson
Jimmie Johnson
will be making his 400th Cup start at Daytona, and could certainly be considered the favorite to win the championship this season. Although he came up just short last year, he was a factor until the very end and it is easy to see why.
His five wins were tied for the most in the Cup series, and he also led all drivers in top fives, top tens and laps led last season. If he were to win his sixth Cup championship in 2013, he would be just one shy of the record held by both
Richard Petty
and
Dale Earnhardt
.
DALE EARNHARDT JR.

Earnhardt Jr.
Dale Earnhardt Jr.
had a resurgent 2012, even leading the Cup standings during the summer for the first time since 2004. He was sidelined during part of the Chase while recovering from a concussion, but his overall season was stronger than both his 2010 and 2011 campaigns. The key? Earnhardt Jr. put himself in better contention for wins.
In 2012, he had an average running position of 11.6 (an average of a driver's position on every lap), compared to 16.1 in 2011 and 18.9 in 2010.
February, 21, 2013
2/21/13
3:34
PM ET
By
ESPN Stats & Information
| ESPN.com
Jonathan Ferrey/Getty Images/NASCARDanica Patrick looks to become the first pole-sitter to win the Daytona 500 since 2000.
The green flag drops on the 55th-annual Daytona 500 on Sunday, officially kicking off the 2013 NASCAR Sprint Cup Series season. Last year,
Matt Kenseth
waited out multiple delays to win his second-career Daytona 500. He'll start this season with a new team, Joe Gibbs Racing, and will try to become just the fourth driver to ever win back-to-back Daytona 500s and the first since
Sterling Marlin
in 1994 and 1995.

Kenseth
Despite Kenseth's bid to repeat, much of the talk about this season's "Great American Race" has revolved around pole-sitter
Danica Patrick
. Patrick is looking to become the first woman to finish in the top 10 at the Daytona 500 and she's off to a good start. Earlier this week, she became the first woman to ever win an NSCS pole and did so with an average speed of 196.434 mph.
Her qualifying lap was the third-fastest at the Daytona 500 since NASCAR instituted restrictor plates in 1998--only
Darrell Waltrip
in 1989 (196.996) and
Derrike Cope
in 1990 (196.515) were faster--and that may be partly due to the new car being used in NASCAR this season. The streamlined "Gen-6" model is 160 pounds lighter than its predecessor with identical horsepower (850 hp at 9,000 rpm).
POLE PROBLEMS
Unfortunately for Patrick, however, earning the pole at Daytona has not led to success in the ensuing race recently. No pole-sitter has won a Sprint Cup race at Daytona International Speedway since 2010 and no pole-sitter has won the Daytona 500 since
Dale Jarrett
in 2000. One reason for the trouble? Pole-sitters haven't been able to avoid wrecking.
The pole-sitter has been part of a wreck in each of the last four races held at Daytona, the longest active Cup streak at any track. At the Daytona 500 specifically, wrecks have been most prevalent towards the end of the race.
There have been 48 wrecks in the final quarter of Daytona 500s since 1990, nearly as many as the first three quarters combined (55). There were three wrecks involving 19 cars in the final 25 laps of last season's race.
DODGE FAREWELL
Dodge will not have a car in the Daytona 500 despite winning a championship last season with
Brad Keselowski
. Since 2007, Dodge engines reported failures just once every 101.8 Sprint Cup entries, the highest rate among all manufacturers. It's been a while since NASCAR has been without a Dodge presence as Sunday's Daytona 500 will mark the first Cup season to begin without a Dodge entry since 2000.
May, 25, 2012
5/25/12
10:33
AM ET
By
Tom McKean, Chris Lees
and
Matthew Willis, ESPN Stats & Information
| ESPN.com
Andrew Weber/US Presswire Dan Wheldon earned his second Indianapolis 500 victory last year after a thrilling finish.
The 96th Indianapolis 500 Sunday (ABC, Noon ET) will be a time to remember defending winner
Dan Wheldon
, who was killed in an accident at Las Vegas in October. Wheldon is one of only 18 drivers to win multiple Indianapolis 500s, and last year he was part of one of the most memorable finishes in the event's history.
Rookie
JR Hildebrand
looked poised to claim the victory as he led on the final lap. But after attempting to overtake lapped traffic in the final corner, he ran too high and into the wall, allowing Wheldon to earn his second Indy 500 win and join an exclusive club of drivers with multiple wins.
Hildebrand, himself, is seeking to join an exclusive club. In the long, rich history of the Greatest Spectacle in Racing, only three drivers which finished second in their Indy 500 debut came back and won the very next year.
They are
Jacques Villeneuve
(1995), Johnnie Parsons (1950), and Dario Resta (1916). One sign of bad luck for Hildebrand is his starting position of 18th, which has never produced a winner. In fact, it's the only starting position inside the top 20 never to have a winner.
Overall, the Indianapolis 500 boasts some impressive numbers. Along with the 95 Indy 500s held, there have been 63 bottles of milk consumed by the winners. A total of 737 drivers have participated in the famed event, and the winners have driven a collective 46,432.5 miles.
This year,
Ryan Briscoe
will be looking to convert his pole position into victory. He has a good chance if history is any indication, as four of the last eight Indy 500 events have been won from the pole position.
Last year was not one of them, however, as
Alex Tagliani
finished 28th after starting up front. Briscoe has not faired well at this prestigious event recently, posting just a 22.3 average finish in four Indy 500 starts with Team Penske.
Teammate
Will Power
enters this year's race with huge momentum. He's won the last three IndyCar events, and is the first driver with a three-race win streak entering the Indianapolis 500 since Bobby Unser in 1968 (Unser would go on to win that year's edition). Power has four starts in the Indy 500, and has never finished better than fifth. He's led a mere five laps in those four starts.
A major storyline could also revolve around
Helio Castroneves
. He has three career Indianapolis 500 wins, and with a fourth, he would become just the fourth driver in history to claim four victories. Castroneves finished 17th in this event last year, his second-worst result of his career at Indianapolis (finished 25th in 2006).
This year's edition will not feature
Danica Patrick
for the first time since 2004. Patrick was the first woman to lead a lap in Indianapolis 500 history, and owns the best finish by a female in history (third in 2009). Three women are in the field this year:
Ana Beatriz
,
Katherine Legge
and
Simona De Silvestro
.
Pick your Indianapolis 500 winner and contribute to the conversation on our Facebook page.
April, 28, 2012
4/28/12
6:25
AM ET
Stats & Info insights into this morning's top sports stories.

1. CARDINAL FEVER:
Day two of the 2012 NFL Draft was held on Friday. Stanford had four offensive players taken in the first 50 picks (1.
Andrew Luck
, 24.
David DeCastro
, 34.
Coby Fleener
, 42.
Jonathan Martin
). That matches the third-most offensive players to be selected from one school within the first 50 picks in the common draft era.
2. WHITNEY LIFTS COYOTES:
Ray Whitney's goal at the 14:04 mark of overtime lifted the
Phoenix Coyotes
to a 4-3 win over the
Nashville Predators
in Game 1 of the Western Conference Semifinals. It was Whitney's second-career playoff OT goal. His first came in 1995 against the Flames. According to Elias, Whitney now holds the NHL record for the longest gap between playoff overtime goals (17 years), breaking the mark of 14 years held by Teemu Selanne.

Hairston
3. SLUGFEST IN DENVER:
In a slugfest, the
Colorado Rockies
defeated the
New York Mets
, 18-9. The game featured the Mets'
Scott Hairston
hitting for the cycle. The star of the show was Colorado's
Carlos Gonzalez
, who knocked in six runs. Five of his RBI came in the fifth inning. According to Elias, he is the first player in Rockies history to drive in five runs in one inning.
4. PASTRANA MAKES DEBUT:
Travis Pastrana
finished 22nd in his long-awaited NASCAR Nationwide Series debut at Richmond.
NEXT LEVEL:
A closer look showed that he had an eerily similar performance to that of
Danica Patrick
during her first race at Richmond last season. Each of them spent most of the race in the middle of the field yet neither were able to crack the top 15.
5. PLAYOFFS START:
The NBA playoffs begin Saturday with four games. The schedule features the
Miami Heat
hosting the
New York Knicks
(3:30 ET, ABC). The Heat are seeking back-to-back trips to the NBA Finals.
LeBron James
is averaging 30.4 PPG in the first round, the highest average of any round in his playoff career.
February, 28, 2012
2/28/12
10:31
AM ET
By
Trevor Ebaugh, ESPN Stats & Info
| ESPN.com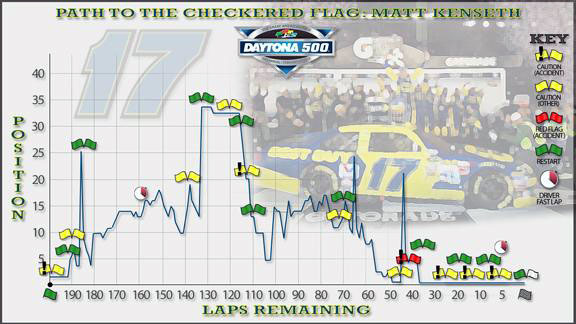 ESPN Stats & InformationAfter languishing near the back of the pack in the early laps, Matt Kenseth led the final 38 laps on the way to his second career Daytona 500 win.
Matt Kenseth
overcame overheating problems early in the race to win the Daytona 500 for the second time in the past four years. Here's a look at the road he took to Victory Lane.
Lap 2
Kurt Busch
,
Danica Patrick
,
Trevor Bayne
and
Jimmie Johnson
are involved in a wreck in Turn 1. It's the earliest accident in the Great American Race since 1990, as there hadn't been a wreck before Lap 5 in the previous 22 Daytona 500s. It was Johnson's fifth accident in the past six 500s, the second-most among drivers over that span.
Lap 43
Kenseth turns a blistering lap of 44.861 seconds, which remains his fastest time until he tops it with a time of 44.746 with six laps to go.
Lap 81
Jeff Gordon
's engine explodes and catches fire. With teammate Jimmie Johnson in the garage after completing only one lap, Hendrick Motorsports is having a 500 to forget. Gordon and Johnson combine to record 82 laps and only seven points.
Lap 92
In the 12 laps following Gordon's engine failure, Kenseth trims a whopping 55-second deficit to a 0.1650 one, moving from 32nd to fifth in the process. Kenseth takes advantage of
Terry Labonte
's caution on Lap 88 (spun by
Marcos Ambrose
), entering the pits in 10th place and leaving them in fifth.
Lap 142
Kenseth chases down leader
Denny Hamlin
and passes him three laps later. Running ninth on Lap 137, Kenseth charges through the field and takes the lead on Lap 146. Following a pit stop for
David Stremme
's blown engine (and a 2-hour, 5-minute red flag after
Juan Pablo Montoya
hit a jet-dryer truck under caution), Kenseth retakes the lead for good on Lap 165.
Lap 201
Kenseth holds off
Dale Earnhardt Jr.
and teammate
Greg Biffle
by hundredths of a second on the race's final restart to claim the checkered flag.