Stats & Info:

Daniel Bard
May, 29, 2012
5/29/12
11:47
AM ET
By
ESPN Stats & Info
| ESPN.com
(The Boston Red Sox host the Detroit Tigers, Tuesday at 7 ET on ESPN.)
The Red Sox are 24-24, but 0–6 this season when they have had a chance to get above .500.


And if the Red Sox are going to move over .500 this time tonight, then they will have to beat the Tigers' ace,
Justin Verlander
.
On Aug. 17, 2010, Verlander lasted five innings in a loss to the
New York Yankees
. Since then, Verlander has pitched at least six innings in each of his next 52 starts. That's the fifth-longest such streak in the Live Ball era (since 1920). If he goes six innings on Tuesday, then Verlander will match Bob Gibson for the fourth-longest streak (see chart).
One reason Verlander has consistenly been able to pitch deep into games is because he has a remarkable ability to get stronger and throw harder as the game moves into the late innings. This season, Verlander's fastball in the first three innings has averaged 92.8 mph, and it goes up to 93.8 in the fourth, fifth and sixth innings. In the final three innings, Verlander's average fastball is 95.7 mph.
Verlander has a career ERA of 2.78 against the Red Sox, and has held Boston to a .205 batting average in eight starts.
Dustin Pedroia
, who may not play because of a jammed thumb, is 0-for-13 in his career against Verlander. That matches the most at-bats without a hit for any batter against Verlander. (
Juan Rivera
is the other.)

Bard
The only player on the Red Sox roster who is hitting above .300 against Verlander is
Marlon Byrd
, who is 5-for-11, although all five hits have been singles.
Opposing Verlander is
Daniel Bard
, who has pitched 48 innings this season and has walked more batters (29) than he has struck out (28). And, in his five starts in the month of May, Bard has actually walked twice as many batters as he's struck out (19 walks, nine strikeouts).
May, 16, 2012
5/16/12
11:47
AM ET
By
ESPN Stats & Information
| ESPN.com
(The Tampa Bay Rays host the Boston Red Sox, Wednesday at 7 p.m. ET on ESPN.)
The American League's most methodical starting pitchers will oppose each other in St. Petersburg, Fla., on Wednesday night: the Rays'
Jeremy Hellickson
and the Red Sox's
Clay Buchholz
.


This season, Hellickson has averaged 24.4 seconds between pitches, second in the American League among starters behind Buchholz, who averages more than 25 seconds between pitches.
In fact, Boston's starting pitchers haven't been shy about taking their time on the mound. Each of the Red Sox's five starters rank in the top seven in terms of slowest paces in the American League this season.
This season, Buchholz is 4-1, but he owns the highest ERA among qualified starters at 8.31. Buchholz has four wins because the Red Sox have provided him with more run support than any other starter in baseball with 9.7 runs per game.
Buchholz has been even worse on the road. In two starts he has an 11.57 ERA and a 2.46 WHIP.
Buchholz has been so bad this season because everything that could go wrong has gone wrong. Buchholz this season:
• Has allowed 10 HR in 39 innings, giving him the highest HR-per-nine-innings-pitched rate at 2.3. (In 28 starts in 2010, Buchholz allowed just nine home runs.)
• Strikes out 4.6 batters per nine innings, which is the lowest rate of his career (career average: 6.7).
• Walks more than five batters per nine innings, the highest rate of his career (career average: 3.8).
• Is one of three starters who has walked more batters than he has struck out (
Ubaldo Jimenez
,
Derek Lowe
).
What Buchholz has done well is throw first-pitch strikes. He's tied for the American League lead with Phil Humber at 69.5 percent. However, hitters are jumping all over Buchholz, swinging at 32 percent of his first pitches, the fourth highest rate against any American League starter. When hitters put that pitch in play, their batting average is .357.
Opposing Buchholz will be Hellickson, whose start will be the 203rd straight start for the Rays by a homegrown pitcher. According to the Elias Sports Bureau, no other team this season has had every game started by players originally drafted by the organization.
Hellickson this season has allowed three earned runs or fewer in six of his seven starts. The lone exception was on April 14 against the Red Sox, when he allowed five earned runs and a career-high three home runs.
Overall, his 4.99 career ERA against Boston is his highest against any team.
Hellickson hasn't been very efficient, throwing 16.8 pitches per inning, which ranks 43rd out of 53 qualified American League starters. (Buchholz has been worse, ranking 46th with 17.5 pitches per inning.)
He's also struggled to get the final out of innings -- 12 of his 16 walks this season have been issued with two outs.
However, in five starts since his April 14 loss to the Red Sox, Hellickson has a 1.93 ERA. In fact, the Rays' pitching has settled into being the expected dominant pitching staff. In the past 28 games, Tampa Bay is 19-9 with a league-low 2.82 ERA.
April, 22, 2012
4/22/12
11:52
AM ET
By
Jeremy Lundblad & Mark Simon
| ESPN.com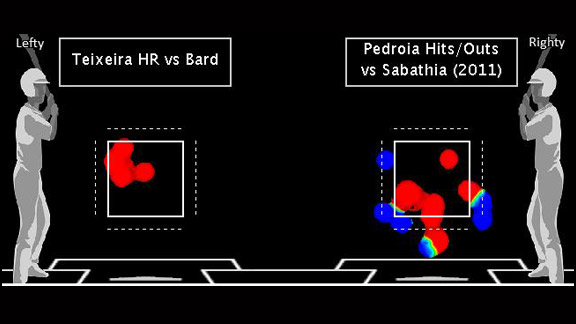 Left: Pitch locations for Mark Teixeira's home runs vs Daniel Bard.
Right: Dustin Pedroia's hits/outs vs CC Sabathia last season.
The
New York Yankees
will try to complete a three-game sweep of the
Boston Red Sox
on ESPN's Sunday Night Baseball (8 pm ET).
Here's a closer look at the key matchups that figure to play a significant role in this contest.
C.C. Sabathia Matchups to Watch
Although Sabathia is 7-9 career against the Red Sox and 3-4 against them at Fenway Park, his individual batter-pitcher matchups aren't as bad as you think.
Adrian Gonzalez
is 5-for-25 against Sabathia and struck out three times against him in their last meeting on August 30.
Dustin Pedroia
has an odd history against Sabathia -- a .244 batting average (combining both regular season and postseason)- but he was 7-for-13 against Sabathia last season, albeit with five strikeouts.
David Ortiz
is 5-for-30 against Sabathia since homering against him the first time that Sabathia faced him as a Yankee.
Ortiz has hit .346 against left-handed pitching since the start of 2011. That's a jump of 128 points from what he averaged against lefties from 2008 to 2010.
Sabathia has a 5.59 ERA in three starts this season. His April ERA is 4.16, his highest for any calendar month from April to September (his September ERA of 2.77 is his lowest).
Sabathia has averaged 91.5 miles-per-hour with his fastball in 2012. That's down a full mile-per-hour from what he averaged in both 2010 and 2011.
Hitters have swung and missed at the pitch at about a rate of one for every eight pitches thrown. In April, 2011, he got misses on about one of every six swings versus his heater.
With his 57th pitch on Sunday, Sabathia will have thrown 20,000 pitches (combining regular season and postseason) since 2007, the most of anyone in the majors.
Daniel Bard Matchups to Watch
Bard has the number of two Yankees hitters.
Robinson Cano
is 0-for-8 against him.
Derek Jeter
is 0-for-7. The only active pitcher whom Jeter has a worse-0-for against is
Casey Janssen
, against whom Jeter is 0-for-12. The only one for Cano is
Gio Gonzalez
(0-for-9).
Mark Teixeira
has four home runs in 15 at-bats against Bard. The last three of those home runs came off fastballs recorded at 97 miles-per-hour or faster by Pitch F/X calculations. The only pitchers against whom he has more home runs are
Bruce Chen
(6) and
Felix Hernandez
(5).
Bard's fastball velocity has come down from the 97 miles-per-hour he averaged as a reliever to about 94 miles-per-hour. He threw the fastball for strikes 75 percent of the time in his first start of the season, but that dropped to 57 percent in his last start against the
Tampa Bay Rays
.
Bard has a 4-4 record and a 1.69 at Fenway Park. He's 1-11 elsewhere, with a 4.19 ERA.
It's Not How You Start. It's How You Finish
There is a sharp statistical contrast between the performance of the Yankees and Red Sox bullpens this season, evident Saturday when Red Sox relievers combined to yield 14 runs.
The chart on the right shows the difference between the two. Red Sox relievers rank last in the majors in all three categories listed. Yankees relievers rank second in ERA, fourth in home runs per nine innings, and ninth in opponents batting average.
Elias Sports Bureau Stat of the Game
A Yankees win would make them 459-459-4 against the Red Sox in Fenway Park. They have outscored the Red Sox there, 4,687-4,481
April, 11, 2012
4/11/12
1:10
AM ET
AP Photo/LM OteroNeftali Feliz pitched seven shutout innings in his first major-league start.
Tuesday marked the first major league starts for former bullpen stalwarts
Neftali Feliz
and
Daniel Bard
. Both were successful in the bullpen, but only one handled the transition well in his debut.
Feliz was facing off with a familiar foe as the
Texas Rangers
hosted the
Seattle Mariners
. Entering the game, the Mariners had not recorded a hit in 48 at-bats against Feliz.
Justin Smoak
finally broke the hitless drought with two outs in the fourth inning.
According to the Elias Sports Bureau, the 58 at-bats before allowing a hit is the longest streak to start a career against one team in the expansion era (since 1961). The record was previously held by
Billy Wagner
, who held the
Pittsburgh Pirates
hitless in their first 48 at-bats from 1996 to 2001.
Feliz was able to handle the move to the bullpen by mixing up his pitches. As a reliever, he threw a fastball on 80 percent of his pitches. The first time through the Seattle order on Tuesday, he threw heat on 69 percent of his pitches. After that, he relied on his fastball only 39 percent of the time.
For the game, Feliz mixed in sliders on 26 percent of his pitches and changeups on 23 percent. Mariners hitters were 1-for-8 in at-bats ending with a changeup, including two strikeouts.
Bard wasn't as fortunate in his transition to the rotation. He allowed five earned runs without recording an out in the sixth inning as the
Toronto Blue Jays
beat the
Boston Red Sox
7-3.
In three years as a reliever, he threw fastballs 71 percent of the time and sliders 21 percent of the time. The key to his success out of the bullpen was his slider. Opponents missed nearly half the times they swung at the pitch. He was able to coax swings on sliders outside the zone nearly a third of the time.
On Tuesday, he threw the slider 35 percent of the time and was just as successful. The Blue Jays missed on nine of their 14 swings against the slider and four of Bard's six strikeouts came on the pitch. But they were able to tee off on his fastball, getting eight hits in 17 at-bats ending with the pitch.
Bard was unable to establish a third pitch during the game. In the first four innings, he threw only four changeups and all of them missed the strike zone. He found the zone with three of six changeups to his last five batters and induced a groundout by
Adam Lind
.
Quick hits
Freddy Garcia
tied the American League record with five wild pitches in his start against the
Baltimore Orioles
.
Jayson Werth
recorded his eighth career four-hit game, his first since June 27, 2009.
The
Detroit Tigers
are the last undefeated team in the American League, despite not getting a decision from their starters.
The
Atlanta Braves
snapped a nine-game losing streak dating to last season with a win at the
Houston Astros
.
Andre Ethier
celebrated his 30th birthday by hitting the game-winning home run in the bottom of the eighth, his 11th career go-ahead home run in the eighth inning or later.
Dan Braunstein contributed to this post.
August, 5, 2011
8/05/11
1:16
AM ET


The story of the season has been Red Sox domination. It's the difference in the AL East race. With the Yankees traveling to Fenway Park to take on the Red Sox, it's time to break down how the season series has gone so far.
Here are some highlights about the head-to-head series
:
• The Yankees will be trying to snap a seven-game losing streak in the series. That's tied for the third-longest losing streak for the Yankees in the rivalry, behind only a nine-game streak from 2008-09 and a 17-game streak from 1911-12.
• The Yankee starters have struggled, with a 8.18 ERA in the nine games. The losers in the eight losses were mostly the pitchers upon whom they usually rely:
Bartolo Colon
(twice),
CC Sabathia
(3 times),
Freddy Garcia
(twice),
A.J. Burnett
(once).
• Sabathia is 0-3 with a 6.16 ERA vs the Red Sox this year (he's 15-2 vs everyone else). In 2010, he was 1-0 with a 3.96 ERA, and in 2009, he was 3-1 with a 2.22 ERA.
• However, the Red Sox pitchers have held them to a .208 batting average with runners in scoring position. In three of the games, they failed to get a hit with runners in scoring position (0-3 on April 10, 0-10 on May 14, 0-7 on June 9), and in another game they got just one hit (1-7 on May 13).
• The Red Sox shut down the Yankee lefties (and when their switch-hitters hit lefty). Red Sox pitchers held Yankees left-handed batters to a .207 BA.
• Yankees were shut out twice in nine games; they have been shut out just three times otherwise.
Notable Yankees mediocrity
:
•
Nick Swisher
.188, 8 K
•
Brett Gardner
.167, double and triple
•
Mark Teixeira
.121 (4-33), 11 K, 0 XBH
Notable Red Sox standouts
:
•
Dustin Pedroia
: .500 (15-30), 4 doubles, 8 walks
•
Jacoby Ellsbury
.371, 3 SB, 4 doubles
•
David Ortiz
.324, 3 HR, 4 doubles, 9 RBI
• We should note that Pedroia was the AL Player of the Month for July. He led the Majors with 46 hits, the most hits for a Red Sox player during July of any season since 1939, when 3 future Hall of Famers each collected more: Bobby Doerr (52), Ted Williams (48) and Jimmie Foxx (47) (Elias). Pedroia also led Major Leaguers in total bases (81), tied for first in runs (27) and extra-base hits (18), and posted the second-best AVG in the ML at .411 (112 AB).
Derek Jeter: Return to Form?
• Derek Jeter has picked it up after getting his 3,000th hit on July 9. Jeter has four career five-hit games and two of them have come within the last four weeks. His numbers since July 10 are more in line with his career numbers.
The Setup Men: David Robertson and Daniel Bard
• David Robertson has better numbers vs opposite-handed batters (LHB) than same-handed batters (RHB) this year. His .169 BA vs LHB is fourth-best among AL RHP (min. 75 batters faced), while his 43 K vs LHB are the most among RHP relievers.
• He has yet to allow a run on the road in 20 appearances (21 1/3 IP).
• He has yet to allow a HR in 42 1/3 IP (most IP of any AL reliever who hasn't allowed a HR yet this season).
• Opponents are 1-12 (.083) with 10 K with the bases loaded.
• Daniel Bard has been more effective vs righties this season. His .117 opponent BA vs RHB is the lowest among AL pitchers (min. 75 batters faced).
• Prior to allowing three runs in his last outing on August 1, Bard had made 25 straight scoreless appearances (since May 27), spanning 26 1/3 IP. During the streak, opponents hit .125 vs him, and RHB were 3-40 (.075).
• It was the most consecutive scoreless outings in Red Sox history. It was the longest streak of scoreless IP in a single season by a Red Sox pitcher since Bob Stanley had a 27-inning streak in 1980.
• Yankees are 1-14 (.071) against him this season.
• His opponent BA w/RISP of .133 is fifth-best in AL (min. 50 batters faced).
• He's pitched on zero days rest 18 times, tied for the most in the AL.
August, 2, 2011
8/02/11
2:14
AM ET

Cabrera
The
Cleveland Indians
'
Asdrubal Cabrera
entered this season with 18 home runs in 387 career games.
Following his two-HR game on Monday against the
Boston Red Sox
, Cabrera now has 19 this season.
His second home run came in the eighth inning off
Daniel Bard
, who had not allowed a run in his last 25 appearances (26.1 innings). The last time Bard gave up a run was May 23 -- an RBI double by Cabrera that gave Cleveland a 3-2 lead and eventual win.
That second home run traveled a distance of just 320 feet, making it the shortest homer hit in 2011. The previous shortest home run was 323 by
Sam Fuld
of the
Tampa Bay Rays
back on April 11.
Cabrera also became the first Indians shortstop in 60 years to hit two home runs in one game at Fenway Park. According to the Elias Sports Bureau, that had last been done in July 1951 by Ray Boone, whose grandson, Aaron, was part of ESPN's broadcasting crew for Monday night's game.
And while Indians'
Josh Tomlin
didn't pitch great (10 hits, five earned runs), he did go six innings. Tomlin now has pitched at least five innings in each of his first 34 starts. According to the Elias Sports Bureau, the only pitchers who debuted in 1900 or later with longer such streaks than Tomlin are Oscar Jones (51 straight starts from 1903-04) and George Winter (37, 1901-02).
AROUND THE REST OF MLB
Adam Dunn
of the
Chicago White Sox
went 0-for-4 with three strikeouts against
CC Sabathia
, and now is hitting .039 this season against left-handed pitchers. Dunn has 18 games with at least three strikeouts this season twice as many more as
Austin Jackson
and
Ryan Raburn
of the
Detroit Tigers
have for second most.
Joey Votto's double in the third inning on Monday night gave him an extra-base hit in each of his last 11 games at Minute Maid Park. The Elias Sports Bureau tells that in modern major-league history (that is, since 1900), only two other visiting players produced an extra-base hit in at least 11 consecutive games at a particular park: Jimmie Foxx in 12 straight games at Sportsman's Park, over 1939 and 1940, and
Jeff Bagwell
at Candlestick (3Com) Park, from 1993 to 1995.
Derrek Lee
hit two home runs in his Pirates debut on Monday night, but that was the extent of Pittsburgh's scoring in a 5-3 loss to the Cubs. According to the Elias Sports Bureau, Lee is only the second player in Pirates' history to belt two home runs in his first game with the team. The other was
Shawon Dunston
in September 1997, after he was traded, coincidentally, by the Cubs.
June, 29, 2011
6/29/11
1:09
PM ET
Since scoring 14 runs on June 20 against the
San Diego Padres
, the
Boston Red Sox
have scored a total of 14 runs in their last six games. (Tuesday was the seventh time this season that Boston's been shut out.)


Perhaps that's one reason the
Red Sox will start
David Ortiz
at first base on Wednesday against the
Philadelphia Phillies
(7 ET on ESPN.)
The downturn in offense has coincided with a trip National League ballparks and the loss the designated hitter. With Ortiz out, the Red Sox have had to shorten their lineup. Ortiz primarily was batting fifth in the lineup, but in their last four games -- all in National League ballparks -- the Red Sox have been batting
J.D. Drew
and
Darnell McDonald
in the five-spot. The two have combined to go 3-for-16 (.188) in those games, including 0-for-11 with men on base. This season, Ortiz is batting .312 with eight home runs with runners on base.
The Red Sox are not only losing out in the fifth spot in the order, but are also not getting any offense from their pitchers. Boston is one of five American League teams that has yet to get a hit from a pitcher. In National League parks, the Sox' No. 9 hitters are 1-for-14 (OF
Josh Reddick
had a pinch-hit single). Their No. 9 hitters were batting .258 entering their National League road trip.
Matchups to Watch:
•
Placido Polanco
is 4-for-23 against
John Lackey
, but with only one strikeout and one home run. That means his Batting Average On Balls in Play against Lackey is .143 (3-for-21). Polanco's career BABIP is .312.
•
Ryan Howard
is 0-for-4 in his career against
Jonathan Papelbon
with three strikeouts, and each came on a 3-2 count. His other out was a flyout, also with a two-strike count (0-2)
• Leadoff hitters in an inning is 9-for-30 (.300 BA) vs Bard this season. Everyone else is 13-for-98 (.133 BA)
• Should Terry Francona consider giving
Jacoby Ellsbury
a day off? Ellsbury is 2-for-20 in his last 5 games, but on BABIP, he's struck out only once. He's 1-for-his-last 18 when putting the ball into the field of play.
June, 2, 2011
6/02/11
7:11
AM ET
Jay Bruce dialed long-distance like no one else in the big leagues in May, according to ESPN's Home Run Tracker, and Mark Trumbo had the kind of mammoth blast that hadn't been seen in Kansas City in four years. What were some of the other home run oddities from the month of May?
Player Power Surge:
HRs Totaling Most Distance (Jay Bruce,
Cincinnati Reds
)
Mike Stanton averaged more than 425 feet per home run in May, but no one totaled more total distance than Bruce. His 12 home runs tallied 4,776 feet, besting last month's winner,
Ryan Braun
, by nearly 700 feet. Jose Bautista, who leads the majors in home runs, has yet to win this award.
No Doubter:
Longest True Distance (Mark Trumbo,
Los Angeles Angels
)
Trumbo's Memorial Day blast off of Royals pitcher
Louis Coleman
at Kauffman Stadium traveled a true distance of 472 feet. It was the longest home run hit by an Angels player since
Vladimir Guerrero
's 473-foot shot off
Zack Greinke
at Kauffman on May 1, 2007.
Wall-Scraper:
Shortest True Distance (
Danny Valencia
,
Brennan Boesch
)
On May 8, Valencia hit a 329-foot HR off
Daisuke Matsuzaka
. Eleven days later, Boesch hit a 329-foot shot off of
Daniel Bard
. Both home runs were hit at Fenway Park, which is not surprising. Of the 10 shortest home runs hit in 2011, six have been at Fenway Park.
Moonshot:
Highest Apex* (
Shelley Duncan
,
Cleveland Indians
)
Duncan's 431-foot shot on Memorial Day off of Blue Jays pitcher
Jo-Jo Reyes
landed in the fifth deck at Rogers Centre, with an apex of 152 feet. Duncan became just the 15th player to reach the fifth deck at Rogers Centre, and the first since
Jayson Werth
on June 27, 2009 off of
Brad Mills
.
Line Drive:
Lowest Apex (
Carlos Peguero
,
Seattle Mariners
)
Peguero's May 16 shot came off Twins starter
Scott Baker
. With an apex of 39 feet, it was the lowest home run hit since Travis Snider's 39-foot apex home run on May 3, 2010.
Fastball of the Month:
Fastest Speed Off Bat (
Juan Rivera
,
Toronto Blue Jays
)
While his teammate Jose Bautista may steal all the attention, Rivera hit the fastest speed off bat in May. Rivera's shot on May 22 off of Astros starter
Wandy Rodriguez
traveled 117.7 mph off the bat, and went 431 feet.
Server of the Month:
Greatest Total Distance Allowed (
Bronson Arroyo
, Cincinnati Reds)
Arroyo allowed 10 home runs that traveled 3,981 feet. Last month's winner,
Armando Galarraga
, now finds himself in Triple-A Reno.
* Defined as the maximum vertical height a ball reaches during its flight
April, 23, 2011
4/23/11
9:02
AM ET
By
Thomas McKean
| ESPN.com
The
Florida Marlins
have won 12 of their first 18 games and their bullpen is a huge reason why. Through Friday's games, Florida's relievers own a miniscule 1.63 ERA and have held opposing hitters to a .180 batting average -- both best in the majors.
Part of the success can be attributed to plain good fortune, as opponents own a .218 batting average on balls in play, second-lowest in baseball. But with the Marlins' starters posting an ERA of 4.01 (15th in majors), their relievers have carried the staff thus far.
The contributions of middle reliever
Brian Sanches
cannot be discounted. He has yet to allow a run and has surrendered only one hit in his 10 ⅔ innings. Sanches is the only player in the majors to log at least 10 innings this season while allowing only one hit or fewer.
Sanches has been very effective against the first batter he's faced in his six appearances. He's allowed just one of those hitters to reach base, and that was via an intentional walk. Sanches has yet to give up a hit against his two primary offspeed pitches -- the changeup and curve.
Below-Average Joe
One of the great closers of this generation,
Joe Nathan
, has struggled mightily in his comeback from Tommy John surgery, which forced him to miss the entire 2010 season. His 250 saves are fifth-most among active pitchers, but the
Minnesota Twins
have already lifted him from his traditional closer role. Nathan has posted a WHIP above 2.00 and hitters own a 1.078 OPS against him. His fastball has lost about two miles per hour compared to 2009, as has his slider. That could be a big reason why Nathan has an ERA over 11.00 so far this year.
Under the Radar
Boston Red Sox
reliever
Daniel Bard
had himself an impressive week. Between Saturday and Thursday, Bard logged 4 ⅔ scoreless innings. Of the 15 batters faced, he allowed just three to reach base. In that span, batters swung at pitches outside the strike zone over 23 percent of the time, including a chase percentage of 55.6 with two strikes (league average: 40.5 pct).
June, 15, 2010
6/15/10
10:28
AM ET
By
Mark Simon
and
Ryan McCrystal, ESPN Stats and Info
| ESPN.com
Earlier this year, our colleagues in Stats and Information took a crack at
redefining the quality start
. Our TMI colleague Tom Tango devised a means to evaluate all relievers based on their win probability contributions (
shutdowns/meltdowns
).
We have our own mission. It's two pronged. First, we wanted to strictly evaluate setup men. Second, we wanted to separate the dominant ones from the ugly ones. And we wanted a method from which you could look at the newspaper box score and divine the quality of one's work.
Let's start by looking at the major league leaders in holds:
Luke Gregerson (16), Mike Adams (16), Scott Downs (16), Kevin Jepsen (15)
Holds is a fine stat, but we wanted to create one that would be a significant upgrade from that.
Behold, the "perfect hold".
Such a hold requires a pitcher to throw at least one inning, not yield a baserunner, and not commit a faux pas along the lines of a wild pitch or balk. This stat allows us to separate the truly dominant relievers from the rest of the pack.
Your 2010 leaders in perfect holds are: Luke Gregerson (12), Mike Adams (10), Daniel Bard (7) and Scott Downs (5)
In terms of pure results, you can't get any better than a perfect hold. But you can be more dominant. So our next mission was to identify the guys who can not only finish you off in the seventh or eighth, but embarrass you in the process.
Essentially our next concoction is a perfect hold with a dominance factor. What do you call a hold in which someone or something grabs on and won't let go? We call it a "vise grip."
The vise grip hold meets the following criteria
The pitcher got at least two outs
The pitcher did not allow a baserunner, nor did he throw a wild pitch or commit a balk
The pitcher averaged at least 1.5 strikeouts per inning pitched
Here are your 2010 leaders in vise grips:
Luke Gregerson (4), Joba Chamberlain (4), Hong-Chih Kuo (3), Daniel Bard (3)
But what about the opposite of the vise grip? That's the guy who comes in, makes a mess, but still maintains a lead. That's a weak grasp, is it not? We'll call it the "dead fish."
A dead fish meets the following criteria
The pitcher yielded at least 1.5 times as many baserunners as he got outs.
The pitcher didn't strike anyone out.
Here are your 2010 leaders in dead fish holds:
David Robertson (5), Darren O'Day (4), 10 pitchers tied with 3
May, 11, 2010
5/11/10
3:33
PM ET
By
Kenton Wong, ESPN Stats
and
Info
| ESPN.com
This week on the TMI Power Poll we look at middle relievers. It was the most hotly contested Power Poll yet, with six different guys receiving at least one first-place vote.

Other notable courtesy of Baseball Tonight researcher Mark Simon:
Todd Coffey - Nobody in MLB sprints from bullpen faster

Also receiving votes: Neftali Feliz, Dan Wheeler, Sergio Romo, Jeremy Affeldt, Manny Corpas, Pedro Feliciano, Brad Ziegler, Darren Oliver, Mike Wuertz, Carlos Villanueva, Hisanori Takahashi, Kevin Jepsen, Peter Moylan, Grant Balfour, J.P. Howell, Hideki Okajima, Hong-Chih Kuo, Shawn Camp, Nick Masset, Kris Medlan, Rafael Betancourt, Darren O'Day, Alfredo Aceves, Tim Byrdak, Todd Coffey, Sergio Santos, Takashi Saito, Ramon Troncoso
April, 5, 2010
4/05/10
2:30
AM ET
By
Andrew Davis, ESPN Stats & Info
| ESPN.com
With the game tied at 5 in the bottom of the 7th, Red Sox manager went to
Hideki Okajima
to get out of the jam. Okajima allowe his two inherited runners to score, but with the slate clean and the Red Sox down two, he finished the inning with only one hit allowed. The Red Sox took the lead in the top of the eighth and the bottom of the inning was owned by
Daniel Bard
, who allowed only one walk but induced a fielder's choice to get the ball to
Jonathan Papelbon
in the ninth. Papelbon didn't record a signature strikeout in the final frame, but kept the Yankees at bay as the Red Sox held on for the 9-7 win.
That should be a popular pitcher procession at Fenway Park this season: Okajima in the 7th, Bard in the 8th and Papelbon in the 9th. You can almost count on it regardless of the score and situation. Last season ended the same way for the Sox with Okajima and Bard as the setup men for the charismatic Papelbon. If last year's numbers are any indication, Sox fans should be very happy about their late inning bullpen triumvirate.
Tonight they allowed no earned runs from these situations and allowed just two hits to the top five hitters in the Yankee lineup, a stark comparison from their numbers last season against the Bronx Bombers
Other Notes
Yankees 2B
Robinson Cano
went 2-3 against
Josh Beckett
, bringing his career mark to 17-47 (.362) against the Texan. The two pitches Cano hit were over the middle of the plate and away. Last season, Cano batted .340 against pitches in the middle of the plate and .316 on pitches away.
On the flip side, Yankees 1B
Mark Teixeira
went 0-3 vs. Beckett. He is now 3-23 for his career against the righty with eight strikeouts. Two of Tex's three outs were against the changeup. Last season, Teixeira batted .289 against the change, and surprisingly Beckett threw only one changeup to the Yankee slugger. In 2009, Beckett used the curveball 35 times in five games against Teixeira, a pitch he threw 14 times tonight (just once to Teixeira). Either way, Mark Teixeira can't handle the off-speed stuff of Josh Beckett.
Red Sox 1B
Kevin Youkilis
was the key hitter for the home team, and his 2-run triple in the fifth helped put Yankee starter
CC Sabathia
on the bench. Youkilis is now a .350 career hitter against Sabathia (7-20), the third-highest batting average for Youk against pitchers he's faced a least 20 times.
March, 1, 2010
3/01/10
1:02
PM ET
By
Jeremy Lundblad, ESPN Stats & Info
| ESPN.com
First in a series of in-depth breakdowns of intriguing players.
What do Daniel Bard and Hall of Famer Bob Feller have in common?
They are two of the four AL pitchers to average 11 or more strikeouts per 9 IP in their first season. Bard's 11.5 K per 9 IP last season stands as the best ever for a first-year AL pitcher (min. 40 IP).
Sure, that's about where the comparison ends, so let's not get ahead of ourselves. After all, Feller was a starter who debuted at just 17, seven years younger than Bard. Indeed, the other two pitchers on the list are far more realistic comparisons for Bard. Both Troy Percival and Kaz Sasaki (a 32-year-old rookie) went on to enormous success at closer.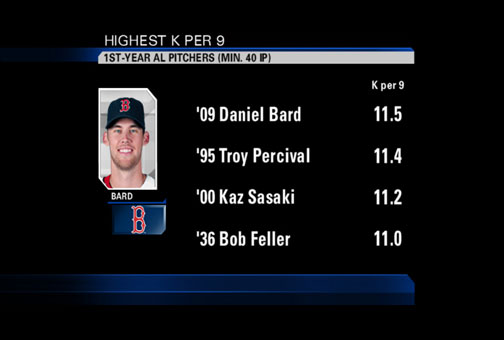 Bard has all the makings of an elite closer, and his development in 2010 should be fascinating. That's why Bard is One2Watch4: the first in our team-by-team look at intriguing and pivotal players. All-Stars need not apply, though. We'll break down key complementary players or rising stars.
If there's one thing we know about Bard, it's this: He flat-out brings the heat. Let's put some numbers to that though. According to
FanGraphs
, Bard's fastball averaged 97.3 mph. That was second to only Jonathan Broxton (97.7 mph) and ahead of Brian Wilson (96.6 mph). To find an AL pitcher throwing this hard, you have to go back to Joel Zumaya back in 2006 (98.6 mph).
Yet, one alarming trend emerged last season: Bard's lack of control on the road. He had 18 walks in 24 2/3 road innings compared to just 4 walks in the same number of innings at Fenway. His ERA followed suit, almost 4 ½ runs higher on the road.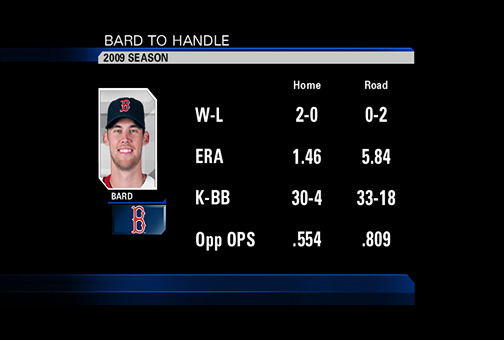 Rookie jitters? Small sample size? It was just three years ago that Bard walked 78 in 75 innings in Class A, a season that led to his switch to the bullpen. He's clearly a different pitcher now, but his ceiling will ultimately hinge on control.
So what should you watch for in 2010? As with many pitchers, it's all about the first-pitch strike. On the road, Bard's first pitch was a strike just 49 percent of the time, compared to 64 percent at Fenway and a league average of 59 percent, according to InsideEdge.
Bard had 48 strikeouts and just 2 walks after getting ahead 0-1, according to
Baseball-Reference.com
. But after a first-pitch ball, he had 20 walks compared to only 15 strikeouts.
Getting to 0-1 in count is particularly pivotal to Bard's success. Consider that 57 percent of his 0-1 counts became 0-2 counts (well above the league average of 47 percent). Then ask yourself this: How does 98 mph sound when the count goes to 0-2?
Tuesday's One2Watch4: The Rays