Stats & Info:

Darryl Strawberry
October, 11, 2011
10/11/11
1:56
PM ET
AP Photo/Mike Carlson
Coly Lewis is 4-0 in five career postseason starts over the last two postseasons. Only four other pitchers to debut in the last 80 years have gone 5-0 in their first six postseason starts.
The
Texas Rangers
and
Detroit Tigers
play Game 3 of the ALCS Tuesday night, with the Rangers leading the series 2-0. According to the Elias Sports Bureau, entering this year, teams up 2-0 in a best-of-seven postseason series have won 58 of the 71 series.
Inside the Series
Texas has won seven of its last nine road postseason games overall, and has won each of its last three Game 3's. All-time, the Rangers are 6-2 in LCS games. Detroit has won seven of its last eight Game 3's and in LCS Game 3's, they are 4-0 (all four of those games were at home, too). Overall, the Tigers have won six of their last eight home postseason games.
On the Mound
Colby Lewis
is scheduled to start for the Rangers. Lewis is 4-0 in five starts over the last two postseasons. According to the Elias Sports Bureau, among pitchers to debut in the last 80 years, only four – Juan Guzman,
Livan Hernandez
,
Orlando Hernandez
and
Cliff Lee
– have gone 5-0 over their first six career starts in the postseason.
Lewis has allowed two or fewer runs in each of his first five career postseason starts. That's tied for the second-longest streak to begin a postseason career, behind only the six starts of Sandy Koufax.
Against Detroit, Lewis is 2-2 with a 7.48 in six games (five starts) in his career. However, Lewis struggled with the Tigers this season, going 0-1 with a 15.95 ERA in two starts. One player Lewis has struggled with, especially this year, is
Alex Avila
, who is hitting .333 (3-for-9) in his career against the righty. Two of Avila's three hits against Lewis are home runs, with both coming this season.
For Detroit,
Doug Fister
takes the mound for his second career postseason start. In his first start (Game 5 of the ALDS against the
New York Yankees
), Fister allowed only one earned run in five innings. Fister is 1-1 with a 3.68 ERA in two starts against the Rangers this season.
Players to Watch
The Rangers bullpen has not allowed a run in the ALCS so far. According to the Elias Sports Bureau, Texas's relievers combined for 12⅔ scoreless innings in its first two games against Detroit. No team has ever combined for more relief innings in the first two games of a postseason series without allowing a run. The previous best mark for a team's bullpen had been the 1984
San Diego Padres
, whose relievers pitched 12⅓ innings in the first two games of the 1984 World Series, which coincidentally was also against the Tigers.
For Detroit,
Austin Jackson
has struggled to begin his postseason career, striking out 14 times in 25 career at-bats. The only players with more K's in their first 25 career at-bats are
Reggie Sanders
(17) and Darryl Strawberry (15).
September, 8, 2010
9/08/10
12:01
AM ET
Tuesday saw three pitchers come into games with extended amounts of success against the teams they were facing. Unfortunately, all three saw their notable streaks come to an end.

New York Yankees
'
CC Sabathia
: lost for the first time in nine starts against the
Baltimore Orioles
. He also lost at Yankee Stadium for the first time since July 2, 2009. That was a stretch of 21 consecutive home starts without a loss, which tied Whitey Ford for longest streak in franchise history. As for the pitcher who has suffered the most home losses July 2, 2009? The
Cleveland Indians
'
Fausto Carmona
, who is 8-12 in 24 starts at Progressive Field.
Chicago White Sox
's
Freddy Garcia
: lost for the first time as a visitor at Comerica Park since Aug. 20, 2002 when he was with the
Seattle Mariners
. The White Sox had won all nine previous starts of Garcia's in Detroit prior to Tuesday's defeat.
Atlanta Braves
'
Tim Hudson
: entered Tuesday with a 3-0 record while giving up just one unearned run in his last three starts against the
Pittsburgh Pirates
. On Tuesday, Hudson allowed four runs in 6⅓ innings and took the loss in the Braves 5-0 defeat in Pittsburgh.
Tuesday's notables:
•
New York Mets
'
Dillon Gee
took a no-hitter into the sixth inning in his major-league debut against the Washington Nationals (he allowed two hits in seven innings). Gee is the third Mets pitcher to take a no-hitter through five innings in his major-league debut, joining Randy Sterling (Sept. 16, 1974: five innings at Montreal Expos) and
Brian Bannister
(April 5, 2006: 5⅓ innings vs Nationals). Gee also is the first Mets pitcher to drive in a run in his debut.
Staying with the Mets,
Ike Davis
hit his 18th home run. He's two shy of joining Darryl Strawberry (26 in 1983) as the only Mets to hit at least 20 HR in their rookie season.
• The
Colorado Rockies
'
Carlos Gonzalez
became the first player in the National League to 100 RBI on Tuesday. The last time a Rockies player was the first to 100 RBI in the NL in a season was
Preston Wilson
in 2003.
• The
Toronto Blue Jays
have now hit at least three HR in 33 games this season. That's the most such games by a team since the
Texas Rangers
had 35 such games in 2005.

• The
Minnesota Twins
'
Jim Thome
hit his 586th career HR, tying Frank Robinson for eighth on the all-time list. It's also the 40-year-old veteran's third straight game with a HR. He's the first 40-year-old to homer in three straight games since
Barry Bonds
in 2006. The last 40-year-old Twins player to hit an HR in three straight games was Dave Winfield in 1993.
July, 24, 2010
7/24/10
2:10
PM ET
By
ESPN Stats & Info
| ESPN.com
Mark Teixeira
hit his 20th HR of the season, giving him 20+ HR in all 8 of his MLB seasons. He joins a list of 9 other players who have hit at least 20 HR in each of their first 8 MLB seasons.
June, 6, 2010
6/06/10
9:30
AM ET
By
Jack Moore, FanGraphs
| ESPN.com
As Tim Kurkjian
writes in his column today
,
Chipper Jones
is a unique player. Not only has he starred for the team that drafted him No. 1 overall, but he has stayed with that team for his entire career. And isn't that what you're looking for with the first pick, a player to build your franchise around? So this got us wondering, is Jones the "truest" franchise player? In other words, of all the No. 1 overall picks of all time, has he delivered the most value to the team that drafted him? Let's find out.
To figure this out, we are going to add up the total number of wins above replacement (WAR) that each No. 1 pick produced for the team that drafted him.
Adrian Gonzalez
, for example, has been a very valuable player, but he has produced almost all of his value for the Padres, not the Marlins, the team that drafted him. With that in mind, here are the five players who have produced the most WAR for the club that drafted them.
5. Harold Baines, 30.3 WAR, Chicago White Sox, No. 1 pick in 1977
Baines was a consistently above-average hitter, as his wOBA never dipped below .333 during either of his first two stints with the White Sox. For a time, he was a decent defensive right fielder, but never great, and he spent the last 10 years of his career primarily as a DH. As such, he only topped 5.0 WAR in a season once, in 1984, when he hit 29 HRs with a .304/.361/.541 line. He was a lock for between 2.0 and 4.0 WAR for 10 years. As a consistently above-average player, Baines was quite valuable to the White Sox, but his age and lack of defensive value hurt him later in his career, when he split time between Chicago as well as Texas, Oakland and Baltimore.
3. (tie) Darryl Strawberry, 36.7 WAR, New York Mets, No. 1 pick in 1983
Strawberry had a fantastic run with the Mets from 1983 to 1990. He won the Rookie of the Year in 1983 with a 26 home run, .371
wOBA
, 3.0 WAR season and never looked back. All eight of his seasons with the Mets were worth at least 3.0 WAR, as he combined great power -- isolated power above .240 every year from '85 to '90 -- with great discipline -- he walked more than 10 percent of the time in every year with New York. He even mixed in some great defense, producing a plus-35
TotalZone
between 1989 and 1990. Various problems derailed Strawberry's career after he left the Mets to sign with the
Los Angeles Dodgers
in free agency. Strawberry would only put up 6.5 WAR over the rest of his career.
No. 3 (tie) Alex Rodriguez, 36.7 WAR, Seattle Mariners, No. 1 pick in 1993
This era of Rodriguez's career saw him as among the better defensive shortstops in the majors (plus-22 TotalZone from 1996 to 2000) and
the fantastic hitter we still know today. He would win four Silver Sluggers with Seattle, putting up wOBAs of .444, .379, .399, .397, and
.433. These are fantastic numbers for any position but are eye-popping for a solid defensive shortstop. As such, it only took Rodriguez five full seasons to equal the performance of Strawberry over nine.
No. 2 Ken Griffey Jr., 72.4 WAR, Seattle Mariners, No. 1 pick in 1987
Back in the day, Griffey was in a class all his own. He was among the best defensive center fielders in the game, including a staggering plus-32 TotalZone in 1996. He had more seasons with a wOBA above .400 then below .400. Griffey was simply a dominant force in baseball for 11
years after his call-up in 1989, excelling at every facet of the game. His performance through age 30 compared extremely favorably with those
of Hank Aaron,
Barry Bonds
and Willie Mays, three of the best outfielders to ever play the game. Unfortunately, injuries derailed the rest of his career and his return to Seattle was simply not productive at all. Still, a team can't ask for more out of a first overall pick than what Ken Griffey Jr. gave Seattle from 1989 through 1999.
1. Chipper Jones, 83.6 WAR, Atlanta Braves, No. 1 pick in 1990
Jones has been the best of both worlds for the Braves, spending his entire career in Atlanta and producing over that span. Jones has never put up any of the eye-popping seasons like Griffey's 10.2 WAR 1996, but he's been consistently excellent. Since 1995, Jones hasn't put up a season with fewer than 2.9 WAR, and he's eclipsed 7.0 WAR four times (including his 1999 MVP season) and 6 WAR eight times. Jones is the prototypical combination of power and discipline, putting up isolated power scores above .200 and walk rates above 11 percent every year of his illustrious career. As it turns out, the numbers also tell us that Jones is the "truest" franchise player.
For a broader view, here's a look at every No. 1 overall pick who has made an All-Star team, and how they fared for the team that drafted them relative to everyone else. This only includes position players.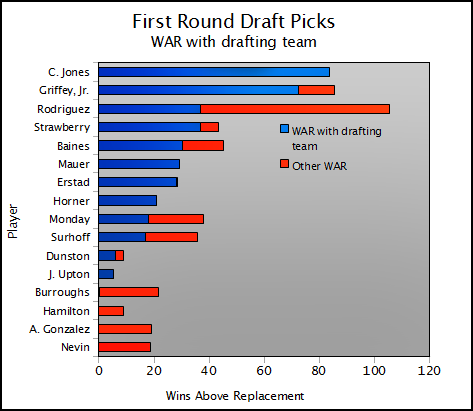 Jack Moore is a writer for FanGraphs.
March, 22, 2010
3/22/10
1:57
PM ET
By
Lee Singer, ESPN Stats & Info
| ESPN.com
It didn't take long for
Chris Davis
to find success at the major league level. The Rangers first baseman burst onto the scene as a rookie in 2008 posting a .285/.330/.549 line with 17 home runs in his first 80 big league games. Expectations were high going into 2009, but Davis failed to live up to his rookie hype, sinking to a .238/.284/.442 line in 113 games while striking out 150 times. Through his first two Major League seasons, Davis is in rare air historically.
The Play Index tool on baseball-reference.com shows how historically high, or in this case low, Davis' career contact rate is. In the simplest terms, contact rate measures a hitter's ability to put the ball in play. Davis' contact rate is the lowest in Major League history for a player 23 or under over the course of his first two seasons played. To put it another way, nobody at Davis' age and experience level has struck out at the rate he has. Ever. Still, despite his propensity to swing and miss, hope remains for the first baseman, especially when you compare him to some other sluggers with historically low contact rates at his age.
Eight of the nine other players on the list became All-Stars during their careers, with some ranking among the greatest home run hitters of their generation. What Davis lacks, compared to this group, is plate discipline. Davis' career walk-to-strikeout ratio is .18, the worst of the nine players. For reference, the MLB average in 2009 was .50. Players who struggle to make contact and have well-below-average plate discipline typically don't last long in the big leagues.
However, many of the players on the previous list made improvements in their third seasons.
Five of the players equaled or bettered their contact rate while four did the same for their walk-to-strikeout ratio. Only Reggie Jackson and Darryl Strawberry improved both. Davis has a long way to go to be compared to Jackson or Strawberry, but there are some positives to go on. After spending 44 games in Triple-A, Davis improved his contact rate by almost 20 percent, raising it from 56 percent in the first half to a respectable 73 percent after returning to the big leagues. His walk-to-strikeout ratio still sat at .19, however. With highly-regarded prospect Justin Smoak pushing for playing time at first base, 2010 may be a make or break season for Davis. Season-long improvements in his contact rate and plate discipline will go a long way in determining whether his career path rivals Pete Incaviglia or Reggie Jackson. This makes him One2Watch4.