June, 9, 2010
6/09/10
10:48
AM ET
By
Dave Allen, FanGraphs
| ESPN.com
Stephen Strasburg's first start Tuesday exceeded all expectations, especially in terms of dominance: He racked up 14 strikeouts without a walk, throwing just 94 pitches over seven innings. That electrifying stuff (displayed with 17 swinging strikes) combined with pinpoint command is what makes the 21-year-old so extraordinary. For Strasburg, everything builds off his high-90s fastball; he throws both a four-seamer and a two-seamer, which he blew past batters Tuesday for eight of his swinging strikes. And his secondary pitches are great as well. He has a high-80s circle change that he locates low in the zone, and a low-80s, knee-bending curve.
On Tuesday, he had everything working. Using the pitch f/x data, and focusing on the location, pitch type and results broken up by batter handedness, let's take a closer look at just what kind of craziness the Pirates were trying to hit.
In the graphs below, the pitches are color-coded: Taken pitches are faded, and those that are swung at are in full color. Whiffed pitches (swinging strikes) are marked with an x, and hits are circled. This leaves foul balls or outs as full color with no markings. The images are from the catcher's perspective.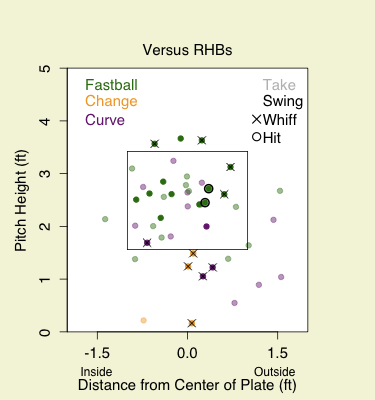 Strasburg was beyond nasty against righties. A full 50 percent of the pitches they swung at were missed, well above the league average of less than 20 percent. The two hits were opposite-field singles to shallow right, as
Andy LaRoche
and Lastings Milledge desperately did all they could with a pair of outside high-90s fastballs. But mostly it is tons of whiffs, on fastballs up in the zone and on changeups and curves low in the zone. Also, notice how everything is near the zone –- when he misses, it's not by much. That demonstrates Strasburg's amazing command; the fact that he can pitch at those velocities and with that much movement and still be so tightly around the zone with his pitches is astounding.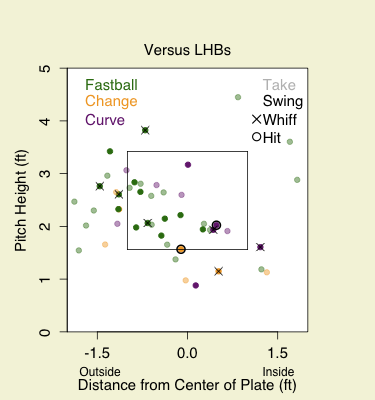 Against lefties Strasburg expertly keeps the ball low and away, which is where lefties typically do the least damage. The home run allowed to
Delwyn Young
, a change low in the zone, was an exception, and a mistake he will certainly learn from. Still, even facing opposite-handed hitters, he got a ton of whiffs on fastballs up-and-away and on curves and changeups down-and-in.
Anyone who watched the performance knows that he put on a clinic. These images tell some of the story, but he really has to be seen to be believed. It isn't always going to go this well for Strasburg, but in his major league debut he, impossibly, exceeded the hype. This kid is special.
Dave Allen is a writer for FanGraphs.
April, 13, 2010
4/13/10
10:17
AM ET
By
R.J. Anderson, FanGraphs
| ESPN.com
David Ortiz
shifted his approach at the plate in 2009, perhaps hoping to generate more power on inside pitches. But instead, the results have been that he's not pulling the ball with power.
Over the winter, FanGraphs' pitch f/x guru Dave Allen studied Ortiz's struggles at the plate, focusing on
Ortiz's power
and
plate discipline
. He concluded that Ortiz was swinging at pitches outside the strike zone and that it was a tendency developed over time -- dating back to the days of the prehistoric and lovably clutch "Big Papi" era. But that wasn't the surprising part. What shocked Allen was the type of pitches Ortiz swung more at in 2009: high pitches and inside pitches.
The above graphs are from the catcher's perspective. The contours are estimates of Ortiz's swing rate (and contact rate). So for a pitch at the solid line (50 percent contour), there is a 50 percent chance Ortiz will swing at it. Ortiz will swing at a pitch between the solid and dotted contour between 50 percent and 75 percent of the time. He will swing at pitches inside the dotted line more than 75 percent of the time. The graph shows that in 2009 he was more likely to swing at pitches up-and-in as compared to in 2007 and 2008. The next graph shows the same thing but for his contact rate -- the probability he makes contact with a pitch if he swings. The contour lines here are 80 percent (solid) and 90 percent (dotted). Since the area inside the 2009 contour lines is much smaller, there is a smaller area in which he made consistent contact compared to 2007 and 2008.
In his study, Allen surmised that perhaps Ortiz thought he would generate power only on inside pitches, so he forced the issue rather than taking these pitches as balls and waiting on better offerings.
But this shift in approach led to a drastic decrease in Ortiz's power to right field. In short, he was sapped of any power when he pulled the ball. It also led to a decay in offensive production. In 2009, Ortiz posted a career low in home runs per fly ball, and he has yet to homer this season. So far in 2010, Ortiz has put only four balls into play that were not groundouts. Two went toward left field, one to center and one to right. This is counterintuitive to his aggressiveness on inside pitches.
Here's an illustration of his drop-off in pull power:
Interestingly, pitchers are feeding Ortiz fewer changeups and more breaking pitches (specifically curveballs) this season. It could suggest other teams think Ortiz's bat control has diminished with his wrist injuries. In fact, his wrists could be so exaggeratedly slow that when he swings expecting a fastball, he makes contact with changeups. And, sadly, that might be an improvement over Ortiz's typical 2010 result of a grounder or infield pop. Another discouraging sign for Papi this season is that he has missed on 44 percent of his swings, while the league average is 20 percent.
Is Ortiz done? It's too early to say. On Monday, Ortiz took a ball to the warning track in center field and wound up with a double. It could be a spark -- or it could be an ember from a waning flame due to age and injury.
R.J. Anderson is a writer for FanGraphs. Images in this article are from Dave Allen's pieces on FanGraphs.
March, 21, 2010
3/21/10
10:02
AM ET
By
Dave Allen, FanGraphs
| ESPN.com
It has been a rough spring for a lot of pitchers, and while you can usually ignore spring training results, three guys in particular are pitching in a way that should worry you:
Rich Harden
(8 1/3 IP, 7 BB, 9 K, 2 HR),
Madison Bumgarner
(7 IP, 7 BB, 0 K, 1 HR) and
Andrew Miller
(7 2/3 IP, 8 BB, 2 K, 1 HR). But the most telling number can't even be found in their stat lines.
Harden is coming off another injury-riddled season, so spring training represents an especially important tune-up, while Bumgarner and Miller are young guys looking to get spots in the big league rotation. Each of these guys have some real incentives to bring their best stuff even in games that don't count. Walking seven guys while striking out none in seven innings as Bumganer has is very troubling, even if it is just seven innings. But even more telling is fastball velocity.
Over seven innings a pitcher throws about 60 fastballs, and a given pitcher's fastball speed does not vary by much, so 60 fastballs gives a pretty good picture of a pitcher's true talent. And fastball speed is tremendously important. The average fastball that is swung at is missed 14 percent of the time, and on average each additional 1.25 mph increases this rate by 1 percent. More swinging strikes mean less contact and more strikeouts. Not surprisingly, there is a clear trend showing that pitchers who
throw faster perform better.
This is especially troubling for Harden and Bumgarner, whose fastballs have been noticeably slower during spring training. Last Monday the two pitchers actually faced off in the Ranger's spring training park in Surprise, AZ, one of the few springing training parks with the Pitchf/x system.
Harden's fastball was sitting in the 88 to 91 mph range topping out at 92.1 mph. His average speed last year was over 92 mph. Bumgarner worked in the 88 to 90 mph range, topping out at just 91 mph. He was regularity above 90 mph last year in the minors, and his fastball is his best pitch. However, his velocity did start to fade towards the end of last season, which makes his lack of velo this spring even more concerning. Some pitchers can succeed with a slower fastball, but the reduced speed coupled with the very poor performance is not encouraging.
Miller is a cautionary tale for Bumgarner about what can happen when a pitcher's velocity goes away. Once an elite prospect who could regularly throw 95, his average fastball just 90.9 MPH a year ago, and his stock has tumbled significantly. A disastrous spring certainly won't help get him back in the Marlins plans.
It's always possible these guys are still a step behind after a long winter, and that their velocity will return. But when trying to figure out which spring training stat is most telling for pitchers, start with fastball velocity.
Dave Allen is an author of FanGraphs
.