Stats & Info:

David DeJesus
September, 19, 2013
Sep 19
1:20
AM ET
There were three highly entertaining games on Wednesday night that played a significant role in the AL Wild Card race. While the
Kansas City Royals
-
Cleveland Indians
game was decided early, the contests between the
Baltimore Orioles
and
Boston Red Sox
,
New York Yankees
and
Toronto Blue Jays
, and
Tampa Bay Rays
and
Texas Rangers
would come down to pivotal late-game matchups.
Orioles vs. Red Sox
Key at-bat: Chris Davis vs. Franklin Morales
Situation:
Tied in the 12th inning; bases loaded, two outs.
Davis
Davis entered 2-for-his-last-15 against left-handed pitching and he was facing a pitcher who had retired the last 11 left-handed hitters he faced.
But Davis got a hanging curveball on a 1-2 count and was able to ground it just past
Dustin Pedroia
for a two-run single. Davis has now gotten three straight hits against Morales.
He was fortunate to sneak that one just by the diving Pedroia. The Red Sox second baseman leads major leaguers at that position with 17 Defensive Runs Saved.
Yankees vs. Blue Jays
Key at-bat:
Vernon Wells
vs.
Steve Delabar
Situation:
Yankees down a run in the eighth inning, second and third, one out.
Wells
The Blue Jays probably felt pretty good with reliable All-Star Steve Delabar trying to protect a three run lead in the eighth inning, but Delabar has been rather shaky lately. Right-handed hitters, who were 17-for-84 with 30 strikeouts against him prior to the All-Star Break, entered this at-bat 11 for their last 30 against him.
Wells has had trouble with right-handed pitching all season, hitting .210 against righties entering Thursday. But down in the count 0-1, he was able to drill a line-drive double to plate the tying and go-ahead runs.
It gave Wells' his first multi-hit game since August 13 against the Angels.
Rays vs. Rangers
Key at-bat: David DeJesus vs. Joe Nathan
Situation:
Rangers up a run in the 11th inning, man on second, two outs.
DeJesus
Nathan was a strike away from putting the Rangers a game ahead of the Rays in the AL Wild Card chase, but he couldn't sneak strike three by DeJesus.
Nathan may end up kicking himself for his pitch choice—-a curveball that hung in the upper-half of the strike zone, one DeJesus was able to ground past Nathan for the game-tying hit.
The curve is Nathan's third option in two-strike situations (like this one). He typically throws it about 14 percent of the time (his other pitches are split between fastballs and sliders).
The Rays would win in the 12th with Nathan out of the game, on a game-winning hit by
Desmond Jennings
.
The other key to the comeback was Freddy Guzman's stolen base, which put him in scoring position. Guzman was making his first appearance in a game since appearing for the Yankees in the 2009 ALCS.
Guzman is on the Rays' roster for his speed. He had 73 steals in 82 attempts in 99 games in the Mexican League prior to joining the Rays.
August, 19, 2013
Aug 19
8:53
PM ET
By
Justin Havens, ESPN Stats & Info
| ESPN.com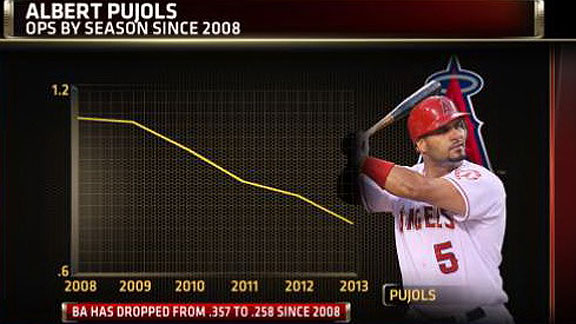 ESPN Stats & InfoThe Angels are on the hook for another eight seasons with Albert Pujols, whose numbers have been on the decline in recent seasons.
When it comes to bloated contracts, first there was Mike Hampton's with the
Colorado Rockies
. Then,
Barry Zito
's with the
San Francisco Giants
and
Alex Rodriguez
's with the
New York Yankees
set the bar even higher.
But there's one contract still in its infancy that could end up far more burdensome than any previous contract in major league history.
Much has been made of how the Yankees owe Rodriguez nearly $90 million (not including performance bonuses) through 2017.
However, the
Los Angeles Angels
still owe
Albert Pujols
–-
who will miss the rest of the 2013 season
with an injured left foot -- $212 million through 2021. The two least-expensive seasons in his 10-year deal were 2012 ($12 million) and 2013 ($16 million).
The only player who is owed more money starting next season is the
Cincinnati Reds
'
Joey Votto
($225 million through 2023).
Pujols has seen several of his once-lofty statistics decline since he won back-to-back National League MVP awards in 2008 and 2009.
Pujols had 9.2 Wins Above Replacement (WAR) in 2008 and a major league-best 9.7 in 2009. Since then, it has dropped from 7.5 in 2010 to 5.0 in his first season with the Angels to 1.6 this season. That's tied for 129th, with players such as
Kelly Johnson
,
Dioner Navarro
and
David DeJesus
, to name a few.
Pujols' OPS has decreased each of the past five seasons after he posted a career-high 1.114 OPS in 2008.
This season will also mark the first time in Pujols' 13-year career that he will not hit at least 30 home runs and just the second time that he will not drive in 100 runs.
Another streak that will come to an end is his 12-season run with 150 hits. That's tied for the third-longest streak in the live ball era. Only Paul Waner (14 straight from 1926 to '39) and Richie Ashburn (13 straight, 1948-60) had longer such streaks.
And, for the first time in his career, Pujols will play less than 100 games.
When Pujols returns in 2014, he will be eight home runs from becoming the 26th member of the 500-home run club and two RBIs from 1,500.
May, 13, 2012
5/13/12
10:36
PM ET
By
John Fisher, ESPN Stats & Info
| ESPN.com
Jeff Hanisch/US PresswireRyan Dempster brings a 1.02 ERA to St. Louis on "Monday Night Baseball," where he's looking to pick up his first win of the season.
The major league leader in ERA takes the hill Monday when
Ryan Dempster
and the
Chicago Cubs
visit the
St. Louis Cardinals
(ESPN, 7 p.m. ET).
Dempster has allowed just four earned runs in five starts -- a 1.02 ERA -- but is 0-1. The Cubs have lost all of Dempster's starts, scoring a total of eight runs in the five games.
According to The Elias Sports Bureau, no pitcher in major league history has had an ERA as low as Dempster through five starts without a win.
He's using his slider more often this season while decreasing the use of his fastball and splitter. That slider has been one of the best in baseball. Hitters are just 5-for-56 against Dempster's slider this season, a paltry .094 batting average. (Last year through five starts, he allowed 11 hits against the slide piece.) Only one pitcher in baseball --
Matt Cain
-- has a lower batting average against his slider (min. 50 PA ending with a slider).
Dempster's opponent,
Jake Westbrook
, is off to a fine start of his own. He's 4-2 with a 1.76 ERA and has pitched into the seventh inning in all six of his starts. Only
Felix Hernandez
and
Roy Halladay
have pitched into the seventh inning more often this season.
Westbrook has improved his slider by keeping it out of the middle of the strike zone. Last season, more than 21 percent of his sliders were in the middle-third of the strike zone and just 52 percent were away. This season, fewer than 13 percent of his sliders are in the middle and more than 62 percent are away from hitters. As the chart to the right shows, hitters are swinging at the pitch less but are missing it nearly twice as often.
MATCHUPS TO WATCH
•
Skip Schumaker
is hitting .417 (20-for-48) against Dempster, the second-highest batting average by any hitter with 40 plate appearances against him.
•
Rafael Furcal
is hitting .154 (6-for-39) against Dempster, the lowest batting average by any player with 40 plate appearances against him.
•
Alfonso Soriano
is hitting .120 (3-for-25) against Westbrook, the third-lowest batting average by any player with 25 plate appearances against him.
•
David DeJesus
is 7-for-26 against Westbrook, just a .269 batting average, but he's the only Cub who's homered off the Cardinals righty. Plus, only two players have faced Westbrook more often without a strikeout.
RIVALRY REVISITED
These two teams first met in 1892, when the Chicago Colts beat the St. Louis Browns 14-10 on Opening Day. The Cubs lead the all-time series 1,169-1,107. Since the start of the 2002 season, the series is tied 86-86.
April, 9, 2012
4/09/12
12:58
PM ET
AP Photo/Jeffrey Phelps
Shaun Marcum held opponents to a .196 BA and .264 Slug pct against his cutter last season.
The
Milwaukee Brewers
head to the Windy City to open a four-game series against the
Chicago Cubs
tonight (ESPN, 7 ET). The Brewers went 10-6 against the Cubs last season, their first winning season against Chicago since 2005. The Cubs were 45-34 against Milwaukee from 2006-10.
Starting Pitchers
Shaun Marcum
takes the mound for the Brewers in his first start of the season. Marcum is coming off a career year in 2011 – his first in the National League after starting his career with the
Toronto Blue Jays
- as he set career highs with 33 starts and 200⅔ IP, and tied his career high with 13 wins.
The cutter will be Marcum's weapon, a pitch he improved and increased his use of last season. In 2011, he threw his cutter 17.7 percent of the time and has a miss percentage of 26.0, compared to throwing it 15.9 percent of the time with a 22.2 miss percentage in 2010. In addition, Marcum allowed only two HR off his cutter last season, compared to seven home runs in 2010.
Chris Volstad is 1-1 with a sparkling 1.71 ERA in four career starts against the Brewers. He'll be excited to see Milwaukee without Prince Fielder in the lineup. Volstad's opponents' batting average against lefties was fifth-worst in the majors last season.
Volstad's performance against lefties has gotten worse each of his four seasons in the majors. In 2008, he allowed lefties to hit .243 against him, but saw left-handed hitters become more comfortable in each of the subsequent years – hitting .255 in 2009; .292 in 2010; and a career-high .305 against him last season. Only four other pitchers (min. 300 AB) had a higher opponent batting average against left-handed batters last season.
Stat of the Game
Milwaukee entered the season without Prince Fielder for the first time since 2005 (signed a free-agent contract with the
Detroit Tigers
). It's only three games, but they are feeling his loss as their first basemen (
Mat Gamel
and
Travis Ishikawa
) are a combined 2-for-12 with five strikeouts and no extra-base hits. Fielder is hitting .417 with two HR and two strikeouts in three games with the Tigers.
Key Matchup
Chicago second baseman
Darwin Barney
is 3-for-7 with three doubles against Marcum, but the rest of the Cubs are 5-for-53 (.094) with two extra-base hits combined.
David DeJesus
is 0-for-16 with four strikeouts against him.
John Fisher contributed to this post
December, 4, 2011
12/04/11
10:30
AM ET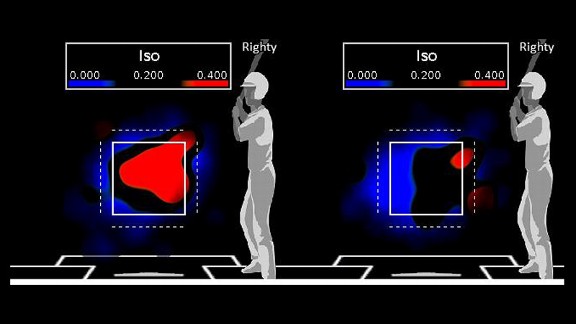 Left: Chris Iannetta's power hot/cold zones at Coors Field (2009-2011)
Right: Chris Iannetta's power hot/cold zones on the road (2009-2011)
Click here to create your own Iannetta heat maps

Each Sunday, ESPN Stats & Information reviews significant moves from the past week.
Marlins agree to terms with Heath Bell
Bell is the first free agent reliever to get a contract of at least three years from the Florida Marlins in their history, the first
pitcher
to do so since starter Alex Fernandez got a five-year deal in the 1996-97 offseason.
Bell's declining strikeout rate
may explain why his deal was a year shorter and for $23 million less than
Jonathan Papelbon
's with the
Philadelphia Phillies
.
That's largely due to the issues Bell had with his two-strike curveball from 2010 to 2011, as noted in the chart on the right.
--Mark Simon
Angels trade with Rockies for Chris Iannetta
Iannetta should bring much-needed offensive production behind the plate to the
Los Angeles Angels
, whose catchers last year had the third-worst OPS in the majors. Iannetta hit just .238 in 2011, but still managed a .370 on-base percentage.
Iannetta's 16 percent walk rate (third-best in MLB) comes from having the fourth-lowest chase percentage in the majors (17.4 percent) among players with at least 400 plate appearances.
However, Iannetta struggled at the plate away from the friendly confines of Coors Field. His road OPS of .587 was third-worst in the NL, compared to a home OPS of .975 that ranked ninth-best in the NL (minimum 200 PA).
The home-road differential of 388 points was the highest for anyone in the NL by more than 100 points (The next-highest
major leaguer
was Adrian Beltre's 341-point difference).
Check out the heat maps at the top of this story for more on the difference between Iannetta at Coors versus on the road.
-- Katie Sharp
Cubs sign David DeJesus to two-year contract
One of Theo Epstein's first moves as General Manager of the Boston Red Sox was the signing of
Bill Mueller
, a 32-year-old with above-average contact and on-base skills.
Epstein and
Chicago Cubs
GM Jed Hoyer have made a similar move early in their tenures with the signing of DeJesus to be the club's starting right fielder.
DeJesus, who turns 32 on December 20, brings a .284/.356/.421 career slashline to the Cubs, similar to Mueller's .286/.370/.399 entering 2003. DeJesus' .240 average in 2011 was a career-low, as was Mueller's .262 in 2002.
DeJesus posted a career-low Batting Average on Balls in Play (BABIP) in 2011, despite the fact that his batted-ball rates were mostly in line with his career averages.
DeJesus should be a defensive asset for the Cubs. His 13 Defensive Runs Saved in right field ranked third in baseball last year.
Baseball Info Solutions, the company that devised the Defensive Runs Saved metric, does video review of every play in every game.
They tag plays into 80 sub-categories of Good Fielding Plays (Web Gem-type plays that result in an unlikely out or deny baserunner advancement), and Defensive Misplays & Errors (in which the fielder does something identifiably wrong, which comes with a negative consequence).
DeJesus was also one of the best in the league Good Fielding Plays, with 29 in 2011, fourth among rightfielders
DeJesus also limited his mistakes. His Good Play/Misplay Ratio of better than 2-to-1 rated second-best (to Gold Glove winner Nick Markakis) among those who played 750-or-more innings played at the position.
--Dan Braunstein and Jacob Nitzberg
Tigers re-sign Ramon Santiago
Santiago has shored up some statistical deficiencies on defense the last two seasons (improving from -16 Defensive Runs Saved in 2008-2009 to 13 in 2010-11). He still has one offensive issue to focus on improving in 2012-- dealing with being behind in the count.
Santiago hit .093 against offspeed pitches (curveball, slider, changeup) in pitcher's counts last season, the fifth-worst rate in the majors, well below the major-league average, .196.
November, 8, 2011
11/08/11
1:18
PM ET
By
Katie Sharp
| ESPN.com
Much of the focus on the free agent frenzy this winter will be on the top tier of available players, such as
Prince Fielder
,
Albert Pujols
and
Jose Reyes
. However, there are several under-the-radar free agents that could provide significant value. Let's take a look at a two players who had disappointing seasons on the surface, but who may be better than people think from a statistical perspective.
David DeJesus
One is former
Kansas City Royals
outfielder
David DeJesus
. Last year, DeJesus had his worst offensive season for the
Oakland Athletics
, setting career lows in batting average, on-base percentage and slugging percentage.

DeJesus
However, some of his .240 batting average is likely a result of a .274 batting average on balls in play, well below his career mark of .316 and the lowest in a season for him.
Inside Edge does video tracking of every batted ball and discovered an interesting development for DeJesus; on balls categorized as "soft," he hit .281 in 2010 (26-for-117), but just .136 (18-for-132) in 2011. That difference cost him more than 30 points on his overall batting average.
There were several positives for DeJesus last year, however. He showed good plate discipline, as his walk rate of 8.9 percent was just shy of his career-best, 9.1 percent in 2007.
Despite the low batting average, he still provided his usual power, with an isolated power (which measures extra-bases per at-bat) of .136 that was in line with his career mark of .137. And he was one of the best defensive outfielders, with 13 Defensive Runs Saved that was third among all right-fielders.
Chris Capuano
Chris Capuano
won't be stealing any headlines this winter, but he could be a steal for a team needing a starting pitcher to fill out the rotation. Capuano's 4.55 ERA for the Mets was partly inflated by a .311 batting average on balls in play (career average of .300) that rose to .338 with men on base.
He also allowed a career-high 1.31 homers per nine innings, but that was affected by a career-high home run-to-flyball rate, as one out of every eight flyballs he allowed became a home run.
On a positive note, he struck out a career-best 8.1 batters per nine innings and walked only 2.5 batters per nine innings, the second-best rate of his career.
Looking just at the elements of his pitching that he can control – strikeouts, walks, home runs – and accounting for some bad luck on the flyballs he allowed, we see that Capuano pitched much better than his ERA may indicate.
His xFIP - Expected Fielding Independent Pitching, an ERA estimator that looks at strikeouts and walks, and presumes the pitcher will be league-average on his rate of fly balls per home run - was a career-best 3.66, just a few points higher than Jon Lester's 3.62 last year.
April, 5, 2010
4/05/10
10:10
AM ET
By
Kenton Wong, ESPN Stats & Info
| ESPN.com
Welcome to the debut of the TMI Power Poll. Each week a panel of 8 from the ESPN Stats & Info group will tackle a different topic and rank the top ten players/teams/items in that category. But we encourage you to get involved. Let us know why we're wrong, where we got it right and suggest future topics.
Since it is Opening Day (for most teams anyway), we
lead off
with the top 10 leadoff hitters. Corny? Absolutely, but it is an interesting topic for sure.
What makes a good leadoff hitter? It used to be that most would say a nice batting average and a lot of stolen bases would do the trick. Those numbers are definitely still relevant, but there are so many ways to look at things nowadays. Runs created, pitches seen, extra bases taken… Imagine the possibilities.
The majority of our panel was aboard the Ichiro bandwagon. Not much to dislike when it comes to the Mariners leadoff hitter – Ichiro has been a model of consistency. In each of his nine MLB seasons, he has at least 200 hits, 25 steals, a .300 BA and a .350 OBP. Last season Ichiro slugged a career high .465 and grounded into just 1 double play.
All that and much more were considered… You know our number one, so here's the rest of our best leadoff hitters (first-place votes in parentheses):
Others receiving votes:
Julio Borbon
,
Juan Pierre
,
Grady Sizemore
,
Alfonso Soriano
,
Ian Kinsler
,
Skip Schumaker
,
Stephen Drew
,
Kosuke Fukudome
,
David DeJesus
,
Marco Scutaro
,
Andrew McCutchen
and
Dexter Fowler
.