Stats & Info:

David Murphy
October, 29, 2010
10/29/10
6:00
PM ET


A preview of Game 3 of the World Series between the San Francisco Giants and the Texas Rangers.
FROM THE ELIAS SPORTS BUREAU:
The last 12 teams to win the first two games of a World Series at home went on to win the championship. The 1981 Yankees were the last team to lose a Series after winning Games 1 and 2, both at home. That year, Los Angeles went on to win the next three games at Dodger Stadium and closed out the Series at Yankee Stadium with a 9-2 victory in Game 6.
FROM THE ELIAS SPORTS BUREAU:
San Francisco has outscored Texas 20-7 through Games 1 and 2 of the Series. The Rangers are the fifth team to be outscored by at least 13 runs through the first two games of a World Series. The others were the 1937 Giants, 1987 Cardinals, 1996 Yankees and 2007 Rockies. The 1996 Yankees were the only one of those teams that rebounded to win the Series.
Jonathan Sanchez
will be looking for his first career postseason victory against
Colby Lewis
as the series shifts to Arlington. Lewis has been stellar thus far in the postseason, coming off an eight-inning gem against the
New York Yankees
that clinched the ALCS for the Rangers. Lewis will take the mound to attempt to win the franchise's first World Series game ever, and hopefully reverse the fortunes of this series in their favor.
JONATHAN SANCHEZ
The curveball has been the out pitch for Sanchez late in the season. Since Sept. 16 – a span of seven starts – Sanchez has allowed two hits in 39 at-bats (.051) with his curve.
Despite throwing fewer curveballs per start during this stretch – 17.7 per start versus 21.7 per start before Sept. 16 – he is actually striking out more people with the pitch. He is averaging 3.7 strikeouts per start with the curveball during this span (only 2.7 strikeouts per start before).

Lewis
COLBY LEWIS
Lewis is throwing his curveball more often and with more effectiveness late in the season.
Before Sept. 15, Lewis was throwing 11.2 curveballs per start and opponents were hitting .304 against it. Since Sept. 15, Lewis is throwing 14.6 curveballs per start and opponents have only one hit in 18 at-bats (.056).
Lewis has thrown even more curveballs in the postseason – 18.7 curveballs per start in his three playoff outings.

Sanchez
Sanchez has only faced two Rangers hitters in his career –
Jeff Francoeur
and
Jorge Cantu
– but only Francoeur is in the Game 3 lineup. Francoeur is just 2-for-14 with 5 K against Sanchez, but Cantu has two hits, including a double, in six at-bats.
Francoeur hit almost 70 points higher this season against lefties than he did against righties, and nearly 30 points higher against lefties than
David Murphy
– who would play if Francoeur didn't -- did during the regular season.
Lewis has only faced three Giants hitters a total of 10 times in his career. But he'll need to beware of
Aubrey Huff
, who is 2-for-4 lifetime against him with a home run.
October, 28, 2010
10/28/10
1:27
PM ET
By
John Fisher
| ESPN.com


A quick preview of Game 2 of the World Series between the Texas Rangers and San Francisco Giants.
The Giants will try and sweep the first two games of the World Series at home, although history is not on their side. The American League team has won Game 2 in each of the last eight seasons. The last National League team to win a Game 2 is the 2001
Arizona Diamondbacks
.
Thirteen previous teams have won the World Series in their first appearance, as the Rangers are trying to do this year. Six of those teams came back to win that series after losing Game 1. And two of them did it against the Giants.
The winner of Game 1 of the World Series has won six of seven and 11 of the last 13 Fall Classics. There have been 101 Best-of-7 World Series all-time and the Game 1 winner has won the series more than 62 percent of the time.

Cain
Matt Cain
takes the hill for the Giants, his first start since holding the Phillies to no runs and two hits in seven innings nine days ago. Cain's undefeated in two postseason starts and has not allowed an earned run yet. And he's had a lot of success against the Rangers' hitters.
The biggest decision facing Ron Washington in Game 2 is whether to start
Vladimir Guerrero
in right field. If Vlad doesn't get the call, expect it to be the left-handed
David Murphy
(who would play left, with
Nelson Cruz
in right) over the right-handed
Jeff Francoeur
. Not only does Murphy have the platoon advantage -- although he is hitless in four career at-bats against Cain -- but Francoeur is 0-14 lifetime against the Giants hurler. His 15 plate appearances are the most among all hitters who are hitless against Cain.

Wilson
The Rangers counter with
C.J. Wilson
, who is 1-1 in three postseason starts. Texas has lost Wilson's last two starts, both in the ALCS against the
New York Yankees
, with Wilson allowing eight earned runs in twelve innings, and walking as many batters as he struck out. He's only faced players on the Giants roster 18 times in his career, but
Pat Burrell
has two hits (both doubles) and a walk in three career plate appearances against Wilson.
Neither pitcher will be particularly excited to see Sam Holbrook calling balls and strikes tonight. Wilson has a 5.40 ERA in seven relief appearances, while Cain is 1-3 with a 5.06 ERA in four career starts with Holbrook behind the plate.
October, 18, 2010
10/18/10
12:51
PM ET
It's hard to imagine the
Texas Rangers
reaching the World Series without
Cliff Lee
winning his Game 3 start against the
New York Yankees
.
Lee in his career against the Yankees:
• 2-0, 3.38 ERA in two postseason starts (both in 2009 World Series).
• 6-4 in 12 regular-season starts with a 4.42 ERA, and 4-1 with a 2.55 ERA since 2008.
• 4-2, 4.46 ERA in New York.
• Including the postseason,
Derek Jeter
is 19-for-44 (.432 BA) against Lee, the best batting average against the left-hander among the Yankees starters.
Mark Teixeira
is 11-for-38 (.289) and
Nick Swisher
is 8-for-30 (.267) with two HR against Lee.

If the Rangers are going to force the ALCS back to Texas for Game 6, they will have to do something in the postseason that they weren't able to do in the regular season: beat the Yankees in New York. The Rangers were 0-3 and their pitchers had a 6.14 ERA at Yankee Stadium in 2010. On offense, the Rangers scored six runs in those three games and hit just .181 (15-83) with one home run.
Then again, Texas was 0-3 at Tampa Bay during the regular season before winning three ALDS games at Tropicana Field.

Pettitte
Lee's counterpart,
Andy Pettitte
, is 7-2 in 13 LCS starts with a 3.93 ERA. He beat the Rangers back in April at Yankee Stadium, throwing eight innings, allowing four hits and two earned runs.
Michael Young
had two of those hits, and the Rangers' 3-4-5 hitters --
Josh Hamilton
,
Vladimir Guerrero
and
Nelson Cruz
-- were a combined 0-9 against Pettitte.
Ron Washington may have a tough decision to make with his starting lineup tonight. Guerrero, Hamilton
David Murphy
and
Jeff Francoeur
are a combined 26-for-63 (.413) with a home run apiece in their careers against Pettitte, while Nelson Cruz is just 1-for-11.
Additionally, Pettitte has 19 career postseason wins, the most in major league history and four more than second-place
John Smoltz
. In fact, Pettitte is the only player in the top 10 who is still active. And if Pettitte finishes the fourth inning, he'll pass
Greg Maddux
for the third-most innings pitched in LCS history.
But neither starting pitcher will be excited to have Jim Reynolds calling balls and strikes. Lee is 0-2 with a 4.34 ERA in three career starts with Reynolds behind the plate, while Pettitte has fared even worse. The Yankees hurler is 1-4 with a 6.90 ERA, and a K/BB ratio less than two, in six career starts with Reynolds behind the dish, while allowing a batting average of .354.
August, 25, 2010
8/25/10
4:30
PM ET
By
Gregg Found & Matt Willis
| ESPN.com
Today's Trivia:
Today is Rollie Fingers' birthday, which means they're probably celebrating in both Oakland and Milwaukee. After all, both the A's and Brewers have retired Fingers No. 34 jersey. Fingers is one of just nine players in history to have his jersey retired by more than one team.
So your question is – which two other players have a jersey No. 34 retired in MLB? Hint: one of the two, like Fingers, is part of the nine-member club that has had a jersey retired by multiple teams.
Quick Hits:
Move to the edge of your seat tonight when
Hiroki Kuroda
comes to the plate. Kuroda has managed to go 0-40 at bat this season and is on the verge of history. Only eight previous players since 1901 have had an 0-fer season with at least 40 at-bats. Can we get Kuroda out of his "slump" by delving deeper into his numbers?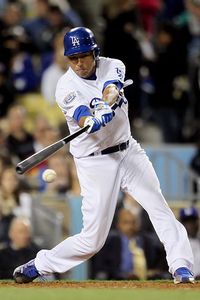 Jeff Gross/Getty Images
Hiroki Kuroda's hitting woes this season are reaching historic proportions
• Of his 40 at-bats, 18 have ended in strikeouts. Those K's have come at inopportune times, too – his only two plate appearances with the bases loaded? They ended in strikeouts. His 14 at-bats with the game tied? Six ended in strikeouts.
• Two pitchers in particular have especially feasted off Kuroda's meekness.
Aaron Harang
has faced him five times and
Edwin Jackson
has faced him four times. Kuroda, obviously, has gone o-fer against both.
• If you believe in OPS+ (which is OPS adjusted for league and ballpark), you probably don't believe in Kuroda. His OPS+ checks in at -85, almost as impressive as it is awful. Among anyone who has batted more than 20 times this season, that's the worst. But have no fear Kuroda – the wunderkind is close behind. Stephen Strasburg's OPS+ is a not-much-better -73.
• But it's not ALL bad for Kuroda – twice, he's drawn a walk! That gives him a whopping .048 on-base percentage. In fact, on one of those occasions, he even scored a run. It came against
Bud Norris
and the Astros, when
Manny Ramirez
drove Kuroda in. It's the only time Kuroda has touched home plate this season.
• Maybe place discipline is what's killing Kuroda. Only eight times this season has he reached a three-ball count. Only seven times has he seen a 2-0 count.
• So how many chances does he have left? Well, figure he'll make about seven more starts this season, including tonight. He's averaging 2.08 PA per start. So bank on Kuroda getting about 14 or 15 trips to the plate the rest of the year. Talk about drama. Only two players have gone 0-50 or worse in a season: Bill Wight in 1950 and Bob Buhl in 1962.
Today's Leaderboard:
It's always fascinating when a batter gets the green light (or sometimes gives himself the green light) to break one of the unwritten rules of baseball and swing on a 3-0 count. But so far this season, batters have swung on a 3-0 count 6.1 percent of the time. In fact,
Adam Dunn
and
Jose Bautista
each have two home runs this season on 3-0 counts. So maybe the rule isn't that ironclad.
With a nod to a batter's decision as the count move along, let's look at the times where batters are MOST likely to take the bat off their shoulder, and in which count they're most likely to get a hit.
Key Matchups:
• Lock
J.D. Drew
up for treason – he shows no respect for the King. King Felix that is, who has faced Drew 23 times and allowed Drew to dishonor him for a .400 BA and 1.028 OPS. Among the 47 batters who
Felix Hernandez
has faced as often as Drew, Drew's OPS ranks third. In their most recent showdown, July of last year, Drew homered off Hernandez.
• If the Rangers are thinking ahead, they'll take as many pitches as they can from
Brian Duensing
to scout his stuff. Duensing is a potential playoff opponent, and only four Rangers batters have ever hit against him.
Elvis Andrus
,
Josh Hamilton
,
David Murphy
and
Michael Young
are a combined 3-16 (.188 BA) against him.
•
Carlos Lee
hasn't seen a ton of
Roy Halladay
, but when he has, he's hit him. Lee has three homers off of Halladay is just 23 at-bats. Among all the other batters who have faced Halladay, only
Luke Scott
and
Justin Morneau
have as many homers in as few at-bats. Lee has a career .639 slugging percentage against Halladay, but that might be on its way down – in their previous meeting this season, Lee went 0-4 with two strikeouts against Halladay.
• Speaking of Halladay, he has a chance to win the pitching triple crown this season (ERA, Wins, Strikeouts).

Although it's slightly more commonly done than the batting triple crown (30 pitching triple crowns vs 13 hitting triple crowns since 1900), it's still a remarkable accomplishment. Entering Wednesday, Halladay led the NL in ERA and strikeouts, and was only one behind
Adam Wainwright
and
Ubaldo Jimenez
in wins.
Jake Peavy
last won the pitching triple crown in 2007 and it has been won three times in the last eight seasons, but in the National League, it's only been won four times since Sandy Koufax won three in a four-year span (1963, 65, 66).
If the remarkable happens and we get a pitching and hitting triple crown in the same season, then we start talking some real baseball history. A pitching and hitting triple crown hasn't been won in the same season since 1966, when Frank Robinson and Sandy Koufax won them. Both of those players now have plaques in Cooperstown.
If Pujols/Votto and Halladay win their respective triple crowns in the National League, they'd be the first National Leaguers to win their respective triple crowns in the same season since 1894. It's happened twice before in the American League -- in 1901 (Nap Lajoie and Cy Young), and 1934 (Lou Gehrig and Lefty Gomez)
Trivia Answer:
Kirby Puckett has his No. 34 retired by the Twins, and Nolan Ryan has his No. 34 retired by BOTH the Rangers and Astros. Ryan also has his No. 30 jersey retired by the Angels.
Just for fun – Puckett went 1-4 against Fingers in his career, managing a single in his first-ever at-bat against Fingers.
August, 17, 2010
8/17/10
11:40
PM ET
By
Stats & Info
| ESPN.com
• The Detroit Tigers'
Austin Jackson
hit a leadoff home run on the first pitch that
CC Sabathia
threw. It was the seventh leadoff HR allowed by Sabathia in his career and the first since 2007. However, it's the first time Sabathia has allowed a HR on the first pitch of the game.
• Sabathia (7 IP, 2 ER) extends his streak of pitching more than six innings and allowing three earned runs or fewer to 15 starts, the longest streak by a Yankee since Ron Guidry (also 15) in 1978.
•
From the Elias Sports Bureau:
Sabathia is now undefeated in his last 19 home starts. That's tied for the second-longest streak without a loss at home by a Yankees starter in franchise history.
• The
Minnesota Twins
'
Jim Thome
hit a walk-off HR in the 10th inning to give the Twins a 7-6 win. It was his 12th career walk-off, which is tied for the most in major league history. The other players with a dozen walk-offs: Jimmie Foxx, Mickey Mantle, Stan Musial, Frank Robinson and Babe Ruth.
• The
Tampa Bay Rays
roughed up
Texas Rangers
starting pitcher
Tommy Hunter
early on Tuesday. In the 1st inning, the Rays scored three runs on three extra-base hits and drew two walks. In his previous 13 starts, Hunter had allowed just one run and three extra-base hits, holding opponents to a .156 batting average. Tuesday was also the third time in his last four starts that Hunter lasted just three innings.
• The
Los Angeles Angels
of Anaheim's
Torii Hunter
robbed the Boston Red Sox's
Adrian Beltre
of a home run in right field in the 2nd inning. According to Baseball Info Solutions, Hunter led the majors with five home run robberies from 2007 to 2009. This was his first of 2010.
•
Ryan Kalish
is the second
Boston Red Sox
rookie to hit a grand slam this season (
Daniel Nava
being the other). Boston is the first team since the 2008 Texas Rangers (
Taylor Teagarden
,
David Murphy
) with two rookies to hit a grand slam. The last time the Red Sox had two rookies hit a grand slam in the same season was 1992:
John Valentin
and Bob Zupcic.
•
Paul Konerko
hit his 30th home run, his sixth 30-HR season of his career (all with the
Chicago White Sox
). Only
Frank Thomas
(8) has more 30-HR seasons in franchise history.
•
Jose Guillen
hit his first home run as a member of the
San Francisco Giants
. Guillen now has hit a home run with 10 different teams (Pirates, Devil Rays, Diamondbacks, Reds, Athletics, Angels, Nationals, Mariners, Royals and Giants). Among active players, only the San Diego Padres'
Matt Stairs
has hit a HR with more different teams (11).
• The
San Diego Padres
blanked the
Chicago Cubs
, 1-0. It's their fifth 1-0 win of the season, matching the Dodgers for the most this season. As for the Cubs, they lose a 1-0 game for the first time since June 16, 2007 … against the Padres.
David Murphy
's single in the 10th inning off of
Mariano Rivera
gave the
Texas Rangers
their seventh walk-off win of the season. Murphy is just the sixth player with a game-ending RBI in extra innings against Rivera. It was just the second run that the
New York Yankees
closer has allowed on the road this season in 21 1/3 innings, and just the second time this season he's allowed three hits in an outing.
How rare was this performance by Rivera? Entering Tuesday:
Rivera had not allowed an earned run in 17 2/3 innings this season in non-save situations.
Rivera had allowed only one run in 21 innings on the road all season.
Rivera had not allowed an earned run in Rangers Ballpark in Arlington since 2000. His streak without allowing a run spanned 18 innings.
June, 30, 2010
6/30/10
1:53
PM ET
By
Jeremy Lundblad, ESPN Stats & Info
| ESPN.com
Quick Hits
: Not all statistical categories are created equal, but they all have a leader. Let's take a look at some of the more obscure – and in some cases meaningless – league leaders.
On Tuesday, David Murphy reached base by catcher's interference for the third time this season, which leads the majors. The last player with more than 3 in a season? Edwin Encarnacion who had four in 2007.
Derek Jeter leads the majors with 181 ground balls, 22 more than the next player, according to STATS LLC. Having led the majors with 316 in 2009, Jeter is on pace for 385 grounders this season.
Carlos Lee is tops with 114 fly balls, though Rod Barajas has 108 in 89 fewer at-bats than Lee.
Vladimir Guerrero has swung at the first pitch 152 times, which is 14 more than Vernon Wells. Over the last 35 years, the most first pitch swings in a season belongs to Nomar Garciaparra (381 in 2003).
Rafael Betancourt and Carlos Villanueva have both had three batters reach on a strikeout. Yet, it hasn't happened to Tim Wakefield this season. He is the active leader in that category with 46 in his career.
Zack Greinke has had the most batters reach on an error (8), but not the most unearned runs. That would be Felipe Paulino with 11.
Ross Ohlendorf leads the majors with four pickoff errors, which is more than every other team except the Tigers.
The Dodgers have had seven hitters reach on a strikeout, a huge number when you consider that 26 of 30 teams have three or fewer.
Dave Bush leads the majors with seven sacrifice flies against with seven. But how about the Diamondbacks' Carlos Rosa? He's given up five sac flies in just 13.1 innings of work.
Derek Lowe is on pace to issue 18 intentional walks, which would be the most since Roger McDowell's 20 in 1991.
Justin Verlander has had the most pitches fouled off with 370.
Today's Trivia
:
Denard Span
tied the modern record with three triples in a game on Tuesday, the first player to do that since
Rafael Furcal
in 2002. Who holds the record for most at-bats in a season without a triple?
Today's Leaderboard
:
Dustin Pedroia
leads the majors having fouled off 294 pitches, according to Inside Edge. That accounts for 46.7 percent of the swings he's taken.
Ichiro Suzuki
(271) is the only other player with more than 260 fouls this season.
Key Matchups
:
Paul Konerko
is the batter that Zack Greinke has faced most in his career. He's held the White Sox slugger to a .137 batting average in 51 at-bats. According to the Elias Sports Bureau, that's the second lowest batting average in a matchup between two current AL players (min. 40 at-bats). Nick Swisher's .111 in 45 AB against
John Lackey
is the only one worse.
Of the 27 times that
Adrian Gonzalez
and
Jeff Francis
have done battle, the Padres slugger has struck out 11 times, or 40.7 percent of the time. That's his highest K rate against any pitcher he's faced at least 20 times. Overall, Gonzalez has hit .154 with a .454 OPS against Francis. The two haven't faced off since 2008, but Francis has struck out Gonzalez in five of the last six at-bats and retired him nine times in a row.
Trivia Answer
:
Aaron Hill
was without a triple in 682 at-bats last season, which set a record according the Elias Sports Bureau. In fact, he is in the midst of a streak of 1,394 consecutive at-bats without a triple. It's rather ironic for a player whose first career hit was a triple.