Stats & Info:

David Robertson
August, 22, 2013
8/22/13
10:17
PM ET
New York Yankees
and based on what he's shown, the future of the position looks to be in pretty good shape.
Robertson earned his second save of the season with a scoreless ninth inning to complete a four-game sweep of the
Toronto Blue Jays
on Thursday, as the Yankees crept a half-game closer to the AL East and Wild Card leaders.
It continued what has been an amazing run of success for him this season.
Let's take a closer look at his impressive season.
Mariano-like numbers
Robertson has converted 29 straight holds and a pair of save chances without blowing one since his lone blown opportunity this season on April 20 against the Blue Jays.
Robertson has been almost unhittable in his last 27 appearances. In a stretch that dates back to June 19, he's allowed one run and one inherited runner to score in 26 innings. He's averaging just over 10 strikeouts per nine innings and has an 0.92 WHIP.
Like a Magician
Robertson has earned the nickname Houdini for his ability to escape difficult situations.
In that 27-game stretch to which we're referring, opponents are 2-for-29 against him with runners on base and 1-for-12 with men in scoring position.
That includes three outs with the bases loaded, including a pair of strikeouts in his other save against the Angels on August 12.
Robertson has retired 23 straight hitters with the bases loaded. The last pitcher with a longer streak was
Jeff Brantley
, with 30 straight from 1989 to 1991.
On Thursday, Robertson didn't put any men on base, but he did escape three consecutive 3-2 counts unscathed.
The back-against-the-wall approach is what Robertson does best. He's retired seven of the last nine hitters against whom he's had a 3-2 count.
Robertson has allowed one hit and seven walks to the 26 hitters he's faced with a 3-2 count this season. The average major-league pitcher would allow a combo of 12 hits and walks to that number of hitters.
What a combination
Robertson wrapped up Thursday's game with 18 pitches, of which 16 were fastballs, the other two curveballs.
Robertson will primarily throw fastballs (and cutters, per
BrooksBaseball.net
) prior to reaching a two-strike count, but it's a near 50-50 split between that and the curveball when he's a strike away from finishing the hitter. Robertson has the same number of strikeouts (32) with his fastball/cutter and his curveball this season.
The curveball in particular has become an almost impossible pitch for opposing hitters. They've only put 19 percent of their swings in play against that pitch, the best rate this season for any reliever who has thrown at least 100 curveballs.
Looking Ahead
The Yankees have now won 12 of 13 against the Blue Jays this season, but they're a sub-.500 team against all other opponents. They'll head on the road next for a series with the
Tampa Bay Rays
.
Robertson had a lot of trouble with the Rays last season, losing to them three times, but he's since recovered. In six appearances in 2013, he's allowed no runs and three hits in six innings, with 10 strikeouts.
It will soon be David Robertson's job to close games for the
September, 7, 2012
9/07/12
2:50
PM ET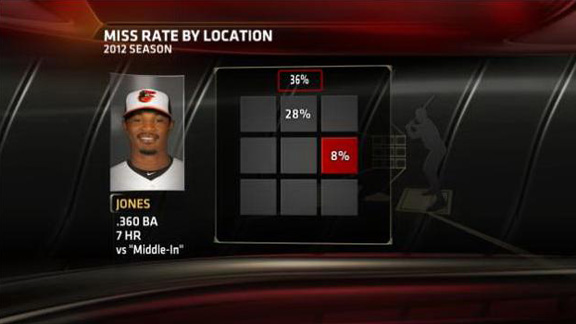 ESPN Stats & InformationThe difference between where David Robertson wanted to throw his pitch to Adam Jones (top of image) and where the pitch ended up (right side of image).
One often hears about a pitcher "missing his spot." On Thursday,
David Robertson
paid the price for that.
Adam Jones' go-ahead home run in the bottom of the eighth put the
Baltimore Orioles
ahead for good in a 10-6 win over the
New York Yankees
.
On a 1-2 count, the strategy was clear. Notoriously a free swinger up in the zone, the Yankees were betting that Jones would chase a high fastball.
Russell Martin
set a high target, about as high as he could without standing up.
Jones swings at 55 percent of pitches in the upper-third of the zone or higher. In the American League, only Derek Jeter swings at a higher percentage of high pitches. Of those swings, Jones misses 26 percent of the time.
In other words, the logic was sound for Robertson to finish Jones off with a high pitch. It was the execution that failed the Yankees. Robertson missed his spot.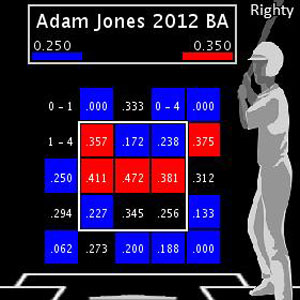 ESPN Stats & InformationAdam Jones struggles with pitches up in the zone, but feasts on balls middle-in.

Martin's target was above the zone, in an area where Jones misses on 36 percent of his swings.
However, the pitch wound up middle-in, a zone where he misses just 8 percent of the time.
In fact, when an at-bat ends with a middle-third/inner-third pitch, Jones is hitting .360 with 7 HR in 75 AB. His 7 HR is tied for 4th-most in MLB. The .360 batting average is 84 points better than MLB average.
Jones wound up with his MLB-leading 18th game-tying or go-ahead HR this season. All stemming from a missed spot.
September, 3, 2012
9/03/12
6:50
PM ET
By
ESPN Stats & Information
| ESPN.com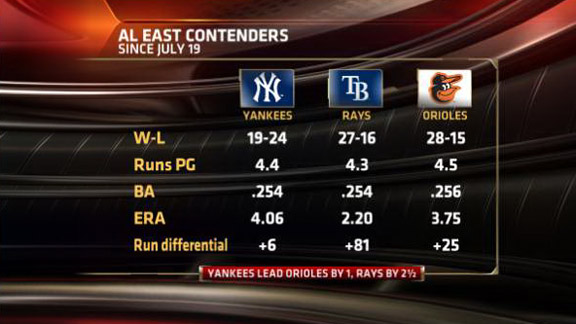 As the graphic atop this article shows, the AL East race has tightened up dramatically, with the
New York Yankees
lead being trimmed to one game over the Orioles and 2 ½ games over the Rays after Monday afternoon's contests.
Let's take a closer look at a key for each team over the past few weeks.
Rays rolling
Rays starter
James Shields
gave Tampa Bay another solid performance, allowing three runs in eight innings in their win over the Yankees.
Shields is in the midst of a nine-start run, the results of which can be seen in the chart on the right.
Shields had gotten away from throwing his fastball often early in the season, but has upped the rate by which he's thrown it over his last nine starts by nearly 50 percent.
Shields has also gotten better defensive support recently, something that the Rays had trouble providing earlier this season.
In his last seven starts, opponents have hit 63 ground balls against him. The Rays have gotten at least one out on 56 of them (89 percent), well above the major-league average rate of 75 percent.
Orioles surging
After a hiccup in Saturday's loss to the Yankees, the Orioles bullpen, which has been immensely valuable, got back on track the last two days.
Baltimore's relievers have allowed one run in 8 2/3 innings in wins over the Yankees and
Toronto Blue Jays
.
That dropped the Orioles bullpen ERA to 3.02 this season.
Jim Johnson
and
Pedro Strop
have been especially good at protecting leads, as they did with a scoreless inning apiece on Monday.
The other key to the second half for the Orioles has been
Nick Markakis
, who continued a stellar second half with an RBI double in Monday's win.
There has been a lot of attention on how much better the Rays offense has been since
Evan Longoria
returned, but check out the improvement of the Orioles' hitters since Markakis returned from injury at the All-Star Break.
He's led that with a .343 batting average and .902 OPS, which rank seventh-best and 14th-best among AL hitters since the All-Star Break.
Yankees struggling
The Yankees are 19-24 since July 19. They've lost nine of their their last 13 games, matching their worst 13-game stretch of the season.
Who has been slumping on offense since July 19?
Curtis Granderson
, who struck out to end Monday's game, has seen his OPS drop 200 points (it was .868, but is .668 since), Raul Ibanez's OPS has slipped 101 points, and Andruw Jones' has plummeted from .851 to .428.
Robinson Cano
, who suffered an injury late in Monday's game, also has gone through a couple of slumps. His most recent is a 4-for-25 drought.
The Yankees did not homer on Monday, making them 4-20 when not homering this season. Those four wins are the fewest for any team in the majors in homerless games.
The other issue for the Yankees is that since August 1, their only reliable relievers have been
David Robertson
and
Rafael Soriano
. The two of them have a 2.31 ERA and 0.92 WHIP in that span. The other Yankees relievers have a 5.18 ERA and 1.66 WHIP.
Robertson is not as near-perfect as he was last season. His Batting Average on Balls in Play has jumped from .291 to .315, as a few extra hits have snuck through, including Thursday's game-winner.
What's left
The graphic on the right shows the remaining schedules for each of the three teams. The Rays have the toughest schedule remaining, but have the best balance of home and road games.
The Elias Sports Bureau notes that the Yankees have never blown a division/league lead of more than 6 games. The largest blown lead was six games in 1933.
Justin Havens, Katie Sharp, and Mark Simon contributed research to this article
May, 4, 2012
5/04/12
1:19
PM ET
By
ESPN Stats & Information
| ESPN.com
Jim McIsaac/Getty ImagesMariano Rivera has more saves than three teams since 1995.
Whether it's a freak injury or a demotion, the
New York Yankees
are the latest team in 2012 in search of a new closer.
With
Mariano Rivera
suffering a torn ACL in his right knee on Thursday, the question now becomes who pitches the ninth inning for the Yankees.
Among Yankees not named Mariano Rivera,
Rafael Soriano
has the most career saves with 90. But,
David Robertson
has been one the top relievers since the start of last season.
Among active pitchers who have thrown at least 200 innings, Robertson has the highest rate of strikeouts per nine innings at 12.17. Since last season, Robertson's K per 9 is 13.7, compared to 8.2 for Soriano.
Robertson also led all relievers in 2011 with 3.9 wins above replacement (WAR).
Since recording his first save in 1995, Rivera's 608 saves – in addition to being the most in major-league history – are more than the
Kansas City Royals
(587),
Arizona Diamondbacks
(571) and
Tampa Bay Rays
(521). (Arizona and Tampa Bay's first seasons were 1998.)
Rivera's 2.21 ERA is the lowest in the Live Ball Era (since 1920) among pitchers with at least 1,000 innings. His 1.00 WHIP is second only to Addie Jones' 0.97 in major-league history, according to the Elias Sports Bureau.
As good as Rivera has been in the regular season (14 30-save seasons, 15 consecutive 20-save seasons), he took things to the next level in the postseason.
Rivera is the all-time postseason leader in appearances (96), saves (42) and ERA (0.70).
In those 96 postseason appearances, only two players hit home runs off Rivera. Sandy Alomar of the
Cleveland Indians
in Game 4 of the 1997 ALDS, and
Jay Payton
of the
New York Mets
in Game 2 of the 2000 World Series.
Whether Robertson or Soriano take over for Rivera, the impact on the Yankees' playoff chances will be minimal, according to Accuscore.
With Rivera, the Yankees chances of making the postseason were 64.5 percent. With Robertson or Soriano, New York's postseason chances do decrease, but only a little more than a percentage point (63.3 with Robertson, 63.2 with Soriano).
April, 23, 2012
4/23/12
12:22
PM ET
By
John Fisher, ESPN Stats & Info
| ESPN.com
US PresswireCC Sabathia (left) is 4-0 in 6 starts against the Rangers since joining New York. Derek Holland (right) is 0-4 in 6 career appearances (5 starts) against the Yankees.
The
New York Yankees
travel to Arlington to take on the
Texas Rangers
in Monday Night Baseball (ESPN, 7 ET). The Yankees have won seven of the last eight games against the Rangers, but have won only three of the last eight games in Texas.
Pitching Matchup
CC Sabathia
will take the mound after he had his Sunday start against the
Boston Red Sox
postponed by rain. Sabathia is 4-0 with a 4.84 ERA in six starts against the Rangers since joining the Yankees (including playoffs).
Sabathia has a 5.59 ERA in three starts this season. His April ERA is 4.16, his highest for any calendar month from April to September (his September ERA of 2.77 is his lowest).
Sabathia has averaged 91.5 miles-per-hour with his fastball in 2012. That's down a full mile-per-hour from what he averaged in both 2010 and 2011.
Hitters have swung and missed at the pitch at about a rate of one for every eight pitches thrown. In April, 2011, he got misses on about one of every six swings versus his heater.
With his 57th pitch on Monday, Sabathia will have thrown 20,000 pitches (combining regular season and postseason) since 2007, the most of anyone in the majors.
Derek Holland
takes the mound for the Rangers. In six career appearances (five starts), Holland is 0-4 with a 9.00 ERA against the Yankees, his worst ERA among teams he's faced more than once.
Unlike Sabathia, Holland has one of the best fastballs among left-handed starters this season; only three lefties have more strikeouts with the fastball than Holland, who has 10.
Battle of the Bullpens
Yankees relievers have gotten a lot of work this season, with 54⅔ innings pitched in 15 games.
David Robertson
again has been a magician for the Yankees. He's pitched eight scoreless innings this season and held opponents to 0-for-10 with runners in scoring position (they were 13-for-93 against him last season in those spots).
The most impressive thing about the Rangers bullpen might be the strikeout-to-walk ratio. In 38⅔ innings, Rangers relievers have struck out 36 and walked only three.
Alexi Ogando
, put back in the bullpen, has 10 strikeouts and no walks in relief this season.
The Yankees' bullpen has excelled at getting strikeouts, striking out a league-high 28.6 percent of all hitters they've faced. Yankees relievers have 65 strikeouts, only 12 fewer than the team's starters have.
The Yankees and Rangers are the top two bullpens this season in Win Probability Added, which aggregates the change in a given team's win probability after every batter. Each bullpen has added close to two wins to its team's win probability so far this season.
Stat of the Game
The Rangers have a run differential of +52, the best in baseball (the
St. Louis Cardinals
are second at +36).
Jeremy Lundblad and Mark Simon contributed to this post
August, 6, 2011
8/06/11
12:16
AM ET
The
New York Yankees
took the first game of their series with the
Boston Red Sox
Friday night at Fenway Park – and they also took over first place by themselves in the AL East for the first time since July 6.


The Yanks' 3-2 win also snapped their seven-game losing streak against the Red Sox, while increasing their current overall winning streak to eight games.
The Yankees-Sox matchup has been a tale of two halves over the past three seasons. With Friday's win, the Bronx Bombers are 14-7 against Boston after the All-Star break and 6-19 before the ASB.
The unsung hero for the Yankees in the win was their bullpen, which has not walked a batter since July 27 (nine straight walk-less games).
Starter
Bartolo Colon
was lifted after throwing 94 pitches and recording 14 outs. Here's a next-level look at how
Boone Logan
and
Mariano Rivera
shut down the Red Sox (with help from
Rafael Soriano
and
David Robertson
):
• Logan got the win, as well as perhaps the biggest out of the game, a three-pitch strikeout of
Adrian Gonzalez
with the bases loaded to end the bottom of the fifth. Gonzalez struck out on a slider out of the strike zone, a common location for Logan against Gonzalez. Logan has now faced Gonzalez four times in his career, allowing a hit with two strikeouts. Of the 13 pitches he has thrown Gonzalez, only six have been in the strike zone.
• Rivera closed the game out by registering two of his three outs recorded on strikeouts looking. It's the first time Rivera has gotten more than one strikeout looking in an appearance since April 18, 2010 - a span of 98 games.
Elsewhere around MLB Friday:
•
Atlanta Braves
second baseman
Dan Uggla
extended his hitting streak to 26 games with a single in his last at-bat. It ties
Emilio Bonifacio
for the second-longest streak in the majors this season (
Andre Ethier
, 30).
•
Ubaldo Jimenez
made his Indians debut, allowing five runs over five innings. He did not get a decision in the Rangers' come-from-behind 8-7 win.
•
Craig Counsell
broke his streak of 45 straight hitless at-bats with a pinch-single in the Brewers' 8-1 win over Houston. It tied the worst single-year hitless streak by a non-pitcher since 1900.
• The Padres drubbed the Pirates, 15-5, in Pittsburgh. It is the most runs the Padres have ever scored in Pittsburgh, eclipsing their 14 at Forbes Field on June 2, 1970.
August, 5, 2011
8/05/11
1:16
AM ET


The story of the season has been Red Sox domination. It's the difference in the AL East race. With the Yankees traveling to Fenway Park to take on the Red Sox, it's time to break down how the season series has gone so far.
Here are some highlights about the head-to-head series
:
• The Yankees will be trying to snap a seven-game losing streak in the series. That's tied for the third-longest losing streak for the Yankees in the rivalry, behind only a nine-game streak from 2008-09 and a 17-game streak from 1911-12.
• The Yankee starters have struggled, with a 8.18 ERA in the nine games. The losers in the eight losses were mostly the pitchers upon whom they usually rely:
Bartolo Colon
(twice),
CC Sabathia
(3 times),
Freddy Garcia
(twice),
A.J. Burnett
(once).
• Sabathia is 0-3 with a 6.16 ERA vs the Red Sox this year (he's 15-2 vs everyone else). In 2010, he was 1-0 with a 3.96 ERA, and in 2009, he was 3-1 with a 2.22 ERA.
• However, the Red Sox pitchers have held them to a .208 batting average with runners in scoring position. In three of the games, they failed to get a hit with runners in scoring position (0-3 on April 10, 0-10 on May 14, 0-7 on June 9), and in another game they got just one hit (1-7 on May 13).
• The Red Sox shut down the Yankee lefties (and when their switch-hitters hit lefty). Red Sox pitchers held Yankees left-handed batters to a .207 BA.
• Yankees were shut out twice in nine games; they have been shut out just three times otherwise.
Notable Yankees mediocrity
:
•
Nick Swisher
.188, 8 K
•
Brett Gardner
.167, double and triple
•
Mark Teixeira
.121 (4-33), 11 K, 0 XBH
Notable Red Sox standouts
:
•
Dustin Pedroia
: .500 (15-30), 4 doubles, 8 walks
•
Jacoby Ellsbury
.371, 3 SB, 4 doubles
•
David Ortiz
.324, 3 HR, 4 doubles, 9 RBI
• We should note that Pedroia was the AL Player of the Month for July. He led the Majors with 46 hits, the most hits for a Red Sox player during July of any season since 1939, when 3 future Hall of Famers each collected more: Bobby Doerr (52), Ted Williams (48) and Jimmie Foxx (47) (Elias). Pedroia also led Major Leaguers in total bases (81), tied for first in runs (27) and extra-base hits (18), and posted the second-best AVG in the ML at .411 (112 AB).
Derek Jeter: Return to Form?
• Derek Jeter has picked it up after getting his 3,000th hit on July 9. Jeter has four career five-hit games and two of them have come within the last four weeks. His numbers since July 10 are more in line with his career numbers.
The Setup Men: David Robertson and Daniel Bard
• David Robertson has better numbers vs opposite-handed batters (LHB) than same-handed batters (RHB) this year. His .169 BA vs LHB is fourth-best among AL RHP (min. 75 batters faced), while his 43 K vs LHB are the most among RHP relievers.
• He has yet to allow a run on the road in 20 appearances (21 1/3 IP).
• He has yet to allow a HR in 42 1/3 IP (most IP of any AL reliever who hasn't allowed a HR yet this season).
• Opponents are 1-12 (.083) with 10 K with the bases loaded.
• Daniel Bard has been more effective vs righties this season. His .117 opponent BA vs RHB is the lowest among AL pitchers (min. 75 batters faced).
• Prior to allowing three runs in his last outing on August 1, Bard had made 25 straight scoreless appearances (since May 27), spanning 26 1/3 IP. During the streak, opponents hit .125 vs him, and RHB were 3-40 (.075).
• It was the most consecutive scoreless outings in Red Sox history. It was the longest streak of scoreless IP in a single season by a Red Sox pitcher since Bob Stanley had a 27-inning streak in 1980.
• Yankees are 1-14 (.071) against him this season.
• His opponent BA w/RISP of .133 is fifth-best in AL (min. 50 batters faced).
• He's pitched on zero days rest 18 times, tied for the most in the AL.
June, 15, 2010
6/15/10
10:28
AM ET
By
Mark Simon
and
Ryan McCrystal, ESPN Stats and Info
| ESPN.com
Earlier this year, our colleagues in Stats and Information took a crack at
redefining the quality start
. Our TMI colleague Tom Tango devised a means to evaluate all relievers based on their win probability contributions (
shutdowns/meltdowns
).
We have our own mission. It's two pronged. First, we wanted to strictly evaluate setup men. Second, we wanted to separate the dominant ones from the ugly ones. And we wanted a method from which you could look at the newspaper box score and divine the quality of one's work.
Let's start by looking at the major league leaders in holds:
Luke Gregerson (16), Mike Adams (16), Scott Downs (16), Kevin Jepsen (15)
Holds is a fine stat, but we wanted to create one that would be a significant upgrade from that.
Behold, the "perfect hold".
Such a hold requires a pitcher to throw at least one inning, not yield a baserunner, and not commit a faux pas along the lines of a wild pitch or balk. This stat allows us to separate the truly dominant relievers from the rest of the pack.
Your 2010 leaders in perfect holds are: Luke Gregerson (12), Mike Adams (10), Daniel Bard (7) and Scott Downs (5)
In terms of pure results, you can't get any better than a perfect hold. But you can be more dominant. So our next mission was to identify the guys who can not only finish you off in the seventh or eighth, but embarrass you in the process.
Essentially our next concoction is a perfect hold with a dominance factor. What do you call a hold in which someone or something grabs on and won't let go? We call it a "vise grip."
The vise grip hold meets the following criteria
The pitcher got at least two outs
The pitcher did not allow a baserunner, nor did he throw a wild pitch or commit a balk
The pitcher averaged at least 1.5 strikeouts per inning pitched
Here are your 2010 leaders in vise grips:
Luke Gregerson (4), Joba Chamberlain (4), Hong-Chih Kuo (3), Daniel Bard (3)
But what about the opposite of the vise grip? That's the guy who comes in, makes a mess, but still maintains a lead. That's a weak grasp, is it not? We'll call it the "dead fish."
A dead fish meets the following criteria
The pitcher yielded at least 1.5 times as many baserunners as he got outs.
The pitcher didn't strike anyone out.
Here are your 2010 leaders in dead fish holds:
David Robertson (5), Darren O'Day (4), 10 pitchers tied with 3