Stats & Info:

David Wright
July, 14, 2013
7/14/13
9:00
PM ET
By
ESPN Stats & Information
| ESPN.com
John Sleezer/Kansas City Star/MCT via Getty ImagesPrince Fielder will try to repeat as Home Run Derby champ.
The 2013 Chevrolet Home Run Derby kicks off at 8 p.m. ET Monday night on ESPN at Citi Field. History suggests that one of the five left-handed batters in the competition is going to win it.
Seven of the past eight and 14 of the past 17 Home Run Derby winners have been left-handed hitters, including each of the past five: Fielder,
Robinson Cano
(2011), David Ortiz (2010), Fielder (2009) and
Justin Morneau
(2008).
Since the first individual competition in 1995,
Frank Thomas
(1995), Sammy Sosa (2000),
Miguel Tejada
(2004) and
Vladimir Guerrero
(2007) are the only righties to win.
Let's take a quick look at each of this year's contestants.
Pedro Alvarez, Pittsburgh Pirates
Alvarez was a late addition to the Home Run Derby, replacing
Carlos Gonzalez
. He leads the NL with nine "no-doubt" home runs this season, meaning homers that our video-tracking crew deemed cleared the fence by at least 20 vertical feet and landed at least 50 feet past the fence.
He's trying to become the first player to win the Derby as a member of the Pirates.
Robinson Cano, New York Yankees
This will be the third straight Home Run Derby for Cano, who went homerless in the 2012 Derby as the competition's defending champ. Cano was the fifth player in the last 15 years to go homerless for a Derby.
Cano has two home runs in 57 at-bats at Citi Field. Each traveled an estimated 440 feet.
Yoenis Cespedes, Oakland Athletics
Cespedes will be making his Home Run Derby debut and the best argument for him winning would be in how the ball jumps off his bat upon contact. His average home-run distance and speed-off-the-bat are both best among Derby participants this season.
Cespedes is trying to be the first Athletics player to win the Derby since
Mark McGwire
in 1992.
Michael Cuddyer, Colorado Rockies
Cuddyer, a childhood friend of NL Derby captain
David Wright
, is making his first Home Run Derby appearance.
Only 10 of Cuddyer's 16 home runs this season would have been home runs at Citi Field, the fewest of any player.
Chris Davis, Baltimore Orioles
Davis will try to be the first Orioles player to win the Home Run Derby since Miguel Tejada in 2004.
Davis enters the All-Star Break with 37 home runs, tied for the second-most by anyone before the Break. The only player with more was
Barry Bonds
with 39 home runs in 2001.
Since the individual competition began in 1995, the major-league leader in homers at the break has never won the Derby.
Jose Bautista
came closest, as runner-up last year.
Prince Fielder, Detroit Tigers
Fielder is a two-time Derby winner and the defending Home Run Derby champ.
If Fielder was to win, he'd be the second repeat champ and the second three-time winner, joining Ken Griffey Jr. (1994, 1998, 1999) in both cases.
Fielder's 63 Derby homers rank fifth-most all-time. He's 14 behind the all-time leader, David Ortiz.
Fielder's average distance of 396.4 feet and average speed-off-the-bat (102.4 mph) are the lowest for any of the Derby entrants.
Bryce Harper, Washington Nationals
Harper will try to become the first Nationals/Expos player to win the Home Run Derby.
This is Harper's first major-league Derby, but he made a huge impact in a previous competition,
as a 16-year-old using a metal bat
at the 2009 High School Power Showcase.
Harper had one six-homer stretch in the competition in which his homers averaged 469 feet and 121 mph off the bat.
His longest homer in regular-season play was a 444-foot shot against the
Miami Marlins
last September.
David Wright, New York Mets
Wright will try to become the first Mets player to win the Home Run Derby (he was runner-up in 2006) and the first to win it in his home ballpark under the current Derby rules.
Wright enters with only three home runs in 159 at-bats at Citi Field this season. Since the ballpark opened in 2009, he's hit 37 homers at home and 50 on the road.
Here's a look at the home-run spray charts for Wright and the other entrants in this year's competition: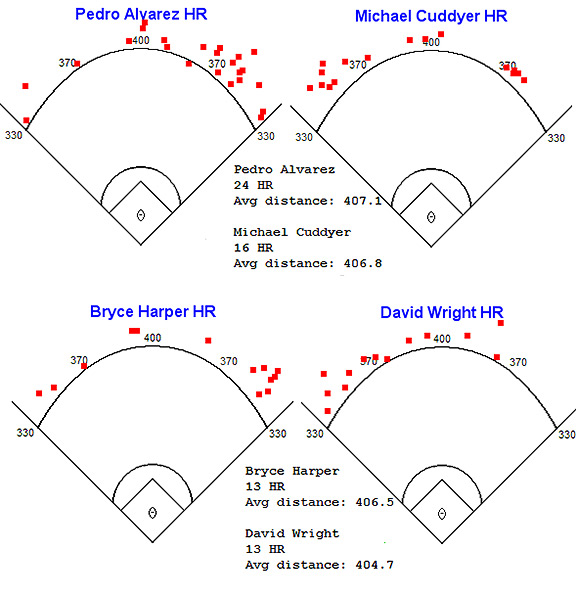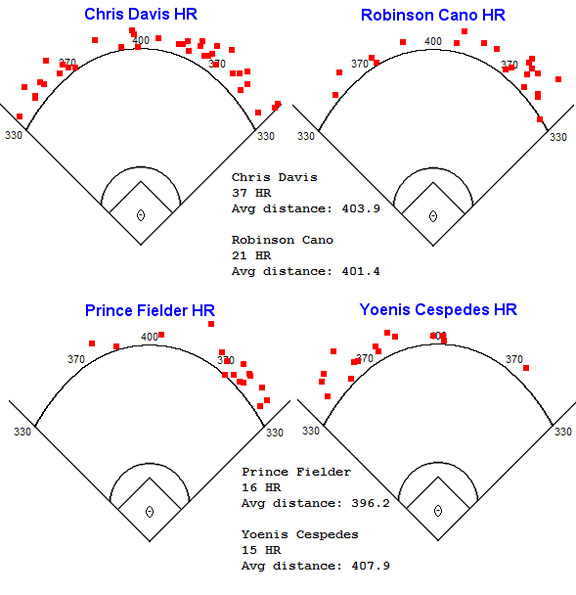 July, 8, 2013
7/08/13
11:00
AM ET
By
ESPN Stats & Information
| ESPN.com
David Wright
and
Robinson Cano
pick to participate in the 2013 Home Run Derby when selections are announced tonight at 6 ET on "SportsCenter"? Members of ESPN's Home Run Tracker team weighed in.
NL
Justin Upton, Atlanta Braves
Upton has only one home run since May 17, but his shortest home run is 404 feet. Remarkably, his 427.9 average home run distance is highest among all players with more than one home run. Upton has two 460-foot home runs and six others of at least 425 feet. Of his 15 home runs, 13 would have cleared the fence at Citi Field.
Jay Bruce, Cincinnati Reds
Bruce has eight home runs that have gone at least 425 feet, tied with Upton for the most in the NL.
June solidified Bruce's nomination, as he hit his five longest home runs of the season, all at least 430 feet. His headline home run was a 472-foot blast off
Patrick Corbin
, the third-longest home run this season.
Pedro Alvarez, Pittsburgh Pirates
Alvarez edges out
Paul Goldschmidt
by the narrowest of margins, getting the nod because he's hit two home runs over 450 feet this season and has three others over 430 feet.
Fourteen of his 22 home runs have been at least 400 feet, and all but four of his home runs would have been out at Citi Field.
Alvarez has nine home runs classified by
www.hittrackeronline.com
as "No Doubt" home runs, the most in the majors. ("No Doubt home run" means the ball cleared the fence by at least 20 vertical feet and landed at least 50 feet past the fence).
AL
Mark Trumbo, Los Angeles Angels of Anaheim
Although Trumbo ranks ninth in the AL with 19 home runs, nine of those went at least 425 feet, the most in baseball. His average home run distance is 417.7 feet, fourth in the majors (among players with a minimum of 10 home runs), and all but three of his home runs would have been out at Citi Field.
His
475-foot home run
off
Dan Straily
on April 29 is tied for the longest home run of the year.
Chris Davis, Baltimore Orioles
Davis leads the majors with 33 home runs, showing power to all fields.
Davis has not hit a home run over 440 feet this season; seven have gone at least 425. His eight home runs to center field are the most in baseball.
Nelson Cruz, Texas Rangers
Cruz has 22 home runs this season, including ones that went
450
feet and
445
feet. Nineteen of those homers would have been out at Citi Field.
Although his average home run distance is 410.4 feet (12th among players with at least 10 home runs), when excluding his opposite-field home runs, his average home run distance is 419 feet.
June, 23, 2013
6/23/13
10:57
PM ET
By
John Fisher
| ESPN.com
Rich Schultz/Getty ImagesDavid Wright and Matt Harvey (left) led the Mets to their biggest shutout win ever at Citizens Bank Park, which opened in 2004.
David Wright
took over the voting lead among National League third basemen for the All-Star game on Sunday. Then he went out and tied a franchise record with a career-high four extra-base hits to lead the
New York Mets
to an 8-0 victory against the
Philadelphia Phillies
.
He's the ninth Met with four extra-base hits in a game and the Phillies tried everything to get him out. His first three at-bats -- a flyout and two doubles -- came against fastballs. As Phillies pitchers switched it up, he adjusted, tripling against a changeup and finally homering on a slider out of the strike zone.
It was his first home run on a pitch out of the strike zone in nearly three years, when he homered on a changeup down and in on July 30, 2010.
Wright is only the third with two doubles, a triple and a home run in the same game, joining
Alex Ochoa
and Darryl Strawberry. Ochoa and
Tim Bogar
are the only Mets with four extra-base hits in a game against the Phillies.
Wright is the first player with four extra-base hits against the Phillies since Miguel Cabrera in 2005, and his performance was part of a season-high nine extra-base hits for the Mets.
HARVEY UNLEASHES THE HEAT
This was all in support of
Matt Harvey
, who won his second straight start after going 1-1 in his previous 10 starts. He improved to 7-1 this season and lowered his ERA to 2.05, becoming the first Mets pitcher to win twice in one season at Citizens Bank Park, which opened in 2004.
Harvey didn't need to mess around with this Phillies lineup. He threw 68 percent fastballs, his highest rate since his first start of the season, and he averaged 97.2 MPH with it, the highest in any start of his career.
He threw 23 of them at 98 MPH or faster, the second most by any starter in a single game this season (
Gerrit Cole
threw 25 such pitches on Friday). Opponents went 0-for-6 in at-bats ending with a 98+ MPH fastball and are 0-for-23 this season against Harvey's fastballs thrown at least 98 MPH.
One of Harvey's pitches was clocked at 100.1 MPH, on a strikeout of
Ben Revere
in the second inning, one of just 10 pitches by a starter thrown over 100 MPH this season. Harvey has thrown two of them and Cole has thrown the other eight, and all of them were thrown this week.
SHUTOUT NOTES
It was the Mets' largest shutout win against the Phillies at Citizens Bank Park and their largest in Philadelphia since June 5, 2001, a 9-0 win at Veterans Stadium.
It's the seventh shutout loss for the Phillies this season, who were shut out only six times all of last season.
May, 26, 2013
5/26/13
3:35
PM ET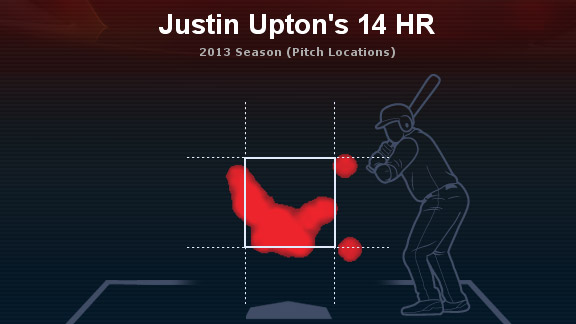 Justin Upton has been able to crush these pitches so far in 2013.
Five stats you'll likely hear quite a bit more about on tonight's "Sunday Night Baseball" matchup between the
Atlanta Braves
and
New York Mets
at 8 p.m. ET on ESPN.
1--
Justin Upton's 14 home runs have averaged 427.4 feet in length
, the longest in the majors (among batters with multiple home runs). Upton has been able to hit for power in two-strike counts. He leads the majors with seven two-strike home runs. Those seven have averaged 422 feet in length.
2--
Braves starter
Julio Teheran
, the second-youngest starting pitcher in the majors, has pitched well recently. After posting a 7.31 ERA in his first three starts, he has a 2.41 ERA in his past five starts.
A righty, Teheran has fared better against left-handed hitting during this stretch. In his first three starts, lefties hit .433 with four home runs and five walks against him. In the last five, those numbers are down to a .288 batting average, no home runs, and one walk.
A key to getting Teheran is to get to him early. Opponents are hitting .366 in the first three innings and .219 after.
3--
The Mets are stumbling, with a 7-20 mark since a 10-9 start. The team's offense has been a major culprit. The Mets have tried five hitters in the leadoff spot, and they've combined for a .267 on-base percentage and .543 OPS, both worst in the NL.
Their 4-5 combo is hitting .184 with a .249 on-base percentage and .579 OPS. All three of those stats rank worst in the NL, as well.
4--
The Mets' lone offensive star,
David Wright
, is off to a good start this season, just not at Citi Field. Wright is hitting .230 with a .310 slugging percentage and no home runs at home this season. He's at .359 with a .667 slugging percentage and six home runs on the road.
Wright isn't the only Mets player with such issues. Teammate
Daniel Murphy
, the Mets' second-best hitter this season, is hitting .237 at home and .386 on the road.
5--
From the Did You Know obscurity files: The Braves have three of the top six hitters in major league history when it comes to ranking home run hitters whose last name starts with the letter "U."
Dan Uggla
leads the list with 218, 12 more than
Chase Utley
had entering Sunday. Each of the Upton brothers (Justin and B.J.) ranks tied for fifth with 122.
In the series opener, Uggla added to his ledger with a home run and the game-winning hit in extra innings.
May, 13, 2013
5/13/13
12:55
PM ET
By
Will Cohen, ESPN Stats & Info
| ESPN.com
The
St. Louis Cardinals
host the
New York Mets
tonight in a battle of two teams headed in different directions (7 ET, ESPN and WatchESPN).
Red-hot Cards
The Cardinals boast the NL's best record and have been fueled by excellent starting pitching (MLB-best 2.25 ERA), and clutch hitting (MLB-best .323 BA w/ RISP).
On Monday,
Lance Lynn
looks to start a new win streak after a hard-luck 2-1 loss his last time out snapped a streak of 10 straight starts without a loss, dating to last season. He was 9-0 over that span with a 2.52 ERA.
Lynn has gotten impressive results when throwing sliders and curveballs this season, recording 38 outs with those pitches versus just 13 total bases allowed, a ratio of nearly 3 to 1.
Last year his ratio of outs to total bases allowed with breaking pitches was about half that: 1.6 to 1. Opponents are batting .186 in at-bats ending with Lynn's breaking stuff, a drop of over 100 points from last year (.288).
The biggest change has come against righties, where you can see how Lynn has improved the location of his pitches:
Mets slowing down
The Mets, on the other hand, have cooled off after a decent start to the season. They are 4-11 over their past 15, scoring just 2.9 runs per game in that span.
Jeremy Hefner
starts on the mound tonight for the Mets. They have lost all six of his starts this season (he's 0-4), providing him just 3.3 runs per game of support in those starts.
The Mets have really struggled without
Matt Harvey
on the mound this year. They are 6-2 in his starts and 8-18 with other pitchers starting. The Mets rotation aside from Harvey has posted a 5.59 ERA.
Offense has also been a major issue for the Mets of late. The team has the league's worst combined production from their 1, 4 and 5 spots in the lineup this year -- a .196 BA and .591 OPS, with the majority of those plate appearances coming from John Buck, Ike Davis, Lucas Duda and Ruben Tejada.
Wright on track
David Wright
has been an exception to the Mets' overall offensive woes this season.
From from 2009 to 2011, Wright struck out in nearly a quarter of his plate appearances (23 percent of PA), and his average fell to .284 in those years accordingly, well below his previous career rate of .309.
But last year, Wright reduced his strikeouts to his previously established rates (15 percent of PA), and his batting average rose back up to .305.
Wright has adopted a much more disciplined approach at the plate - he's not swinging at pitches out of the zone as often. By laying off pitches outside the strikezone, Wright has increased his walk rate to a career-high 17 percent of plate appearances and his OBP has never been higher.
May, 1, 2013
5/01/13
9:35
AM ET
By
Mark Simon, ESPN Stats & Info
| ESPN.com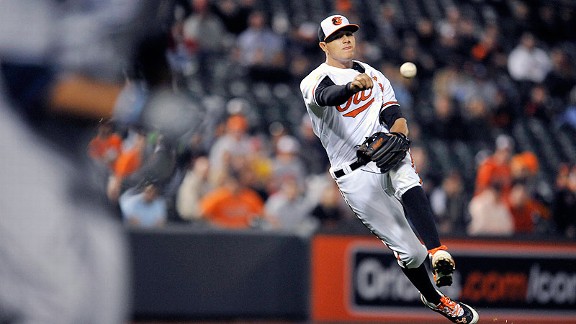 Roy Absalon/USA TODAY SportsBaltimore third baseman Manny Machado has been a terrific defender all season.
Manny Machado
made an error of aggressiveness in Sunday's loss to the
Oakland Athletics
, throwing away a bunt in which he charged and tried to get the out at third base.
But through the first half-season of Machado's career, the Orioles third baseman has done more than his share to make up for that mistake.
Defensive Runs Saved is a stat devised by Baseball Info Solutions (BIS) that measures a fielder's ability to turn batted balls into outs and do other defensive things specific to his position. (In the case of a third baseman, defend bunts and convert double plays.)
Since the start of last season, Machado ranks fourth among third basemen in Defensive Runs Saved -- and that's despite playing about half as many innings as everyday players like
David Wright
and
Adrian Beltre
. The other primary defensive metric (UZR) also has Machado ranked near the top of his position.
Keep in mind that the player Machado was replacing as the primary third baseman,
Wilson Betemit
, finished 2012 credited with costing the Orioles six runs with his defense (-6 Defensive Runs Saved). The player originally intended for the position in 2012,
Mark Reynolds
, cost the Orioles seven runs in 142 innings.
In what aspects of third-base defense does Machado excel? A major league scout said of him:
"He is outstanding in all directions, with pop ups, relays, backhands and agility plays. He has a great throwing arm from all angles on the field, great feet, instinct-reactions and body control."
Let's break down Machado's skills with some numbers.
Range
How can we put a value on the idea that Machado is "outstanding in all directions"?
Simply put: Machado gets to a lot of the balls he should, and a lot of the ones he shouldn't.
Revised Zone Rating (RZR) is a defensive stat that looks how often a fielder turns batted balls into outs when the ball is hit into an an area (a zone) at a speed in which players at his position convert more than 50 percent of balls into outs.
Through Monday, Machado's RZR ranks eighth of the 35 players who have played at least 500 innings at third base since the start of 2012.
Machado has also made 30 "Out of Zone plays" –- meaning he got an out in an area that no more than half the third basemen turned those batted balls into outs.
Machado's rate of Innings per Out of Zone play ranks fourth-best among those 35 third basemen.
Let's also note this:
The Orioles left-side defense has performed considerably better overall since Machado's arrival. Remember, their starting shortstop,
J.J. Hardy
, won a Gold Glove last season and ranks among the best at that spot.
Since Machado's recall, the Orioles have converted 77.4 percent of ground balls that on video review were either over or to the left of the second base bag into outs in that span, compared to 72.3 percent prior to his joining the team.
Over a full season, that equates to taking away nearly 60 would-be baserunners, just on ground balls to that part of the field.
Throwing arm
BIS provided a list of the 10 plays that had the most defensive value in impacting his Defensive Runs Saved total.
Almost all of them were ones in which Machado showed off his ability to go to his left and unleashed a cannon-like throw from an awkward position to rob a potential base hit.
The arm that was great from all angles has allowed him to get even the speediest of batters (including
Coco Crisp
and
B.J. Upton
)
out on
those plays
.
Instinct -Reactions
The play Machado is best known for happened in an extra-inning win against the
Tampa Bay Rays
on Sept. 12, 2012, when he fielded a slow roller, faked a throw to first, then turned around and trapped the potential go-ahead run in a rundown off third base.
BIS classifies plays into about 30 categories of Good Fielding Plays and 50 categories of Defensive Misplays & Errors and that was one of 28 plays that qualified as "Good Fielding Plays" by video review. Since Aug. 9, 2012 that's tied with
Pablo Sandoval
for the second-most of any third baseman in the majors, trailing only Ryan Zimmerman's 41.
Not bad for someone who played a total of two minor-league games at third base.
As the scout also said. "It's going to be tough to move him off that position."
November, 30, 2012
11/30/12
1:18
PM ET
By
ESPN Stats & Information
| ESPN.com
Alex Trautwig/Getty Images
David Wright's performance over the last few seasons has been up and down, but the Mets still rewarded him with reportedly the richest contract in team history.
According to sources
, the
New York Mets
and third baseman
David Wright
have agreed to a deal that would be the largest in team history, surpassing the six-year, $137.5M contract given to
Johan Santana
.
He joins
Evan Longoria
and
Ryan Zimmerman
as third basemen to recently receive contracts of at least $100M to stay with their original clubs.
But now the question shifts to whether Wright will be able to live up to that contract.
Wright is arguably the Mets' greatest position player ever. He's already the franchise all-time leader in runs, hits, doubles, RBIs and wins above replacement.
He also brings a unique blend of speed, power and on-base ability to the hot corner. Wright has had six seasons with at least 20 home runs, 15 stolen bases and a .350 OBP. In the Live Ball Era (since 1920), that's the most such seasons by a third baseman, with
Alex Rodriguez
in second with five, and Mike Schmidt third with four.
Last season, Wright put himself in the MVP discussion with 6.7 wins above replacement, ranking him fourth in the National League among position players.
However, despite his resurgence in 2012, Wright's performance has still dropped in the last four seasons, compared to 2005-08, his first four full seasons in the majors, when Wright's average season was a .311 BA, 29 HR and 112 RBIs. The chart at the right shows how his performance has dipped since his breakout.
Even last season, Wright's performance dropped off considerably after the All-Star Break.
In the first half of the season, Wright had a .351 BA and a 1.004 OPS. But after the break, Wright batted .258 with a .750 OPS, and saw both his strikeout rate rise and his walk rate drop.
The biggest reason for the drop in performance was Wright's propensity for chasing pitches out of the strike zone. In the first half, Wright chased 18 percent of pitches out of the strike zone, but that number grew to 25 percent in the second half.
Still, his 6.7 WAR over the entire season tied him for seventh in all of baseball among position players, and was the third time in his career that he had a WAR at least that high.
However, in the three seasons preceding 2012, Wright's WAR was a 2.9 or lower, ranking him outside the top 75 position players in all of baseball.
Wright's deal will reportedly keep him in a Mets uniform through at least 2020, but what Wright will be on the field remains in question.
July, 18, 2012
7/18/12
12:28
PM ET
By
ESPN Stats & Information
| ESPN.com
Greg Fiume/Getty ImagesThe Nationals earned their NL-leading eighth walk-off win of the season against the Mets on Tuesday.
Currently mired in a season-long five-game losing streak, the Mets take on the Nationals on Wednesday Night Baseball (7 ET, ESPN). The Mets entered the day seven games back of Washington in the National League East and only two games above .500 for the first time since May 21.
The Mets are 0-4 since the All-Star break, again struggling in the second half. In each of the previous three seasons, they have experienced drops in win percentage after the break.
On the other side of the spectrum, the Nationals are an NL-best 52-36, have won seven of their past nine home games, and celebrated their NL-leading eighth walk-off win against the Mets on Tuesday night. They are tied with the Athletics for most walk-off wins in baseball this season.
QUALITY OVER QUANTITY FOR ZIMMERMANN
Jordan Zimmermann
gets the start for the Nationals on Wednesday, and despite his 6-6 record, has been one of the most effective pitchers in the National League this season. Zimmermann ranks fourth among qualified NL starters in ERA (2.48) and leads all of MLB with 16 quality starts.

Zimmermann
One reason for Zimmermann's success has been his control. He ranks seventh in the league in walks per nine innings (1.8), third in overall strike percentage (68 percent) and second in first-pitch strike percentage (70 percent).
While the Nationals' rotation has gotten much attention, there is no shortage of discussion about rookie outfielder
Bryce Harper
. Harper ranks among the top five rookies in baseball in batting average (.275), extra-base hits (28) and stolen bases (11). His five triples lead the Nationals.
LACK OF VELOCITY HASN'T SLOWED YOUNG
For the Mets,
Chris Young
will make his eighth start of the season after making a total of eight starts over the previous two seasons combined. Young spent a total of 329 days on the disabled list with shoulder problems between 2010 and 2011 but has remained healthy thus far in 2012.

Young
Young has pitched well against Washington. He is 3-1 with a 2.74 ERA in seven starts against the Nationals and current members of the Nats are hitting only .165 against him. Should that continue Wednesday night, he'll need to locate his fastball. Only
Barry Zito
(83.6 mph) has a slower average fastball velocity than Young (84.2 mph) this season.
David Wright
has been the most consistent hitter in the Mets' lineup this season and he's done it by hitting to the opposite field.
Wright has collected 30.0 percent of his hits to right field in 2012 after only 19.6 percent of his hits went that way the previous three seasons. The approach helped Wright reach the All-Star break with the second highest batting average in Mets history (.351).
July, 5, 2012
7/05/12
11:43
PM ET
By
ESPN Stats & Information
| ESPN.com
Jim McIsaac/Getty ImagesDavid Wright is mobbed by his teammates after recording his first walk-off hit since 2008.
The
New York Mets
scored two runs in the bottom of the ninth to beat the
Philadelphia Phillies
. After finishing 7-11 against the Phillies last season, the Mets have won eight of 12 games against Philadelphia this year.
The hero for the Mets on Thursday was
David Wright
. The third baseman, who drove in four (or more) runs for the third time in his last eight games, won the game with a single to break a ninth-inning tie. It was his seventh career walk-off hit, but first since 2008.
Including a walk-off sacrifice fly in 2006, it was Wright's eighth career game-ending RBI, tying Kevin McReynolds for the Mets record.
Wright's game-winning single came on an inside fastball out of the strike zone. This season, Wright is 10-for-57 (.175) in at-bats ending with pitches outside the strike zone.
All 10 hits have come against inside fastballs. Wright is 10-for-23 (.435) in at-bats ending with an inside fastball out of the strike zone this season.
With his game-winning hit against
Jonathan Papelbon
, Elias informs us that Wright is the first player to have walk-off hits against both Papelbon and
Mariano Rivera
.
Papelbon has three losses this season, with two of those against the Mets.
The Mets were able to win despite a subpar start from
R.A. Dickey
. After allowing only one earned run in his previous seven starts against National League opponents, Dickey allowed five runs in seven innings against the Phillies.
The run that the Phillies scored in the first inning snapped a streak of 20 consecutive starts for Dickey without allowing a run in the opening frame. The last team to score against Dickey in the first was the
Washington Nationals
on September 2, 2011.
Around the League
• The Mets weren't the only NL East team to rally for a ninth-inning win. The Nationals won for the first time in 27 games this season when trailing after eight innings. They beat the
San Francisco Giants
, who had been 40-0 when leading after eight in 2012.
• The
Chicago White Sox
finished up a three-game sweep of the
Texas Rangers
. It was the first time this season that the Rangers were swept in a series of at least three games. That leaves the White Sox as the only team that hasn't been swept this season.
•
Jim Thome
picked up his first RBI with the
Baltimore Orioles
, the sixth club for which he has driven in a run. The only player with more career RBI than Thome who drove in runs for more teams was Al Simmons with seven.
• The
Pittsburgh Pirates
moved 10 games over .500 for the first time since 1992. That bodes well for the Bucs, since 1992 was the last time they finished with a winning record and made the playoffs.
June, 3, 2012
6/03/12
4:53
PM ET
Five things to know on the Sunday Night Baseball game at 8 p.m. ET on ESPN2 as the
New York Mets
look to make it three straight wins over the
St. Louis Cardinals


1.
Mets starting pitchers have thrown shutouts in consecutive games, the first time their starting pitchers pitched consecutive shutouts since the same two starters did so August 12-13, 2010 --
Johan Santana
and
R.A. Dickey
, against the Rockies and Phillies.
The Mets have never shut out the Cardinals three times in a three-game sweep. The fewest runs they've allowed against the Cardinals in a series of three or more games was two runs, from April 1-4 2007 (three-game series).
2.
The Cardinals, with one of the best offenses in the National League, have been shut out in consecutive games. According to the Elias Sports Bureau, it's the first time in MLB history the reigning World Series champion had back-to-back shutout losses where one of those losses was a no-hitter.
3.
There have been 17 home runs hit at Citi Field that would NOT have been home runs there last year, due to the more spacious outfield dimensions, including FIVE homers that have traveled at least 408 feet that would NOT have left the park last season.
It's been evenly distributed among teams: the Mets have racked up eight such home runs and their opponents have totaled nine.
4.
Cardinals starter
Jake Westbrook
had a good start to the season, going 4-2 with a 1.76 ERA in his first six starts, allowing two earned or fewer in five of those six starts.
Over his past four starts, he's 0-2 with an 8.10 ERA and the Cardinals have lost all four games. His sinker has been the issue -- he's allowed a .353 batting average off sinkers in the past four starts after allowing just a .189 batting average in his first six.
His mound counterpart, Mets starter
Jonathon Niese
was 2-0 with a 2.18 ERA in his first four starts this season and the Mets went 3-1 in those games. In his past six starts, Niese is 1-2 with a 6.07 ERA and the Mets have gone just 2-4.
Niese can't find the strike zone -- his walk rate has nearly doubled from seven percent during his first four starts to 13 percent in his last six.
5.
Mets third baseman
David Wright
is hitting .365 and much of his improvement has come against pitches on the inner-third of the plate or closer to him. He has a .397 batting average and 1.113 OPS against pitches on the inner-third of the plate or closer to him, a jump of nearly 200 points in batting average and 500 points in OPS from last season.
June, 2, 2012
6/02/12
8:49
PM ET
By
Douglas Clawson, ESPN Stats & Info
| ESPN.com
Through the month of May, there have been 996 stolen bases, coming out to roughly 1.3 per game. More than 37 percent of those stolen bases have resulted in runs (when the base runner comes around to score after stealing a base). The
Los Angeles Dodgers
have scored after 17-of-28 (60.7 percent) steals, that's the highest score percentage this season and they are 10-4 when scoring after a stolen base.
Base runners have been successful on 79.5 percent of stolen base attempts when the opposing pitcher does not throw over before their attempt, but that percentage drops to 62.2 if the pitcher throws over at least once.
Here are some other stolen base statistics entering the month of June.
Overall Steals Leader (Through May):
Emilio Bonifacio
has been caught stealing once in 21 attempts. However, Bonifacio has yet to attempt stealing a base other than second.

Bonifacio
The Marlins have stolen 60 bases, 15 more than any other team. They also have the third-highest stolen base percentage in the league (80 percent). At this time last season, the Marlins had only 24 stolen bases, and the third-worst stolen base percentage (58.5 percent).
Newcomer
Jose Reyes
has scored five go-ahead runs after stealing a base this season, most in the majors.
Late-Inning Culprit:
In one-run games this season, the
Chicago Cubs
'
Tony Campana
is 7-for-7 stealing in the seventh inning or later, and has scored after four of those swipes. No other player has more than four steals in such late-game situations. Campana also is 4-for-4 stealing on pitchouts this season. No other player has more than one steal on a pitchout.
Stealing Third:
Toronto's
Rajai Davis
is 5-for-5 stealing third base, and 22-of-23 over the last two seasons. That's the most steals of third base over the last two seasons.
Catcher Oddity:
Baltimore's
Matt Wieters
has thrown out 11-of-30 base stealers this season, the sixth-highest percentage (minimum 15 attempts). Despite his success, Wieters has committed a throwing error on 4-of-30 (13.3 percent) attempts, that's the highest percentage in the league (minimum 10 attempts). Last season, Wieters committed a throwing error on 2-of-91 attempts.
Slow to the Plate:
Base runners have stolen 11 bases, and been caught just once, against
Mat Latos
this season. Seven of those 11 have scored. Both totals are the highest among pitchers.
Rally Killer:
Will Venable
has been caught four times this season to end an inning, the most in the majors. Venable was caught stealing three times on 29 attempts last season, and none ended an inning.
Throwing Over Matters:
David Wright
has been successful on all five stolen base attempts when the pitcher does not attempt a pickoff throw before his stolen base attempt. However, Wright has been caught all five times when the pitcher throws over at least.