Stats & Info:

Dayan Viciedo
June, 2, 2012
6/02/12
6:29
PM ET
By
William Cohen, ESPN Stats & Info
| ESPN.com
Adam Dunn
and
Paul Konerko
are grabbing most of the headlines as the
Chicago White Sox
continue their red hot play. However, it's left fielder
Dayan Viciedo
who is becoming the player to watch as he turns into Chicago's next star.

Viciedo
Viciedo defected from Cuba in 2008 at age 18, and signed with the White Sox that December. Going into 2009, Baseball America ranked Viciedo as the team's No. 2 prospect. With a 240-pound frame and a nickname of "Tank", Viciedo's power potential was never in question -- he launched 52 home runs over 1,408 minor-league plate appearances before turning 23.
The concern for Viciedo was his plate discipline. He doesn't walk much and this season he began striking out at a very high rate.
After May 13, Viciedo looked like a player just waiting to be sent to the minors. His .226 OBP ranked fourth-lowest in the American League among 100 players with 100 plate appearances. No outfielder in the A.L. posted an OPS as low as Viciedo's .530, and only teammate
Brent Morel
had fewer RBI (4) than his five. The White Sox were 16-19, but just two and-a-half games out of first place in the A.L. Central.
A lot of Viciedo's struggles could be attributed to a high strikeout rate. He struck out essentially two times in every seven plate appearances (29 percent) which ranked fourth-worst in the A.L. Usually these types of strikeout rates are reserved for sluggers, but at the time Vicideo had just three HR.
On May 14, something clicked for Viciedo, who began a hot stretch to finish out the month.
Over his last 17 games, Viciedo hit .418 with a 1.232 OPS. His eight home runs, 10 multi-hit games and 23 RBI in the span either lead or are tied for the league. Viciedo has raised his average and OPS from .196/.530 to a much more respectable .284/.808.
The strikeout problem has all but disappeared. Viciedo was striking out in more than 29 percent of his plate appearances to start the season, but he has just six strikeouts over his last 68 plate appearances.
Viciedo is not practicing more patience. His swing rate at pitches out of the zone has stayed consistently high, around 36 percent. (The league average is just over 28 percent.)
The difference is that Viciedo is making solid contact more often. He's hitting weak grounders at a much lower rate (42 percent to 52 percent), and he's punishing pitches that are left over the middle of the plate. Five of his last eight home runs have come on off-speed pitches roughly belt high over the middle/inside two thirds of the plate.
The White Sox have been rewarded for their confidence in him. Viciedo helped Chicago win 14 of 17 games and move them into first place in the division.
May, 31, 2012
5/31/12
6:10
PM ET
By
Mark Simon
and
Katie Sharp, ESPN Stats & Info
| ESPN.com
It was a good month of May, and not just for the superstars like
Albert Pujols
,
Josh Hamilton
and
Paul Konerko
. Here's a look at five under-the-radar players who starred in May.
R.A. Dickey, New York Mets
(4-0, 1.83 ERA, 0.96 WHIP in five May starts)
He has allowed three earned runs or fewer, pitching six innings or more in 21 of his last 22 starts. Dickey showed a great touch with his knuckleball, and seemed to be able to put it wherever he wanted.

Dickey
Dickey's money pitch was the knuckleball on the outer-third of the plate. He got 36 outs with pitches to that spot and allowed only three hits.
Our pitch-trackers charted him hitting 80 mph with a knuckleball 20 times in May. That netted him 14 strikes, nine outs and no base runners allowed.
Chris Capuano, Los Angeles Dodgers
(1.62 ERA in 5 May starts)
After a strong April (3-0, 2.73 ERA), Capuano was even more dominant in May. He threw more than half of his changeups out of the zone in May (84 of 160) and got batters to swing at 51 of those pitches for a chase rate of 61 percent. He got 18 outs, including 12 strikeouts, on changeups he threw out of the zone, allowing just one hit.
Capuano's fastball averaged 87 mph this month, the lowest among pitchers who threw at least 250 fastballs. Still, opponents hit just .180 (9-50) in at-bats ending in his "heater" and he allowed just five line drives among the 44 balls hit into play against him.
He was at his best when he kept the ball down. He threw 46 percent of his pitches this month in the lower third of the strike zone or below, and allowed just three hits in 46 at-bats ending in a pitch thrown there. Twenty-one of his 29 strikeouts also came on pitches in that location.
James McDonald, Pittsburgh Pirates
(3-1, 1.54 ERA, 39 K in 35 IP)
McDonald, who owns a career-best 2.20 ERA this season, has been lights-out in May. His ERA ranks second in the majors and his .509 OPS ranks fourth.

McDonald
McDonald's breaking pitches were very tough to hit this month, something that has held true all season. In his last two starts, he's gotten 18 outs with his breaking pitches and allowed just one hit.
The slower McDonald throws his breaking ball, the more success he's had. He threw 53 of them at 77 miles-per-hour or slower in May, netting 15 outs without any batters getting a hit. He threw that pitch for a strike 68 percent of the time.
Melky Cabrera, San Francisco Giants
(.429 BA, 1.104 OPS, 51 Hits, 15 XBH, 16 multi-hit games)
He has established himself as a fan-favorite in San Francisco in May after netting 51 hits in 29 games.
Cabrera finished the month with a 25 percent line-drive rate, nearly double his 14 percent rate in April. He also had 23 hits on his 51 ground balls. (The average major leaguer gets hits on about 23 percent of his ground balls. Cabrera would match that with outs on his next 49 grounders.)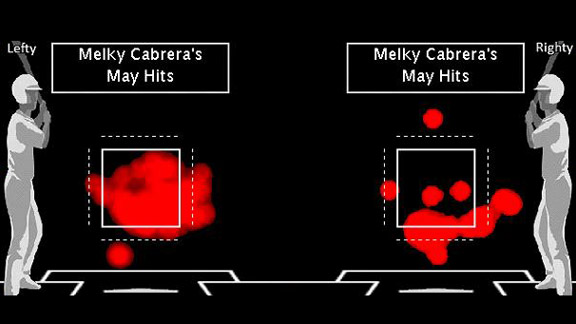 ESPN Stats & Info
Notice the pattern in the heat map above how Cabrera fared from the right side of the plate. Ten of his 16 hits as a right-handed batter came on pitches in the lower-third of the strike zone or below. Cabrera was 28-for-60 when an at-bat ended with a low pitch.
Dayan Viciedo, Chicago White Sox (.351 BA, 8 HR, .995 OPS)
Viciedo is emerging as a star. In his last 16 games (which coincides with the White Sox hot streak), Viciedo is 28-for-63 with twice as many home runs (8) as strikeouts (4).
If a pitcher left an off-speed pitch in the strike zone, Viciedo crushed it. Five of those home runs came on changeups, curveballs or sliders.