Stats & Info:

Deion Branch
February, 1, 2012
2/01/12
1:50
PM ET
By
John McTigue
| ESPN.com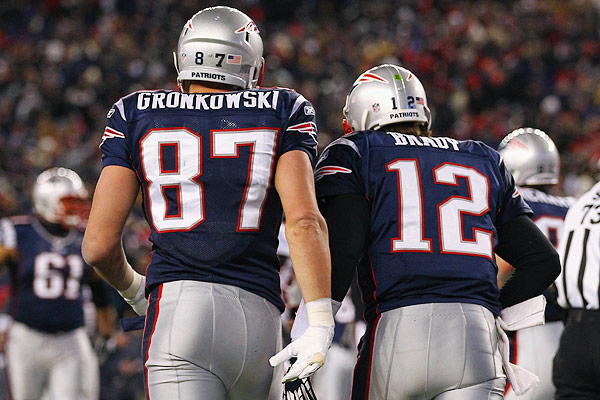 Al Bello/Getty ImagesTom Brady and the Patriots' effectiveness in the Super Bowl could ride on Rob Gronkowski's left ankle.
One of the key storylines leading up to the Super Bowl XLVI is the availability of
New England Patriots
tight end
Rob Gronkowski
. He was without a walking boot on media day, but it has yet to be seen if he will be 100 percent against the
New York Giants
on Sunday.
If he isn't, the Patriots offense might take on a new look.
The Patriots used two or more tight ends on 81 percent of their regular-season plays and have done so on 88 percent of their postseason plays (excluding spikes and kneel-downs). No other team has featured multiple tight ends on a higher percent of plays, and the Patriots don't have a third tight end on their roster.
If Gronkowski is limited or doesn't play, that would likely lead to more three-wide receiver sets. Outside of
Wes Welker
and
Deion Branch
, the Patriots haven't had a consistent threat from a third wide receiver this season.
Tom Brady
has thrown only 140 of his 681 passes this season with three wide receivers and just one tight end on the field. Although Brady is completing 71 percent of his passes with such personnel on field, he is also throwing an interception about once every 28 attempts, compared to once every 68 attempts with all other personnel groupings.
Less or no Gronkowski could also limit the versatility of
Aaron Hernandez
. Gronkowski has taken 61 percent of his snaps attached to the line of scrimmage. In contrast, Hernandez has taken 66 percent of his snaps and caught 52 of his 90 receptions when split out wide or in the slot. The Patriots may keep Hernandez in more often to compensate, which could lead to fewer mismatches.
If Gronkowski is able to play he may not be at 100 percent, which could limit his performance in areas he normally excels.
Gronkowski finished the regular season with the fourth-most yards after the catch (641), most among tight ends. The only tight end to average more yards after the catch per reception was
Brent Celek
(7.9 to 7.1).
Of course, the Patriots could opt to base Gronkowski's playing time on the situation. Only
Calvin Johnson
has more red zone touchdowns than "Gronk" the past two seasons, and no Patriots receiver has been nearly as effective in the end zone.
January, 28, 2012
1/28/12
12:33
PM ET
Rick Stewart/Getty ImagesRedskins quarterback Doug Williams is one of several players whose Super Bowl performance was viewed as surprising, given his statistical history.
We invited those who have friended us on the
Stats & Information Facebook page
to send us some statistically-oriented questions related to the Super Bowl.
Here are a few that we were able to answer:
Christopher Gachko asks: "Statistically, who had the most surprising performance in Super Bowl history (ie: reg season/career average stats vs. performance in Super Bowl)."
The most statistically-surprising Super Bowl performance may belong to Timmy Smith of the 1987
Washington Redskins
.
Smith rushed for a Super Bowl record 204 yards and two touchdowns in Super Bowl XXII against the
Denver Broncos
. Smith played just 17 regular season games in his career, amassing 602 yards and just three touchdowns. The Super Bowl was only the seventh game of his NFL career.
At the wide receiver position, the biggest statistical surprise may have been in Super Bowl I, when Max McGee of the 1966
Green Bay Packers
had seven catches for 138 yards and two touchdowns in a 35-10 win over the
Kansas City Chiefs
.
McGee had only four catches that season, not posting more than one in any game. He hadn't had a game with that many receiving yards since November 1964.
Also of note in one regard is
New England Patriots
wide receiver
Deion Branch
, who had 10 catches in Super Bowl XXXVII and 11 his MVP winning performance in Super Bowl XXXIX. Though Branch has had many fine games in his NFL career, he's only had one other game with at least 10 catches.
The quarterback whose Super Bowl performance was the furthest out of line with everything else he did in his postseason career is Doug Williams, also of the 1987 Redskins. Williams completed 18-of-29 passes for 340 yards and four touchdowns.
In his six other playoff appearances, Williams completed just 36 percent of his passes, with five touchdowns and 10 interceptions.
On the negative side,
Oakland Raiders
quarterback
Rich Gannon
threw a record five interceptions in Super Bowl XXXVII against the
Tampa Bay Buccaneers
despite doing so just once in his career. The games came over 12 years apart.
Wade Fuller asks: "Is there any relationship between the distance a team's home stadium is from the location of the Super Bowl and the winner of the game?"
The last six champions have traveled shorter distances to the Super Bowl than the teams they beat.
Historically, there has been a slight edge for the teams who travel a shorter distance, with those teams going 25-20 in the 45 Super Bowls.
The
New York Giants
traveled roughly 150 fewer miles to Indianapolis than the New England Patriots.
Mike Cook asks: "A post on which regular season stats correlate most strongly with Super Bowl outcome would be interesting. In other words, which is the most useful predictive stat to use for comparing the two teams: total yards, points allowed, yards per passing attempt, turnover margin, etc."
Defense wins championships and for the most part that has been true. From 1966 to 2005, only two Super Bowl champions (1976 Oakland Raiders, 1983 Los Angeles Raiders) finished outside of the 10 in points allowed.
However, three of the last five champions finished outside the top 10 (2006 Colts, 2007 Giants and 2009 Saints), and this year's champion will too. The Patriots ranked 15th while the Giants ranked 25th.
John McTigue contributed research to this post