Stats & Info:

Denny Hamlin
February, 21, 2014
Feb 21
4:15
PM ET
Tom Pennington/Getty ImagesDenny Hamlin has already won the Sprint Unlimited and his Budweiser Duel this year.
The most important part of SpeedWeeks, the three points races for the Camping World Truck, Nationwide and Sprint Cup series, are still yet to come, but the past week of action at Daytona has already made an impression.
Who has already made an impact, and who in line to make even more history?
It's Denny Hamlin's Week
Denny Hamlin
put a bright spin on a largely downer 2013 season by winning the season finale at Homestead last year, and he carried that momentum into 2014, starting by winning last Saturday's Sprint Unlimited, along with his Budweiser Duel race on Thursday.
Winning both of those races in a single season is not an unusual feat. In fact, it's now happened in three of the last four years (2013:
Kevin Harvick
, 2011:
Kurt Busch
).
What would be unusual is if he went on to win Sunday's Daytona 500. This is the 14th time a driver has won both the Unlimited and his qualifying race in the same season. None of the previous 13 went on to win the 500 that same year.
In fact, since 2000 it's been done five other times, and more often than not the driver has finished outside the top 35 in the Daytona 500.
Due for a Second?
The 1993 Daytona 500 was one of the most memorable in event history.
Dale Jarrett
won in an upset, holding off
Dale Earnhardt
by 0.16 seconds for his second career Cup Series win, and the first for Joe Gibbs Racing, with his father Ned cheering him on from the broadcast booth.
Twenty years later, and Joe Gibbs Racing has grown to become one of the premier NASCAR teams, but it still has just the one Daytona 500 victory.
SpeedWeeks has gone excellently for Gibbs so far, as Hamlin won the Unlimited and his Duel, and
Matt Kenseth
won the first Duel race.
According to Racing Resources, JGR is the first team to sweep both Duel races in the same season.
Got a Second?
The theme with many drivers' Daytona histories focuses around second place.
•
Terry Labonte
: the last-lap wreck in the second Duel race helped him get in. It's his 32nd Daytona 500 start, second all-time to
Dave Marcis
(33). His best finish? Second.
• Kurt Busch: He's a three-time Daytona 500 runner-up. That ties him with Terry Labonte for the most second-place finishes in the Daytona 500 without a win.
•
Dale Earnhardt Jr.
: He's finished second in three of the last four 500's. His four career second-place finishes in the Daytona 500 are tied for second all-time behind Dale Earnhardt Sr.
•
Tony Stewart
: A win in the 500 would not only give him a long-awaited victory in the Great American Race, but would make him the second driver with 20 career Daytona wins (in all major races, points and non-points). He'd be second to Dale Earnhardt (34).
April, 4, 2013
4/04/13
9:16
AM ET
By
Tom McKean & Matt Willis, ESPN Stats & Information
| ESPN.com
Jerry Markland/Getty ImagesDenny Hamlin will be sidelined at least 6 weeks because of a compression fracture in his lower back.
Martinsville Speedway will be missing one of its most dominant drivers this weekend, as
Denny Hamlin
recovers from a compression fracture suffered in a wreck at California on the final lap.
Hamlin could miss five races with the injury, and
Mark Martin
will be in his No. 11 machine at Martinsville.
Hamlin has been one of the most successful drivers in Cup, especially over the past couple of seasons. Since the start of 2010, no driver has more than his 14 Cup wins.
He's also been relatively consistent. Entering this season, Hamlin has a streak of seven straight years with a Cup win.
There haven't been many recent examples of Cup drivers missing time due to an injury suffered on the track, but two of the most notable include
Dale Earnhardt
Jr. last fall due to a concussion and
Sterling Marlin
in 2002 with neck injuries after a wreck at Kansas.
Marlin was in the midst of a strong season, and was in realistic contention for the championship at the time.
It's early in the season, but potentially missing five Cup starts would make it very difficult to make the Chase. In that scenario, the most realistic route would be to remain in the top 20 in points and take one of the two Wild Card positions for the most wins by a driver 11-20th in points.
Why is a top-10 position in the standings unrealistic?
In the current points system (since 2011), it's taken an average of 795.5 points to get 10th in points after 26 races.
Hamlin has already run five races and earned 145 points. If he misses the next five, he has 16 races left to pick up 650.5 points (40.7 per race, or between a 3rd- and 4th-place finish on average).
As for 20th, that is significantly more realistic. He needs to average about 32 points per start, or a 12th-place finish in those 16 races.
It's an especially difficult stretch for Hamlin to miss, as three of the next five tracks on the schedule are among Hamlin's most successful venues, as you can see in the table.
What's more, his 4.2 average finish in spring races at Martinsville since 2007 is the best in Cup.
October, 26, 2012
10/26/12
11:11
AM ET
Rob Grabowski/US PresswireCan Brad Keselowski hold off Jimmie Johnson at Martinsville to maintain his Chase lead?
The Chase for the NASCAR Sprint Cup rolls into Martinsville Sunday (ESPN, 2 ET) with
Brad Keselowski
pacing the field. He leads
Jimmie Johnson
by a slim seven-point margin and
Denny Hamlin
by 20, but that championship lead could vanish at the shortest venue on the Cup schedule.
History has shown that drivers need to have a good run here in order to win the Chase title. Of the eight prior Chase champions, four won the Martinsville Chase event, two finished second and no eventual champion finished worse than fifth.
That's great news for Johnson and Hamlin, who have dominated recently at Martinsville. Among drivers with more than five starts at the track, only Hall of Famer
Lee Petty
has a better average finish there than those two drivers.
Johnson is Martinsville Master
Johnson's 5.8 career average finish at Martinsville is the fourth-best in Cup Series history by a driver at any track with at least 20 starts. He's also posted a 2.0 career average finish in Chase starts at Martinsville, and has four wins in eight events.
Since 2006, no one has been quicker at Martinsville than Johnson during the Chase. In that span, he's posted the fastest lap 425 times, 126 more than any other driver (fastest laps run are the amount of laps in which a driver was the fastest on the track).
Hamlin Holds Edge Recently
Similar to Keselowski, Hamlin is seeking his first career Cup title; but unlike the points leader, Hamlin has been very strong at Martinsville. He's won three of the last six Martinsville races, and has 12 top-10 finishes at Martinsville in 14 starts.
Hamlin has also led 892 laps at Martinsville since 2009, the most among any Cup driver. Keselowski, meanwhile, has never finished better than ninth in five career Martinsville starts and has led only two laps.
Both of Keselowski's wins in the Chase, however, have come at tracks where he had never won in Cup before (Chicago and Dover). He's also posted eight victories since the start of 2011, which is tied with
Tony Stewart
for the most in Cup.
Earnhardt Jr. Returns
After being sidelined for two races with a concussion suffered at Talladega,
Dale Earnhardt
Jr. has been cleared to return to Cup this weekend. His 10 career top-5 finishes at Martinsville are his most at any Cup track, and he has finished seventh or better in his last four Martinsville starts.
October, 11, 2012
10/11/12
3:32
PM ET
Rainier Ehrhardt/Getty ImagesDale Earnhardt Jr. was looking forward to the 1.5-mile tracks at Charlotte and Kansas.
It was announced Thursday that
Dale Earnhardt
Jr. will miss both Charlotte and Kansas after being diagnosed with a concussion this week, snapping his streak of 461 consecutive Cup starts, which was the fifth-longest active streak.
Earnhardt Jr. enters this weekend 11th in the Chase standings and 51 points adrift of the leader, meaning he had virtually no chance at a title even before it was announced he would not compete in the next two events.
NASCAR.com
projections gave him just a 1.7 percent chance of claiming the championship, the worst of any Chase driver.
As for the upcoming schedule, the two tracks Earnhardt Jr. will miss are both 1.5 miles. That's significant, because no driver had a better average finish on 1.5-mile venues this season than Earnhardt Jr. (7.4). He finished seventh at Kansas in the spring and sixth at Charlotte.
Keselowski Up Against the Odds
Elsehwere,
Brad Keselowski
enjoys a 14-point lead over
Jimmie Johnson
in the Chase standings as the series heads to Charlotte, thanks in part to a top-10 finish in all four Chase starts this year. He's the only driver to notch four top 10s in the Chase, and his 3.8 average finish in that span is by far the best in Cup.
He's on top despite leading just 94 laps during the Chase while both Jimmie Johnson and Denny Hamlin have led over 200 each. He was able to add to his points lead at Talladega, however, by avoiding major damage in the final wreck and finishing seventh. Keselowski picked up 11 spots on the final trip around, while Johnson finished 17th after failing to gain any positions on the final lap.
Five-time champion Johnson is still very much alive, however, and heads to one of his strongest venues. His six wins at Charlotte are tied with legends
Bobby Allison
and
Darrell Waltrip
for the most all-time, and he has been very strong on 1.5-mile tracks this season, which comprise four of the final six events, including Charlotte.
Johnson has an 8.6 average finish on 1.5-mile tracks this season while Keselowski's is just 12.7.
Hamlin is certainly another title contender as he trails the leader by 23 points. He is the only driver to have multiple wins on the remaining tracks this season (won at Phoenix and Kansas), and among Chase drivers, his 4.4 average finish this year on remaining tracks is also best.
September, 14, 2012
9/14/12
8:00
PM ET
By
Matt Willis, ESPN Stats & Information
| ESPN.com
Last season's Chase for the NASCAR Sprint Cup came down to a final-race, down-to-the-closing-lap battle between
Tony Stewart
and
Carl Edwards
. Stewart won the title in unprecedented fashion: a tiebreaker over Edwards.

Johnson
Not pictured in that thrilling finish was
Jimmie Johnson
, who finished a career-worst sixth in the points. But if the first 26 races of the 2012 Sprint Cup Series season are any indication, Johnson will be right in the midst of the title chase because he's been showing more speed than any driver this season. That's best shown by looking at how he's distanced himself from the field in fastest laps run.
Fastest laps run is a measure of who is the fastest driver on the track on every green-flag lap. This season, Johnson has been the fastest driver on more than 12 percent of all laps. The next highest is
Denny Hamlin
, at 8 percent. However, Hamlin has turned his speed into four wins, Johnson has three.
Johnson also has the advantage of driving for the fastest team, Hendrick Motorsports. Johnson's teammates
Kasey Kahne
,
Jeff Gordon
and
Dale Earnhardt Jr.
rank third, fourth and sixth, respectively.
Dating back to 2006, when NASCAR began tracking the statistic over the course of the season, only two drivers have finished a season running more than 12 percent of the total fastest laps run: Johnson at 14.8 percent in 2009, and Edwards at 12.1 in 2008. Edwards finished second that season to Johnson in the points.
Although Johnson's three wins this season aren't eye-popping, his consistency has been taken up a notch. Johnson enters the 2012 Chase with 12 top-five finishes, the most he's had entering the Chase since 2007.
He also has 17 top-10 finishes in 26 races entering the Chase. The only time he's had more at this point since the Chase began in 2004 was 2006, when he had 18 top-10 finishes en route to the first of five consecutive championships.
Not only has Johnson been fast this season, but he's also been tough to pass. In the first 26 races, Johnson was passed 1,479 times under the green flag on the racetrack; that seems like a high number until you consider that it's 238 fewer than any other driver.
Johnson also has a +202 green-flag pass differential this season, simply meaning he's passed drivers 202 more times than he's been passed on the track. Only three other drivers are even over +100 this season and Johnson is 65 spots ahead of second-closest driver, Tony Stewart, who's at a +137.
The Chase schedule also sets up very well for Johnson. Half of the 10 races will be held at 1.5-mile tracks, including Sunday's opener at Chicago (1 ET on ESPN). In Sprint Cup Series history, no driver has won more at these tracks than Johnson, with 16 victories in 106 career starts.
April, 23, 2012
4/23/12
4:10
AM ET
Stats & Info insights into this morning's top sports stories.


1. LAKERS BEAT THUNDER IN WILD GAME:
The
Los Angeles Lakers
defeated the Oklahoma Thunder, 114-106, in double overtime. One of the best games of the season was marred by an incident late in the second quarter.
Metta World Peace
was ejected after he hit Thunder guard
James Harden
in the head with his elbow. The Lakers forward has been suspended 13 times, totaling 111 games, in his career.
2. KINGS COMPLETE HUGE UPSET:
The
Los Angeles Kings
shocked the
Vancouver Canucks
, 2-1, in overtime to win the Western Conference Quarterfinals in five games. According to Elias, Vancouver is the first Presidents' Trophy-winning team to be knocked out in the first round of the playoffs in fewer than six games.
3. YOUNG SEGUIN SAVES THE DAY:
The
Boston Bruins
defeated the
Washington Capitals
, 4-3, behind the first career playoff OT goal of 20 year-old
Tyler Seguin
. Each game in this series has been decided by one goal. According to Elias, the Bruins-Capitals series is the first in NHL playoff history in which each of the first six games were decided by a one-goal margin.
4. HAMLIN WINS AT KANSAS:
Denny Hamlin
won the NASCAR Sprint Cup Series race at Kansas Speedway. It's Hamlin's second win of 2012, and 19th of his Cup Series car. The win also marked the 199th Cup win for the #11 car, making it the winningest car in series history.
5. KENNEDY WINS AGAIN:
The
Arizona Diamondbacks
defeated the
Atlanta Braves
, 6-4, as
Ian Kennedy
improved to 3-0 this season. According to Elias, Kennedy has won his last nine regular-season decisions, tying him with
Clayton Kershaw
for the second-longest current winning streak in the majors, behind
Ivan Nova
(15).
February, 28, 2012
2/28/12
10:31
AM ET
By
Trevor Ebaugh, ESPN Stats & Info
| ESPN.com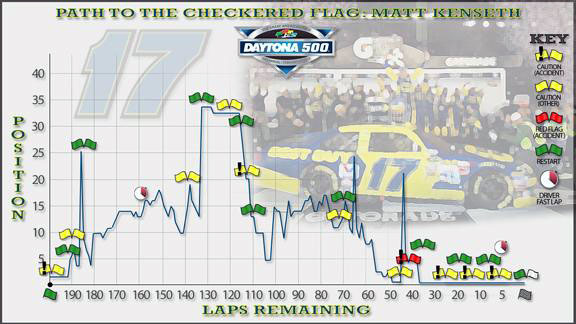 ESPN Stats & InformationAfter languishing near the back of the pack in the early laps, Matt Kenseth led the final 38 laps on the way to his second career Daytona 500 win.
Matt Kenseth
overcame overheating problems early in the race to win the Daytona 500 for the second time in the past four years. Here's a look at the road he took to Victory Lane.
Lap 2
Kurt Busch
,
Danica Patrick
,
Trevor Bayne
and
Jimmie Johnson
are involved in a wreck in Turn 1. It's the earliest accident in the Great American Race since 1990, as there hadn't been a wreck before Lap 5 in the previous 22 Daytona 500s. It was Johnson's fifth accident in the past six 500s, the second-most among drivers over that span.
Lap 43
Kenseth turns a blistering lap of 44.861 seconds, which remains his fastest time until he tops it with a time of 44.746 with six laps to go.
Lap 81
Jeff Gordon
's engine explodes and catches fire. With teammate Jimmie Johnson in the garage after completing only one lap, Hendrick Motorsports is having a 500 to forget. Gordon and Johnson combine to record 82 laps and only seven points.
Lap 92
In the 12 laps following Gordon's engine failure, Kenseth trims a whopping 55-second deficit to a 0.1650 one, moving from 32nd to fifth in the process. Kenseth takes advantage of
Terry Labonte
's caution on Lap 88 (spun by
Marcos Ambrose
), entering the pits in 10th place and leaving them in fifth.
Lap 142
Kenseth chases down leader
Denny Hamlin
and passes him three laps later. Running ninth on Lap 137, Kenseth charges through the field and takes the lead on Lap 146. Following a pit stop for
David Stremme
's blown engine (and a 2-hour, 5-minute red flag after
Juan Pablo Montoya
hit a jet-dryer truck under caution), Kenseth retakes the lead for good on Lap 165.
Lap 201
Kenseth holds off
Dale Earnhardt Jr.
and teammate
Greg Biffle
by hundredths of a second on the race's final restart to claim the checkered flag.