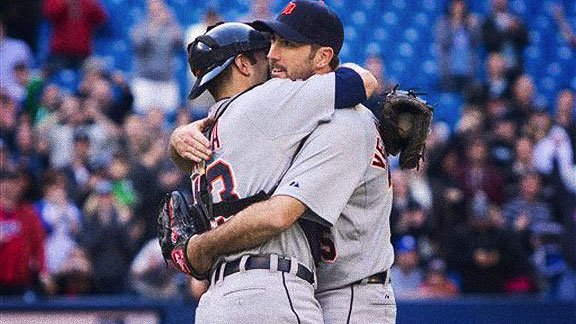 AP Photo/The Canadien Press/Darren Calabrese
Justin Verlander got to celebrate both a no-hitter and Cy Young Award in 2011.
There's no shortage of statistical superlatives when describing the season of Detroit Tigers starting pitcher Justin Verlander.
He's the first Tigers Cy Young Award winner since reliever Willie Hernandez won in 1984, and only the second Tigers starting pitcher to win the award, joining Denny McLain, who won in 1968 and shared the award in 1969. Verlander and McLain are the only pitchers in Tigers history to finish a season with a WHIP (walks and hits per inning pitched) under 1.00 (minimum 20 decisions). McLain did so in 1968, when he won 31 games.
Verlander led the AL in wins, ERA, strikeouts, WHIP, and innings pitched. He was the first pitcher to win the AL pitching Triple Crown since Johan Santana for the 2006 Twins.
He was the first pitcher to win at least 24 games and throw a no-hitter in the same season since Sandy Koufax won 26 games and pitched a no-hitter for the 1965 Dodgers. He's the first AL pitcher to accomplish the feat since Bob Feller for the 1946 Indians.
Verlander was able to turn the velocity up on his fastball as the game went longer. He averaged around 96 mph with it in the seventh through ninth innings, about 1.5 mph greater than in the first three innings.
Only five starting pitchers threw a fastball clocked at 99 mph or greater this season. Verlander did so 71 times, 44 more than the next closest, Dodgers pitcher Rubby De La Rosa.
Justin Verlander
2-Strike Pitch Usage (2009 vs 2011)
But it was Verlander's other pitches that made him so good in 2011. Over a two-year period, Verlander increased the number of successful options he had with a two-strike count.
In 2009, he threw fastballs nearly 60 percent of the time with two strikes. He reduced that to 46 percent in 2011, increasing how often he threw his curveball, changeup and slider (see chart on right).
His strikeouts on fastballs went from 134 to 2009 to 88 in 2011.
Verlander's strikeouts from his other pitches increased from 130 in 2009 (ninth-most in the majors) to 162 this year (fourth-most in the majors).
He cut 20 points off his opponents' batting average with two strikes (from .154 to .134) and 41 points off his opponents' OPS (from .436 to .395).
Some think that Verlander may win MVP honors. He would be the first starting pitcher to do so since Roger Clemens in 1986. If he does win, he may want to pay extra thanks to his teammates. He may have gotten some statistical help from the Tigers defense.
With the exception of centerfielder Austin Jackson, Detroit's defense didn't perform at a high level statistically this season. But when Verlander pitched, things went right.
Our pitch-performance data shows that opponents got 66 hits on the 106 line drives they hit against him. That .623 batting average sounds impressive, but it is 94 points below the major league average of .717. The average pitcher would have given up 10 more hits than Verlander did.