December, 21, 2013
12/21/13
10:06
AM ET
By
ESPN Stats & Information
| ESPN.com
Getty ImagesWR Marqise Lee (left) leads No. 25 USC against QB Derek Carr and No. 20 Fresno State in the Royal Purple Las Vegas Bowl (Saturday, 3:30 ET on ABC).
•
Fresno State
senior QB
Derek Carr
will cap his illustrious career in this game. He has a QBR of 83.9 this season, fourth in the FBS, behind only
Jameis Winston
,
Marcus Mariota
and
Teddy Bridgewater
.
Carr's opponent-adjusted QBR takes a hit however (77.5, 19th in the FBS) because of the level of Fresno State's competition.
• Carr has been sacked on only 1.8 percent of his passing plays, the lowest rate in the FBS. Fresno State has yielded 11 sacks this season and has attempted 620 passes.
• Carr shares a hometown with USC's
Cody Kessler
, his opposing QB in this game. Both are from Bakersfield, CA (Carr was two years ahead of Kessler). "Cody and I are good friends," Carr said. "We'll be trash-talking him and telling him to lighten up his defense."
• This is only the third meeting between these schools and first since USC's undefeated regular season of 2005. In November of that season, AP No. 1 USC beat No. 16 Fresno State, 50-42.
The Bulldogs came close to pulling off the upset, leading 42-41 in the fourth quarter. Reggie Bush ran for 294 yards and set a Pac-10 record with 513 all-purpose yards (the Trojans later vacated the win due to NCAA penalties).
The only other meeting came in the 1992 Freedom Bowl in Anaheim, CA. Fresno State and QB Trent Dilfer won, 24-7.
• These teams will open next season against one another. According to the Elias Sports Bureau, it will be just the seventh time that two teams met in a season opener after playing in a bowl game to end the previous season.
• Offensive coordinator Clay Helton will coach for
USC
in this game. He rounds out what has been a tumultuous year at USC's head coaching position: Lane Kiffin started the season as coach, then Ed Orgeron took over as interim coach after Kiffin was fired.
Following the regular season, USC announced that Steve Sarkisian was hired as head coach and Orgeron decided to resign from the program.
November, 26, 2013
11/26/13
1:25
PM ET
By
Sharon Katz
| ESPN.com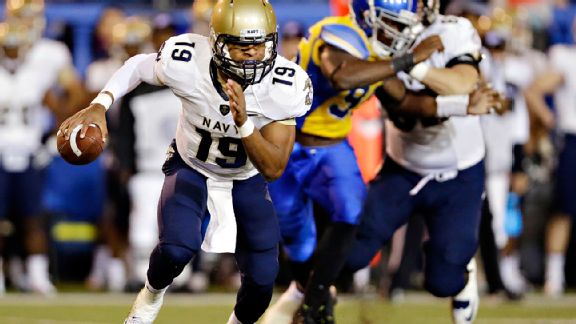 AP Photo/Marcio Jose SanchezKeenan Reynolds ran all over the field for Navy this weekend.
Week 13 had its share of big-time performances as
Navy's
Keenan Reynolds
rushed for an FBS quarterback-record seven touchdowns,
Wyoming's
Brett Smith
accounted for a FBS single-game high eight touchdowns and
Fresno State's
Derek Carr
threw for a school-record seven touchdowns.
With the help of ESPN's new college football metrics (see explanations
here
), ESPN Stats & Information takes a look back at the best performances of Week 13 and ahead to the chances of
Alabama
,
Florida State
and
Ohio State
remaining undefeated.
Best Individual Performances
In the past, this article has used opponent-adjusted QBR to rank the best individual performances of the week.
Total QBR
is a rate stat that measures efficiency. In Week 13,
Kevin Hogan
(98.0),
Clint Chelf
(97.8) and
Braxton Miller
(97.1) had the top three opponent-adjusted QBRs of Week 13.
Points above average (PAA) is another stat that can be used measure the top individual performances. PAA totals the number of points that a player contributes to his team's net scoring margin above what an average quarterback would have.
PAA is a counting stat (rather than a rate stat) that accounts for both efficiency and the number of plays. If a quarterback has a high PAA, he was likely efficient and involved in a lot of plays. Week 13 featured four of the top 10 single-game PAAs of the season:
Keenan Reynolds
(19.0 PAA) rushed for seven touchdowns in
Navy's 58-52 triple-OT win
over
San Jose State
on Friday night. Reynolds set an FBS record for rushing touchdowns by a quarterback in a game, a mark previously held by Dee Dowis (Air Force, 1989) and Craig Candeto (Navy, 2002).
Brett Smith
(18.6 PAA) threw for a single-game school-record seven touchdowns and 498 yards while leading
Wyoming to a 59-56 overtime win
against
Hawaii
on Saturday. Smith also ran for 142 yards and a touchdown. Smith's 640 yards of total offense and eight touchdowns are the most by an FBS player in a game this season.
Marquise Williams
(16.4 PAA) tied the school record for passing touchdowns (five) and was third in single-game total offense (469 yards) by halftime in
North Carolina's
80-20 rout
of
Old Dominion
. He helped the Tar Heels rack up a school-record 721 total yards of offense in a game that did not even last 60 minutes.
Derek Carr
(15.8 PAA) threw for 522 yards and a school-record seven touchdowns in
Fresno State's 69-28 win
against
New Mexico
. He had the third-most passing yards and tied Brett Smith for the most passing touchdowns in a game this season.
Best Teams Performances
Offense
– Fresno State added 48.7 expected points to its net scoring margin on offense in its 69-28 win against New Mexico, the highest offensive EPA in a game this season. The Bulldogs racked up a school and league record 822 yards of total offense and averaged 9.9 yards per play.
Defense
– Oklahoma State contributed 17.5 expected points to its net scoring margin on defense in its 49-17 win against Baylor. The Bears were averaging 61.2 points and 684.8 yards per game entering the game, but were held to 17 points and 453 yards by the Cowboys. Oklahoma State is the first team to hold Baylor to a below-average offensive efficiency rating in a game in the last three seasons.
Special Teams
–
Nebraska
added 12.5 expected points on special teams in its 23-20 win against
Penn State
. The Cornhuskers blocked a punt and returned a kickoff 99 yards for a touchdown. They were also the beneficiaries of a missed extra point in the first quarter and missed field goal in overtime.
Looking ahead to rest of the season
After
Baylor
lost to Oklahoma State on Saturday, there are three remaining undefeated teams from BCS AQ conferences vying for a spot in the BCS National Championship.
Alabama
,
Florida State
and
Ohio State
are all deserving of a spot in the title game, but at least one will be left out.
What are the chances that all three teams will be undefeated entering bowl season? According to projections run by Analytics Specialist Alok Pattani, there is a 29 percent chance that all three teams will be undefeated after their conference championships.
Alabama has the toughest remaining schedule. The Tide have to play on the road at Auburn on Saturday, and if they win, against either Missouri or South Carolina in the SEC Championship. There is a 46 percent chance that the Tide win both of those games.
Florida State has the easiest remaining schedule, and there is an 87 percent chance that it wins its remaining two games.
So, while Ohio State appears to be on the outside looking in, there is a 60 percent chance that either Alabama or Florida State does not win out. Keep these projections in mind as Alabama heads to Auburn, Florida State travels to Florida (Noon ET, ESPN) and Ohio State goes to Michigan (Noon ET, ABC) on Saturday.
October, 8, 2013
10/08/13
12:21
PM ET
By
Jungkyu Lee & Rob Nelson, ESPN Stats & Info
| ESPN.com
Stephen Lam/Getty ImagesTy Montgomery returning the opening kickoff 99 yards for a score vs Washington Saturday.
Week 6 featured several exciting games.
Georgia
needed overtime and a fumble in the end zone to beat
Tennessee
,
Ohio State
came back from a 10-point second-half deficit to defeat
Northwestern
, and
Jameis Winston
continued his brilliance in his first game against a ranked opponent.
With the help of ESPN's new college football metrics (see explanations
here
), ESPN Stats & Information looks back on Week 6 and ahead to this weekend's matchup between
Oregon
and
Washington
.
We first look at how
Stanford's
special teams were the difference in its three-point win against Washington.
The Cardinal posted a +15.3 special teams EPA (expected points added is the contribution of each unit to team's net points in a game) Saturday, the highest for any team in a game this season.
They returned the opening kickoff for a touchdown and made their only field goal attempt. Additionally,
Ben Rhyne
punted six times for a career-high net average of 42 yards.
As a result, the Huskies' average drive start was their own-23 yardline, almost 15 yards farther than the Cardinal's average drive start. It was Washington's worst starting field position differential of the season.
With a -2 and a -10.2 offensive and defensive EPA, respectively, Stanford would have lost to Washington by about 12 points if the Cardinal had an "average" special teams unit.
Best Individual Performances
Bryce Petty
(97.1 Total QBR) has now posted a Total QBR of at least 90 in each of
Baylor's
first four games. Petty threw for 342 yards in the first half against
West Virginia
, as Baylor scored an FBS-high 56 points before halftime for the second time this season.
AJ McCarron
(97.0 Total QBR) matched his career high with four touchdowns against
Georgia State
, all coming in the first half. McCarron only had one incompletion on 16 passes and led the
Crimson Tide
to touchdowns on all five of the drives that he quarterbacked.
Derek Carr
(97.0 Total QBR) threw for 390 yards in the first half against
Idaho
, the most passing yards in a half by an FBS quarterback during the last two seasons. Carr threw five touchdowns, extending his FBS-leading streak of 25 games with a touchdown pass.
Connor Shaw
(96.2 Total QBR) posted a Total QBR of at least 90 for the first time this season, despite playing with a shoulder injury that knocked him out of the UCF game the previous week. Shaw completed 17-of-20 (85 percent) passes against
Kentucky
, his third-highest completion percentage in 25 career starts.
For a full list of Total QBR leaders for the season and Week 6,
click here
.
Best Team Performances
Offense: Baylor. In a 73-42 rout of West Virginia, the Bears added 40.6 expected points on offense, which means if Baylor had an average offense, it would have actually lost by almost 10 points.
The Bears' output was the most offensive expected points added in a single game against any FBS opponent this season. Baylor now holds the top two offensive EPA performance against an FBS opponent this season.
Defense:
Texas Tech
. The Red Raiders defense added 31.3 expected points on defense in a 38-point victory over
Kansas
. Texas Tech forced four fumbles (three lost), sacked the Jayhawks four times and held them to 3-for-16 on third downs.
Looking ahead to Week 7
Oregon is traveling north to face Washington. In addition to hosting the Ducks, the Huskies will also host College GameDay.
Oregon, primarily known for its offense, has added the most expected points on defense among FBS schools (99.7). Opposing quarterbacks have a Total QBR of 23.3 against the Ducks this season, sixth lowest in the FBS.
Washington quarterback
Keith Price
has a Total QBR of 73.5 this season, up from 40.9 in 2012. Price will look to continue his improvement against an Oregon team that held him to a career-worst 10.1 Total QBR last season.
In the next week, ESPN Stats & Information will be releasing two new team ratings: the Championship Drive Rating and the Football Power Index (FPI). You will find an explanation of these ratings
here
.
The Championship Drive Rating will attempt to answer the question, "which teams deserve to be in the playoff based on what they have accomplished this season?" by focusing more on their résumé than who would win head-to-head.
The Football Power Index looks to answer the question, "if two teams were to meet at a neutral site, who has the advantage?" This metric is based on all facets of the team and adjusting it for the strength of its opponents.
August, 8, 2013
8/08/13
10:54
AM ET
By
Sharon Katz
| ESPN.com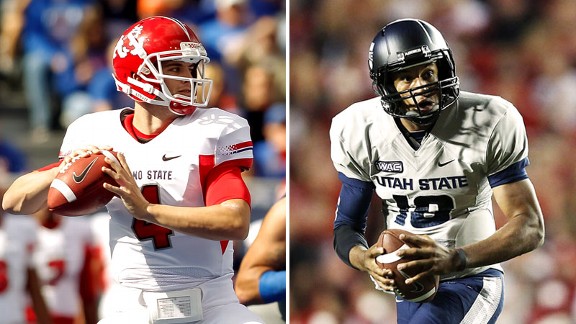 Derek Carr (left) and Chuckie Keeton (right) are among the top returning quarterbacks in the MWC.
The
SEC returns 11 of 14 starting quarterbacks
, including the reigning Heisman Trophy winner, the winner of two-straight BCS National Championships and the player on pace to break every major SEC passing record.
Yet, the SEC may not be returning the best crop of quarterbacks in the country. That honor could belong to the newly-revamped Mountain West Conference.
Nine of the 12 teams in the Mountain West Conference return their starting quarterbacks. Six of those quarterbacks were named to the
Manning Award watch list
, the most from any conference.
The Manning Award Watch List names the top 30 returning quarterbacks based on their 2012 Total QBRs.
Unlike other traditional quarterback stats, Total QBR uses all of a quarterback's plays (passing, rushing, sacks, fumbles and penalties) and accounts for the context of the game (down, distance, score).
As a result, dual-threat quarterbacks, such as
Nevada's
Cody Fajardo
, are graded on both their passing and rushing abilities.
Of these top 30 quarterbacks, six will be in the Mountain West Conference next season –
David Fales
(San Jose State),
Chuckie Keeton
(
Utah State
), Fajardo,
Brett Smith
(
Wyoming
),
Joe Southwick
(
Boise State
) and
Derek Carr
(
Fresno State
). No other conference had more than five players named to the list.
Unlike traditional statistics, Total QBR accounts for the strength of opposing defenses. As a result, the SEC quarterbacks are rewarded for facing tougher competition.
Even with this opponent adjustment, the top five returning quarterbacks in the Mountain West Conference averaged almost exactly the same Total QBRs as the top five returning quarterbacks in the SEC. They also averaged more total yards per game and accounted for more of their team's total offense than the group of SEC QBs.
The top three quarterbacks in the SEC –-
Johnny Manziel
, A.J. McCarron and
Aaron Murray
– are in a class of their own, but after Murray there is a big drop off in the next group of SEC passers.
Connor Shaw
, the SEC's fourth-ranked quarterback (23rd ranked returner overall), is coming off an injury and will likely split snaps with backup
Dylan Thompson
next season.
In comparison, the Mountain West Conference has five of the top 16 returning quarterbacks, and half of its quarterbacks rank in the top 25.
The additions of Fales and Keeton to the Mountain West Conference add depth. Fales completed an FBS-best 72.5 percent of his passes last season, and Keeton ran for 619 yards and eight touchdowns while leading the Aggies to 11 wins.
They will look to dethrone Carr, the unanimous first-team All Mountain West Conference selection who threw 37 touchdowns and seven interceptions last season. Southwick, Fajardo and Smith will all look to build upon strong 2012 seasons and contend for the title in the toughest quarterback conference in the country, according to QBR.