Stats & Info:

Devin Gardner
August, 5, 2014
8/05/14
12:53
PM ET
By
Gil Bransford
| ESPN.com
Jonathan Daniel/Getty ImagesBraxton Miller could become Ohio State's winningest quarterback since 1960.
The 2014 college football season has the potential to showcase one of the most talented groups of quarterbacks in recent memory. Jameis Winston, Marcus Mariota, Brett Hundley and Bryce Petty are all being talked about as potential first-round NFL draft picks, while Braxton Miller and Everett Golson have the chance to solidify their place in their respective school's storied histories.

In preparation for the 2014 season and in conjunction with interviews conducted by ESPN CFB analyst Kirk Herbstreit, ESPN Stats & Info will take a deeper look at the top QBs entering the fall. Today, we take a look at Ohio State quarterback Braxton Miller.
A look back at 2013
Braxton Miller had an outstanding junior season, becoming the first player in Big Ten history (since 1990 when the award was first given) to win the Offensive Player of the Year award in consecutive seasons. He was the only Power Five conference quarterback to throw for at least 2,000 yards and rush for 1,000 yards last year. If Miller can accomplish that feat again, he will join
Colin Kaepernick
and become the second FBS quarterback in the past 10 years to reach those thresholds in three seasons.
Miller has rushed for at least 100 yards in 14 games since the start of 2011, second most among FBS quarterbacks. He had five such games last season, which tied for fourth among FBS quarterbacks. Miller has always been a prolific rusher, but he's also improved as a passer every year at Ohio State. Miller's completion percentage, passing yards and touchdowns have increased every season.
He was more willing to operate from the pocket last year. He attempted 85 percent of his passes from the pocket, nearly 20 percentage points higher than in 2012. His 19 touchdown passes from inside the pocket were tied for the most in the Big Ten with Indiana's Nate Sudfeld and Penn State's Christian Hackenberg.
A look ahead to 2014
With another 11-win season, Miller will pass Art Schlichter for the most wins (36) on record at Ohio State (the school first kept such records in 1960). Assuming Miller stays healthy, he has a good chance of passing Schlichter.
According to the
ESPN Football Power Index
, Ohio State has the best chance (41 percent) of winning the Big Ten, nearly 20 percentage points better than Wisconsin, and is projected for between 10 and 11 wins heading into bowl season. The Buckeyes have won 24 consecutive regular-season games, four shy of tying the Big Ten conference record.
The Buckeyes have big shoes to fill. They must replace six of 11 starters on offense, including league-leading rusher Carlos Hyde and four starters from an offensive line that combined for 135 starts.
Miller might have to shoulder more of the load. In the past, he has stepped up when his team needed him. Miller enters 2014 with six career game-winning drives in the fourth quarter or overtime, including three last season. The six career game-winning drives are the most among returning FBS quarterbacks and five more than any other returning quarterback in the Big Ten.
One area in which Miller needs to get better is on third down. He ranked in the bottom third of the FBS in Total QBR (47.1) and completion percentage (50.9) on third down. Only Michigan's Devin Gardner and Purdue's Danny Etling were sacked more on third down than Miller (12) among Big Ten quarterbacks. Only two of the past 10 national championship quarterbacks have had a third-down QBR less than 70 in the season they won the title.
November, 3, 2013
11/03/13
2:15
AM ET
By
Sharon Katz, ESPN Stats & Info
| ESPN.com
Below are some storylines from Week 10 of the college football season using ESPN's new set of analytical storytelling metrics for college football.

For more background on these metrics, read Dean Oliver's primer on all of them and his explanation of college Total QBR. For complete college Total QBR information, go here.
Winston plays his best against top competition
Jameis Winston
posted a 90.7 Total QBR in Florida State's 41-14 win against No. 7 Miami. Winston was 6-of-8 on third down and had seven completions of 20 yards or longer.
In his two games against top-10 opponents, Winston has converted 86 percent of his third-down plays and has 14 completions that have gained at least 20 yards.
Wolverines' offense slowed
Michigan ran for -48 yards on 29 attempts in its 29-6 loss to Michigan State on Saturday. The Wolverines' offense contributed -22.8 expected points toward its scoring margin, its lowest offensive EPA in the past six seasons. Entering the game, Michigan State's defense ranked in the top three in the FBS in points per game, yards per game and defensive expected points added.
Michigan QB
Devin Gardner
had a career-low 8.5 Total QBR. He entered the game with a 79.2 Total QBR in his career as a starter, including a 84.8 Total QBR in conference games.
Gardner was sacked seven times for -49 yards, and he converted just two first downs in 13 third-down chances.
Gardner's 8.5 Total QBR is the lowest by a qualified Michigan starter since Chad Henne posted a 7.3 Total QBR against Ohio State on November 17, 2007.
Notable quarterbacks
•
Jordan Lynch
had a career-high 98.5 Total QBR in Northern Illinois' 63-19 win at Massachusetts. Lynch had 279 yards of total offense and was responsible for five touchdowns in the win.
In five conference games, Lynch is averaging 342.6 yards per game and has been responsible for 18 touchdowns. During that time he has added 39.4 expected points, the most of any quarterback in the FBS.
•
Braxton Miller
(95.0) and
Kenny Guiton
(97.8) each posted a Total QBR of at least 95 in Ohio State's 56-0 win against Purdue.
They are the second set of teammates to each post a Total QBR of 95 or more in a game this season (min 20 action plays). It also occurred when Oklahoma State's
J.W. Walsh
(98.1) and
Clint Chelf
(96.4) did so against UTSA on September 7.
October, 30, 2013
10/30/13
11:22
AM ET
By
Gil Bransford, ESPN Stats & Information
| ESPN.com
Michigan State is 7-1 with its lone loss coming at Notre Dame. The Spartans have been led by one of the best defenses in the nation. They are allowing 12.2 points per game, third fewest in the FBS, and have given up more than 17 points just once – a 42-28 win at Indiana.
Yards are tough to come by
Michigan State's defense has allowed the fewest yards per play (3.5) and yards per game (215.0) in the FBS. The Spartans have held every opponent to their season low in yards per play except for Purdue.
One reason for Michigan State's success is that it does not give up big plays. The Spartans have allowed 19 plays of 20 yards or more all season, second fewest in the nation. They allowed 16 of those 19 plays in the passing game. In the run game, Michigan State has allowed 10 carries to gain 10 yards or more, seven fewer than any other FBS team.
With yards coming at a premium against the Spartans, it should come as no surprise that Michigan State is the only FBS team that has not allowed a touchdown drive longer than 75 yards this season.
Spartans stuff the run
Michigan State is the only FBS team that has held every opponent to fewer than 100 rushing yards this season. The Spartans allow 2.1 yards per rush, on pace to be the lowest by an FBS defense since TCU allowed 1.7 during the 2008 season.
One key to the Spartans' success is they have not allowed much room to run. In eight games this season, Michigan State has allowed a total of 71 rushing yards before contact. To put how good that is in perspective, the AQ average for rushing yards before contact allowed
per game
is 79.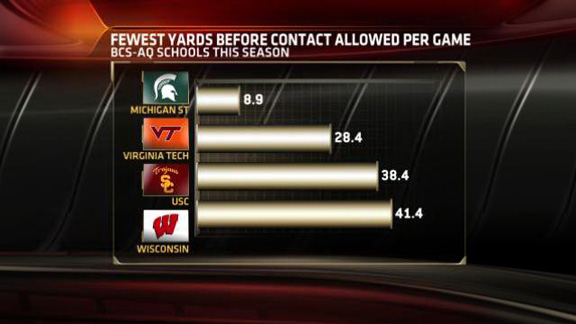 Michigan State is able to stuff the run without loading the box. The Spartans have averaged 6.5 defenders in the box on running plays in conference games, second fewest in the Big Ten behind Ohio State.
Spartans get off the field
Michigan State has forced a three-and-out on 49 percent of its opponents' possessions, tied for second-highest percentage in the FBS. The key has been forcing opponents into third down and long. Opponents have had at least 6 yards to go on 66 percent of their third downs against the Spartans, tied for sixth most in the FBS. As a result, opponents have converted a first down on 28 percent of their third downs against Michigan State, the third-lowest conversion rate in the FBS.
With Michigan State forcing opponents into a lot of passing situations on third downs, the Spartans have not conceded much on the ground. They have allowed an FBS-low six rushing first downs on third down. On 34 third-down carries this season, the Spartans have allowed a net of negative-1 rushing yard.
Michigan State's defense averages 14.4 EPA per game this season, second best in the FBS. That means Michigan State's defensive unit has added an average of 14 points per game toward its net scoring margin by controlling field position, forcing turnovers and limiting its opponents' scoring.
The Spartans will face interstate rival Michigan at home Saturday. The Wolverines' offense is led by
Devin Gardner
who has a 42.9 Total QBR in two road games this season and an 88.4 at home. This will be Gardner's first game at quarterback against Michigan State. If the Spartans can continue their defensive prowess, they should be in good position to get their fifth win in their last six games against the Wolverines, including its third straight in East Lansing.
September, 8, 2013
9/08/13
3:52
AM ET
By
Alok Pattani & Sharon Katz
| ESPN.com
Rick Osentoski/US PresswireMichigan's offense has been more efficient since Devin Gardner took over as starter last November.
Below are some storylines from Week 2 of the college football season using ESPN's new set of analytical storytelling metrics for college football. For more background on these metrics, read Dean Oliver's primer on all of them and his explanation of college Total QBR. For complete college Total QBR information, go here.
Michigan's Offense the Key to Victory over Notre Dame

Michigan came away with a
41-30 victory
over Notre Dame in large part due to its excellent offense. The Wolverines averaged 6.4 yards per play, scored 5 times on their 6 first-half possessions, finished 4-for-4 on scoring touchdowns in the red zone, and had only one big mistake (Devin Gardner's interception in his own end zone). The offense finished with an expected points added of +14.3, meaning they provided a 14-point difference in an 11-point victory. That was the 3rd-highest EPA allowed by the Notre Dame defense in 41 games under Brian Kelly.
Saturday was the latest example of how Michigan's offense has become much more efficient since
Devin Gardner
took over as starter last November. They've moved the ball better, converted third downs more frequently, and gotten much better overall quarterback play than they had in the first 8 games last season.
The net result is that Michigan's offense has increased from a very average +2.1 EPA per game before November 3 last year to a +13.5 mark since, which would rank in the Top 20 in FBS in that span.
Gardner finished with an 87.9 Total QBR on Saturday, his 5th game with a QBR above 85 in 7 starts. Though Gardner runs a lot less frequently than Robinson did, he's been an upgrade over Denard Robinson as both as a runner and a passer from an efficiency standpoint. Gardner has a Total QBR of 99.1 on rushing plays and a 68.8 QBR on pass plays the last two seasons; Robinson had a 88.3 QBR on rush plays and a 61.9 QBR on pass plays last year.
Florida's Red-Zone Ineptitude Gives Miami the Victory

Florida outgained Miami by 201 yards and 12 first downs in its
21-16 loss
on Saturday. However, the Gators' offense posted its lowest offensive EPA (-15.9) since their
17-9 loss
to Georgia last October (-28.5 Off EPA).
Stagnation on offense is nothing new for the Gators. Since the start of last October, Florida's offense contributed fewer than 10 points towards its net margin of victory in all 11 of its games, with a negative EPA in 7 of those games.
While they moved the ball down the field with some success, the major issue for Florida was the red zone. Excluding a red-zone touchdown resulting from a blocked punt, Florida's other five red-zone trips ended in 2 interceptions, a turnover on downs, a fumble, and a field goal. Overall, Florida's offense lost 19.0 expected points in the red zone, the most by a team in a single game this season (and the 3rd-most over the last 2 seasons). This means that if the Gators had just an average offense in the red zone and kept everything else the same, they would have won the game by about two touchdowns.
Most teams with a red-zone EPA that poor lose by a lot, but Florida only lost by 5 (in part due to a strong +9.8 EPA from their defense). If you look at teams that lost by 10 or fewer points, Florida's offensive EPA in the red zone was the lowest in a single game in the last 10 years, increasing their remorse over how just 1-2 better plays close to the Miami end zone could have changed the result.
September, 5, 2013
9/05/13
3:55
PM ET
By
ESPN Stats & Information
| ESPN.com
Matt Cashore/USA TODAY SportsNotre Dame and Michigan will play only the second night game at the Big House on Saturday.
Notre Dame
and
Michigan
will play the final scheduled meeting between the teams at the Big House Saturday night (8 ET on ESPN/WatchESPN). They still have one more meeting next year in South Bend.
Here are five storylines to know heading into the game.
1
. Since taking over as the starter for Michigan on Nov. 3, 2012,
Devin Gardner
has posted the second-highest Total QBR on third down (98.3) and the third-highest in the red zone (98.1) of any player with at least 30 action plays.
Last week against
Central Michigan
, the Wolverines scored five touchdowns in six red-zone trips, including all four times when Gardner was on the field.
Since taking over as starter, Michigan has scored 19 touchdowns in 22 trips to the red zone. In that time, Gardner has scored a touchdown on more than half of his 15 rushes inside the red zone.
2
.
Tommy Rees
has completed 57 percent of his passes thrown 20 yards or longer in the last two seasons, 19 percentage points higher than Everett Golson. Rees had two touchdowns on such passes in Week 1 vs.
Temple
, both going to
DaVaris Daniels
.
Rees had a career-high seven completions that gained 20 yards or more against the Owls. That's the most by a Notre Dame quarterback since Jimmy Clausen had seven in 2009 against
Washington
.
Michigan has allowed six touchdowns and has no interceptions on passes thrown 20 yards or longer since the start of last season. The Wolverines and
Utah
are the only two AQ defenses that do not have an interception on such passes.
3
. Notre Dame did not allow a rushing touchdown last season until Week 8 and entered the BCS National Championship having conceded two rushing touchdowns in 33 red-zone trips.
Since, the Fighting Irish have allowed three rushing touchdowns in eight red-zone drives, including a 1-yard touchdown against Temple in Week 1.
4
. Michigan has yet to lose at home under Brady Hoke (15-0), going undefeated at the Big House in each of the last two seasons (5-7 in road/neutral games). Hoke is the first Michigan coach to go undefeated at home in his first two seasons since Fielding Yost in 1901-02.
But only one of Hoke's 15 home games have come against a ranked team: 2011 vs No. 17
Nebraska
.
5
. If the Irish want to win, avoiding turnovers is a good start. Notre Dame is 11-0 under Brian Kelly in games in which it was turnover-free.
In games Notre Dame committed a turnover under Kelly, they are 18-11.
August, 22, 2013
8/22/13
11:39
AM ET
By
Robert Nelson, ESPN Stats & Info
| ESPN.com
Rick Osentoski/USA TODAY SportsDevin Gardner will have a lot of responsibility in 2013 as he tries to lead Michigan to a Big Ten title.
During his time in Ann Arbor,
Denard Robinson
put up huge numbers, passing for 6,250 yards and rushing for an FBS-record (for a quarterback) 4,495 yards in his career.
When Robinson went down with an elbow injury against
Nebraska
last season, Michigan turned to
Devin Gardner
, and Wolverine fans got to see a glimpse of their future. How bright is that future?
We can quantify how well Gardner performed using ESPN's new Total QBR metric for college football, which uses all of a quarterback's plays (passing, rushing, fumbles, sacks and penalties) and accounts for the context of the game situation while adjusting for the quality of defenses faced.
In five games last season, Gardner had a Total QBR of 90.6. Gardner did not have enough plays to qualify for the Total QBR season title, but among players with at least 175 action plays, he had the highest Total QBR in the country.
Johnny Manziel
(90.5) and
Marcus Mariota
(87.3) both finished the season with lower Total QBRs than Gardner.
A big reason the metrics love Gardner is because of his play in the red zone and on third down. Throw in the emergence of
Jeremy Gallon
, and Michigan fans have good reason to believe Gardner will be an upgrade over Robinson at quarterback.
Red-zone efficiency
Simply put, the
Michigan
offense excelled in the red zone with Gardner at quarterback, scoring on all 18 trips inside its opponents' 20, including 15 touchdowns.
Of those 15 touchdowns, Gardner accounted for 13 scores (six passing, seven rushing) while completing 67 percent of his passes and not throwing a single interception.
In the eight games Robinson started, the Michigan offense scored a touchdown on just half of its 28 red-zone trips.
Third-down passing
Eight of Gardner's 11 passing touchdowns last season came on third down. In his last two seasons combined, Robinson threw eight touchdowns on third down.
In addition to throwing more passing touchdowns on third down than Robinson last season, Gardner threw fewer interceptions, completed a higher percentage of his passes and averaged almost twice as many yards per attempt.
Gardner also ran for more touchdowns on third down than Robinson, who dazzled Michigan fans with his legs during his career.
Emergence of Gallon
With Gardner at quarterback in Michigan's final five games of the season, Gallon caught 31 passes and three touchdowns. In Michigan's first eight games, Gallon had 18 catches and one touchdown.
Gardner completed 66 percent of his passes when targeting Gallon, including six passes of 30 or more yards. Gallon went from a relative unknown to one of 75 players selected to the preseason watch list for the Biletnikoff Award, which honors the nation's top receiver, and is the unquestioned No. 1 receiver for the Wolverines.
Gardner and Michigan will be tested early when
Notre Dame
visits the Big House on Sept. 7 (8 p.m. ET, ESPN). In last season's loss to the Irish, the Wolverines did not score in six trips to the red zone.
Maybe Gardner will be the difference this time around.
April, 17, 2013
4/17/13
10:30
AM ET
By
Brett Perrotta & Sharon Katz
| ESPN.com
US Presswire, AP Photo
Devin Gardner (right) takes over at quarterback this season for Denard Robinson (left).
With the college basketball season in the books, College Football Live embarks on its Spring Bus Tour, visiting eight schools. Today we take a trip to check out the Michigan Wolverines.
2012 Season Recap
Michigan began the 2012 season with high expectations -- the Wolverines were ranked No. 8 in the AP preseason poll -- and had two games in the first four weeks against the teams that ended up playing for in the BCS Championship Game.
Eventual national champ and preseason No. 2 Alabama handed Michigan a 41-14 loss to open the season. The Wolverines turned it over three times against the Tide, a sign of things to come.
They committed 11 turnovers in their first four games, including six in South Bend three weeks later against No. 11 Notre Dame. Senior quarterback and Heisman contender
Denard Robinson
was responsible for five of the six turnovers, and 12 of the 27 that Michigan committed last season.
Robinson was injured against Nebraska in October, opening the door for
Devin Gardner
to step in at QB. Michigan won Gardner's first three games at the helm and he's the biggest reason for optimism in Ann Arbor.
Key Returning Players
Gardner was a more able passer than Robinson in a decent sample size (11 TD, 5 Int, 243.8 Pass YPG over five games). The key to Michigan's 2013 season is Gardner sustaining that production over a full season.
Gardner's favorite target,
Jeremy Gallon
will also be back. In the five games with Gardner under center, Gallon had 31 receptions for 511 yards and three touchdowns. Last year's starting running back,
Fitzgerald Toussaint
will also be back in the fold.
Taylor Lewan
passed up the NFL draft and will be back to protect Gardner's blindside. Lewan's presence will be crucial for the Wolverines, who lost three starters along the offensive line.
On defense, S
Thomas Gordon
, LB
Desmond Morgan
and LB
Jake Ryan
are expected to be major contributors -- all three players had at least 80 tackles last season. Michigan's defense last season allowed 320.0 yards and 19.9 points per game, both in the top 20 nationally.
2013 Schedule
Michigan opens the season against Central Michigan on August 31 and hosts Notre Dame the following week. This season will be the last time the Irish visit Ann Arbor for the foreseeable future (Notre Dame opted out of its contract with Michigan).
The big one is November 30, when the Wolverines host the
Ohio State Buckeyes
in the Big House. Michigan has lost to Ohio State in eight of the last nine seasons.