December, 4, 2014
Dec 4
12:48
PM ET
By
Evan Kaplan
| ESPN.com
AP Photo/Tim IrelandTony Romo has struggled in December but not on the road.
Tony Romo
leads the
Dallas Cowboys
against the Bears Thursday night, in his first December game this season. Much has been made about Romo's 12-17 career record in December, but he's 9-7 on the road in the month, with a considerably higher Total QBR in those games than in Dallas.
Why is this even more important this season? Three of the Cowboys final four games are on the road and Romo has been the best quarterback away from home in 2014.
Career in December
Romo's .414 December win percentage is worst in the NFL among the 11 players with at least 25 starts in the month since 2006. But, he is 9-7 on the road in the year's final month with a Total QBR of 63.6 in those games.
Compare that to his numbers at home in December -- a record of 3-10 with a QBR of 48.0.
On the road this season
Romo will lead the Cowboys on the road for three of their four December games, starting in Chicago against the
Bears
on Thursday. Romo has led the team to a 5-0 road record and his Total QBR of 88.2 away from home this season is not only the highest in the NFL, but on pace to be the second-highest by any quarterback in the last five seasons.
The Cowboys' last two road games are both against NFC East teams (Week 15 at Eagles, Week 17 at Redskins), and Romo's Total QBR of 73.5 in divisional road games in December is fifth in the NFL since 2009.
Chemistry with Dez
Finding
Dez Bryant
could be key for Romo down the stretch, and his numbers have been better when targeting him on the road. Six of Bryant's nine touchdowns from Romo have come on the road this season and he is completing nearly 69 percent of passes to his top receiver in road games.
December, 27, 2013
12/27/13
11:38
AM ET
By
Zachary Rodgers
| ESPN.com
With
Tony Romo
out when the
Philadelphia Eagles
come to town for a Week 17 divisional showdown, all eyes will be on the
Dallas Cowboys
quarterback
Kyle Orton
.
But despite the quarterbacks garnering many of the headlines, the key to success for the Cowboys will be establishing
DeMarco Murray
on the ground.
DeMarco Murray vs. Eagles rush defense
LeSean McCoy
may be the better-known running back, but Murray has actually averaged more yards per carry this season (5.4 for Murray to 5.1 for McCoy). In fact, only rookie
Andre Ellington
(5.7) has averaged more yards per carry than Murray among qualified running backs.
However, Murray faces an Eagles front seven that has flown under the radar this season. Over the last five weeks, the Eagles have held opponents to 2.9 yards per carry, the fewest in the league during that span.
In their previous meeting, which Murray missed due to injury, the Cowboys were held to 2.9 yards per carry, their fewest against the Eagles in their last 10 games.
While the Eagles rush defense has improved during the course of the season, the Cowboys front seven has moved in the opposite direction.
LeSean McCoy vs. Cowboys Linebackers
While Romo's absence is certainly noteworthy, the Cowboys defense will again be missing their star linebacker,
Sean Lee
. The Cowboys have allowed 5.2 yards per carry this season without Lee on the field. Only the Bears, who McCoy gashed for 7.4 yards per carry last week, have allowed more yards per carry this season.
But one of the biggest defensive struggles for the Cowboys has been defending receivers out of the backfield. Dallas has allowed eight receiving touchdowns to running backs, the most in the league.
McCoy has averaged 11.8 yards after the catch on his receptions this season, the highest mark in the NFL.
The Cowboys may struggle to defend running backs, but the Eagles find trouble against wide outs.
Dez Bryant vs. Eagles secondary

Even without Romo under center,
Dez Bryant
could not have asked for a better matchup to close out the season. The Eagles pass defense ranks last in all three major categories against opposing wide receivers.
In their previous game this season, Bryant tied his career-high with 17 targets, hauling in eight passes for 110 yards.
While Bryant had one of his best games against the Eagles, the Philadelphia tight ends disappeared against the Cowboys.
Eagles Tight Ends vs. Cowboys secondary

Nick Foles
has some recognizable options in McCoy and
DeSean Jackson
, but his favorite targets may be his tight ends. Foles has averaged 9.1 yards per attempt when targeting his tight ends.
Only
Colin Kaepernick
has a higher average when targeting tight ends this season. Foles has also yet to throw an interception when throwing to a tight end this season.
The Cowboys have struggled against tight ends as well, allowing the third-most receptions (85) and fifth-most yards (933) this season. In their last meeting, Foles only completed 50 percent (4-of-8) of his passes when throwing to his tight ends, his lowest mark in a game this season.
November, 4, 2013
11/04/13
10:51
AM ET
By
Doug Clawson, ESPN Stats & Information
| ESPN.com
Mark L. Baer/USA TODAY SportsTom Brady played his best game of the season on Sunday, posting a Total QBR of 97.7.
As a reminder, Total QBR is a quarterback rating that takes into account all of a QB's significant contributions (passing, rushing, sacks, fumbles, penalties) to his team's scoring and winning and summarizes them into one number on a 0-100 scale, where 50 is average. Since 2008, the team with the higher QBR has won about 84 percent of the time. Complete QBR statistics for all quarterbacks can be found here.
Brady dominates
Tom Brady posted season-highs Sunday with a 97.7 Total QBR, four touchdown passes and 432 yards passing. He had a huge day after throwing for only two touchdowns in his previous four games.
Brady completed 8-of-12 (66.7 percent) passes for 290 yards and four touchdowns on throws more than 15 yards downfield. He completed 30.3 percent of such throws this season entering Sunday, ranked 29th in the NFL, with two touchdowns in eight games.
Where QBR and passer rating differ

Andrew Luck
had a 99.3 Total QBR in the fourth quarter Sunday night(6-8 passing, 119 yards, 2 TD), raising his fourth-quarter Total QBR to 83.8 this season, the fifth best in the NFL. His fourth-quarter Passer Rating is 73.0 this season, tied for 21st in the NFL.
Foles picks apart Raiders
Nick Foles had a 99.1 Total QBR, a mark only surpassed by one performance this season: Colin Kaepernick. Foles became the third quarterback to throw seven touchdown passes in a game without throwing an interception, joining Y.A. Tittle (1962 New York Giants) and Peyton Manning (Week 1, 2013).
Click here
for more on Foles' great day.
Newton solid again
Cam Newton
posted a 70.5 Total QBR Sunday, his fourth straight game with a Total QBR over 70 (65 to 70 over a season is a Pro Bowl-level rating). Newton has an 83.5 Total QBR since Week 6, the second-best in the NFL behind
Colin Kaepernick
.
Smith shaky, but a winner
Geno Smith
finished with a 14.8 Total QBR in the Jets' win on Sunday. That's the second-lowest Total QBR by a winning QB this season (minimum 15 action plays). The only one lower was a 9.8 by E.J. Manuel of the Bills against the Ravens in Week 4.
Win probability on Cowboys comeback
Sunday,
Tony Romo
went from goat to hero in one quarter. His fourth quarter interception with 4:35 left dropped the Cowboys' win probability to just 21.4 percent. But he got a second chance and engineered a nine play, 90-yard drive to put the Cowboys ahead of the Vikings with 0:42 seconds left.
The Cowboys' win probability was at 32.6 percent with 2:44 left when their final drive started, but rose by 20.3 percentage points after a 34-yard pass to
Dez Bryant
, and 38.3 percentage points to 97.5 after his go-ahead touchdown pass.
Quick hitters
Case Keenum
had a Total QBR of 96.6, the highest Total QBR by a Texans quarterback since 2006. The previous single-game high for a Texans quarterback this season was 63.5 (
Matt Schaub
- Week 6). It was also the highest Total QBR in a loss over the last five seasons.
Jason Campbell
posted a 76.5 Total QBR Sunday and his 60.1 Total QBR this season ranks 13th in the NFL (min. 75 action plays).
Brian Hoyer
and
Brandon Weeden
rank 22nd and 38th respectively in Total QBR this season.
Alex Smith
had a 30.5 Total QBR against the Bills, his fourth win this season with a Total QBR of less than 40 (most in the NFL).
October, 22, 2013
10/22/13
6:48
PM ET
By
Jose De Leon
| ESPN.com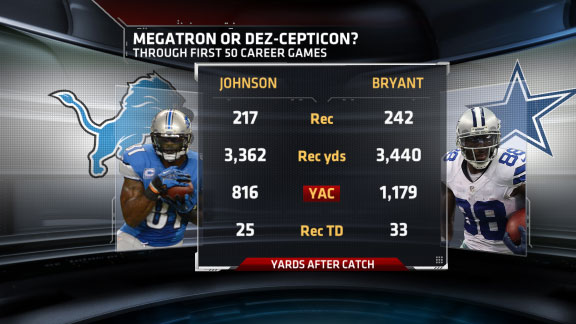 During an appearance on 103.3 FM ESPN in Dallas on Monday, Cowboys wide receiver
Dez Bryant
made the following statement:
"I believe I can do whatever he (
Calvin Johnson
) can do."
In comparing the two, you'll see his comment is on point. Below are a handful of notes to help make his case.
• From the start of the 2010 season, Bryant's rookie year, through Week 9 of last season, Johnson had 71 more receptions, 1,576 more yards and 12 more touchdowns than Bryant.
But since Week 10, you could argue Bryant is Johnson's equal. Over that span, Johnson leads the league in receiving yards while Bryant leads the league in receiving touchdowns.
• On third down this season, Johnson has been targeted 19 times and has caught nine balls for 157 yards and two touchdowns.
Bryant has been targeted 18 times and has caught nine balls for 118 yards and two touchdowns.
• How about when their respective quarterbacks are pressured?
Both Bryant and Johnson have been targeted 11 times with his quarterback under pressure. Johnson has one more reception (5) than Bryant. Both have caught a touchdown, but Johnson has 58 more yards than Bryant due to being targeted further downfield.
• Bryant has caught a higher percentage of his passes in the red zone (6-of-9) than Johnson (4-of-11) and has two more touchdowns (5) than Johnson.
• Both receivers have been targeted eight times on throws of 20 yards or more downfield and have two catches on those throws.
Both of Johnson's catches resulted in a touchdown and they combined for 77 yards, four of which came after the catch. Bryant has 117 yards with 47 of those yards coming after the catch.
• When the score is within a touchdown in the second half, Bryant (21) has been targeted four more times than Johnson and has caught 14 passes for 223 yards, with 96 yards gained after the catch.
Johnson has 12 catches for 156 yards, 29 gained after the catch, and has two touchdowns.
July, 26, 2013
7/26/13
9:49
AM ET
By
Micah Adams, ESPN Stats & Info
| ESPN.com
AP Photo/Gus RuelasThe pressure is on Jason Garrett despite a vote of confidence from Jerry Jones
The
Dallas Cowboys
opened their 25th training camp under the ownership of Jerry Jones on July 20. SportsCenter is at Cowboys camp on Friday and will try to answer some of their most important offseason questions.
Is the problem Jason Garrett or Jerry Jones?
Jason Garrett is 21-19 as the Cowboys head coach since taking over in the middle of the 2010 season.
The Cowboys have finished in third place in each of the last three seasons in the NFC East. Dallas has never finished outside the top two in their division in four straight seasons since the NFL split its conferences into divisions in 1967.
In each of the last two seasons, the Cowboys have started 8-6 before losing their final two games to finish 8-8. Dallas has lost a Week 17 "win-and-in" game in each of these past two years.
Is Tony Romo worth his new contract?
Dallas signed Tony Romo to a six-year extension on April 1 that includes $55 million in guaranteed money, tied with
Drew Brees
for the third-most in any active NFL contract (
Matt Ryan
reportedly signed a new deal on July 25 that guarantees $59 million; while
Tom Brady
is guaranteed $57 million on his deal).
Romo has been the Cowboys starting QB for two full seasons under Garrett, ranking among the top four QBs in completion percentage and pass yards in that span.
However, Romo threw 19 interceptions (tied for the most in the NFL) and led the league with eight interceptions when under duress last season.
Can Dez Bryant back up his breakout season?
Over the last seven weeks of last season, Dez Bryant led the NFL in receiving touchdowns (nine) and ranked third in receiving yards per game (113.1).
Bryant finished with 1,382 receiving yards and 12 TDs last season, joining
Terrell Owens
in 2007 as the only players with 1,300 receiving yards and 12 TDs in a season in team history.
Will the Cowboys fix their running game?
Dallas ranked 31st in the NFL in rush yards per game last season at 79.1, the lowest rate in team history. In fact, the team finished in the bottom six in yards per rush (30th, at 3.6), yards after contact (30th, with 522) and rush TD (T-27th with eight).
Tailback
DeMarco Murray
has shown flashes but has battled injuries in his two seasons. Murray missed six games with a foot injury last season and a hamstring injury caused him to miss parts of Cowboys OTAs this offseason.
Since Murray's breakout game (253 rush yards) in Week 7 of 2011, he ranks among the top eight in the league in rushing yards per game and yards per rush.
What changes will Monte Kiffin make?
Rob Ryan was fired after two seasons as the Cowboys coordinator and replaced by Monte Kiffin, who is expected to change the Cowboys to a 4-3 defensive scheme.
Kiffin has spent 26 years as an NFL defensive assistant, including 15 as defensive coordinator. Kiffin, the architect of the "Tampa 2" defense, spent 13 years as the
Tampa Bay Buccaneers
defensive coordinator, helping lead the Buccaneers to a Super Bowl title after the 2002 season.
Dallas was exposed downfield last season, allowing a league-worst 96.9 Total QBR on throws more than 10 yards downfield.
February, 14, 2013
2/14/13
12:50
PM ET
By
Jon Kramer, ESPN Stats & Information
| ESPN.com
Today is Valentine's Day, when the thoughts of young football fans turn to ... well ... more football.
Stats & Information looks at some NFL couples and lets you know who should stay together, who needs to rebuild their relationship and who might want to spend some time apart.
COUPLES WHO NEED TO STAY TOGETHER
•
Tom Brady and Wes Welker
: Free-agent-to-be Welker has 672 receptions since joining the
Patriots
in 2007, the most for a player over any six-year span in NFL history.
•
Eli Manning and Victor Cruz
: Cruz, who is slated to become a restricted free agent, has 168 receptions and 19 touchdowns over the last two seasons. Along with
Hakeem Nicks
, he gives Manning one of the game's best deep threats in the league.
•
Matthew Stafford and Calvin Johnson
: Johnson set an NFL single-season record with 1,964 receiving yards in 2012, while Stafford set an NFL record with 727 pass attempts. These two need to stay together if only to torture statisticians everywhere.
COUPLES WHO NEED TO REBUILD THEIR RELATIONSHIP
•
Tony Romo and Dez Bryant
: Early in the season, they didn't appear to be on the same page, but Bryant caught a league-high 10 TD passes from Week 10 until the end of the season.
•
Aaron Rodgers and Jermichael Finley
: Finley caught a career-high 61 balls in 2012, but just two went for touchdowns. At times it appeared that Rodgers had lost confidence in his tight end and reports have appeared that the Packers might release Finley.
•
Cam Newton and Steve Smith
: Smith was critical of Newton's sideline demeanor last season, and he could have a point. When trailing in the fourth quarter over the last two seasons, Newton's QBR of 35.9 is 35th among 45 qualifying quarterbacks.
COUPLES WHO MIGHT NEED TO SPEND SOME TIME APART
•
Mark Sanchez and Rex Ryan
: After going to a pair of AFC Championship games in their first two seasons together, the relationship hasn't worked recently. Sanchez regressed even further in 2012, and has an NFL-high 52 turnovers over the last two seasons.
•
Alex Smith and Jim Harbaugh
: Harbaugh has turned to the younger
Colin Kaepernick
. Since Kaepernick took over as the starter in Week 11, his 81.2 Total QBR is second to only
Russell Wilson
. Smith's QBR of 54.1 since the start of 2011 is 19th among quarterbacks with at least 500 action plays.
•
Matt Cassel and Andy Reid
: The
Chiefs
and Reid's
Eagles
were tied with the
Jets
for the most turnovers in the NFL last season with 37. Cassel struggled with 19 turnovers in just nine games.
October, 16, 2012
10/16/12
2:24
PM ET
Patrick Smith/Getty ImagesDez Bryant's missed catch on a two-point conversion would have tied the game late on Sunday.
In 36 seconds of game time on Sunday,
Dallas Cowboys
fans went through a roller coaster of emotions.
It started with
Tony Romo
's touchdown pass to
Dez Bryant
that put Dallas a two-point conversion away from tying the game. Bryant dropped the conversion pass attempt, leaving the Cowboys in dire straits.
Then just when the game seemed to be over, the Cowboys were given new life by recovering the onside kick. Their chances for a win looked even more promising after Baltimore's defensive pass interference penalty gave Dallas a first-and-10 from the Ravens' 34.
But that advantage soon disappeared as Romo completed a 1-yard pass to Bryant with 26 seconds remaining. Finally, after some indecision by the players and coaches, Dallas called its last timeout with six seconds remaining. This left kicker
Dan Bailey
with a 51-yard field goal attempt to win the game. He missed and the Cowboys are now in the cellar of the NFC East.
We can quantify the gamut of emotions final few minutes of this game had using the concept of win probability.
ESPN's win probability tool – which looks at 10-plus seasons of historical data to find the chance of winning at any game situation – crystalizes the rising-and-quickly-falling hopes Dallas fans had to endure between recovering the onside kick and missing the game-winning field goal.
At its peak following the pass interference call, the Cowboys were actually better than 50-50 favorites to win the game. Then two plays later they had lost.
We can also use win probability to quantify just how much the hesitancy to call the timeout cost the Cowboys. Dallas' chance of winning if they had called timeout with 21 seconds left (when the whistle blew) would have been 46 percent. However, by letting the clock drop down to six seconds, their win probability fell to 40 percent.
That doesn't appear to be a significant fall, but those numbers are only NFL averages. Looking at Dallas' specific situation makes the indecisiveness look even more costly.
Entering that kick Bailey was just 4-for-7 on field goals of 49-53 yards in his NFL career. This includes a miss on a potential game-winner from 49 yards last year in Arizona after a similar clock mismanagement mishap.
If the Cowboys had called timeout with 21 seconds left and gotten 5-10 additional yards before the attempt, Bailey's chances would have significantly improved.
He is 8-for-8 in his career on attempts of 40-45 yards, including two such kicks earlier in Sunday's game. Obviously this is not a guarantee, but at worst it would have given Dallas a better chance to win and a less sour taste in their mouths leaving Baltimore.
October, 1, 2012
10/01/12
1:57
PM ET
By
ESPN Stats & Information
| ESPN.com
Stephen Brashear/Getty ImagesWith his next touchdown pass, Tony Romo will pass Roger Staubach for third in Cowboys history.
Tony Romo
looks to continue his climb up the
Dallas Cowboys
record book on Monday night. He'll need to contend with the
Chicago Bears'
relentless pass rush, as well as some of his usual targets that haven't yet delivered.
Romo is currently tied for third most touchdown passes (153) in Cowboys history with Roger Staubach. With two more, he'd tie Danny White for second, and Troy Aikman's franchise record is 12 away.
To get there on Monday, he may need two of his familiar targets to break out.
Despite ranking second on the Cowboys with 20 targets, don't look for
Dez Bryant
to be on the receiving end of one of those touchdown throws.
Bryant hasn't been thrown to once in the red zone this season, after leading the Cowboys with 13 red zone targets in 2011. Entering Week 4, only five receivers had more targets without a receiving touchdown this season.
With only eight receptions for 76 yards through three games,
Jason Witten
isn't putting up his traditional big numbers. At this point last season, he had 19 catches for 272 yards.
Romo has completed only 44 percent (8-for-18) of his passes to Witten this season, well down from the 74 percent he'd completed over the previous three seasons. Much of that falls on Witten. He entered Week 4 leading the NFL in drops with six.
The two have particularly had issues connecting inside the painted numbers, with Witten dropping half of his 12 targets. Romo is 3-of-12 with an interception when targeting Witten there. Last year, he caught 50-of-64 targets inside the numbers.
Romo's biggest challenge on Monday night will be a Bears defense that is rapidly racking up sacks. Chicago entered the week leading the NFL with 14 sacks and second in takeaways with nine.
The 14 sacks are their most through three games since totaling 24 in 1987. It's two more than the 1985 Bears had after three games.
Chicago's defense is getting it done despite using a standard pass rush. The Bears have used a four-man pass rush on 77.5 percent of dropbacks, sixth-highest in the league.
Last year the Bears defense sent four or fewer rushers at a similar rate (74.2 percent), but did not get their 14th sack until Week 7.
That pass rush figures to chase Romo out of the pocket on Monday. That might not be a bad thing for the Cowboys. Since 2010, Romo has 12 touchdowns and zero interceptions when throwing from outside the pocket. No quarterback has more touchdowns without an interception in that span.
November, 10, 2010
11/10/10
11:33
AM ET

As good as Dez Bryant's 2008 season at Oklahoma State was,
Justin Blackmon
's 2010 year with the Cowboys has been better. Bryant's banner sophomore year saw him finish tied for second in the nation in receiving touchdowns (19) and third in the FBS in receiving yards per game (113.8). And his 1,480 receiving yards were the second most in school history.
But Blackmon is on pace to shatter those marks. Despite his one-game suspension this season against Kansas State, he still leads the FBS with 1,285 receiving yards, which translates to a staggering average of 160.6 per game. He's never had a game this year with fewer than 125 receiving yards, and has at least one visit to paydirt via a reception in every game played in 2010.
Blackmon looks even more impressive when you compare him to one of the best single-season receiving performances in recent memory. In 2007, Texas Tech freshman wideout Michael Crabtree took the sport by storm, compiling 1,962 receiving yards (a Big 12 single-season record) and 22 touchdowns. That equates to nearly 151 yards per game, a pace that Blackmon is ahead of through eight contests.
Oklahoma State has four remaining games this year, including a bowl game. That means Blackmon is on pace for roughly 1,927 yards this season, which would fall just short of the conference record.
If he continues his pace of nearly 161 receiving yards per game, however, he'll set a new mark in that regard. Essentially, Blackmon's one-game suspension will likely keep him just short of staking claim to the best receiving season in Big 12 history.