Stats & Info:

Doug McDermott
June, 27, 2014
Jun 27
11:29
AM ET
By
ESPN Stats & Information
| ESPN.com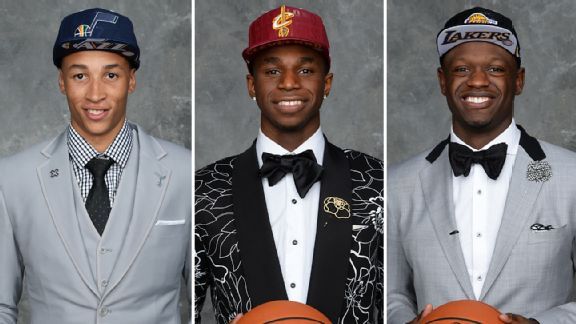 Getty ImagesAndrew Wiggins (center), Dante Exum (left) and Julius Randle all found NBA homes Thursday night.
After
Andrew Wiggins
joined
Anthony Bennett
in Cleveland (both the only Canadian-born players to be drafted first overall), the 2014 NBA Draft was only getting started.
Here's a look at some of the top stats and storylines from one of the most anticipated NBA Drafts in league history.
Parker, Embiid fill out Top 3
With Wiggins off the board, the
Milwaukee Bucks
selected Jabari Parker second overall. Parker was part of an elite group of freshmen to dominate both inside and out in college during the last 15 seasons.
The
Philadelphia 76ers
chose
Joel Embiid
with the third pick, giving Kansas as many top-three picks in this draft as it had in the rest of the common draft era combined (
Danny Manning
and
Raef LaFrentz
).
When healthy, Embiid, along with last year's lottery pick
Nerlens Noel
, should help a Sixers team that ranked 28th in the NBA in rebounding percentage last season. In his freshman season, Embiid led all Big-7 players with a 20.5 rebounding percentage.
Randle continues Kentucky tradition
From one storied program to another, former Kentucky standout Julius Randle was selected by the
Los Angeles Lakers
with the seventh pick in the first round.
After the Lakers finished last in the NBA in both offensive and defensive rebounding percentages, Randle will be expected to duplicate his double-double dominance from Day One.
Only Michael Beasley recorded more double-doubles in a freshman season than Julius Randle did last year.
Vonleh, McDermott stand out for Midwest
Noah Vonleh
went to the
Charlotte Hornets
with the ninth selection. Vonleh led the Big Ten in field goal percentage (50 percent) on catch-and-shoot plays, ahead of Michigan's
Nik Stauskas
(minimum 25 plays).
This was the first time Indiana had top-10 picks in consecutive drafts since 1976-77.
Doug McDermott
, who became the first Creighton player selected in the first round since
Benoit Benjamin
in 1985, continued the lottery legacy of Wooden Award winners.
Since 2005, every Wooden Award winner has been a lottery pick. The last winner to not go in the lottery was
Jameer Nelson
, who was drafted 20th overall in 2004.
UCLA trio pulls a first since 1979
The UCLA Bruins had three players selected in the first round of the NBA Draft for the first time since 1979.
Freshman point guard
Zach LaVine
was drafted by the
Minnesota Timberwolves
with the 13th pick. The
Memphis Grizzlies
turned some eyes by selecting Bruins shooting guard
Jordan Adams
with the 22nd selection. And sophomore point guard
Kyle Anderson
sealed the deal when he went to the
San Antonio Spurs
with the final pick of the first round.
Anderson is one of three players in the last 30 seasons to average at least 14 points, eight rebounds and six assists in a season , joining Memphis State's Anfernee Hardaway (1992-93) and Ohio State's
Evan Turner
(2009-10).
June, 26, 2014
Jun 26
11:09
AM ET
By
Jungkyu Lee
| ESPN.com
Even without the consensus top-3 prospects participating, the 2014 NBA Combine produced plenty of drama and record-breaking performances.
As the NBA Draft nears, ESPN Stats & Information looks at which current NBA players this year's prospects most closely resemble based on their physical or athletic results at the NBA Combine.
Julius Randle: A lot of Love?
Julius Randle
measured similarly to Kevin Love in many ways. In addition to measuring the exact same height, the other anthropometric numbers and athletic numbers compare favorably.
Randle and Love primarily used post-up plays in their respective college seasons, although Love was more efficient.
According to Synergy Sports, Love shot 53 percent on post-up plays in his only season at UCLA compared to Randle's 39 percents.
The only glaring difference in their games is Randle's lack of perimeter shooting. While Love shot 35 percent from behind the arc at UCLA, Randle shot 3-of-18 from deep at Kentucky.
Dante Exum: The next D-Wade?
Dante Exum
was the highest-rated prospect to partake in the Combine, according to Chad Ford's Big Board. Although he did not participate in drills, he showcased his athleticism.
Dwyane Wade performed slightly better on speed and agility drills but Exum jumped just as high as Wade did. It is worth noting that Exum measured a full inch taller than the Miami Heat's all-time scoring leader.
Exum averaged 18.2 points, 3.8 assists and 1.7 steals per game at the 2013 FIBA U-19 championship, each of which led all Australian players in the tournament.
Two Creighton greats
Doug McDermott
was one of the most prolific college players in history, becoming only the eighth player in NCAA Division I history to eclipse 3,000 career points.
At the NBA Combine, McDermott measured like a carbon copy of another former Creighton great: Kyle Korver. However, McDermott outperformed Korver in every athletic testing.
McDermott was extremely efficient on offense. According to Synergy Sports, averaging 1.18 points per play. That ranked in the 98th percentile among all college players last season.
Last season, 53 percent of his plays ended up with at least one point. Only 14 percent of all college players scored on more than half of their possessions last season (minimum 200 plays).
June, 24, 2014
Jun 24
10:56
AM ET
By
Ryan Feldman
| ESPN.com
There has been a huge analytics movement lately in the NBA – 23 of the 30 teams have analytics departments.
Some, but not all, advanced stats translate well from college to the NBA. Which ones translate the best?
REBOUND PERCENTAGE
Rebound percentage is the percentage of available rebounds a player grabs while he's on the floor.
Among big men in the last five NBA Drafts, the top three in rebound percentage in their final college season have an NBA career rebound percentage better than 15 percent – Kenneth Faried, DeMarcus Cousins and Thomas Robinson.
The five worst players are nowhere near a 15 percent rebound percentage. Four of those five players have never even started a game in the NBA.
None of the 10 worst big men on this list have an NBA rebound percentage higher than 15 percent.
Rebound percentage is even telling for guards. The bottom 10 guards include Tyshawn Taylor, Peyton Siva, Marquis Teague, Jon Diebler, Doron Lamb, John Jenkins and Jimmer Fredette.
Which 2014 draft prospect had the best rebound percentage this season among Chad Ford's top 50? Michigan's
Mitch McGary
, who played in just eight games this season. Not far behind were
Joel Embiid
,
Noah Vonleh
,
Julius Randle
and
Jarnell Stokes
.
The prospects that don't measure well in rebound percentage are
Semaj Christon
,
Nik Stauskas
,
Tyler Ennis
and
Spencer Dinwiddie
, all of which grabbed fewer than six percent of available rebounds. The big man in Chad Ford's top 50 who ranks the lowest is
Patric Young
.
ASSIST PERCENTAGE
Assist percentage is the percentage of teammates' field goals a player assists on while he's on the floor.
Among guards and wings in the last 5 NBA Drafts, eight of the top 10 in assist percentage in their final college season have started in the NBA.
The 10 non-post players picked in the lottery over the last five years with the worst assist percentage in their final college season could all be considered busts. They include Shabazz Muhammad, Derrick Williams, Anthony Bennett, Al-Farouq Aminu and Xavier Henry.
Some of the top wings include Klay Thompson, Paul George, Chandler Parsons, Lance Stephenson and Kawhi Leonard.
Which 2014 draft prospect had the best assist percentage this season among Chad Ford's top 50? UCLA's
Kyle Anderson
.
Elfrid Payton
and Tyler Ennis were close behind.
DeAndre Daniels
and Noah Vonleh had the worst assist percentage among the top 50. The worst guards in this category were
Andrew Wiggins
and
James Young
.
STEAL PERCENTAGE
Steal percentage is the percentage of opponents' possessions while a player is on the court that result in that player getting a steal.
Among guards in the last five NBA Drafts, the top four in steal percentage in their final college season have started the majority of their NBA games -- Iman Shumpert, Michael Carter-Williams, Dion Waiters and Victor Oladipo. Not far below them are Paul George, Norris Cole and Kenneth Faried.
Among all players in the last five NBA Drafts, the worst five players in steal percentage combined for just 20 NBA starts this season.
Which 2014 draft prospect had the best steal percentage this season among Chad Ford's top 50? UCLA's
Jordan Adams
, just ahead of
Marcus Smart
.
Doug McDermott
had the lowest steal percentage, with just eight steals all season. The worst among guards was Nik Stauskas.
PLAYER EFFICIENCY RATING
Player Efficiency Rating or "PER" is an overall rating of a player's per-minute statistical production. The NBA average is 15 every season.
In the last five NBA Drafts, six of the top nine players in PER in their final college season have an NBA career PER greater than 15. Of the bottom 10 on that list, nine of the 10 players have an NBA career PER less than 15.
The top 10 includes Anthony Davis, Kenneth Faried, DeMarcus Cousins, Damian Lillard and Kyrie Irving.
The bottom 10 includes Josh Selby, Marquis Teague, Malcolm Lee and Daniel Orton.
Which 2014 draft prospect had the best PER this season among Chad Ford's top 50? Doug McDermott, followed by NC State's T.J. Warren.
The lowest PER among the top 50?
Zach LaVine
, followed by James Young.
January, 20, 2014
Jan 20
10:11
PM ET
By
ESPN Stats & Information
| ESPN.com
The
Creighton Bluejays
used an impressive 3-point shooting night to knock off the fourth-ranked
Villanova Wildcats
with a 28-point victory.
In doing so, Creighton made history, both from a team perspective and an individual angle, as
Doug McDermott
continued working his way up the Division I all-time scoring list.
Here are three main takeaways from Monday's game.
Top-Five Wins Rare for Creighton
Entering Monday night, Creighton was just 2-25 all-time against ranked teams ranked in the top five, and its last such win came in 1970 against fifth-ranked New Mexico State.
The win over Villanova (ranked fourth in the nation) matches the highest-ranked team the Bluejays have ever beaten. In 1963, Creighton also knocked off fourth-ranked Arizona State.
The 28-point victory is also notable, because it's the third-biggest win for an unranked team over a top-five opponent over the last 20 seasons, according to the Elias Sports Bureau.
Creighton also won Monday's game on Villanova's home floor. The last time Creighton won a true road game against a ranked team was in January 1978 against 13th-ranked Indiana State. That Indiana State team was led by Larry Bird.
Creighton Huge From Outside
Key in the Bluejays' win was 3-point shooting, as they hit 21 3-pointers in the win, setting both a school record and a Big East record. They also shot 60 percent from beyond the arc.
The previous Big East record was 20, shared by the 2005-06 West Virginia and 2010-11 Notre Dame teams. No other Big East team had ever hit more than 17 in a game.
Creighton's 21 3-pointers are also the most made in a Division I game this season. Three other teams had hit 20 in a game.
McDermott Keeps Moving Up
McDermott finished with 23 points in Monday's win, moving him up from 24th to 22nd on the all-time Division I scoring list, passing Navy's
David Robinson
and New Orleans' Bo McCalebb.
McDermott is averaging 24.8 PPG this season, and if he scores more than 20 points in his next outing (Saturday vs
Georgetown
), he'll move all the way up to 19th on the all-time scoring list, passing, among others, former Northeastern player Reggie Lewis.
If McDermott continues at his current scoring pace, he'll finish the regular season (11 more games) ninth on the Division I scoring list, right between Oscar Robertson and Danny Manning. He could continue to add to that total in the Big East Tournament or any other possible postseason tournament.
February, 22, 2012
2/22/12
11:05
AM ET
By
Jeremy Lundblad, ESPN Stats & Info
| ESPN.com
Player of the Night: Jordan Theodore

The
Seton Hall Pirates
needed a win on Tuesday and Theodore delivered. The senior scored a career-high 29 points as the Pirates knocked off Georgetown, 73-55. The win puts Seton Hall in a far safer NCAA Tournament position. Often teams struggle when their point guards become the primary scoring option, but not Seton Hall. The Pirates are 9-1 when Theodore scores at least 18 points and 10-8 when he doesn't.
Scoring Star: Colt Ryan
Ryan poured in a career-high 43 points, but the
Evansville Aces
came up short in a 93-92 overtime loss to Creighton. It's the most points in a loss since Marshon Brooks had 52 points against Notre Dame last season. Ryan's 43 also is the second-most points in a road game this season, behind Creighton's
Doug McDermott
, who had 44 at Bradley.
Stat Sheet Stuffer: Kendall Marshall
Marshall added scoring to his repertoire in North Carolina's 86-74 win against NC State. To go with his usual 13 assists, Marshall had a career-high 22 points, just the ninth time this season that he's had more points than assists. Marshall joins Connecticut's
Shabazz Napier
as the only players with at least 22 points and 13 assists in a game this season.
Streak Stopper: Binghamton

The Bearcats snapped a 27-game losing streak with a 57-53 win against Vermont. With that, there are no more winless teams in Division I. The nation's longest losing streak now belongs to Navy, which has lost 19 in a row.
Ugly Stat Line of the Night: Georgia Tech
On Jan. 19, Georgia Tech had its worst scoring output in 30 years in a 70-38 loss to Virginia. On Tuesday, the Yellow Jackets did that one worse, losing to Clemson, 56-37. It's the fewest points scored by Georgia Tech since a 58-36 loss at Wake Forest in February of 1982. To make matters worse, both the Clemson and Virginia losses came at home.
February, 22, 2012
2/22/12
3:17
AM ET
A scan of the college basketball box scores each night guarantees all kinds of statistical oddities and standout performances. Here are some we found from Tuesday.
Creighton 93, Evansville 92 (OT)
Evansville's
Colt Ryan
scored 43 points, the highest scoring output by a player in a loss this season. He made 17 field goals, one shy of the high this year, set by Creighton's
Doug McDermott
. McDermott was 6-for-13 from the free-throw line Tuesday; he had missed just six free throws in his previous eight games.

Michigan 67, Northwestern 55 (OT)
Thirty-eight of Michigan's 56 field-goal attempts were 3-pointers (67.9 percent), the highest 3-point attempt percentage by a major conference team this season.
North Carolina 86, North Carolina State 74
North Carolina's
Kendall Marshall
had 22 points, 13 assists and no turnovers in the win. He's the first player this season with at least 20 points and 12 assists in a turnover-free game.
February, 17, 2012
2/17/12
11:09
AM ET
By
ESPN Stats & Information
| ESPN.com
AP Photo/ Stephen Haas
Time to cram on
Isaiah Canaan
and others in BracketBusters action this weekend.
Your one-stop primer for this weekend's BracketBusters games.
MARQUEE MATCHUP
16 Saint Mary's at 14 Murray State - 6 ET Saturday, ESPN/ESPN3
This is the fourth game in the 10-year history of the BracketBusters event that has pitted two ranked teams against each other. The lower-ranked team has won the three previous meetings.
Murray State's opponents rebound 35 percent of their misses, putting the Racers in the bottom 20 percent of the country in defensive rebounding. That could be a problem against the Gaels'
Rob Jones,
whose 10.8 rebounds per game ranks in the top 10 nationally.
FEARSOME FOURSOME
The top four players in Division I according to Offensive Rating on
KenPom.com
will be featured in televised matchups.

F Dominique Morrison, Oral Roberts
The 6-foot, 6-inch wing has really excelled in isolation. He's averaging the third-highest points per play while turning the ball over fewer than once every 14 plays when going one-on-one (minimum 50 plays).
F Doug McDermott, Creighton

The sophomore efficiently moves without the ball within Creighton's offense. McDermott has made nearly 80 percent of his shots off cuts to the basket and averages better than 1.5 points per play, both of which rank among the top 10 in Division I (minimum 50 plays).
G Isaiah Canaan, Murray State

The Racers lived up to their nickname this season, ranking third nationally in transition points per play. As the team's starting point guard, Canaan leads the fast-paced attack. He's scored on 60 percent of his transition plays, racking up nearly four times as many assists as turnovers.
G Damian Lillard, Weber State

Lillard torches opposing teams as both a scorer and passer. Among players with at least 50 pick-and-roll plays, he averages the second-most points per play in Division I and created an additional 96 points on 82 passes with just six turnovers.
RECORD SETTER?
The record for points scored in a BracketBuster game is 35 by Norris Cole of Cleveland State at Old Dominion on Feb. 20, 2011. Another contender who could top that is South Dakota State's
Nate Wolters
.
The junior topped the 30-point mark five times this season, including in his last game on Wednesday. KenPom.com shows that he draws 6.5 fouls per game (32nd in the nation). He'll enjoy a home-crowd advantage as the
Buffalo Bulls
travel west to play the Jackrabbits at 1 ET (ESPNU).
GET TO KNOW: WICHITA STATE

Here are quick facts on the defending postseason NIT champs who are unranked in the ESPN/USA Today's Coaches Poll but rank 12th in
ESPN's new BPI
.
• 8-3 vs BPI Top 100 teams (best among mid-majors; minimum 5 games)
• 14-4 vs BPI Top 150 teams (best among mid-majors; minimum 9 games)
• Won 13 of last 14 games (only loss in 3OT)
• Third-most experienced team in the nation (according to KenPom.com) starting four seniors
• Four players shoot at least 38 percent from 3-point range (minimum 25 attempts)
•
Joe Ragland
: 68.58 true shooting percentage ranks fifth in Division I
Wichita State plays at Davidson, Noon ET Saturday on ESPN2/ESPN3.
Contributions by Mackenzie Kraemer, Katie Sharp and Harold Shelton
January, 31, 2012
1/31/12
11:02
AM ET
By
Jeremy Lundblad, ESPN Stats & Info
| ESPN.com

Player of the Night - Kevin Murphy
Murphy became the first OVC player in 20 years to score 50 points in a game. The senior guard scored 50 points on 16-for-21 from the field as Tennessee Tech topped SIUE 98-80. It broke the previous school record of 48 points by Ron Filipek in 1965-66 and Jimmy Hagan in 1958-59. It's also the highest scoring game in Division I this season, besting
Doug McDermott's
44. Murphy is the first to score 50 since Jimmer Fredette's 52-point game against New Mexico last March.
Game-Changer – Tray Woodall
Perhaps Pittsburgh isn't that tough to figure out. When Tray Woodall has played 25 or more minutes, Pittsburgh is 9-1. When he's been limited or missed the game due to injury, the Panthers are 5-8. Woodall scored 24 points on Monday to lead Pittsburgh to a 72-66 win at West Virginia. After an 0-7 start in the Big East, the Panthers have won three straight and only have one more ranked foe on the schedule (No. 25 Louisville).

Bench Star - Michael Dixon
Missouri escaped Texas with a 67-66 win powered by 21 points off the bench from Michael Dixon. It was a bit of a bounce back game for Dixon, who'd averaged just 6.3 PPG over his last three games. At 12.1 PPG, Dixon is the nation's third-leading scorer among those who have not started a game. He trails only Marist's
Chavaughn Lewis
and Syracuse's
Dion Waiters
.
Filling Up the Stat Sheet – Mitchell Anderson
Arkansas-Pine Bluff's Mitchell Anderson scored 25 points and blocked six shots off the bench in a 73-69 win over Jackson State. Anderson became the first substitute in over seven years with at least 25 points and five blocks in a game. Western Carolina's Rans Brempong scored 28 and blocked five shots coming off the bench on December 4, 2004 against UNC-Asheville.

Ugly Half of the Night - Norfolk State
It's difficult to understate the difference between the first half and second half for Norfolk State on Monday. The Spartans missed their first 18 shots and faced a 12-0 deficit out of the gates. At halftime, Norfolk State had 13 points on 4-for-27 from the floor. The Spartans exploded for 69 points in the second half, but it wasn't enough. Norfolk State fell to 8-1 in the MEAC with an 87-82 loss to Coppin State.
January, 31, 2012
1/31/12
2:45
AM ET

Tennessee Tech 98, SIU-Edwardsville 80
Tennessee Tech guard
Kevin Murphy
became the first player this season to score 50+ in a game, netting a school-record 50 in the Golden Eagles' 98-80 win over SIU-Edwardsville.
The previous high this season was set by Creighton's
Doug McDermott
, who scored 44 in the Blue Jays' win at Bradley on January 7th. Fifty is the most by any player since Jimmer Fredette poured in 52 last March 11th in BYU's 87-76 win over New Mexico in the Mountain West semis. Fredette played the full 40 minutes in his outburst, while Murphy played only 34.
Arkansas-Pine Bluff 73, Jackson State 69
Arkansas-Pine Bluff's
Mitchell Anderson
scored 25 points and blocked six shots off the bench, becoming the first substitute in over seven years with at least 25 points and five blocks in a game. Western Carolina's Rans Brempong scored 28 and blocked five shots as a substitute on December 4, 2004 versus UNC-Asheville.
The game also had the trillion of the night. Pine Bluff's
Demetrius Smith
played five minutes without accumulating a stat, the fourth time he's done that this season. No other player has done it even three times, and only nine players have done it twice.
January, 13, 2012
1/13/12
11:10
PM ET
Streeter Lecka/Getty ImagesHarrison Barnes will be among the players College GameDay will be assessing on Saturday afternoon.
Let's get you warmed up for the first College GameDay road show of the season (live from Tallahassee, Fla. at 10 a.m. ET on ESPN) by taking a look at some notes and nuggets from our college hoops advanced stats research team (a group we call the "Stats in the Paint" team).
Saturday's Matchups
(2) Kentucky at Tennessee, Noon ET
Key stat:
In its first two conference games of the season, Kentucky has shot 50 percent against zone defenses and 39 percent against man-to-man. That's noteworthy, because the Wildcats have faced zone defenses on about 60 percent of their offensive possessions in those two games.
(3) North Carolina at Florida State, 2 p.m. ET
Key stat:
Though Florida State allows 87.1 points per 100 possessions on defense (13th in the nation), it has trouble on the offensive end.
The Seminoles turn the ball over on 26 percent of their possessions, worst in the ACC and 11th worst in the country.
Oklahoma State at (4) Baylor, 3 p.m. ET
Key stat
: Baylor is averaging 9 steals per game, and 21 points per game off turnovers (best in the Big 12). That's helped by
Perry Jones III
, who is 9-for-9 on transition 2-point field goal attempts this season.
Teams on the rise

• Murray State ranks 10th in the nation in transition points with 307. In three games against teams currently in the RPI's top 50, the Racers shot 77 percent and averaged 23 points per game in transition.
• UNLV is averaging 113.9 points per 100 possessions this season, 15th most in the country. The Runnin' Rebels get assists on 65 percent of their baskets, 11th-best in the nation.
Teams that are flailing
• Pittsburgh averages just 56.1 points per game with its FIRST-chance on a possession this season, which is fourth worst in the Big East and ranks 52nd out of 74 Big Six conference teams.

• Opponents are shooting nearly 60 percent in transition against Xavier in the Musketeers' last eight games; opponents were shooting 47 percent in transition in Xavier's first eight games.
Tell Me Something I Don't Know
Among the topics Rece Davis, Digger Phelps, Jay Bilas and Hubert Davis plan to tackle:
Is Doug McDermott the new Jimmer Fredette?
McDermott entered Friday averaging 24.5 points per game, which ranks second in the nation. He's made the most field goals in Division 1 (158) and is shooting over 60 percent from the field this season.
McDermott has scored 30 percent of Creighton's points this season and takes 36 percent of the team's shots while he's on the floor, comparable to Fredette, whose rates were 36 percent and 38 percent.
Creighton has played three games against Big Six conference opponents this season (all wins).
In those games, McDermott shot 66 percent from the field. In four games against Big Six foes, Fredette struggled, especially in the half court. McDermott made two-thirds of his shots in half court, and averaged 1.28 points per play. Fredette only made 42 percent and averaged 0.95 points per play.
The big difference in their games is in trips to the free-throw line. McDermott is just 15th in the Missouri Valley Conference and 402nd in the nation in free throws made. Fredette ended the 2010-11 season ranked first in the nation in that stat.
January, 9, 2012
1/09/12
2:15
PM ET
McDermott fever taking over Omaha
Doug McDermott
scored a career-high 44 points in
Creighton's
92-83 win
over
Bradley
on Saturday. It's the sixth-most points in a game in school history, and the most since Benoit Benjamin's 45 in January 1985. It passed
IUPUI's
Alex Young
and his 43-point effort against
Western Kentucky
for the most points in a game this season. He's one of only four players to top 40 points this season.
McDermott, who had 31 in the second half alone, went 18-for-23 from the field. That 78.3 field goal percentage is the highest for a player who attempted at least 20 shots since Reggie Williams (86.4) for
VMI
in January 2008.
Lillard leads the nation
Overshadowed by McDermott's big game, the nation's leading scorer also exploded on Saturday.
Damian Lillard
scored 38 points in
Weber State's
88-81 win
over
Portland State
. He also added five rebounds and five assists. He's the first player to reach all three of those totals in a game since Norris Cole's epic 41-20-9 game last February. Lillard leads the nation at 26.3 PPG, and has topped 30 points on five occasions.
Royce White's Triple-Double

Royce White
recorded the fourth triple-double in
Iowa State
history in Saturday's
74-50 win
over
Texas A&M
. He joins Curtis Stinson (2006), Jamaal Tinsley (2000) and Marc Urquhart (1989). White finished with 10 points, 10 assists and 18 rebounds.
Since the Big 12 was formed in 1996-97, there have been five triple-doubles in conference play. Three of those were by Cyclones. The 18 rebounds are the most in a triple-double since Cole Aldrich had 20 in the 2009 NCAA Tournament.
A Chris Dudley comparison
There's no better compliment for a
Yale
big man than to be compared to Chris Dudley (unless it's regarding free throws). On Sunday,
Greg Mangano
had the most rebounds by a Yale player since Dudley in 1987. Mangano finished with 35 points and 22 rebounds in a 101-86 win over St. Joseph's of Long Island. He joins
Jeronne Maymon
and
Thomas Robinson
as the only D-I players with a 30-20 game this season.
Four OT classic in Corvallis


Stanford
needed four overtimes to beat
Oregon State
, 103-101, on Saturday. It marked the longest game in both schools' histories. Oregon State had its highest scoring total in a conference game since 1994. The teams combined for 171 field goal attempts and 108 rebounds during three hours and eight minutes. Chasson Randle's bucket with 37 seconds left in overtime proved pivotal. He led all scorers with 24 points despite having only two at halftime.