Stats & Info:

Draymond Green
January, 18, 2014
Jan 18
1:41
AM ET
By
ESPN Stats & Information
| ESPN.com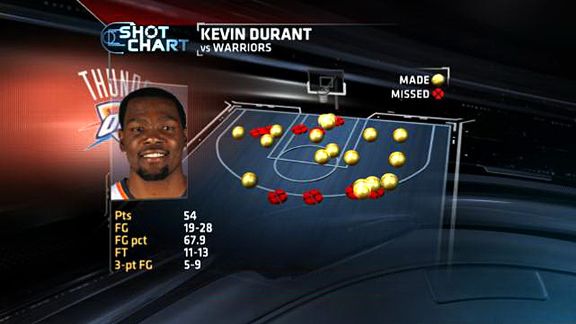 ESPN Stats & InformationKevin Durant missed just nine shots from the field in scoring a career-high 54 points Friday night.
Almost a year to the day that he scored 52 points on Jan. 18, 2013 (at that point a career high),
Kevin Durant
put up 54 as the
Oklahoma City Thunder
knocked off the
Golden State Warriors
127-121.
In the past two weeks, Durant has put up the three highest-scoring games in the NBA this season. In addition to his 54 points Friday, he has two 48-point games -- against the
Minnesota Timberwolves
on Jan. 4 and against the
Utah Jazz
on Jan. 7.
According to the Elias Sports Bureau, Durant has been the first player to score 50 points in a game in each of the past three seasons. In that three-year span, the rest of the NBA has combined for four 50-point games, while no player has more than one.
Filling the void
Durant has really picked up his scoring in Russell Westbrook's absence. With Westbrook in the lineup, Durant averaged 28.6 points per game. Without him in 15 games this season, Durant is averaging 33.9 points per game.
Drive for success
Durant scored 11 points and had four assists on 10 drives Friday. Entering Friday, he averaged only 5.7 drives per game, accounting for 7.8 of his team's points per game, according to player-tracking data on NBA.com.
Green means go
The Warriors used multiple defenders against Durant to no avail. The league's leading scorer found particular success Friday against
Draymond Green
, scoring 19 of his 25 second-half points on Green. Durant shot 81.8 percent against Green and 58.8 percent against all other defenders.
March, 18, 2012
3/18/12
7:02
PM ET
By
ESPN Stats & Information
| ESPN.com
Greg Bartram/US Presswire
C.J. Williams celebrates North Carolina State's first trip to the Sweet 16 since 2005.
Here's a snapshot look at the early-afternoon games as eight more teams look to advance to the Sweet 16 on Sunday.
(11) North Carolina State 66, (3) Georgetown 63
The
North Carolina State Wolfpack
were the 68th team to hear their name called on Selection Sunday. One week later, they are among the 16 teams to survive the first weekend of play, advancing to the Sweet 16 for the first time since 2005.
NC State erased an early 10-point deficit with a 30-9 run over 11 minutes spanning the first and second half, and held off a late rally by the
Georgetown Hoyas
for the 3-point victory.
The Wolfpack used a strong inside game to dominate the Hoyas on the boards. NC State grabbed more than twice as many offensive rebounds as Georgetown and nearly doubled up the Hoyas in second-chance points.
C.J. Leslie
had seven second-chance points, nearly as many as the entire Georgetown team, and 10 of the Wolfpack's 20 points in the paint.
NC State's efficiency on the perimeter also proved to be a key weapon in the upset win. The Wolfpack made 7-of-15 shots (47 percent) from beyond the arc against a Georgetown team that entered the game holding opponents to a Division I-best 28 percent shooting on 3-point attempts this season.
The early-round upset loss for Georgetown was hardly a surprise. This is the third straight year the Hoyas have been eliminated by a team seeded at least five spots lower. They are the third team with such a streak, joining DePaul (1980-82) and Florida (2002-04).
(1) Michigan State 65, (9) Saint Louis 61
The Spartans advance to the Sweet 16 for the fourth time in the last five seasons thanks to another big game from senior
Draymond Green
.
Green stuffed the stat sheet with 16 points, 13 rebounds and six assists. It's his eighth game this season with at least 15 points, 10 rebounds and five assists – no other player in Division I has more than three such games.
Michigan State sealed the win with a much-improved half-court offense after halftime.
The Spartans shot over 60 percent in the half-court and turned the ball over just twice in the final 20 minutes, after coughing it up eight times on 29 half-court possessions in the first half.
The
Saint Louis Billikens
were looking for their first Sweet 16 appearance but once again Rick Majerus failed to reach the second weekend with an underdog.
Majerus is now 0-5 all-time in the Round of 32 as a lower seed, including a loss to the Spartans in 2000 when they won the national championship.
March, 17, 2012
3/17/12
1:10
AM ET
On a day in which lower-seeded teams played even with higher-seeded teams, the biggest story in college basketball was 15th-seeded
Lehigh's
stunning win over No. 2 seed
Duke
.
This was the second 15-versus-2 win of the day. It marked the first season in which a pair of 15 seeds won an NCAA Men's Basketball Championship game.
The Blue Devils lost for only the fourth time in the round of 64 under Mike Krzyzewski. They entered the day 28-0 all-time against teams seeded 12th through 16th, but could not handle
C.J. McCollum
and his Mountain Hawks teammates.
McCollum scored 30 points and drew 13 fouls, the second-most by a player in a game in the last three tournaments (
Jimmer Fredette
">Jimmer Fredette drew 14 last season against Wofford).
Lehigh outscored Duke 19-4 in transition Friday during the Mountain Hawk's second-round win. Lehigh entered the championship tournament with the 16th-best transition defense in the nation. The Blue Devils, on the other hand, had been outscored by 1.9 transition points per game this season, the second-worst differential in the ACC.
Lehigh also attempted 37 free throws, the most by a Duke opponent in a tournament game since 1955, when Villanova attempted 42.
This was the first loss for current ACC members against a 15 or 16 seed in the Round of 64. It wasn't the only big upset of the evening.
Here's a snapshot look of the rest of the games from Friday night.
Midwest Region
(2) Kansas 65, (15) Detroit 50
Thomas Robinson
had his nation-leading 24th double- double this season. It is the first time that a Horizon League team hasn't won a Men's Basketball Championship game since 2004.
(10) Purdue 72, (7) Saint Mary's 69
Purdue
has won 14 straight Round of 64 games, including one in each of the last six seasons.
(12) South Florida 58, (5) Temple 44
South Florida
gets the win in its first Round of 64 appearance since 1992.
Temple
has lost in the Round of 64 in four of its last five Men's Basketball Championship appearances. The Owls scored at least 64 points in every other game this season.
(13)Ohio 65, (4) Michigan 60
The
Bobcats
became the sixth team to win a tournament game as both a 13 and 14 seed (they beat Georgetown as a 14 seed two seasons ago).
Ohio scored 63 of its 65 points in the half court, shooting nearly 16 percentage points higher than
Michigan
in half-court sets. In their last tournament victory over Georgetown in the 2010 Men's Basketball Championship, the Bobcats shot 57 percent and outscored the Hoyas by 18 points in the half court.
Since 2004, Ohio is 2-2 in tournament play. All other MAC teams are a combined 0-6.
Michigan is now 10-1 all-time versus teams seeded No. 12 or worse.
West Region
(1) Michigan State 89, (16) LIU Brooklyn 67
Draymond Green
had 24 points, 12 rebounds, and 10 assists to lead the Spartans, his second consecutive triple-double in the Men's Basketball Championship (he had a triple double in Round of 64 loss to UCLA last season).
Green joins Oscar Robertson and Magic Johnson as the only players with multiple triple-doubles in Men's Basketball Championship history (Robertson had four, Johnson two).
(9) St Louis 61, (8) Memphis 54
Saint Louis
wins a Men's Basketball Championship game for the first time since 1998. Head coach Rick Majerus is now 11-1 in round of 64 games. It is only Saint Louis' fourth tournament victory in program history.
South Region
(10) Xavier 67, (7) Notre Dame 63
Xavier
wins in the Round of 64 for the fifth time in six seasons.
Tu Holloway
moved past Jamie Gladden for 7th on Xavier's all-time scoring list (1,790) and led all scorers with 25 points.
Notre Dame
assisted on 76 percent of its field goals Friday against Xavier. It was the first time this season that Notre Dame has lost when assisting on at least 60 percent of its field goals (previously 19-0).
March, 2, 2012
3/02/12
10:31
AM ET
By
Jeremy Lundblad, ESPN Stats & Info
| ESPN.com
The latest College Basketball Nation
Player of the Year Straw Poll
shows a dead heat between
Kentucky
's
Anthony Davis
and
Kansas
's
Thomas Robinson
.
If Davis wins any of the three major awards, it would be historic even compared to Kentucky's storied past. No Wildcat has ever won the Wooden Award, Naismith Award or AP Player of the Year. Among freshmen, only
Kevin Durant
has taken home the hardware, winning all three awards in the 2006-07 season.
Danny Manning
was the last Jayhawk to win national player of the year, claiming both the Naismith and Wooden Awards after the 1987-88 season. No Kansas player has ever won the AP award, which was first awarded in 1961.
The advanced metrics are split on who the top player has been this season.
Davis leads the nation in
Player Efficiency Rating (PER)
, a metric established by John Hollinger to measure overall effectiveness. Davis has a PER of 36 this season while Robinson's PER is 29, 18th in the nation and second in the Big 12 behind
Missouri
's
Ricardo Ratliffe
.
KenPom.com's Player of the Year standings
favor Robinson for the top spot. Davis comes in fourth in these rankings, behind
Draymond Green
and
Jared Sullinger
.
Case for Anthony Davis
Davis changes the game with his defense. Through 29 games, he has blocked 139 shots. He has a chance to set both the national freshman record, currently held by
Marshall
's
Hassan Whiteside
with 182 in 2009-10, as well as the overall SEC record, set at 170 by
Mississippi State
's Jarvis Varnado.
Davis is less polished on the offensive end of the floor, where he averages 14 points per game. The only AP National Player of the Year to average less than 15 points was
Patrick Ewing
for
Georgetown
in 1984-85.
Davis makes 66 percent of his shots from the field, among the best in the nation. If he keeps up his current pace, he'll be the first player to average 14 points, nine rebounds and four blocks since
Connecticut
's
Emeka Okafor
in 2003-04.
Case for Thomas Robinson
While Davis is the nation's top shot-blocker, Robinson is near the top in rebounding. He is second nationally in rebounds per game and first in defensive rebounding percentage.
With a small increase in rebounds per game, Robinson could join Kansas legends Wilt Chamberlain and Clyde Lovellette as the only players in school history to average 17 points and 12 rebounds in a season. The last three power six conference players to reach both thresholds are
Blake Griffin
,
Michael Beasley
and
Tim Duncan
.
Robinson is second in the nation and first among power six conference players with 21 double-doubles this season. Only three players in Big 12 history have recorded more in a season – Griffin, Beasley and
Drew Gordon
.
Robinson averaged less than 8 points per game last season. No AP Player of the Year winner has ever averaged fewer than 10 points per game the previous season.
February, 28, 2012
2/28/12
1:43
PM ET
By
ESPN Stats & Information
| ESPN.com


The Big Ten title is on the line as No. 5
Michigan State
travels to No. 20
Indiana
(7 p.m. ET on ESPN). With a win, the Spartans would claim sole possession of the regular-season title for the first time since the 2008-09 team that eventually lost in the championship game.
It's also a big game for the Hoosiers, who are looking to become the fourth team in the past 10 years to defeat three AP top-5 teams in the same season. Indiana is 16-1 at home this season, including wins against top-ranked
Kentucky
and No. 2
Ohio State
.
Contrast in styles
The game should be a classic matchup between Indiana's offense and Michigan State's defense. In Big Ten play this season, the Hoosiers lead the league in points per possession and points per game. On the defensive side, the Spartans lead both of those categories in addition to allowing the lowest field goal percentage.
When the teams met on Dec. 28, the Spartans became the first team this season to hold the Hoosiers under a point per possession. Indiana is 0-5 this season when it has been held below a point per possession.
Green powers Spartans from post
Michigan State's calling card under Tom Izzo has been its physical play, especially on the offensive glass. Last season's team strayed from this tradition, barely finishing in the top 100 in the nation in offensive rebounding percent and missing the Final Four for the first time since 2008. This season, the Spartans lead the Big Ten in offensive rebound percentage (39 percent), second-chance points per game (13) and paint points per game (34).
Senior forward
Draymond Green
leads the Michigan State attack. He is one of five players from power six conferences averaging at least 15 points and 10 rebounds per game this season.
Green is also one of the best big men in the country distributing the ball. He has five games this season with at least 20 points, 10 rebounds and five assists. The only players in the previous 15 years who can claim at least four such games are
Evan Turner
(six in 2009-10),
Tim Duncan
(five in 1996-97) and
Carmelo Anthony
(four in 2002-03).
Zeller leads Hoosier turnaround
After three straight 20-loss seasons, Indiana has performed one of the biggest turnarounds in the nation this year. The Hoosiers 10-win increase over last season is the most among power six conference teams and one of seven double-digit improvements in the nation. With one more win, Indiana will match the largest win increase in school history, an 11-game improvement from 18-11 in 1989-90 to 29-5 in 1990-91.
He might be overshadowed by National Player of the Year candidate
Anthony Davis
, but
Cody Zeller
is having a great freshman campaign. He leads the Big Ten and is fourth in the nation in field goal percentage and ranks in the top 15 among power six conference freshmen in points and rebounds per game. His current field goal percentage ranks fifth among freshmen since 2000.
Jeremy Lundblad, Toby Petitpas and David Kiarsis contributed to this post
February, 17, 2012
2/17/12
3:56
AM ET
A scan of the college basketball box scores each night guarantees all kinds of statistical oddities and standout performances. Here are some we found from Thursday:

Duke 78, NC State 73
NC State's Scott Wood missed three free throws on Thursday (7-for-10) after missing three free throws in his last outing against Georgia Tech (2-for-5). Wood had made an ACC-record 66 free throws in a row dating back to last season before his first Georgia Tech miss.
Michigan State 69, Wisconsin 55
Draymond Green scored 20 points, grabbed 10 rebounds and handed out 5 assists for the Spartans, the fourth time this season he's reached all three of those levels in game. Only one other player this season has more than one such game; Lehigh's C.J. McCollum has done it twice.
Florida State 48, Virginia Tech 47
Florida State went 1-for-8 from the foul line in the win. They are the fifth team this season to win a game making one or fewer free throws; the Seminoles' eight attempts are the most of those five teams.
San Diego 78, Portland 75 (OT)
San Diego's Christopher Anderson dished out 13 assists and recorded 5 steals in the win, joining UNC's Kendall Marshall and Iona's Scott Machado as the only players this season to reach both those levels in a game.
Central Connecticut State 65, St. Francis (PA) 60
Trillion of the Night: Tony Peters of St. Francis (PA) played nine minutes without accumulating a stat in the Red Flash's 65-60 loss to Central Connecticut State.
November, 10, 2011
11/10/11
10:59
PM ET
By
Katie Sharp
| ESPN.com
Ed Jones/Getty ImagesMichigan State and North Carolina meet in the Quicken Loans Carrier Classic aboard the USS Carl Vinson aircraft carrier
The
North Carolina Tar Heels
and
Michigan State Spartans
are two of the most storied basketball programs in the nation. Friday they will etch their names in the history books yet again, playing in the first-ever college basketball game aboard a U.S. Navy aircraft carrier.
Michigan State W2W4
The Spartans return just one player this season who averaged over seven points per game and face a possible rebuilding year.
A staple of the Michigan State program under coach Tom Izzo has been offensive rebounding and frontcourt scoring. Last year, however, the team struggled in both of areas.
They grabbed 35.3 percent of their missed shots, their worst offensive rebounding rate since 2004. They shot 46.9 percent inside the arc, their worst two-point shooting percentage in the last 15 seasons.
Draymond Green
is expected to shoulder much of the scoring and rebounding load this season. Green was strong on the defensive glass last year (6.2 per game, third in Big Ten), but needs to improve his offensive game in the post. He averaged 0.73 points per post-up play, third-worst among Big Ten players (min. 30 plays).
However, Green was effective passing out of the post and finding the open man. His 28 passes from the post resulted in 38 points (1.36 points per play) and he turned the ball over just four of the 32 times the defense committed to him in the post.
North Carolina W2W4
North Carolina relied heavily on its transition game to score last year. Only two teams attempted more field goals on the break than the Tar Heels and only three teams scored more in transition.
While the Tar Heels were comfortable playing at the fastest pace in the league, they were inefficient in transition, ranking ninth in the ACC in transition points per play.
Preseason All-American
Harrison Barnes
averaged 15.7 points per game last season, but initially had trouble adjusting to the college game. But once
Kendall Marshall
took over as the starting point guard on January 18, Barnes found his groove and averaged more than 19 points the rest of the way.
Barnes' chemistry with Marshall was highlighted by his much-improved shooting in both spot-up situations and coming off screens. Barnes shot 27 percent and averaged 0.75 points per spot-up play in the 17 games with
Larry Drew II
as the primary point guard. With Marshall, those numbers jumped to 40.4 percent and 1.08.