Stats & Info:

Drew Stubbs
July, 5, 2013
7/05/13
12:38
PM ET
By
Jason Starrett, ESPN Stats & Information
| ESPN.com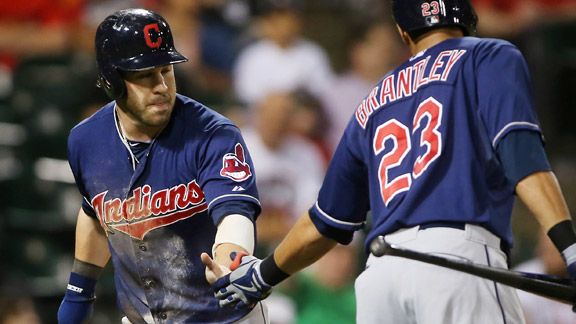 US PresswireJason Kipnis and the Indians have been the AL's best team the last few weeks
The
Cleveland Indians
host the
Detroit Tigers
on Friday in the opener of a four-game series at Progressive Field. Earlier this week, the Indians took over sole possession of first place in the AL Central for the first time since early May. But thanks to three straight Tigers wins and back-to-back losses by the Tribe, Detroit comes in with a 1.5-game lead in the division.
Of course, it's still just a fraction of the 5.5-game lead Tigers held on June 11. How have the Indians been able to go an AL-best 15-7 since that day and close the gap in the Central?
TWO-OUT PRODUCTION
The Indians have scored nearly 41 percent of their runs with two outs this season. Their 169 runs scored with two outs are the most in the American League and second-most league wide (Cardinals - 174). The Tribe leads MLB in two-out slugging percentage (.433) and ranks second in two-out OPS (.767).
SPEED
Offseason additions like
Michael Bourn
and
Drew Stubbs
were meant to improve overall team speed, and it's paid off. The Indians' 64 stolen bases are tied for fourth in MLB and no team has more than their 20 stolen bases since June 11. It's a dramatic improvement for a team that ranked 12th in stolen bases in 2012. Cleveland baserunners have also gone first to third or scored on a single 61 times this season, most in MLB.
CLOSE-GAME CONSISTENCY
The Indians are 18-8 (.750) in one-run games (best in baseball), and are the only team that has yet to lose an extra-inning game (5-0). Meanwhile, the Tigers are just 9-12 in one-run games and have gone 2-9 in extra innings, the most extra-inning losses in baseball.
BIG MASTY
Justin Masterson
has been one of Cleveland's best starters during its run and he gets the ball on Friday. In four starts since June 11, Masterson is 2-1 with a 2.83 ERA and the Indians have won three of those four games. In his last start, Masterson shut out the White Sox with eight strikeouts and just one walk. It was his major-league best third shutout of the season
Masterson, primarily a sinker-baller, has thrown 28 percent sliders this season after doing so just 19 percent of the time in 2012. His .091 opponents' batting average against his slider is the lowest among qualified starting pitchers. He'll be tested on Friday, however, as Detroit has the highest OPS (.783) and the most home runs (21) against sliders this season.
KIPNIS REVIVAL
Kipnis
After hitting .189 through May 1,
Jason Kipnis
has hit .340 since (sixth in MLB over span) including an AL-best .419 during the month of June. His efforts earned him player of the month honors, the first Indian to win the award since
Shin-Soo Choo
in September of 2008. He's riding a career-long 15-game hitting streak and has reached base safely in 35 straight games. It's the longest on-base streak by a member of the Indians since
Victor Martinez
reached in 45 straight during a stretch spanning the 2005 and 2006 seasons.
May, 28, 2011
5/28/11
12:23
AM ET
Coming off consecutive starts in which he allowed five earned runs,
David Price
bounced back in a big way striking out a career-high 12 batters as the
Tampa Bay Rays
defeated the
Cleveland Indians
.

Price
Price overpowered the Indians hitters as they swung and missed on 17 pitches against Price, the most for Price in his past 18 starts. He had great command of his fastball as 15 of the 17 swings and misses were against the heater, including seven which resulted in strikeouts.
The Rays ace displayed great control working the corners of the plate. Of Price's 110 pitches, 81 were either on the inside or outside corner of the plate. The Indians went 1-for-13 with eight strikeouts in at-bats ending with a pitch inside or outside.
Price also mixed in his slider well, throwing 14, his second highest total in any game this season. Cleveland went 0-for-3 with two strikeouts in at-bats ending with the slider.
While Price was brilliant, he did receive some help with poor plate awareness from the Indians batters. Cleveland missed on 46 percent and chased 39 percent of balls outside of the strikezone (both season highs for Price).
Ugly swings were a theme throughout the night in this game for both teams.
Matt LaPorta
of the Indians and
B.J. Upton
of the Rays each struck out four times in Friday's game.
The only other game this season to feature two "Golden Sombreros" was on May 12, when
Ian Desmond
and
Jayson Werth
both recorded four strikeouts for the Nationals against Atlanta.
Elsewhere around the majors:
• While LaPorta and Upton had rough nights, perhaps no one had a more forgettable Friday than
Drew Stubbs
. Batting out of the leadoff spot, Stubbs was the only
Cincinnati Reds
hitter to have six plate appearances against the
Atlanta Braves
. He went 0-for-6 with four strikeouts.
The only other Reds player to do this in a nine-inning game in the live-ball era was Art Shamsky against the Giants on Oct. 1, 1965.
Out of the leadoff spot,
Baseball-Reference.com
shows us that only two other players have done it in a nine-inning game in the live-ball era. Oddly, all three of their teams won the game in spite of their dismal line.
• While former Red and current
Chicago White Sox
player
Adam Dunn
suffered a four-strikeout game on Thursday, he rebounded Friday drawing four walks in a loss against the
Toronto Blue Jays
.
According to Elias, the last time a player struck out four or more times and then walked four or more times the next game was
Jim Thome
in 2000.
April, 13, 2011
4/13/11
8:15
AM ET
By
Nick Loucks
| ESPN.com
Where have all the great centerfielders gone?
A cursory look at the basic stats tell us that there are no elite offensive talents currently in the major leagues at that position. No player who spent half his time in center field last season and qualified for the batting title managed to hit .300.
That's the first time that's happened in the live-ball era (1920).
Baseball-Reference.com
tells us that since 1920, there have been 173 players who spent half their time toiling in center field and had an OPS+ of at least 140. Every decade from the 1920s to the 1990s featured at least 17 individual seasons reaching that number. In the 2000s, there were 11 seasons combined and five of them were by
Jim Edmonds
alone. The last centerfielder to accomplish it was
Carlos Beltran
in 2006.
To the right is a chart of the recent annual OPS averages for major-league centerfielders. Notice especially the steady decline in the AL.
We should consider this in context with other positions since offense has depressed overall in that time span. Still, the offensive profile of the centerfielder has changed.
It's very possible that defense has become more of a priority in front offices across the baseball landscape. Taking a glance at the American League West alone and you'll see
Peter Bourjos
in Anaheim (15 Defensive Runs Saved in 2010),
Franklin Gutierrez
in Seattle (14),
Coco Crisp
in Oakland (9) and
Julio Borbon
in Texas (7). These players are light on offense and decidedly heavy on defense.
Looking more broadly with a defensive metric from Baseball Info Solutions, 2010 was a banner year for defense at this glamour position. The combined Defensive Runs Saved by all centerfielders that played at least 700 innings was +109. That's the high-water mark for a position that has become decidedly more defensive-oriented in the last decade.
Is there light at the end of the tunnel? Currently, there are nine teams that have players in their age-25 season or younger manning centerfield. And that's not even counting players like
Jacoby Ellsbury
,
Drew Stubbs
,
Chris Young
and
B.J. Upton
.
Since 2000, the only centerfielder to manage an OPS+ of 160 over the course of an entire season is Edmonds. In the VERY early-goings this season, Baseball-Reference shows us there are four centerfielders doing that now, three of whom are still in their 20s (
Matt Kemp
,
Colby Rasmus
and Upton).
They may not be names like Ty Cobb, Joe DiMaggio, Willie Mays, Duke Snider, Mickey Mantle or even Kirby Puckett but it does offer some hope for future greatness.
--Contributions made by Mark Simon, Jeff Bennett and Justin Havens
Today's Trivia:
The
Boston Red Sox
last started 0-5 in 1996. Which starting pitcher got the win to break that losing streak?
Quick Hits:
Let's dive into the two remaining undefeated teams.

Texas Rangers
– 6-0 - Best start since 1996 (7-0)
• Timely hitting has been key. The Rangers are batting .320 with RISP and just .235 otherwise.
• Of their 30 hits with no one on base, 10 have been home runs.
• The Rangers lead the majors with 32 extra-base hits, while their 23 singles are tied for the fourth fewest.
• In the first three innings, Texas is hitting .217 (though six of 15 hits are home runs). From the fourth inning on, the Rangers are hitting .320.
• In three-ball counts, opponents are batting .114 with a .373 OBP. Last season, they hit .248 with a .573 OBP.
• The 1-2 hitters in opposing batting orders are a combined 8-fo-47 (.170).
• Over the past two seasons, Rangers starting pitchers have a 2.21 ERA before April 15.

Cincinnati Reds
– 5-0 – Best start since 1990 (9-0)
• The Reds' bullpen has a 1.29 ERA and has held opposing hitters to a .189 BA.
• Eight of the 17 runs allowed this season have come in the first inning, and the Reds have trailed going into the second inning in three of five games. After the first, Reds pitchers have a 2.03 ERA.
• The top three hitters in the order –
Drew Stubbs
,
Brandon Phillips
and
Joey Votto
– are hitting a combined .406.
• Catchers
Ryan Hanigan
and
Ramon Hernandez
have combined for a .476 BA and 1.405 OPS.
• The Reds lead the league with a.339 BA. Take out the pitchers, and the Reds are hitting .349 as a team thus far.
• According to the Elias Sports Bureau, today's
Houston Astros
-Reds game will be the first between a 5-0 or better team and a 0-5 or worse team since 2003. It happened three times that season.
This Date in Baseball History
1977 - The expansion
Toronto Blue Jays
began their major league odyssey with a 9-5 victory over the
Chicago White Sox
at Toronto's Exhibition Stadium. Al Woods, pinch hitting for Steve Bowling in the fifth inning, became the 11th pinch hitter with a home run in his first at-bat.
1979 - Ken Forsch of the Houston Astros pitched a no-hitter against the
Atlanta Braves
to duplicate the no-hitter tossed by his brother Bob of the
St. Louis Cardinals
against the
Philadelphia Phillies
on April 16, 1978. They are the first brothers to pitch no-hitters.

Moyer
1984 – The Detroit Tigers' Jack Morris pitched a no-hitter against the White Sox despite giving up six walks. It was the first Tigers no-hitter since Jim Bunning's in 1958.
Trivia Answer:
Making his first start with the Red Sox,
Jamie Moyer
picked up the win to put an end to Boston's 0-5 start in 1996. Moyer, now an ESPN analyst, held the
Kansas City Royals
to one run and four hits in 7⅓ innings.
October, 5, 2010
10/05/10
1:10
PM ET
By
John Fisher
| ESPN.com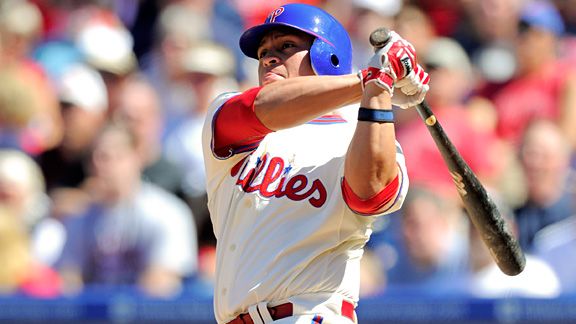 Rich Kane/Icon SMI
Carlos Ruiz has gotten a lot of big hits throughout his Phillies career, especially this season.
A capsule stat-based preview of the Reds-Phillies NLDS matchup
Top things to know
This series will be a matchup of strength vs. strength. The Phillies' starting pitchers led the majors in innings pitched and were fourth in ERA at 3.55. They helped cover for a bullpen that was 18th in ERA (4.02).
The Reds led the National League in hitting (.272) and slugging (.436), and were second in OBP (.338). MVP candidate
Joey Votto
led the league in OBP, slugging and adjusted OPS+ and was second in the NL in offensive WAR, setting career highs in every offensive category.
Deciding factor

Phillies pitchers had the second lowest walk rate in the major leagues (6.8 pct), and the three pitchers the Reds will see most --
Roy Halladay
,
Roy Oswalt
and
Cole Hamels
-- walk hitters with even less frequency. And they come after you right away -- the Phils were third in baseball in first-pitch strike percentage and in the top 10 in percent of pitches thrown in the strike zone.
The Reds hitters, for all their success, are an aggressive bunch -- their swing percentage of 47.0 led the National League and was fourth in the majors. And Cincinnati is second in swing percentage and fourth in chase percentage on the first pitch.
Most interesting matchups
The Phillies will have three lefties in the 3-through-6 spots in their lineup and the Reds have veteran
Arthur Rhodes
and hard-throwing phenom
Aroldis Chapman
to counter. Chapman has never faced Philadelphia, but the middle of the Philly order has had some success against Rhodes:
Chase Utley
is 1-8 with two strikeouts, but
Ryan Howard
and
Raul Ibanez
are 6-19 (.316) combined. Don't forget July 9, when Rhodes allowed a leadoff double to Ibanez and a walk-off HR to Howard in an 11-inning Phils win. And keep in mind that
Jayson Werth
, the righty who will be mixed in with those lefties, has three walks in six career PA against Rhodes.
And Cincinnati has two lefty sluggers in the middle of their lineup that the Phillies will need to neutralize.

Lefty
J.C. Romero
lowered his opponents' BA against left-handed hitters almost 100 points from last season, but Votto is 2-3 against Romero. Plus,
Jay Bruce
tied for fourth in the majors this season (with Howard, among others) with 12 HR against lefties. But the Phils can also trot out
Ryan Madson
-- lefties hit only nine points higher than righties this season against him, and Bruce and Votto are 0-6 in their careers against the setup man. Keep in mind that righty
Drew Stubbs
hit 10 HR against left-handed pitching, just two behind his teammate Bruce.
Statistical secrets
Carlos Ruiz
finished the season hitting .302, becoming just the fourth Phillies catcher since 1901 to finish the season over .300 (min. 400 PA). In the ninth inning or later, he hit a whopping .359 and slugged .692 (5th in MLB, min. 40 PA). Of course Joey Votto is one of the players ahead of him in both categories, hitting .415 and slugging .717. Ruiz's nine extra-base hits after the eighth inning were fifth best in baseball.
Also, the Phillies' three starting pitchers in this series all get groundballs at rates above the MLB average, especially Halladay. To go along with that, according to
Fangraphs
, the Phillies boast the fifth and sixth best players in baseball in Double Play Runs Above Average:
Placido Polanco
and Chase Utley, respectively.
SIG's Picks
Albert Larcada of ESPN Stats & Info did statistical analysis of the last 10 postseasons, looking for the factors that most separate winning and losing teams. He found three -- power hitting, front-end starting pitching and the ability to turn batted balls into outs. Using his findings, he was able to make a projection.
Larcada's system gives the Phillies a 55.7 percent chance to beat the Reds, the fourth-highest percentage of the eight postseason teams.
August, 27, 2010
8/27/10
10:42
PM ET
By
ESPN Stats & Info
| ESPN.com

Jay Bruce
hit three home runs from the lead-off spot in the
Cincinnati Reds
' 7-1 win over the
Chicago Cubs
. Bruce joins Pete Rose (1978 against the
New York Mets
) as the second player in franchise history to hit three home runs in a game from the top of the order. Bruce is the first lead-off hitter with a three HR-game against the Cubs since Davey Lopes in 1974. Entering Friday, Bruce had four home runs in 106 plate appearances when batting first.
As for the Cubs, this was the third time this season they allowed a player to hit three home runs in a game:
Albert Pujols
and
Drew Stubbs
are the other two.
So you might think the
Toronto Blue Jays
'
Jose Bautista
is a one-year wonder? Not necessarily. Since last September, Bautista has hit more home runs than anyone in baseball.

Jon Lester
(7 IP, 2 H, 10 K) is now 4-0 in six career starts at Tropicana Field. Also, he now owns the last four instances of a
Boston Red Sox
starter to throw at least seven innings with two hits or fewer and at least 10 strikeouts.
Victor Martinez
became the first player to hit two home runs in a game off the
Tampa Bay Rays
'
David Price
.
A.J. Burnett
(3⅓ IP, 9 R against the
Chicago White Sox
) has now allowed nine runs in a game three times in his 12-year career … and all three of them have come as a member of the New York Yankees. Burnett has also allowed 23 first-inning runs this season, which is more than what he gave up over the previous three years combined (20).
The
Texas Rangers
Josh Hamilton
set a single-season franchise record by recording his 24th three-hit game of 2010. He breaks the previous mark held by
Ivan Rodriguez
(1997) and Mickey Rivers (1980).
From the Elias Sports Bureau:
The
Philadelphia Phillies
'
Ryan Howard
has now strukc out 1,000 times in 843 career games. That's the second-fewest games to 1,000 K in MLB history. (Rob Deer reached 1,000 in 828 career games.)
August, 26, 2010
8/26/10
1:51
PM ET
By
Lee Singer
and
Dan Braunstein
| ESPN.com
In the Colorado Rockies' come-from-way-behind 12-10 victory Wednesday afternoon against the Atlanta Braves
, their win probability (based on teams throughout history in similar situations) dipped as low as 1.2 percent in the fourth inning:
• The Rockies trailed 3-0 after the top of the first, meaning their win probability was 28.9 percent even before they came to bat.

• After the top of the second, the Rockies trailed 7-0 - a win probability of 7.0 percent.
• When
Omar Infante
homered in the third inning to give the Braves a 10-1 lead, the Rockies' win probability fell to 2.2 percent.
• With the score still 10-1,
Brian McCann
doubled leading off the top of the fourth, and the Rockies' win probability dipped to its lowest point at 1.2 percent.
• Trailing 10-6 in the sixth inning, the Rockies' win probability sat at just 15.5 percent until a
Ryan Spilborghs
two-run double increased it to 30.8 percent, cutting the score to 10-8.
• The Rockies' win probability did not get above 30.8 percent until the eighth inning, when Carlos Gonzalez's two-run single tied the game at 10. The Rockies win probability jumped all the way from 24.9 percent to 61.2 percent with the hit.
• When
Troy Tulowitzki
followed with the go-ahead single to make it 11-10, the Rockies' win probability went up to 84.9 percent, and increased to 93.1 percent with Todd Helton's RBI single providing the final run.
• The Rockies' win probability did not dip below 90 percent from that time forward as they closed out the Braves in the 9th.
The Cincinnati Reds' 12-11 victory over the San Francisco Giants
on Wednesday featured several win probability swings:
• The Reds scored four runs in top of the first inning and had a win probability of 82.4 percent before the Giants even came to bat.

• After the Reds scored four more runs in the third inning to take an 8-1 lead, their win probability stood at 96.4 percent.
• When
Homer Bailey
singled to give Cincinnati a 10-1 lead in the fifth inning, the Reds' win probability was all the way up to 99.5 percent, its highest point until the game was over.
• The Giants cut the lead to 10-5 after six innings, but the Reds' win probability was still high at 97.4 percent.
• Even when
Juan Uribe
homered in the eighth to make it 10-8, the Reds still had a win probability of 85.2 percent.
• The biggest win probability jump of the game occurred on Andres Torres' eighth-inning double, which tied the game at 10 and knocked the Reds' win probability from 65.3 percent down to 26.2 percent.
• When Aubrey Huff's sacrifice fly in the eighth gave the Giants an 11-10 lead, the Reds' win probability fell to 14.6 percent.
• The Reds entered the 9th inning trailing 11-10. After
Ryan Hanigan
flied out leading off the top of the inning, the Reds' win probability was at its lowest point at just 8.3 percent.
• After
Drew Stubbs
reached second base on an error, Paul Janish's game-tying single in the 9th took the Reds' win probability from 21.9 percent up to 56.1 percent, the third-biggest jump of the game.
• The Reds took a 12-11 lead in the 12th inning on a
Joey Votto
single, which brought the Reds win probability from 48.1 to 84.9 percent, the second-largest win probability movement of the game.
• Torres came to bat in the ninth inning with runners on first and third and two out, with the Giants trailing 12-11. The Reds' win probability was at 80.9 percent at this juncture. Torres grounded out to end the game, bringing the Reds' win probability to 100 percent.
May, 17, 2010
5/17/10
12:32
PM ET
By
Ryan McCrystal, ESPN Stats
and
Info
| ESPN.com
Quick Hits: Here's a look at the good, the bad and the ugly statistics from leadoff hitters this season.

* Elvis Andrus leads all leadoff hitters with a .417 OBP. That's nearly a 100-point increase from his .329 OBP in 2009.

* Adam Jones and Everth Cabrera are tied for the lowest OBP by a leadoff hitter at .224.

* Nate McLouth has been the most patient leadoff hitter, seeing 4.6 pitches per plate appearance.

* Carlos Gonzalez has been the least patient, seeing only 3.1 pitchers per plate appearance.

* Juan Pierre has been the toughest leadoff hitter to strikeout, just once every 15.2 at-bats.

* Drew Stubbs has been the easiest, striking out once every 2.9 at-bats.

Today's Trivia: Today is the 12-year anniversary of David Wells' perfect game. It was the first perfect game since Kenny Rogers' in 1994. Which member of the Yankees starting lineup that day was also in the Angels' lineup when Rogers threw his perfect game against them?

Today's Leaderboard: A few Orioles pitchers seem to have developed an unlikely skill: working their way out of a 2-0 hole. Brad Bergesen, Jeremy Guthrie and Kevin Millwood each rank among the league leaders in lowest opponent batting average allowed after a 2-0 count. Perhaps it's because they've had so much practice. Millwood and Guthrie are tied with Tim Lincecum for the most 2-0 counts this season with 32.

Key Matchups: The Rays current roster is collectively batting .138 (8-58) in their careers against Fausto Carmona. The worst of the group are Jason Bartlett (0-15) and Hank Blalock (0-11). Carl Crawford (2-6) is the only member of the Rays with more than one hit against Carmona.

David Wright, who is batting just .176 over his last five games, could break out of his mini-slump tonight. Wright is a career .438 hitter (7-16) against Derek Lowe.

Trivia Answer: Chad Curtis was on the wrong end of Rogers' perfect game in '94, and then started for the Yankees in Wells' perfect game in '98. If you guessed Chili Davis, you weren't far off. Davis was in the lineup for the Angels and for David Cone's perfect game in 1999.
April, 21, 2010
4/21/10
1:43
PM ET
By
Jeremy Lundblad, ESPN Stats & Info
| ESPN.com
Today's Trivia
:
Mark Buehrle
is set to face the Rays for the first time since his perfect game last July. Besides Buehrle, who are the only two pitchers with a World Series title and multiple no-hitters including a perfect game all with the same team?
Quick Hits
: With the late-inning heroics of
Darnell McDonald
and
Nate McLouth
capping a wild Tuesday, let's take a look at some late-inning tidbits from the opening weeks.
*
Eugenio Velez
is 4-5 with 2 HR and 5 RBI in the ninth inning and 4-23 otherwise, according to baseballmusings.com's day by day database.
* Last season,
Vernon Wells
had a .598 OPS in the seventh or later and was homerless in 210 at-bats. This season, he's posted a 1.838 OPS in the seventh or later thanks in part to a pair of ninth inning home runs.
* Joining Velez and Wells with two homers in the ninth are
Jason Heyward
,
Shane Victorino
,
Adrian Gonzalez
,
Ty Wigginton
and
Juan Rivera
.
* Gonzalez is batting .615 after the sixth inning with a 1.968 OPS. In innings one through six, he has a .176 average with a .545 OPS.
*
Drew Stubbs
is 3-13 (.231) in the seventh inning or later. However, of those 10 outs, nine have been via strikeout.
*
Juan Uribe
has scored nine runs this season, with eight of them coming in the seventh or later.
* In the seventh inning or later, the Dodgers are batting .349, easily the best in the baseball. Before that, they are hitting .282.
* The Braves are hitting an MLB-worst .193 after the sixth inning. Jason Heyward is hitting .353 in those innings, which means his teammates are hitting just .172 after the sixth inning. Despite this, the Braves are fourth in the majors in runs scored after the sixth.
* Only 13 of the White Sox's 57 runs have been after the sixth inning. Of those 13 runs, nine were scored by way of home runs.
Today's Leaderboard
: STATS defines "close and late" situations as the seventh inning or later when ahead by one run, tied, or with the tying run on base, at bat or on deck. In those situations, no one touches the Tigers, who are hitting .396 close and late. The next best team is Dodgers at .305. It helps explain how the Tigers are an amazing 4-5 when trailing to start the seventh inning. In 2009, they were 10-58 when trailing to start the seventh according to baseball-reference.com.
Key Matchups
: Mark Buehrle faces the Rays for the first time since his perfect game last season. Not every Tampa Bay hitter dislikes facing Buehrle.
Carl Crawford
is a lifetime .429 hitter against him. However, the real thing to watch is the longball. Since 2001, only
Jamie Moyer
and
Javier Vazquez
have allowed more home runs than Buehrle's 232. However, such has not been the case against Tampa Bay. Buehrle has allowed only one homer in his last six appearances against the Rays. Among current members of the Rays, only
Carlos Pena
has hit a home run off of Buehrle. He's only done so once, and that was back in 2002. In fact, current Rays have just that one homer in 216 plate appearances. For his career, Buehrle allows one home run per 36 plate appearances.
Take all 69 batters that
Jeremy Bonderman
has faced at least 19 times. Bobby Abreu's .571 batting average is the best of anyone (not to mention his .684 on-base percentage). Torii Hunter's .424 average and Hideki Matsui's .500 average are sixth and second best respectively. Yes, those would be the Angels' two, three and four hitters that Bonderman faces Wednesday. Combined, the three are hitting .479 against the Tigers hurler.
Trivia Answer
: Sandy Koufax (Dodgers) and Cy Young (Red Sox) both had multiple no-hitters including a perfect game and won a World Series with the same team. Buehrle became the third pitcher able to make that claim.