November, 6, 2013
11/06/13
1:02
PM ET
By
ESPN Stats & Information
| ESPN.com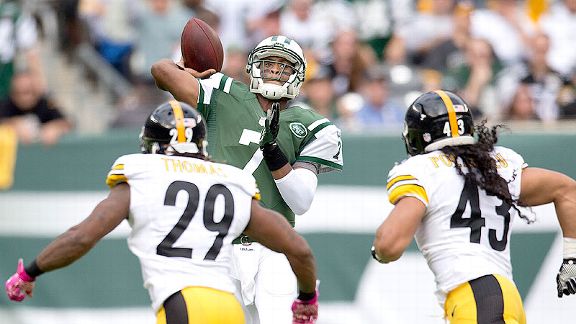 Mitchell Leff/Getty ImagesThe Steelers defense has been tough on rookie quarterbacks.
When the
Buffalo Bills
face the
Pittsburgh Steelers
on Sunday, they will likely start one of two rookie quarterbacks,
EJ Manuel
or
Jeff Tuel
.
The Steelers defense is coming off a game in which it allowed the most points (55) and yards (610) in team history, but Dick LeBeau's defensive scheme has always done well against rookies.
Including the playoffs, the Steelers are a league-best 16-2 vs rookie quarterbacks since 2004, when LeBeau re-joined the Steelers as defensive coordinator.
The only two rookie QBs to beat the Steelers under LeBeau: Troy Smith in 2007 (in a Week 17 game in which several Steelers starters, including
Ben Roethlisberger
, sat out to rest for the playoffs) and
Brandon Weeden
in 2012, when
Charlie Batch
started for an injured Roethlisberger.
STEELERS D vs ROOKIE QBs UNDER DICK LEBEAU
• 61 – The Steelers defense has made a habit of dragging down rookie QBs, totaling 61 sacks in 18 games.
Prior to his injury, Manuel had been sacked 13 times in five games, and he was sacked eight times by the
New York Jets
in Week 3.
• 167 – Rookie quarterbacks have averaged 167 passing yards per game against Pittsburgh since 2004.
Manuel has averaged 197 passing yards per game in his rookie campaign, throwing for a season-high 296 yards in Week 2 against the Panthers.
• 20 – Pittsburgh has 20 interceptions (against just 12 passing touchdowns allowed) in that span. The Steelers have held rookie quarterbacks to one passing touchdown or fewer in 16 of the 18 games in that span.
Manuel has thrown three interceptions this season (to five touchdowns), including two against the Ravens in Week 4.
October, 3, 2013
10/03/13
12:03
PM ET
By
ESPN Stats & Information
| ESPN.com
AP Photo/Tony DejakSince staring the season 0-2, the Browns have won 2 straight with Brian Hoyer as QB.
Week 5 of the NFL season begins tonight as the
Buffalo Bills
make the short trip to northeast Ohio to take on the
Cleveland Browns
. Here are a few storylines to follow heading into the game.
1
. This is the second straight season the Bills will play in Cleveland (Buffalo won 24-14 in Week 3 last season). The Bills have won five of the last eight meetings overall, including three of the last four in Cleveland.
2
. The Bills have scored at least 20 points in each of their four games this season under rookie QB
EJ Manuel
.
According to the Elias Sports Bureau, since the merger in 1970, there has been only one other team to score as many as 20 points in each of their first four games of a season while being led by a rookie QB. That was by the 2012
Washington Redskins
and
Robert Griffin
III.
After opening the season completing just over 68 percent of his passes over the first two games, Manuel has come back to earth, completing just 45 percent of his throws.
3
. As for the Browns quarterback situation, Cleveland is 2-0 since trading running back
Trent Richardson
and inserting
Brian Hoyer
as the starting QB.
If the Browns win tonight, Hoyer will become the first Browns quarterback to win his first three starts with the team, according to the Elias Sports Bureau.
Why has Cleveland been better under Hoyer than
Brandon Weeden
?
It starts with decision making. Hoyer is getting rid of the ball an average of 2.8 seconds after the snap, the best average in the NFL. In his two starts, Weeden took 4.3 seconds on average, the worst mark in the league.
Another area where Hoyer has been much better than Weeden is on short throws. On passes thrown 10 yards or fewer, Howyer is completing almost 70 percent with three touchdowns.
4
.
C.J. Spiller
scored three rushing touchdowns in the first two games of the 2012 season, but has just three running scores in the 18 games since (including no rushing touchdowns in six straight games). By comparison, the Browns (along with the
St. Louis Rams
) are the only teams without a rushing score this season.
Spiller is averaging 1.2 yards per rush after contact this season, tied for the second worst rate in the NFL. Last season, he averaged 2.1 yards per rush after contact, fifth best in the league.
5
.
Jordan Cameron
has accounted for five of Cleveland's seven touchdowns this season. Four of his five receiving scores have come since Hoyer took over as the starting quarterback.
September, 16, 2013
9/16/13
4:12
AM ET
By
Douglas Clawson
| ESPN.com
Jonathan Ferrey/Getty ImagesColin Kaepernick suffered the worst start of his career Sunday in Seattle.
As a reminder, Total QBR is a quarterback rating that takes into account all of a QB's significant contributions (passing, rushing, sacks, fumbles, penalties) to his team's scoring and winning and summarizes them into one number on a 0-100 scale, where 50 is average. Since 2008, the team with the higher QBR has won about 85 percent of the time. Complete QBR statistics for all quarterbacks can be found here:
SEATTLE IS A TOUGH ENVIRONMENT FOR OPPOSING QUARTERBACKS
Colin Kaepernick
's Total QBR was 14.0 on Sunday night, the lowest Total QBR in any start of his career. It was also the lowest Total QBR in Week 2 (min. 15 action plays). Both of Kaepernick's worst games in terms of Total QBR have come at Seattle, where opposing quarterbacks have been limited to a 33.1 Total QBR since the start of last season, 2nd-lowest among NFL teams at home.
Kaepernick's three interceptions in Seattle on Sunday match the total amount he had during the regular season last year.
SLOW START FOR RG III
Robert Griffin
III had a Total QBR of 43.0 against the Packers, including 5.3 in the 1st half as the Packers built a 24-0 lead. Griffin has done most of his damage late in garbage time this season, as the Redskins haven't entered the 4th quarter this season with a win probability above 2%.
Griffin's Total QBR is 23.4 this season, ranked 30th in the NFL among 33 qualified quarterbacks (84.6 through his first 2 games last season, 2nd in the NFL). His passer rating, which does not account for the clutch weight of the situation, is 89.6, ranked 17th in the league.
QUICK HITTERS
Philip Rivers
had a 93.5 Total QBR against the Eagles, his 2nd-highest Total QBR in a game since the start of last season. He posted a 72.6 Total QBR in the 4th quarter, he entered the game with a league-low 7.7 4th-quarter Total QBR during the last 2 seasons (0.02 4th-quarter Total QBR last week).
EJ Manuel
's Total QBR rose from 29.6 at the beginning of the Bills' final drive to 51.6 after his game-winning touchdown pass. Manuel's 60.1 Total QBR through Week 2 ranks 13th in the league. The Bills' Total QBR last season was 44.6, 26th in the league.
Aaron Rodgers
had an 80.9 Total QBR against the Redskins, he had a 98.0 QBR when the score differential was greater than 17, compared to a 65.0 Total QBR when the game was within 16 points. He was sacked 4 times, including back-to-back plays in goal-to-go situations in a 0-0 game, and once on 3rd down.
Brandon Weeden
's 26.7 Total QBR Sunday was his 10th game with a Total QBR lower than 30.0 since the start of last season, the most in the league. His Total QBR of 20.3 this season is the 3rd-worst in the NFL.
Michael Vick
's 81.5 Total QBR was his highest in a loss since Week 4 in 2011 against the 49ers. He can blame the defense, the Eagles had a defensive EPA of -19.4, their 4th-worst in a game during the last 7 seasons.
April, 29, 2013
4/29/13
9:09
AM ET
By
Sharon Katz
| ESPN.com
Mike Ehrmann/Getty ImagesEJ Manuel's accuracy, both in and out of the pocket, is just one reason the Bills drafted him.
The biggest surprise of the first round of the 2013 NFL Draft may have been the
Buffalo Bills
trading back and selecting Florida State QB
EJ Manuel
with the 16th-overall pick.
According to Scouts Inc., Manuel was the sixth-ranked quarterback entering the draft, which begs the question:
What did the Bills see in him?
Bills' general manager Buddy Nix and head coach Doug Marrone conducted a post-draft interview and defended their pick, pointing to Manuel's tremendous upside and athleticism.
When asked to size up Manuel's best attributes, Marrone stated:
"Well I think you could start listing many things. He can throw the football vertically down the field, he has a good arm, he can get himself out of trouble, he can create things with his feet, he has good presence in the huddle, he's accurate and we are excited to have him."
Let's break that quote down to show you what Marrone was looking at.
He can throw the football vertically down the field
Manuel improved his completion percentage on passes of 20 yards or longer in his junior and senior seasons. In 2012, Manuel completed 49.2 percent of his passes of 20 yards or longer, the highest completion percentage of any of Scouts Inc.'s top six quarterback prospects.
He can get himself out of trouble
In 2012, Manuel completed 55.8 percent of his passes when under duress, a higher completion percentage than
Geno Smith
(49.3),
Matt Barkley
(49.3) and
Landry Jones
(37.1).
Marrone pointed to Manuel's ability to keep his eyes downfield when flushed out of the pocket. In the past three seasons, Manuel actually was more accurate when outside the pocket than inside it.
When
forced
out of the pocket, Manuel completed 60 percent of his passes with five touchdowns and no interceptions.
He can create things with his feet
In addition to passing on the move, Manuel scrambled for first downs when he chose to. In 2012, Manuel scrambled for 199 yards and 10 first downs on 28 scrambles, averaging 7.1 yards per scramble. On third downs, Manuel scrambled for six first downs and averaged 7.7 yards per scramble.
He also rushed for 208 yards on designed running plays, including six rushes for 45 yards on zone-read options. Comparatively, Geno Smith gained 27 yards on designed rushes in 2012.
Good presence in the huddle
There is no statistical measure of leadership, but Marrone pointed to Manuel's superior record as a starter.
Manuel led the Seminoles to a 25-6 record as a starter, including four straight bowl wins. No other top QB prospect had a better win percentage as a college starter than Manuel.
He's accurate
Manuel completed more than two-thirds of the passes he threw in his career.
In his last three seasons, 81 percent of his passes were on target (passes that were not overthrown, underthrown or wide of his receiver), comparable numbers to Smith (83.4) and Barkley (80.3).
October, 9, 2012
10/09/12
1:52
PM ET
By
Sharon Katz, ESPN Stats & Info
| ESPN.com


After taking a 16-0 lead into halftime, the
Florida State Seminoles
allowed 17 unanswered points in the second half and lost to the
North Carolina State Wolfpack
on Saturday.
The win was the first for NC State against a Top-5 opponent since 1998. That victory was also against Florida State, which was ranked No. 2 at the time.
In fact, the Seminoles have lost five of their last six games in Raleigh when they were ranked and North Carolina State was unranked. Their lone win came in 2004.
NC State picks apart Seminoles' pass defense
Florida State's pass defense, which allowed 128.4 pass yards per game to rank fourth in FBS entering the game, struggled after halftime.
NC State's 218 pass yards in the second half were the most allowed by Florida State in the last two seasons.
Additionally, the Wolfpack's 12 passing first downs matched the most Florida State has allowed after halftime since the start of 2004.
North Carolina State had the same number of passing first downs on fourth down in the second half as it had
total
first downs through the air before halftime.
Prior to Saturday, teams averaged fewer than 50 second-half passing yards per game against the Seminoles' defense. And after allowing just seven receptions of 10-or-more yards over its first five second halves, the Seminoles allowed 11 against North Carolina State.
Manuel struggles against pressure
With its pass defense eroding, Florida State's offense struggled on the other side of the ball as
EJ Manuel
couldn't handle NC State's pressure in the second half.
NC State sent five or more pass rushers at a similar rate in the second half as it did in the first half, but Manuel failed to complete a pass against the added pressure after halftime.
All four of Manuel's sacks occurred when the Wolfpack sent a blitz, most notably his fourth-quarter sack on third-and-two with around 10 minutes to go.
Coming into the game, Manuel had been able to handle pressure. He completed 73 percent of his passes with two touchdowns and no interceptions against five or more pass rushers in the Seminoles' first five games.
Eagles could take flight
The Seminoles face the
Boston College Eagles
next week. Boston College is 1-4 this season but ranks second in the ACC with 310.8 passing yards per game.
However, in their last two meetings against Florida State, the Eagles passed for a combined 208 yards. That is less than
Mike Glennon
passed for in the second half last week.
October, 7, 2011
10/07/11
1:41
PM ET
Every Friday during college football season, we're taking fans' questions and answering them on our blog. You can send questions to our Twitter account @ESPNStatsInfo. Be sure to follow so you can tweet us your questions (facts, not opinions) and we'll answer the best of the best.
How many times has Brandon Weeden targeted Justin Blackmon and where does that rank?
-- asked by
@Bmurphy47

Through Oklahoma State's first four games this season, Weeden has targeted Blackmon 48 times, and the duo has combined for 38 catches, 450 yards and four touchdowns. The 48 targets are just over a quarter of Weeden's 191 attempts.
Blackmon's 38 receptions are tied for ninth in FBS. On a per-game basis, his 9.5 receptions per game are tied for fifth in FBS.
Syracuse had won seven straight decided by 1-7 points. Last five wins have been close. Who has longest streaks out there?
-- asked by
@MattPark1

Rutgers snapped Syracuse's seven-game winning streak in games decided by seven points or less with a 19-16 overtime win last weekend. The Orange's streak was the second longest in FBS. Beginning with its Outback Bowl win over Northwestern at the end of the 2009 season, Auburn has won 10 straight games decided by seven points or less.
Syracuse joins Minnesota as the only FBS teams that have each of its last five victories by seven points or less. The last time the Golden Gophers won by more than seven points was Halloween 2009, an eight-point win over Michigan State.
With Florida going up against LSU, how have freshman QBs faired against No. 1 ranked teams in the past?
-- asked by
@UFSanity
We went back through the last four years (just games between BCS AQ teams, to eliminate completely lopsided matchups). Eight freshmen played (six started) against No. 1 teams, all losses. Only
EJ Manuel
was able to complete more than half his passes, but
Robert Griffin III
did well on the ground against Oklahoma.