Stats & Info:

Fernando Rodney
July, 13, 2013
7/13/13
9:01
PM ET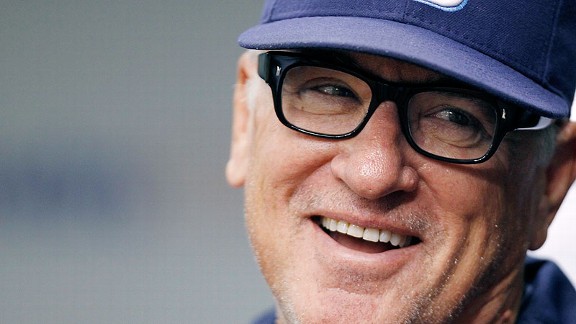 AP Photo/Scott IskowitzThe Rays bullpen has made Joe Maddon very happy lately.
The
Tampa Bay Rays
may finish in playoff position as the first half comes to a close, and if they do so, they can dish out a large chunk of credit not just to their offense, but to their amazing recent bullpen performance.
After a very shaky first two months, Rays relievers have been extraordinarily good the last two.
In the last six games in which the bullpen has been needed, it has pitched 20 1/3 innings, yielding one run and 11 hits, with 27 strikeouts and two walks. That includes three flawless innings in Saturday's win over the Astros.
Key to performance: Fernando Rodney
The turnaround has started at the back, with the return of Fernando Rodney to something close to 2012 form. Rodney has thrown 12 straight scoreless outings, and has gotten back to being a top strike-thrower, with 20 whiffs and two walks in this stretch.
Rodney has gone from a pitch mix that was about 60/40 fastballs/changeups for most of the season to one that is now 70/30 and that combo seems to be producing desired results.
Rodney has been much better at getting ahead in the count of late. For the season's first 10 weeks, he was throwing first-pitch strikes at a rate barely better than 50 percent.
In these 12 outings, he's thrown nearly two-thirds of his first pitches for strikes.
That's noteworthy, since opponents have a .408 on-base percentage after being up 1-0 vs Rodney this season, .222 when he's up 0-1.
McGee's an outs machine
The same thing that holds true for Rodney also holds true for
Jake McGee
, whose first-pitch strike rate has bumped up from 64 percent through June 9 to 72 percent in his 17 appearances since then.
Opponents are 7-for-their-last-51 against McGee, who has retired the last 15 batters to face him. He's struck out seven in three perfect innings over the last four days.
Unsung hero: Alex Torres
The pitcher with the most impressive stats out of the Rays bullpen didn't pitch Saturday, and for that the Astros may be thankful. Lefty Alex Torres has held opponents to seven hits in 86 at-bats (an .081 batting average) with 33 strikeouts.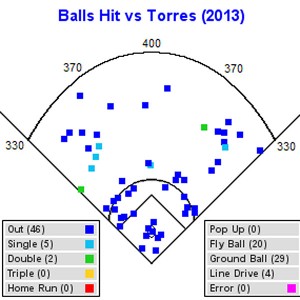 No one is hitting the ball well vs. Alex Torres.

Of the 53 instances in which batters have made contact with Torres, only four have hit line drives.
And of the two dozen balls hit in the air, only two have reached even as far as the warning track (one of which was along the right field line, where the track juts in as a fielder nears foul territory).
Torres falls in line with the other Rays pitchers who put the fastball-changeup combo to good use.
Rodney and Torres rank 2-3 in the majors in terms of how often they get hitters to swing and miss against the combination of those two pitches (the only pitcher who rates higher is Angels closer
Ernesto Frieri
). Torres gets misses on them at a 34 percent clip.
May, 26, 2013
5/26/13
9:05
PM ET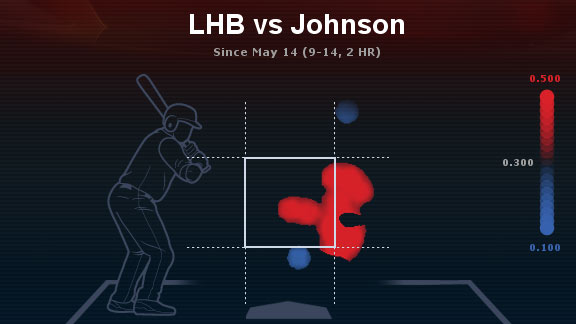 Lefties are hammering Jim Johnson recently.
For the second straight day, one of the dominant AL East closers in 2012 blew a multi-run lead in his team's defeat.
In each case, this is part of a trend.
Baltimore Orioles
closer
Jim Johnson
recorded his fourth blown save in his last six appearances, blowing a three run lead in a loss to the
Toronto Blue Jays
on Sunday. Johnson was unable to finish Blue Jays hitters off. Of the six against whom he got to two strikes, he only retired one.
Tampa Bay Rays
closer
Fernando Rodney
has now blown five saves this season—- three more than he blew in all of 2012. His most recent blown save came in a loss to the
New York Yankees
on Saturday.
Let's dig into the numbers and see what the issues are for each guy.
Jim Johnson
One of the common threads in Johnson's struggles is that he's gotten beaten up by left-handed hitters. When Johnson was going well, lefties had a hard time touching him. They had a .581 OPS against him in 2012.
They are 9-for-14 with two walks against him in the last six appearances.
The success that Johnson has had when he's worked on and off the outside corner has disappeared over the last two weeks.
Johnson allowed a go-ahead ninth-inning hit to
Everth Cabrera
of the
San Diego Padres
on a pitch on the outside corner on May 14, gave up a go-ahead two-run double to
Matt Joyce
of the Tampa Bay Rays on a pitch in that area on May 18, gave up a game-tying homer to
Travis Hafner
and the Yankees on a pitch that was just off the outside corner on May 20, then gave up three hits on outer-edge pitches in Sunday's defeat.
From the start of last season to the time just prior to when this slump began, Johnson averaged about 2.8 batters retired for every hit/walk he allowed with a pitch over the outer-third of the plate or off the outside corner.
But in this trouble period, Johnson has allowed 11 hits/walks with pitches to that area and retired only six batters.
Fernando Rodney
Rodney was great last season in his first year with the Rays, and seemed to eliminate the wildness that would plague him from time to time with the
Detroit Tigers
and
Los Angeles Angels
.
Rodney has already surpassed his 2012 totals in both walks and extra-base hits allowed, going from 15 to 18 in the former and four to nine in the latter.
Hitters have not been as quick to chase when Rodney has thrown his fastball out of the zone.
He netted a 29 percent "chase rate" with the pitch in 2012, but has only gotten 20 chases on 115 out-of-zone fastballs this season (a chase rate of about 17 percent).
Rodney's issues getting hitters to chase have been an issue with both his fastball and his changeup, though the difference isn't as dramatic with the latter.
This has come into play in particular on 3-2 counts.
In a May 16 blown save to the Red Sox, Rodney went to 3-2 on three hitters and walked all three, before allowing a go-ahead three-run double to
Will Middlebrooks
.
In Saturday's blown save vs the Yankees, he had a two-run lead with two outs and a 3-2 count on
Lyle Overbay
, but walked him and the Yankees eventually rallied to tie.
When Rodney has been in the strike zone with his pitches, he's been hittable. J.P Arencibia and
Jose Bautista
have each taken 97-plus mph fastballs in the zone out of the park this season in Rodney blown saves.
Last season, Rodney allowed only one homer on a pitch of 97 mph or faster that was in the strike zone.
Turning a strength into a weakness
The results of the slumps by the two pitchers have turned 2012 strengths into 2013 weaknesses. Both the Orioles and Rays have significantly higher bullpen ERAs and have found closing out games to be a major issue.
The Orioles lead the majors with 12 blown saves. The Rays, who only blew eight save chances last season, are not far behind with nine, and entered Sunday night with a major-league worst 4.96 bullpen ERA.
Justin Havens contributed to this post.
August, 17, 2012
8/17/12
12:06
PM ET
By
Alvin Anol, ESPN Stats & Information
| ESPN.com
Patrick McDermott/Getty ImagesFernando Rodney has had a lot to celebrate in 2012 including his MLB-best 37 saves this season.
Fernando Rodney
recorded his MLB-best 37th save on Monday, tying his career high for saves in a season that he set with the
Tigers
in 2009. He is also just eight shy of the
Rays
single-season record of 45 by
Rafael Soriano
in 2010.
It's a return to form for Rodney, who is eons away from the struggles that plagued him the past two years while with the
Angels
. The key to Rodney's success in 2012? A virtually un-hittable changeup.
Even in 2009, Rodney's most successful year prior to this season, his changeup was average at best. Opposing hitters batted .248 against the pitch that year with a .796 OPS.
But this season, he's allowed just eight hits in 83 at-bats ending with his changeup. That .096 opponents' batting average is the lowest in the majors among pitchers who have thrown at least 250 changeups this season.
He's also recorded 38 strikeouts (to just three walks) via the changeup in 2012, the most among any reliever this season.
One particular aspect of Rodney's 2012 changeup stands out - the variance in speed relative to his fastball. Currently, the difference between his average fastball (which already hovers just below 96 mph) and his average changeup this season is 13.5 mph.
In fact, the variance between his average fastball and average changeup has only grown the past four seasons. Velocity, though, has never been a problem for Rodney. Locating pitches, however, has been.
In 2009, Rodney sported a walk rate of 12.4 percent. In his first season with the Angels in 2010, it increased slightly to 11.4 percent, but inflated to an AL-worst 18.7 percent in 2011 (Min. 150 PA).
In 2012, Rodney has cut down on his walks considerably (3.8 percent walk rate) by pounding the strike zone with his fastball.
Entering Friday, 65.1 percent of his heaters have gone for strikes after only 58.9 percent were strikes in the previous three seasons combined.
And improved fastball command only serves to complement his devastating changeup - Hitters have chased 41.8 percent of Rodney's changeups outside the zone after chasing only 33.4 percent of such pitches from 2009 to 2011.
Rodney enters Friday with a 0.81 ERA, best among all pitchers that have faced at least 200 hitters this season. Should he continue to pitch well, Rodney's bounceback season should make him a favorite for AL Comeback Player of the Year.
July, 3, 2011
7/03/11
12:23
PM ET
By
Justin Havens
| ESPN.com
The Los Angeles Dodgers visit the Los Angeles Angels on Sunday Night Baseball (ESPN, 8 ET).
Last month, the Angels released
Scott Kazmir
and ate the remaining $9.5 million on his contract. It's another chapter in a run of very expensive acquisitions that have not played out well for the Angels.
While the pattern started before GM Tony Reagins took over, the situation has worsened since. To see how unsuccessful the moves have been we can look at dollars spent per wins above replacement (WAR).
Gary Matthews Jr. -- Offseason prior to 2007 (free agency)
Contract: five years, $50 million (2007-11)


Matthews Jr.

Comments:
Matthews was both the first in the run of bad acquisitions and looked to be easily the worst until the
Vernon Wells
trade. The Angels bit on Matthews' career year with the Rangers in 2006, which was both out of line with his career and oddly timed given his age. The Angels released Scott Kazmir with part of a season left on his deal; they released Matthews Jr. with two full seasons left on his deal. In the three seasons he did play for the Angels, he contributed production below replacement value. For the cost of $50M, Matthews Jr. provided a robust minus-0.5 wins above replacement.
Net result: $50M for minus-0.5 WAR.
Scott Kazmir -- Midway through 2009 season (via trade with Rays)
Contract: $22.5 remaining at time of trade (2010-11, 2012 buyout)


Kazmir

Comments:
Kazmir was effective for the Angels in 2009, going 2-2 with a 1.73 ERA in six starts. Unfortunately, the wheels came off after that, as Kazmir's velocity declined and his effectiveness went with it. In 2010 and 2011, Kazmir combined to go 9-15 with a 6.17 ERA in 151 ⅔ IP. Between 2010 and 2011, the Angels paid Kazmir $20M and received below replacement level production.
Net result: $22.5M for minus-1.0 WAR.
**Excludes 2009 partial season given difficulties in parsing out split-season WAR.**
Fernando Rodney -- Offseason prior to 2010
Contract: two years, $11 million (2010-11)


Rodney

Comments:
This contract is obviously still going, but Rodney has been a mix of ineffective and unavailable during his tenure with the Angels. Rodney contributed just 0.3 WAR during his 2010 season and, in his brief time in 2011, went backward, contributing minus-0.1 WAR. While Rodney still has time to turn around this particular season, it's almost certain he's not going to be able to turn around the value of the contract. More than 40 percent through this season, the Angels have paid him approximately $8M of the $11M he's owed.
Net result: $8M for 0.2 WAR.
Vernon Wells -- Offseason prior to 2011
Contract: $81M remaining on contract at time of trade


Wells

Comments:
Even though he possessed a contract that was largely considered unmovable within baseball, the Angels welcomed Wells -- a player clearly on the downslope of his career -- and almost the entirety of his contract. He's owed $23M in 2011 and $21M in each season from 2012 to 2014. The Blue Jays chipped in only $5M to facilitate the deal.
Not only did the acquisition of Wells result in $80M worth of dead weight, it also blocked the team's best prospect -- arguably the best prospect in baseball -- Mike Trout. Wells has posted a .212/.244/.385 line this season, good for minus-0.3 WAR. There are three full seasons left on this deal, but they've already paid him approximately $10M and received below replacement level production.
Net result: $10M for minus-0.3 WAR.
The Angels have spent approximately $90 million on players who have actually provided a net negative contribution (relative to replacement level).
Given that teams usually spend somewhere around $4-5 million per marginal win on the open market, the idea of paying more than $90 million for negative wins is almost unfathomable.
The most eye-opening angle is that the team still owes Wells more than $70 million, which means there's a good chance this below-replacement-level bill could ultimately exceed $150 million. Or, in other words, approximately the
Florida Marlins
' team payrolls from 2006, 2007, 2008, 2009 and 2010 … combined.
April, 5, 2011
4/05/11
8:15
PM ET
Fantasy baseball waiver wires will be heating up thanks to the news
Los Angeles Angels
of Anaheim manager Mike Scioscia announced Tuesday. Scioscia has decided to switch closers from
Fernando Rodney
to rookie
Jordan Walden
.

Rodney recorded a save in the Angels season opener but on Sunday he couldn't finish the job when his team gave him a two-run lead in the ninth inning against the
Kansas City Royals
. He faced five batters, got only one out and walked the bases loaded before giving up a game-tying two-run double to
Wilson Betemit
. Scioscia proceeded to remove Rodney from the game and two days later has removed him from his job.
Signed as a free agent by the Angels in December 2009, Rodney's tenure as closer has been rocky. Since the start of last season, Rodney's save percentage of 65.2 is the lowest of the 31 pitchers who had at least 20 save chances. Rodney has blown eight saves in that span, the only pitcher who blew more save chances was
Tyler Clippard
of the
Washington Nationals
with 10.

Rodney

Walden
Why has he struggled? One word - walks. Rodney has issued 4.63 walks per nine innings since donning the Angels uniform. Out of 226 pitchers who have thrown at least 65 innings since 2010, Rodney ranks 218th. This season, Rodney has faced 10 batters and walked four of them, equating to 27.0 walks per nine innings. Entering Tuesday, Rodney's walk percentage of 40.0 is the worst in baseball among pitchers who have faced 10 batters.
So who is Jordan Walden? Drafted in the 12th round by the Angels in 2006, Walden was a starter in the minors in 2009, but struggled at Double-A going 1-5 with a 5.25 ERA in 13 starts. Last year, Walden was converted to a reliever and did well posting a 3.44 ERA in 44 games at two minor-league levels.
His contract was purchased from the minors on August 22 and he was a strikeout machine recording 23 punchouts in only 15 1/3 innings. His 13.5 strikeouts per nine innings was tied with
Billy Wagner
for fourth in the Majors last year (minimum 15 innings).
Walden is mostly a fastball-slider pitcher. Last year, according to Inside Edge, Walden's fastball averaged 98.7 miles per hour. In 11 instances, Walden hit at least 100 MPH with a top speed of 101. His average speed of his slider was 85.4, giving him roughly a difference of 13.3 MPH. This year, albeit in a much smaller sample size, the difference between his fastball and non-fastball pitches is at 12.8 MPH.
If Walden stays in the role and gets at least nine saves, he'll be the sixth Angels pitcher since Scioscia became manager in 2000 to get to 10 career saves joining
Francisco Rodriguez
,
Troy Percival
,
Brian Fuentes
,
Scot Shields
and Rodney.
March, 31, 2010
3/31/10
12:00
PM ET
By
Derek Czenczelewski, ESPN Stats & Info
| ESPN.com
Picture this: Top of the 9th inning, two out, men on second and third and the home team is up three. With the setup man unable to finish the game, the manager calls on the closer who he was trying to rest. The crowd goes wild as the bullpen doors open, but the noise quickly turns to silence as the closer gives up a two-run double. With the lead down to one run, the crowd rallies to the aid of the closer who induces a harmless ground ball. Game over.
Final stat line for the closer: (Save) 1/3 IP, 0 R, 0 ER, H, 0 BB, 0 K.
ERA: 0.00
Situations similar to this occur somewhat frequently in baseball. For years pitchers have been judged on ERA, wins, losses, saves and strikeouts. While this formula may work for starters, it leaves a lot to be desired for relievers. Relievers can't be evaluated by ERA. ERA is based on 9 innings and most relievers rarely pitch more than an inning or two per game. Runs, and even more importantly, inherited runs scored are far more important in measuring a reliever's success.
Now, you may be wondering how unearned runs can be counted against a reliever. It doesn't seem fair does it? Well, the reality is relievers have one job to do: Come into the game, and get out of jams. Whether a reliever comes in with the bases loaded or no one on base, his job remains the same. That job, again, is to come into the game and leave the game with the score the same way as when they entered.
So, with this in mind I set out to create a stat that took into account the two most important stats for a reliever: runs allowed, and inherited runs scored. Rather than divide this number by innings, I chose to divide by appearances.
The result is the following formula that I dubbed "Runs Per Appearance" (RPA): Runs allowed plus inherited runs scored divided by pitching appearances.
The results are simple, like the formula. Good pitchers had solid RPA averages while pitchers who were helped by errors and inherited runs scoring and not their own, were exposed. Check out the results below.
Here's another way to illustrate it. While both
Jamey Wright
(4.33 ERA last season) and
Manny Acosta
(4.34 ERA) had similar ERAs, their RPAs (1.123 and .639 respectively) differed greatly. The league average among all relievers last season was .935. That takes into account all long relievers, closers, setup men, and specialists. So Wright had a below-average performance in terms of RPA while Acosta actually had an above-average season in terms of RPA. His .639 RPA is far from Mariano Rivera or Joe Nathan status, but it was most certainly above average for a reliever.
Is (R)uns (P)er (A)ppearance (RPA) a perfect stat? Absolutely not. However, RPA does tell a much more accurate story for relievers than ERA. If nothing else, this should be something interesting to track in 2010.